Picture this – you are using a knife to break down a rather large chicken for dinner. You struggle to keep the knife steady on the slippery bird. You think, "There has got to be a better way to do this!" And there is – by using poultry shears. They may look like regular scissors, but these specialty shears are a kitchen staple. Here you will find the best poultry shears that deliver versatility of usage, quality construction, and high levels of performance.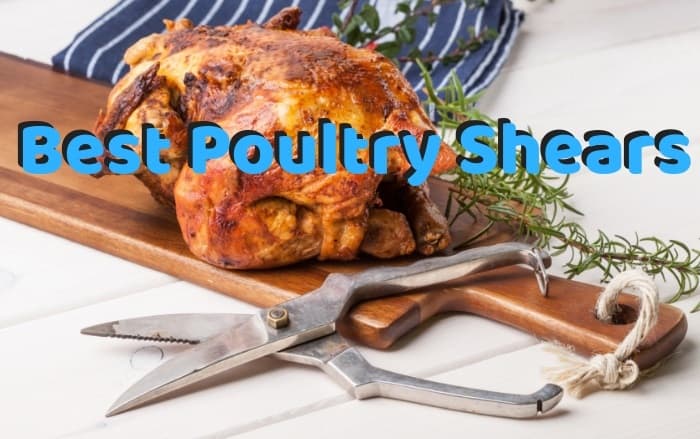 Best Poultry Shears Top 10
Why should every kitchen contain a pair of poultry shears? Beyond just breaking down the bones of a bird, kitchen shears are handy in many other ways. You can use them for opening meat packaging or snipping some cooking twine.
Are you ready to find the best poultry shears and add this versatile tool to your collection? As usual, we have done all of the research you will need to find exactly what you needs. The following are ten of our favorite kitchen shears on the market right now.
OXO Good Grips Spring-Loaded Poultry Shears
OXO's kitchen shears rank among the best of the best because of their sheer durability. With high quality stainless steel blades, these shears easily slice through poultry skin and cleave straight through bone.
The looped handle prevents hand slippage, and the spring loaded handle is gentle in regards to hand strain. Handles easily lock and separate for cleaning. These shears have a professional feel and are great for accessing those hard to reach spaces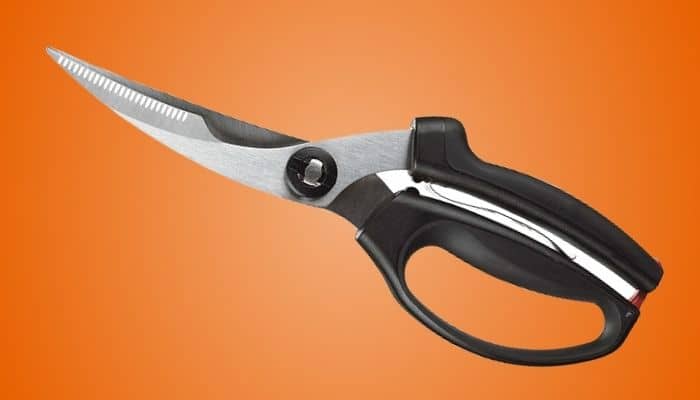 J.A. Henckels International Henckels Shears for Cutting Poultry
A great pair of poultry shears should be able to easily pass through bone and skin, and the J. A. Henckels Shears tackle this task exceptionally well. They have a little bit of a leg up over the OXO kitchen shears in regard to cutting through solid bones with ease.
But after repeated wear and tear breaking down bones, they can be less precise when it comes to snipping through the skin. This is an easy fix though. It just takes a little sharpening of the stainless steel blades or tightening of the hinge nut.
This model features 3.5" serrated blades that lock into place for safe storage. The handles and grips are fairly comfortable, and one noticeable difference in this model is that the spring is built in. This gives the shears a more streamlined and modern appearance. Unfortunately, this pair of shears should be hand washed as the blades cannot be separated.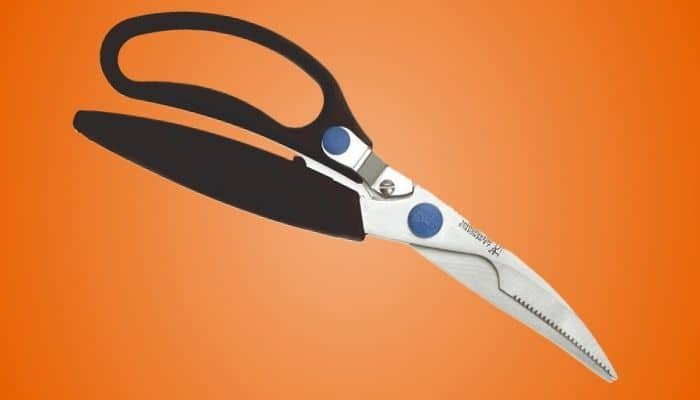 Mairico Ultra Sharp Premium Heavy Duty Scissors
We don't normally use our poultry shears for anything other than kitchen related tasks, but the Mairico kitchen shears will have you wanting to use them all around the house.
They have an excellent, sturdy construction and the stainless steel blades are super sharp. Cutting through bone becomes just as smooth as cutting through butter. This model also features a handy dandy bottle opener and nutcracker, making it great for multitasking around the kitchen.
One word of caution about this pair of poultry scissors (other than to watch your fingers around the sharp blades!) – they are not dishwasher safe. The stainless steel blades do not separate and need to be washed by hand. They should also be thoroughly dried to prevent any rusting.
Dissatisfied with your shears? Mairico stands behind their product, so if you are unhappy with your purchase, they offer a full refund upon return.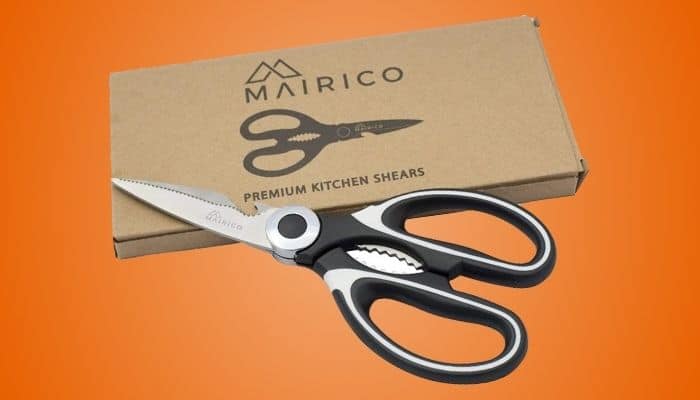 Chef Remi Poultry Scissors
A lesser-known brand whose product packs a punch, the Chef Remi poultry scissors can hold their own among the bigger name brand poultry shears. They are high-quality shears with a low price tag. And they even offer a 100% money back guarantee, though we think you will be quite pleased with their performance.
The blades are stainless steel and corrosion resistant, meaning no worries about rust. The micro-serrations of the blades prevent slippage during cutting. The serrated middle works well as a bottle opener or nutcracker.
There is also a pop top bottle opener built into the stainless steel blade itself! The easy grip handles are comfortable for both right-handed and left-handed usage. The Chef Remi kitchen shears are a great value for such a small price!
Kershaw Taskmaster Heavy Duty Non Slip Kitchen Shears
Affordable and versatile, the Kershaw Taskmaster Poultry Shears is a heavy hitter in the market of poultry shears. Kershaw is one of the best known and widely trusted brands.
This pair of kitchen shears features partially serrated blades, a nutcracker/jar opener, a lid lifter, and a bone notch in the blade. The bone notch allows you to cut bone without it slipping from the comfortable grip of the shears, an excellent safety feature to have on a pair of shears this sharp!
The finger loops are comfortable for both right- and left-handed use. These shears are also easy to unhinge and separate for cleaning. It is also dishwasher safe.  We found this pair of poultry shears to be very reminiscent of a pocket knife based on the versatility of all of the tasks it can tackle.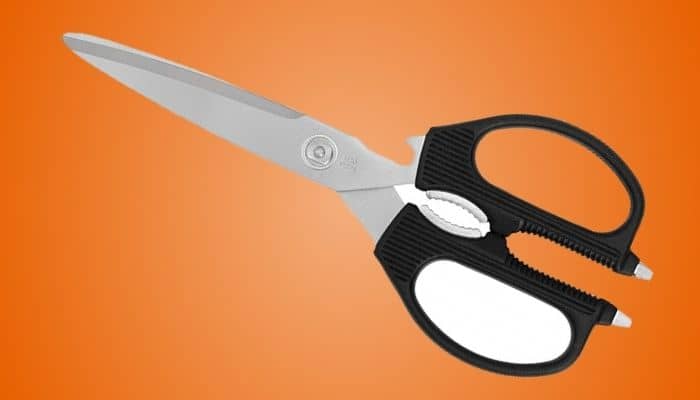 Silver Armadillo Kitchen Tool
In regards to design, the Silver Armadillo Poultry Scissors are in a league of their own. The blades and handles are in one piece, made of a very durable stainless steel, and have proven to be highly durable. It's best to hand wash these shears to prevent rust. But they do come apart for a better cleaning than some other shears.
One drawback to this model is that, although they are great for breaking down poultry bones, they are NOT designed to cut skin. The front part of the shears is great for slicing through meat though, and the rear groove grips bones tightly, allowing for a thorough cut without slippage.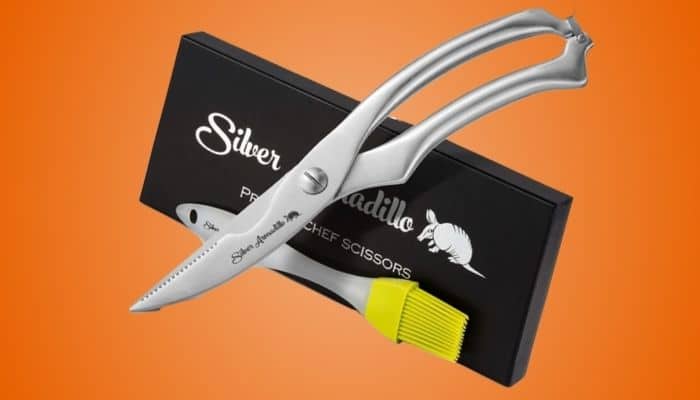 KitchenAid Kitchen Shears
KitchenAid is a household name, and the KitchenAid Poultry Shears exhibit the high-quality construction we are all used to from this brand at a very low cost. Featuring a plastic, protective blade guard, these shears are highly versatile for different uses around the house. The stainless steel blades are micro-serrated and extra thick, providing extra strength and durability while cutting.  
The handle grip is soft, comfortable, and doesn't cause much of a strain on your hands during use. Even if your hands are wet, you will notice that the grips prevent your hands from slipping. However, the blades do not separate for easy cleaning, despite being safe for use in the dishwasher.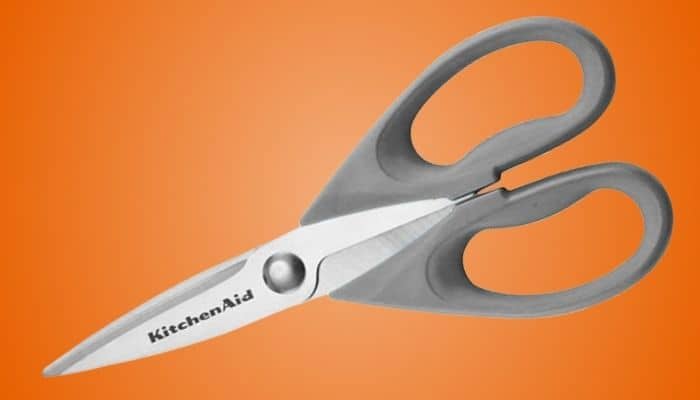 NOVASKO Premium Heavy Duty Spring Loaded Poultry Shears
One look at these NOVASKO spring loaded kitchen shears and you will know why they are called "heavy duty". The blades are thick and made from extra sharp, food grade stainless steel.
The ergonomic design reduces strain and provides plenty of comfort and stability. The best part – if you are unhappy with them in any way, there is a 100% satisfaction guarantee, or you get your money back.
The spring isn't visible and therefore makes these shears even more indestructible than their already solid design. They feature a locking mechanism at the end of the handles for safe storage while not in use. We found these shears to be excellent for all heavy duty cooking tasks from poultry to pork to BBQ.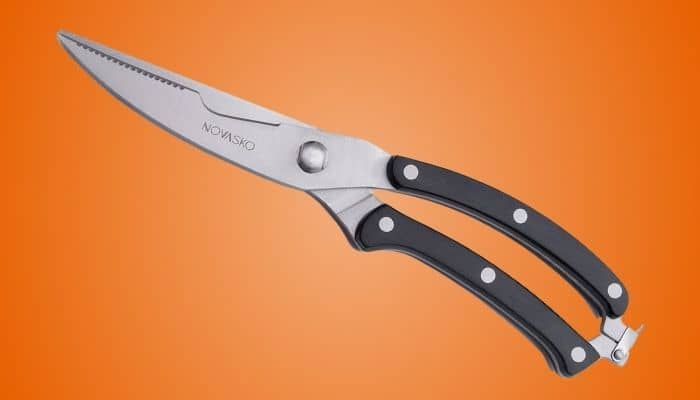 Kitchen-GO Meat and BBQ Easy to Clean Poultry Shears
From chopping herbs to cutting bones, the Kitchen-GO Meat and BBQ Poultry Shears are an excellent multifunctional tool for your kitchen. The blades are heavy duty and made of stainless steel.
They have a shorter design than some other shears, giving you more control over the blades. They are easy to use and feature non-slip grips and a magnetic holder for storage.
This pair of shears is mostly applauded for both its low price and incredible versatility. The serrated blades are great for removing fish scales, cutting through tough bones, or slicing delicate herbs.
The midsection contains a grip useful for opening bottles or cracking nuts. With such a low price tag, you are sure to love these shears, and even if you don't, you can get your money back within 90 days of purchase.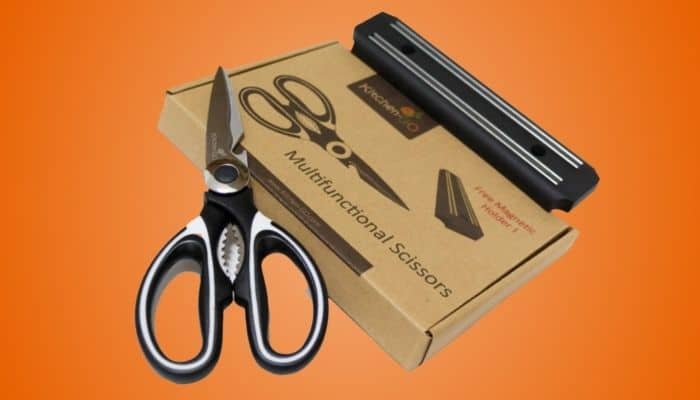 Easy Function Heavy Duty Poultry Shears
If you are looking for high-quality shears that are also affordable, you might find that the Easy Function Heavy Duty Poultry Shears deliver the full package. They are very easy to use, particularly if you have arthritis or any pain in your joints while cutting.
They have the versatility of performing as a bottle opener and nutcracker in addition to being highly functional kitchen shears. These excellent poultry shears also have a full money back guarantee!
The handles are ambidextrous, and the blades are a heavy-duty, stainless steel. They are made from high-quality materials and are resistant to rust. While they are dishwasher safe, it is always best to wash your kitchen shears by hand for a thorough cleaning.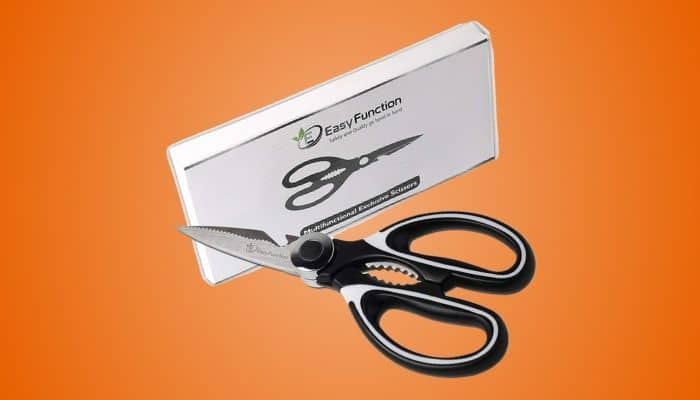 What to look for in the best Poultry Shears
There are a few factors you should keep in mind when deciding which are the best poultry shears for your kitchen:
Functionality – a good pair of kitchen shears should do two things exceptionally well – (1) easily slice through slippery skin and (2) be able to cut through solid bones
Safety – look for a pair of shears that has a good locking mechanism or other protective measures to ensure safe storage while not in use
Ease of Cleaning – Do the blades separate for a thorough cleaning? Are the shears dishwasher safe or should you hand wash them?
Versatility – Many poultry shears also have additional features such as nutcrackers, bottle openers, and more. While not totally necessary, these are nice features to have when working in the kitchen
Price – As with most things, you get what you pay for. The last thing you want is a cheap pair of shears breaking while in use, especially since the blades are very sharp.
Durability – As we just said, you don't want to run the risk of your shears breaking during use, so look for a heavy duty pair of shears that is highly resistant to rust
Satisfaction Guarantee – Not all brands will offer a money back guarantee, but a lot do, so this is a great way to test out different shears without the risk of wasting your money.
How to use Poultry Shears
Conclusion
Whether you call them poultry shears, cooking shears, or kitchen scissors – the fact remains that every kitchen should contain a pair. We hope this guide has been helpful in determining which style of shear best meets your need for slicing, dicing, and spatchcocking.