Before I delve into the adventure with the Tiki torches, let me tell you how we reached the point of sourcing Tiki lights for our backyard lighting. Maybe you can relate. Generally speaking, when we think of lighting for our planned outdoor gatherings, we often considered that twinkle lights and candles would be sufficient as it looks like a bit of thought and effort has gone into the setup. In the planning process of our evening, we tend to create this picture in our heads of how it will look. We guess at what time the food will be served and what bottles of wine we will offer up to our guests, almost creating a living movie for others to partake in and you are the director of your backyard movie set.
In reality, I have found myself going upstairs to turn the lights on inside our home, hoping the yard area would be lit up just enough to create a delightful ambiance, whilst also allowing us enough light to notice if one of the children went missing. So let me set the scene. We now have a house that is lit up, with all the drapes open and the neighbors are able to see into our home. They can surely identify goods within our home as this is now on full display. Not to mention the damage we are doing to our carbon footprint. One guest has even been bold enough to comment and reference the house looking like a lighthouse (as we live near the beach).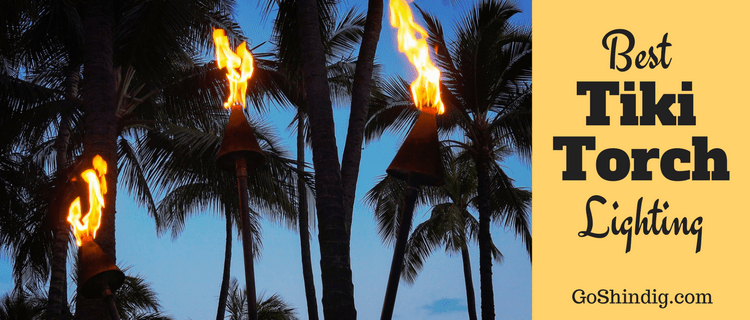 Don't get me wrong, this had the desired effect of casting light into the yard. There was the small problem however that as the evenings wore on and the young children became tired or even bored, it always reached the point where they just needed to succumb to their tiredness and get some much needed sleep. The quiet room upstairs was always the option. The 'quiet room upstairs' as it is known, is always the parents first choice as the parents would often want to enjoy themselves without having to whisper or clasp their hands over their mouths when they laughed a little too loudly.
Frankly, I blame the wine for those delightful moments of laughter. Funnily, when the children have retired to bed, you can almost see the relief in the parent's facial expressions (or their roars of laughter), when they have recognized that they can now relax and enjoy some adult time. But please consider this, for us, when that one light was turned off in our home it was almost a signal for home time for some of our guests! It was almost as if turning that one light off was the slow beginning for other guests to up and leave. There was a pattern to how many lights went off and how many guests yawned and how many guests would leave!( I don't over analyze)
We have often used twinkle lights, lanterns, candles and indoor lighting as our primary source of lumination whilst hosting our friends in our back yard as it seemed the easiest and most obvious thing to do.The desired effects of this however have been a bit hit and miss (confession).
So as my outdoor hosting nights became more popular amongst friends and then became a more regular occurrence (maybe because of the quiet room, I'm undecided ) I decided to invest and impress my friends with something more appropriate, cost friendly and creative. As by now, in my mind, I had established myself as the mother of all hosts in our back yard, I revised that something better thought out was needed.
Tiki Torches!!
I do not consider myself to be underhand and I smile at the prospect of cleverly solving the 'quiet room' light going off and people fleeing for home scenario. As for those that are reading this, in case you're judging, yes, you can come to my home as a guest and leave when you like. Please note that most of the hard work and preparation that goes into hosting outdoor gatherings for guests goes unseen. So I would urge you to stay long enough for me to enjoy your company too.
Revising outdoor lighting was no easy feat. My husband didn't want to spend the money and thought the candles and twinkle lights were good enough. He failed to see why we needed to spend money when we had something that was serving its purpose. I agree to an extent but for me the problem was that we always had the same candles and the same lights and I wanted some variation to the decor of our outdoors entertainment nights.
So I set about revising what the world had to offer for my 'little backyard theater' with regards to lighting. Here is how I came to the conclusion of my purchase. The Tiki torches proved to be low maintenance, cost effective (my husband's considerations) and have the hypnotic glow of firelight and the vintage feel of glamor, while we sipped from our wine glasses after dark was unparalleled when compared to all other options.
All being said, choosing one particular Tiki Torch was not easy. The choices ranged from Bamboo, Metal and even make your own kits (although I haven't the time for this). Personally, I think the final decision is down to personal choice and the desired effect that you're wishing to create. I chose the glass Tiki Torch, mainly as there are a vast array of colors to choose from. Nevertheless, the stainless steel was a close second. Some are quite tribal looking which may lead to your 'backyard movie theater' giving off the vibe that someone might be coming out of your hedge to drag you off for a sacrifice somewhere. Once again a personal choice.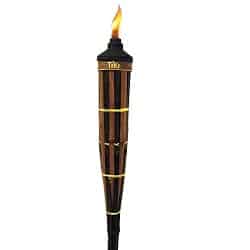 Bamboo Tiki Torch – Buy from Amazon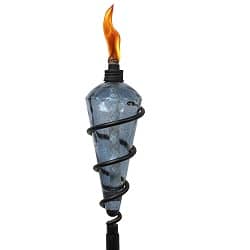 Glass Tiki Torch – Buy from Amazon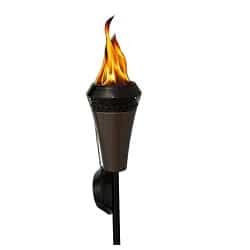 Metal Tiki Torch – Buy from Amazon
So now I have purchased the Tiki Torches, my guests are treated to the ambiance of firelight and our time together is more enjoyable as I think we are more relaxed. No longer do the guests flee our home once the 'quiet room' light goes off. And all of this is simply because our primary lighting source is not coming from within our home.
Tiki Torch Buyers Information
I've now told you why I wanted to buy a Tiki torch and the style I decided upon but as everyone's party, yard and circumstances are different let me save you some time by sharing with you all the pertinent information I gathered during my research.
Tiki Torch Fuel
Oil Tiki Torches
The vast majority of Tiki lights are powered by oil, which is good if you're on a budget, as this is a cheap fuel source. The oil used will either be kerosene or paraffin. Both work equally well but I'd recommend using paraffin as it's the cleanest burning of the two oils. The burn time of oil tiki torches all depends on the size of your torch, typically this will be two to three hours before you need to refuel.
Citronella Tiki Torch Fuel
Citronella oil is famous in the outdoor entertaining world for one reason –  Mosquitos hate the smell. This essential oil is typically used in candles but works equally well for Tiki torches. Citronella oil is produced from different species of lemongrass, it's non-toxic, slow burning, smoke-free and will keep insects at bay in a 15-foot radius.
How to Make Tiki Torch Fuel
When I first read that people make their own Tiki torch fuel I thought they were crazy. It seemed risky and not worth the hassle for the amount of money saved. Well it turns out I was wrong. Making your own Tiki torch oil is super easy and can be done with ingredients most people have in their home. Basically all you need is vegetable oil. But most people that make their own also add a few drops of essential oils to the mix – normally citronella.
Gas Tiki Torches
A gas Tiki torch is the expensive option, but this added investment brings with it a controllable and higher quality light. You can get gas Tiki torches that are fed via your mains gas line underground but this option is probably only worth it to big businesses. For hosting a backyard shindig you'll only need a portable gas Tiki torch that runs off a standard blow torch cylinder. The beauty of a gas Tiki torch is you don't need a wick and you will get about 8 hours of light out of a single gas cylinder. My favorite was this Olympic torch style Tiki light made by Fire Sense.
Solar Tiki Torches
Without an open flame, can solar Tiki torches really be called a Tiki torch? I think these torches are more about a style and feel than having an open flame, so I'd say yes! Solar Tiki torches are the real deal. Plus they are better for the environment and a million times safer around hyperactive children. There are plenty of solar Tiki torches, but the standout one for me was the flame and solar 2-in-1 torch made by Tiki Brand. This lets you play it safe when the kids are running around (by just having the solar light on) but once they have gone to bed you can go for the classic flame light.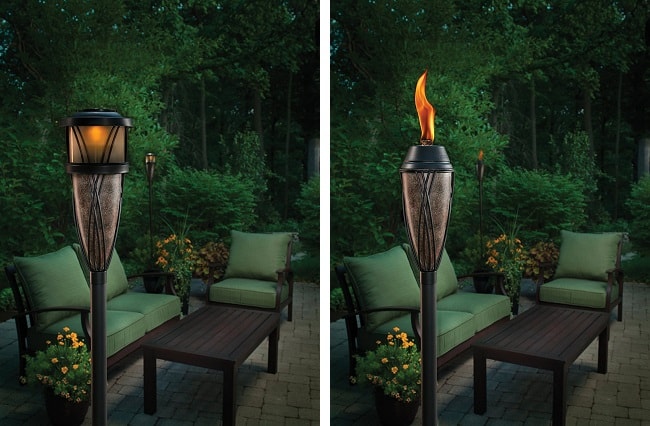 Tiki Torch Wicks
A wick is essential to oil fueled Tiki torches and will need to be replaced regularly. The science behind how a wick works is beyond me, but I do know that it draws the fuel up by capillary action and therefore one end of the wick must always be in contact with the oil. You can obviously buy wicks from most hardware or craft stores but this cost does start to add up. Most Tiki enthusiasts make their own. It is simple but takes a lot of time (not your time, but time soaking and drying).
You need to soak your string in a mixture of 1 tablespoon of salt, 2 tablespoons of boric acid and a cup of water for 12 hours. Then you have to let your string dry. Generally this takes from one day to a week, depending on the thickness of the string. And that's it, you now have a homemade wick.