The Bananarita cocktail always reminds me of why I love the art form of mixology so much. This fruit based cocktail shows that a natural inquisitiveness and the ability to not just rest on your laurels can lead to delicious and exciting new concoctions that can be shared and enjoyed by all.
It would be easy to just look at a Margarita, from which the Bananarita obviously owes its existence, and think job done, someone has come up with the perfect cocktail recipe which can't be improved on. That's not what we tend to do as humans though. We like to add things here and there, take things out, make things bigger or smaller – basically, we like to play around and hope we stumble across something that works.
This is exactly how I first came across the Bananarita. I was throwing a house party and some absolute cheapskate brought some banana liqueur with him. I half-heartedly thanked him and dismissively left it on my counter. A few hours later, and as is so often the case, I decided it was time for an experimental cocktail.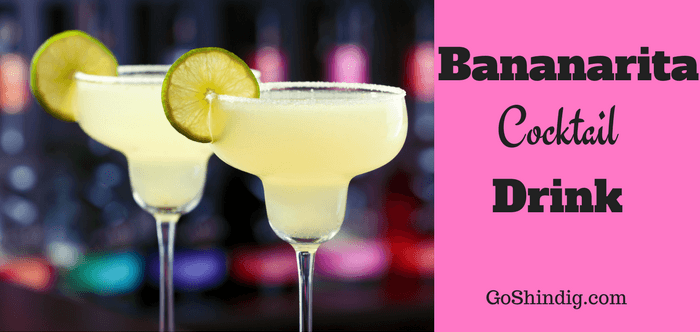 Now I'm not saying I was the first to make a Bananarita, but I was relatively young and naïve and knew that I loved Margarita and was also quite fond of banana flavored cocktails. Suddenly my disdain for this cheapskate had dissipated and he had risen to the rank of genius. A few shakes of the cocktail shaker later we were toasting our "new", delicious cocktail.
How to Make a Bananarita Cocktail
Bananarita Recipe
20ml Tequila
20ml Banana Liqueur
Lime Garnish
Bananarita Cocktail Equipment
How to Make a Bananarita Instructions
1. Add ice cubes to your Margarita glass to allow it to chill 2. Add ice cubes to your shaker 3. Measure out all the ingredients into your cocktail shaker using the jigger 4. Shake well for 10 seconds 5. Dispose of the ice in your Margarita glass 6. Pour your cocktail into the Margarita glass using the strainer 7. Garnish with a lime wedge
Bananarita Mocktail Recipe
Because the Bananarita has a liqueur in its recipe, it is a fairly simple step when trying to find a non-alcoholic version of this cocktail. We can substitute the banana liqueur with a readily available syrup such as this by Monin. To retain the original taste we can keep the Margarita mix although the Tequila will quite obviously have to go.
Bananarita Variations and Tips
If you're looking to do some experimentation of your own without having to wait for your very own cheapskate we've got you covered. The obvious place to start is to try different liqueurs instead of the banana one that we are so in love with. This means the Strawberryrita, the applerita and cherryrita are all viable options though some may be more appealing than others.
Another small variation you might like to try is to make a frozen Bananarita cocktail. In the same way that you can make frozen Margaritas, you can also turn your Bananarita into an alcoholic frozen drink.
Great Gifts for Bananarita Cocktail Drinkers
Amazon sells an amazing selection of gifts for Bananarita (Banana Margarita) cocktail drinkers. Here are a few great ideas.