Brisket isn't a piece of cake.
If it were, it would be easy to prepare. But any BBQ pitmaster will tell you that preparing this cut is anything but easy. It takes hours to season and smoke brisket to its mouth watering perfection.
When it's finally time to enjoy a juicy brisket, you don't want to present roughly chopped chunks of meat. No, brisket isn't cake. So you shouldn't cut it with the same type of knife. Brisket deserves its own tool.
But how do you decide which knife to use? This post offers a deep dive into the different types of brisket knives. We look at knives at a variety of styles at different price points. And this post will help you pick the best knife for your brisket slicing needs.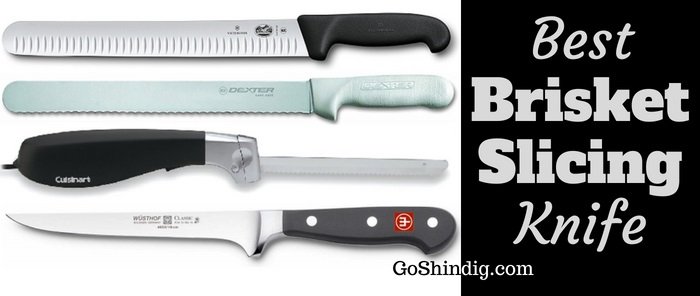 Do I Need a Knife Just for Slicing Brisket?
Not all knives are the same.
There are varieties for butter and steak. You have serrated, carving, and paring knives. But don't they all do the same thing? They all cut, right?
Sure, all knives are made to cut, but there is a reason that there are so many different types of knives – because the items you are cutting are different.
Any knife will cut brisket. But that doesn't mean you will get an appealing cut. You need the right knife to create the ideal brisket slice.
The Best Brisket Knife for Slicing
You should only use the nicest knives available to serve your brisket because you put so much time and effort into making it. With the ideal brisket knife, you can slice your smoke-infused masterpiece with a smooth edge to produce a stunning display for your finished dish, just like those made by top competition BBQ teams!
Fortunately, there are a ton of incredible brisket knives out there for slicing. There are knives for any BBQ pitmaster, including carving knives, slicing knives, and trimming knives.
This article will assist you in selecting the greatest brisket knife available for cutting amazing brisket slices. You may find my top picks as well as a buyer's guide to assist you in making the best decision. This collection includes a wide range of knives, from expensive ones to cheap ones, that you might find helpful.
To prepare a properly presented brisket, both carving and slicing knives, an electric knife, and trimming knives are included in this list.
Best Knife for Slicing Brisket
Victorinox 12 Inch Fibrox Pro Slicing Knife with Granton Blade

So you now know why you need a brisket knife. But which one should you buy?
If you want a clean, easy cut we suggest Victorinox.
The Victorinox is a go-to slicing knife for many chefs. The Granton blade's built-in air pockets keep food from sticking to the knife. This knife won't tear fibers, which is especially important when slicing brisket.
The 12-inch blade allows for smooth cuts. Instead of chopping or sawing with smaller blades, use the Victorinox to create consistent slices.
And, the handle is comfortable and slip-resistant. Victorinox is a reputable brand – their knife is high-quality and easy to use.
Pros – What I Liked
Victorinox is a trusted brand
Granton blade eliminates tears
12 inch blade helps create thin, consistent slices
Comfortable handle
Best Cheap Brisket Slicing Knife
Dexter 13463 12-Inch Silver Sani-Safe Scalloped Roast Slicer Knife

If you are looking for a cheap brisket slicing knife, consider the Dexter.
Cheap doesn't necessarily mean low-quality. In fact, this knife was recommended by award-winning pit master Aaron Franklin in his book and show. And since customers line up for hours to try his famous BBQ, we trust that he knows something about high-quality knives.
The Dexter's scalloped blade easily cuts through tough brisket fibers. You can create thin uniform slices with this knife, and its textured handle allows for a comfortable and sturdy grip.
The design eliminates crevices between the blade and handle for bacteria to grow. Also, the carbon blade is simple to clean. So, this is a very sanitary knife.
Pros – What I Liked
Popular pitmaster Aaron Franklin recommended this knife
It is an affordable but high-quality brisket slicer
Scalloped edges create smooth slices
The handle and blade are easy to clean
Best Electric Knife for Slicing Brisket
Cuisinart CEK-40 Electric Knife

Some pitmasters refuse to use electric knives. These knives get a bad rap for being low-quality as they can often tear brisket.
If you need to cut a lot of brisket however, consider using an electric knife. And if want to go this route, we suggest the Cuisinart CEK-40 Electric Knife.
Yes, you will pay a higher price for this knife, but it is a reliable knife that won't destroy your perfectly smoked brisket.
The powerful blade and long cord make this an excellent choice for barbecuers who need to slice a large quantity of brisket. Just be aware that the handle might get hot after a while.
The Cuisinart comes apart and can easily rest in the wood block. It is easy to store and transport.
Pros – What I Liked
The powerful blade makes it the best electric option
Long 4-ft cord
Easy to store
Best Knife for Trimming Brisket
Wusthof Classic 6-Inch Flexible Boning Knife

In addition to slicing, you need to trim brisket. This is an essential part of brisket preparation.
When trimming brisket, you shouldn't use a slicing knife – instead, consider the Wusthof Classic 6-Inch Flexible Boning Knife.
This thin, flexible blade is perfect for trimming fat. The 6-inch blade is easy to maneuver for precise cuts.
The comfortable handle allows for a firm grip. The blade is very durable and made from a single piece of carbon steel.
Pros – What I Liked
Thin and flexible blade that is perfect for trimming fat
Comfortable grip
Shorter blade so it is easy to make precise cuts
Best Long Brisket Slicing Knife
Mercer Culinary Slicer Millennia

A 12′′ knife, in my opinion, is the ideal length for slicing brisket. However, some folks simply can't resist a bigger knife.
If you plan to slice a lot of larger briskets and other large meats, the Mercer Granton slicer, at 14′′, is an excellent knife to have in your collection.
Both pitmasters and professional cooks hold Mercer in high respect. You may purchase high-quality Japanese steel for a reasonable cost and a knife that is simple to maintain and maintains a razor-sharp edge.
You can cut incredibly exact, straight lines because of the blade's thinness and 17-degree bevel angle. I've already established that I love Granton grooves, which prevent the blade from sticking while slicing brisket.
It's difficult to find many issues with this knife without being too nitpicky. Although you won't find superior materials at this budget point, the Santoprene plastic handle and Japanese steel are more than enough.
The 14′′ Mercer is a fantastic choice if you anticipate preparing numerous larger portions of brisket.
Pros – What I Liked
Made by a well-known and reputable brand
Razor-sharp edges
Made with high-quality carbon steel
Affordable
Ergonomic handle with textured grip
Best High-End Brisket Slicing Knife
DALSTRONG Slicing & Carving Knife

This Dalstrong slicing and carving knife is a great choice if you want to go with one of the top high-end knives available. It's one of the most widely used meat knives on the market for slicing brisket.
Nearly 3,000 customers have given this knife a perfect 5-star rating on Amazon.com. This knife is available in smaller sizes or you may upgrade to the 14-inch model. But I think the 12-inch model is the perfect size for slicing brisket.
German steel, one of the best metals available, is used to make this knife. It looks fantastic and is expertly made.
It comes with a sheath, allowing you to store the knife while also protecting your fingers and the blade. It has a full tang and is razor-sharp.
This blade's strength and flexibility are just right for cutting into tough meats with ease. It is designed to be Rockwell 56+ hard. Both the grip and the blade are exquisite, and they are ergonomically designed to make working with them comfortable.
Pros – What I Liked
Ergonomic blade design for maximum comfort
Dalstrong is one of the best brands available
Reliable German steel was used to make the blade
Razor-sharp blade
Provides a satisfaction guarantee
Best Overall Brisket Slicing Knife
CUTLUXE Slicing Carving Knife

This 12-inch Artisan Series knife should be your first choice if you want the best knife for slicing brisket at a reasonable price. This full tang knife includes a great ergonomic handle to lessen wrist discomfort, a honed edge at 14 to 16 degrees on either side, and a lifetime warranty.
I believe it is one of the best since it has a very sharp edge that can only be duplicated with a boning knife. Its length makes it perfect for even the toughest meat cuts like brisket and it's even great at slicing bread!
This blade's length of 12 inches is enough for most backyard pitmasters and professional knife users. In light of this, be sure to get a knife block large enough to accommodate a blade this length! Although, a knife with such a sharp edge might typically be kept in a separate location from the other knives.
Those who enjoy using premium European steel knives will adore this blade's beauty and strength because it is made of German steel. A German steel knife like this one will often need less sharpening and be more corrosion-resistant.
You'd be hard-pressed to find another straight-blade knife with quite as much force if it weren't sharpened to 14–16 degrees on either side. With this knife, you won't need to use much force to cut through tough brisket slices. After all, this is my best overall brisket knife for a reason!
This kind of sharp knife is usually susceptible to durability problems. After all, if you take proper care of your straight-blade knife, it will continue to be sharp.
Even though the design has all the makings of a durable knife, make sure you follow basic knife maintenance and care guidelines. Having said that, this knife has a fantastic lifetime warranty.
Pros – What I Liked
Razor-sharp Granton Blade
Pakkawood handle that is ergonomic
Knife with full tang
Can easily slice brisket
Premium stainless steel from Germany
Hand-sharpened edge with a side angle of 14–16 degrees
Lifetime warranty
Electric Slicing Knife vs Manual – Pros and Cons
Now that we have discussed our picks, let's take a closer look at the varieties.
Specifically, let's talk about the differences between electric and manual slicing knives.
Some barbequers swear by manual knives and refuse to use electric varieties. Others love the ease of electric knives. Ultimately, this is a personal choice. You need to decide which variety is best for you.
Electric Slicing Knives
These knives are perfect for anyone who needs to cut a large volume of brisket. Slicing brisket for hours is a tiring process.
However, electric knives are loud and cumbersome and they require a power outlet. Also, these are often more expensive than manual knives. They can also break down after repeated use.
PROS:
Requires less energy and effort than manual knives
Can slice a large volume in a short amount of time
Usually comes with multiple blades
CONS:
More expensive than manual blades
Requires a power outlet
Loud
Sometimes causes rough cuts
Manual Slicing Knife
There's a reason these are popular. Slicing with a manual knife might take longer, but it produces consistent cuts. With the right manual knife, you don't need to worry about tearing.
Also, these knives are usually more affordable than electric knives. And they don't require a power outlet.
PROS:
Less expensive than electric knives
Creates precise cuts
Doesn't require a power outlet
Won't break down
CONS:
Takes more energy and time than an electric knife
Sometimes harder to store than an electric knife
Different Brisket Slicing Knife Styles – Straight, Serrated, Scalloped, or Granton
We've discussed a few different knife styles. Now, let's take a closer look at the blade options.
Straight – A straight blade can produce a clean cut. But, these cuts are often challenging. Make sure you carefully line up the straight edge before making your cut.
Serrated – Serrated blades are used to tear. This is functional for foods with hard exteriors and soft interiors. But, it's difficult to produce a clean brisket slice with a serrated knife. Just be careful not to rip the tender brisket fibers.
Scalloped – Scalloped blades are slightly better than serrated. They are easier to use and can produce uniform slices. However, they can still tear tender brisket.
Granton – The Granton blade is a popular variety of carving knives. This variety was patented by the Granton company, but many companies offer similar blade styles.
The blade's air pockets allow for smooth, thin slices. Instead of tearing or sticking, meat easily falls away from the blade. This is our pick for the best brisket blade.
The Difference Between a Slicing and Carving Knife
We have used both terms in this guide. But are slicing and carving knives the same tool?
These terms are often used interchangeably. And many barbecuers don't know the difference. But technically, slicing and carving knives are different tools.
A true carving knife has a sharp straight blade. It is used to make precise small slices. The blade is typically 8-10 inches long.
A slicing knife is usually 12-14 inches and has a rounded edge. This type of knife usually includes a Granton blade, so it produces very thin consistent slices.
Best Brisket Knife Buyers Guide
You want to be certain that you are using the proper equipment while chopping up a huge, pricey piece of meat like brisket. Who wants to spend hours prepping their meats only to offer something that isn't up to par? Having a low-quality knife can result in a less-than-perfect dish.
You may obtain the best results from your cuisine by using a high-quality knife while chopping up your briskets or any other pieces of meat, for that matter. Here are some recommendations for choosing the ideal knife for cutting brisket.
Price
You'll see that these knives' pricing ranges might vary greatly. They can be purchased for anything between $20 and $200, possibly even more.
Although some of the less expensive knives might not be as effective or have as many high-end features and finishes, the good news is that you can discover exceptional quality in any price range.
Find a knife that meets your budget while yet offering a trustworthy edge and practical design. You have a choice, and I tried to offer options in a range of price points.
While looking for the greatest brisket knife, you may come across both expensive and less expensive brands. When selecting your knife, consider client reviews and professional advice.
When it comes to pricing, you should be careful to avoid sacrificing the knife's quality while also staying within your means. It is best to keep the knife's price and performance in balance.
Blade Type
Any of the many available types of blades could be used to cut brisket, while some might perform better than others.
You can get a blade with teeth that are serrated. The teeth aid in tearing into the object you are cutting, making it possible for them to easily cut through meats like brisket without any resistance. However, they don't always cut incredibly neatly, which can be a detriment to some.
You also get a straight blade. Cutting with straight blades is always clean. However, if you use your straight blade for this reason you'll need to keep it at its sharpest at all times because the burnt outside of the brisket can be more difficult to cut into.
Additionally, there is a blade with scallops. You get the benefits of both straight and serrated blades with a scalloped blade because it seems to be straight but has really tiny teeth. Simply be careful to work slowly while using a scalloped blade to prevent overstretching it.
Knife Material
It's crucial to choose a knife made of the proper material. Stainless steel and high-carbon stainless steel are the two primary types of brisket knife materials.
Since carbon is abundant in carbon steel, it helps keep edges sharp. However, since carbon can contribute to rusting, your blade may rust more quickly than stainless steel. After each use, these knives require additional upkeep and attention.
A stainless steel blade, on the other hand, is robust and corrosion-proof. Compared to high-carbon knives, this material is typically fairly inexpensive and easy to maintain.
However, because stainless steel is softer than other types of steel, it can lose its edge over time and become dull.
Before selecting a knife that's ideal for you, it's critical to weigh the advantages and disadvantages of the material in light of your lifestyle and individual requirements.
Sharpness
When slicing up meat, the sharpness of the blade is crucial. A knife that can quickly cut through the meat without being yanked or dragged in any way is what you desire. If you have a lot of briskets to chop up in a short amount of time, a blunt blade will just waste your time.
To get the greatest cuts, a decent brisket knife needs to have a razor-sharp blade. Briskets are readily torn by a dull blade, which might interfere with how your meat looks when served.
Additionally, cutting with a dull blade will need more pressure, which could cause moisture to escape and leave you with a dry brisket. All in all, you need to choose a knife that is incredibly sharp and simple to keep that way.
Handle Type
Given that you'll probably need to hold it at particular angles while slicing through the fibers of the meat, the handle style should be comfortable for you to use. Many individuals favor a handle with an ergonomic design since it is more comfortable and makes it simpler to have a stable hold.
While slicing up meat, the handle can become extremely slippery, some people prefer to use knives with softer handles that don't slip easily. Whatever handle you choose, ensure sure it is solid when handling larger chunks of brisket or other types of meat while yet feeling comfortable in your hands.
How Long Should a Brisket Knife Be?
For a smooth, clean slice, you usually want your knife to be longer than the breadth of the meat you're cutting. I advise selecting a knife over the 10″ range due to this.
Smaller knives are indeed excellent for slicing and carving, but you should err on the side of caution when handling brisket. 10″, 12″, and even 14″ knives will be considerably simpler to handle.
Weight
While hefty brisket knives may be more robust and lasting, requiring less force on your part, other people may light knives are easier to hold.
You should determine whether a knife's handle and tip are of equal weight before selecting one. A knife that is well-balanced should feel comfortable in your hand.
Looking After Your New Briaket Knife
The last thing you want to do is throw a brand-new knife into the dishwasher without first learning how to properly care for it. The longer lifespan, improved performance, and decreased risk of self-cutting make learning correct care and maintenance worthwhile.
Knives shouldn't ever be washed in a dishwasher since the high heat and detergents used there can damage the handles and loosen rivets.
Knives should always be washed by hand in warm, soapy water before being immediately rinsed and dried.
To safeguard the cutting edges, keep the knife in a covering or case.
You have a number of alternatives for maintaining the edge on your knife. In my comprehensive guide to picking the best knife sharpener, I go into much more depth about this. You can keep your knives razor-sharp if you take care to avoid using any downward pressure and concentrate on drawing the knife carefully across.
How to Slice Brisket
Allow your brisket to rest for at least 20 minutes before slicing. This helps trap the juices inside the meat.
When you are ready to slice, grab your trimming knife and remove any excess fat, especially from the bottom of the point.
Switch to your preferred slicing knife and cut a small section of the brisket. This will help you determine the grain. You need to cut against the grain, but make sure you don't remove the fat or bark.
Begin slicing the flat section by placing your steadying hand on the flat. Use your cutting hand to make thin, consistent slices. Remember to slice against the grain for tender cuts. You want your slices to be about 3/8 inch thick.
Check out BBQ With Franklin for more details about the slicing process.
We hope you now feel ready to choose the perfect knife for your brisket slicing needs. Please feel free to share your thoughts and experiences in the comments. We would love to hear from you!
Can You Just Use A Regular Knife?
Yeah, a standard knife would work, but it wouldn't be very effective. It will help you out in a pinch if that is all you happen to have on hand.
However, using a carving or slicing knife that is appropriate for the job will make your life much easier. If you do cut a number of briskets and plan to slice brisket to serve visitors I'd 100% recommend getting a dedicated brisket-slicing knife.
These knives will make cutting brisket much simpler and the finished product will look much better.
The structural integrity of the meat will be preserved with the aid of the proper knife, which is important, especially if you are serving it to visitors.
Use professional carving and slicing knives made for the job if you want a nice, smooth cut that looks fantastic and is much simpler to make.
Final Thoughts
Meat from the lower breast or chest of a cow, lamb, or pig is used to make briskets. To make this cut tender and flavorful, it must be cooked for a number of hours. Therefore, when it's time to eat, you would want to have the best knife for slicing it!
A person might need to look for a high-quality knife to use on briskets for a variety of reasons. For instance, it can be because they want to host a BBQ party at their house. In any event, it's always preferable if a person's cooking abilities are distinctive in some way. This article might serve as a guide for choosing the best brisket knives for your requirements.
To begin with, you must ensure that the knife has a razor-sharp blade. This is crucial since, if it cannot perform the intended function, there is no purpose in purchasing it! It will take some time to examine each model and choose which would be ideal for your requirements.
The second thing you should do is examine the balance of various brands to see how they stack up. Does the handle, for instance, allow one to balance the knife while holding it? A well-crafted knife will be composed of sturdy materials, giving you the assurance you need when using it. Additionally, it should feel comfortable in your palm without being too small or awkward.
Last but not least, carving knives that are worth their weight will be solidly built and well-balanced so that you can use them without fear of getting hurt.