Brisket isn't a piece of cake.
If it were, it would be easy to prepare. But any BBQ pitmaster will tell you that preparing this cut is anything but easy. It takes hours to season and smoke brisket to its mouth watering perfection.
When it's finally time to enjoy a juicy brisket, you don't want to present roughly chopped chunks of meat. No, brisket isn't cake. So you shouldn't cut it with the same type of knife. Brisket deserves its own tool.
But how do you decide which knife to use? This post offers a deep dive into the different types of brisket knives. We look at knives at a variety of styles at different price points. And this post will help you pick the best knife for your brisket slicing needs.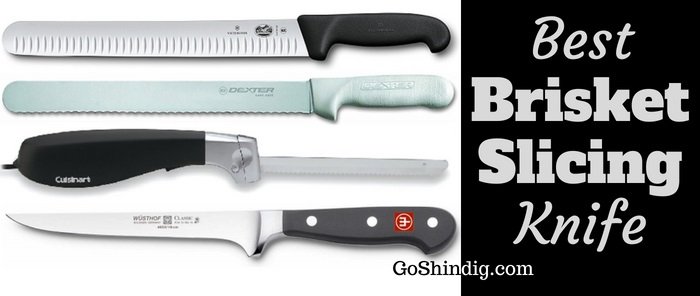 Do I Need a Knife Just for Slicing Brisket?
Not all knives are the same.
There are varieties for butter and steak. You have serrated, carving, and paring knives. But don't they all do the same thing? They all cut, right?
Sure, all knives are made to cut, but there is a reason that there are so many different types of knives – because the items you are cutting are different.
Any knife will cut brisket. But that doesn't mean you will get an appealing cut. You need the right knife to create the ideal brisket slice.
The Best Knife for Slicing Brisket
So you now know why you need a brisket knife. But which one should you buy?
If you want a clean, easy cut we suggest Victorinox.
Victorinox 12 Inch Fibrox Pro Slicing Knife with Granton Blade

The Victorinox is a go-to slicing knife for many chefs. The Granton blade's built-in air pockets keep food from sticking to the knife. This knife won't tear fibers, which is especially important when slicing brisket.
The 12 inch blade allows for smooth cuts. Instead of chopping or sawing with smaller blades, use the Victorinox to create consistent slices.
And, the handle is comfortable and slip-resistant. Victorinox is a reputable brand – their knife is high-quality and easy to use.
Why We Chose This Knife:
Victorinox is a trusted brand
Granton blade eliminates tears
12 inch blade helps create thin, consistent slices
Comfortable handle
Best Cheap Brisket Slicing Knife
If you are looking for a cheap brisket slicing knife, consider the Dexter.
Dexter 13463 12-Inch Silver Sani-Safe Scalloped Roast Slicer Knife

Cheap doesn't necessarily mean low-quality. In fact, this knife was recommended by award-winning pit master Aaron Franklin in his book and show. And since customers line up for hours to try his famous BBQ, we trust that he knows something about high-quality knives.
The Dexter's scalloped blade easily cuts through tough brisket fibers. You can create thin uniform slices with this knife, and its textured handle allows for a comfortable and sturdy grip.
The design eliminates crevices between the blade and handle for bacteria to grow. Also, the carbon blade is simple to clean. So, this is a very sanitary knife.
Why We Chose This Knife:
Popular pitmaster Aaron Franklin recommended this knife
It is an affordable but high-quality brisket slicer
Scalloped edges create smooth slices
The handle and blade are easy to clean
Best Electric Knife for Slicing Brisket
Some pitmasters refuse to use electric knives. These knives get a bad rap for being low-quality as they can often tear brisket.
If you need to cut a lot of brisket however, consider using an electric knife. And if want to go this route, we suggest the Cuisinart CEK-40 Electric Knife.
Cuisinart CEK-40 Electric Knife

Yes, you will pay a higher price for this knife, but it is a reliable knife that won't destroy your perfectly smoked brisket.
The powerful blade and long cord make this an excellent choice for barbecuers who need to slice a large quantity of brisket. Just be aware that the handle might get hot after a while.
The Cuisinart comes apart and can easily rest in the wood block. It is easy to store and transport.
Why We Chose This Knife:
The powerful blade makes it the best electric option
Long 4-ft cord
Easy to store
Best Knife for Trimming Brisket
In addition to slicing, you need to trim brisket. This is an essential part of brisket preparation.
When trimming brisket, you shouldn't use a slicing knife – instead, consider the Wusthof Classic 6-Inch Flexible Boning Knife.
Wusthof Classic 6-Inch Flexible Boning Knife

This thin, flexible blade is perfect for trimming fat. The 6-inch blade is easy to maneuver for precise cuts.
The comfortable handle allows for a firm grip. The blade is very durable and made from a single piece of carbon steel.
Why We Chose This Knife:
Thin and flexible blade that is perfect for trimming fat
Comfortable grip
Shorter blade so it is easy to make precise cuts
Electric Slicing Knife vs Manual – Pros and Cons
Now that we have discussed our picks, let's take a closer look at the varieties.
Specifically, let's talk about the differences between electric and manual slicing knives.
Some barbequers swear by manual knives and refuse to use electric varieties. Others love the ease of electric knives. Ultimately, this is a personal choice. You need to decide which variety is best for you.
Electric Slicing Knives
These knives are perfect for anyone who needs to cut a large volume of brisket. Slicing brisket for hours is a tiring process.
However, electric knives are loud and cumbersome and they require a power outlet. Also, these are often more expensive than manual knives. They can also break down after repeated use.
PROS:
Requires less energy and effort than manual knives
Can slice a large volume in a short amount of time
Usually comes with multiple blades
CONS:
More expensive than manual blades
Requires a power outlet
Loud
Sometimes causes rough cuts
Manual Slicing Knife
There's a reason these are popular. Slicing with a manual knife might take longer, but it produces consistent cuts. With the right manual knife, you don't need to worry about tearing.
Also, these knives are usually more affordable than electric knives. And they don't require a power outlet.
PROS:
Less expensive than electric knives
Creates precise cuts
Doesn't require a power outlet
Won't break down
CONS:
Takes more energy and time than an electric knife
Sometimes harder to store than an electric knife
Different Brisket Slicing Knife Styles – Straight, Serrated, Scalloped, or Granton
We've discussed a few different knife styles. Now, let's take a closer look at the blade options.
Straight – A straight blade can produce a clean cut. But, these cuts are often challenging. Make sure you carefully line up the straight edge before making your cut.
Serrated – Serrated blades are used to tear. This is functional for foods with hard exteriors and soft interiors. But, it's difficult to produce a clean brisket slice with a serrated knife. Just be careful not to rip the tender brisket fibers.
Scalloped – Scalloped blades are slightly better than serrated. They are easier to use and can produce uniform slices. However, they can still tear tender brisket.
Granton – The Granton blade is a popular variety of carving knives. This variety was patented by the Granton company, but many companies offer similar blade styles.
The blade's air pockets allow for smooth, thin slices. Instead of tearing or sticking, meat easily falls away from the blade. This is our pick for the best brisket blade.
The Difference Between a Slicing and Carving Knife
We have used both terms in this guide. But are slicing and carving knives the same tool?
These terms are often used interchangeably. And many barbequers don't know the difference. But technically, slicing and carving knives are different tools.
A true carving knife has a sharp straight blade. It is used to make precise small slices. The blade is typically 8-10 inches long.
A slicing knife is usually 12-14 inches and has a rounded edge. This type of knife usually includes a Granton blade, so it produces very thin consistent slices.
How to Slice Brisket
Allow your brisket to rest for at least 20 minutes before slicing. This helps trap the juices inside the meat.
When you are ready to slice, grab your trimming knife and remove any excess fat, especially from the bottom of the point.
Switch to your preferred slicing knife and cut a small section of the brisket. This will help you determine the grain. You need to cut against the grain, but make sure you don't remove the fat or bark.
Begin slicing the flat section by placing your steadying hand on the flat. Use your cutting hand to make thin, consistent slices. Remember to slice against the grain for tender cuts. You want your slices to be about 3/8 inch thick.
Check out BBQ With Franklin for more details about the slicing process.
We hope you now feel ready to choose the perfect knife for your brisket slicing needs. Please feel free to share your thoughts and experiences in the comments. We would love to hear from you!