There is a truth universally acknowledged in kitchens around the world that a good knife is a sharp knife. Yet most of us drop the ball when it comes to maintaining our knives. Using the best knife sharpener will give you an edge over the competition and help you hone your BBQ skills.
It is ironic that novice pitmasters will spend hours selecting the best knife for slicing a brisket, but often wait years before investing in a knife sharpener. If you want to get the most out of your premium kitchen knives you have to maintain their cutting edges.
When you have sharp knives you can chop meat like a pro and produce wafer-thin slices almost effortlessly. Your BBQ will look more attractive and professional, and you won't risk losing a finger in the bargain. The best knife sharpener for your family should be easy to use and doesn't have to cost a lot of money.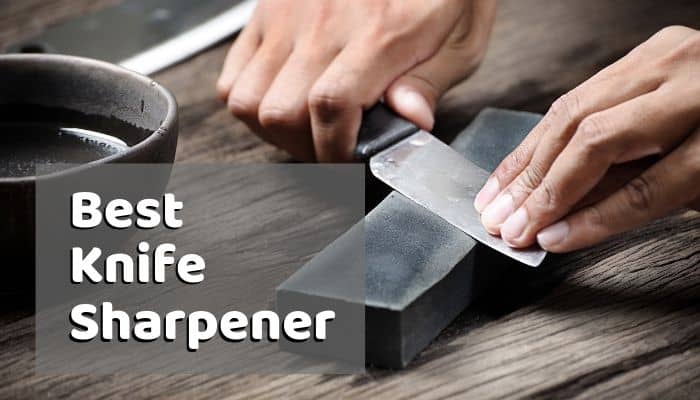 Best Knife Sharpener
No matter how sharp your knife feels when you buy it, over time it will gradually lose its edge. With a honing rod and a knife sharpener, you can stay on top of the situation and keep your blades ready for action.
Every time you slice with it, your knife sacrifices a bit more of its sharpness. The edge of a steel blade acquires nicks and even folds over on itself until it is as dull as a butter knife. Ceramic knives chip and wear, beating down the edge until it is flat.
A dull knife is a dangerous knife. It takes more effort to use a dull knife than a sharp one, and when things go wrong these knives can do some real damage. Dull knives also crush your foods instead of cutting them, ruining the taste and texture.
The only way to restore your dull blade to its original shape is to use a knife sharpener. Sure, you could bring your knives to a professional, but that can get expensive. Your knives will wear at different rates, too, and some may need more frequent attention than others.
Using a knife sharpener at home allows you to maintain your BBQ knives in tip-top form. You'll never shred your brisket by accident when you carve your meat with a sharp knife. Every household should have at least two kinds of knife sharpener.
Honing vs Sharpening a Knife
Honing a knife is a different thing from sharpening it. When you use a honing rod or a strop strap, you are not actually sharpening the blade. You are merely restoring the thin metal knife-edge to its original position.
This helps your knife cut better and with less effort, so it feels sharper. Using a honing rod each time you use your steel knife can help maintain the edge. It also extends the amount of time between sharpening sessions.
When you use a knife sharpener, by contrast, you are actually removing material from the blade. This reshapes the edge, removes nicks and restores the geometry to your knife's edge. Most knives only need sharpening three to four times a year.
Learning how to sharpen a knife seems like an intimidating process, but it is actually very straightforward. Knife sharpeners come in a wide variety of styles and sizes. Some sharpeners are practically idiot-proof, while others require a bit more skill to master.
The best knife sharpener for your family will depend on the kinds of knives you own and the type of sharpener you prefer. You can learn more about shopping for a knife sharpener in our Buyer's Guide.
Work Sharp Ken Onion – Best Overall Knife Sharpener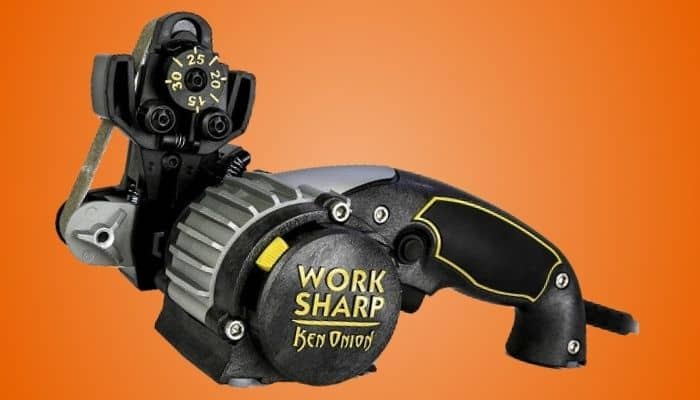 For the ultimate sharpening experience you just can't beat the Work Sharp Knife and Tool Sharpener. This professional electric belt-sharpener works on just about any metal tool in your house.
The Work Sharp can sharpen both Western and Eastern-style knives with ease. The adjustable sharpening guide produces precise edge bevels from 15° to 30°. If you purchase their diamond embedded belt you can also use it to sharpen ceramic knives.
The premium abrasive belts and variable speed motor allows you to handle any task, from honing to grinding and sharpening. You can slowly hone a finished blade or speedily grind a new edge on a dull knife.
This sharpener also has belts for sharpening serrated knives, gut hooks and other tools with hard-to-reach edges. It is fast to set up and doesn't require a lot of calibration time.
The Work Sharp is a serious tool and has a steep learning curve. This is the best overall knife sharpener for anyone who has a wide array of tools that require frequent maintenance. It may be a bit intimidating for a novice knife sharpener to learn on, however.
This sharpener is made in the USA and the company behind it, Darex, has been making industrial-quality sharpening tools for over 40 years. While the warranty is only good for 1 year, the company takes customer service seriously. If you have a problem they will bend over backwards to help you out.
Pros – Things we liked
Variable speed motor
Can sharpen almost all knives
Made in the USA
Cons – Things we didn't like
Warranty is only 1 year
Chef's Choice 130 Professional – Best Electric Knife Sharpener
If you're looking for an easy-to-use sharpener for your Western-style knives, then the Chef's Choice 130 Professional Sharpening Station could be the one for you.
This electric pull through sharpener is ideal for folks just learning how to sharpen a knife. The built-in precision angle guides produce consistently sharp edges every time you use it.
You won't have to worry about your edge angles either. The Chef's Choice has no problems sharpening blades with angles from 20° to 25°. It can even sharpen pocket and serrated knives.
This sharpener has three stages. The first stage uses a diamond embedded wheel to sharpen your knife. The second stage has a hard sharpening steel to refine your edge. The third stage uses a flexible stropping disk to hone and polish your blades to perfection.
The Chef's Choice is easy to use and maintain. It has a simple "on" switch and rubber feet to keep the sharpener in place as you use it. There are no settings you have to adjust, so you can get right to sharpening.
An excellent option for novice and experienced knife sharpeners alike, the Chef's Choice is ideal for most families. It also comes with a 3 year warranty.
Ehoyal – Best Manual Knife Sharpener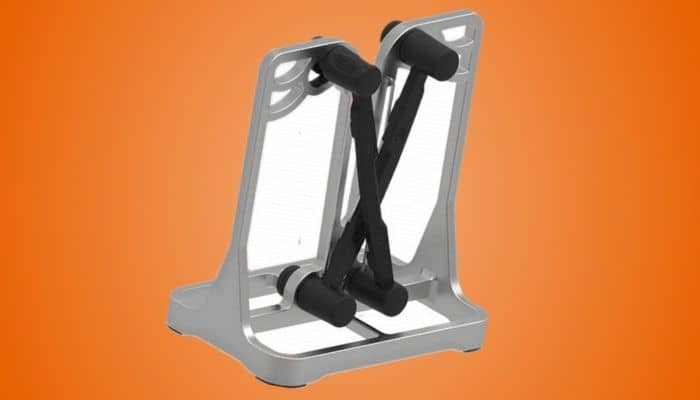 If you want a knife sharpener that keeps things simple, then the Ehoyal Knife Sharpener could be the best pick for you. This manual pull through sharpener is an impressive and compact device.
The Ehoyal uses a simple metal frame to hold two spring-loaded tungsten carbide rods in a V-shape. The rods flex around your knife and conform to its shape as you pull the blade through the stage.
You never need to worry about your edge angles or the grind of your blade when you use the Ehoyal. It works with nearly all steel knives, even knives with a convex grind!
This versatile sharpener is ideal for users with every level of experience. It doesn't require much precision and it works for right and left-handed folk as well. This is a great option as a gift for anyone who enjoys cooking.
While the Ehoyal won't work for ceramic knives or serrated blades, it does a great job with both Eastern and Western-style steel knives. It can even handle trickier shapes, like a boning knife or a knife with a chisel grind.
This is an ideal sharpener for anyone who wants a simple manual pull through. The upgraded version is attractive and very functional, and the price just can't be beat.
Noble Home & Chef – Best Honing Rod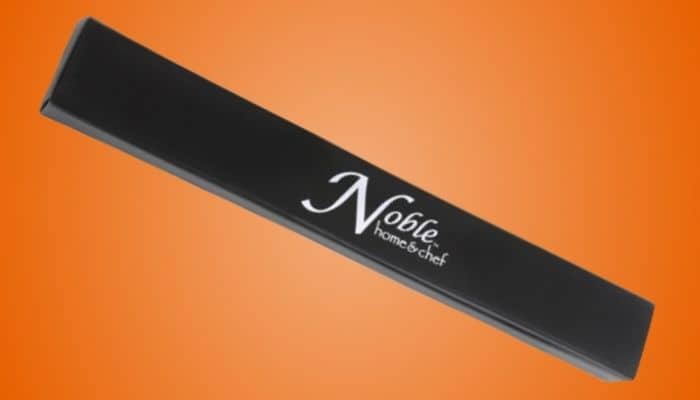 If you want to hone a blade like you hone your BBQ skills, then you may want to check out the honing rod from Noble Home & Chef.
This honing rod is impressive and filled with features. The chromium-plated steel rod is sturdy and corrosion-proof. You can even wash it in the dishwasher and it won't rust or lose its finish.
Made from hardened carbon steel, this rod can stand up to the toughest of steel knives. The steel is 10-inches long and perfect for most kitchen knives. The oval handle makes for a sturdy grip and has a guard to protect your fingers.
This honing rod is also magnetized, so any bits of metal are safely contained. You can just wipe it clean when you finish using it. No particles of metal will linger in the air or in your food.
The Nobel honing rod feels really solid in your hands, and is a top-quality piece of equipment. It is ideal for all of your daily honing needs and makes a great addition to any kitchen.
Sharp Pebble Premium – Best Whetstone Knife Sharpener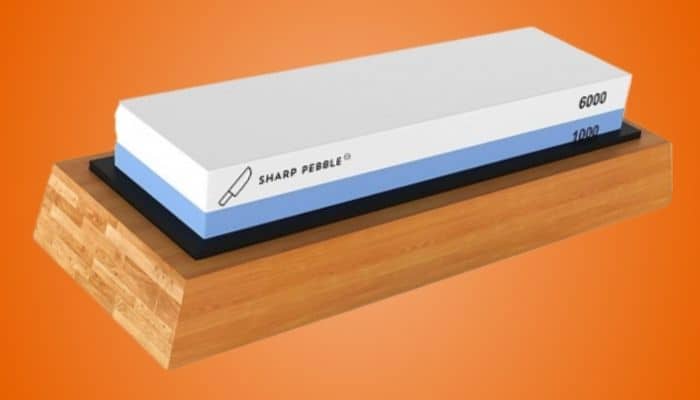 If you are a hands-on kind of pitmaster then you may prefer to sharpen your knives with a sharpening stone. This premium whetstone from Sharp Pebble is ideal for novices and sharpening-experts alike!
If you have felt intimidated by sharpening stones in the past then this is the system for you! It comes with detailed instructions and even an E-book filled with tips.
The two-sided water stone is perfect for sharpening any kind of metal knife. Chef's knives, pocket knives and even hunting knives, razors and axes. This stone can do it all with ease.
The non-slip bamboo base holds your stone securely with a layer of silicon. This stone will never slip as you sharpen a knife, and since it doesn't use an oil lubricant the clean-up is quick.
My favorite thing about this sharpening stone is that it comes with an adjustable angle guide. You never have to rely on eyeballing the correct angle. The guide ensures you are always using the precise angle you need to sharpen your knife to perfection.
While this stone is too soft to sharpen a ceramic knife, the set is ideal for all steel-based Western and Eastern-style blades. With a 30-day warranty against manufacturing defects, you have nothing to lose when you buy this whetstone.
KitchenIQ Edge Grip – Best Cheap Knife Sharpener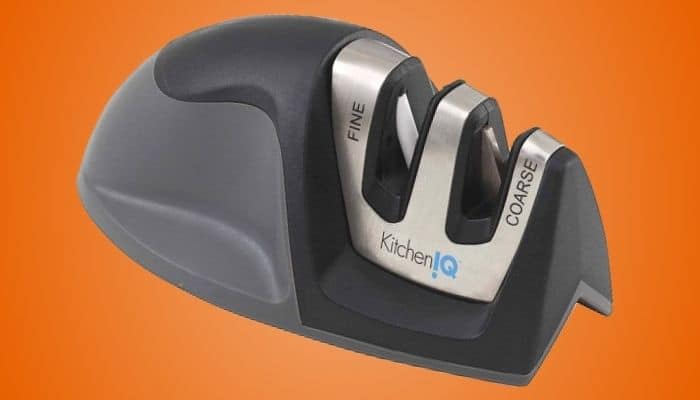 It may not look very fancy, but this manual pull through sharpener from KitchenIQ is an impressive sharpener for one specific reason – the price. You just can't find a better manual pull through sharpener for under $8.
The KitchenIQ has two stages. The coarse tungsten carbide stage is perfect for reshaping a dull knife. The finer ceramic stage polishes and hones your blade for a quick touch-up.
This compact sharpener is easy to store. The patented edge grip feature allows you to sharpen your knives on the edge of a counter. Your longer knives won't drag or damage your countertop while you sharpen.
Awesome as this little work-horse is, it does have some downsides. It is ideal for Western-style knives with an edge angle of 20° to 25°, but it can't handle Eastern-style, serrated or ceramic knives. It is also not appropriate for scissors or other tools.
If you need a cheap, basic pull through sharpener for your kitchen knives then this could be ideal for you. It is a great option for a small home, RV or cabin. The KitchenIQ also makes a great gift, and at this price, there isn't much risk in buying one.
Lansky QuadSharp – Best Knife Sharpener for Pocket Knife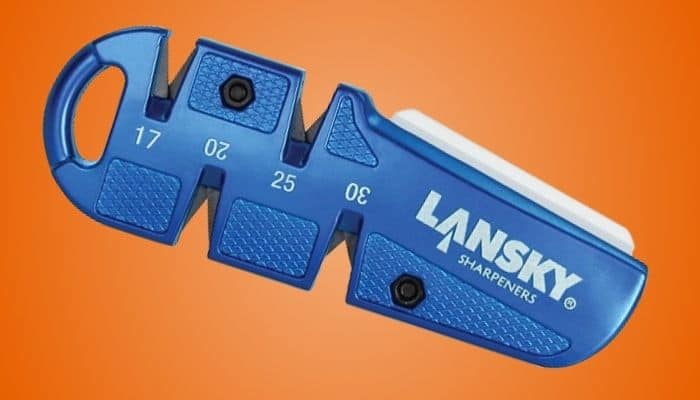 There is nothing worse than being stuck on a camping trip with a dull pocket knife. It's not easy to carry a professional sharpening set-up along in your backpack. With the Lansky QuadSharp Multi-angle Pocket Sharpener, you can sharpen your knives anywhere!
This keychain sharpener allows you to maintain your knives in the field or wherever you find yourself trapped with a dull knife. It is tiny, measuring a mere 4.2 x 0.5 x 2.2 inches and weighing in at 3.2 ounces.
The Lansky QuadSharp can precisely sharpen blades with an edge angle of 17°, 20°, 25° or 30°. The stages are clearly marked so you know which slot to use for each angle. Just pull your knife through the appropriate stage a few times and you're done.
The ceramic benchstone works to hone your sharpened knives. You can use it daily to maintain your edges. It is also tapered, allowing you to sharpen serrated blades in the field as well. This is an ideal sharpener for smaller steel fixed-blade and pocket knives.
Every outdoor enthusiast should grab one of these sharpeners, even if you have a more extensive set-up at home. For sharpening on the fly, you just can't beat the Lansky QuadSharp keychain sharpener.
Sharpal – Best Knife Sharpener for Hunting Knife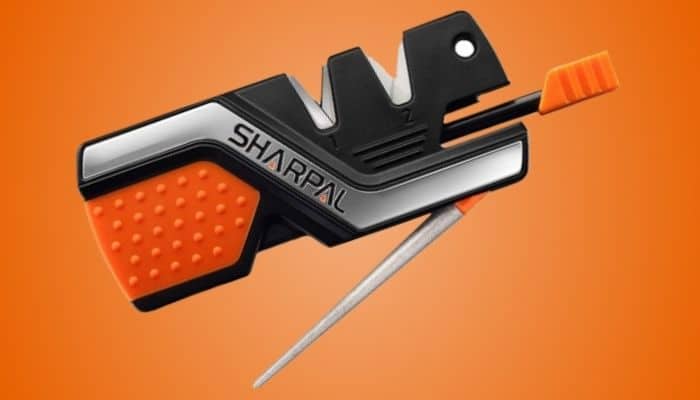 Sometimes you need something more than just a knife sharpener. This keychain sharpener from Sharpal is more properly a survival tool. When you need to pack light and bring the essentials the Sharpal is there for you.
The two-stage pull through sharpening system is ideal for sharpening all Western-style steel knives. The tungsten carbide rods are ideal for grinding an edge and the ceramic stage will hone your blade with a few swipes.
The tapered diamond rod has a medium grit and grooves for sharpening serrated edges, gut and fish hooks. You can also use it to edge other pointed tools.
The Sharpal has some other features that really make it stand out. The compact 3.5 x 1.5 x 0.5 inch-shape is perfect for travel and it only weighs 1.44 ounces.
This sharpener also has a built-in fire starter and a high-pitched whistle for emergency communications. You can see how ideal the Sharpal is for backpacking, camping and hunting trips.
Sunrise Pro – Best of the Rest
I know this one doesn't look very impressive and actually resembles a squat camping lantern. But the SunrisePro Supreme Knife Sharpener lives up to its name. It is a supremely well-designed knife sharpener and the price is a steal.
Ideal for sharpening all of your Western-style steel knives, the SunrisePro is incredibly easy to use. Just pass your knife through the tungsten carbide V-shaped slot once or twice and it is ready!
The base actually grips your counter using a suction cup. Once you set this sharpener up it is not going to slip. The suction releases in a second when you're finished working your knife.
The SunrisePro is compact and easy to store. It does have a few disadvantages, however. It works well on sharpening smooth and serrated knives but doesn't do as well with fine-toothed knives like a tomato knife.
You can't adjust the rod's angle, either. If you want a different edge angle you will need to use a more versatile sharpener. This one doesn't work for Eastern-style or ceramic knives, or knives with a chisel or convex grind.
The SunrisePro comes with a satisfaction guarantee. If you are not happy with this sharpener, just contact the company within 30 days. They will refund your money and you can even keep the sharpener!
Lansky Diamond – Best Lansky Knife Sharpener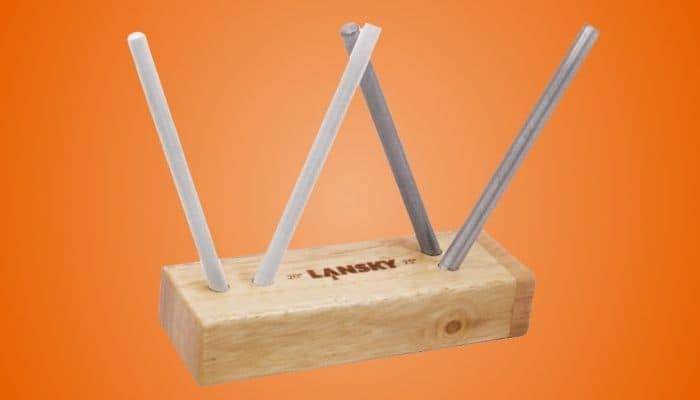 Lansky is well-known for their high-quality and professional-style knife sharpeners, and this one is no exception. The Lansky Diamond Ceramic Turn Box is ideal for sharpening all of your Western-style smooth-edged knives.
A turn box uses sharpening rods that slip into pre-drilled slots on the top of the box. The slots control the angle of your sharpening rods. This turn box can sharpen your knives at one of two angles.
The 25° angle slots are perfect for sharpening standard kitchen knives. This angle produces a great slicing knife with a durable edge. The 20° angle slots work for knives that need a very sharp edge, like for a filet knife.
The Lansky comes with two sets of sharpening rods. The medium-grit diamond rods are perfect for grinding an edge on a blade, and the ceramic rods work to hone and polish your knife.
This turn box is very stable and breaks down for compact storage. You can toss the box in your backpack for camping and fishing trips, or to store it in a drawer.
The Lansky turn box is an excellent sharpener and really provides hands-on experience. It isn't as versatile as a sharpening stone but it provides more control than a pull through sharpener.
Is My Knife Sharp Enough?
How do you know when your knife needs sharpening?
Frankly, most kitchen knives could benefit from honing and sharpening. At the same time, sharpening a knife removes material from the blade. If you sharpen a knife too frequently you could actually reduce its lifespan and damage the blade.
Everyone develops their own method of testing a knife for sharpness. Some people run their finger along the blade or test it against the ball of their thumb. My grandpa liked to sharpen his knives until they could shave the hair on his arms.
I prefer to test my knives using methods that won't accidentally end in bloodshed.
I usually use the tomato test to determine if my blades need sharpening. Get a ripe tomato and try to slice it in half with your knife. If the tomato slices without crushing the skin or fruit, then your knife is fine. If the knife won't slice through the skin without crushing it, then your knife is dull.
The paper test is another option, and I like to use this one to test the blade as I sharpen my knife. Get a sheet of writing paper and hold it in front of you by one corner. Take your knife, and start cutting through the paper from the top edge downward.
If your blade slices through the paper without any problems, then it is sharp. If it can't cut through the paper then it needs to be sharper.
Another advantage of the paper test is it can alert you to any knicks in your blades. You will feel the knife catch the paper when it hits these rough spots. Then you know your blade still needs some work.
Knife sharpness is a tough thing to gauge at first but gets easier with experience. If you usually use dull knives then you may not even realize how much harder they make you work. Once you're accustomed to using really sharp knives, however, you will get a feel for when they are due for a sharpening.
Types of Knife Sharpener
There are many kinds of knife sharpeners, and they come in all sizes and shapes. There are knife sharpeners that can fit in the palm of your hand and huge mechanized sharpeners the size of a table saw.
The best knife sharpener for home use tends to be fairly compact, easy to store and not very complicated to operate. Most will also come with detailed instructions, so you know how to sharpen a knife with that particular sharpener.
There are three primary types of home knife sharpener: pull through sharpeners, sharpening stones (aka whetstones) and honing rods.
Pull Through Knife Sharpener
This is the most popular category of knife sharpener by far, and it's easy to see why.
A pull through knife sharpener is simple to use and has a very short learning curve. If you don't want to mess about with edge geometry then this is the best knife sharpener for you. Just pass your knife through each stage and the sharpener does all the work.
Most of these sharpeners use ceramic rods or wheels as the sharpening mechanism. Ceramic is a very tough material and it does a great job at reshaping a metal knife. Other materials commonly used for sharpening stages include tungsten carbide or diamond-embedded rods or wheels.
Pull through sharpeners typically have up to four stages with different levels of coarseness. It's kind of like using sandpaper to smooth a chunk of wood.
How to Sharpen a Knife with a Pull Through Sharpener
You pull your knife through the coarser stage first, and then shift to the finer ones until your knife is sharp. It may take a couple of passes on each stage to sharpen your knife. Some pull through sharpeners also have a honing stage you can use in place of a honing rod or strop strap.
Pull through knife sharpeners are ideal for sharpening all kinds of steel knives and some even work on serrated knives and scissors too. They are not appropriate for ceramic knives, unfortunately.
The main disadvantage to using a pull through sharpener is that they remove a lot more material from your knife than a sharpening stone. Each time you use one, it reshapes the edge completely.
Some professional chefs dislike pull through sharpeners because they can shorten the lifespan of a knife. In a commercial kitchen, this makes sense, but it is usually not an issue for home cooks.
Electric Pull Through Sharpener
Electric pull through sharpeners have a motor that spins the ceramic or diamond-embedded wheels inside each stage. As you pull your knife through a stage, the spinning wheel removes metal from the blade and reshapes the edge. The last stage, with the finest wheel, sharpens your knife to perfection.
The best electric pull through sharpeners have three sharpening stages and at least one honing stage as well. These are ideal for chefs who frequently sharpen their knives and want to do it quickly. You can sharpen a really dull knife in minutes using an electric sharpener.
Manual Pull Through Sharpener
Manual sharpeners are similar to the electric versions but don't have a motor. Instead of sharpening wheels, they have ceramic or tungsten rods fixed in a V-shape inside each stage.
When you pull your knife through a stage, the V-shaped rods scrape against the blade. The rods remove steel from the knife and grinds the edge into the correct angle. As you move to the finer stage, the rods remove less material and the edge gets thinner and sharper.
Manual pull through sharpeners take a bit longer than the electric ones to sharpen a blade. You also have to apply even pressure as you pull the blade through the stages, or the edge won't sharpen properly. These sharpeners typically have two stages, although some premium models have three.
They are slightly more challenging to master than the electric version but are still very easy to use. They just take longer to sharpen your knives.
Non Mechanical Knife Sharpening
A generation ago, the primary tools used to sharpen a knife at home were a sharpening stone and a honing rod. If you didn't want to master these tools you paid a professional to sharpen your knives for you.
These sharpeners are typically more versatile than the pull through sharpeners. You have more control over the finished product but they also require a lot more skill.
Some folks find these methods of sharpening a knife to be intimidating but they are not difficult to learn. They just take some practice.
Sharpening Stones
Sharpening stones, also known as whetstones, are the classic method of knife sharpening. Basically, the idea is to use a coarse stone to grind or hone an edge onto a steel tool and a finer stone to refine the edge.
You can use sharpening stones to resharpen knives and other tools like chisels, hoes or scissors. Sharpening stones are ideal for hands-on folks who want complete control over the sharpening process. By holding your blade at a precise angle you can sharpen it exactly as you prefer.
Sharpening stones come in a wide range of sizes and with different levels of grit depending on the type of edge you want to sharpen. A typical sharpening stone is anywhere from the size of a credit card to the size of a paperback book.
The sharpening stones typically have two sides, a coarser grit for primary sharpening and a finer grit for refining an edge.
How to Sharpen a Knife with a Sharpening Stone
Sharpening stones have a steep learning curve and can be tricky to master. You have to identify and control the angle you are using to sharpen your knife, and this is tough to eyeball at first. Many sharpening stones come with plastic guides for angle control, or you can pick these up separately.
Explaining how to sharpen a knife with a stone can also be tricky. It is much easier to demonstrate how to use a sharpening stone in person. I found this great video that breaks them down and shows how to use them.
There are three kinds of stones typically sold for sharpening kitchen knives:
Hard Oilstones, also known as Arkansas stones, are very popular in the US and some stones are mined from local bedrock. They use kerosene or mineral oil as a lubricant. These stones are typically made from Novaculite, Aluminum Oxide, or Silicon Carbide. They are inexpensive and come in a wide range of sizes and coarsenesses. The main disadvantage of using hard oilstones is that they take a lot longer to sharpen a blade than the other types.
Water Stones, also called Japanese or soft water stones, are a newer type of sharpening stone. They are popular across Asia and use water as the lubricant instead of oil. Most of the water stones available in the US are synthetic and made from Aluminum Oxide. These stones create a slurry of stone and water that quickly reshapes the edge of your knife. The downside to these stones is that they make a bit of a mess and they don't wear evenly. You will have to periodically flatten the stone to keep using it.
Diamond Stones have small industrial-quality diamonds embedded on a metal plate. Diamond is much harder than other substances and does a great job at sharpening knives. You don't need to use an oil lubricant, although some people use a bit of water or spit-lube on the blade. Diamond stones are the most expensive type. But they quickly sharpen a blade and last a lot longer than the oil or water stones. Many people use a coarse diamond stone to flatten an uneven oil or water stone. This is the only kind of home knife sharpener that can sharpen a ceramic knife.
Honing Rods
You don't use a honing rod to sharpen knives, but rather to hone them. Honing a knife helps its edge last longer and makes the knife much easier to cut with. It can also remove any metallic burrs left on a just-sharpened knife. But a honing rod doesn't really make your knife any sharper.
When you sharpen a metal knife, the edge is a thin section of metal that narrows to a fine tip. As you use the knife, this thin section of metal starts to bend over. Your knife is still sharp but it doesn't cut as well and requires more force.
When you use a honing rod at the correct 10° to 15° angle, it straightens out this thin metal edge. Now your knife can slice through things with ease. Your knife isn't really any sharper, but the geometry of the blade has been restored.
Gordon Ramsey has this fun video demonstrating how to sharpen a knife with a honing rod if you need some pointers.
Diamond-embedded rods are the exception to the rule that rods only work for honing. These rods can actually remove material from your knife and resharpen your blade, to a limited extent. They don't work as well as a sharpening stone or a pull through sharpener, however.
Strop straps are another type of honing device, though they aren't as popular as honing rods. Made from a piece of leather or other fabric, these straps work just like a honing rod to polish and hone your blade.
Types of Knives
The best knife sharpener for your home will depend on the type of knives you need to sharpen. In this case, I'm not talking about the difference between a Chef's knife and a BBQ multi-tool.
You can also separate knives into categories based on their materials and the type of edge they have on their blade.
Some knife sharpeners can handle multiple types of knives while others are only useful for a more limited selection. You definitely want to get a sharpener that's ideal for your type of knives.
Sharpening Ceramic Knives
Ceramic knives have become very popular in the last several years. Originally manufactured in Japan, ceramic knives are harder than steel and don't rust or corrode.
People love ceramic knives because they don't require frequent honing or sharpening. The ceramic blade maintains its geometry even as it wears down, allowing these knives to cut easily without the extra maintenance.
Unfortunately, ceramic is so hard that it is difficult to sharpen without professional equipment. Most manufacturers actually recommend against trying to sharpen one at home. Ceramic knives are very brittle, and you can easily break one during the sharpening process.
You can use a diamond sharpening stone or diamond embedded belt sander to sharpen a ceramic knife, but it is tricky and not without some danger. I have snapped ceramic blades while using a sharpening stone.
Steel knives, unlike ceramic, are easily sharpened using a pull through sharpener, a sharpening stone or honing rod.
Sharpening Knives with a Serrated Edge
Most knife sharpeners are ideal for sharpening and honing knives with straight, smooth edges. If your knives are primarily smooth-edged, then just about any sharpener will work for you.
Serrated edges, on the other hand, are harder to sharpen. Your sharpener has to get in between the serrations and sharpen those sections without damaging the tips. If you want to be able to sharpen your bread or cheese knives you may prefer a sharpener that can handle serrated blades too.
Some pull through sharpeners can sharpen serrated knives just like they do for the straight-edged ones. Often their final stage is appropriate for a serrated knife. The downside to sharpening a serrated knife in a pull through sharpener is that they do tend to wear down the tips as well.
While you can't use a sharpening stone or honing rod on a serrated knife, there are other options. If you can find the appropriate diameter ceramic or diamond-embedded rod, you can sharpen the serrations individually. It isn't a fast process but it does produce the best results.
Blade Geometry
I know, I'm breaking out the math terms. But knowing the geometry of your knife's edge (the edge bevel) is a critical factor in selecting the best knife sharpener.
You sharpen a knife at an angle to produce the cutting edge. Western-style knives typically have an edge angle from 20° to 25°. It varies between manufacturers and even between knives, so you may have to look up the angle before you buy a sharpener.
Western knives usually do a better job at cutting and slicing meats due to their edge angle. Eastern and Japanese-style knives are usually sharpened at a 15° angle, and are ideal for cutting fruits and vegetables.
You may not be able to sharpen both styles of knives using the same pull through sharpener. This isn't an issue for sharpening stones and honing rods, because you control the sharpening angle yourself.
If you have both Western and Eastern-styles of knives in your kitchen, you may have better luck with a premium pull through or a sharpening stone.
Type of Grind
There is one more thing to consider, and that is how the blade of your knife is shaped. Folks call this the grind of the blade. You can see how a bladesmith shapes the different grinds in this video.
Most commercial knives have been ground into shape from a metal blank using a belt sander or wheel grinder. This shapes the lower portion of the blade leading to the edge (the primary bevel) and alters how the knife performs.
When it comes to buying a knife sharpener, the edge angle is more important than the type of grind used to form the blade.
Some grinds are more challenging to sharpen, however. Each grind offers its own benefits and disadvantages to both the knife's function and its ease-of-resharpening.
The typical grinds you see on kitchen knives includes:
Flat – Also known as the full flat, this grind creates a straight flat slope from the spine down to the edge bevel. This is a very versatile grind and produces a blade that is strong but thin enough for slicing. It doesn't cut quite as well as a hollow grind but is stronger, and it is easy to sharpen.
Chisel – A type of flat grind, a chisel grind only shapes (or bevels) one side of the knife. The other side is left flat. Depending on the edge angle, a chisel grind produces a blade that is very strong and can cut or chop through hard materials. Typically tools like chisels, axes and machetes have this type of grind, although some Japanese-style knives also use it. These are easy to sharpen on a stone but can be trickier in a pull through sharpener.
Hollow – Similar to a flat grind, a hollow grind uses a sander to remove more material from the lower portion of the blade above the edge bevel. This grind is very shallow and can often be difficult to spot. It is a very popular grind and is easy to produce on a machine. These blades are usually thinner and make great slicing knives but don't handle chopping well. You often see hollow grinds on hunting and skinning knives, pocket knives and smaller kitchen knives. These knives are fairly easy to sharpen with a pull through or sharpening stone.
Taper – Unlike a flat grind, which starts at the spine of the blade, a taper grind begins further down. There is an angle from the middle of the blade down to the edge. This makes for a strong knife that slices well, but also increases the drag on the knife. These knives are easy to sharpen with pull through sharpeners, stones and honing rods.
Convex – The opposite of a hollow grind is the convex grind, where the blade gets wider before it slopes down to the edge. Convex grinds don't produce an edge bevel. Instead, the primary bevel curves down to the edge. This grind produces a very strong blade and is popular on hatchets, axes and machetes. Some commercial knives also use a convex grind. It is difficult to sharpen a convex blade with a conventional knife sharpener.
Why Trust Us
All of our reviews are compiled with a combination of expert input, years of hands-on testing of grilling products, curating the reviews of real-life buyers in a "wisdom of the crowd" system, and of course our own expertise. All the products listed are the ones we would buy if we were looking to purchase a new knife sharpener.
Methodology Used to Pick the Best Knife Sharpener
When picking the best knife sharpener we looked at and then rated each sharpener on the following criteria. Price, functions, number of sharpening stages, and ease of use.
How We Selected the Best Knife Sharpener
As you can see, there is a lot to consider when shopping for a knife sharpener. While many sharpeners look similar, they all have unique benefits and are best suited to specific kinds of knife sharpening.
If you enjoy cooking outdoors on a grill or smoker, then you definitely need a knife sharpener. A sharp knife can make all the difference in preparing professional-quality BBQ. A knife sharpener is a great gift idea for the BBQ lover in your life.
Once you have factored in the kinds of knives you need to sharpen and the style of sharpener you prefer it's time to pick out the best knife sharpener for you!
As you compare sharpeners, keep these things in mind:
Function
A knife sharpener should be able to accommodate the kind of knives and tenderizing tools you need to sharpen. For steel knives, you have a lot of options. You can use nearly any kind of device to sharpen a metal knife or tool.
Ceramic knives are much more difficult to sharpen at home, and you may want to consider leaving them for the professionals. They are very brittle and the material is too hard to sharpen using a conventional device.
Knives with serrated blades are also a bit trickier to sharpen, although some pull through sharpeners have a stage for these blades. Using a pull through sharpener on a serrated blade can wear down the tips, however.
If you want to sharpen scissors or poultry shears then a pull through sharpener with a scissors stage could be the one for you. Or you can use a versatile sharpening stone for your scissors.
Honing a knife is different from sharpening it and uses a honing rod or a strop strap instead of a knife sharpener. If you don't have a honing rod, you can buy one or get a pull through sharpener with a honing stage. Many home chefs hone their blades daily or each time they use them.
Number of Stages
Pull through knife sharpeners have anywhere from one to four stages. A cheap or a keychain pull through may only have a single stage, while the more expensive tend to have at least three.
The stages usually go from coarse to fine grit, and sharpen and refine the edge as it moves through the stages. The more stages your sharpener has, the finer an edge you can produce. Some pull throughs also have a honing stage.
Sharpening stones come in a wide variety of grits, from very coarse to very fine. Most stones have two sides with two levels of grit, so you can shape and refine an edge with a single stone. If you have many different types of tools to sharpen you may need several stones to accommodate them all.
Ease of Use
Pull through knife sharpeners are the easiest to use and don't require a lot of skill.
They are ideal for beginners and folks who want to quickly sharpen knives without worrying much about their edge angles or blade grinds. As long as your sharpener is appropriate for your style of knives you should be good.
Sharpening stones are the most challenging to master and require a certain level of skill. You must be able to identify the angle you need to sharpen your knife at. You also have to keep the knife in a consistent position as you sharpen.
Beginners can absolutely learn how to sharpen a knife with a stone, so long as they are patient and take their time. Stones are not fast, but they are very satisfying to use.
Honing rods are easy to use, don't require much skill and are fast. You can hone a knife in about 30 seconds once you are comfortable with the process.
Price
Knife sharpeners are all over the map when it comes to price. The best knife sharpener for you depends on your knives, skill level and budget.
Some cheap pull through sharpeners can be had for under $5. Premium electric sharpeners can easily hit three figures. Sharpening stones also vary widely in price and quality.
In terms of deciding on your budget, it really depends on your needs. I believe that spending more to get a higher quality sharpener is absolutely worth it. They are easier to use and produce better results, especially for novice knife sharpeners.
I am also willing to spend more money on a sharpener that works for a lot of my knives than one that is more limited. But if you have a special knife you just love to use it may be worth it to invest in a sharpener specifically for that knife.
Top Knife Sharpeners Video
Conclusion
I may not be the sharpest knife in the drawer, but I know a good knife when I see one. A sharp knife makes all the difference for producing top-notch BBQ. With the best knife sharpener, you can keep your blades ready to chop at a moments notice.
It is not hard to learn how to use a knife sharpener but it can feel intimidating. That's why we created a guide to help you find the right sharpener for your family. No matter if you are a sharpening-novice or an old-time pro, our list has the sharpener you need to fully enjoy the meaty days of summer.