Growing up, I recall a song with the lyrics, "the best things in life are free" and that kind of gave me hope that I could get the lifestyle that had been drummed into me by MTV without winning the lotto. As I have aged I have come to realize that was a naïve notion. Of course, love, family and friends don't cost a cent but other things, good, luxurious things certainly do.
Hot tubs are one of many items that were seen as an aspirational purchase when I was younger. To own one would denote some kind of success in my mind, they were an expensive item which were seen as a rich person's toy. Even though that is not so much the case anymore, hot tubs still represent a sizeable investment which also requires a decent amount of space needed on your property to house it.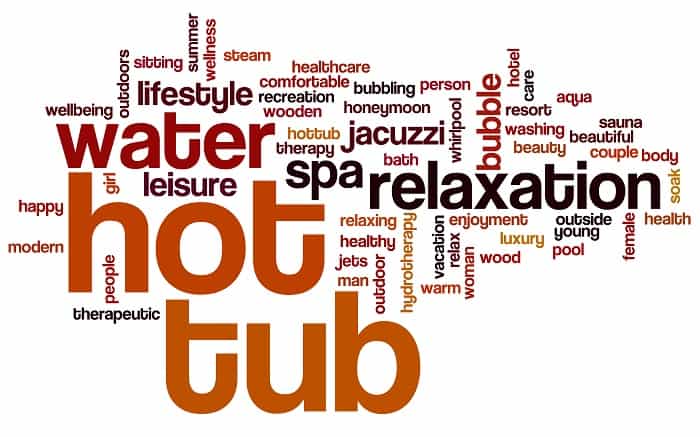 Recently we have seen a cost effective alternative take the market by storm which means that what was once only available to only the lucky few is now open to pretty much anyone who would like to experience outdoor luxury. Inflatable hot tubs have become one of the hottest purchases in the last few years, we are leading ever busier lives and the need to take a step back and relax is one we can all identify with.
What is an Inflatable Hot Tub?
Simply put, they are a portable hot tub which takes little to no time to assemble/disassemble and can be brought out for special occasions or be left to act just like an ordinary tub. Set up consists of inflating the hot tub with a pump that is provided and setting the temperature to the correct setting. All this whilst at the same time costing a fraction of the price you would be facing if you were to shell out for a normal, everyday hot tub. Hot tub prices typically range in between the $300-$900 mark with a good quality one costing no more than $450.
What Kind of inflatable Hot Tubs Are There?
Surprisingly, there are all kinds of inflatable hot tubs for you to choose from. Typically there will be options of 2, 4 or 6 person hot tubs, all of which can be found with numerous options to suit your needs. If you prefer a sedate hot tub experience for example, then you can easily purchase a hot tub with only one or two jets, whilst at the other end of the spectrum you can get as many as 132 jets for that vigorous yet relaxing spa feeling.
Deciding which one to buy will depend on what you envisage your usage will be. 6 person inflatable hot tubs are geared more towards party situations where they can be enjoyed by friends whereas a 4 person inflatable hot tub might be a bit more family orientated whilst 2 person inflatable hot tubs are going to be used as a couple's treat.
What Are inflatable Hot Tubs Made From?
Inflatable hot tubs are almost always made from thick, layered vinyl or PVC. This is a durable material that makes it suitable for repeated use. It is also extremely strong with leaks occurring from rips or tears proving extremely rare.
Where Can I use an Inflatable Hot Tub?
Because they are also known as portable hot tubs you are able to garner that you can use your blow up hot tub pretty much anywhere you please. Be this in your back yard, your porch or even inside your house. Given the right equipment you can even take your inflatable hot tub on your getaways. So next time your camping, imagine how nice it would be to have an inflatable hot tub in tow.
It is imperative that you know that the surface you are using your hot tub is able to withstand the weight however. These are not light pieces of equipment and when filled with water can achieve weights of around 3000 lbs. This is before anyone gets into the hot tub so please, especially with porches, make sure you understand how much load the surface you intend to put the hot tub on is able to withstand. If in doubt, play safe and choose an alternative location.
Are Inflatable Hot Tubs Safe To Use?
You will find that virtually every single inflatable hot tub will come with a locking cover. This cover serves a couple of functions, first being that when left unattended it prevents young children or pets finding their way into the hot tub. Secondly, it acts as a layer of insulation which will regulate your hot tubs temperature and prove more energy efficient.
Modern inflatable hot tubs are made from the latest technologies which make it easier to strengthen the side walls. They do this by ensuring the walls are segmented and compliment this by using vertical i-beam structures inside which provides unprecedented reinforcement. All this means that the walls can be used to comfortably lean against or even sit upon without fear of collapse.
Normal use of an inflatable hot tub will require you to leave it powered on 24/7 so as to regulate the temperature. It is essential that a suitable power source is used, one that can safely be used outside and can withstand a change in weather if needs be. Using a weatherproof outdoor receptacle cover like this from TayMac is preferable.
Are Inflatable Hot Tubs Easy To Clean?
As with most things, maintaining an inflatable hot tub correctly will prove beneficial in the long run. Each tub is different – some will have filtration systems whilst some rely on the use of chemicals to do the job. Keeping on top of your inflatable hot tubs cleaning needs will ensure longevity and maximize the enjoyment that you can take away from your purchase. As long as you follow the instructions properly there is nothing hard about keeping your hot tub clean, although a little bit of a scrub down after emptying the water out will not go amiss.
Filters are readily available with some like the Bestway Spa Filter Pump Replacement Cartridges from Coleman that are able to be used in your dishwasher for repeated use.
Bromine tablets for hot tubs are usually placed in floaters that distribute the contents over a period of time. This helps with the sanitation of your water should you wish to keep your hot tub running for weeks rather than days. Chlorine tablets for hot tubs work in mainly the same way and are also readily available. Just make sure that you are using the correct chemicals and that you are testing the water for pH levels which should be between 7.2 and 7.8. pH levels which fall below these readings can cause corrosion or lead to scale formation.
Best Inflatable Hot Tubs
The best inflatable hot tub will obviously one that suits your needs the most but there are some stand out options that seem to transcend individual needs. I will suggest for you the 2 best inflatable hot tubs that are on the market today. These hot tubs provide the best all-round performance which also takes into account quality of materials used and features provided.
Coleman Lay-Z-Spa
Coleman is a name that crops up regularly here on Go Shindig, especially in our picnic sections. They show their versatility with an Amazon best-selling inflatable hot tub that is affordable yet feature packed. The Coleman Lay-Z-Spa comes with a digital control panel which lets you enjoy a timed heating system. It has the capacity to fit 6 people and will hold up to 254 gallons of water.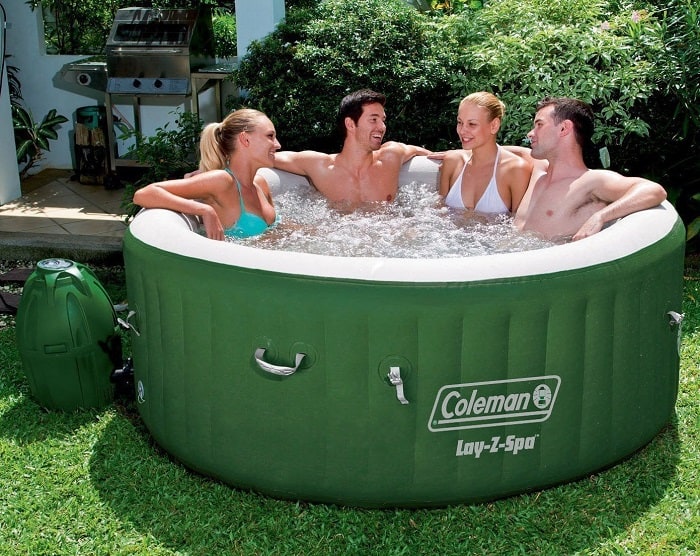 Other features include a separate air pad cushioned floor which as well as providing extra comfort acts as yet another layer of insulation helping to stop heat escape through the bottom of the tub. It also includes a DVD for easy set-up, an insulated Cover, an inflation Hose and a chemical floater. When deflated it weighs 88 pounds which makes it a truly portable hot tub.
Intex PureSpa Plus Bubble Massage Set
Intex offer this 4 person inflatable hot tub which really focusses on delivering a massage experience for everyone. It will hold up to 210 gallons of water and will achieve temperatures of up to 104 degrees. The bubble jets surround the interior of the tub and are activated using the control panel.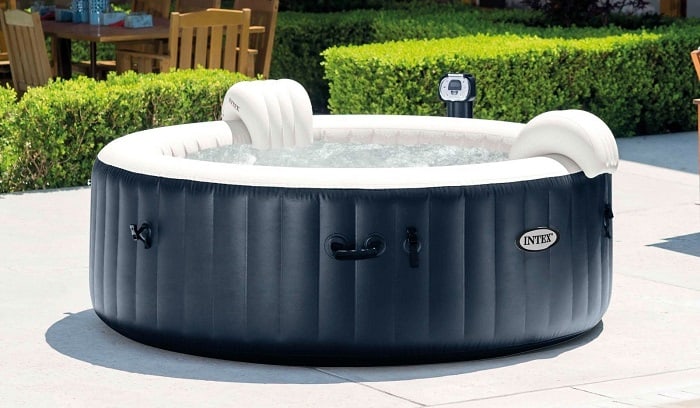 Included with this inflatable hot tub is a built-in hard water treatment system which makes the water smoother on your skin for a better all-round experience. Also included is an insulated cover, a filtration system with 4 Filter cartridges, a Floating pool chlorine dispenser, a thermal ground cloth, an Inflation hose and a carry bag for when you want to store the tub or take it on a journey with you.