Writing an article on the best multi-tool is stirring up a hornet's nest, and I'm well aware many people will strongly disagree with the conclusions in this write-up. Some people are fiercely brand loyal and will not hear a bad word said about their multi-tools. And of course many of you will use multi-tools for different outdoors activities than I use them for. So feel free to vent your rage or pass on some useful tips and suggestions in the comments section.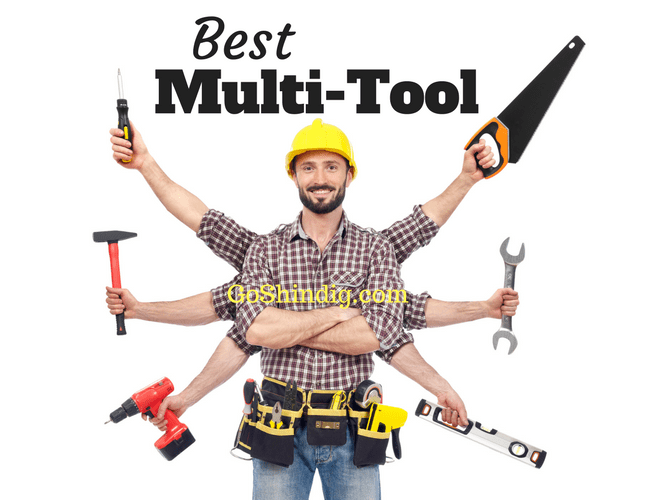 Answering the minefield question of what multi-tool is the best is going to be extremely long. Mainly because I just love everything to do with multi-tools, but also because there are several very powerful brands operating in this space offering many different options and functionalities at differing price points.
So I'm going to break the article down into brand sections and what multi-tools they have on offer and then recommend the best from each of the top companies. If the name on your multi-tool is important then please use the links in the contents list to jump to the section you want, it's a lot of scrolling otherwise. But if you just want to know what's the best multi-tool currently available I'll save you from reading this whole article and give a spoiler – the best multi-tool is…
…The Leatherman Signal. Buy from Amazon
Best Leatherman Multi Tool
Right from the launch of the very first Leatherman (named after the inventor Tim Leatherman) in 1983, this famous multi-tool brand stood for quality, excellent customer after sales care, attention to detail, precision, and durability. It's these traits that have made the vast array of Leatherman multi-tools a massive hit with camping, hiking and outdoor enthusiasts.
Because of the quality of all the varieties of Leatherman products it's hard to say which is the best Leatherman multi-tool. You can be sure that whatever tool you buy you're purchasing an excellent bit of kit. But as this article is all about what's the best multi-tool, I'll make the hard calls and present what I believe is the best Leatherman in descending order.
Leatherman Signal
The vast majority of multi-tool brands have a core set of features, such as pliers, a knife and a can opener, that they add to most of their products. And Leatherman is no different. What does make a difference is the additional tools these are paired with and the quality of the build. For the Leatherman Signal, the thought process of what extras to add revolve around the idea of outdoor survival and so they are the sort of tools someone out camping or overnight hiking might need.
Leatherman have completely nailed their goal with the Signal – they have, most notably,  added a Ferrocerium rod so you can easily get a spark to make a fire. You also have a diamond-coated sharpener so no matter how much you use your knife you can always keep it sharp. There is a detachable safety whistle which will come in handy if you get separated from your group or get trapped somewhere, and the tool I use most when out camping is the Saw. A list of the full 19 tools the Leatherman Signal has attached is in the below list.
Needlenose Pliers
Regular Pliers
Premium Replaceable Wire Cutters
Premium Replaceable Hard-wire Cutters
Wire Stripper
420HC Combo Knife
Saw
Hammer
Awl w/ Thread Loop
Can Opener
Bottle Opener
1/4" Hex Bit Driver
Bit Driver
1/4″ Box Wrench
Carabiner
3/16″ Box Wrench
Safety Whistle
Ferrocerium Rod
Diamond-coated Sharpener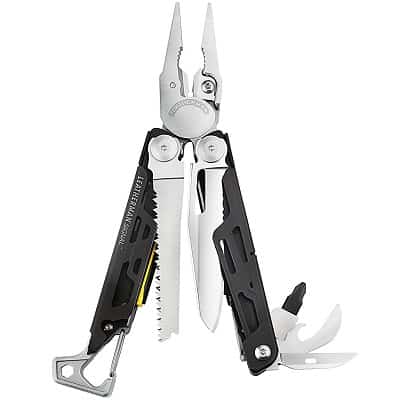 Leatherman Skeletool RX
The Leatherman Skeletool RX is the latest iteration of the Skeletool multi-tool. Moving back in time you had the Skeletool SX, then Skeletool CX and then the original plainly named Skeletool. What screams volumes for the quality of this range of multi-tool is that none of the early versions have yet been retired and can still be bought but cost a little bit less.
I'd recommend adding this multi-tool to a first aid box as the tools available are great for a first responder. And the latest changes made to the Skeletool RX had this in mind. The main alteration was to the blade. This is now deeply serrated, which gives the knife more cutting surface and also makes cutting through clothes much easier. One extra change is the addition of a carbide glass breaking bit instead of the Phillips screwdriver bit.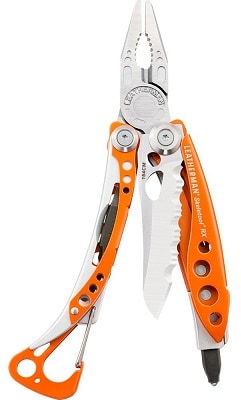 Skeletool RX – Buy from Amazon
Skeletool CX – Buy from Amazon
Skeletool Original – Buy from Amazon
Leatherman Rev
Leatherman's Rev is placed in third position in this section on best Leatherman multi-tools but I'm actually giving a three-way tie for this position. The reason is I've given third to the best entry-level multi-tool where price is the main factor. And the Leatherman Rev, Side Kick and Wingman all fall into this category and each of them has only small differences in tool sets where personal choice will play the deciding factor.
Being placed in a price range of under $40 the Leatherman Rev is the cheapest of the three entry-level multi-tools I'm recommending. If you've done any research, you're probably thinking that you've seen cheaper Leatherman's. Why aren't they in this entry-level menage-a-trois? It's because most Leatherman multi-tools roughly fall into three main subsets – Full-sized, Pocket and Key chain. These subsets dictate the size and the potential number of tools. The Rev, Side Kick and Wingman are all in the full-sized group and the cheapest options from this group of larger multi-tools.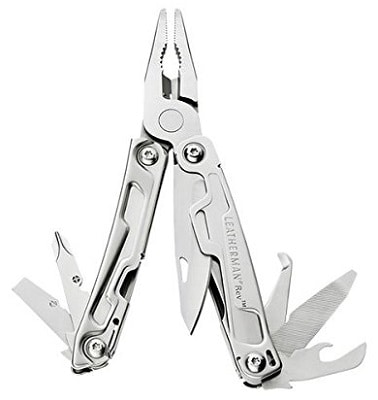 Leatherman Sidekick
One obvious difference you first notice between the Leatherman Rev and both the Sidekick and Wingman is the thickness – the Rev is slightly slimmer. This is because the Rev only has one tool accessible from the outside (with the pliers closed) compared to two for the other two multi-tools. The extra outside tool the Sidekick has is a saw.
All three models have pliers, but the Sidekick and Wingman both have spring-action pliers, whereas the Rev does not (meaning the pliers will reopen on their own). The only other difference between the plier heads is that the wire cutter blades in the Rev slightly overlap when closed. Giving a deeper cut.
Of all the other inner tools, the only difference is the Sidekick has a serrated knife instead of a package opener. So the questions you have to ask yourself when deciding between the Leatherman Rev and Sidekick are, is it worth the little extra money for spring-action pliers and a saw; and do you prefer a serrated knife over a package opener?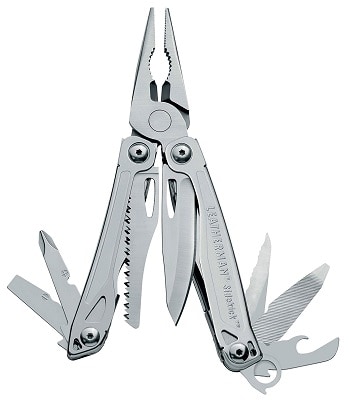 Leatherman Wingman
The differences between the Leatherman Wingman and Sidekick are so minor I'm surprised one model hasn't been retired yet. The Wingman has a combo knife, which means half the blade is slightly serrated, compared to a standard blade on the Sidekick. The only difference in tools is the Wingman has a pair of scissors and a package opener in replacement to the Sidekick's saw and serrated blade.
So, as you can see, all three entry level full sized multi-tools are very similar and small personal preferences will make the difference between which item to purchase.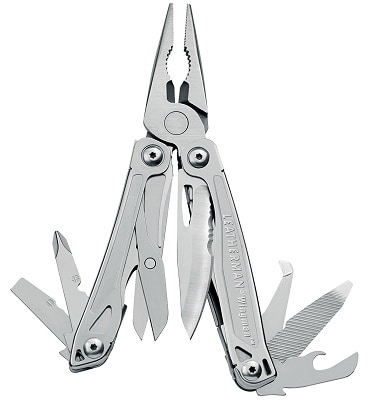 Leatherman Leap
A multi-tool specially designed for children. The Leatherman Leap is unique in respect to being one of very few multi-tools marketed to be used by kids and is in fact Leatherman's first children's multi-tool.
I don't know if multi-tool manufacturers are scared of being sued if a child has an accident or they think there isn't a market for it. Whatever the reason I am surprised there aren't more kids multi-tools as I remember how happy I was as a young Scout when I got my first knife and a few tools to go camping with.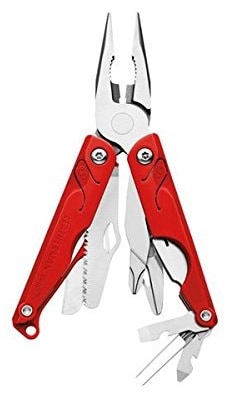 Leatherman OHT
By now you might be thinking that all these Leatherman multi-tools are very similar and so does it really matter which one I buy? And you'd be right in asking this question. Many core features are similar, if not the same but you should also have seen how it's the small differences that set the tools apart – whether it's made for survival, to help with first aid, has an entry-level price tag or made for small hands. Each of these twists in design and features is what's made Leatherman number one in the multi-tool market. And the unique selling point of the Leatherman OHT is one of the best.
Every tool on the Leatherman OHT is one-hand-operable. You have a good few multi-tools that offer one or maybe two tools that can be used with a single hand, but Leatherman has gone the extra mile and offer you the chance to buy a 16 tool one-hand-operable multi-tool.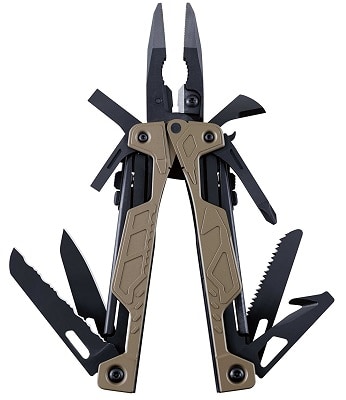 Leatherman Juice XE6
Marketed as the beefiest pocket multi-tool for small hands and small spaces, which I think is Leatherman's way of saying it's a multi-tool for women and will fit nicely into a purse.
There are several versions in the Juice range with the XE6 being the biggest with 18 different tools. Launched way back in 2001 the XE6 has seen several other versions of Juice being launched and then retired while still going strong. The latest version in the Juice range is the SX, but with only 11 tools this version may fall by the wayside like the others. Better to stick with the XE6 which has stood the test of time.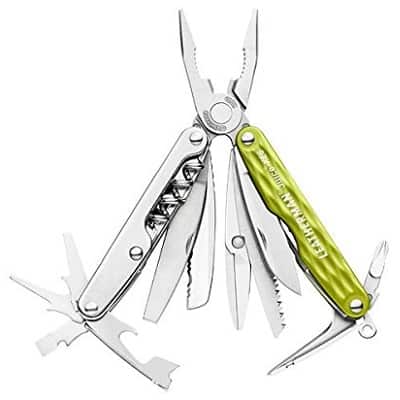 Leatherman Surge New
Obviously, with the word "New" in this multi-tools name, the Leatherman Surge New isn't the Surge that Leatherman has offered. But this is a range of products like the Leatherman Juice. There is only one Surge as the original got retired once this new model was released.
For many multi-tool enthusiasts, not having the Surge top of any best multi-tool list is sacrilege because it's a very versatile tool that's heavy duty – it ticks a lot of boxes. But when you're talking about Leatherman products, there aren't many bad ones. I've tried to be varied in the recommendations I've given (a tool for kids, women, survival, first aid, etc.) and to take into account the readers of GoShindig, as this is an outdoor entertaining site (therefore, camping, BBQ and picnics are the likely use of these tools). If this was a DIY or construction site I'd like put the Surge 1st or 2nd.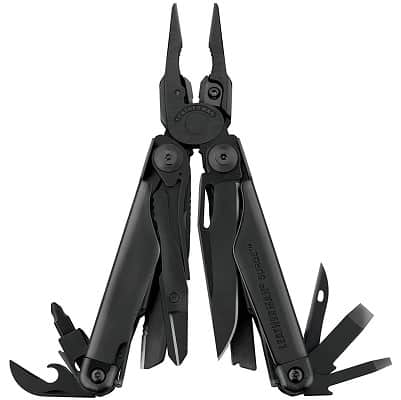 Leatherman Wave Plus
The further I get down this list the harder it gets. Purely because many of the tools are such good quality it feels wrong having them so far down a list. And that's definitely the case with the Leatherman Wave Plus (and for two of my favorite multi-tools that are still to feature, the Charge Plus TTi and Rebar).
I truly don't have a bad word to say about the Leatherman Wave, no fan of multi-tools can. The Wave Original is the tool that rocketed Leatherman to the top brand in the multi-tool business almost overnight. And now with the Wave Plus, they are sure to stay there for a while longer. On another day, or writing for another website, this could easily have been picked as the best multi-tool. I'm sure if you read a few more articles on best multi-tools or best Leatherman, you'll find the Wave Plus at the top of a couple of their lists.
I saw the below video a couple years back and really enjoyed it. It's a short introduction into how a Leatherman Wave multi-tool is made. If you plan on buying a Wave Plus it'll give you some insight into the quality building process that goes making a Leatherman
Leatherman Rebar
At first sight I didn't really like the Leatherman Rebar, as I think it's one of the uglier looking multi-tools. But having used it my mind was quickly changed. Even though it's one of the smaller full-sized Leatherman tools it packs an almighty punch with the number of tools attached – seventeen. This includes tools I find I use most often, the knife, a serrated knife, and a saw. And at the price being charged, I fully recommend this tool to anyone regardless of the outdoor activity they participate in.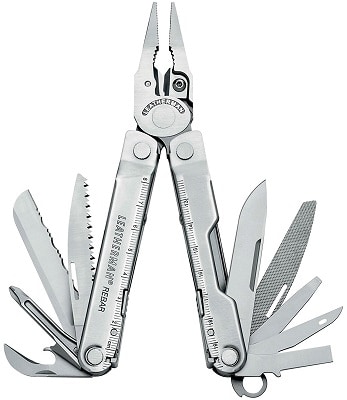 Leatherman Charge Plus TTi
I'm a little embarrassed having the Leatherman Charge Plus TTi this far down the list because the only thing that lets this multi-tool down is the price. It's expensive, but for a reason. You have titanium handles which make the unit lightweight yet strong and all the tools are made of premium materials including an S30V steel blade which is much better than 420HC which is standard.
Because of the position of the Charge Plus TTi in this best leatherman multi-tool list, I think it's a good time to say that this is a very general list. All these tools are top of the range and if price isn't a factor to you then this list changes significantly. Also, depending on the tools you require, this list changes. So pick the right one for you and not where it appears on this list.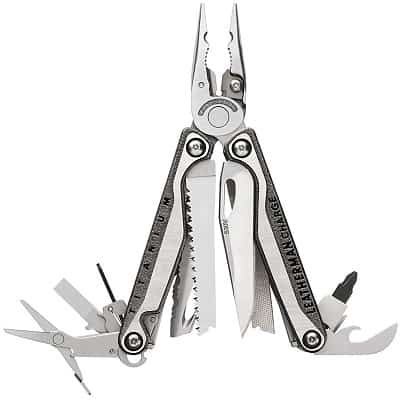 Leatherman Style CS
A perfect example of buying the right multi-tool for the job it's needed for is the Leatherman Style CS. Gone are the standard pliers and in their place is a nice pair of scissors. You also get a pair of tweezers, a nail file, and a knife. Making this a great addition to your grooming kit. No point buying a survival multi-tool if what you need is a grooming tool.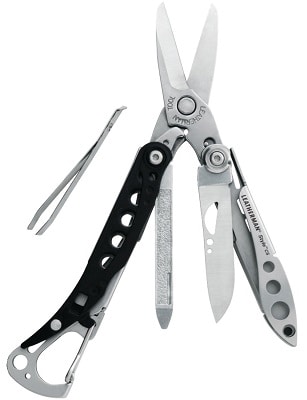 Leatherman Crunch
A pair of pliers is the Leatherman multi-tool signature, but for a few different tools, like the Style CS above, the standard pliers are replaced. And that's the case for the Leatherman Crunch. Gone are the classic needle nose pliers and in their place is a curved pair of locking pliers. This doesn't sound like a great change but for a Leatherman this is something unique.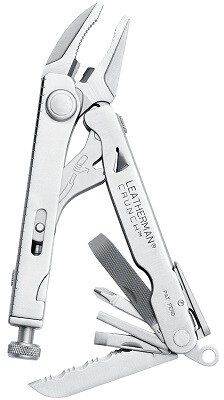 Leatherman Squirt ES4
Another adaption from the classic needle nose pliers that Leatherman is famous for is the multi-gauge wire cutter plier head that comes with the Squirt ES4. As you can imagine, with several different wire cutting sizes in one tool this Leatherman is marketed at electricians. But with the nice array of other tools, the Squirt is a handy tool for most people.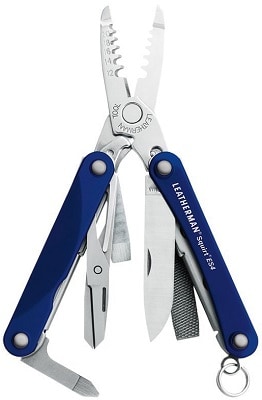 Leatherman Freestyle
The Leatherman Freestyle is as basic as a Leatherman multi-tool gets. It's essentially a pocket knife with pliers. Yes, the marketing says it a five-tool gadget, but as with most multi-tools, the plier's head is described as four separate tools due to the versatile functionality of pliers. Even though the Freestyle is just a pocket knife with pliers, it's still a very well made, quality piece of kit.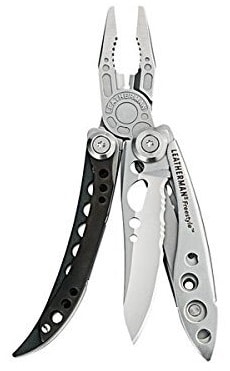 Leatherman MUT
If you're a hunter or if you're buying a gift for someone in the military then the Leatherman MUT is the multi-tool for you. The MUT has several of the classic Leatherman tools but what sets it apart and makes it a great tool for gun owners is that it comes with a bronze scraper, a disassembly punch and rod/brush adapter to help when cleaning your firearm. It also has a bolt override tool that's great for a bolt override ram (when a spent casing gets lodged between the bolt and charging handle).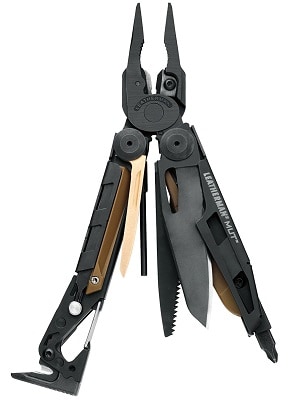 Leatherman Super Tool 300
On the face of it, there's nothing particularly special about the Leatherman Super Tool 300. All the tools are of the type you'd see on many other multi-tools, and nothing has been added that individually sets the tool apart from hundreds of others. But I've added it the list of best Leatherman multi-tools because it has so many of these standard tools and at a price that screams a bargain. So if you're not looking for a tool that specializes in one activity then I'd highly recommend the Super Tool 300 as a great all rounder.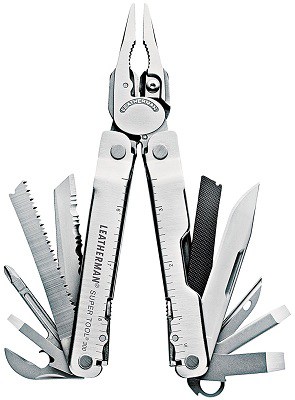 Leatherman Micra
Last but certainly not least on my best leatherman multi-tools list is the Micra. As far as I'm aware the Micra is the longest serving member of the currently available leatherman multi-tools, so it must be doing something right. It is used a lot by fishermen as a handy little tool for their tackle box due to the Micra having scissors as the main tool instead of pliers. The Micra is a key chain multi-tool so is great for anyone that wants a small, hardly-know-it's-there, multi-tool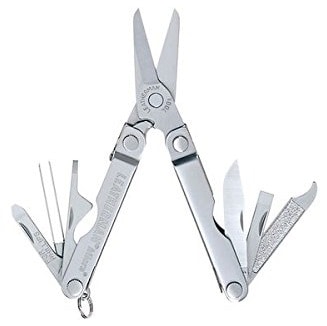 Leatherman Wearables
The great thing about Leatherman as a company is they are always trying to innovate and they're not scared to try out new ideas. This has led them to branch out into other areas of multi-tool, and one such innovation that's in its infancy is their Leatherman Wearables range.
Leatherman Tread LT
I'm not sure if the Leatherman Tread LT is a beautiful piece of jewelery or a great multi-tool – there's no doubt it does look really cool. So, it's a beautiful bracelet, but does it work as a functional tool? I'd say yes and no. The tool has several differently sized box wrenches and screwdrivers all of which work fine for a quick emergency fix job. However, you'd not want to use the Tread as you would other multi-tools, which you bring with you with the intention of using often. I'd say the Leatherman Tread is a great multi-tool to wear as a bracelet first but with the knowledge that in an emergency you have a multi-tool with you that can do a job (you just wouldn't want to do the job repeatedly with the Tread).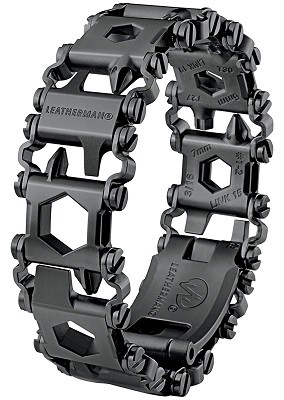 Leatherman Knives
One area in which I think Leatherman will struggle is with their knife range of tools – there are so many quality knife companies in this market. But the name Leatherman attached to any tool will give it a fighting chance and currently their knives are holding their own in a very competitive marketplace.
Leatherman Crater C33SX Folding Knife
One simple area where the Leatherman knives can be improved straight away is with their names – Crater C33SX isn't really memorable and tells me nothing about the product. It's worse when there are seven different Crater knives with different initials at the end. It just leaves many people confused. But a name doesn't make a tool better or worse, so is it good at what it's made to do?
As always, Leatherman doesn't let you down on the quality and usefulness of the tools. The Crater C33SX is a tool for Surfers, so the knife also comes equipped with a fin key and has a carabiner that doubles as a bottle opener, which makes the knife easy to attach to your keys or backpack.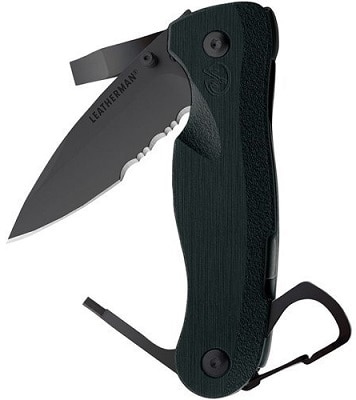 Leatherman Pocket Tools
The last different style of multi-tool Leatherman manufacture is what they have called the Pocket Tool. To be fair, all Leatherman tools can be described as a pocket multi-tool. These are the tools that don't fit into any of the other categories, so without finding a better way of describing them myself, I'm happy to go along with calling these gadgets Pocket Tools.
Leatherman Cam Pocket Tool
Personally, I think there is a lot of scope for growth in the so-called Pocket Tool market. Unlike most "general purpose" multi-tools, the Pocket Tools makes it easier to select a particular outdoor activity and customize the tool solely for this activity. This style of tool also makes it easier to have detachable elements which is uncommon in the classic style multi-tool.
Take the Leatherman Cam Pocket Tool for example. It is designed for bow hunters with tools such as a gut hook to help with skinning, a broadhead sharpener, and a broadhead wrench. All of these are classic tools needed for bow hunting and the fact that the broadhead sharpener easily detaches from the main body of the tool only enhances what is an already great tool. I'd not say these specific outdoor activity multi-tools have been perfected yet but Leatherman will learn lessons based on customer feedback and the next generations will only get better and better. Leatherman also has the Pump Pocket Tool for shotguns and the Rail for AR maintenance.

Leatherman Accessories
If it's not clear already, I'm a massive fan of multi-tools, and although I don't see many areas for improvement with the tools themselves you can always make them better with a few of the great accessories listed below.
Best Gerber Multi Tool
Starting out as a knife manufacture, selling via the Abercrombie & Fitch retail catalog back in 1939, it was a natural progression for Gerber to move into the multi-tool market once Leatherman instigated the boom in interest for such tools. Needless to say, buying any Gerber multi-tool pretty much guarantees a quality blade as this is their forte. So without further ado, let's have a look at the best Gerber multi-tools.
Gerber Center-Drive
Number one on the list of the best Gerber Multi-tool is the Center-Drive. Unlike with Leatherman multi-tools, where on any given day I could change my mind on which is best, the Center-Drive is the stand-out best Gerber multi-tool. Yes, Gerber makes many good multi-tools as you'll see below, but if you can pick only one then the Center-Drive is the one.
The main feature, and the reason behind the name, is the magnetic center-axis screwdriver bit drive. This is unique among multi-tools. Most tools will have a flathead and/or crosshead screwdrivers, but these will be off center. This means that you will not be able to apply the same amount of torque as you can with the Gerber Center-Drive, which mimics a traditional screwdriver.
Another great feature is the one-hand open larger fine edge blade. At three and a quarter inches, this is bigger then most multi-tool blades I have seen, and of course, opening with one hand is a massive advantage. As the knife is one of the main features, I'd have liked it to have been made from a better quality steel, such as S30V, but the 420HC is still a decent steel that's used in most top of the range multi-tools.
Below is a list of all the tools/features of the Gerber Center-Drive
Magnetic 3.25″ Center-axis bit driver
3.25″ 420HC Fine edge blade
Spring-loaded needle nose pliers
Serrated blade
Extra bit holder (flathead bit included)
Bottle opener
Pry bar & nail puller
Awl
Fine and coarse sided file
Standard pliers
Rotatable carbide wire cutters
One-thumb opening system
Lanyard hole
Bit driver
Ruler
Tool lock
One last thing that matters to many people is the "MADE IN USA" sign written across the Center-Drive. Yes, it was nice for a while getting cheaper products made in countries such as China, but attitudes are changing and more and more people are now wanting products made in America as it normally means better quality and after sales care.
Gerber Linedriver
If you're a fisherman, then you'll definitely be interested in giving the Gerber Linedriver a try. As I've mentioned already, multi-tools are moving away from one multi-tool for every occasion and narrowing down to niche specific multi-tools. The Linedriver is one such tool for people that like to fish, featuring tools such as a hook eyelet threader,  a spinning line vise, an eyelet clearing spike and a split shot crimper.

Gerber Multi-Plier 600
There are many variations of the Gerber Multi-Pliers, all with slight differences – there's even a bladeless tool. All of them are of pretty much equal quality so it doesn't really matter which one you buy. I'm recommending the Gerber Diesel Black Multi-Plier, mainly because I think the black looks cooler, but also because it has a needlenose plier, which I prefer to the blunt-nose of many of the tools in this range.
Gerber Compact Sport
A smaller, more lightweight multi-plier tool from Gerber is the Compact Sport. I'm not sure why they called it this, as it is compact, but has nothing to do with sport. Ignoring that, this is an amazing tool for the price. It does nothing special like a couple of the other tools higher up in this best Gerber multi-tool list but the simple, traditional tools it offers do a good enough job to be seen as one of the best entry level multi-tools currently available.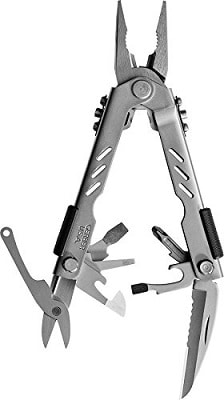 Gerber Crucial
A multi-tool with pliers which is more like your standard pocket knife than the traditional multi-tool with pliers. The knife is the main feature of the Gerber Crucial which isn't surprising given Gerber's history with quality knife making.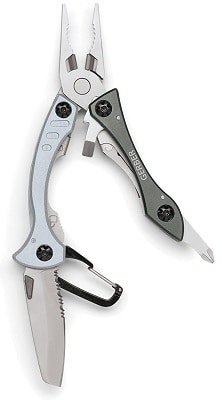 Gerber Bear Grylls Ultimate
Two of the great survivalists or outdoorsman growing up were Ray Mears and Bear Grylls. These are the two people (other than my Scout leader) from whom I got my passion for the great outdoors. So it's nice to recommend one of their tools in my best multi-tool guide.
The price tells you that the Bear Grylls Ultimate is a starter/entry level multi-tool. Gerber has done nothing special with this tool, keeping to the classics that are to be expected on such a tool. The only novel twist that can be found is the rubber handles that have been added.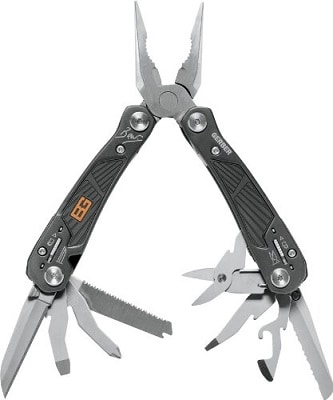 Gerber Dime
The Gerber Dime has to make the best Gerber multi-tool list based on price alone. When I look at this tool and then the price tag, I wonder how Gerber makes any profit selling this nice little gadget. I'm not going to pretend it is made from premium quality materials or is as well made as some of Gerber's other tools, but it does the jobs it's expected to do. And did I mention the price? On occasion, I've bought a sandwich that costs more than this multi-tool.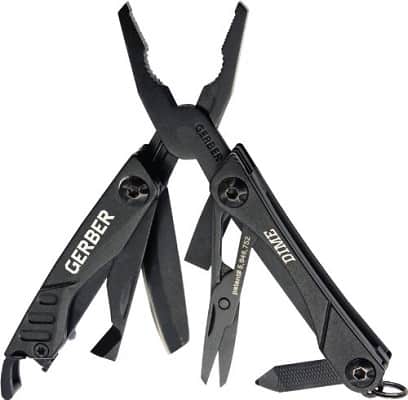 Gerber MP1 AR Multi-Tool
Weapons cleaning multi-tools are becoming very popular and the Gerber MP1 AR is one such tool. This is the second generation of weapons cleaner from Gerber, so they have learned a lot from the previous edition. The MP1 AR comes equipped with a carbon scraper for cleaning the bolt, a pin punch used for take-down pins and carbon pick for cleaning difficult to reach parts like the bolts ejector area.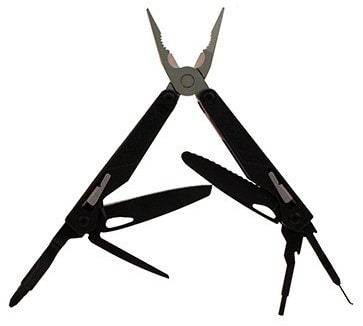 Best Victorinox Multi Tool
Victorinox is a Swiss company renowned around the world for its quality cooking knives and multi-tools. They have been making multi-tools as far back as 1891 when they won a contract from the Swiss army to make the Soldier knife model 1890 which comprised of a knife, a reamer, a can-opener, and a screwdriver – tools that are still very popular with modern day multi-tools. So as you can imagine, they have had plenty of time to refine their product to one of the best quality multi-tool/pocket knives available anywhere in the world.
Swiss Tool
Although Victorinox is mainly famous for their pocket knife style multi-tool, they'd have been stupid to not follow up the success of the plier head multi-tool from Leatherman with their own offering. And of course, with the expertise that Victorinox have acquired over the years, this wasn't going to be just another cheap imitation.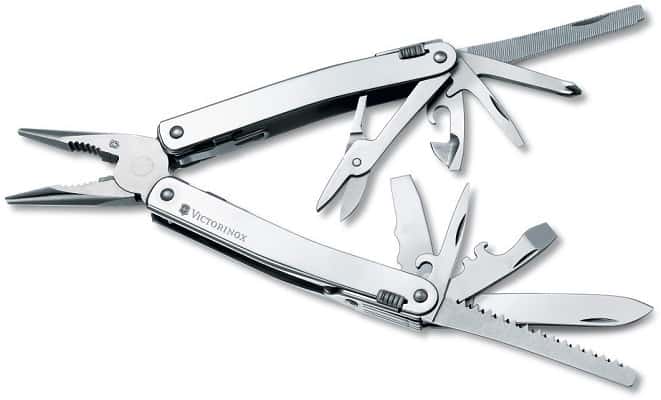 Best Swiss Army Knife
I couldn't tell you how many different version of Swiss Army Knife are available to buy or have been made through the years, and will not even attempt to do these numbers justice with this best Swiss Army Knife list. They have a multi-tool for wine lovers, locksmiths and even one dedicated to cutting cheese. What I will list is the best of the most popular versions.
Swiss Card
Wallet credit card style multi-tools are becoming increasingly popular with multi-tool fans, purely because of the ease in which you can carry it, and always have it with you, without even thinking about it. So needless to say, Victorinox has made sure they don't get left behind this growing market with a quality credit card style multi-tool they call the Swiss Card.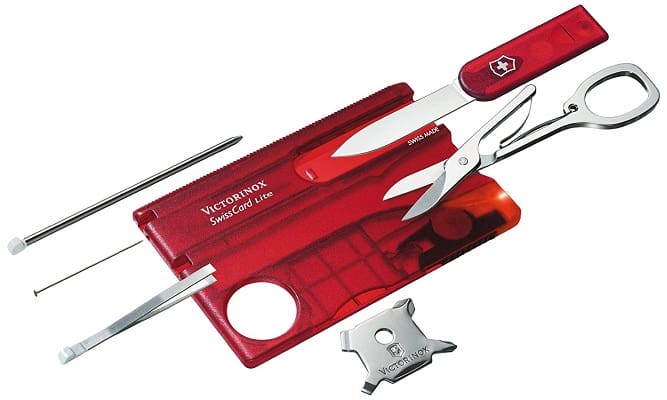 Best SOG Multi Tool
The SOG knife has a pretty cool backstory. It was designed to be unmarked and untraceable to the country of origin so that governments could maintain plausible deniability if covert operatives were captured or killed during the Vietnam War. In the present day, SOG knives and multi-tools are no longer unmarked and are available to the general public. And they have some very well made multi-tools and a few that are completely different in design compared to what's made by their competition.
SOG Sync II
Maybe it's because I loved the transformer cartoons as a kid, but I do have a special love for multi-tools that look like they are something else until they are called into action (like the Leatherman bracelet or Victorinox credit card). And that why I'm a fan of the Sync II, it's a belt buckle when not in use and an eleven tool multi-tool when called apon.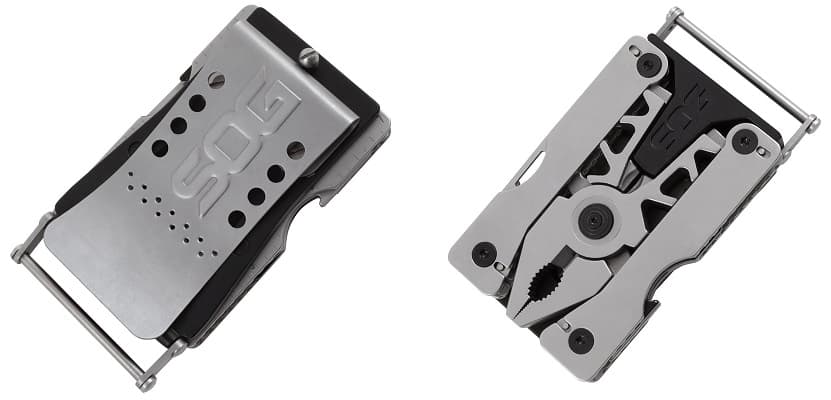 SOG Baton Q4
As you've seen with the SOG belt buckle, SOG isn't scared to do things a little differently. And that's also the case with the Baton Q4. As the name suggests, this multi-tool more resembles a baton when in closed form opposed to the standard butterfly knife look. This is achieved by folding the tool up into a longer slimmer unit and not folding it down into a smaller stubbier unit.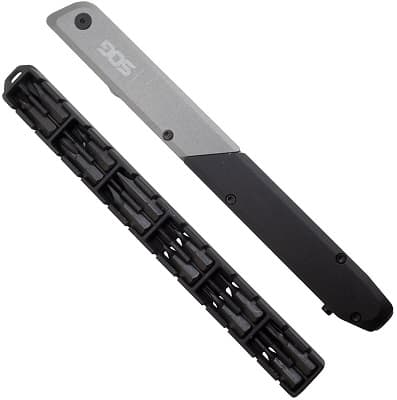 SOG Power Lock
SOG doesn't only make novel looking multi-tools, they also manufacture the classic butterfly style multi-tool with pliers. But with so many top quality tools made in this style, you need a unique selling point if you're going to convince people that your tools are the one to buy. And SOG has what they call Compound Leverage technology. I'll not explain how this feature works, but the result is you get twice the power in you plier head than with other multi-tools.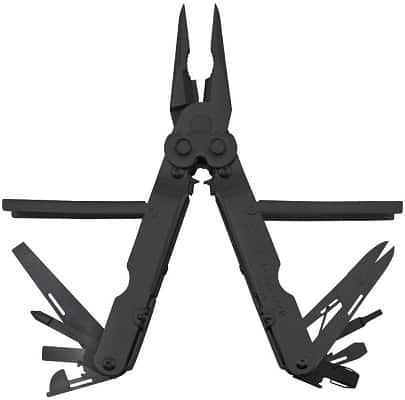 SOG Power Assist
One thing you can't accuse SOG of is not being innovative, belt buckle tools, baton tools, and compound leverage technology have already been seen in the first three tools I've recommended. And the Power Assist shows more innovation from SOG. It comes with the compound leverage technology but also a SOG Assisted Technology which works by balancing opposing high-tension spring coils that propels your blade open as if it's opening by itself.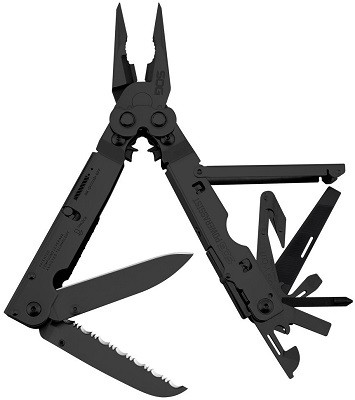 Best CRKT Multi Tool
Columbia River Knife & Tool, Inc. (CRKT) is a relative newcomer to the multi-tool arena. It's an American company formed in 1994 by a couple of friends that had previously worked at a rival knife company. CRKT isn't just a multi-tool company, they also make a multitude of knives and tools for outdoor enthusiasts.
CRKT Guppie
It surprises me the lack of choice you have from multi-tools if you want one with an adjustable wrench. There are hundreds, if not thousands, with pliers, but very few adjustable wrenches. Thankfully the good people at CRKT make an excellent one which also comes with an LED light (another unusual add-on).
CRKT Get-A-Way Driver
I'm pushing it a bit calling the Get-A-Way driver a multi-tool as it is basically a screwdriver (with four heads) with an oxygen bottle valve wrench cut into the side. I'm adding this tool because it's very cheap and would make a great stocking stuffer gift.

CRKT Technician
It's almost like you're not a company that makes multi-tools unless you have a plier head multi-tool, so let's look at CRKT's version of the classic. What I like about this multi-tool is the screwdriver has a good extension on it, which is normally something you have to buy as an accessory. What is different on the Technician is a telescopic magnetic pickup tool. This isn't something I'd personally get much use out of but if this is something you use often then this is the multi-tool for you.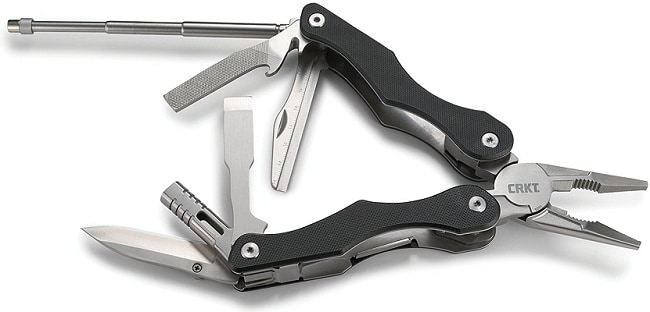 CRKT Bivy
The Bivy multi-tool from CRKT is another plier tool but with a slight change from the butterfly design. Prominence has been given to the knife on the Bivy with the pliers being more of an add-on with a pop-out handle.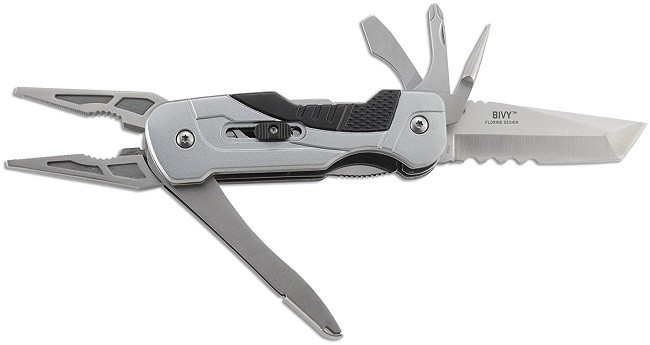 Conclusion
As I've alluded to on several occasions throughout this article, the best multi-tool is one that has the tools you need. I can guide you by conveying the most trusted brands and mention the quality of the build and the materials used but at the end of the day, you know what you want from a tool better than me. So, you pick the best multi-tool, not me, and tell me about the reasons in the comments.