Nothing compares to the pleasure of cooking in the great outdoors.
Whether you're on a quick weekend camping trip, joining a tailgating party or heading out for an extended excursion in the wilderness – a camping grill is a must-have for mouth-watering meals wherever your adventures take you.
Portable, powerful and designed to save precious space; camping grills are the ultimate tool for outdoor culinary adventures. But if you're new to the world of camping, choosing the right grill can be tricky.
If you're looking to buy a new camping grill but are not sure where to start, you're in the right place. In this guide, we have reviewed nine of the best camping grills on the market right now, and included an in-depth buying guide to help you find your perfect match.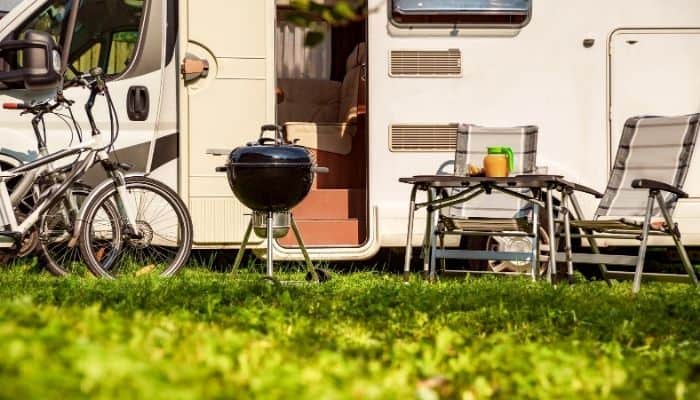 Best Camping Grills
Can't wait to get cooking? Check out our pick of the best camping grills below. We have covered a range of models and budgets so there's something to suit everyone.
Coleman RoadTrip 285 Best Camping Grill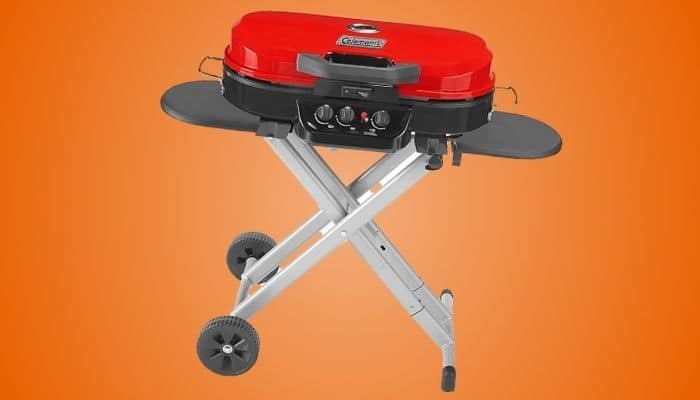 With robust, quick-fold legs and a wheeled design – the Coleman RoadTrip 285 Portable Stand-Up Propane Grill is a great option for camping and tailgating.
Easy to transport, set up and pack away in minutes, this compact propane grill folds down to the size of a suitcase, so won't take up much of your precious storage space. While it's relatively small, this grill packs a punch. It offers an impressive cooking power of between 3,250 and 20,000 BTUs, and can reach temperatures of between 350 – 700 ℉.
With 285 sq.in of cooking space, there's plenty of room to prepare food for a group of friends and family. The cast iron grill plates feature a porcelain coating that makes them non-stick and easy to clean, while the choice of three independent burners allow you to cook multiple items at once at different temperatures.
Another great feature of this camping grill is the 'instastart' matchless lighting. Simply push the ignition button to fire up the grill and get dinner on the go. We also like that it comes with the option of multiple, interchangeable cooktops – so you swap to a griddle plate or stove grate if desired. These extras are sold separately, but it's great to have the flexibility.
Two sliding side tables offer plenty of space to prepare food, plate up your meal or rest your tongs while cooking. Cleaning up afterwards is simple too, thanks to the built-in drip tray that keeps the burners clear of grease.
The only real downside to this grill is the locking mechanism for the lid. Many users have complained that it's not very effective, but during transportation, this can be easily solved with a piece of bungee cord.
Pros – Things we liked
Folds down to the size of a suitcase
20,000 BTUs
285 sq. in. of cooking space
Three independent burners
The 'instastart' matchless lighting ignition
Cons – Things we didn't like
The drip tray is too shallow
Napoleon TravelQ 285 with Scissor Cart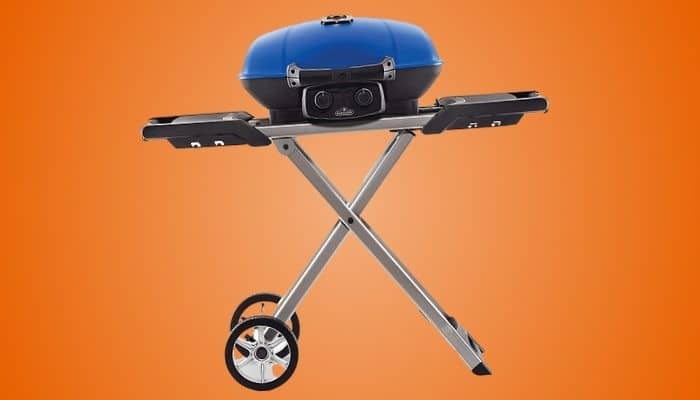 The Napoleon TQ285X-BL-1 Scissor Cart is another great choice for your next camping trip. With a compact, wheeled design for easy storage and transportation, this camping grill has folding, scissor style legs that enable a quick setup in mere seconds.
Featuring 285 sq.in of grilling space, this grill has more than enough room to cook for family and friends. Its 12,000 BTU capacity ensures evenly cooked results, while the dual burners can be individually adjusted for ultimate control.
With a sturdy design and durable, porcelainized cast iron grill plates, this model is tough enough to last several camping seasons. The flame throwing ignition mechanism makes start up simple, while the built-in, aluminum drip tray makes it easy to clean when you're done.
At 53lbs, the Napoleon Scissor Cart is lightweight enough to wheel to the nearest secluded beauty spot for some alfresco dining. The addition of two solid side shelves is perfect for holding condiments, cutlery and prepping food without the need for an extra camping table.
This model uses 1 pound propane canisters as standard. But if you're planning on cooking for long periods, it also comes with a handy conversion kit for 20 pound propane cylinders.
Sturdy, compact and easy to use, there's lots to love about this camping grill. The only minor drawback is that the paint on the lid is prone to fading and flaking with frequent use – but this doesn't impact its impressive performance in any way.
Weber Go-Anywhere Portable Grill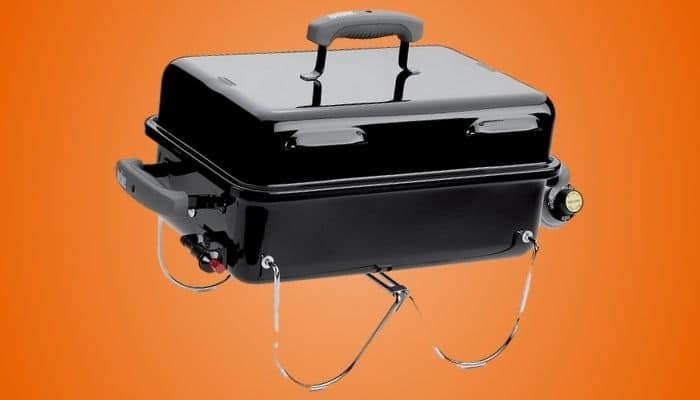 Buy Charcoal Grill from Amazon
Available in both a gas and charcoal version, the Weber Go-Anywhere Portable Grill is a firm favorite for campers.
Incredibly compact at only 12.2 x 21 x 14.5 inches, this rectangular camping grill is ideal for road trip cooking when storage space is limited. The 160 sq. in the grilling area is large enough to easily accommodate food for 2-3 people, and is porcelain-enamelled to prevent flare-ups and sticking.
Great for beginners, the gas version quickly reaches high temperatures suitable for searing steaks, while the twist of a dial is all that's required to bring the heat down for veggies and other side dishes.
The charcoal version is great for that authentic, "BBQ taste", but is best-suited to more experienced grillers who're used to tending hot coals for evenly-cooked results. This one comes with dampers, which help you to control the temperature as needed.
Both models are constructed from premium-grade, rust-resistant steel for ultimate durability, while the locking lid retains heat for fast-cooking and easy transportation. The only potential downside to these grills is the lack of any side shelves, but we feel that their portability more than makes up for it.
Weber Q Series Grills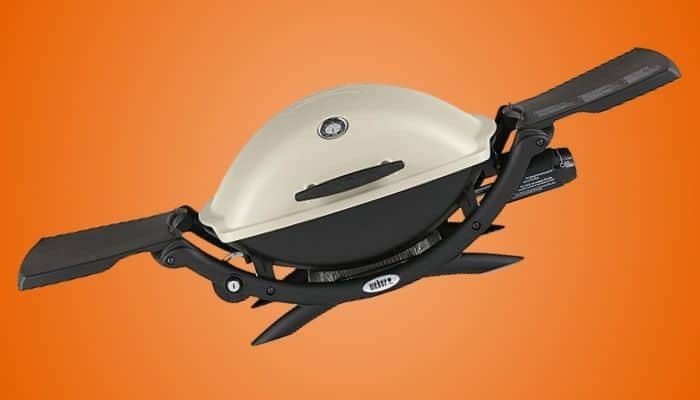 Buy Electric Grill from Amazon
Another option that comes with a choice of gas or electric models is the popular Weber Q Series Grills. Boasting sleek, curved styling and an incredibly compact design that's ideal for camping, tailgating or summer road trips; these grills are both attractive and highly effective.
The gas version (2200 model) uses liquid propane with push-button ignition and can reach up to 12,000 BTU; while the electric version (2400 model) uses a 1560-watt heated element to cook your food to perfection. With ergonomic handles for a comfortable grip and large, easy-to-use control knobs, these grills are well-made and perfect for novice grillers and experienced users alike.
The 280 sq.in cooking area is perfect for trips with friends and family, while the built-in thermometer takes the guesswork out of temperature monitoring. Their standard cooking grates can also be swapped out for griddles if desired – although you'll have to purchase these separately.
We also like that these grills include removable drip pans and sturdy side shelves for extra preparation and serving space. Both the body and lid are crafted from cast-aluminum for all-season durability, as well as being lightweight enough for easy transportation.
It's important to keep in mind that both of these grills don't have extending legs, so you'll need a grill cradle unless you're happy to use them on the ground or on a table top.
Blackstone Grills Tailgater – Portable Gas Grill and Griddle Combo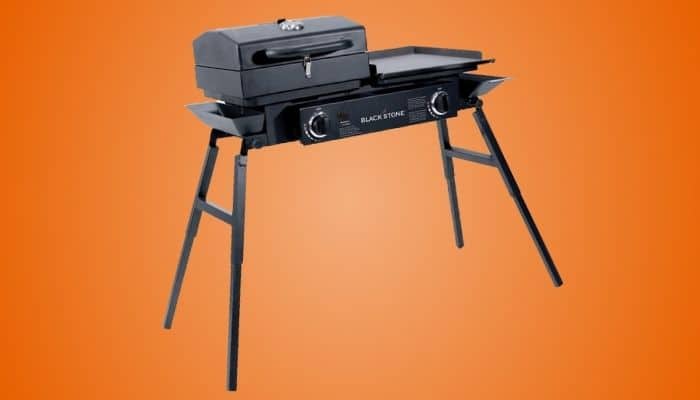 With its adjustable legs and portable design, the Blackstone Grills Tailgater is another great choice for cooking in the great outdoors.
Boasting a generous cooking surface of 477 sq. in – this camping grill is perfect for trips with the family. No assembly is required to get started, while the adjustable legs make it effortless to set up on uneven surfaces in just a few seconds.
Another great feature of this outdoor gas grill is its versatility. It comes with a combination of both a cast iron grill box and steel griddle, so you can choose to use them either on their own, at the same time, or take them off completely for direct access to the dual burners – great if you need to heat up some water for rice, pasta or boiled eggs.
The dual burners themselves are impressive. Each is independently controlled, so you can curate the temperature to meet your cooking needs. This model comes with one stainless steel H tube burner that reaches up to 15,000 BTU, and one cast iron burner that can put out 20,000 BTU – so no matter what you're cooking, this grill can step up to the challenge.
The entire grill is built to last. It has a powder coat finish and feels durable and sturdy – just what you need if you're cooking large quantities. At 34 kg it's fairly heavy, but it does fold flat for easier storage and transportation.
Coleman Camp Propane Grill/Stove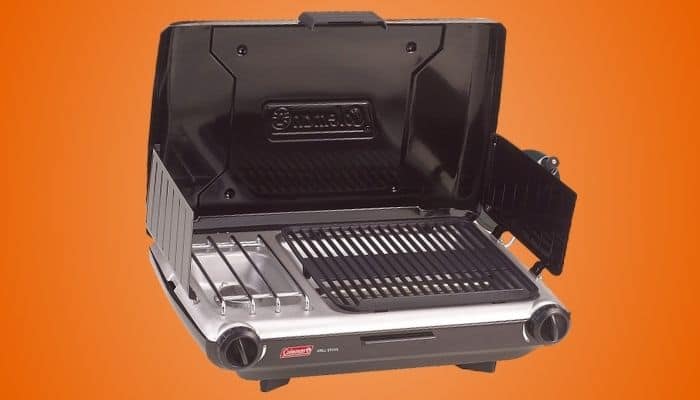 Looking for something a little more streamlined? Then this compact propane grill by Coleman could be just what you need.
Featuring a 2-in-1 design, this camping grill can be used as both a stove and a grill at once, so you can saute onions and grill your meats at the same time. Ideal for singles or couples, the stove can accommodate a 10-inch pan, while the 130 sq. in cooking area provides plenty of space for 1 to 2 people, but isn't large enough to cook for a group of friends.
Designed to be used as a table top grill, this model may be small in size but it packs a lot of cooking power. Capable of kicking out up to 22,000 BTU, the Coleman can easily handle thick steaks, chicken breasts, fish and burgers for perfectly cooked and delicious results. The removable drip tray makes it easy to clean afterwards, too.
Outdoor cooking can present a number of challenges, with windy weather being one of the most troublesome. But if you get caught out in blustery conditions, the Coleman Grill/Stove has you covered.
Special Wind Block panels protect the burners from the breeze, keeping the flames buffered so you can achieve constant temperatures if the wind picks up part way through your cookout. If the weather is more agreeable, the panels can be folded down and used as handy side tables.
Another great feature of this grill is its 'PerfectFlow' technology. This keeps the gas flow steady, for more efficient cooking with less fuel. So, even if it gets a little windy, you won't waste all your gas making dinner.
Crafted from steel and boasting a secure lid clasp, this camping grill is durable and reliable for wild camping trips where the conditions can get a little demanding. The only downside is its lack of an electric ignition mechanism – so you'll need to remember to pack an ignitor separately.
Cuisinart CGG-240 All Foods Roll-Away Gas Grill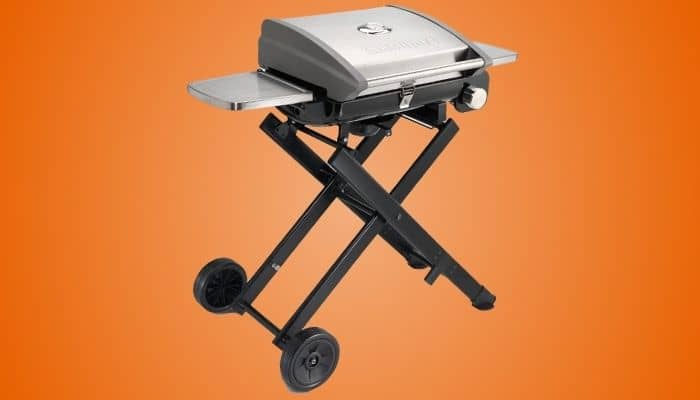 The Cuisinart CGG-240 All Foods Roll-Away Gas Grill is another great option for family camping or road trips with friends. Roughly the size of a suitcase, this grill boasts a large grilling area, fold out legs and a wheeled design that's easy to store and transport.
Its 240 sq. in grilling surface is made from enamelled cast iron for durability and optimum heat distribution. The double-walled grill cover also helps to keep the heat contained for even cooking, so your food will be ready right when you expect it.
Featuring a single 15,000 BTU loop burner made from stainless steel, the Cuisinart CGG-240 kicks out more than enough heat to cook all your favorite foods. It's easy to start up in a click, thanks to the electric ignition knob, while the simple controls and built-in thermometer in the lid helps you to keep an eye on the temperature.
As should be expected of a grill of this size, the Cuisinart CGG-240 also has two, decent-sized, fold out side shelves for extra space. These are ideal for preparing food prior to cooking, or for use as a serving area for your guests. When it comes time to pack away, the shelves fold in for compact storage, while the removable drip tray makes cleanup quick and easy.
On the downside, this grill doesn't come fully assembled, and can be a little awkward if you're attempting it on your own.
Cuisinart CGG-180T Portable Propane Tabletop Camping Grill
Available as either a tabletop grill or a standing grill, the Cuisinart Petit Gourmet Grill is a great option for camping vacations and tailgating parties alike.
Both models are compact, lightweight and offer cooking power of up to 5,500 BTU and porcelain-enameled grates for even heating – but they differ in grill grate area. The tabletop version has a cooking space of 145 sq.in, while the standing version offers a slightly bigger area at 160 sq.in – making it a better choice for small groups.
Whether you opt for the tabletop or standing version with folding legs, both options are compact, stable and easy to transport and store. The gas-powered burners heat up incredibly quickly, so you can get straight to cooking, while the twist to start electronic ignition takes the hassle out of getting fired up.
A built-in lid lock keeps the lid securely in place during transportation and the spill-resistant grease drip tray makes it easy to clean up when you've finished your meal. Unfortunately, these grills don't have a thermometer built-in, so you'll have to use your judgement or buy a meat thermometer if you want to be extra careful.
Texsport Heavy Duty Over Fire Camp Grill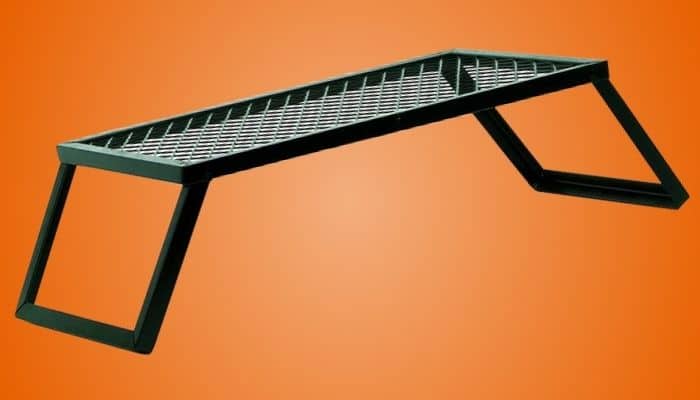 Last on our list, we have something a little different – the Texsport Heavy Duty Over Fire Camp Grill. As the name suggests, unlike the other camping grills we have reviewed, this product is designed to be used over an open campfire.
Perfect if you want to get back to basics, this grill grate is pretty simple. Made from welded, heavy-duty steel, this uncomplicated grill is held off the ground by a set of sturdy legs that are foldable for easier storage and transportation.
Available in a range of sizes, this freestanding grill grate has plenty of space to cook for several people – so long as your campfire is big enough, that is. Unlike gas grills, food cooked over an open fire has that rustic, authentic BBQ taste, and this grate allows you to achieve that with no fuss. If you prefer, you can also use it to cook with pans, rather than place food directly on the grate itself.
This grill isn't suitable for everyone, though. You'll need to be very confident in your fire building skills for best results. A campfire that is too small, too fierce or too short-lived will put a rapid halt to your cooking progress – leaving you and your campmates disappointed and hungry.
This grill will also need to be 'primed' before use. This involves burning off the paint coating on the steel frame, which burns to a white powder when exposed to high temperatures.
All in all, we recommend choosing this grill if you're an experienced wild camper who likes to strip back to basics and keep things simple. However, if you're new to outdoor cooking, a grill that has a reliable and easily adjustable fuel source would be a more sensible choice.
Why Trust Us
All of our reviews are compiled with a combination of expert input, years of hands-on testing of grilling products, curating the reviews of real-life buyers in a "wisdom of the crowd" system, and of course our own expertise. All the products listed are the ones we would buy if we were looking to purchase a new camping grill.
Methodology Used to Pick the Best Camping Grill
When picking the best camping grill we looked at and then rated each pair on the following criteria. Price, fuel, cooking surface area, lid, vents, temp control, temp gauge, adjustable legs, BTU, ignition, burners, and side tables.
Buyer's Guide to Buying the Best Camping Grill
The best camping grill for you will depend on several factors. In this section, we take a look at the most important features to consider before you buy.
Price of the Best Camping Grill
As with most purchases, your budget is likely to be an important factor when choosing a camping grill.
Some basic camping grills can be as cheap as around $100 or less, while those with a high-quality build and extra features can cost between $200 – $350.
A good general rule is that you get what you pay for. So if you're looking for a grill that will last you several seasons, it's best to invest a little more for a durable model that is versatile enough to meet your needs,
On the other hand, if you only go camping once a year or want a grill for an occasional cookout by the lake – a cheaper model should suffice.
Packable and Portable
When camping, space is at a premium. Therefore, your camping grill should be lightweight and compact enough for easy transportation and storage.
Many camping grills are designed to fold down to save space, while the best models have wheels that make them especially portable. Look for grills that have ergonomic, easy grip carry handles for comfort, and secure lid latches to prevent them falling open during transport. Some smaller models may come with a carry bag.
Of course, the lighter the grill, the easier it will be to carry long distances. If you like to grill out in wild beauty spots away from your campsite, it's best to opt for the lightest grill you can find. On the other hand, if you prefer tailgating, cooking in camp or your backyard, then weight is less of an issue.
Fuel
Camping grills can use a variety of different fuels. Each has its own benefits and drawbacks.
Charcoal
Charcoal grills are usually the cheapest option on the market.
Charcoal is a cheap and readily available fuel, and charcoal grilling creates an authentic smokey taste that is difficult to replicate with other cooking methods.
On the downside, charcoal grilling requires some level of skill to achieve perfectly cooked results. Charcoal can be difficult to get going in windy conditions, and the heat that it puts out can vary across the grilling area if the coals are not distributed evenly.
Charcoal can also present a fire hazard as it is prone to spitting – it also smoulders for a long time after the heat has died down, so be sure to leave it to cool and dispose of the remains responsibly. Never store recently burned charcoal inside a tent or RV, as it can give off dangerous levels of carbon monoxide gas.
Gas
Gas is also a relatively cheap and easily available fuel, but it is much easier to use than charcoal.
Gas grills provide instant heat that is easy to control with the twist of a dial, so you can get cooking in seconds. Unlike charcoal, gas grills are much easier to clean as there's no ash to dispose of once you're done.
Just like charcoal grills, gas grills pose some safety risks – so you must be sure to follow the instructions and store and dispose of gas canisters correctly. However, the biggest downside of gas grilled foods is the lack of smokey taste that charcoal grills offer.
Electric
Electric grills don't require any extra fuel. Instead, they use a heating element to cook food.
Usually, electric grills come in two styles – open grills that have a single heat element beneath the grill, or "clamshell" grills with two element heated griddles that close around the food for even cooking.
Electric camping grills are simple to use, so are a good choice for beginners. They make it easy to achieve evenly cooked results, and as there is no external fuel source, they are also a safer option around children and pets.
On the downside, electric grills require a power source to run, so they're not suitable for wild camping. They also won't give you the authentic smokey taste that comes from charcoal grills.
Grill Grate Surface Area
Camping grills are available in a variety of sizes. The right choice for you will depend on how many people you expect to cook for.
If you're just grilling for yourself and your partner, a camping grill with a grate surface area of about 130 sq. in will be enough. But if you plan to cook for groups of friends and family, you should opt for a larger grill grate of at least 240 sq. in.
Some models feature dual cooking zones, so one side is a grill grate, while the other is a griddle for veggies and side dishes. When deciding what size to purchase, keep in mind that you'll need to leave a couple inches between items, especially meats, for food safety.
Lid
Choosing a grill with a well-fitting lid is useful for temperature control and can aid cooking if the wind picks up.
We recommend opting for a camping grill with a secure lid that seals well and has a good quality locking mechanism. This will prevent the lid from falling open as you move it – making your grill easier to store and transport.
Vents & Temperature Control
If you opt for a gas or electric camping grill, we recommend choosing one that offers temperature controls for ease of use.
Because of their compact size, many camping grills will have only one burner, but being able to adjust the temperature will make it much easier for you to cook a variety of foods without disappointment.
If your grill has more than one burner, having the ability to set a different cooking temperature for each burner will give you flexibility to cook different food items at once without burning.
In the case of charcoal camping grills, look for a model that includes vents for temperature control. These vents can be positioned in the lid or at the base of the grill. Opening the vents will allow more oxygen to reach the coals, for a hotter and faster burn. On the other hand, if you need to take the heat down a notch, simply close the vents to reign in the temperature to a smoulder.
Temperature Gauge
Some camping grills will come with a temperature gauge built-in, most often in the lid.
Temperature gauges are useful if you're cooking complicated meals such as whole birds or an entire fish, but they're not strictly necessary. Remember you can always purchase a meat thermometer separately if you're concerned about food safety.
Adjustable legs
Camping grills with individually adjustable legs are a great option if you tend to grill on uneven ground.
If you're taller than average, standing grills that have adjustable legs can also be a more comfortable choice for long cooking sessions. By adjusting the leg length, you can set them up at a height that's easy to use without hunching over and straining your back.
BTU
BTU stands for "British Thermal Units" and is used as a measurement of heat output.
Grills with a higher BTU are able to achieve much higher temperatures much faster than those with a lower BTU. This means they can reach your desired cooking temperature quickly with little waiting around.
You can find decent camping grills with a BTU of 5000 or less, but keep in mind that these will take longer to heat up than their more powerful competitors.
For rapid heat up and high temperatures that can easily handle thick steaks, we recommend choosing a camping grill that offers at least 12,000 BTU.
Ignition
Gas camping grills that have spark ignition mechanisms built-in are the best choice.
Not only are they safer than sticking your hands and a naked flame close to the fuel source, but they will prevent disappointment if you forget to pack some matches on your next trip.
Number of Burners for the Best Camping Grill
For singles and couples, camping grills that have just one burner will usually be sufficient. On the other hand, if you often cook for groups of friends or family, a camping grill with multiple burners may be the best choice.
Having more than one burner allows you to cook larger amounts, as well as different food items at once, so your main and side dishes will be ready to eat at the same time. They are also convenient for keeping food warm after cooking – useful if dinner is ready sooner than planned or you're partial to second helpings.
Side Tables
Camping grills with side tables are great for expanding the available area for preparing and serving your food. They can even eliminate the need for an additional table altogether, thus saving packing space.
Some camping grills have side tables that are detachable, but you should check that they are attached sturdily enough to hold the weight of condiments, cutlery and other cooking accessories before purchasing.
We recommend looking for a model that has foldable side shelves. As they are built in, these are likely to have more strength and will pack down to a compact size that's easy to store and transport.
Top Camping Grills Video
Final Thoughts on the Best Camping Grill
As we've seen, there's a huge variety of high-quality camping grills available on the market. The best camping grill for you will depend on your camping style, whether you like to take trips alone or with groups of friends, and your personal experience with outdoor cooking.
If you like to enjoy alfresco dining in remote spots, the Coleman RoadTrip 285 Portable Stand-Up Propane Camping Grill or the Napoleon TravelQ 285 with Scissor Cart are great choices. Compact, foldable and easy to transport thanks to their built-in wheels – these gas camping grills are portable and powerful.
For large gatherings of hungry friends and family, the Blackstone Grills Tailgater is a top pick. With its generous grill and griddle space and dual burners, this versatile camping grill can cook enough to keep everyone happy.
Singles or couples who like to travel light will appreciate the streamlined yet efficient design of the Coleman Camp Propane Grill/Stove, while back to basics fans will love the no-fuss approach of the Texsport Heavy Duty Over Fire Camp Grill or the Weber Go-Anywhere Portable Grill.
No matter your preferences, you're sure to find your perfect match among our camping grill reviews.