There are many things that annoy me (probably too many) but one of the most abhorrent things to me is finding cigarette butts littered literally everywhere I go. As a partaker of smoking it does not register with me how people can so lackadaisically throw away the remnants of their cigarette in such an uncaring fashion. It takes all of thirty seconds max to find an outdoor cigarette receptacle and dispose of the litter in a way that saves clogging up the streets with unnecessary waste. As pet peeves go it's up there with gum disposal and infanticide.
Amazingly, this practice isn't only isolated to pedestrians on busy streets. I see numerous folks out on picnics in the park and on beaches throwing away their discarded butts without a second thought and I have on three separate occasions in the last year had to have a less than gentle word with friends who thought my bushes were the ideal resting place for their dying embers – even though my cigarette receptacle was mere feet away from them.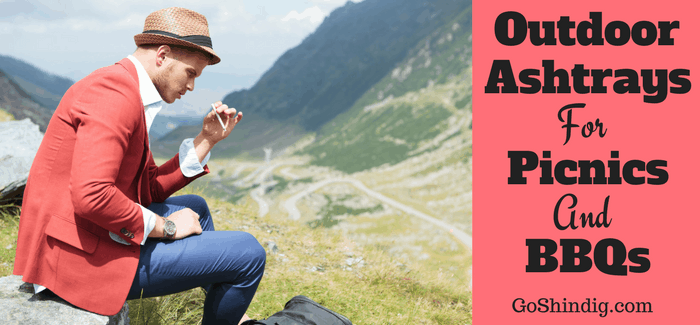 Is it a lack of respect, ignorance, or something that just does not compute in peoples' minds when they do this heinous act? I'm unsure, but all we can do is take a bit of responsibility for our own actions and make sure that, even though the act of smoking itself might be frowned upon by others, we are doing our utmost to not impose our habit and its waste on others by disposing of our cigarettes in a responsible fashion.
In light of this, what follows are some examples of outdoor ashtray ideas that you might like to consider. There are some that are specifically designed for the different shindigs you might be experiencing, so there are some portable ashtrays for beach or park picnics, some outdoor cigarette stands for all your patio needs and even some car ashtray cup holders that can be of a huge benefit for any long journeys.
Cigarette Receptacles
These are to be used for your backyard and are ideal for BBQs or your outdoor bars. They can also be used if you just feel the need to pop out back for a quick cigarette whilst taking a break from daily chores. The good thing about cigarette receptacles is that because of their sturdy shape and size, they are a no fuss, all weather item. With capacities ranging from half a gallon all the way up to way past 5 gallons you will also not need to be cleaning these receptacles out every other day.
The Personal smokers cease fire cigarette butt receptacle from Justrite is an Amazon bestseller and for the price you can see why. It offers a one gallon cigarette butt container, features an oxygen reducing design to prevent fires and is made from a flame retardant polyethylene body. It also comes in a choice of 5 colors which can certainly help out with fitting in with the rest of your yard.
The Galvanized Steel Poly Tube Cigarette Butt Receptacle made by Eagle offers a massive 5 gallon cigarette butt capacity for not much more money than the previous offering. It comes in a striking yellow color which allows it to become much more of a feature if that is what you desire. It stands at 40 inches tall and features the oxygen reducing design that helps eliminate the risk of any fires. The fact that it is made in the USA can only be taken as a great added bonus.
For those who don't mind wall mounted cigarette receptacles, Aarco offer this great little product. Wall mounted receptacles can be seen as an unobtrusive option to your outdoor ashtray needs. Their slimline look helps them blend into the surroundings and although the capacity of these items are certainly not as big as the free standing cigarette receptacles they are very easy to clean and maintain. This all aluminum design comes in three colors and is completely waterproof and at 12 inches long it will hold around 200 cigarette butts.
Portable Ashtrays
Portable ashtrays are to be used if you are thinking about setting up camp somewhere for the day or even a weekend. They are generally small in design and will often come with a lid that protects you, and others, from any flying ash that the wind may pick up. However you can also find key chain ashtrays and pocket ashtrays that are designed for everyday use and are intended for those times where you just cannot find a receptacle that you can discard your butt into. Below you can find a couple examples of each.
Newness Ongoing offer this stainless steel modern ashtray that is certainly eye catching. It features a lid which by all accounts is heavy enough to stay shut when needed and a narrow opening which can help massively with wind proofing. It is lightweight making it easy to carry and at just under 4 inches wide it will not be a space hog in your carry bag. Because of its rounded design this ashtray is meant to act as a snuff meaning that you shouldn't be looking to stub your cigarette out and should just shut the lid to deprive the cigarette of any oxygen thus extinguishing it.
Honoro have come up with this beautiful looking portable ashtray that features a castle design and a semi-closing lid that helps windproof the item. It is ideal as a picnic ashtray as it will hold up to 2 packets of cigarette butts and the 5 different colors that it is available in make it an eye catching addition to your day out.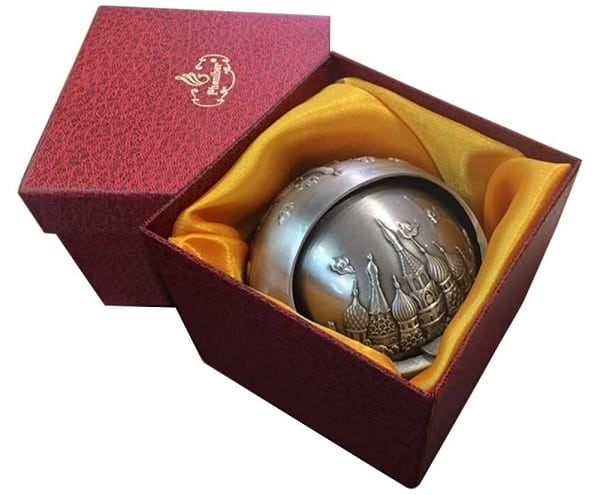 I think any smoker worth their salt has heard of Zippo and these giants of the lighter world have branched out to offer us a portable ashtray with a key ring. These are absolute lifesavers (not literally!) if you find yourself without a receptacle at hand. It means that you no longer have to litter and with a simple reach into your pocket or bag can dispose of your cigarette butt with the minimum of fuss. At 3.5 inches long it can certainly hold enough butts to see you through a few hours if needs be until you can find a suitable receptacle that you can empty it into with just the twist of the bottom of the ashtray.
There are many other examples of tubed key ring ashtrays but I would like to show you an alternative short term solution ashtray. This pouch pocket by Kiipr comes in a pack of three and all for under five bucks. The Kiipr pouch is a snap-closing vinyl pouch that extinguishes cigarette butts and holds them, discreetly, until they can be discarded in a trash can. It's lightweight and small enough to fit in any pocket. Just lift the flap, pinch the sides to open the foil-lined pocket, and drop your cigarette butt in. Fold the flap and snap it shut. In moments your cigarette goes out, while its odor is locked inside. You can empty the Kiipr safely in the next trash receptacle you come across, and use it again and again. Kiiprs will hold three or four standard cigarette butts at a time.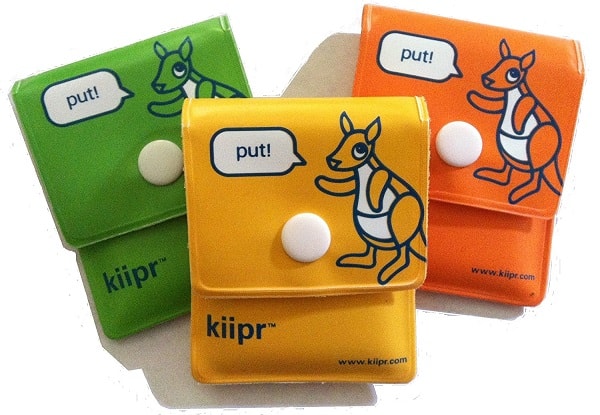 Automotive Ashtrays
Being a smoker and being a driver, it's a massive hindrance when you see what inbuilt ashtrays have to offer. They are often minuscule and not really in a convenient location for you to stub that butt. This has in the past left me to only smoke on breaks and can leave me quite irritable if there's no such opportunity for many miles. A good alternative to these inbuilt contraptions is the cup holder ashtrays that are on the market and one such offering is this by RoadPro. Because it does go in the cup holder slot, its positioning is ideal. No need to be flicking our ash out the window and destroying your back seats at the same time. Now, even with the window down, you can safely flick your ash into this device and expect no comeback due to its long slim design. As with many other ashtrays in this article, this is a self-extinguishing ashtray in so much as you just close the lid on it to starve the cigarette of any oxygen.