There's no doubt that having the best portable grill will make your outdoor activities a lot more fun.
Nothing compares to the taste and general satisfaction that comes with freshly grilled food, rustled up with a beautiful view – but with so many types of portable grill to choose from, which one is right for you?
From charcoal, electric, and gas grills, to griddles, pellet grills and smokers, if you're new to the world of outdoor cooking, the range of portable grills on offer can make your head spin.
That's why we have put together this comprehensive guide to the best portable grills in every category.
In this article, we'll recommend an overall winner, and a runner up model, for each type of portable grill on the market – so you can escape the confusion and focus on the leading options that money can buy.
We've also included an in-depth buying guide that covers all kinds of portable grills, to help you make the right choice for your needs.
Best Portable Grills
Here's our run down of the best portable grills in each category. We have covered gas, charcoal, pellet, electric, griddles and smokers – so there's something to suit everyone.
Coleman RoadTrip 285 – Best Portable Gas Grill
Our pick for the best portable gas grill is this excellent model by Coleman.
The Coleman RoadTrip Gas Grill has 285 square-inches of grill space so there's plenty of room to cook for up to 15 people. It also has three burners that when used in combination, give out an impressive 20,000 BTU. This means it heats up fast and cooks quickly – ideal if you and your companions are hungry after a long hike.
Each burner can be controlled independently, so you can cook several different types of food at different heat levels, and the built-in ignition starts it up in a click. This model uses compact, 1 pound propane cylinders, which are perfect for lightweight travel.
We like that the Coleman RoadTrip features highly-durable cast iron grill grates, that are also porcelain-coated. This coating helps to distribute heat evenly across the cooking surface, so you won't have to worry about hot or cold spots. It also has great non-stick qualities which makes cleanup easier.
Other useful features include fold out side tables for additional food prep space or serving areas, and the option to swap out the cooktops with other compatible models in the Coleman range – although these are sold separately.
Despite it's sturdy build, this model is impressively lightweight at just 50 pounds. The wheeled legs stand at a comfortable height and can be folded down for simple transport and space-saving storage. The lid can be locked when not in use to keep the grill safe, and there's even a built-in handle on the side so you can easily pull it along to your cooking spot.
Overall, it's clear to see why we give this model the title of the best portable gas grill. It's compact, lightweight, powerful and durable, with everything you need to enjoy delicious grilled food off the beaten track.
Weber Go-Anywhere – Runner-up Portable Gas Grill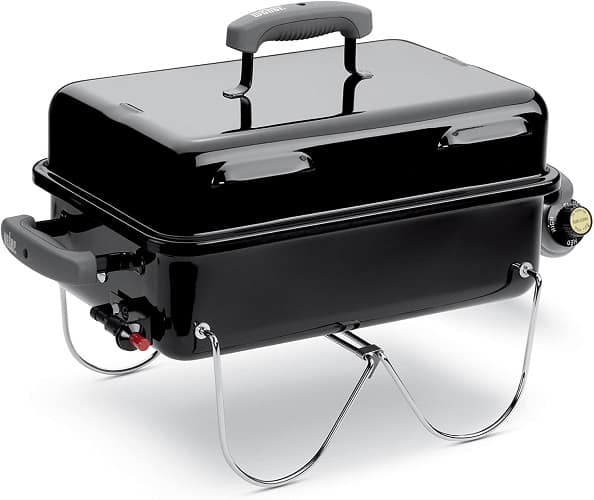 Our runner up portable gas grill is the Weber Go-Anywhere.
This compact model measures only 12.2 x 21 x 14.5 inches, so it's a great space-saving option for camping or road trips. At just 13 pounds in weight, the Weber Go-Anywhere is incredibly lightweight and easy to carry to your favorite remote locations for some alfresco dining.
This portable gas grill is much smaller than our top pick with 160 square-inches of grilling space, so it's a good choice for small groups of 3-4 people. It only has one burner that gives out 6,500 BTU – this is plenty hot enough to grill all your favorites but keep in mind it will take a little longer to cook than the Coleman RoadTrip.
The grill grate is made from porcelain-coated stainless-steel, which is lightweight, durable and distributes heat very well for evenly-cooked results. The foldable legs are sturdy and entire unit is made to a high standard, so it will easily cope with the challenges of travel and outdoor cooking – including the occasional knock or bump on the way. We also like that it has a locking lid and heat-proof carry handles on each side for easy transport.
Just like the Coleman RoadTrip, this portable model has built-in ignition and uses compact 1 pound propane cylinders. The grill requires a bit of assembly before use, but it's very simple, and you can download an app that will show you the process step-by-step if you need help.
In summary, the Weber Go-Anywhere is a worthy winner of our runner up portable gas grill title. Not only is it incredibly compact and lightweight, but its built-in handles, foldable legs and locking lid make it a great choice for your outdoor adventures.
Weber Go-Anywhere – Best Portable Charcoal Grill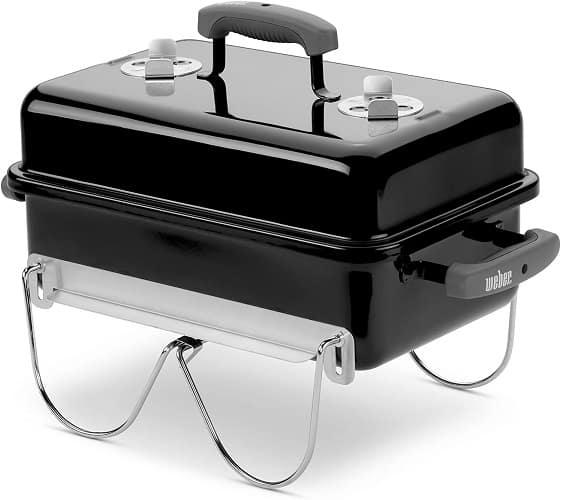 If you prefer the authentic taste of charcoal grilled foods, we recommend you go for the Weber Go-Anywhere Charcoal. This model is very similar in design to the gas version, but has a deep charcoal bed and vents, rather than a gas burner.
With its 160 square-inch cooking area, this model is best suited to couples or small groups of up to 6 people. The grill grates are made from plated steel for durability and it holds heat very well, so your food cooks evenly no matter where you place it. We like that the bottom grate has a tight mesh to prevent small pieces of charcoal from falling through, while the top grate simply slots in and is ready to go in seconds.
The Weber Go-Anywhere Charcoal is carefully designed to be easy to transport. Not only is it lightweight and compact, but it also features sturdy, built-in handles on the top and sides so it's comfortable to carry to your destination. The wire legs have a curved shape that keeps the grill steady on an uneven campground, and they fold in over the sides for space-saving storage when not in use.
This model has two dampers in the lockable lid for temperature control, so you can easily temper the heat if needed. The lid itself is porcelain-enameled for great heat retention and protection against rusting or peeling, making it great for use all year around.
Charcoal grills can be a little messier than gas models for obvious reasons, but we like that the Weber Go-Anywhere has a grease drip tray in the bottom that makes cleaning up hassle-free. After all, nobody likes scraping grease when they could be relaxing around a campfire.
All in all, this model is a stand out choice for camping, hiking or even days out at the beach with loved ones. Not only is it lightweight, compact and durable, but the smart fold-out legs, sturdy handles and ease of use make it a real winner.
Cuisinart – Runner-up Portable Charcoal Grill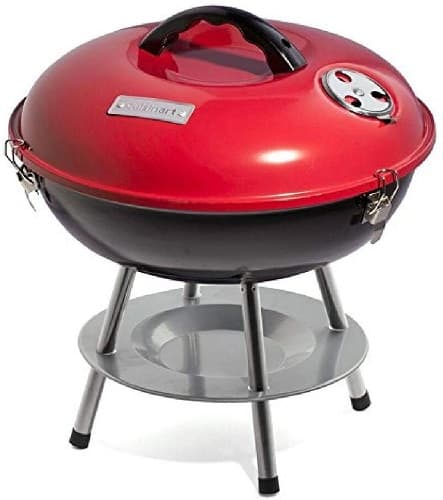 Our runner up portable charcoal grill is the Cuisinart grill. This little freestanding grill has an attractive design and is easy to take with you on your outdoor cooking trips.
With a 150 square-inch grill grate, this portable charcoal grill offers enough space to grill up delicious goodies for up to 6 people at a time, so you and your companions can enjoy your food altogether. The grill grate is chrome plated for durability and effective heat distribution, so you can rest assured your food will be evenly cooked every time.
We like that the lid is lockable to keep the grill secure during transport and storage. The lid and firebox are also coated with enamel for additional strength – perfect for those adventures in rugged terrain.
As this model weighs just 2 pounds, it is super lightweight and easy to carry for long distances to your favorite beauty spot. The built-in handle in the lid is ergonomically shaped for a comfortable grip and its compact dimensions won't take up much space in your car or RV.
Once you reach your grilling spot, the three legs in the base keep the grill stable, even if the surface is a little bumpy. All you need to do is load it up with charcoal, light it up, replace the top grate and you're ready to go. The dual vents in the lid make it simple to adjust the heat to meet your needs, and the mess-free ash emptying system in the base means you can keep your hands clean when packing away.
Overall, this model may not be quite as compact as the Weber Go-Anywhere, but it's still an excellent choice for enjoying flavorful, charcoal grilled foods in the Great Outdoors.
Traeger Tailgater – Best Portable Pellet Grill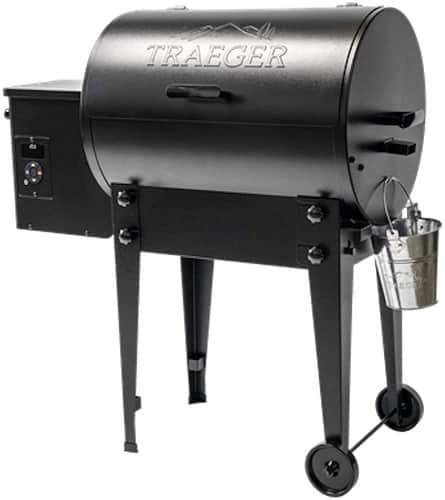 If you're looking for the best portable pellet grill, we think you should look no further than the Traeger Tailgater.
This compact model is cleverly designed with portability in mind, featuring wheeled legs that collapse and fold beneath it for easy transport and storage. You can also choose to use it in both its standing and collapsed states – which makes this model a particularly excellent pick for tailgating.
Boasting 300 square-inches of grilling space, the Traeger Tailgater is perfect for large gatherings. It's spacious enough to cook 2 whole chickens, 12 burgers or 3 racks of ribs at the same time, so you and all your companions will have plenty of food. The 8 pound pellet hopper will keep you cooking for up to 5 hours on one fill (depending on the temperature setting) – so you can grill all night long if you like.
Temperature control is made simple with this pellet grill. The special "digital arc" controller enables you to set the temperature in precise, 5-degree increments for accurate cooking. You can ramp up the heat to a maximum of 450℉ – ideal for getting an impressive sear on your steaks and burgers. And if you're new to grilling, the built-in meat probe is handy for checking if your meat is properly cooked.
The grill grate is porcelain-coated for durability and easy cleaning, so you won't have to waste precious socialising time scrubbing your grill. Any fat and oils from your food also drains down into a dedicated grease collection bucket beneath, so you can just pour it out and get back to enjoying yourself.
Due to its size, this portable pellet grill is heavier than other types of grill on our list but it is easily manageable with an extra pair of hands. It's smart, folding design makes it simple to transport and it's huge capacity makes it a top pick for large gatherings
Z Grills – Runner-up Portable Pellet Grill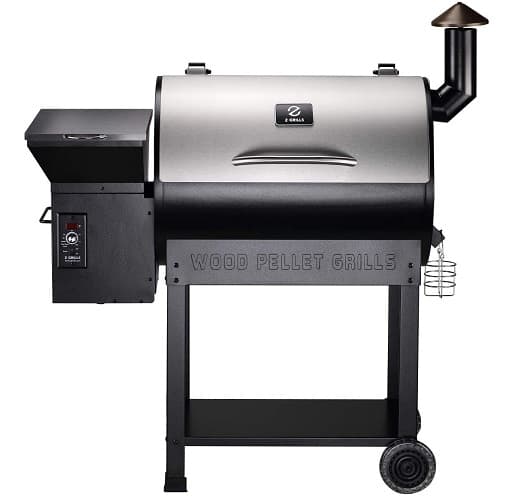 The Z-Grills portable pellet grill is our runner up model. This pellet grill is suited to the largest gatherings, thanks to its impressive, 700 square-inch grilling space.
The Z Grills ZPG-7002E offers versatile cooking options, so it's great for beginners and experienced grillers alike. You can choose to grill, smoke, bake, roast, BBQ and braise with one unit, so whatever your campmates fancy, you can rustle it up with this model.
The large grilling area is capable of cooking as many as five whole chickens and 6 racks of ribs simultaneously, plenty to feed everyone with some to spare. This is backed up by the 20 pound wooden pellet hopper, so you can keep the heat, and the party, going all day long.
Built entirely out of stainless steel, this portable pellet grill is tough enough to withstand the challenges of travel and the elements. It starts up in a click and offers a wide temperature range of between 160 and 450 ℉, so you can cook low and slow or fire it up hot to get a great sear on your meats.
Whatever temperature you set it at, the grill intelligently monitors the heat and maintains it within 10-degrees of this temperature, so you can set it and leave it to do its thing. And once the fun is over, the built-in grease management system ensures cleanup is hassle-free.
Due to its size, it's no surprise that this model is less portable than our top pick. However, thanks to its wheeled legs, you can easily move it around with a little help from your friends.
Weber Q 2400 – Best Portable Electric Grill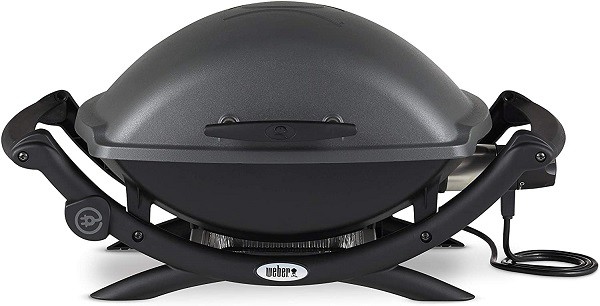 Electric grills are a great alternative for campsites or national parks that have fire bans in place. Our overall favorite portable electric grill is the Weber Q 2400.
This model is very compact, yet boasts a high-power, 1560 watt heating element. The 280 square-inch cooking area is large enough to fit as many as 12 burgers at the same time, so you and several companions can enjoy your food together. It's really simple to use and heats up quickly, so all you need to do is switch on the power and adjust the temperature on the side dial – it's ready to use right out of the box.
The grill grates are made from cast-iron, so they conduct heat quickly and distribute it evenly across its surface, thus helping to eliminate the risk of hot or cold spots. They're also coated with porcelain for durability and rust-resistance – a welcome feature that will keep this grill looking good for years to come.
This portable electric grill is cleverly designed with an attached cradle-like stand that sits low to the floor. It can be used as a tabletop grill, but the wide set legs ensure stability on rough surfaces like sand or gravel, too. If you would rather cook standing up, you can also purchase a compatible Weber Q stand to transform it into a freestanding grill – although this will come at an extra cost.
Perfect for lightweight travel, this model weights just 42 pounds and measures only 31.5 x 14.5 inches, so it takes up barely any space in your car trunk. The body and lid are made from cast-aluminum for resistance to scratches or knocks and it features dual molded side handles for comfortable carrying.
Cuisinart – Runner-up Portable Electric Grill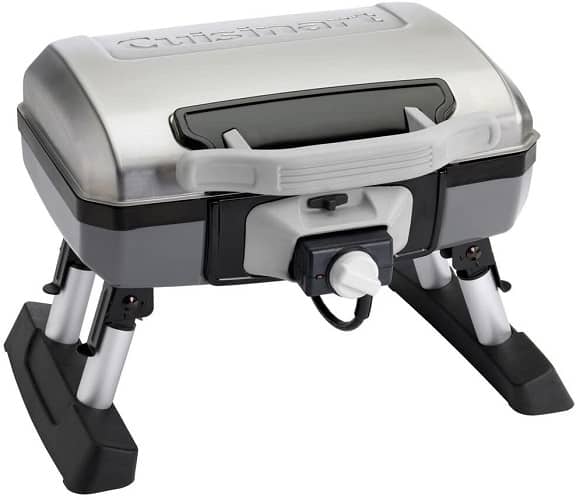 A little smaller and bulkier than the Weber Q 2400, our runner up portable electric grill is the Cuisinart Tabletop Grill.
This model offers an 145 square-inch grill area, which is large enough to cook for around 4 to 8 people. It has a 1500 watt heating element, slightly less powerful than the Weber, but still hot enough to get a good sear on your meats. We also like that the porcelain-enameled grill grates are highly durable and distribute heat evenly for perfectly cooked results.
This model is much lighter than the Weber, weighing just 17 pounds. It has fold out legs which are great for using on a tabletop or on the ground, although it's a little less stable on uneven surfaces when compared to our top choice. For storage and transport, the lid can be locked and legs fold in underneath the grill, so it's great for saving space as well as being easy to carry to your destination.
Just like the Weber, this model doesn't need to be assembled before use, so you can get cooking right away. The temperature is controlled via a simple dial on the front of the grill, and it also has a handy grease collection tray for convenient cleanup.
All in all, this model is a worthy runner up for the title of the best portable electric grill. Although it has less grill space and is a little more unstable on uneven ground than the Weber, it's still very compact, lightweight and simple to use straight out of the box.
Blackstone Tabletop Grill – Best Portable Griddle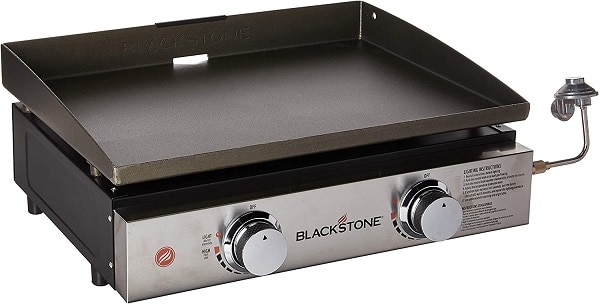 If you prefer griddles to grills, this tabletop gas griddle by Blackstone is our top pick for the best portable griddle. Ideal for tailgating, camping or just days out with friends, this portable griddle has everything you need to cook tasty meals in the great outdoors.
The Blackstone Tabletop Griddle Grill packs a 339 square-inch, cold-rolled steel cooking area into a compact 22 inch design, so you can cook enough burgers for up to 12 people at once. This makes it an excellent option if you usually go camping with large groups of friends or enjoy parties on the beach.
Despite its size, this compact griddle is pretty powerful, too. It features twin gas burners that, when used simultaneously, give out 24,000 BTU – plenty hot enough to cook all your favorite foods to perfection. The burners are independently-controlled, so you can set a lower temperature on one burner for vegetables and a higher temperature on the other for your meats.
At just 32 pounds, this portable griddle is light and easy to transport without weighing you down. It's designed to be used with compact 1 pound propane cylinders, but you can connect it to larger, 20 pound cylinders too by using an adaptor. This means you can keep grilling for much longer if needed. Start up is simple, thanks to the built-in, push-button ignition.
This grill is designed as a tabletop grill, but its wide shape makes it suitable for use directly on the ground, and it's very stable on uneven terrain without wobbling. This means you can use it on grassy surfaces or rocky ground without any worries.
We also like that it has an integrated grease collection drain in the back and the griddle surface can be simply wiped clean with a damp paper towel when you've finished cooking.
Watch our in-depth video review of the Blackstone griddle
PIT BOSS – Runner-up Portable Griddle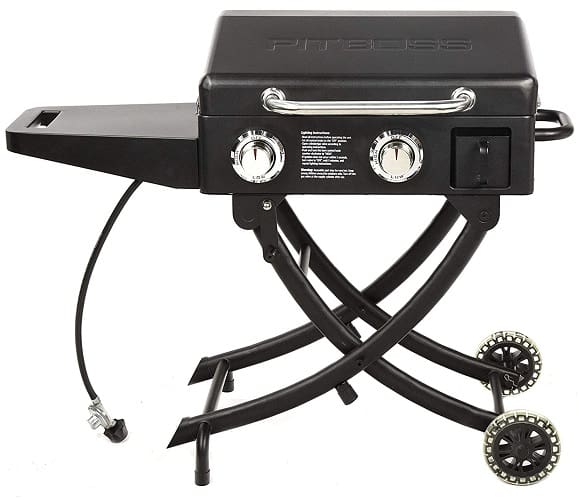 Our pick for the runner up portable griddle title is this model by PIT BOSS. Designed to take your cooking off the beaten track, this model is packed with features that make it a great choice.
The PIT BOSS weighs more than twice as much as the Blackstone at 72 pounds, but this model isn't made to be carried. It features foldable, "scissor-style" wheeled legs that collapse beneath it to save space during transport and storage. And built into the side of the body is a large handle, so you can easily tow it behind you to your cooking spot.
Once extended, the sturdy legs stand at a comfortable height for cooking. The generous 320 square-inch griddle is large enough to cook for up to 10 people and the two burners give out 18,000 BTU for rapid heat up. Each burner can be controlled independently, so you can cook different types of food at once, and it starts up in a click, thanks to the built-in ignition. The griddle is also pre-seasoned, so you can start cooking as soon as you open the box.
The attached side shelf is strong enough to support all your condiments, dishware or utensils, and makes for a useful preparation or serving area. We also like that the lid has a good seal to keep the heat inside, as well as providing protection when traveling.
Just like our overall winner, this portable griddle features a built-in grease management tray, so you won't have to waste precious leisure time cleaning it out. The 3.5mm griddle top is also simple to clean, just give it a wipe over with a damp cloth once cooled and you're good to go.
Kamado Joe Jr. – Best Portable Smoker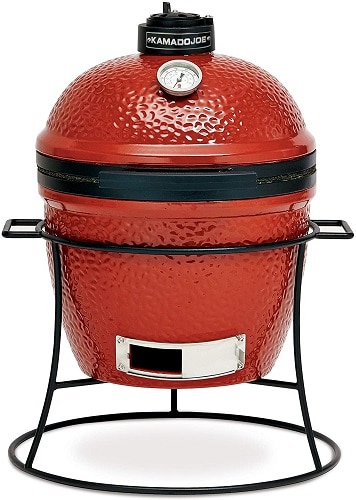 There's nothing quite like the taste of juicy, smoked meats. If you're looking to take this flavor with you on your adventures, then we recommend the Kamado Joe Jr – our pick for the best portable smoker.
Kamado Joe is a well respected brand in the grilling world, and for good reason. They have a lot of experience creating high-quality grills that are built to last, and this portable smoker is no exception. It has a 148 square-inch cooking area, encased in a thick ceramic body that retains heat and smoke for delicious results.
The grill grate is made from 304 stainless steel, which is known for its durability. This material can withstand high temperatures for long durations without becoming weakened, rusting or peeling. The weighty lid creates a tight seal, preventing any heat or smoke from escaping while cooking and it also has an integrated temperature gauge so you won't need to resort to guesswork.
The deep charcoal bin in the base holds enough fuel for several hours of smoking and you can add some wood chips for additional flavor. If you need to adjust the temperature, there are easy-access air vents in the lid and the base of the body, so you can tweak the heat to your needs with a twist. The interior of the smoker also has a ceramic heat deflector, which helps boost the temperature so you can cook at high heat levels.
As this model measures just 19.75 x 20.75 x 27 inches, it's clear to see why it's a fantastic portable choice. It weighs only 68 pounds, and comes in an easily transportable modular design with a cast iron stand. It fits in the trunk of a car or in an RV, so you can take it on the road with you without any hassle.
Master-Touch Premium – Runner-up Portable Smoker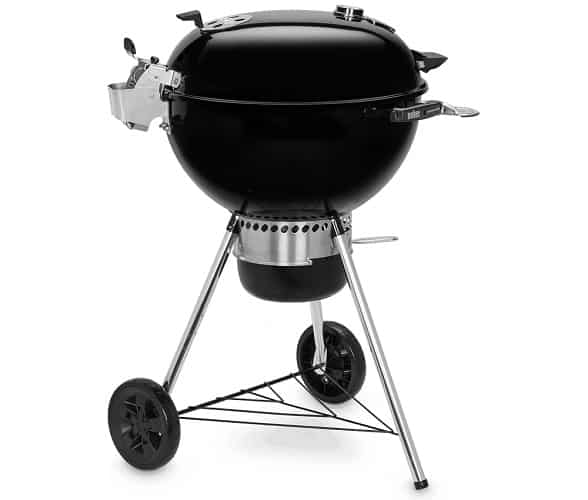 Our runner up for the best portable smoker is the Master-Touch Premium. This grill-come-smoker model is more lightweight than the Kamado Joe Jr and has a wheeled design for easy transport.
Offering a 363 square-inch cooking area, this versatile charcoal grill comes complete with a diffuser plate for effective smoking. It has sufficient capacity to cook food for around 10 people, so it's a great option for large gatherings and camping with friends.
The plated steel grill grate is durable enough to withstand high temperatures and retains heat very well, so there's no hot or cold spots that could ruin your dinner. The charcoal bed is simple to access, thanks to the hinges on the grates, so you can easily load up with fuel and flavored woods on the go.
Any effective smoker needs great seals, and this model ticks that box. The hinged lid closes tightly, sealing the grill and keeping all the heat and flavorful smoke safely contained inside to do its work. It also has an integrated temperature gauge, so if you're new to smoking, you can easily monitor the heat for perfectly cooked results. Should you need to adjust the temperature, just tweak the upper and lower vents as required.
Unlike the Kamado Joe, this model has wheeled legs so you can maneuver it to your preferred cooking location without breaking a sweat. The one-touch ash collection system ensures it's easy to clean out once you're done and we also like that it has hooks to keep your grilling tools handy.
All in all, this model is a great alternative to the pricey Kamado Joe Jr, especially if you're cooking for large groups. It's lightweight and portable design with wheeled legs make it simple to transport and its overall construction is built to last.
Buyer's Guide to Buying the Best Portable Grill
Still on the fence about which portable grill is best for your needs? Have a read through our in-depth portable grill buying guide to find the answers to all your questions.
Price
Price is always one of the top considerations when choosing a new outdoor product, but it shouldn't be the most important aspect of your purchase.
Portable grills are available in many different types and with a variety of sizes and features, so the best one for you depends on your needs and how you intend to use it. There's no point in buying the cheapest or most expensive model you can afford if it doesn't match your lifestyle.
Good quality portable grills range in price from around $100 to upwards of $700, but you can find great options in the mid-range at around $300-$400.
Intended Use
The right portable grill for you is the one that meets all your needs, that's why you should carefully consider how you plan to use it before buying.
For lightweight trail camping, hiking or adventures off the beaten track, portable gas grills are likely the best choice. These models are fuelled by small propane canisters that don't take up much space in your pack, and they're smoke and mess-free.
If you prefer the authentic taste of charcoal grilled foods, then a portable charcoal grill is your best bet. These models will need a plentiful supply of charcoal on hand to top up the coals if they die down part way through cooking, so they're best suited to camping trips or days out where you'll be bringing the car along.
Portable electric grills are an efficient solution to areas where fire bans are in place, so you can still grill up your favorites without any smoke or flames. Although, they obviously need a power connection, so be sure to check your favorite campsites have the facilities you need first.
Pellet grills are too bulky for hiking trips, but they make good options for camping, RVing or days out. These models are pretty straightforward and often feature digital temperature controls that are great for beginners, just remember that they require a power source to work.
If you want to cook up everything from stir fried veggies to scrambled eggs and bacon, then a griddle is your best option. Due to their flat surface, these models are simple to use and there's no risk that you'll lose food through the grates – but you won't be able to get that smokey taste or sear marks on your meat.
If you like to smoke your food, then a portable smoker is clearly what you should be looking for. Portable smokers can sometimes double as grills, so you get the best of both worlds. You should look for a model that has airtight seals and is capable of maintaining the temperature for several hours for best results.
Temp Range and Controls
The type of temperature range and controls your grill has will depend on the fuel source.
For example, charcoal grills and smokers have a manual method of temperature control that requires some level of skill to get it right. This involves the use of dampers and vents to adjust the airflow to the coals and, in turn, raise or lower the temperature. Smokers often have temperature gauges, but few charcoal grills do, so it's up to you to judge the temperature or use a temperature probe if you're unsure.
On the other hand, gas, electric and pellet grills have more simple and accurate controls that are great for beginners. These usually consist of a control panel with dials or buttons that display the temperature settings available to you. Some pellet grills may include automatic controls that will adjust the temperature as required to keep it within your chosen range.
The best temperature range for you depends on what you like to cook. If you want to get a sear on your steaks, you'll need a grill that can reach at least 400°F to 450°F, but for low and slow cooking, a grill that offers between 95°F to 200°F will be sufficient.
Fuel
Portable grills are available in several different fuel types. Each has their own benefits and drawbacks, so you should consider these points carefully before buying.
Gas
Gas is a clean, smoke-free fuel that heats up fast and is easy to control.
When using a gas grill, you can adjust the flow of the gas at the turn of a dial, so you can ramp up the heat or reduce it in seconds, without any waiting around. This makes gas grills a good choice for beginners, but they do not impart the same authentic "chargrilled" taste that you get when cooking with charcoal.
Charcoal
The main benefit of cooking with charcoal is the taste. Charcoal is also a cheap and readily available fuel, but it does come with some drawbacks.
Cooking with charcoal requires some skill to get it right. Coals may die down prematurely, or flare up and burn your food if you put too much in or have the vents open too much. It's also quite a messy fuel and may be banned in some areas to limit the risk of fires.
Pellets
Pellet grills use compressed wood pellets as fuel. You can get several different types of wood pellets, including flavored options that give a mild taste to your food.
Pellet grills automatically move the pellets from the hopper into the fire box where they're ignited. Temperature controls are usually digital – so, like gas or electric, this is an easy fuel source to use for consistent heat. All you need to do is check on the hopper now and then and top it up if it's getting low.
Pellet grills do create quite a lot of smoke, though, so they're not a clean fuel.
Electric
Electric grills need a mains power connection to run. They are a cleaner alternative to charcoal or pellets, are easy to control and are safe to be used indoors.
The obvious downside to electricity as a fuel is that you need a power source to cook. This isn't such a big deal if you're staying on a campsite with a hookup, but presents a problem if you're out wild camping or at the beach.
Ignition
The type of ignition will vary depending on the fuel type.
Gas grills should come with a built-in igniter that's usually activated with a button, dial or switch, although some may come with a striker instead.
Pellet grills ignite automatically, all you need to do is switch them on and they do the hard work for you. On the other hand, charcoal grills and smokers don't often come with igniters, so you'll need to get your own long nose lighter and remember to pack it!
Grill Grate Surface Area
The grill grate surface area is perhaps one of the most important considerations when buying a portable grill.
The last thing you want is to choose a grill that's too small to serve all your friends at once, or so large so that you're carrying a bigger grill than you need.
If you're cooking for yourself and perhaps a couple of others, we recommend choosing a portable grill that has between 140 and 230 square-inches of cooking space. The lower end is best for couples, while the higher end of the range gives you the freedom to cook some more for surprise guests if needed.
For bigger gatherings, you should look for a portable grill that offers 350 square-inches as a minimum. This size of grill is large enough to cook for about 10 people. If you're going to be cooking for groups larger than this, you'll need to go for something bigger, but keep in mind that portability is usually compromised once you exceed this grill size.
Size, Weight & Portable Features
Size, weight and overall portability are clearly important factors when shopping for a portable grill.
The best size for you will be determined by where you intend to use it, where you're going to store it and how many people you plan to cook for. It's difficult to make a recommendation without knowing your circumstances, so you'll have to take these factors into account when reading our best portable grill reviews.
With regard to weight, most portable grills are designed to be as lightweight as possible so that they are easy to transport. Compact gas and charcoal versions are usually best for light camping, picnics or hiking, while larger pellet grills and smokers are better suited to tailgating, car camping or beach parties.
No matter which type of grill you're looking for, we recommend checking out the portability features before making a decision.
The best options will include foldable legs, locking lids, wheels and sturdy handles, so they're as easy as possible to transport and store.
Assembly and Ease of Use
Most portable grills are fairly easy to put together, if any assembly is required at all. Many models are ready to use straight out of the box, so you can get cooking right away.
However, if you're not very handy with tools, it's worth checking out the instructions online if possible, or reading portable grill reviews to see how other users found the assembly process.
Cleaning
Nobody enjoys cleaning grease and ash from their grill, but it's all part of the experience.
That said, it pays to go for a grill that has integrated grease or ash collection systems that make cleaning up after dinner much less hassle.
We also recommend looking for models that have non-stick grates or griddles, so you can easily wipe them clean once you're done.
Materials & Construction
The combination of outdoor cooking and transportation means that portable grills are at quite a high risk of damage. Therefore, you should look for models that have been built with durability in mind.
The best options will be made from tough materials such as stainless-steel, cast iron and cast aluminum. Those that also have porcelain-enameled coatings are also great choices, as this will resist rust and peeling from exposure to the elements.
The same is true for interior grill grates and griddle surfaces. These should be crafted from heat-resistant metals like cast iron or stainless steel and have protective coatings that enhance heat distribution and reduce sticking.
Extras
Aside from these main features, there are several other useful additions that are worth looking out for.
Some models will be compatible with particular stands or cradles, so you can convert a tabletop camping grill into a freestanding backyard one if desired.
Carry cases are great for keeping your grill safe and secure during transport or storage out of season, but not all manufacturers offer these, so it's worth checking.
When cooking, fold-out side tables and shelves are great for expanding your available preparation and serving space; while built-in utensil hooks provide a convenient place to keep your tools within easy reach.
Frequently Asked Questions about Portable Grills
If you're considering investing in a portable grill for your outdoor cooking adventures, you likely have a few questions. In this FAQ section, we've compiled some common queries to help you make an informed decision and get the most out of your portable grilling experience. From understanding what makes a portable grill unique to choosing the right fuel type, we'll address key concerns and provide valuable insights. Whether you're a seasoned grill master or a novice enthusiast, read on to find answers to frequently asked questions about portable grills and embark on your culinary journey with confidence.
What is a portable grill?
A portable grill is a compact and lightweight cooking appliance that can be easily transported for outdoor activities such as camping, picnics, tailgating, or beach parties. It typically runs on propane, charcoal, or electric power and offers a convenient way to enjoy grilled food while on the go.
Why should I invest in a portable grill?
Portable grills offer several advantages, including the ability to enjoy freshly grilled food wherever you go. They are designed for mobility, ease of use, and quick setup, making them perfect for outdoor adventures. Whether you're going camping, having a backyard barbecue, or heading to a friend's house, a portable grill allows you to savor the taste of grilled dishes without compromising on flavor or convenience.
What fuel options are available for portable grills?
Portable grills commonly use three types of fuel: propane, charcoal, or electricity. Propane grills are popular due to their convenience, quick startup, and temperature control. Charcoal grills are favored by those who enjoy the smoky flavor and the traditional grilling experience. Electric grills are easy to use and suitable for indoor or outdoor settings where open flames may not be allowed.
How do I choose the right portable grill?
Choosing the right portable grill depends on your specific needs and preferences. Consider factors such as fuel type, cooking area, BTU (British Thermal Units) output, portability features, durability, and price. Determine whether you prioritize convenience, flavor, or versatility, and select a grill that aligns with your priorities.
Are portable grills suitable for large gatherings?
While portable grills are designed for mobility and compactness, they vary in size and cooking capacity. Some models offer a sufficient cooking area to accommodate larger groups, while others are better suited for intimate gatherings or small families. When choosing a portable grill for larger gatherings, ensure it has ample cooking space and adequate power to handle your needs.
Can I use a portable grill indoors?
Most portable grills are primarily intended for outdoor use due to safety concerns related to open flames, smoke, and ventilation. However, electric portable grills are often safe for indoor use as they don't produce an open flame or emit excessive smoke. Always follow the manufacturer's instructions and guidelines regarding indoor or outdoor use.
How do I clean and maintain a portable grill?
Proper cleaning and maintenance are essential for the longevity and performance of your portable grill. Regularly clean the grates, remove grease buildup, and wipe down the exterior. For charcoal grills, dispose of ash properly. Follow the manufacturer's instructions for specific cleaning recommendations and take care to store your grill in a dry and secure place when not in use.
Can I take a portable grill on an airplane?
Transporting a portable grill on an airplane can be challenging due to safety regulations and restrictions on carrying flammable substances. Propane and charcoal grills are generally not allowed in carry-on or checked baggage. However, some airlines may permit small electric grills. It is best to check with the airline in advance to ensure compliance with their policies.
Are portable grills suitable for professional use?
Portable grills are primarily designed for recreational purposes, but some models offer advanced features and larger cooking areas suitable for professional use. If you're a chef or caterer looking for a portable option for events, consider high-quality portable grills with commercial-grade features and durability.
How do I ensure safety while using a portable grill?
To ensure safety while using a portable grill, follow these guidelines:
Read and understand the manufacturer's instructions before use.
Place the grill on a stable and non-flammable surface.
Keep the grill away from combustible materials, buildings, and low-hanging branches.
Use long-handled grilling tools and oven mitts to prevent burns.
Monitor the grill while cooking and never leave it unattended.
Keep a fire extinguisher or water source nearby for emergencies.
Allow the grill to cool down completely before storing or transporting.
Remember, always prioritize safety and follow proper grilling practices when using a portable grill.
Please note that the information provided here is for general guidance, and it's important to refer to the specific instructions and guidelines provided by the manufacturer of your portable grill.
Final Thoughts
With the vast range of portable grills on the market, it can be difficult to decide which model is best for your needs. Overall, the right model for you depends on your intended use and what type of cooking you prefer.
For an authentic, chargrilled flavor, the best option is one of our recommended portable charcoal grills. These models are simple to set up, but they require a little skill to keep the temperature just right. They can also be a little messy to clean and may be banned in certain campgrounds, so be sure to check before purchasing.
For fast, clean heat and ease of use, a portable gas or electric grill is your best bet. These models offer simple heat controls and are very compact. Portable gas grills use small, 1 pound propane cylinders which take up little storage space, making them a great option for camping and hiking – while electric grills will require a power connection to work.
Portable griddles are ideal if you like to cook a variety of smaller foods alongside the usual meats and fish. The flat cooking surface is perfect for frying eggs, rice or chopped veggies to go with your main dish, and they're simple to wipe clean after use. We've chosen gas-powered models in our list, because these are more portable than electric options.
At the larger end of the scale, we have portable pellet grills and smokers. These types of grills are the best option if you like to cook low and slow smoked meats for your campmates, or want a grill that can create food with a flavorful, wood-fired taste and does most of the hard work for you with precise, automatic temperature controls.
Whatever type of grill suits your needs, we hope our round-up of the best portable grills and buying guide has helped you find the perfect match for your outdoor adventures.