When it comes to undervalued items, the best flask for picnics or other al fresco dining must be near the top of the list.
We're a picky bunch aren't we generally, us humans? Always finding something to have a little moan over. The weather is too hot or Game of Thrones is two awesome episodes and eight average ones. Every season.
The same can be said about our picnic habits especially when it comes to the temperature of our food and drink. How many times have we brought along a cold bottle of water or soda from the refrigerator? Only to curse aloud, when after an hour in the sun it has turned into something resembling Dante's Inferno? This, despite the fact you sneakily hid it under your clothes to maximize shade.
Or how about remembering you have a flask of hot coffee specially made for when the weather turned? But when that coffee passes your lips, you have to spit it out due to cold coffee really not tasting that great.
Luckily for us, vacuum flasks exist and they make all our temperature niggles disperse. They work by creating a vacuum between at least 2 layers. This means that the normal process of temperature flow, convection, is virtually annulled. And anything placed inside, which in our case is soda or water, will keep similar temperatures for many hours.
It's not just drinks that we try to regulate the temperature of, in this article about Thai picnic ideas we suggested starting your picnic with a soup. To make this a viable option we really need a tool that can keep the soup at such a temperature that we deem it edible. Especially in the cases of the thicker, meatier soups.
Most of us own one but are we getting the best from our Thermos flasks? Below, please find a selection of the best flasks we think could suit your needs.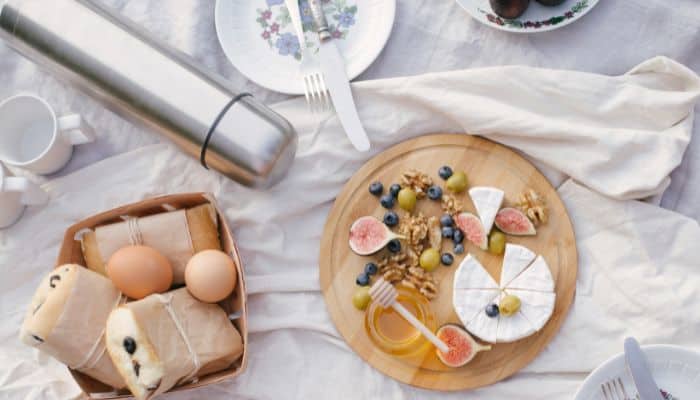 What distinguishes a vacuum flask from a thermos flask?
Since the American company Thermos gained notoriety, the phrase thermos flask has evolved to refer to vacuum-insulated flasks. Despite the fact that the names can be used interchangeably, the original scientific term is "vacuum flask."
Not all flasks are vacuum insulated, so if someone uses the term flask don't assume it will be a vacuum or thermos flask. Regular flasks will be less expensive and won't make any claims about being able to keep their contents hot or cold for a long time because they won't have the necessary technology. These non-vacuum flasks are essentially liquid transportation water bottles.
Best Flask for Hot & Cold Food & Drink
The best vacuum flasks available today are miniature feats of engineering. These flasks have come a long way since their earlier models. These flasks should withstand years of bumps and knocks and keep you in hot coffee and ice-cold drinks season after season because they are constructed from multiple layers of BPA-free and rust-proof stainless steel.
A decent hot and cold performance flask will be able to keep a brew hot for hours outside in the cold or keep your drink pleasantly chilled even in high temperatures. The flask must also have a secure top to prevent leaks even if it is mistakenly turned upside down in a backpack or bumped around. I've tested a lot of the top-rated vacuum flasks, and here I'll list my favorites.
Best Overall Vacuum Flask
Stanley Classic Vacuum Flask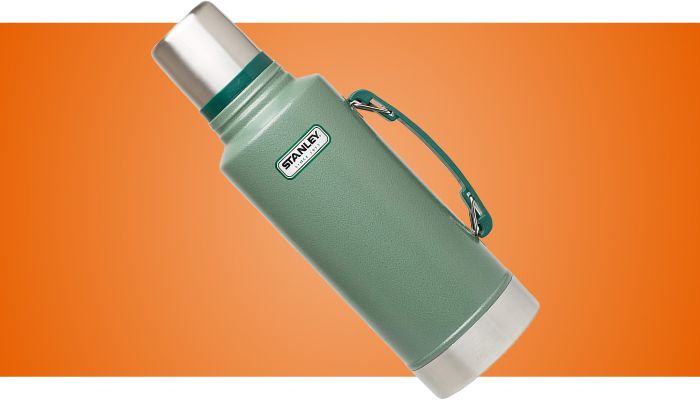 The Stanley Classic Vacuum Bottle has long been a steadfast pillar of dependability and durability at campsites. Since William Stanley Jr. created his first vacuum-sealed bottle in 1913, not much has changed about this container. Since the company was acquired by PMI, some people have claimed that the quality has altered. However, in our opinion, this is just untrue. It wouldn't surprise me if this feat of engineering served as the model for the adage "If it ain't broke, don't fix it."
The Stanley Classic Vacuum Bottle is renowned for its classic design and tough construction. It is shaped like a bullet and constructed like a tank. Additionally, it retains heat well and has a traditional thermos-style top for convenient drinking.
The practicality of this bottle has been improved by contemporary innovations without compromising its advantages, making it my choice for the best vacuum flask overall.
Even when I held the bottle upside down while it was filled with boiling hot water, the plastic gasket on the lid held tightly and never spilled. The handy pour-through spout works much like the cream carafes at your neighborhood coffee shop if you untwist the lid a little. The screw-on cup, which can carry around eight ounces of liquid, is the lid's other feature. Ideal for passing about camp or the picnic table and allowing the boiling liquid to cool down a bit before drinking.
The indestructible food-grade 18/8 stainless steel body is strong and BPA-free, rust-resistant, and odor-resistant. It is made in the US for harsh outdoor situations. The flasks' sturdy Hammertone light green powder-coated finish also lends it a classic Stanley product look.
Coffee, tea, cocoa, or soup stay hot for an amazing 24 hours thanks to inventive double-wall vacuum insulation, while cold drinks can stay cold for up to 48 hours and much longer if you add ice.
The leak-proof cover, which is quite useful, also serves as an 8-ounce drinking cup. The twist-open stopper pours at any angle and the broad mouth accepts ice cubes for simple pouring, drinking, and cleaning. The thermos is incredibly small for storing in your camping gear or picnic backpack thanks to the foldable handle and easy-grab robust locking grip, which can be used even while wearing gloves.
According to Stanley, the bottle will keep beverages iced for 48 hours and heated or cold for 24 hours. I put these claims to the test at home, and they basically hold up.
My boiling hot water was still warm enough to drink after spending a full day in the bottle, but it was no longer boiling.
On the fifth day or 120 hours in, the ice cubes in my ice water test had roughly halved in size but had not yet completely melted. Your mocha frappuccino will stay frozen for a week!
Overall, I was impressed with Stanley's flask meeting its claims and could plan hot or cold drinks on any day hike or picnic with confidence.
Although having a handle is convenient, I can't figure it out. Why is it so flimsy and clanky when it functions perfectly? The handle is hinged rather than being a single piece of metal like the body of the bottle, allowing it to open wide or close tightly.
The handle doesn't feel as sturdy as the remainder of the bottle regardless of its orientation. Although I believe they are aiming to make the bottle overall thinner, I would prefer if they would simply weld on another piece of stainless steel as a handle.
Every picnic table at a campground ought to have a Stanley Classic Vacuum Bottle attached to it in an ideal world. Like hot coals in your BBQ fire pit, the two complement one another. This Stanley bottle is made to last a lifetime and comes with a warranty to back it up. It will remain a dependable piece of equipment in your outdoor gear collection for years to come.
Best Thermos Flask for Hikers
Thermos Light and Compact Flask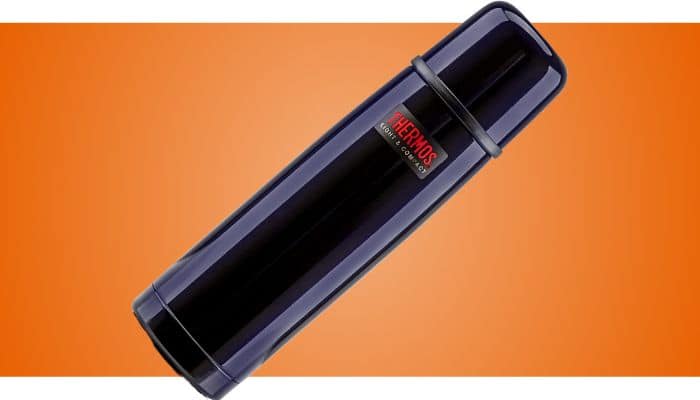 The Thermos Light and Compact flask readily provides all you would anticipate from the brand that transformed Sir James Dewar's initial vacuum flask prototype into the modern version.
The Thermos is the perfect size for a day trek because it is only 1.19 pounds in weight and is 31 x 8 x 8 cm. In our opinion, a 34oz size is ideal because it can comfortably serve two individuals hot or cold drinks throughout the day without being too cumbersome to carry.
The "one-click" pour feature is fantastic. Simply press the blue switch to the "open" position when you're chilly and you need a warm beverage, and you may pour right away. So straightforward, yet so powerful.
Thermos retains heat and cold exceptionally well, with both lasting for well over 24 hours. Ice cubes remained solid after 30-hours in my ice water test, indicating that it is very effective for cold beverages. It is clear that Thermos has closed off all entry points for heat into the flask's interior.
The "best vacuum flask for hikers" is the Thermos Light and Compact flask (model 185515), which is practically flawless. The absence of a carry handle is the only drawback that comes to mind. In any case, the 8cm diameter size makes it simple to pick up.
Best Thermos Flask for Large Drinks
Hydro Flask Wide Mouth Bottle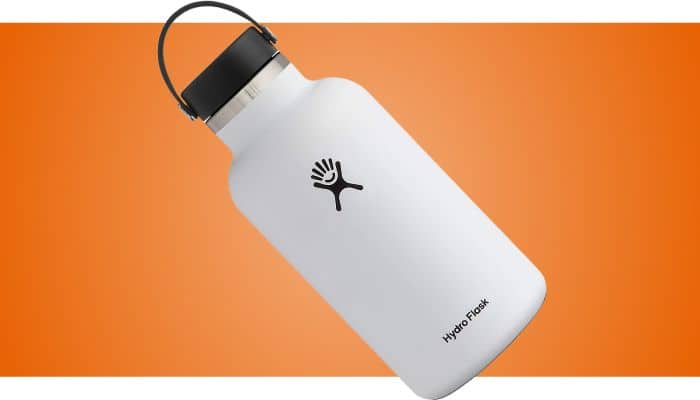 It's likely that during the past several years, these vibrant bottles have started to appear at your neighborhood gym, BBQs, picnic tables, and campgrounds. This bottle performs so well because it combines elegance, functionality, and insulated stainless steel with a healthy dose of overall flair. In my tests, it showed to be simple to use, unaffected by lingering flavors, and incredibly quick and simple to clean. I took it with me on a cold-weather hike, a hot-weather BBQ, and into the workplace with my hot coffee and cold juice.
One of the most costly bottles I reviewed is the Hydro Flask Insulated. I nevertheless believed it to be of great value for money. Regardless of the outside temperature, the 64-ounce, vacuum-insulated body performs an excellent job of keeping a lot of drinks hot or cold for lengthy periods of time (you can also get this flask in 20oz, 32oz, and 40oz sizes). Because it doesn't retain flavors from past fills, this bottle is a great option if you want to use your insulated bottle for a wide variety of drinks.
The Hydro Flask's body and cap are joined by a retention strap in a straightforward design. The strap can be used to clip the flask to a pack for storage and is more durable than the strap on the majority of other flasks. I still wouldn't advise relying on the retaining strap when moving, especially if the bottle is full, due to its larger weight.
The vacuum-insulated body functions flawlessly. The ice did melt when I filled it with ice and let it stand for a few hours. But even after more than a day, my drink was still rather chilly. Additionally, even at a scorching BBQ party or while sunbathing at a picnic, your cold water won't cause this bottle to condensate.
There is a slight difference in my experiments with hot liquids than Hydro Flasks claims. According to Hydro Flask, heated liquids will stay hot for 12 hours. It took only approximately 10 hours in my experiments before a noticeable cooling happened.
There are various characteristics on this water bottle that, while you might not notice them all at first, do enhance the drinking experience. Its size comes first. An insulated bottle holding such a vast volume almost defied belief that it wasn't the size of a small ice chest. Even though it is taller than the competition, it is still manageable to grasp in your hands. The matte surface on the outside of the body also aids in improving your grip. Despite being wider than the other bottles I examined, it looks amazing and feels great in your hands.
The broad mouth of this bottle makes it simple to fill from a number of water sources. However, having a wide mouth increases the likelihood that while moving about and drinking, the liquid will run down your chin or you'll receive a free face soaking. Be cautious to wait a moment before taking a sip, especially if you're drinking something that can stain your clothes. On the other hand, even when turned on its head, this bottle will not leak once the lid is completely closed. I liked using and drinking from the Hydro Flask most of the time.
In the taste test category, the Hydro Flask ruled. It was one of the few metal bottle flasks I had used that didn't give its contents a metallic taste. That's a major benefit. Additionally, it performed a fantastic job of keeping the flavor of its contents intact. The Hydro flask did not transfer any odd tastes from the bottle or cap materials in my 24-hour water tasting test.
Best Vacuum Flask for Small Budgets
Klean Kanteen TKPro Vacuum Insulated Flask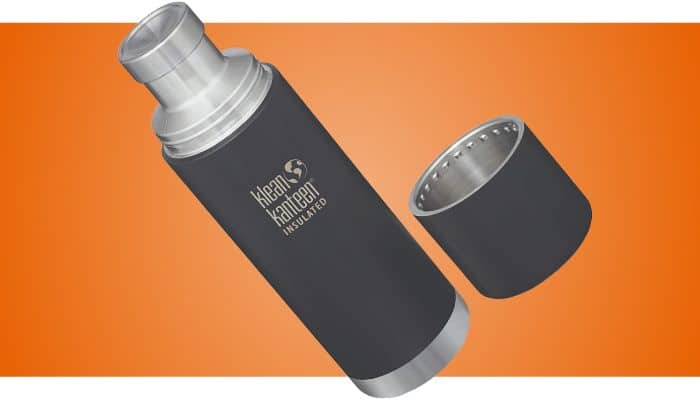 This insulated flask may be filled with iced water on a Thursday night, taken RVing for a long summer weekend, and still have a cool beverage for a Sunday hike.
However, this bottle functions equally well for hot and cold beverages. When decanting its contents into its corresponding lid cup, the non-cup portion of the lid's design enables you to unscrew it halfway and obtain a regulated pour.
The lid can be used as a cup and has a capacity of slightly over 250 ml or roughly the same as a big mug. This flask can yield three sizable cups of coffee when fully filled.
I put the bottle's astounding claims—that hot drinks would stay hot for 28 hours and cold drinks would stay ice cold for 92 hours—to the test, and it delivered on both. I also filled it with ice at the start of the weekend out of pure curiosity, and when the weekend was over, there wasn't much of the ice that melted.
The Klean Kanteen TKPro is a sleek piece of industrial equipment. The stainless steel inner screw lid contrasts with the black design of the Klean Coat matte finish. The end result is a stylish flask that will hold up well to normal use and wear & tear. Because the steel is food-grade 18/8, a very strong cup of tea or coffee leaves no scent or flavor to be imparted in future drinks.
Best Vacuum Flask for Solo Use
MIRA Lunch Vacuum Insulated Stainless Steel Lunch Thermos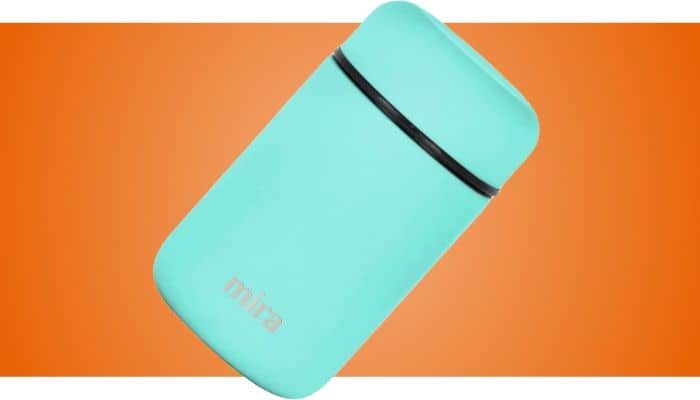 The MIRA 13.5-ounce Food Jar Thermos Flask is a fantastic thermos that can be used for beverages and food, whether you are planning a hiking trip or want to pack a healthy lunch for your kids school outings.
The food jar gives you countless options for storing hot and cold beverages and food because it is made from premium-grade, long-lasting 18/8 food-grade stainless steel and has outstanding double-wall insulation. You can use it for a hot meal like soup or spaghetti or a nutritious snack like pretzels or fresh and dried fruit.
The strong leak-proof seal stops any unsightly leaks while keeping hot drinks or food hot for up to 5 hours or cold drinks or food cold for up to 10 hours. The interior of the lid is BPA, phthalate, lead, and PVC free, making the environmentally-friendly thermos safe to use.
A wide mouth makes it simple to fill, and it also makes it simple to use a spoon and sip from the thermos. The food jar thermos has a small, lightweight design that makes it simple to take in your bag, briefcase, or kid's lunchbox.
The thermos is fashionable and useful and is available in several hues. There's 30-day money-back guarantee that MIRA offers on its food jar thermos flask.
Best Thermos Flask for Picnics
YETI Rambler 26 Vacuum Insulated Stainless Steel Bottle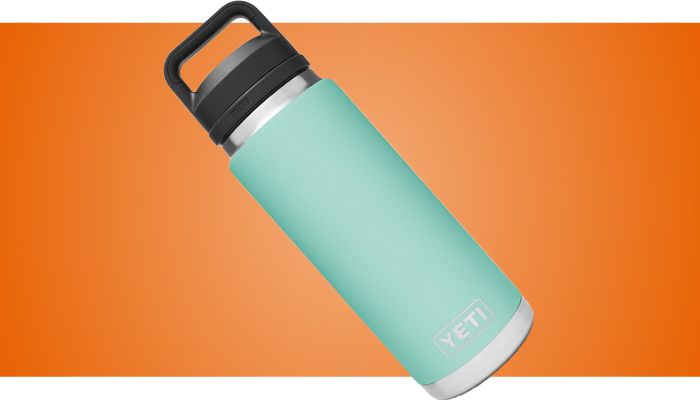 The Rambler 26oz bottle with chug cap maintains Yeti's reputation for producing strong, nearly impenetrable drinking vessels. This double-wall vacuum flask is made of stainless steel and keeps drinks hot or cold. However, we found that it didn't keep our coffee hot overnight and preferred it for keeping drinks frosty. The plastic chug cap, which functions as a drinking spout and is screwed into the screw top, has a handy carrying handle. This makes it simple to drink from the container without getting water all over your face.
Simply remove the chug cap to gain access to the largemouth when you need to fill or clean it. The fact that it is dishwasher safe is a major benefit. When it's filled with ice-cold liquid, it doesn't sweat, and when it rolls around in your backpack, it doesn't leak.
Compared to water bottles, this flask is heavier and bulkier, so I choose to use it for picnics and RVing instead of trekking. It is also more expensive than the average flask. However, if you want a bottle that will last over a lifetime of travels, this is it.
The Yeti Rambler is a quality and strong flask, which is wonderful because my flasks tend to take a hammering. That's the first thing I enjoy about this bottle. Even after a few drops, it still looks as good as new. The lid's carrying handle is something I really like. I won't say that I'd carry it by its handle on a hike, but I'll admit that it's great for moving the flask around in general and prevents me from making a scene by loudly dropping it wherever I go.
Additionally, it doesn't leak inside my bag, which is fantastic when I'm carrying my laptop and sandwiches for a picnic. In addition, I added electrolyte powder, and I'm happy to report that there is no aftertaste that lasted for several months.
Other flasks of this size have a mouth that is too large, which causes me trouble because if I'm not paying attention (which is hard when admiring my surroundings), I end up with water all down my front. I'm a fan of the chug cap and wonder why more companies don't use it. I enjoy the Yeti wide mouth because it makes drinking from it simple and allows me to remove it for cleaning and refilling.
It doesn't keep drinks hot for as long as I'd want, which is the major thing I dislike about it. For a picnic, it's no problem because it keeps the drinks blazing hot for four to five hours. However, I tested it at home and found that after eight hours, it had already begun to cool, so if you're seeking a long-lasting solution, this isn't it. However, it works well for shorter periods of time and virtually keeps beverages cold forever with no condensation on the outside.
How I Tested for the Best Vacuum Flask
I read the top 20 review articles from google for the search "Best Thermos and Vacuum Flasks for Hot & Cold Drinks" and selected the most popular Thermos flasks and other vacuum flasks from these articles. I then compared these reviews to those on the websites of significant retailers, like Amazon, and other outdoor gear retailers.
Heat retention – I primed each flask for five minutes with hot water in order to assess their ability to retain heat. Before fitting the screwtops and cups, I refilled the flasks with water that was 100°C to represent the temperature of a typical hot beverage – 100°C is boiling water. I put the flasks outside on a level surface to replicate the temps the flasks would be at on a normal outdoor trip. Every four hours, I opened the flasks and tested the temps. For this test, I employ an instant read thermometer.
Leakage – I opened and closed each flask's lid and stopper 100 times before checking to see if any cold water leaked. Fortunately, none of the flasks scored poorly because I had no leaks.
Durability – To simulate a genuine accident when the flask is dropped from about waist height, I dropped each flask five times from a height of one meter. Low ratings were given to those with significant dents that restricted function.
Cleaning – I put coffee in each flask and let it sit for two hours. I then removed the coffee and hand-washed each flask in hot, soapy water, and allowed them to air dry for an additional two hours before rating them based on how simple they were to clean and if I could still smell coffee on the flask.
Build quality – I checked each flask's pouring mechanism, attachments, and flask body for any factory flaws. We docked points for flasks with usability issues.
What to Look for When Buying a Great Flask
As much as we adore new insulation materials with cutting-edge finishes, it's crucial to keep in mind that the greatest thermos flasks aren't always the ones with the most features. Start by pondering the flask's main objective for a moment. Do you use it for iced or hot beverages? While most thermos flasks can keep liquids hot or cold for at least 12 hours, certain models have high-tech insulation that can keep liquids cold for considerably longer, including Hydro Flask's ingenious TempShield insulation (up to 24 hours).
Think about the features you're most likely to find useful. Having handles on the lid makes it simple to connect flasks to rucksacks, and powder coating is necessary for fashion-conscious hikers who want to match the color of their thermos with their thermals. The best of both worlds is a double-layered cap that screws off in sections, giving you the choice of a broader mouth or a narrower one. Wide mouths are a godsend if you're gulping on the move.
Finally, avoid falling into superfluous marketing jargon like "double-walled." Due to the way thermos flasks function, the majority of them have two walls. However, an increasing number of them have triple-walled construction, which is unquestionably something to take into account if you're a serious hiker planning to spend a lot of time in the wilderness.
Capacity
I put to the test both flasks made to serve one person and those that could hold enough for numerous people. The size you choose should take into account both your particular requirements and any potential uses for it.
How Long will it Keep Beverages Warm?
A short "stay hot" duration will do if you're buying a flask for the commute, but if you're a hiker planning day-long trips, you'll want one with a longer promise. There are many options because the flasks I tested made pledges that ranged from four to well over 24 hours.
Openings
Before pouring, you must remove the cap on certain flasks, while others open by pressing a button (or similar). As you're not exposing the contents to cold air, they stay hotter for a longer period of time. That won't be a problem if you just want one cup of tea, but if you want to enjoy your beverage for several hours, you need to take that into account. You find you prefer a flask with a simpler, one-button system or something similar if you have to juggle a lot of things, like kids and putting up a picnic.
Leak-proof
How leak-proof a thermos or insulated container is must be high on your list of considerations because we don't want a backpack covered in coffee, tea, electrolyte mixes, or smelly soups. Some flasks or drinks containers are only likely to stay leak-free if kept them upright in a cup holder and not flung in a backpack or otherwise rattled around. In addition, certain cap and lid designs are frequently flimsy or subpar constructed, which means the contents of your thermos or bottle are probably going to end up in your backpack! Researching if a flask is leak-proof is essential in selecting the right flask.
Durability
Durability in relation to a well made flask is a key factor. Your best bet is something that will withstand some knocks and dents without gradually losing its ability to regulate temperature if you're going to be subjecting your thermos to some significant rough and tumble. Stainless steel choices with sturdy or covered lids often perform the best in this regard, whereas unusual designs with too many parts, mainly in the lid's construction, are more prone to break down as you use them on a daily basis.
Insulation
Foam and vacuum insulation are the two most often utilized types of insulation. The vacuum flask insulation, which uses a "double-wall" design to create a gap (or "vacuum") between your liquids and the external shell of your bottle, is by far the superior of the two. This barrier prevents heat from exiting or from entering, so your liquids stay at their original temperature for a much longer period of time.
Guarantee or Warranty
I advise purchasing a vacuum flask from a company that will provide a warranty that is at least one year long and preferably longer. A warranty protects your flask against unanticipated flaws and guarantees that you won't have to buy another one if something goes wrong. Buy a flask with the warranty if you're going to spend a lot of money on it.
Best Thermos Flask Video
How Does a Vacuum Flask Work?
A vacuum flask is an insulating storage container that significantly extends the amount of time that the contents of the flask stay hotter or colder than its surroundings. The vacuum flask, created by Sir James Dewar in 1892, consists of two flasks linked at the neck and positioned one inside the other. Heat transfer by conduction or convection is considerably decreased by establishing a near-vacuum in the space between the two flasks, which is partially emptied of air. Meaning very little heat or cold can get in or out. This essentially eliminates condensation on the outside of the flask when used to hold cold beverages.
Cleaning a Flask
The odor is especially concentrated in the rubber lid stopper attachments and gaskets. Soak them for five minutes in hot, soapy water, then let them air dry completely before reattaching.
Invest in a robust bottle brush for stainless steel flasks; it will help you reach spots inside the flask that are difficult to access but be aware these brushes could harm flasks with glass interiors.
While some flasks can be put in the dishwasher, others should only be hand-washed. Since every flask is unique, it is best to check before cleaning. The Hydro Flask and the Stanley Classic accessories are two great flasks I tested that can go in the dishwasher.
When cleaning your flask, stay away from abrasive cleaners and materials. Stainless steel will be stained and harmed by bleach, and your flask's outside will be scratched by scouring pads.
Final Thoughts
On a cold day in the great outdoors, nothing compares to a hot beverage, and the best way to keep your tea, coffee, or soup boiling hot is to keep a decent thermos flask in your backpack. The basic operation of each type of insulated flask is the same. They employ a two-wall design with a space between them to provide a thermal insulation layer that keeps liquids hotter for longer. Double-walled flasks are a terrific method to keep beverages ice-cold on a hot picnic or BBQ day because the same vacuum theory that keeps food cold also works to keep beverages cold.