The #1 piece of advice you will hear in regards to grilling and smoking is to invest in a high-quality instant read thermometer. Whether you are a beginner or an expert, you should be wary of any built-in thermometers. Often, they are inaccurate. Get your hands on one of the best instant read thermometers, and you'll never have to worry about overcooking a steak or undercooking a piece of chicken again.
We will take a look at some of the best and most popular instant read thermometers on the market and tell you what you should look for in an instant read thermometer. Follow our guide, and you are sure to find an instant read thermometer that will quickly become your most used kitchen tool.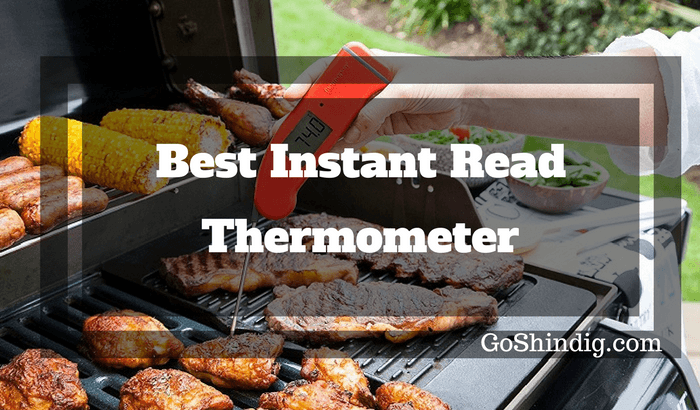 Best Instant Read Thermometers
If you want to measure the internal temperature of your food accurately, you are going to need an instant read thermometer. They may all seem fairly similar, but after taking a closer look at several top models, we've discovered some unique differences. Let's take a look at some of the best meat thermometers for grill enthusiasts, seasoned pitmasters, or backyard barbecue lovers.
Kizen Instant Read Meat Thermometer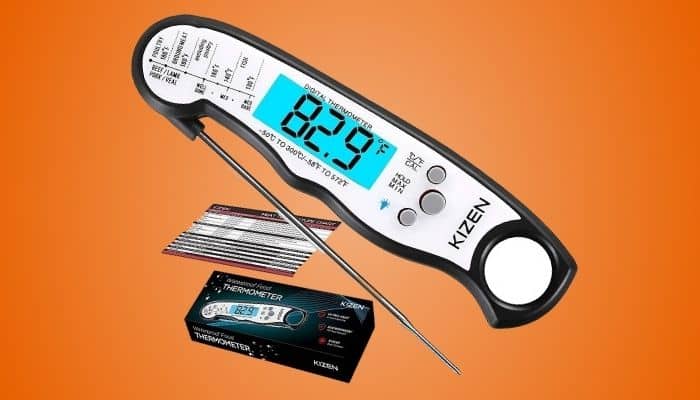 There is a lot to love about the Kizen Instant Read Meat Thermometer. If we had to crown a Best Instant Read Thermometer 2019, the Kizen model would be a heavy contender. It is a brand that has flown relatively under the radar, but we think it's a standout in the crowd for several reasons.
What We Like:
Price – A small price tag coupled with the lifetime warranty means you have a meat thermometer that can literally last you a lifetime.
Quick Response – The average instant read thermometer takes around 8 seconds for a readout. Not exactly instant. Kizen, on the other hand, has a read time of 2-3 seconds. It is also accurate to +/-1 degrees and has a temperature range of -58 °F to 572 °F.
Durability – Use running water to clean this thermometer no problem! The durable ABS plastic body rates IP67 waterproof. It can also withstand drops and other impacts.
Storage – You can conveniently store your Kizen wherever access is easiest. It has an internal magnet for hanging on the fridge. It also has a large hang hole and comes with Velcro dots for hanging on the wall.
Lifetime Warranty – It is a nice surprise to see an instant read thermometer with a 100% money back lifetime guarantee. So much so that it is worth mentioning how much Kizen stands behind their product.
What We Don't Like:
Inconvenient for left handed people – If you happen to be left handed, using the Kizen can be a bit tricky. The display is more optimal for right handed use.
Not Much – Other than handedness, Kizen customers don't have much to complain about. It seems that any issues they have encountered with this model have been one-off flukes easily solved by Kizen's customer service team. Kizen stands behind its product and its warranty 100%.
ThermoPop
The first pocket thermometer with a rotating display, the ThermoPop is one of the most eye catching meat thermometers we looked at. Available in a wide variety of colors and priced affordably, we found the ThermoPop to be quite the bargain instant read thermometer. It doesn't have all the high tech features of bigger models, but it definitely gets the job done.
Side note – You won't find the ThermoPop listed on Amazon. There are too many poor imitations of the Thermopop out there, so the company encourages you to purchase directly from the manufacturer website to avoid the knockoffs.
What We Like:
Versatility – The ThermoPop is convenient for both right and left handed use. The big, backlit display actually rotates so that it can be read from any angle.
Design – Available in nine different colors and built with a splash-proof design, it is easy to see why the ThermoPop is so beloved. Add in the high quality that comes from being manufactured by ThermoWorks, and you have a real winner.
Price – You will often see the ThermoPop instant read thermometer listed as one of the best bargain thermometers. It may not have many high tech features, but it is very efficient and inexpensive.
What We Don't Like:
Speed & Accuracy – With a response time of 4+ seconds and an accuracy of +/- 2°, the ThermoPop is still fairly quick and accurate. However, for a few dollars more, you'll find instant read thermometers that are faster and more accurate.
Alpha Grillers Instant Read Meat Thermometer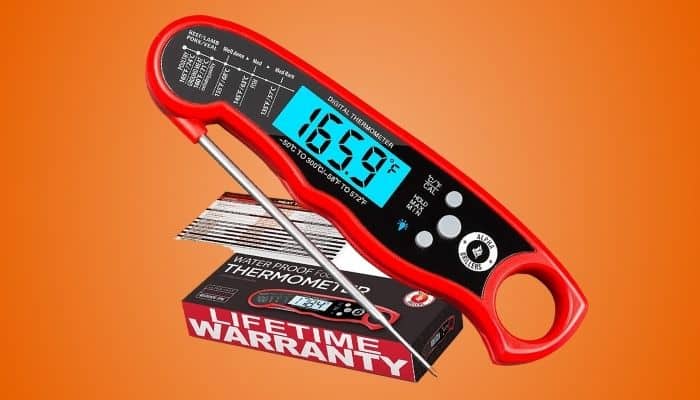 If you are a serious griller, you are going to want to take a look at the Alpha Grillers Instant Read Meat Thermometer. It's a no-nonsense thermometer built for both beginners and pros. Once you get your hands on an Alpha Griller, you will find yourself never worrying about overcooking or undercooking meat ever again.
What We Like:
Fast & Accurate – With a response time of 2-5 seconds, the Alpha Griller is ultra-fast. It is accurate to +/-1°, and it has a temperature range of -4°F to 392°F. For anything outside of that temperature range, you can expect an accuracy of +/-2°. Use your thermometer frequently and feel like its accuracy is slipping? The Alpha Griller also has a calibration feature that will help you ensure your food is always prepared properly.
Versatile – You will find yourself using the Alpha Griller both inside and out. Whether you're grilling up some sizzling steaks or baking a bird in the oven, the Alpha Griller is well equipped for any task. It's also handy for deep frying and bread baking. The Alpha Griller also has an auto on/off feature when you flip the probe and temperature can easily display in either Fahrenheit or Celsius.
Price – This one is a no brainer. The Alpha Griller falls on the lower end of the price scale and also comes with a lifetime money back guarantee. With a deal like that, you will want to get one for yourself, one for your dad, one for your neighbor, and one for every grilling enthusiast that you know.
Design – We loved the waterproof body of this thermometer. It's sturdy and efficient, and it also happens to be magnetic. If you don't want to store it magnetically, there is also a large hanging hole.
What We Don't Like:
Screen Size – The design of the Alpha Griller left one thing to be desired: a larger screen size. While it does have a backlight, the screen is small in comparison to some other instant read thermometers. It can be somewhat difficult to see the temperature reading. The meat temperature cooking guide on the body is a handy addition, but we'd rather the screen size not been sacrificed here.
Lavatools Javelin PRO
Often compared to the ThermoPop, if you are looking for a bit of a step up, look no further than the Lavatools Javelin PRO. It is both faster and more accurate than the ThermoPop, and it has some very nice extra features. This is the best of the middle price range instant read thermometers and a heavy contender for best overall instant read thermometer.
What We Like:
Intelligent Design – Built for ambidextrous use, the Javelin PRO has a large two-inch display that auto-rotates. It is also worth noting that this is the first instant read thermometer to feature an intelligent stabilization alert. By pressing the touchpad, you tell the Javelin Pro to hold the stabilized temperature, and it will continue to hold it until you press the touchpad again. The Javelin PRO calculates when the temperature has stabilized and will beep to notify you.
Accuracy & Speed – One of the most accurate meat thermometers we have found, the Javelin PRO has an accuracy of +/-0.9° within the range of -4°F to 302°F. Its full range is -40°F-482°F. It also has an ultra-fast response time of only 2-3 seconds.
Convenience – Easily stored by magnet or its large hole for hanging, you won't lose the Javelin PRO in a drawer. It also has a motion-wake function that turns the thermometer on when the probe opens. There's also an auto-off feature. The Javelin PRO is also IP65splash resistant, protecting it from minor spills or drops.
What We Don't Like:
Ease of Use – While the large display is definitely handy and easy to read, we do wish the Javelin PRO was capable of vertical rotation. When it comes to switching from Celsius to Fahrenheit, the process can be somewhat tricky. It requires you to open the battery compartment and flip a switch inside instead of being able to change it with just the press of the button like some other models.
Thermoworks Thermapen Mk4
If you are searching for the gold standard in instant read thermometers, look no further than the Thermoworks Thermapen Mk4. A little higher up the price scale but chock full of features, the Thermapen is the thermometer every grilling enthusiast dreams of owning. Thermoworks is known for having a consistently great product, and the Mk4 is no exception.
What We Like:
Incredible Speed & Accuracy – This thermometer is crazy accurate and one of the most accurate models that we have ever reviewed. When checking the temperature, you will get a reading with an accuracy of +/-0.7°F within 2-3 seconds.
Convenience – You will see that ultra-fast reading on a large, backlit, auto-rotating display which can be read from any angle. It flips right side up in either hand. The backlight activates automatically in low light and also turn on with a touch of the sensor window. Put it to sleep by putting the probe down. It will wake automatically when the probe opens.
Durability – The Thermapen Mk4 has is now waterproof to IP67. No worries about slips or spills, this thermometer is designed to last. Any issues? Thermoworks also offers a two year warranty on the Mk4.
Versatility – You get what you pay for with this model, a thermometer capable of anything. Whether you are making steaks or candy, bread or beer, the Thermapen Mk4 is ideal for any situation. Its incredible accuracy ensures that you are always cooking at the correct temperature.
What We Don't Like:
Hefty Price Tag – Don't get us wrong, the Mk4 is an incredible thermometer, and if you're serious about your grilling game, then the price is totally worth it. You are paying for a professional grade thermometer. Casual hobbyists might be better suited to more budget friendly options.
ThermoPro TP-02S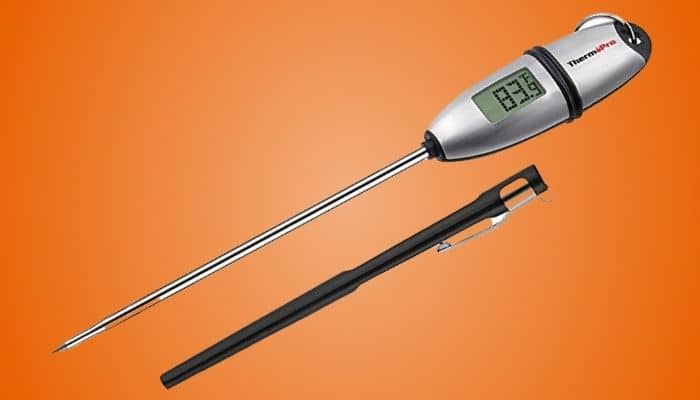 The ThermoPro TP-02S is a high precision instant read thermometer. This model takes it to the other end of the spectrum from most thermometers on this list though. In regards to price, it is one of the most budget friendly models we reviewed.
What We Like:
Long Probe – This food grade stainless steel probe measures an impressive 5.3 inches. It comes with a convenient plastic sheath pocket clip for storing and protecting the probe. The overall design is sleek and slim, not much bigger than your average pen.
Price – The price of the ThermoPro Tp-02S can't be beaten. Talk about affordable! Plus, it comes with a generous one year warranty. AND if you register your ThermoPro product you automatically receive an extended three year warranty.
Accuracy & Range – The high precision sensor has a temperature range of -58°F ~ 572°F and is accurate to within +/- 0.9°F. The large display helps you to quickly and clearly see the temperature. ThermoPro thermometers are known for their speed and accuracy, and the ThermoPro TP-02S has the same great quality you have come to know and respect.
What We Don't Like:
Bare Minimum Functions – If simplicity is your style, the ThermoPro TP-025 is probably right up your alley. However, if you are a backyard barbecue expert who has come to expect all of the bells and whistles in your tools, you will find this model a little lacking. The design is straightforward with only two buttons on the back to control it. It does the job, but don't expect to get more than what you have paid for.
Cuteadoy Instant Read Thermometer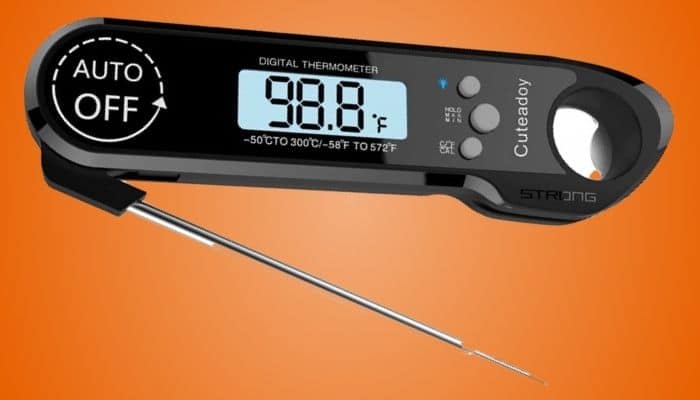 Well priced and well designed, the Cuteadoy Instant Read Thermometer has a lot of great features worth mentioning. It has flown under the radar for a while, but we feel it deserves attention in more instant read thermometer reviews. The Cuteadoy instant read thermometer is quick, reliable, and it can even open your beer! The bottle opener is a nice extra perk!
What We Like:
Quick & Accurate – You need a thermometer you can rely on, and the Cuteadoy will not let you down. It has a fast read time of 2-4 seconds and is accurate to within +/- 0.09°F. It also has a measuring range of -58°F to 572°F, which is really impressive. This model is really ideal in regards to speed and accuracy.
Price & Warranty – Perhaps even more impressive than its temperature range, is the Cuteadoy instant read thermometer's price. It's definitely on the small end of our scale, so you get an incredible deal. Beyond the great price, Cuteadoy also offers a five year warranty. Also, if you don't like your Cuteadoy, you have 30 days to return the product for a full refund, no reason required.
Strong Build Quality – Sturdy and efficient, the Cuteadoy instant read thermometer is built with high-quality PA-777D high temperature plastic. It is also certified IP67 level waterproof and easy to clean. We like that Cuteadoy has taken extra steps to strengthen the link between the probe and the thermometer, preventing probe shedding and breakage.
Convenience – Thanks to its built-in, strong magnet, you can store the Cuteadoy instant read thermometer almost anywhere. It also has a wide hole for hanging, which also functions as a convenient bottle opener. Also worth noting is that the included battery is said to last around two years, so you don't have to worry about having insufficient power for a long time.
What We Don't Like:
Display – It was hard to find something on this model that we didn't love, but if we had to change one thing, it would be the display. While it is backlit and clearly read, the display does not auto-rotate. Depending on the angle of insertion of the probe, you may have to crane your neck a bit to read the display.
Mister Chefer Instant Read Thermometer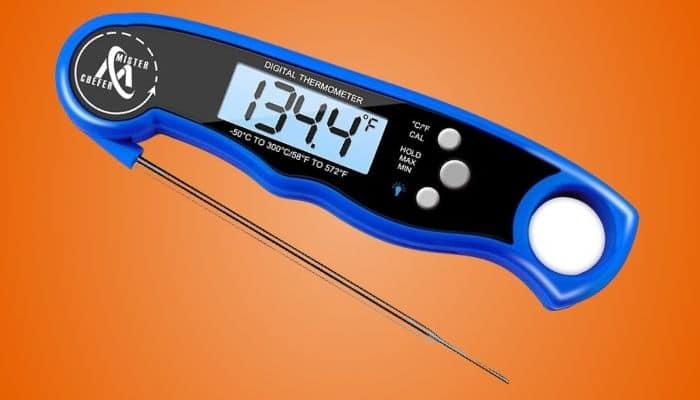 Another underdog coming up from behind, is the Mister Chefer Instant Read Thermometer. If you are looking for a fast and reliable instant read thermometer, the Mister Chefer will definitely do the trick. Mister Chefer's goal is to make cooking easier and more enjoyable, and with their instant read thermometer, you will soon become a real master in the kitchen or at the grill.
What We Like:
Accuracy & Speed – We found the Mister Chefer to be quite comparable to the Cuteadoy. It has a great accuracy of +/- 1 degree within 2-4 seconds. It has a great, wide temperature range of -58°F to 572°F making it incredibly versatile for steaks, fish, bread and pastries, candies, and beverages. However, keep in mind that the one degree accuracy is within the temperature range of -4°F-392°F. If the temperature is outside of this range, accuracy changes to +/- 2 degrees.
Price & Warranty – The Mister Chefer comes at an incredible bargain price, and it's backed by a generous lifetime warranty. Not satisfied with your thermometer? Mister Chefer offers a 100% money back guarantee. You can't beat that!
Convenience – The backlight button quickly illuminates the screen, meaning you can quickly see the temperature whenever you are cooking, day or night. It has a large hanging hole and a strong magnet for storing on any metal surface. It is waterproof, so cleaning is easy, but take care when you clean in the joint of the probe and thermometer.
What We Don't Like:
Construction – We love that this thermometer has a long folding probe, but some consumers have found the construction to be a little lacking. Some have experienced breakage where the probe meets the thermometer. If you experience any issues with your Mister Chefer instant read thermometer, be sure to utilize the lifetime guarantee.
GDEALER DT8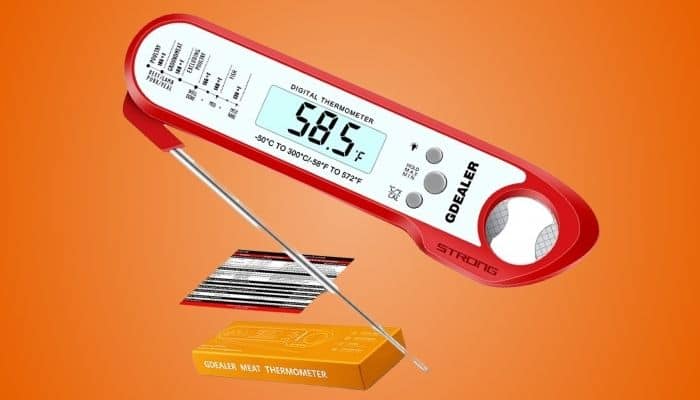 Another low price instant read thermometer with a lot to offer is the GDEALER DT8. It is highly reviewed and regarded as a great thermometer at a price that can't be beaten. Simple to use and thoroughly accurate, there's a lot to love about the GDEALER DT8.
What We Like:
Price – Being one of the most affordably priced instant read thermometers, the GDEALER DT8 is a great bargain. GDEALER also offers a generous lifetime warranty for all of their thermometers. At a price this great, the DT8 also makes a great gift for other grilling enthusiasts.
Accuracy & Speed – The overall range of the GDEALER DT8 is -58°F ~ 572°F. Within the range of -58°F – 392°F, the DT* is accurate to within +/- 2 degrees. We don't like for that accuracy to be anything above 2 degrees, so the DT8 is right on the line in regards to accuracy. But we definitely appreciate the quick read time of 2-4 seconds.
Convenience – The DT8 is fully calibrated right out of the box, but you can also calibrate it at home with the calibration function. It also features a convenient meat chart and bottle opener, as well as a being magnetic and having a wide hang hole. Its waterproof design makes for easy cleaning, and you can put it under running water with no fear.
What We Don't Like:
Not much – We really can't complain with this model! GDealer has made some great advancements with the DT8. We wish it was slightly more accurate, but we think its incredible features far outweigh our concern for the accuracy. Did we mention that this is one of the lowest priced models we reviewed AND it comes with a lifetime warranty? Customers who have had minor issues with their DT8 found that GDEALER's customer service was a dream to work with and have nothing but compliments for the DT8.
Why You Should Buy an Instant Read Thermometer
Guessing is no way to measure the doneness of your meat. An inaccurate guess could lead to overcooked, tough meat or dangerous, undercooked meat. Especially when it comes to chicken (which begs the question – How long should you grill chicken?) You need an instant read thermometer for the most accurate measurements of temperature. But don't just take our word for it. Check out this video to see some of our favorite meat thermometers doing what they do best. You will see why an instant read thermometer is an essential appliance to have.
Instant Read or Leave in Probe Thermometer
Checking the temperature of meat is essential for knowing its doneness. It's important to always have the right tool for the job. Many grilling enthusiasts advocate for the use of leave in probe thermometers, such as these dual probe thermometers.
So what's the difference between an instant read thermometer and a leave in probe thermometer? The name sort of gives it away, but a leave in thermometer remains inside the meat throughout cooking. Due to their construction, instant read thermometers cannot withstand high heats for long periods and should not be left in the meat while cooking.
Some people say that instant read thermometers cause more juices to leak out due to the repeated probing of the meat. However, this is not true. There is no such thing as a seal on the outside of the meat, so you aren't losing anything. Though, what you do have to worry about is how much your thermometer punctures the muscle fibrils. These are the microscopic parts of the meat where the juice is. Truth is, probe thermometers aren't usually sharp enough to puncture the muscle fibrils. They cause very little juice loss overall.
But when it comes down to deciding between an instant read thermometer and a leave in probe thermometer, we side with the instant read. A leave in probe thermometer has two factors that work against it. Being that metal conducts heat, you are creating an artificial heat zone around the probe when you leave it in the meat during cooking.
It's also difficult to determine the part you want to take the temperature of (the coolest/thickest part) until after it's done cooking. Placing the probe incorrectly can lead to an inaccurate reading.
Just because we side with the instant read doesn't mean we don't also use a leave in probe thermometer. Different jobs may require different tools. When using a smoker, we tend to rely on a leave in probe thermometer due to the longer cooking times. We have also compiled a list of some of the best smoker thermometers, many of which are leave in probe thermometers.
Why Trust Us
All of our reviews are compiled with a combination of expert input, years of hands-on testing of grilling products, curating the reviews of real-life buyers in a "wisdom of the crowd" system, and of course our own expertise. All the products listed are the ones we would buy if we were looking to purchase a new instant-read thermometer.
Methodology Used to Pick the Best Instant Read Thermometer
When picking the best instant-read thermometer we looked at and then rated each thermometer on the following criteria. Price, accuracy, speed of reading, temp ranges, ease of use, and extra features.
What to Look for in the Best Instant Read Thermometer
Most instant read thermometers may seem pretty similar. They are all doing the same job, just with small differences in features and appearance. What should you consider when comparing instant read thermometers?
Accuracy
Accuracy is vital. Nobody wants meat that is overcooked or undercooked, so you need a thermometer that is reliable. We recommend getting a thermometer with an accuracy of within two degrees. The less, though, the better. Some of the most accurate thermometers can measure temperature within +/- 0.07 degrees.
Speed of Reading
Getting a stable reading on your instant read thermometer can take anywhere from two to fifteen seconds. Fifteen seconds may not seem like a lot. But if your steak is dangerously close to being overcooked, the time it takes to get a reading can make a big difference in the doneness. Bear that in mind, and look for an instant read thermometer with a quick reading time.
Temperature Range
You may want to use your instant read thermometer in a variety of situations – grilling, smoking, bread and cheese making, beer brewing, candy making, etc. To do that, you will want a thermometer capable of a large range of temperatures. Some can reach upwards of 600 degrees, while others top out at 450. The wider the range, the better the thermometer will meet your needs.
Ease of Use
When your steaks are sizzling on the grill and seconds away from overcooking, you don't want to be fumbling your thermometer. The best instant read thermometer is one that is easy to use. The probe should be easy to insert and also easy to clean. Also consider how easily you can toggle and change the settings, such as changing from Celsius to Fahrenheit.
Extra Features
Extra features can take any thermometer from good to great. We look for thermometers that are solidly built, waterproof, and can withstand a drop. We also tend to like displays that auto-rotate, are backlit, and are readable from any angle. Ambidextrous models also are especially handy – pun intended! And It's also worth considering if you can calibrate the thermometer yourself or if you have to return it to the manufacturer.
How to Properly Use an Instant Read Thermometer
You may find yourself wondering how to properly insert an instant read thermometer. Sure, it doesn't seem all that difficult, and it isn't. But there are a few things you should also consider. When inserting your instant read thermometer, always place the probe in the center of the thickest part of the meat. Keep it well away from any bones, as those conduct heat and can give an inaccurate reading.
Trying to measure thinner pieces of meat like a burger or pork chop? Try turning the meat on its side and inserting the probe lengthwise. Push it in until you reach the center for the most accurate reading.
How to Test Your Instant Read Thermometer
If you want to test the accuracy of your instant read thermometer, you have two options: either boiling water or using ice water.
Boiling Water Method – Bring a deep pot of water to a rolling boil. Insert the probe into the water about halfway. Be careful to avoid the sides and bottom of the pot. Your thermometer should read 212 degrees Fahrenheit.
Ice Water Method – Fill a container with crushed ice and water until it is slushy. Insert the probe into the middle, again avoiding the sides and bottom. Your thermometer should measure 32 degrees Fahrenheit.
What to do if Your Thermometer is Inaccurate
If you tried the boiling water method and ice water method of testing your instant read thermometer and found the readings to be off, your thermometer needs to be calibrated. Calibration involves repeating the two tests and using the thermometers calibration button to set the correct temperature, usually by holding the button until the display reads correctly for each test.
Fair warning though, not all models have a calibration button. While many are capable of home calibration, others require the manufacturer to complete the calibration. All instant read thermometers come pre-calibrated by the manufacturer. But if your thermometer is inaccurate and incapable of home calibration, you should try contacting the manufacturer to inquire about how to correct your model. Some manufacturers will ask you to send the thermometer back, and they will calibrate it for you.
Top Instant Read Thermometers Video
Conclusion
An instant read thermometer might not have all of the bells and whistles of a wifi thermometer or a Bluetooth thermometer, but it does have many benefits. They are simple, uncomplicated to use, reliable, and very affordable.
We have looked at many of the highest rated options available on the market in this list. We are sure that no matter what you are looking for in an instant read thermometer, you are sure to find the right instant read thermometer for your needs among these high-quality products. So leave the guesswork behind and join the rest of us enjoying perfect and precisely cooked meat every time with an instant read thermometer.