The best backpack coolers are designed to keep your food and drinks cold on the go. With high-quality insulation and padded straps, backpack coolers offer a more comfortable, portable and hands-free alternative to traditional wheeled coolers.
Perfect for picnics, BBQs and day trips to the beach; backpack coolers are versatile and easy to use. Simply load your supplies and some ice, close them up and head off to enjoy your day. Your food and drinks will remain ice-cold for hours, so you can stay refreshed in the summer sun.
Because backpack coolers are available with a wide range of designs, sizes and insulating performances, choosing the right model for your lifestyle can be difficult. In this guide, we take a look at the leading models on the market and tell you everything you need to look for to find your ideal match.
Best Backpack Coolers
To help you find the best backpack cooler for your lifestyle, we have reviewed a huge range of models to suit all lifestyles and budgets.
Check out our reviews below to find your perfect match.
YETI Hopper Backflip 24 Soft Sided Cooler Backpack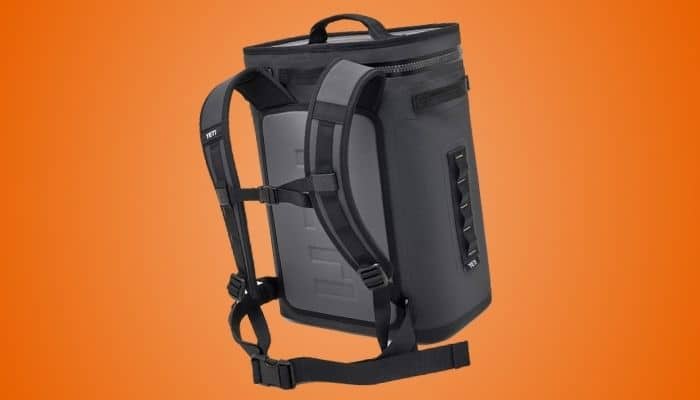 As one of the best-known manufacturers on the market, YETI products have a great reputation for their outdoor products – and the YETI Hopper Backflip 24 Soft Sided Cooler Backpack is no exception.
Boasting a capacity of 20 cans and high-spec, cold-cell insulation, this backpack cooler will keep ice for up to 24-hours – making it perfect for day trips to the beach and family picnics. The ergonomic design is comfortable to wear, and the padded shoulder straps distribute the weight evenly, so even when fully loaded, you won't feel the strain on your back.
This soft backpack cooler is constructed from tough materials that are able to withstand the challenges of outdoor environments. The outer shell is mildew-resistant and completely waterproof, so if you get caught in a downpour, rainwater won't make its way into the inner compartments. The durable design is also scratch-resistant to keep it looking as good as new on your adventures, and the inner liner and zippers are 100% leakproof to prevent any messy spills.
We also like that this backpack cooler has a wide mouth opening for easy loading and unloading of supplies. The hitchpoint grid on the front panel is also useful, as it allows you to attach extra equipment so you can carry more hands free.
Overall, the YETI Hopper BackFlip 24 is a fantastic, premium choice for keeping your food and drinks ice cold all day long. It's comfortable to carry, durable and offers plenty of space for the whole family.
The only drawback to this model is the price. As a leading manufacturer of high-spec products, this backpack cooler is at the top end of the price range – so may be unsuitable if you're on a tight budget.
Pros – Things we liked
20 cans capacity
Keeps ice for up to 24-hours
Padded shoulder straps
Mildew-resistant and waterproof
Cons – Things we didn't like
Expensive
Hydro Flask Unbound Cooler Pack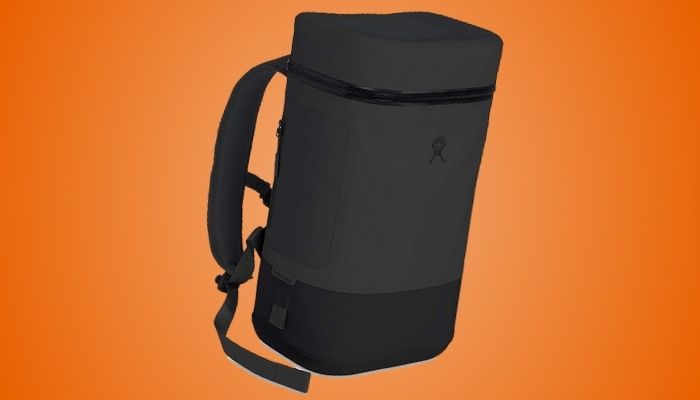 If you're going on a weekend trip and need to keep your supplies ice cold for longer, the Hydro Flask Unbound Cooler Pack could be an ideal choice.
Featuring a 22L capacity, this waterproof backpack cooler can hold around 24 cans, so there's more than enough space for supplies for several people. The compression-molded base provides thick insulation that works to maintain the internal temperature and keep everything ice cold for up to 48 hours – so you can still enjoy a refreshing drink on day 2 of your trip.
Lightweight, yet durable, this soft cooler backpack has a mesh panel on the back and padded shoulder straps, so it's comfortable to carry without weighing you down. The thick base means it will stay upright when resting on the ground, so you don't need to worry about propping it up to prevent it toppling over and spilling the contents everywhere. We also like that it has an easy-access, wide mouth opening that allows you to clearly see all your refreshments and makes loading and unloading hassle-free.
Thanks to the watertight zipper and specialized welded seams, this backpack cooler is fully leakproof, so any spills won't seep out and cause a mess on your clothes or picnic blanket. The inner liner is also BPA free and easy to clean, so you can rest assured your food is safe every time you use it.
Perfect for stashing your valuables while on the go, the choice of three additional pockets offer plenty of space for extra items. We also like how this model has welded nylon tie down loops, so you can secure the pack during transport in vehicles.
All in all, this cooler backpack is an excellent choice for keeping your food and drinks fresh during your outdoor dining adventures.
Ice Mule Pro Cooler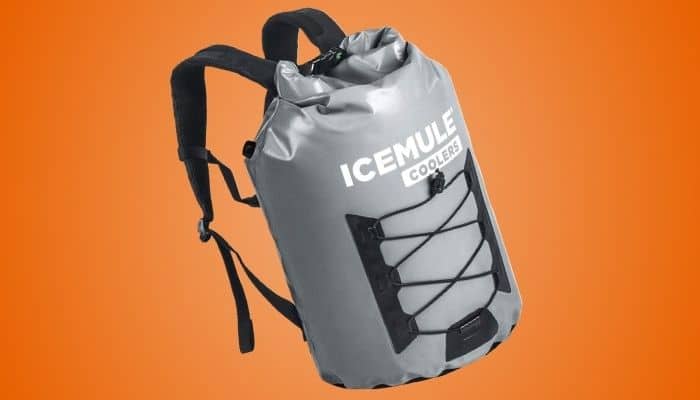 Another great option for summer day trips is the Ice Mule Pro Cooler. Lightweight and comfortable to carry, this backpack cooler is specially designed to be highly portable and offers excellent insulation.
Unlike other backpack coolers we have seen so far, this model more closely resembles a dry bag. The top, wide mouth opening allows you plenty of space to load all your refreshments, up to 18 cans and ice, and then is rolled down tight and secured with a sturdy buckle. The lack of a zipper means the Ice Mule Pro is quick and easy to open and close, so you can grab a drink on the go without any hassle.
Once loaded with ice and refreshments, the PolarLayer™ insulation will keep all your supplies ice cold for up to 2 days, making it perfect for weekends away or road trips to the beach. The outer layer is made from ultra-durable MuleSkin™, which protects against tears and scuffs in challenging environments – so it will stay looking its best no matter where you take it.
Completely leakproof and waterproof, the Ice Mule Pro is perfect for watersports like kayaking or fishing trips. It's also buoyant, so should you accidentally drop it overboard, your food supplies will float safely until you can retrieve them. We also like that it has padded, breathable shoulder straps and additional bungee cords on the front for storing sunscreen, maps and snacks within easy reach.
Overall, this backpack cooler is a great option for fun days at the beach or out on the water. Lightweight, efficient and easy to use, this model also collapses down to a fraction of its filled size for space-saving storage.
Coleman Soft Cooler Bag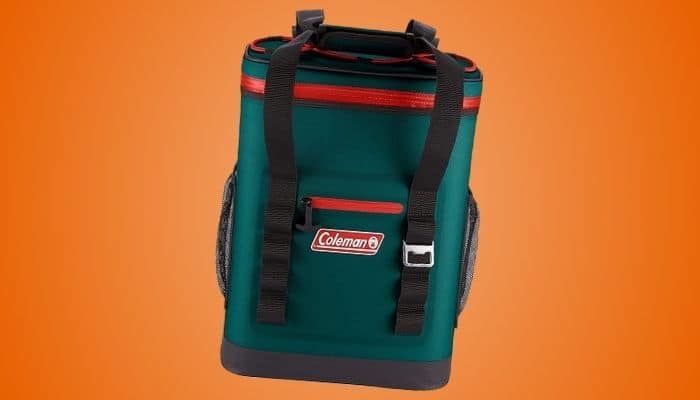 If you're looking for a versatile backpack cooler for family picnics, days out or BBQs; the Coleman Soft Cooler Bag is well worth checking out.
Featuring a generous 24 can capacity, this soft backpack cooler has plenty of space to pack refreshments for the whole family. The high-quality insulation will keep everything ice cold for up to 34 hours, so even if you need to drive several hours to your destination, you can be sure your supplies will stay fresh until the fun is over.
Fully leakproof to guard against messy spills, the Coleman Cooler Bag has a welded construction for durability and T-shaped, water-resistant zippers that prevent water ingress if you get caught in bad weather.
Of course, comfort is key for a good backpack cooler. This model ensures you can carry it to your favorite beauty spot without rubbing or pressure points on your shoulders. The padded shoulder straps cushion the weight and spread it evenly to prevent strain, but this cooler also features additional, padded top handles – so you can give your shoulders a rest if needed.
Boasting a variety of extra pockets, this backpack cooler offers plenty of storage for your valuables and other useful items. The front zip pocket is ideal for keeping your keys, wallet or phone, while the side mesh pockets are convenient for maps, sunscreen, utensils or snacks.
We also like that this model has bungee straps across the lid – great for keeping your picnic blanket, sweater or beach towel. The integrated bottle opener is welcome, too – so you'll always have a back up if you leave yours at home.
Polar Bear Coolers Original Backpack Soft Side Cooler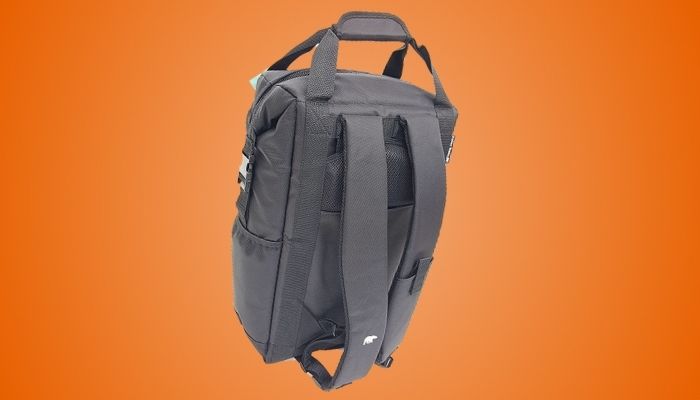 Coming from another high-regarded brand is this soft-sided backpack cooler from Polar Bear. Showcasing a heavy-duty design that is made to stand up to the elements, this cooler backpack makes a hardy choice for challenging environments.
Polar Bear describes this model as "tough as nails", and this cooler is certainly one of the most durable we have seen. The outer material shell is made from densely woven, luggage grade 1000D nylon – so you can be sure this backpack won't rip or fray, even with strenuous use. Furthermore, all the seams are anchor stitched and double-hemmed for superior strength that will support heavy loads.
The insulation is impressive, too. Perfect for hot summer days, this backpack cooler features 1-inch thick, high-density foam insulation, that will keep ice frozen for 24-hours – even when the temperature outside reaches 100 degrees.
Totally leakproof, the Polar Bear backpack cooler has a rustproof, airtight zipper that they claim is unbreakable. The inner compartment can hold 18 standard-sized cans, and has a special FDA grade, antimicrobial lining to keep your food fresh and safe. For hands-free portability, the padded shoulder straps and backrest make transporting this cooler comfortable, but there's also the option to use the top carry handles instead if you wish.
As an added bonus, this model includes a zipped pocket, mesh pocket and two water bottle pockets on each side – so there's plenty of space for extra storage.
Overall, this model is an excellent choice for trips out on rugged trails or hot summer days at the lake. The only real downside to this model is its narrow opening, so you may have to remove some items to reach what you're looking for.
TOURIT Leak-Proof Soft Sided Cooler Backpack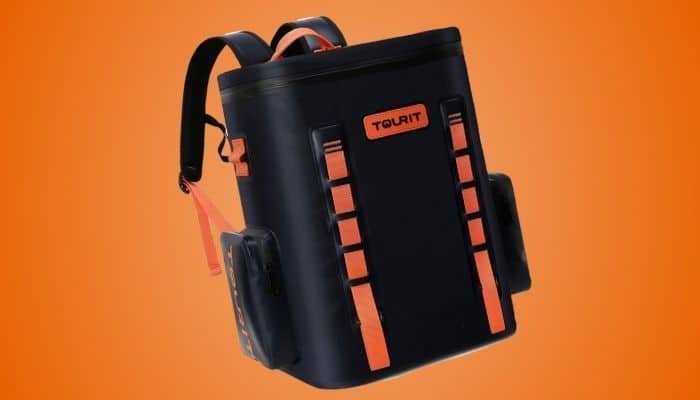 For large families or gatherings, the TOURIT Leak-Proof Soft Sided Cooler Backpack is a great option. Featuring a large capacity capable of holding up to 36 cans, this generously-sized backpack cooler has enough space to chill refreshments for everyone.
Fully waterproof, the outer layer of this cooler has a highly-durable shell that can withstand impacts and resist scratches, so it's ideal for your outdoor adventures. The stitching and seals are also leakproof to prevent messes from seeping out and soiling your vehicle or clothes.
With regard to insulation, this model has a middle layer filled with high-density foam for effective temperature control. This is combined with the airtight zippers to provide up to 3 days of ice-cold cooling – making it perfect for long weekends away with family and friends.
It is important to keep in mind that, due to its effectiveness, the airtight zipper may be a little tough to use at first. This will loosen with time, but you can also use the included lubricant to make opening and closing a bit easier.
A backpack cooler is useless if it's not portable, but that's not the case with this model. Designed for comfort, both the shoulder straps and backrest are well padded to limit pressure points and distribute weight evenly – so you can carry this cooler for hours with little strain. However, if you'd rather give your shoulders a break, there is a top carry handle too.
The BPA free inner liner is mildew/mold resistant and has antimicrobial to prevent odors buildup. The wipe-down material makes it easy to clean if any spillages occur – so you can spend less time cleaning, and more time having fun.
With its wide mouth design, multiple pockets, built-in bottle opener and front hitch points, this backpack cooler is packed with useful features for outdoor dining. Its wide base ensures it will stay upright on level ground, too, so you won't need to worry about propping it up when you reach your picnic spot.
Pelican Dayventure Backpack Soft Cooler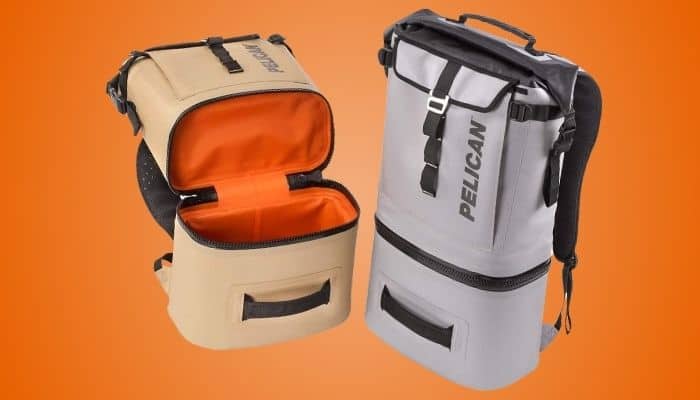 The Pelican Dayventure Backpack Soft Cooler is another great pick. Featuring a dual-compartment design, the bottom closed-cell insulated section has a smaller capacity that holds ice all day and fits up to 6 cans.
The 13 liter capacity upper compartment has lighter insulation but can also be used as a cooler or dry bag for storing your beach equipment or other dry goods that you want to pack away from the ice. The top opening has a wide mouth style for easy loading and unloading, and simply rolls down to be securely fastened with the sturdy side buckles.
Lightweight yet highly durable, this cooler backpack is perfect for all your outdoor dining adventures. The double-coated TPU outer material is water-resistant and impervious to punctures or tears, so you can drop it down on rugged ground and it won't get damaged. The compression molded base also acts as a stabilizer, so this cooler can stand up on its own without needing to be propped up.
Between the top and bottom compartments, there is a heavy-duty, leak proof zipper. This keeps ice water from seeping out and enables quick access to the bottom insulated compartment so you can grab a refreshing drink. The interior lining that separates the two compartments has a waterproof seal – so your supplies in the top will stay dry and cool. There's also a large pocket on the front compartment, which is useful for keeping valuables, maps and cutlery close to hand.
Ergonomically designed for comfort and portability, this backpack cooler won't weigh you down on the journey to your favorite lunch spot. The padded shoulder straps cushion your pressure points and distribute weight evenly to avoid strain. There is also a rubberized carry handle on the top, so you can choose to carry it by hand if you prefer.
This model may not offer all-round, high-quality insulation like other models we have seen, but it's versatility and ease of use make it a worthy choice for outdoor fun.
TOURIT Insulated Leakproof Lightweight Cooler Backpack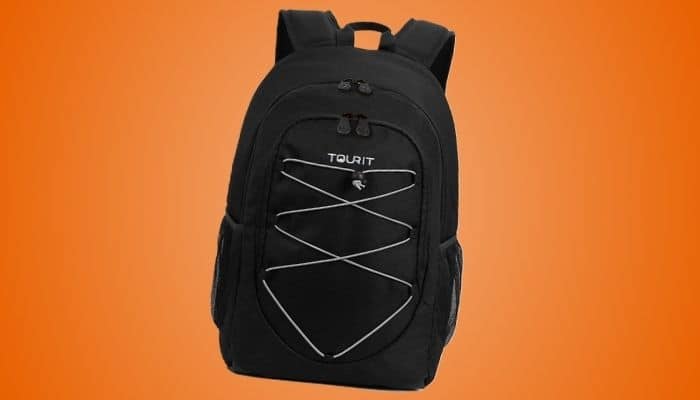 Resembling any other backpack, the TOURIT Insulated Leakproof Lightweight Cooler Backpack has an unassuming design but offers great insulation for day trips and picnics.
With a 25 liter capacity that is capable of holding at least 28 cans, this backpack cooler offers a generous amount of space to pack food and drinks for the whole family. The high-density insulation works to keep the internal temperature stable, so once you have put your ice packs inside, this cooler will keep your supplies ice-cold for up to 16-hours.
The waterproof, leakproof liner ensures no ice water or accidental spills will seep out onto your clothes and ruin your day. We also like that the rear panel is made from breathable material to avoid condensation buildup on the surface and keep your back dry.
This cooler backpack is lightweight when empty – weighing only 1 pound. Of course, this weight will increase when loaded with your food and drink, but the thickly padded shoulder straps and back section ensure it's comfortable to wear. The outer material is durable against rips and tears, but you should be careful with the inner liner as this is less robust.
Boasting multiple pockets, the TOURIT Cooler Backpack offers plenty of room to stash your valuables and other equipment. The large zipper pocket on the front is great for cutlery, plates or a spare sweater – while the mesh side pockets are perfect for drinks bottles, snacks or sunscreen. There's also bungee cords on the front panel that can be used to stuff blankets, towels or maps so they're close to hand.
All in all, this backpack cooler performs much better than it looks. If you're after a simple cooler backpack that gets the job done and offers plenty of capacity, this model could be just what you need.
ONIVA Turismo Insulated Backpack Cooler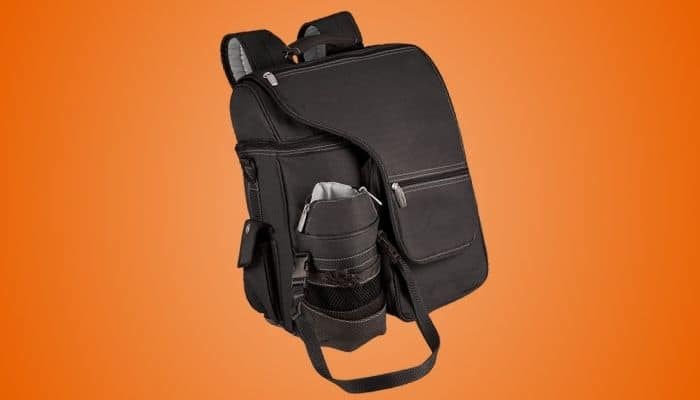 Last but not least, we have the ONIVA Turismo Insulated Backpack Cooler. Loaded with pockets and compartments – this cooler is perfect for organizing all your supplies.
The two large interior compartments are insulated to keep your food and drinks cool for up to 12 hours. It offers enough space to pack up to 12 cans with a couple of ice packs, so you can bring enough refreshments for 2-3 people. The top flap opens wide for easy access and effortless loading, so you can clearly see all of the contents without having to remove items.
Once you have filled these compartments with goodies, this backpack still has plenty of room left. The front panel unzips and folds out to reveal a variety of small pockets and a mesh sleeve which is perfect for keeping maps, cutlery, sunglasses, keys or your cell phone within easy reach. The side pockets are handy for sunscreen and extra snacks, while the insulated bottle holder at the front is ideal for keeping a chilled drink to hand while on the way to your destination.
Considering its capacity, this cooler backpack is still comfortable to carry. This is thanks to its padded, non-slip shoulder straps and cushioned handle on the top. The broad back design distributes the weight across your shoulders and upper back, so you can carry a full load without discomfort.
The exterior of this backpack is made from hardy polyester canvas for extra durability – perfect for those wilderness hikes to your picnic spot with a view. The tear-resistant material can withstand the perils of the great outdoors, so it will stay looking good as new, season after season.
The only downside to this model is its lack of a leak proof lining. We recommend wrapping any ice packs in freezer bags before heading out to prevent ice water from seeping through the fabric.
Why Trust Us
All of our reviews are compiled with a combination of expert input, years of hands-on testing of grilling products, curating the reviews of real-life buyers in a "wisdom of the crowd" system, and of course our own expertise. All the products listed are the ones we would buy if we were looking to purchase a new backpack cooler.
Methodology Used to Pick the Best Backpack Cooler
When picking the best backpack cooler we looked at and then rated each cooler on the following criteria. Price, insulation, ice retention, shoulder straps, weight, size, and bonus features.
Buyer's Guide to Buying the Best Backpack Cooler
Still confused about which backpack cooler is best for you? In our in-depth buying guide, we tell you everything you need to know to make the perfect choice.
Price
When choosing a new product, price is an obvious consideration. Thankfully, our backpack cooler reviews cover a wide variety of prices to suit most budgets, so there's sure to be a model that's right for you.
The most high-spec models will feature top-quality insulation that can keep ice for several days, and are often designed to be very durable. These types of backpack coolers can reach prices of $300+, but they are the best choice for long summer weekends in high temperatures.
More basic backpack coolers can still perform very well, with some models able to keep ice for 1-2 days. These types of coolers usually have thinner or less dense insulation, but that often means that they have a larger internal capacity. Simple models can be found for between $30- $100 depending on their specifications.
Insulation
A cooler isn't a cooler without good-quality insulation. Therefore, the type and effectiveness of the insulating materials used in your backpack cooler is an important factor to consider before buying.
The best type of insulation is "closed-cell" insulation. This type of insulation is a foam which has a high density of micro air bubbles inside. The air bubbles slow down the transfer of heat – thus keeping your supplies colder, for longer. Some backpack coolers will have more than one layer of insulation to improve effectiveness. Several layers of insulation generally work better than one thick layer.
It's worth keeping in mind that thick insulation also has its drawbacks. The thicker the insulation, the bulkier your backpack cooler will be. Thick insulation can also reduce the amount of real storage capacity that is available – so if you're only heading out for a day trip, very thick insulation may not be necessary.
Ice Retention
Ice retention refers to how long a backpack cooler can keep ice frozen. This quality is directly related to insulation efficiency.
Most backpack coolers will be able to keep ice frozen for a day, but some of the more high-end models can keep ice for 2-3 days. The right type for you will depend on your lifestyle.
For picnics by the lake or days at the beach, 12-hours of ice retention will be just fine. But if you have to travel several hours to reach your destination, you'll be better off choosing a cooler than has a longer ice retention time.
Shoulder Straps
Shoulder straps should be well padded to prevent discomfort and wide enough so that they distribute the weight of a fully-loaded backpack evenly. Breathable materials are a good choice, too, as they will limit sweat buildup on hot days that can cause chafing of the skin.
We also recommend looking for straps that are fully adjustable, so you can get the perfect fit for your height and build. Straps that are too tight will dig in, while straps that are too loose will move around as you walk and cause discomfort.
Zips, Bungee Cord, MOLLE, and Buckles
You should look for zips that are airtight and leak proof. These will enhance the cooling capabilities of your backpack by preventing warm air from getting inside.
Watertight zippers should be made from heavy-duty materials that are durable and resistant to wear. Sometimes, airtight zippers can be stiff to use at first. This is normal and they usually loosen up with time.
Bungee cords are a great option for external storage. We recommend looking for backpack coolers that feature bungees on the front or top panels, so you can keep extra equipment to hand without taking up any internal storage space.
MOLLE hitch points are another great feature for hands-free portability. These provide extra external attachment points for carabiners and straps, so you can carry additional gear without the need for a separate bag.
Fully loaded backpack coolers can be rather heavy, so you should look for buckles that are made from tough plastic, secure and resistant to breakage under strain.
Weight & Size
Weight is an important consideration when choosing the best backpack cooler. After all, you will be carrying it on your back, perhaps for a decent length of time – so it makes sense to go for the lightest option you can.
Generally, size and weight go hand in hand. The larger the capacity of the cooler, the heavier it will be when fully loaded.
If you have a large family or plan to bring your backpack cooler to BBQs with big groups of friends, it makes sense to have a larger model so that you can fit in everything you need. Remember, you can always pack less for shorter day trips or picnics, but you won't be able to pack more than the capacity.
Intended Use
With such a variety of models on the market, it is important to keep your intended use in mind when choosing the best backpack cooler for you. Fancy models that can keep ice for 3 days are going to be little use if you're only heading to the lake for a couple of hours.
Backpack coolers with heavy insulation, multiple pockets, MOLLE and long ice retention are best if you head out for weekends away camping, long summer hikes or often travel for several hours to reach your destination. They are also a good choice for BBQs and fishing, as they are capable of keeping raw meat and fish safely frozen for extended periods.
On the other hand, if you're looking for a backpack cooler for beach trips or picnics by the lake, a model that offers 12-24 hours ice retention is more than suitable. The best models will have a variety of pockets and bungee cords for additional storage without the need for extra bags.
Bonus Features
Many backpack coolers offer a variety of other features that come in handy on your adventures. Here's what to look out for:
Shelf and Compartment Separators – Internal shelves and compartment separators are useful for keeping your food and drinks organized.
Compartment separators are great for segregating wet and dry foodstuffs to prevent some items, like bread or chips, from getting waterlogged and going soggy. Being able to separate your supplies in this way allows you to bring a greater variety of foods in one compartment.
Shelves are also great for keeping soft, delicate foods from getting crushed by heavier items during transport.
Pockets – The main insulated compartments are where you'll keep all your supplies freshly chilled, but we recommend looking for backpack coolers that also feature a variety of pockets.
Additional pockets and mesh sleeves are useful for keeping your valuables and other items that are often needed on day trips or summer evenings. Sunscreen, insect repellent, cutlery, maps and dry snacks can all be stored in these pockets and kept close at hand without the need for another bag.
Bottle Opener – It's no fun carrying your fully loaded backpack cooler all the way to your beach BBQ, only to find you left your bottle opener at home. Choosing a model with a built-in bottle opener will ensure you always have a backup handy.
Liner – Ideally, liners should be waterproof and have leakproof seams to prevent ice water and spills from seeping out onto your clothes. Some liners have antimicrobial properties, which help to avoid odor build-up and keep your backpack smelling fresh.
Top Backpack Coolers Video
Final Thoughts
All of the models we have seen in our backpack cooler reviews would make excellent choices. But the best backpack cooler for you depends on how you intend to use it.
For rugged hikes and wilderness picnics, the YETI Hopper Backflip 24 Soft Sided Cooler Backpack is an excellent choice. Able to keep ice for 24-hours, this hardy cooler is built for the challenges of the great outdoors. It has a 20 can capacity that's great for large families and its ergonomic design is comfortable to wear for long periods.
For fishing trips, BBQs or weekends under the stars, the Ice Mule Pro Cooler or TOURIT Insulated Leakproof Lightweight Cooler Backpack are well worth a look. Both models have long ice retention of between 2-3 days, and they're waterproof and leakproof to ensure everything stays dry. With a 25L capacity, the TOURIT is best for large groups, while the 18 can capacity of the Ice Mule is well suited for gatherings of 2-3 people.
For laid back day trips to the beach or lake, the Pelican Dayventure Backpack Soft Cooler, Coleman Soft Cooler Bag or ONIVA Turismo Insulated Backpack Cooler are worthy choices. These models will keep your supplies cold for at least 12-hours, and feature a variety of compartments so you have plenty of space to stash valuables or extra equipment.
Whatever your lifestyle, you're sure to find the best backpack cooler for you in our reviews.