Designed to keep your food and drinks on ice, sometimes for days at a time, coolers are fantastic for staying refreshed during your outdoor adventures – but they're also heavy and cumbersome to carry. This is where the best wheeled coolers come in.
With built-in wheels and towing handles, wheeled coolers make it easy to transport your supplies and refreshments without breaking a sweat. Some models even have all-terrain wheels for exploring off the beaten track – so you can hit those rugged mountain trails and enjoy a cold drink with a view.
Today, we take a look at the best wheeled cooler options on the market and tell you everything you need to know to find your perfect match.
Best Wheeled Coolers
We've reviewed nine of the best wheeled coolers money can buy.
Our selection includes models with a wide variety of features, capacity and ice-retention qualities – so you can find the perfect wheeled cooler for your next adventure.
YETI Tundra Haul Portable Wheeled Cooler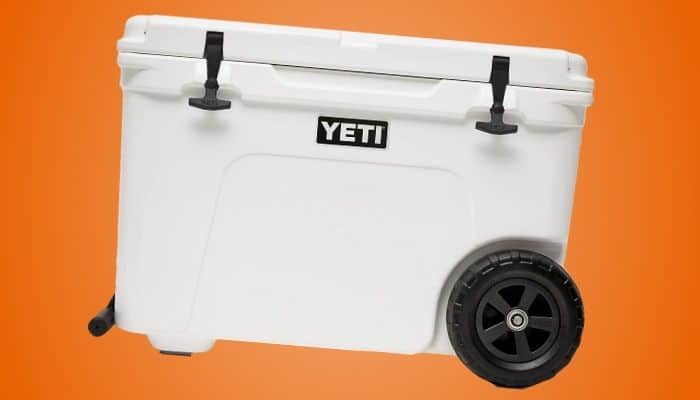 Top of our list is the YETI Tundra Haul Portable Wheeled Cooler. Packed full of features and manufactured by a well-known brand, this wheeled cooler is highly popular – and for good reason.
Available in a range of colors and with a 55-quart capacity, the YETI Tundra is built to withstand the perils of the Great Outdoors. Its thick, rotomoulded construction is incredibly tough and durable, so no matter the conditions, you can be confident that this cooler can handle it.
Its specially-designed "Neverflat" wheels are made from a single piece of puncture-resistant rubber – making it perfect for those bumpy trails to your favorite camping spot. It can be heavy to lift when full, but the welded aluminum "StrongArm" handle has soft, ergonomic grips that are comfortable to hold. It's also curved to allow easy towing without catching your heels.
Offering great ice-retention, this wheeled cooler will keep your supplies fresh and cold for up to five days. Its impressive insulation is thanks to the pressure-injected polyurethane foam in the lid and walls. The lid is also kept securely sealed with a freezer-quality gasket and heavy-duty latches, so the internal temperature is never compromised.
Incredibly tough, efficient and reliable – if you like to enjoy wild open spaces off the beaten track, the YETI Tundra Haul Portable Wheeled Cooler is the leading choice. It's pretty expensive, but we think that's understandable given its level of quality and durability.
Pros – Things we liked
Available in a range of colors
55-quart capacity
Rotomoulded construction
Wheels are made from puncture-resistant rubber
Keeps cold for up to five days
Cons – Things we didn't like
As with all Yeti coolers, you pay a high price
Pelican Progear Elite Wheeled Cooler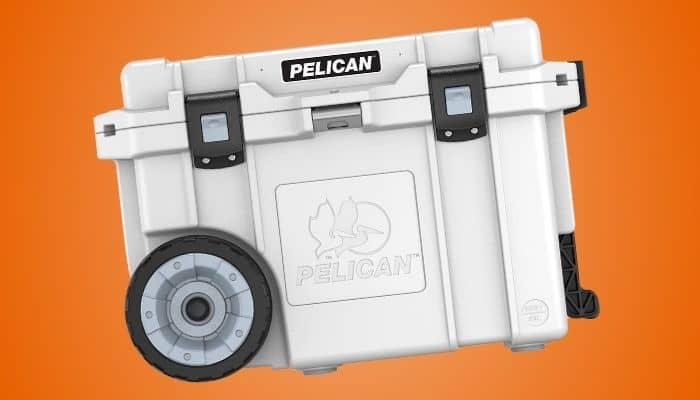 Another excellent choice for off-road adventures is the Pelican ProGear Elite Wheeled Cooler.
Boasting dual-layer, 2-inch polyurethane insulation and a freezer grade gasket, this heavy-duty wheeled cooler can keep ice frozen for an incredible 10-days – making it perfect for extended camping or fishing trips in the Great Outdoors.
Its capacity is pretty generous too. With a choice of 45 or 80 quarts of temperature-controlled storage space, this wheeled cooler offers plenty of room for all your supplies and refreshments. The roto-molded polypropylene construction is thick and highly-durable, so it can easily stand up to the challenges of tough environments.
Featuring a heavy-duty "press and pull" latch system, this cooler locks securely for impressive insulation and protection against bears or other inquisitive wildlife. The solid, air-free wheels eliminate the risk of punctures over rough ground, while the molded side handles and built-in trolley handle make it comfortable to transport to your destination.
We also like that the Pelican ProGear Elite Wheeled Cooler comes complete with a variety of other thoughtful features built-in to the design. There's an integrated fish scale on the lid, and a built-in bottle opener so you'll never be stuck without one. The threaded drain plug makes it simple to empty melted ice water without having to lift the box, and the non-marking feet are great for keeping your floors or boat deck free from blemishes.
The only drawbacks to this impressive cooler are its weight and bulk. It's pretty heavy, which is to be expected due to its rugged design and thick insulation.
It's also rather expensive, but if you need a reliable, durable cooler that will keep ice frozen for several days, you can't go wrong with this model. Furthermore, Pelican offers a lifetime guarantee – so you can rest assured this cooler is truly built to last.
Coleman Xtreme Heavy-Duty Cooler with Wheels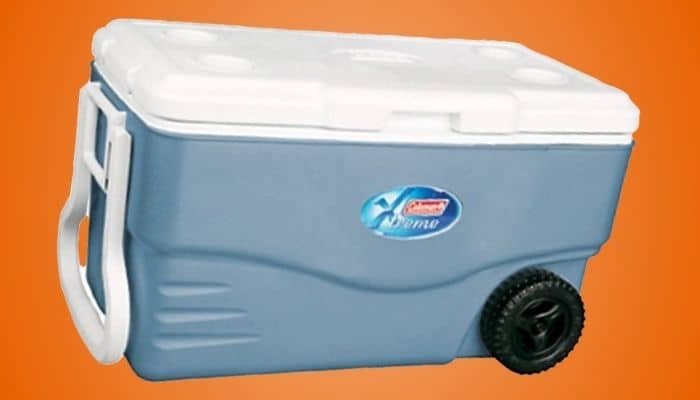 If you usually go camping in a large group with friends or family, the Coleman Xtreme Heavy-Duty Cooler with Wheels could be just what you need.
Offering a huge 100-quart capacity, this cooler has enough space for up to 160 cans, with extra room for ice, too. The lid has molded-in cup holders to prevent spills and can support up to 250 pounds of weight – so it can double-up as a handy additional seat.
The two wheels have a heavy tread that's great for transporting over rough or unstable terrain. The level of grip is excellent for pulling it over loose rocky paths or sand, making it a smart choice for beach parties or remote picnics.
The towing handle has a fixed length and cannot be extended, but it should be comfortable for most people of average height. There's also an easy-grip handle on each side of the cooler, so you can choose to carry it, either alone or with a helper, if you prefer.
This cooler is a great choice for long-weekends, thanks to its five-day ice retention. The rugged exterior is made from tough thermoplastic for durability, and is also simple to wipe clean if it gets a little mucky on the trail. The built-in drain is convenient, too – so you can empty spilled liquid or melted ice without having to lift or tilt the cooler.
For a 100-quart cooler, this model is relatively compact and should fit in most trunks without issue. It's very reasonably priced considering its size, but it doesn't have a locking lid or the level of durability seen in more expensive, high-end models.
Igloo 40 Quart MaxCold Cooler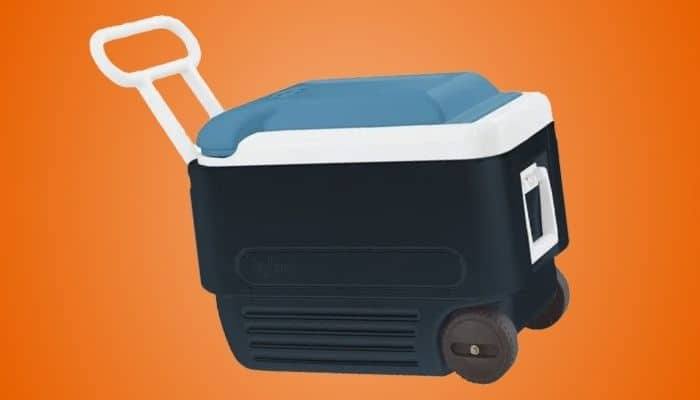 If you're looking for something simple and highly-affordable, the Igloo MaxCold Cooler could be your ideal choice.
Offering a 40-quart capacity, this wheeled cooler has enough space for supplies for around three people. The walls and lid are filled with thick, Ultratherm® insulation for good temperature control, but it's still lightweight and easy to tow without fatigue.
This cooler can keep ice frozen for up to 5 days, but to achieve this duration, you'll need to fill it to about a third of its capacity with ice before heading out – which will reduce your overall storage space.
The lid doesn't have any latches to keep it sealed either, so unless you tie it down, it's important to double-check it's tightly closed for best results.
The swing-up handle isn't telescopic, but unless you're very tall, the height is comfortable to grip when towing. Its two plastic wheels are sturdy and, while it's not built for extreme off-roading, it still copes well over relatively bumpy ground. And if you hit an unexpected rough patch of trail, you can always use the side handles to carry it if necessary.
Unfortunately, this model lacks a base drain, so keep in mind that you'll need to empty any contents, lift and tip it to pour out the melted ice water.
Overall, we think the Igloo MaxCold is a great, basic option for no-frills cooling at the campsite and beyond. Affordable and effective, this model is easy to use and can keep ice frozen for several days if used correctly.
Igloo Trailmate Journey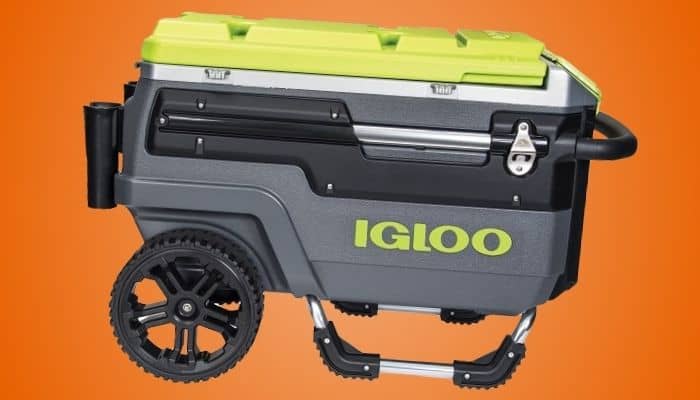 If you need a cooler that can stand up to punishment, the Igloo Trailmate Journey is well worth a look. This model is highly-popular, thanks to its long list of rugged features that are designed to handle whatever the outdoors throws at it.
Incredibly durable, the Igloo Trailmate Journey has two, oversized all-terrain wheels that are tough enough to carry it over rough surfaces. So whether you're headed to the beach or along a rocky mountain trail, this wheeled cooler will be able to follow you there.
Featuring a 70-quart capacity, this model has plenty of storage space for all your food and drinks. Thanks to the "ultratherm" insulation in the body and lid, it can hold up to 112, 12oz cans and will keep ice frozen for up to 4-days, making it perfect for long weekend adventures.
We like that this cooler features tie-down loops and multiple compartments both inside and out, so it's easy to carry all your gear with you in one place. Inside the cooler there is a food basket for keeping your other food items cool and dry, while the outside has a plastic netting pouch for sun lotions or maps. There's even a special water-resistant storage compartment for your sunglasses and phone.
This cooler is heavy when full, but the pull-out, telescopic aluminum handle is sturdy and has a soft grip that's comfortable to hold when towing. And once you reach your destination, the butler serving tray, built-in bottle opener and cup holders make it easy for you and your companions to relax and enjoy your surroundings.
All in all, the Igloo Trailmate Journey is a feature-packed choice that won't let you down over challenging trails. Just keep in mind that the built-in drain plug isn't perfectly flush with the base, so you'll need to tip it up to empty it completely.
Coleman Soft Cooler with Removable Liner & Wheels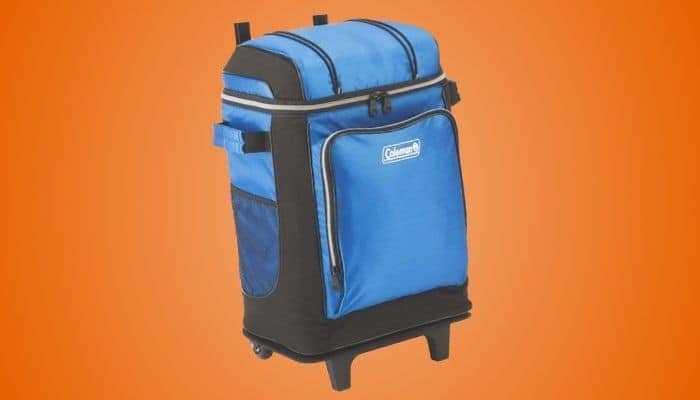 The Coleman Wheeled Soft Cooler is another good choice for keeping your supplies fresh in the Great Outdoors.
Lightweight and large enough to hold up to 42 cans, this wheeled cooler has enough capacity for several people. It also features additional storage space for other useful items, thanks to its three external pockets and bungee straps – ideal for keeping your maps, sunglasses and sun lotion close to hand.
The outside of this cooler is made from tear-resistant nylon, while the inside features a hard plastic liner that protects your supplies from getting accidentally crushed in transit. The plastic liner is treated with antimicrobials to prevent mold, mildew or fungus from forming, and helps to resist odor buildup. It can also be easily removed for hassle-free cleaning if a spillage occurs.
The suitcase-style wheels have a good level of durability, but they're not tough enough for rocky off-road trails. The telescoping handle is comfortable to hold when towing, and we like that this model also has side handles, so you easily can lift it over any obstacles.
In terms of ice-retention, this model isn't built to keep ice for days like others we have seen. If you fill it with a decent amount of ice or some hefty ice packs, you should expect it to stay frozen for a day at the most – so it is best suited to day trips, rather than weekends away.
Igloo Ice Cube Roller Cooler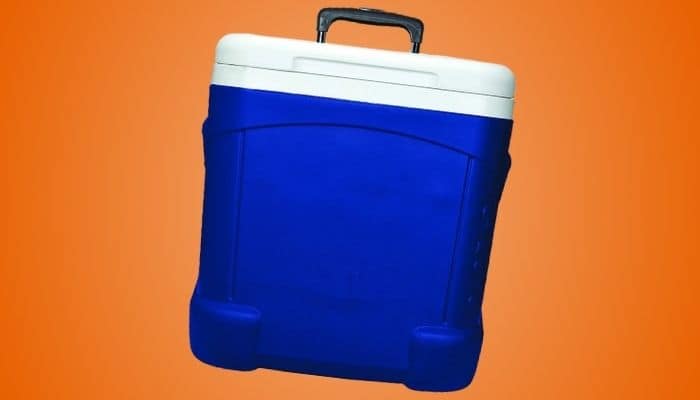 If you're looking for a no-frills wheeled cooler with decent ice-retention, check out the Igloo Ice Cube Roller Cooler.
Featuring a 60-quart capacity, this hard-sided cooler has enough space to pack food and drinks for 4 people, making it a good option for family camping trips. It is taller than it is wide, so it has a smaller footprint than many other hard coolers and will take up less floor space in your tent or RV.
Thanks to its ultratherm insulation, this model is capable of keeping ice frozen for between 3 and 5 days with careful use. However, if you keep opening the lid every couple of hours, this duration will be drastically reduced.
Keep in mind that the lid doesn't have any latches to secure it closed and safe from curious hands, so you'll need to take care that it is shut firmly for best results.
This model has two wide tread wheels that offer good grip on soft surfaces, but they'll likely struggle over bumpy terrain. The telescopic handle is comfortable to hold and makes this cooler easy to tow and maneuver to your camping or picnic spot. There are also molded handles on each side, so you can choose to carry it instead.
We like the addition of cup holders in the lid and an easy drain plug in the base for simple emptying. Overall, this wheeled cooler will do the job very well for leisurely weekend camping trips, just don't expect it to cope with extended adventures off the beaten track.
RovR Wheeled Camping Rolling Cooler with Wheels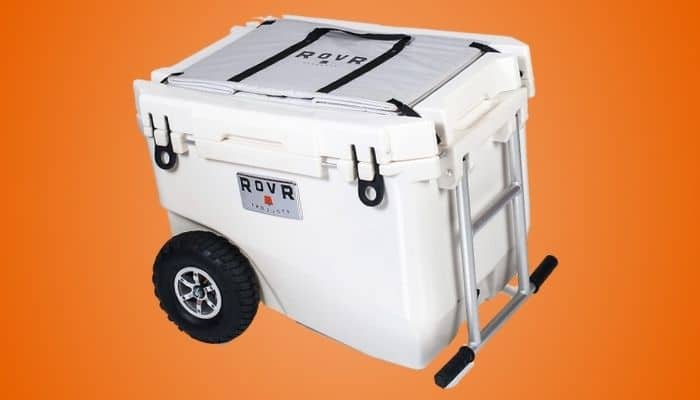 Another worthy contender for the best wheeled cooler is the RovR Wheeled Camping Rolling Cooler with Wheels.
With its rugged design and impressive insulation, this model is a great option for longer camping trips in wild spaces. Its 60-quart capacity offers plenty of space for up to four people and its 3-inches of foam insulation and airtight seal ensures ice-retention of 7-10 days.
This cooler has separate compartments inside for easy organization of your supplies. There's a removable dry bin on one side, which is perfect for keeping your vegetables and other foods chilled without getting wet – while the other side can be layered with ice for drinks or sealed packages of meat and fish.
Another cool feature is the additional, pop-up storage bin. This expandable bin converts the cooler into a transport wagon, so you can carry more gear to your favorite beauty spot in one trip.
The storage bin can be loaded up separately and fitted to the cooler using the included quick-release attachments, so you can enjoy a cold drink while packing. We also like that this model has two built-in bottle openers and a drain valve for easy emptying.
The pull beside dual handle is comfortable to use, while the 9-inch tires are puncture-resistant and created with challenging terrain in mind. Mounted on durable aluminum hubs, the wheels are designed to be hard-wearing and capable of withstanding rocky trails. The cooler body itself is also made from rotomoulded thermoplastic, so wherever you travel, you can rest assured this model is built to last.
Overall, this model is a great option for outdoor adventures in a variety of environments. And if you're a cycling fan, you can even buy a separate bike attachment so you can tow the RovR with your bike!
Arctic Zone Titan Deep Freeze Rolling Cooler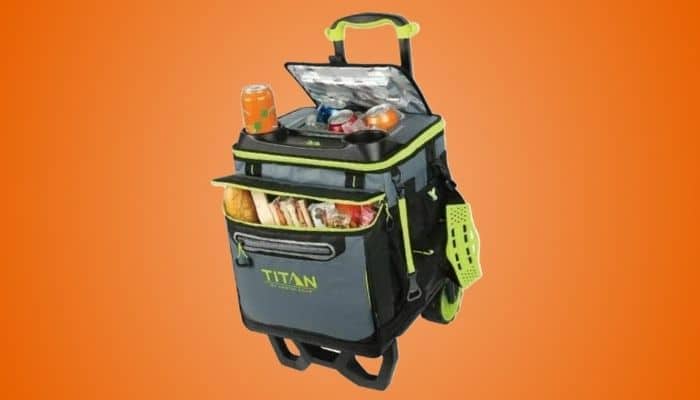 Last but not least, we have the Arctic Zone Titan Deep Freeze Rolling Cooler.
Packed full of pockets, this wheeled soft-sided cooler can hold up to 100 pounds of supplies, and up to 60 cans. The easy-access lid makes it convenient to grab a refreshing drink on the go, while the front compartment pocket and bungee straps are great for organizing your gear.
Featuring a durable nylon outer and telescopic handle, this soft-sided wheeled cooler is leak-proof and easy to clean. It has high-performance insulation and the inner lining is also treated with antimicrobials to limit odor buildup and prevent bacterial growth that can lead to mold and mildew.
The 2-inch wheels are made from plastic, but they're still hardy enough for use on the beach or soft grassy paths. If you like to head out on rugged and challenging trails, you have the option of removing the cooler from the attached cart and using the shoulder strap to carry it instead.
However, like most soft-sided coolers, this model doesn't fare well with ice-retention and is best-suited to short trips of a few hours or more. If you're careful and keep the cooler zipped closed most of the time, you can expect it to keep ice frozen for the day, but no longer than that.
All in all, we think this wheeled cooler is a good option for keeping items chilled for day trips, beach BBQs and picnics. It offers a generous capacity for family outings, and has several pockets for easy organization.
Why Trust Us
All of our reviews are compiled with a combination of expert input, years of hands-on testing of grilling products, curating the reviews of real-life buyers in a "wisdom of the crowd" system, and of course our own expertise. All the products listed are the ones we would buy if we were looking to purchase a new wheeled cooler.
Methodology Used to Pick the Best Wheeled Cooler
When picking the best wheeled cooler we looked at and then rated each pair on the following criteria. Price, capacity, insulation, ice retention, intended use, soft/hard-sided, seals, dividers, drain, handles, locking system, wheels, portability, and construction.
Buyers Guide to Buying the Best Wheeled Cooler
With a huge range of wheeled coolers on the market, all boasting a variety of features, it's easy to become overwhelmed by choice.
In this guide, we tell you everything you need to consider before buying – so you can find the best wheeled cooler for your needs.
Price
Price is of course a major consideration when choosing the best wheeled cooler for you.
Your budget will determine what type of cooler you can stretch to, but it's worth keeping in mind that you may not always need the most expensive one that you can afford.
If you're only going to be using your wheeled cooler for a couple of trips a year, then a cheaper model may suit you just fine. Sure, it's unlikely to be as durable as a more expensive model, but it should still last you several years with limited use.
On the other hand, if you head out on multiple camping trips and prefer locations off the beaten track, it makes sense to go for the hardiest wheeled cooler you can afford. These high-performance models are designed to stand up to the stresses of the wilderness and usually offer impressive ice-retention times.
Intended Use
All coolers are designed to store food and drinks and keep them at a chilled temperature for extended periods, but some models are better suited to particular activities than others. For this reason, it is important to consider your intended use is before buying.
Some coolers include features such as built-in fish scalers, non-marking wheels and anti-UV coatings that are perfect for fishing trips – but less useful for relaxed weekends around the campfire.
Others have a variety of compartments that are great for segregating different foodstuffs and drinks, but offer less overall space if you're only planning on filling your cooler with water (or beer). Lightweight soft coolers are easy to transport, but if their wheels aren't heavy-duty enough, you might not make it to that remote beauty spot over rough terrain.
To sum up, if you don't pick a cooler based on your individual needs, you're likely to be disappointed. We recommend focussing on the basics first – ice retention, capacity, durability and portability over the terrain you most commonly encounter.
Once you have these boxes ticked, you can look at additional useful features within your budget.
Capacity
Capacity should be one of the first things you consider when deciding on which wheeled cooler to buy.
Cooler capacity is almost always measured in quarts. A quart is equal to 32 ounces or 4 cups, and a standard can is 12 ounces. Obviously, if you're planning on trips with the whole family, then you're going to need a cooler with a much larger capacity than if you head out alone or with a couple of friends.
For trips with 1-2 people, a 54-quart cooler will be sufficient. For 3-4 people, it's best to get a 60-72 quart cooler for food and then a smaller one to hold your drinks.
If you're heading out in a large group of 4 people or more, coolers that have at least 100-quart capacity are your best bet.
It is important to note that the specified storage size will be the total of both insulated and non-insulated areas (if your cooler has both).
Size
Internal capacity is one thing, but you'll also have to think about how much space your new cooler is going to take up.
Some coolers are quite large and bulky. If you're planning on transporting it in the back of your truck or RV, then this may not be as much of an issue for you – but if you're traveling by car, a bulky cooler could eat up most of your storage space.
It's wise to consider where you'll be keeping your cooler and measuring the dimensions of this space first, before comparing it with your shortlist of favorite models.
Insulation and Ice Retention
Insulation and ice retention go hand in hand. Your coolers' performance will depend heavily upon the type of insulating material used.
There are three main types of insulating materials to look out for:
Polystyrene (styrofoam)
Cheap, lightweight and effective, polystyrene contains millions of tiny air bubbles, and is known as a type of "closed cell" insulation.
Because the bubbles are trapped, air cannot move freely – which means that heat transfer through the air is dramatically slowed and the temperature remains low for long periods.
The insulating properties of polystyrene increase with thickness. So, if you need a cooler to keep supplies on ice for multiple days, a polystyrene insulated cooler would need to be very bulky to do the job.
Polyurethane Foam
Top-end coolers such as Yeti and Pelican models use polyurethane foam.
This type of foam is significantly more dense than polystyrene. It contains much smaller air bubbles in greater quantities – making it a highly effective insulator. It is usually pressure injected into the walls of the cooler, so it completely fills all the air gaps inside.
Polyurethane foam coolers usually have walls around 2-3 inches thick, and often have additional insulation in the lid.
The blend of high-quality insulation and thick walls, often combined with secure seals and freezer-grade gaskets, make this type of cooler the leading choice for long term ice retention. The best models can keep ice frozen for as long as 10-days – perfect for long trips in the wilderness.
On the downside, while polyurethane foam is durable and highly-effective, this type of cooler is usually the most expensive option. They can also be quite heavy, so choosing a model with wheels is even more important.
Polyethylene (PE) Foam
The cheapest and least effective type of insulation is polyethylene (PE) foam.
Commonly found in the most basic coolers, especially soft-sided models, polyethylene foam is not recommended for long term ice retention. Depending on the thickness, it can keep ice frozen from only a few hours to most of a day.
This type of insulation is best suited to day trips, BBQs or picnics where you only need to keep food and drink chilled for a short time. For longer camping trips of a few days or more, you should look for a more heavy-duty model that uses polyurethane foam.
Empty Weight
Empty weight is an important consideration for a couple of reasons.
The heavier your cooler is before you load it – the heavier it will be once full. So, you should bear this in mind if you plan to carry it long distances.
However, heavier coolers usually have better quality insulation than lighter ones, so weight can also be a good indication of effectiveness if you don't know what type of insulation a cooler uses.
Soft Sided or Hard
Hard-sided and soft-sided coolers each have their benefits and drawbacks. The best option for you will depend on your lifestyle.
Hard-sided coolers are the better choice when it comes to ice retention and general hardiness.
They are usually made from roto-molded plastic – a single piece – rather than multiple sections sealed together. Not only does this create a very sturdy result with no weak points and great durability, but it also means better insulation overall.
Most high-quality hard-sided coolers will be able to keep ice frozen for around 3 to 7 days, but the leading models can offer ice retention of 2 weeks or more. They are better suited to longer trips, but they can be heavy and take up a lot of space.
On the other hand, the best soft-sided coolers are generally made from strong, water-resistant nylon that has a good level of durability against scratches and punctures – but not to the same degree as a hard-sided model. Nylon also doesn't have any insulating capabilities like thick, roto-molded plastic does.
Soft-sided coolers often feature an inner layer of flexible, closed-cell foam for insulation. This foam layer is thinner than those found in hard-sided models, so offers weaker insulation. Most top-quality soft-sided coolers can keep ice frozen for around 2 days. In highly controlled conditions, this may stretch to 3 days, but it's uncommon.
However, soft-sided coolers are a more lightweight and space-saving choice than hard-sided coolers. They're easier to transport, and can often be compressed to save space when empty.
Seals
You can have the best insulation material on the market, but it's not going to keep your supplies cold if the seals aren't up to the job.
For effective ice retention, we recommend going for a cooler that has high-quality seals and a locking lid for optimum temperature control. The very best models will feature freezer-grade gaskets and heavy-duty latches, that ensure your cooler stays firmly closed against the warmer air outside.
Dry Bins and Dividers
Dry bins and dividers are useful if you're taking a variety of food and drink products with you on your trip. They allow you to segregate items that need to be kept on ice, from those that are better kept cool and dry.
Dividers can also be useful for preventing heavy items from shifting and squashing more delicate produce during transport.
Base Drain
As the name suggests, base drains allow you to drain melted ice water from the base of the cooler, rather than lifting it up and tipping it out.
A base drain eliminates the need to remove items from the cooler first, but also prevents any strain to your back that can be caused by lifting heavy, hard-sided models.
Handle Height
One of the most attractive aspects of a wheeled cooler is that you can easily pull it along, without having to lift it up and carry it. But it is important to remember that the wrong type of handle can make towing your cooler rather uncomfortable.
Handles that are too short for your stature will force you to stoop. This is generally uncomfortable anyway, but it can also place dangerous strain on your back if the cooler is heavy.
If the handle is too tall for you, it will also be awkward to tow effectively, and will likely become tiresome after a while.
The best handle height for you will not be the same as for someone else. If you're unable to try out a cooler hands-on in the store, we recommend paying attention to the dimensions given in the product specifications, and opting for a telescopic or adjustable handle where possible for the perfect setup.
Locking system
A heavy-duty lock is great for insulation, but also important for general security against thieving hands (or paws) while out in the open.
There are many different types of cooler locking systems available, from stainless steel locks and brackets to heavy-duty cable locks and padlocks. All of these are secure options that are worthwhile if you feel your cooler contents may be interfered with when you're not looking.
Wheels, Mobility and Portability
The quality of the wheels on your cooler is crucial for effective mobility and ease of transportation.
Small, plastic, suitcase-style wheels are not going to be suitable over rough trails to your favorite beauty spot, but they may be sufficient if you're staying on a campsite and simply wheeling your cooler over a smooth surface to your BBQ area.
For off-road, rough terrain, you're better off opting for a heavy-duty cooler with solid rubber wheels, like the YETI Tundra, that's specially designed for challenging surfaces. A good tread is important too, so the wheels can easily grip loose gravel, dirt and wet or sandy terrain.
Two-wheeled models are generally more agile and easy to maneuver around obstacles and tight bends but they can be prone to tipping if they hit a bump on uneven ground.
Four-wheeled options stay low to the floor and are more stable, making them better suited for tough terrain. It's worth keeping in mind that four-wheeled coolers, especially those with locking wheels, are great for gatherings as they can double-up as a standing ice box
Durability, Materials and Construction
As with any outdoor product, durability is key.
When choosing the best wheeled cooler for you, it is important to look at the quality of the design and materials, as this will tell you how well it will stand up to the elements.
The best heavy-duty wheeled coolers will have robust, thick, roto-molded plastic casing or a strong, water-repellent outer material to keep the contents safe on your adventures.
Tough, single-piece wheels are a good puncture-resistant choice for challenging ground, while welded aluminum handles are a durable, yet lightweight option.
Wheeled coolers that are designed with durability in mind are often a more expensive choice, but they will last for years to come, thus saving you money in the long run.
Cooler Wheel Kits and Carts
If you already own a non-wheeled cooler and would rather not cash out on a new one, a cooler cart could be just what you're looking for.
Designed to make transporting your coolbox easy, cooler carts are a great alternative to wheeled coolers and can be loaded up with other camping gear, too.
If you're not sure which cooler cart is best for you, we recommend taking a look at the Mighty Max Cart Ice Chest Dolly Cooler Hauler. It features an expandable flatbed frame and is strong enough to haul up to 300 pounds of equipment while being lightweight and easy to pull.
The airless wheels are also highly durable and designed to withstand tough terrain, so you can take your standard cooler over rough ground without worrying about a puncture ruining your trip.
Top Wheeled Coolers Video
Final Thoughts
Wheeled coolers are excellent for helping you make the most of the Great Outdoors – but the right model for you depends on your individual needs.
If you like to hit the rugged trails off the beaten track, you're going to need a heavy-duty wheeled cooler that can step up to the challenge. The Pelican Progear Elite Wheeled Cooler is an impressive and highly-durable option that can hold ice for up to 10-days. Boasting a rotomoulded, polypropylene construction, 2-inches of insulation, freezer grade seals and all-terrain wheels – we think this is the best wheeled cooler for longer trips in the wilderness.
For shorter adventures over rough ground, the Igloo Trailmate Journey or YETI Tundra Haul Portable Wheeled Cooler are your best bet. Both models are feature-packed and have impressive ice-retention of 4-5-days, making them fantastic choices for long weekends off-grid.
If you're looking for a simple, reasonably-priced model for day trips – we recommend taking a look at the Igloo Ice Cube Roller Cooler. Affordable and effective, this no-frills wheeled cooler packs a generous capacity into a small footprint and will keep your supplies chilled all day long.
Lastly, for big gatherings or short family vacations, the Coleman Xtreme Heavy-Duty Cooler with Wheels is hard to beat. With an incredible 100-quart capacity and 3-5 day ice-retention, this large wheeled cooler has plenty of space for everyone.
Whatever type of wheeled cooler you need, you're sure to find the perfect model for you in our best wheeled cooler reviews.