Out of the many things that give me enormous pleasure on my many shindigs, I don't think any leave me with such satisfaction as pulling a nice cold soda or beer from my best picnic cooler on a baking hot summers day. The instant relief you feel when the ice cold drink streams down your throat is tantamount to some very naughty things.
Of course, finding the right picnic cooler is essential. But it is made somewhat easier when only required for a day trip out for a simple picnic. Pages and pages have been devoted to coolers that will keep ice cubes formed for over a week. And guess what, they are some damned expensive coolers!
With picnic coolers essentially having to be able to perform for a day max, we are able to reduce cost. This doesn't necessarily mean that the quality has to suffer though. In this article, we aim to show you some top quality picnic coolers that perform brilliantly and won't cost the earth.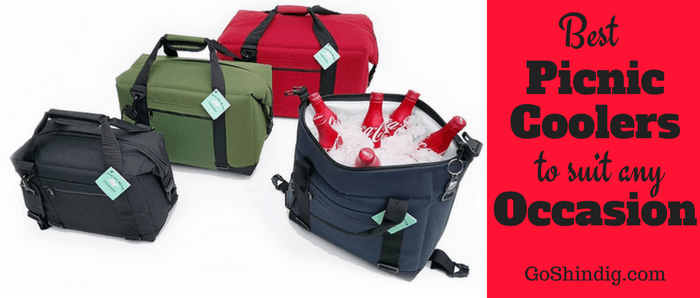 Best Picnic Cooler
Picnic coolers by nature can be pretty bulky items that can be a pain to transport. A pain to carry to your destination and a pain to make sure it's performing at its optimum. These are not accusations that can be thrown at the Igloo 45069 picnic cooler though.
Measuring 18x16x13 (and some change) this ideal picnic cooler will not hog all the space in your motor vehicle. It will not prove to be a hindrance by having to carry it due to its soft ride sports wheels. And will also not need any extra attention given to it in the form of stands etc.
It is designed so the box is elevated from the ground. Thus reducing the amount of heat around its surface areas. Holding 28 quarts, you will find that you can store all the food and drink that you will need.
Polar Bear PB 120
Think about your typical picnic cooler and you imagine a big ass rectangular insulated box more than likely. It's made from plastic and it's pretty durable. Think of a soft cooler and logic seems to fly out the window. Durability is called into question and the ability to retain cold seems unlikely.
The Polar Bear PB 120 dispells these myths however with little regard of any preconceptions. It comes in a wide range of sizes. Varying from a 6 pack if you require a picnic cooler for just your beer, to a 48 pack if you want to fit your whole picnic inside.
The Polar Bear PB 120 is made from 1000 denier Cordura nylon. This means it will last for years under normal wear and tear. It also benefits from being leak and sweat proof. It will also keep ice for 24 hours in 100-degree heat.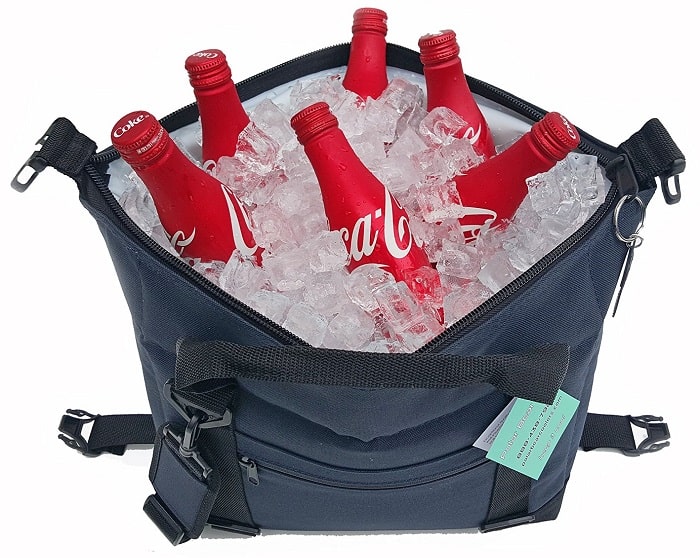 Coleman C003 Backpack Cooler
As mentioned in our article on picnic baskets, backpacks are a worthy alternative to carrying around large cumbersome objects, especially if you have small children to look after. Even if you have no children the benefit of not leaning to one side whilst carrying a weight is obvious.
The Coleman C003 backpack cooler enables the weight to be spread evenly making sure old age gets no undue assistance in messing up your posture. Any backpack will do this however so to stand out from the crowd a little more, the Coleman, whose name is synonymous with the history of coolers, also features a heat-welded main compartment which can hold 28 cans and also ice.
There are pockets around the backpack which you can store smaller refrigerated snacks in. And it also benefits from cushioned, adjustable strapping.
Snapdragon Ideas Rolling Bottle Limo
This is one for those who know what they like. Wine, and a lot of it. The snapdragon ideas cooler is a bit of a niche item, it would be perfect for a picnic with a large group of friends who like nothing more than a glass of prosecco to go with their picnic food, but it is an item of quality.
Even if you were not to fill the whole 12 sections that are available for wine, you can fill any remainders with mixers, sodas or beers. This is definitely a luxury item but one that reaps huge benefits. It may be slightly more cumbersome than some of the previous suggestions. But there are payoffs such as 6 detachable sections to customize the cooler to your own needs.
There is also a front and 2 side pockets in which you can store anything from tablets to phones and wallets to magazines. It has complete foam padding with soft grip handles but best of all this is a cooler with wheels.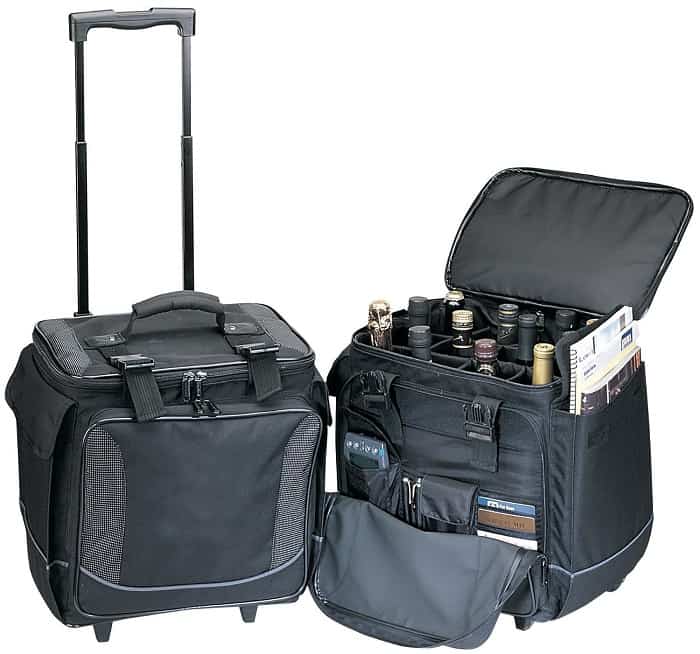 Arctic Zone Ultra Collapsible Rolling Wheel Cooler
Sometimes in life, there is give and take. You like the idea of something but there has to be a compromise more often than not. The collapsible rolling wheel cooler from Arctic Zone gets you about as close to a no-compromise picnic cooler as you can get.
This cooler has wheels. You can carry this picnic cooler by hand or by shoulder thanks to the straps. It benefits from being a collapsible cooler. This is a molded cooler with a top that supports your drinks.
This cooler is made with super foam high-performance insulation. This cooler will quite possibly tuck you into bed at night and sing you a lullaby given the chance. If it's features that you desire the most then it's difficult to beat what Arctic Zone offer here.
Coleman 100 quart Xtreme 5
There are certain situations, a long road trip for example, which requires you to invest in a cooler where cold temperatures can last more than 24 hours. If you're planning some picnics along the way then you will need a larger capacity picnic cooler both for ice and extra food storage.
The Coleman 100 quart xtreme 5 fulfills this need whilst at the same time not verging into the ridiculously priced territory. It features a more traditional cooler design but packs exciting features such as UV protection to aid in longevity, xtreme technology to keep things colder, longer and a lid that will support a 250-pound human being turning the cooler into a sometimes much-needed seat.
Claims of ice after five days in 90-degree heat may be a little bullish but not unachievable.