Out of the many things that give me enormous pleasure on my many shindigs, I don't think any leave me with such satisfaction as pulling a nice cold soda or beer from my best picnic cooler on a baking hot summer's day. The instant relief you feel when the ice-cold drink streams down your throat is tantamount to some of life's greatest pleasures.
Of course, finding the right picnic cooler is essential. But it is made somewhat easier when only required for a day trip out for a simple picnic. Pages and pages have been devoted to coolers that will keep ice cubes formed for over a week. And guess what, they are some damned expensive coolers!
With picnic coolers essentially having to be able to perform for a day max, we are able to reduce cost. This doesn't necessarily mean that the quality has to suffer though. In this article, we aim to show you some top-quality picnic coolers that perform brilliantly and won't cost the earth.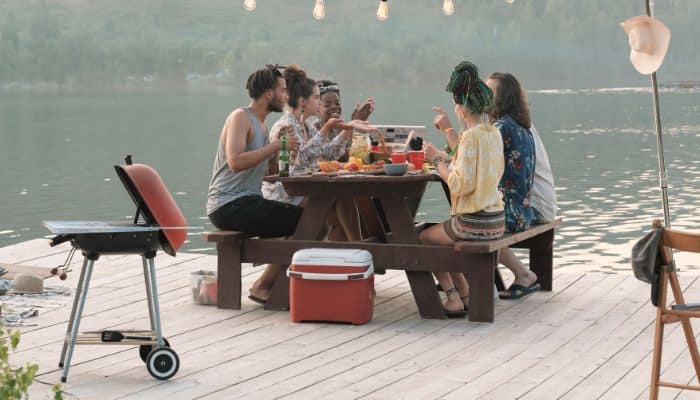 Best Picnic Coolers
There is no cooler that is the best for every type of picnic, so in this article I'll give a list of several different styles of cooler and you can decide which one is best for the type of picnic you normally attend. I'll cover the classic chest-style coolers, as well as give you my opinion on what I think is the best wheeled cooler, the best soft-sided cooler, and one of my favorite coolers for picnics, the best backpack cooler.
RTIC Ultra-Light 52 Quart Hard Cooler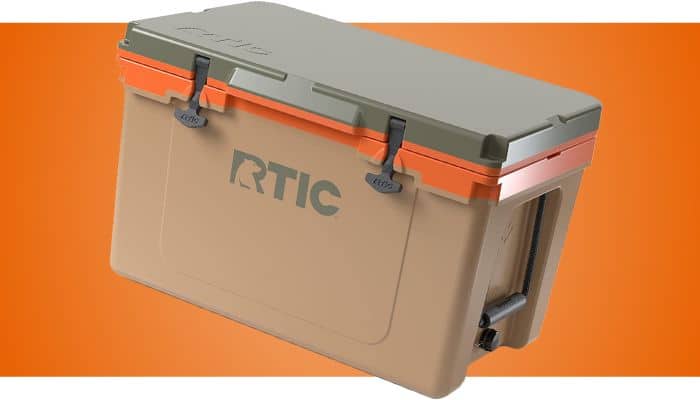 Rotomolded coolers are extremely durable and practical, and they make up the majority of RTIC's hard-sided cooler line. They can store ice for several days with ease. The weight of rotomolded coolers is a significant disadvantage, though. They weigh a lot. Plus, they are very heavy when filled with food and ice.
Introducing the RTIC Ultra-Light Cooler, an injection-molded cooler. Comparable rotomolded coolers weigh roughly 10 pounds more than this one does. How does this impact the design of the cooler as a whole?
Coolers that have been injection-molded are made of several plastic components that fit together. A bit like a 3-D jigsaw puzzle. Each of these components can be customized to be lighter than if you were to make one big component while still providing great wall insulation. For instance, the RTIC Ultralight Cooler still has substantial walls that are up to three inches thick with closed-cell foam insulation.
I believe RTIC employs glue in a few internal locations on the walls and lid to help keep components together. Also, Several screws can be seen holding two portions of the lid together, with insulation within. It's pretty durable, however, I can't say it's stronger than a one-piece rotomolded lid. But it does comfortably take my weight if I stand on it, and I believe it will last for a long time.
Thick walls aid in keeping your food chilled, but a good lid seal is also essential. The RTIC Ultra-Light Cooler, as predicted, has a lid gasket similar to those found on the top hard-sided coolers. Gaskets are now a standard feature on all high-quality coolers; inexpensive department-store coolers do not. To stop tiny leaks that gradually melt the ice over time, you need a gasket, otherwise, you'll not achieve multi-day ice retention.
The non-slip feet of the RTIC Ultra-Light Cooler aid in maintaining stability in the back of your car. Additionally, they elevate the cooler's base off of scorching surfaces, like if you place the cooler on a metal table or a concrete floor that's been in the sun all day. You can prevent a direct heat transfer to the cooler by doing this.
A cooler with thick insulated walls, a freezer-style gasket, and raised feet can maintain ice for up to 10 days when all of these design components are combined.
The RTIC Ultra-Light Cooler is surprisingly well built, going above the typical cooling features you get in most competitive rotomolded coolers.
RTIC still provides a tough cooler yet is lightweight. Because of its durable design, I am confident that it will withstand years of abuse. Approximately 30% less weight and 10% less toughness are what you get, in my opinion. That seems like an acceptable trade-off to me given the weight reduction, especially considering that the cooler will probably endure for ten or more years.
You are given two handles by RTIC. The molded-in side handles are the first option, and they are excellent for carrying the cooler by yourself. Second, RTIC offers padded rope handles that are useful for moving the cooler with a friend.
YETI Tundra 45 Cooler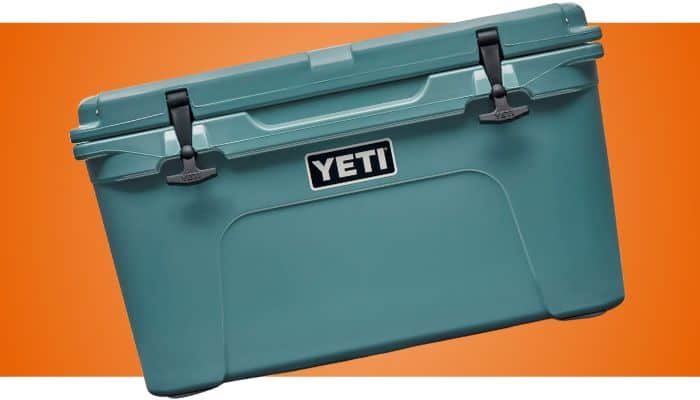 Because they continue to produce high-quality, incredibly durable coolers that insulate incredibly well and withstand years (or even decades) of misuse, Yeti is the best-known name in the world of coolers. It's no surprise that the Yeti Tundra 45-quart cooler is by far the most popular size available in the Tundra product line because it's the ideal size for picnics, BBQ parties, and small family gatherings. Even when completely filled, the Tundra 45 is manageable by one person while being large enough to hold an astonishing amount of supplies for any expedition.
What use is a cooler if it can't maintain cool temperatures? While the Yeti Tundra is attractive to look at and made of high-quality materials, its true strength lies in its insulation. According to Yeti, The Yeti Tundra 45 has something called Permafrost Insulation function, which aids in keeping low temps.
This Permafrost Insulation entails a total of three inches of heavy insulation in the cooler lid and a full two inches of polyurethane pressure-injected insulation throughout the cooler's body. The Yeti insulation differs from other kinds because it is pressure injected, which increases the insulation's density significantly.
The lid interlocks with the cooler body with a full-frame freezer-quality gasket thanks to the Interlock lid technology. The interlocking cover seals to the cooler body, as opposed to simply resting on top like other less expensive coolers, minimizing any air exchange between the freezer and ambient air.
The Yeti Tundra 45 includes some excellent extra features that make this cooler even more convenient for picnics in addition to having exceptional insulation and tremendous durability. The cooler is kept dry on the outside thanks to the "No Sweat Design", which repels moisture in warm temperatures.
Additionally, the cooler has non-marking, non-slip feet to keep it steady and avoid sliding. Due to its solidity, the Tundra 45 is frequently used as a casting platform when fishing or as a place to sit having a picnic. If you wish to keep the Tundra 45 even more stable, there are also built-in tie-down slots on each side.
Draining the Tundra 45 is made simple by the cooler's drain plug and gasket. Sandwiches and other snacks will stay dry above the ice in the dry goods basket that is included.
Because it performs what every cooler should: keep things cold, the Yeti Tundra 45 is among the most well-liked coolers. It is made with the most durable construction and is lightweight and handy enough to be taken on practically any trip, whether it be on the water or picnicking.
Yeti Hopper M20 Backpack Cooler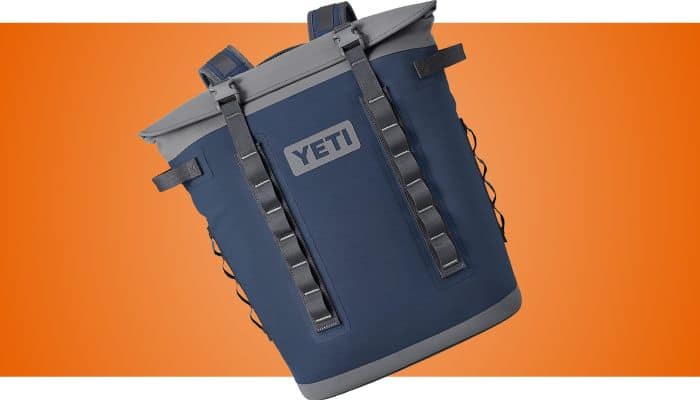 You'll be forced to chuck away your favorite cooler bag once you get your hands on this new backpack cooler from Yeti. It functions as a softshell cooler that slips easily over your back for a comfortable carry, just like when you were hauling books over your shoulders at school. The only difference is that books are now beverages.
The Hopper M20 cooler can be carried without using your hands, making it the perfect choice for long treks and picnics. Of course, without the cooler kicking you in the leg with each step you take.
When you're not pulling out a soda, this cooler closes up neatly and securely thanks to its powerful magnet lid design. Naturally, the items within this bag remain completely icy no matter the outside temperature because it is a Yeti and that's what Yetis do.
The Hopper M20 opens exceptionally wide at the top, unlike many of the high-end cooler backpacks, allowing you to see almost everything concealed inside. Your bologna sandwich won't be stuck at the bottom, requiring you to dig and battle with ice chunks. Additionally, with a two-to-one ice ratio, the cooler can hold about 18 cans in total.
In essence, this cooler is the most portable one that YETI currently has to offer and can go just about anywhere. Did I mention that the interior and exterior are watertight as well? Yes, Yeti gave this cooler its absolute best effort.
Pelican Dayventure Backpack Soft Cooler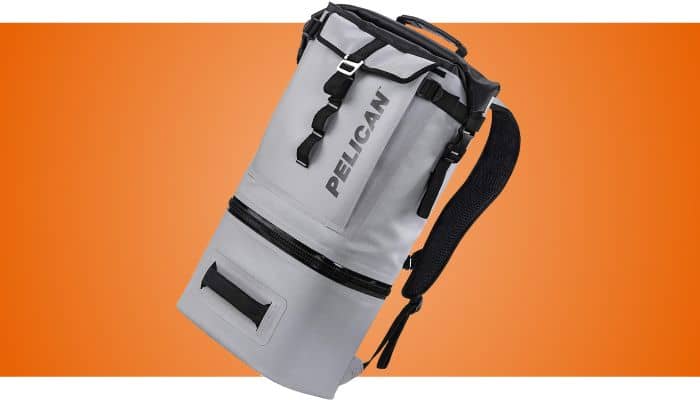 I recently got the opportunity to test out the Pelican Dayventure backpack cooler, and although I must admit that I was initially quite dubious, I have now changed my mind. The extras this soft cooler offers will be appreciated additions at your next picnic, festival, tailgate, BBQ, or even simply a trip to the backyard. This soft cooler brings a lot to the table that allows it to forge its own identity in an increasingly congested marketplace.
The Dayventure is immediately recognizable as a soft cooler designed for outdoor adventure since it is composed of incredibly strong, puncture-proof textiles. In fact, the quality of the materials utilized in its construction is such that my cooler still looks brand new even after heavy testing for this article.
Even though it has been in the mud, sand, and filth, the outside shell is still virtually pristine (of course, the backpack being easy to clean also helps with this). That is encouraging for its long-term prospects, which should not come as a surprise if you have previously used any of Pelican's products.
The Dayventure cooler is designed to be worn as a backpack and includes padded shoulder straps for comfort and to keep the cooler in place when traveling over uneven terrain.
You might even wish to use this bag for your next picnic or hiking trip because the ventilated back panels assist in keeping the wearer cooler and more comfortable. The Dayventure is effortless to wear even though it's not quite as comfortable as a dedicated backpack. But how long can your standard daypack keep your beverage cool?
In relation to that, the Dayventure has a built-in cooler compartment that is located just beneath the main compartment. There is a sizable, waterproof zipper that is simple to pull to get access to the cooler.
Up to six cans of any beverage you wish to bring with you can fit inside, along with some ice. You might be able to fit one or two more cans inside the cooler if you decide against using ice, but that's about it.
In other words, while you won't carry a ton of beer to a picnic, you will have access to enough cool beverages to make the experience enjoyable. Fortunately, the pack does an excellent job of maintaining those drinks at the desired temperature.
In fact, it has never failed to keep my drinks cold on a daylong excursion. Although Pelican doesn't rate how long the bag should keep drinks cold, it more than suffices for the purposes for which I intended to use it – for picnics.
The Dayventure's apparent design for day excursions is one of my favorite aspects of it. This pack is significantly smaller than some soft coolers which concentrate on bringing as many cans or bottles of liquids as possible.
It has enough room to fit a few extra goods, such as a Bluetooth speaker or a USB battery pack, and is ideal for packing snacks or lunch as well as a few drinks for everyone traveling with you.
The bag can accommodate a couple extra drinks if you want to, but its main usage is as a highly portable picnic basket that was made for rough terrain.
Coleman Ice Chest Wheeled Coolers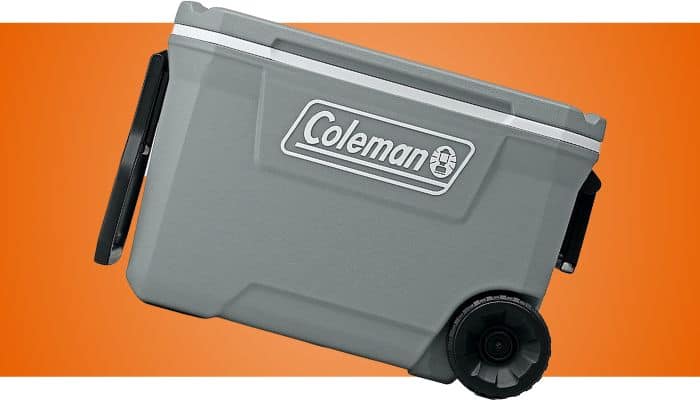 Look no farther than the Coleman 316 Series Wheeled Hard Cooler if you want a durable cooler that also offers exceptional ice retention and even some extra features.
If you take into account all of its capabilities, the 62 Quart size's price of roughly $65 is a great deal. To begin with, it includes drink holders integrated into the top and is roomy enough to accommodate up to 100 cans. This cooler will certainly be able to handle a large picnic crowd! It has great insulation and can maintain ice for up to 5 days.
Have you or a friend forgotten to bring a picnic chair? Sit down on your durable Coleman cooler, which can hold up to 250 pounds. Another interesting feature of this picnic cooler is its mobility. Swing-up handles and tough 6-inch wheels make moving the cooler a pleasure.
The Coleman 316 Series Wheeled Hard Cooler is my choice for the best budget picnic cooler since it is conventional, inexpensive, and durable.
Pelican Elite Coolers with Wheels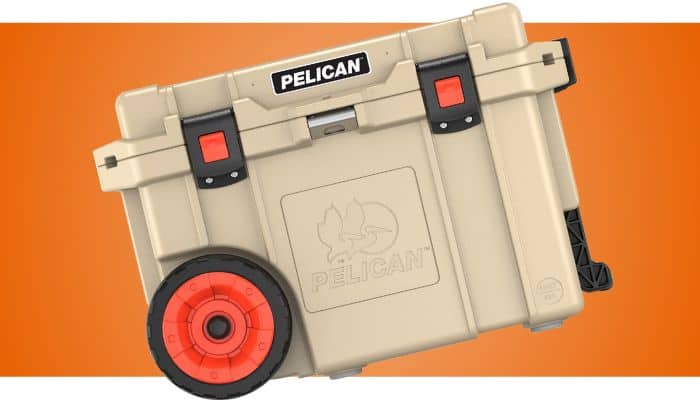 One of Pelican's more recent outdoor cooler models, the Elite Wheeled Cooler, came into my possession recently. The elite range of coolers from Pelican are made for die-hard outdoor enthusiasts who require a very durable cooler that will consistently keep its contents chilled for extended periods of time.
Rotomolded polypropylene, the go-to material and production method for contemporary tough outdoor coolers, is used to make the body of the box.
The "push and pull" fasteners for the lid are one incredibly outstanding element that quickly caught my attention. These latches feature a central, smaller latch that allows you to lock the latch closed in order to stop it from opening by accident. Even with gloved hands, you can easily open the larger latch if you flip these "switches" up. In contrast, some coolers have latches that are more difficult to pull open.
The molded-in metal hasp, which can be used to secure the lid shut with a padlock and doubles as a bottle opener, is another good security feature. So you can open your bottle of beer and keep the bears, and your buddies, out of your cooler.
The lifetime warranty is one of the main features that sets the Pelican Elite cooler range apart from other cooler ranges. Given the substantial cost of these types of coolers and the fact that this is the only lifetime guarantee available, or the only one I can think of, the Pelican really stands out in the high-end cooler marketplace.
You can keep food in park areas where containers must have bear classification because the Pelican Elite Coolers are certified bear safe.
Ice will drain out of a drain hole on the side of the cooler that has a cable-tethered connector because the interior of the cooler is sloped in that direction. If you need to drain the water away from where the cooler is, you can connect a garden hose to the plug.
The huge wheels and pulling handle on Pelican's most recent cooler upgrades set them apart from previous models. Given that the larger coolers may get fairly hefty, the wheeled version of these bomb-proof coolers makes a lot of sense. I would strongly advise taking into account a cooler with wheels if you are considering purchasing a cooler that is 45 liters or greater (45 quarts is the smallest of the wheel cooler sizes in the Pelican Elite Wheeled Cooler line).
RTIC Soft Cooler 20 Can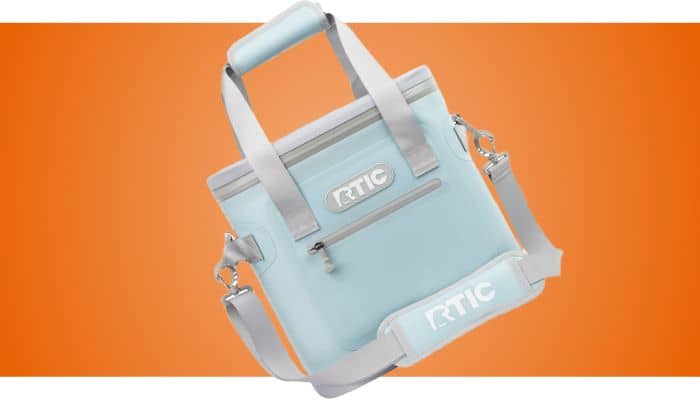 A robust nylon shell is used in the construction of the RTIC Soft Pack coolers. Up to two inches of closed-cell insulation can be found inside, which also provides the coolers structure.
The various grasp grips and carry choices are a feature I value in particular. When the cooler is heavily filled, you can utilize the over-the-shoulder strap, the tote handles, or even the side handles.
How a soft cooler opens and closes is one important factor. Is the zipper sturdy? Is it user-friendly? The RTIC Soft Pack's waterproof zipper is comparatively simple to operate. Why comparatively? All waterproof zippers are more difficult to open and close with one hand alone than standard zippers, but for a cooler zipper, this one does great.
Small-toothed waterproof zippers like that in the RTIC Soft cooler are easier to use, in my experience, than more robust large-toothed waterproof zippers. If you use the provided zipper lubricant that comes with the cooler when you first use the cooler, the zipper will start off stiff but gets better with use. Just keep in mind that zipping and unzipping require two hands.
If you're looking for a soft cooler, you should be aware that they won't compare favorably to high-quality hard-sided coolers in terms of performance. The facts are you need to use a lot of ice, at least a 2-to-1 ice-to-contents ratio, to achieve some manufacturer's advertised multi-day ice retention. Additionally, you must pre-chill the cooler and its contents beforehand and open it infrequently. And keep it out of the sun! But soft coolers are great in specific cases, I almost always bring one along to picnics, day outings, and even occasionally on overnight excursions.
In light of this, the RTIC Soft Pack Cooler's ice retention in springtime temps has so far been on par with that of the majority of other soft coolers I've tested and reviewed. The RTIC Soft Pack Cooler 20 keeps drinks and food cool all day long when used with both reusable ice packs and cubed ice.
While it functions as expected for day travels, the insulation overlap and zippered closure aren't the best for multi-day ice retention because there is a small insulation gap between the lid and the sidewalls, directly behind the waterproof zipper. Despite the fact that this space is completely sealed, a hard-sided cooler with better seal protection would provide better insulation if need a multi-day cooler. Most soft-sided zippers have less insulation close to their zippers and lids, therefore this isn't specific to RTIC.
Yeti Hopper Flip 12 Portable Soft Cooler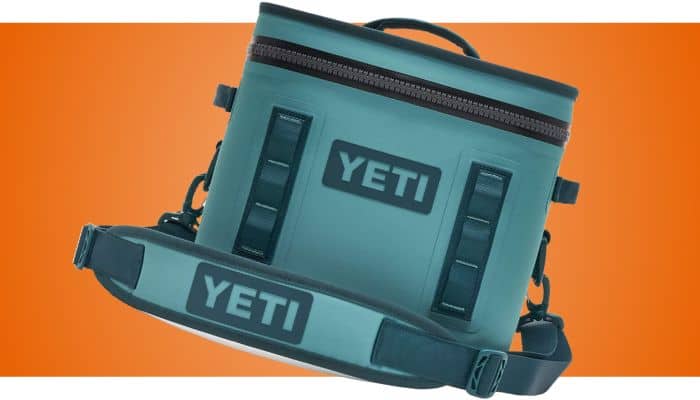 I've never used a soft-sided cooler like the YETI Hopper Flip 12 before. The Flip 12 is not your ordinary flimsy soft-sided cooler. ColdCell Insulation, which is one inch thick on the cooler's walls and prevents the walls from caving in, adds a large amount of weight. The cooler's interior is lined with a strong rubber material that won't rip from a bottle cap or develop an odd pinch point where the material rubs up against itself and tears. I mention this since I've experienced both of these problems with soft-sided coolers in the past.
The cooler's exterior is comprised of YETI's DryHide Shell, which feels smooth to the touch but is built to last. While I don't anticipate any cooler to show substantial wear over this amount of time, I've used this cooler a lot over the past two months for testing, and it is clear to me that it won't break down quickly.
Sun damage is the one factor that, in my opinion, will degrade this cooler more quickly than most other factors. Any sort of fabric will lose durability after years of prolonged sun exposure. Furniture for a patio is a prime example. For the majority of us, these goods are exposed to the elements 365 days a year, and if they aren't covered, they won't last as long. Keeping the cooler out of the weather when not in use will help you preserve your investment also.
One of the most common failure locations on a soft-sided cooler is the zipper. They frequently break after a few years of use and aren't waterproof by design. The YETI Hopper Flip 12 has the nicest zippers I've ever seen. These zippers are identical to the ones that are used in Hazmat suits, according to YETI. I was astounded to see this grade of zipper on a soft-sided cooler because even the tiniest leak in a suit might be fatal. As I have stated, YETI has entirely changed how we perceive coolers. The zippers' tendency to be a little sticky and difficult to glide open or closed is one potential drawback. Due to the cooler moving with you when you draw the zippers it is difficult to close the cooler with one hand. For people who are injured or have disabilities, this could be a deal breaker.
What to Look for When Buying a Great Picnic Cooler
Are you trying to decide which great picnic cooler to choose? See what you should truly be on the lookout for when choosing your new cooler by looking at this list of features.
Price
Be reasonable with your budget while picking a new cooler, do not spend more than you can afford. Be prepared to spend more than $100 if you want to keep food and beverages cold for more than 24 hours.
On the other hand, if you only need to keep your chilled food and beverages chilly for a few hours, don't spend too much; a cheap cooler will do the trick.
Longer-lasting ice retention, superior insulation, more features, and a premium finish are all available by spending more – the classic you get what you pay for.
Otherwise, focus on your requirements and priorities. You can find a cooler that is less expensive and yet meets your demands by making a concession in one or two of these areas.
Is the Picnic Cooler Made with Rotomolding or Injection Molding?
Rotational molding (rotomolding) and injection molding are the two main construction methods for high-end hard-sided coolers. Starting with rotomolding, which YETI popularized despite not being the first company to create a cooler in this manner, today it rules the upper end of the market. These coolers are constructed from a single, continuous piece of plastic that is rotated to create the desired shape. Less stress points mean that these coolers are less likely to shatter when put under stress, and a uniformly thick exterior shell means great durability. The main drawbacks are price and weight.
Injection molding – Heated plastic is inserted into a predetermined mold, allowed to cool, and then a cooler part is withdrawn. The molded shapes make the process easier and less expensive than rotomolding, and they also enable higher precision. But because they are composed of many pieces rather than a continuous, uninterrupted form as with rotomolding, their longevity may suffer and they may be more prone to cracking. Nevertheless, a premium construction, such as RTIC's 52 Ultra-Light, outperforms rotomolded coolers in terms of overall toughness, and many injection-molded designs permit a variety of mounting locations for accessories, such as tables, fishing rod holders, and dry boxes (something you typically don't get with rotomolding).
You might be curious how the two designs differ in terms of overall cooling performance. Considering all other factors to be equal, a cooler's structure has no fundamental impact on ice retention. To put it another way, a premium injection-molded cooler should compare favorably to a comparable rotomolded design in terms of its ability to insulate. Most rotomolded designs retain ice for about 10 days (based on manufacturer claims), while many injection-molded options fall far short at just 2 to 4. This is because the majority of high-end coolers use rotomolded builds. The aforementioned injection-molded RTIC Ultra-Light, for example, is rated to keep ice frozen for up to 10 days, thus this generalization is not absolute.
Intended Use
Do you need a cooler for a picnic? If so, think about where you're going, what you'll be carrying, and how long you plan to be out.
It won't take much insulation to bring a few meals to grill and a few beverages to your neighborhood picnic site. But if you want a cooler to keep in your car while you drive to your camping location, build a bonfire, and then start grilling, you'll probably need a more expensive one.
Will you use your cooler for food, beverages, or both? Even though it can be inconvenient, it's no major problem if your last few drinks are not as cool as you would want. However, you won't want to take a chance grilling raw chicken from a warm cooler or consuming dairy products for your picnic sides and garnishes if your cooler hasn't kept temperatures low enough to be safe.
If you want to transport raw food or any other items that need to be kept refrigerated, you must get a high-end, highly insulated cooler. If you're camping or on a long drive, it's also the better choice for extra-cold refreshing drinks and requires fewer ice refills.
Cooler Capacity
One of the most important factors to take into account when buying a cooler is capacity. When determining how big of a cooler you would need, it's crucial to consider how much internal volume will be taken up with ice or ice packs. Remember that the most crucial factor is the interior volume; for some coolers, the insulation wall might be up to three or four inches thick, making the external measurements misleading. Finally, think about the entire size from a transportation standpoint. Should you be able to carry it by yourself? Will it fit in your bicycle basket? Will you be able to lift a large cooler once it is filled with drinks and ice into your car or onto your boat? For greater flexibility, you could occasionally be better off with two smaller, more manageable coolers than one enormous one.
Small Cooler: 10 to 35 Quarts – A compact cooler can be appropriate if you want portability or prefer to travel alone most of the time. Expect to accommodate a modest amount of ice, a few drinks, and a meal at the low end of the size range, while 35-quart coolers should have enough space for one to two days. These coolers lack the adaptability of the sizes below, but it's important to note that even a 30-plus-quart design will be stretching it for multiple people over a weekend after you properly fill it with ice.
Medium Cooler: 35 to 55 Quarts – An all-purpose model is available if you go up to the 35 to 55 quart range; these coolers are small enough to fit into a packed vehicle trunk or truck bed, can usually be carried by one person, and don't take up much room on a boat or raft. In my tests, I discovered that 35, 40, or 45 quart coolers were adequate for one or two people for a few days. If your group is larger than that, it would be wise to increase the capacity to 55 quarts or more for the same period of time. Additionally, you should look at the larger sizes below if you're taking a long trip or are traveling in a big group.
Large Cooler: 55 to 75 Quarts – As I mentioned above, it's wise to bring a sizable cooler if you're going on an extended trip with two or more people. Although you'll probably need a second person to help you carry a large cooler to and from the car, the plus is having enough room to use the recommended 2:1 ice-to-food ratio. I think YETI's Tundra 65 (the big brother of the Tundra 45 I reviewed above), which has a wonderful combination of storage capacity, ice retention, and features that should satisfy the demands of the majority of small parties on extended weekends or bigger families on overnight vacations, is the best option in the 55 to 75-quart range. It does, however, take up a good amount of room in a trunk or pickup bed because it is more than 30 inches long and 16 inches high.
Extra Large Cooler: More Than 75 Quarts – Coolers 75 quarts and greater are normally only used by serious outdoor enthusiasts. These extra-large models are obviously pricey, huge, and heavy (the Pelican 80QT Elite wheeled cooler weighs about 50 lbs. and costs a whopping $550), but they are greate for large groups and massive family picnics.
Ice retention and Insulation
Keep an eye out for coolers that have a substantial amount of insulation between the inner and outside sides. To keep heat out, the top and bottom of your cooler will also need to be insulated. Due to its high air content and the fact that its bubbles are not connected, closed foam is one of the best insulators since heat moves through it more slowly.
The majority of cooler advertising departments make ludicrous claims that your cooler can keep ice frozen for days on end. These serve as a baseline so that you may compare similar goods instead of reflecting actual usage in the real world. Manufacturers of coolers test how long the ice keeps before melting by entirely filling them with ice and setting the ambient temperature to a relatively low temp – so don't expect to get the stated ice retention claims when using the cooler on a real-life adventure or picnic.
In reality, you'll need to open your cooler at least a few times, and chances are it won't be completely filled with ice. When people buy a cooler that boasts being able to preserve ice for two days and discover that it has melted after six hours, some consumers understandably become a little upset.
Consider the ice retention values as a best-case scenario potential rather than an indication of how they will perform in actual use.
Buckles, Bungee Cords, Zippers, and Straps
The majority of picnic coolers will have carry handle straps to make it simple to put and remove the cooler from your car and carry it to your perfect picnic location. For hands-free carrying, lighter models can benefit from a shoulder strap, while backpack versions should have wide, cushioned straps.
Zipper fastenings are frequently included in soft-sided coolers. To avoid getting damp when transferring your cooler at the end of a hot day, zippers should be strong and waterproof.
Look for a model with large teeth if you frequently take your cooler to the park or the beach because smaller ones are more likely to become stuck with sand or soil particles.
A common substitute for zips that can be considerably simpler to open are buckles. Your grilling, hiking, or other picnic supplies can also be attached to coolers with bungee cord or webbing attachment points.
Dividers and Dry Bins
Dry bins and dividers are often sold separately by cooler manufacturers, though some do include them. Dry bins aid in preventing the wetting of your goods when the ice melts. Dividers can help you organize your cooler more effectively and guard against the weight of heavy goods crushing delicate items.
Wheels, Portability, Mobility, and Weight
Before making a purchase, think about how far you will generally need to carry the cooler and how heavy it will be when loaded. Some hard-sided coolers weigh roughly 30 pounds when they are empty.
Wheels can be very helpful for large coolers that won't be utilized off an established path. To make carrying your cooler easier, think about the handles and straps it includes. Lightweight soft-sided coolers are typically significantly more portable and have a lower capacity.
Closure Systems & Cooler Latch
One of the distinguishing features of a premium cooler is its latch or closure system, which has a big impact on how well it cools. Two rubber T-handles along the front of high-end hard-sided coolers are frequently found, keeping the lid fastened firmly in place. These handles have a good user interface, are very sturdy, and minimize cold air leaks. Budget-friendly models like the Coleman Xtreme on the other hand altogether omit locks in favor of a snug fit between the lid and cooler body. Because of the decreased insulating effectiveness, you must keep a constant eye on the lid to make sure it doesn't come undone or come off during shipping.
Drain Systems for Coolers
Simply tip out your cooler when you're through using it to get rid of any remaining ice and water. However, you should search for a cooler with a base drain if you plan to use it for more than a few hours.
By draining away any melted ice instead of opening your cooler and letting warm air inside, you will be able to keep your things icy for longer. Ice retention will be aided by routinely removing melted ice.
Types of Ice: Dry, Crushed, Blocks, or Packs
As devoted cooler aficionados are well aware, the ice you use has a significant impact on how much you can store and how long it will stay cold. The most widely accessible type is crushed ice, which is reasonably priced and readily available at most gas stations and supermarkets. The main benefit is that it quickly and effectively fills the spaces between your food and beverages to cool them. But since crushed ice melts the fastest, you'll probably need to refill it somewhat frequently. On the other hand, blocks of ice take a lot longer to melt than crushed ice. However, because blocks don't adjust to the shape of your food and cans, they are heavy and take up a lot of room in the cooler. Our recommended technique, if there is enough room, is to combine block and crushed ice.
Ice packs are a good alternative if you're concerned about replenishing the cooler. The best aspect is that you may utilize ice packs repeatedly without ever having to drain melting ice. However, the cost of ice packs (YETIs run from $15 to $30 depending on size) and the need to refreeze them after they warm up makes them impractical for lengthy journeys.
Durability
For whatever cooler you buy, including the ones reviewed in this article, it's crucial to know your investment will endure through a lifetime of activities. Although I didn't have ten years to evaluate each model, I did spend months putting them through heavy use and abuse to see how they held up under the strain. I yanked on handles and latches, stretched out hinges, jumped on lids, and dropped full chests from a carrying height.
I pushed them in ways more typical of years of use by letting them loose on accident-prone friends, young children, and large humans to see what they are made of. To test how well each model's seals functioned, I filled them all with water. I then left each model out in the sweltering desert sun for hours on end to see what would happen.
Warranties for Coolers
Coolers are obviously pricey, but having a good warranty might reduce some of the anxiety associated with purchasing one. And a quick scan of the market reveals a surprisingly broad selection of manufacturer guarantees that are accessible. ORCA and ROAM, at the upper end, provide lifetime warranties that cover flaws, whereas the majority of other manufacturers' warranties run from one to ten years. It's also crucial to note that certain businesses offer various warranties for their soft-sided versus hard-sided products. For instance, YETI offers a five-year warranty on its Tundra series while only offering a three-year warranty on its soft-sided Hopper.
Different Types of Picnic Cooler
Discover the ideal picnic cooler for your needs with the help of my guide to the four most common varieties of cooler.
Wheeled Coolers
If you plan to move your cold meat and other picnic items across relatively flat ground, such as from your car to the park's grilling stations, wheeled coolers are a perfect choice.
They can also be useful for carrying numerous chilled drinks that would otherwise be too heavy to handle. Even rather lengthy distances can be easily traversed as long as your wheeled cooler has quality wheels.
They are not appropriate for particularly rocky terrain or uneven, uphill paths, when a backpack cooler would be preferable. Wheeled coolers are the greatest option for family outings or get-togethers with friends when you want to relax over a BBQ with drinks because they often have a big capacity and spacious dimensions.
Soft-Sided Coolers
Compared to wheeled or hard-sided coolers, soft-sided models are lighter. They tend to be more adaptable and suitable for routine use because they are lighter and don't have rigid sides. Soft-sided coolers are lightweight and simple to handle, making them also simple to store.
A soft-sided cooler, on the other hand, is less ideal for camping in the wilderness because it cannot withstand any wildlife attacks or rugged terrain. While models differ from brand to brand, a hard-sided cooler of equivalent quality will store ice for longer than a soft-sided version if you're searching for the longest length of ice retention.
Soft-sided variants, which are made to be lightweight and very portable, are less appropriate for carrying big amounts of food and beverages.
Hard-Sided Coolers
For keeping your food and beverages refrigerated for long periods of time, hard-sided coolers are a smart option.
Large variants are perfect for keeping in your car and are readily carried by two to set up camp at your grill station, although being less portable. Small and medium-sized variants typically feature handles or a carry strap, making it easy for one person to move them over short distances. However, when completely loaded, they can weigh quite a bit.
A hard-sided cooler is the best option if you need to keep a lot of food or beverages chilled because it is much more robust, has higher capacities, and retains ice better. Additionally, they can serve as seats, prep areas for meals, casting stations, and drink tables. You should pick a different kind of cooler if you need to transport it easily.
Backpack Coolers
Backpack coolers are perfect for carrying your cold food and beverages over rough terrain or to more isolated locations. Although they are less spacious than the hard-sided models, they are much lighter and easier to carry, giving you more time to carry other things like grilling supplies.
If you frequently carry your cold items for several hours, a backpack cooler makes sense. It is less adaptable than soft-sided coolers and has a smaller capacity than hard-sided ones.
How to Fill a Cooler for a Picnic
Let's face it, the majority of us simply pick up a few bags of ice on the way to our destination, place it in our coolers, and consider the situation resolved. However, you'll need to step it up a bit if you want your cooler to retain ice for long durations. No matter what kind of cooler you pick, make sure to follow these steps to get your trip off to a good start:
Pre-Chill
Items should be chilled or frozen before being put in the cooler.
Before you load it, pre-chill the cooler by adding some ice to it (a tray of ice cubes or an ice pack will work)
Pack Accordingly
Put the last-to-eat goods in the bottom of the container, and place frequently used and first-used things near the top.
Select Your Ice Carefully
Food and beverages cool quickly with crushed ice, block ice lasts longer.
Use frozen bottles and jugs of drinking water as an alternative to ice from the supermarket.
Add Ice Last
Pack perishable foods, such as meat and dairy products, toward the bottom of the container and layer ice on top because cold air sinks.
Fill bottles and cans first in beverage-only coolers before covering them with ice.
Pack It Tight
Compared to a half-empty cooler, a fully filled one will maintain significantly more of its chill.
Use as much ice as you can; cooler manufacturers advise a 2:1 volume-to-ice ratio for food and beverages.
Keep Cooler In The Shade
Your ice will last twice as long if you store coolers away from direct sunlight. To further insulate the cooler while it is inside the car, wrap it with blankets or other garments. These blankets can then be used as picnic blankets.
Keep It Shut
Open the lid only as necessary, then quickly close it to prevent warm air from entering and cold air from leaving.
To decrease the number of times the food cooler is opened, it can be useful to have separate coolers for drinks and food for large gatherings.
Draining
Don't empty your cooler of the cold water from recently melted ice (cold water will preserve the remaining ice much better than air)
Only drain the water when it's handy to remove the contents of the cooler or before adding fresh ice.
These methods might seem overwhelming at first, but once you get into the habit of following these steps you'll start to experience amazing results, and won't want to stop.
Picnic Cooler Video
Final Thoughts
A cooler is a necessary piece of picnic gear for most people.
I personally use my picnic coolers for a variety of activities, such as car camping, barbecues, fishing expeditions, kayaking and canoeing, RVing, and so much more.
We're here to help you find the greatest cooler for picnics, whether you're looking for a high-end model or would prefer something less expensive, so don't be afraid to ask questions!