Is there a better way to spend a weekend than firing up the BBQ with a couple of beers to hand? While you may be a grilling pro or a pitmaster in the making, unfortunately getting your BBQ sides ready isn't always quite as relaxing. Especially when it comes down to chopping onions.
Keep your tears at bay and get your onion perfectly sliced in next to no time with the best electric onion chopper. You'll have more time to tend to your grill and guests, plus the best electric onion choppers are also great for blitzing up homemade dips and sauces to go with your ribs and wings.
Best Electric Onion Chopper
To make it easier to choose the best electric onion chopper, we've selected six of the very best models. Read on to find the best electric chopper to suit your needs and budget.
Best All Round Electric Onion Chopper
Ninja Food Chopper Express Chop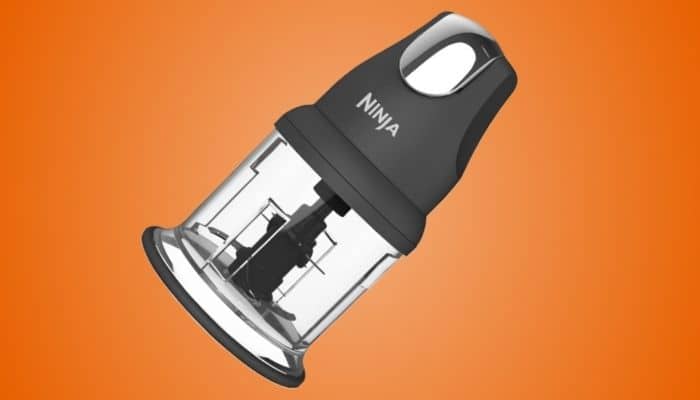 The Ninja Express Chop Professional is one of the best electric onion choppers on the market. Its compact size makes for easy storage, while its ergonomic one-button design ensures it is incredibly easy to use.
Thanks to a combination of its 200W motor and stacked four-blade technology, the Ninja makes light work of all of your chopping tasks whether you're preparing your BBQ side salad or rustling up a homemade sauce for your ribs. While, unfortunately, it does not have any speed settings, you can easily alter your texture from roughly chopped to blended smooth by holding down the power button for longer.
This model has a good two-cup capacity and the chopper bowl even comes with a handy storage lid so you can keep your prepped ingredients fresh until you're done grilling. All removable parts are dishwasher-safe for an easy clean-up, plus this unit is certified BPA-free.
Complete with a non-slip base and splash-guard on the chopper bowl, the Ninja Express Chop is a well-designed, really useful electric onion chopper that will make light work of all of your BBQ sides and sauces.
Just bear in mind that due to its blade height, it is less suitable for finely chopping very small amounts, otherwise, it simply can't be beaten on performance, ease of use, and price.
Pros – Things we liked
200W power
Stacked 4-blade technology
Two-cup capacity bowl
Dishwasher-safe parts
Includes storage lid
Cons – Things we didn't like
No speed settings
Less suitable for small servings
Best Powerful Electric Onion Chopper
Hamilton Beach Mini 3-Cup Food Processor & Onion Chopper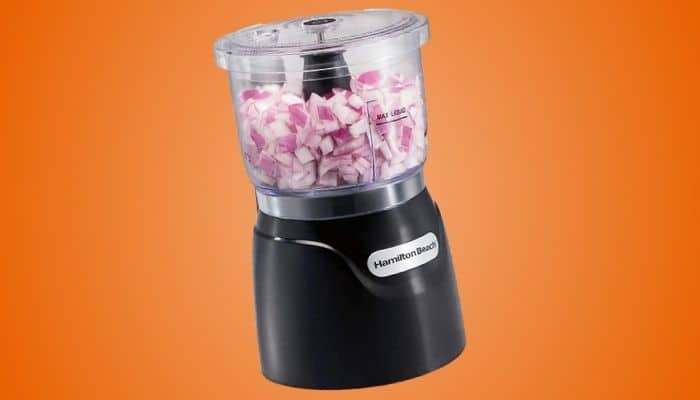 The Mini Three-Cup Onion Chopper by Hamilton Beach is our top choice if you are looking for a high-powered electric onion chopper on a budget. Thanks to its robust stainless steel blades and high-performance 350W motor, it chops, purées, and emulsifies, even chopping harder ingredients with ease such as nuts and carrots.
Its patented stack-and press design makes it exceptionally easy to use and an ideal choice for anyone who has hand issues or just doesn't want to spend time messing around with twist-to-lock containers. Simply place the bowl on the base, add your ingredients, then place and press on the lid to start chopping. While it only has one speed, like the NInja, you can vary the texture by how long you press.
The three-cup bowl has a built-in oil dispenser so you can add oils to your BBQ dressings and dips as you blend. All removable parts are dishwasher-safe for a hassle-free clean-up, plus the base unit features a convenient cord storage area underneath to save space when it is not in use.
Although this powerful electric onion chopper is pretty noisy, as you'd expect, it certainly is a good choice for preparing all your BBQ sides, being incredibly easy to use, great value for money, and a good durable choice.
Pros – Things we liked
350W motor
Dishwasher-safe parts
Three-cup bowl
Easy to use stack-and-press design
Built-in oil dispenser
Cons – Things we didn't like
Quite loud
Only one speed
Best Looking Electric Onion Chopper
KitchenAid KFC3516ER 3.5 Cup Food Chopper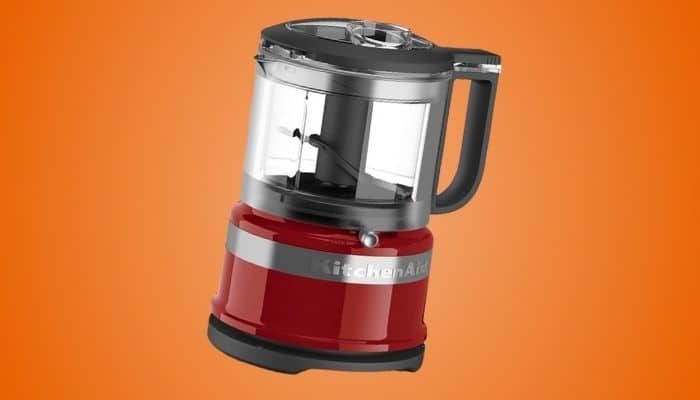 If style is just as important to you as performance, you'll definitely want to check out the KitchenAid 3.5-Cup Food Chopper. Possibly the best looking electric onion chopper on the market, this model also has two-speed settings, chop and purée, making it even easier to get your BBQ sides ready in record time.
With its 240W motor, this compact unit has plenty of power to chop through onions, while the drizzle basin makes it easy to add oils to your BBQ sauces and side salad dressings as you blend. The work bowl has a really useful handle and pour spout for easy serving, plus the bowl, lid, and blade are all dishwasher-safe. For neat and compact storage, the power cord stores under the base.
On the downside, this unit's capacity is a little overrated and you won't get the full 3.5-cup capacity, however, it can still process up to 1.5 cups of liquid and 2.5 cups of vegetables. The main drawback to this electric onion chopper is its safety locking mechanism which can be a little difficult to operate.
So, if you tend to get frustrated with this kind of system you'd be better off looking at another design like the Hamilton Beach version.
Pros – Things we liked
240W power
Drizzle basin for adding liquids
Two speeds
Power cord storage
Pour spout and handle
Cons – Things we didn't like
Safety locking can be difficult to operate
Overrated capacity
Best Value Electric Onion Chopper
Black+Decker 3-Cup Electric Food Chopper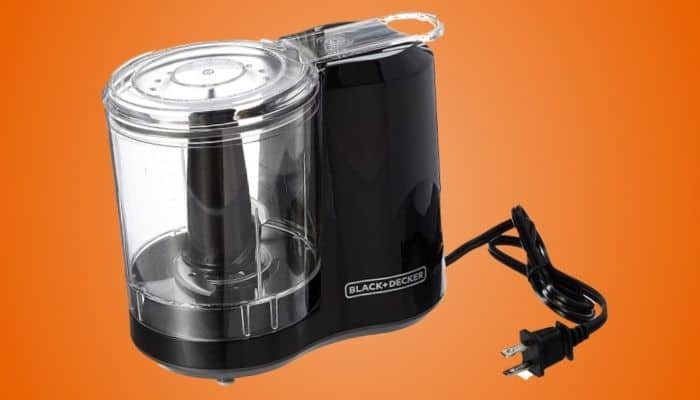 The Three-Cup Electric Food Chopper by Black+Decker is our best value pick. Whether you need to chop, blend, purée, or mix, this electric onion chopper features B+D's Stay-Sharp blades to ensure a quick, efficient, and effective operation. Its 175W motor is a little less powerful than the others in our reviews, however, it chops and blends on a par with higher wattage models for your average BBQ side dishes, dips, and dressings.
The three-cup capacity makes it a good choice for your dips or chopping up plenty of vegetables for your sides. However, while the oil holes are really useful for adding lemon juice or other liquids to your creation as it chops, they can cause some leakage, especially with large quantities or dressings.
This model benefits from a no-lock bowl for ease of use. Simply place the bowl on the base and press down on the lid for one-touch control pulsing. Just bear in mind that as neither the bowl nor the lid lock in place, when you store your electric onion chopper and go to pull it out they will all detach and risk falling, so care is needed or a couple of elastic bands for when it's not in use.
Thanks to its dishwasher-safe removable parts and Stay-Sharp blades, this electric onion chopper requires minimal maintenance and is very easy to keep clean. While it's not quite perfect, for the money, it's a great choice.
Pros – Things we liked
175W motor
Durable Stay-Sharp blades
Three-cup capacity
Dishwasher-safe parts
One-touch control
Cons – Things we didn't like
Content can leak through oil holes
Bowl doesn't lock to the base
Best Auto-Reversing Electric Onion Chopper
Cuisinart Mini-Prep Plus Processor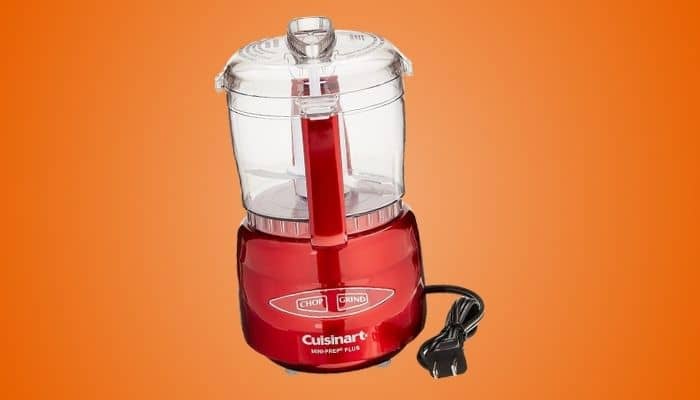 The Mini-Prep Plus by Cuisinart stands out from the crowd with its powerful 250W motor and special auto-reversing smart blade. This makes it an excellent choice for processing both hard and soft ingredients, so you get outstanding results with every use.
Designed more like a conventional blender, the base features a two-key touchpad that is easily wiped clean. Choose either Chop or Grind mode to get your marinade herbs sliced or your freshly made BBQ sauce for your pulled pork tacos ready. When you're done, simply place the removable parts on the top shelf of your dishwasher for hassle-free cleaning.
While the Mini-Prep Plus is a very popular electric onion chopper from a trusted brand, for what it costs the plastic construction could be sturdier. Also, if you have sensitive hearing, young children, or easily frightened pets, bear in mind that this model does make a lot of noise. That said, it gets the job done in seconds.
A great design with plenty of power and very easy to use. If you are looking for a premium electric onion chopper to help you out prepping your sides for your BBQ, then this auto-reversing smart blade model by Cuisinart is definitely a popular choice.
Pros – Things we liked
250 watts
Two settings
3-cup capacity
Auto-reversing smart blade
Dishwasher-safe attachments
Cons – Things we didn't like
Very loud
Plastic container could be sturdier
Best Budget Electric Onion Chopper
Kitchen Selectives Mini Chopper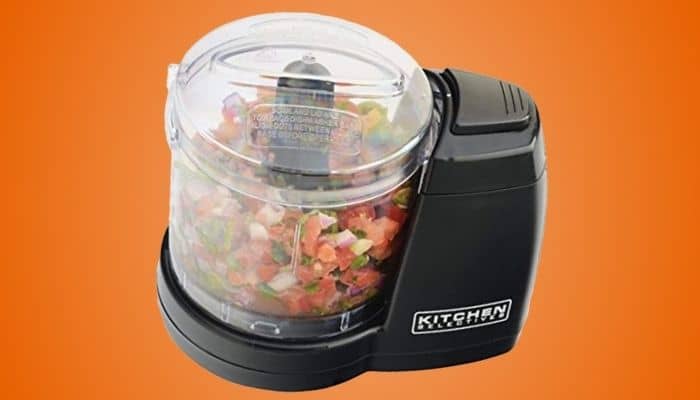 For quickly chopping onions or other similar ingredients that aren't too hard, the Mini Chopper by Kitchen Selectives is one of the cheapest models around. Compact and very easy to use, this electric onion chopper features a one-touch pulse operation to chop and blend your BBQ side dish extras.
Thanks to its stainless steel blade, this model chops well. However, as it only has 35W of power, compared to 175W and over for the rest of the models in our reviews, don't expect to be able to use it for the same large range of items. Also, as its cup only has a one-and-a-half cup capacity, you'll find it is less suitable for creating large quantities of dips and dressings.
As with most other models, this budget electric onion chopper has a dishwasher-safe cutting cup and lid. The lid locks into place for a safe operation and the entire unit is a good compact size to take up a minimum of storage space.
If power is not important to you and you are looking for a cheap appliance to quickly chop up your onions and save your eyes, this model could be just what you need.
Pros – Things we liked
Compact size
One-touch pulse operation
Dishwasher-safe bowl and lid
Detachable cutting cup and locking lid
Stainless steel blade
Cons – Things we didn't like
35W motor
1.5-cup capacity
Bonus – Best Manual Onion Choppers
Not sure if an electric model is for you? If you are looking for a manual onion chopper to use outdoors check out our top three favorite models.
Best Multi-Cut Manual Onion Chopper
Fullstar Onion Chopper with Container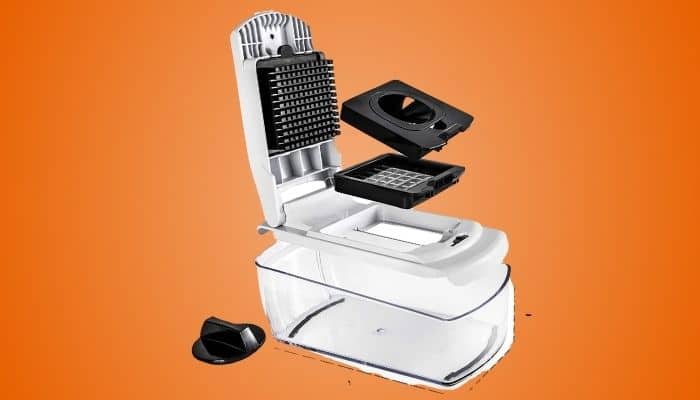 For slicing up your onions into neat dice, the Fullstar Onion Chopper is a popular manual model – ideal for preparing your summer salads and BBQ sides outdoors without electricity. Not only does this model simply slice, you can also choose from four different blade plates to slice small dice, large dice, ribbons, and spirals.
With its fast slicing action, soft-touch handle, and non-skid base, this model is easy to use, although quite a bit of force is required to get it to chop through certain harder vegetables. Use the 1.2-quart collection tray to group together several chopped onions, so they're ready when you're serving up.
When you're done, stick the entire disassembled unit in the dishwasher and store the attachments in the collection container to keep them safe when not in use. The only issue with cleaning this manual onion chopper is that the small dicing blade can get bits stuck in it so make sure you carefully brush it out as it is very sharp.
If you are looking for an onion chopper to use when tailgating or BBQing in your backyard, this model makes a great choice that is also handy for spiralizing vegetables for side salads that will get your guests talking.
Pros – Things we liked
4 interchangeable blades
1.2-quart collection tray
Non-skid base
Dishwasher-safe
Fast slicing action
Cons – Things we didn't like
Small blade is hard to clean out
Needs quite a lot of force
Best Rotating Blade Manual Onion Chopper
The Pampered Chef Food Chopper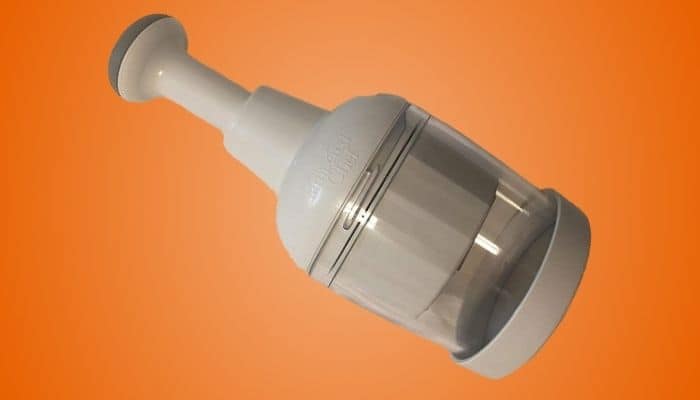 A popular classic, the Pampered Chef Food Chopper is a really handy tool to have when preparing your sides. Use it to slice up vegetables, cooked meat, and nuts, as well as onions. The sharp stainless steel blade rotates with each plunger press, simply increase the number of times you press down for a finer chop.
Dishwasher-safe, this model is also really easy to take apart and put back together. The soft-touch plunge top is comfortable to grip, although it is much easier to press down when you chop items up small before use. Use the flexible base cap as a handy storage lid and keep your sliced ingredients fresh and ready for serving.
This tear-free onion chopper is a good choice for anyone looking for a basic manual chopper that really works. However, while it has a good five-year warranty, unfortunately, the plastic housing could be a lot more durable, so you may have to replace it in the not too distant future.
Pros – Things we liked
Rotating blade design
Soft-touch plunge top
Dishwasher-safe
Flexible cap doubles as a storage lid
Easy assembly/disassembly
Cons – Things we didn't like
Plastic could be more durable
Need to chop items quite small before using
Best Manual Onion Chopper for Blending
ZYLISS Easy Pull Food Chopper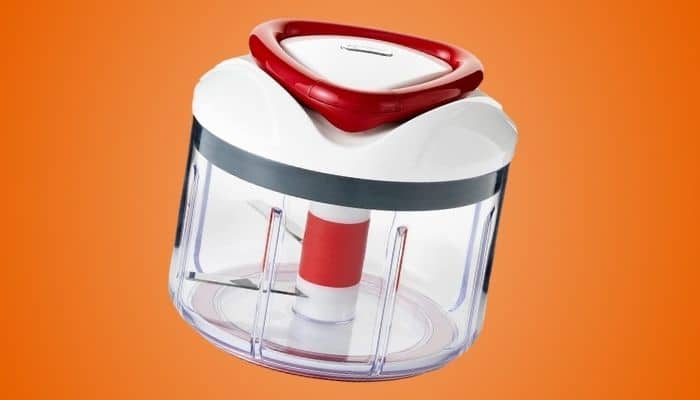 If you are looking for a manual onion chopper that you can also use to make dips and sauces for your next BBQ, the Zyliss Easy Pull Food Chopper is the best model to go for. Simply pull on the ergonomic handle five times for chunky salsa or around 12 times for smoothies, dips, and sauces.
Easy to use and non-straining, this unit has a non-skid silicone base to ensure a safe operation. The pull handle folds down when not in use for easy storage and the 25-ounce container and blade are both dishwasher-safe for easy cleaning. Unfortunately, cleaning the lid that contains the pull mechanism is a little tricky as it cannot be submerged in water.
Bear in mind that the lid doesn't lock in place and will need holding down during operation. However, this is fairly intuitive as you'll be pulling on the handle simultaneously. On the whole, this manual onion chopper is one of the very best models around, ideal for preparing a range of BBQ sides without the need for an outdoor power point.
Pros – Things we liked
Hand-powered pull design
25-ounce container
Non-slip silicone base
Foldable top handle
Dishwasher-safe bowl and blade
Cons – Things we didn't like
Lid does not lock on
Cleaning the lid can be tricky
Why Trust Us
All of our reviews are compiled with a combination of expert input, years of hands-on testing of grilling products, curating the reviews of real-life buyers in a "wisdom of the crowd" system, and of course our own expertise. All the products listed are the ones we would buy if we were looking to purchase a new electric onion chopper.
Methodology Used to Pick the Best Electric Onion Chopper
When picking the best electric onion chopper we looked at and then rated each chopper on the following criteria. Price, blade material, the number of blades, body materials, power, speed options, dicing sizes, ease of setup, and cleaning.
Buyer's Guide to Buying the Best Electric Onion Chopper
Stuck choosing between two of the best electric onion choppers? Our buyer's guide contains information on all of the must-have features to help you to decide which model is best for your needs.
Price
Electric onion choppers come in at a wide range of prices, generally between $25-$80.
While most features can be found at both ends of the price range, at the higher end you tend to pay more for looks, durability, and design. However, when it comes down to finding the best electric onion chopper, unlike a lot of kitchen appliances, price isn't always a guarantee of better functionality.
If you're really taken with the design and looks of a particular model and it checks out against the other features in our buyer's guide then it should be a great model. Otherwise, we recommend spending around $30-$50 on a good electric onion chopper that will last made with high-quality materials from a reputable brand.
Blade Material
Blade material is really important, so make sure that your electric onion chopper has good quality stainless steel blades. This will ensure it has a long life, protected against corrosion from acidic foods, such as tomatoes for your BBQ salsa, as well as rust. Durable with a long-lasting cutting edge, stainless steel blades are a must for your electric onion chopper.
Number of Blades
The number of blades found in your average electric onion chopper tends to vary between two up to four. Here, design is often more important than quantity, especially if you are also going to be using your electric onion chopper to blend and create smooth sauces and dips.
Look out for blade patterns that prevent your food from getting stuck to the side or button for a more effective unit.
Materials – Plastic or Metal
Metal is a highly durable choice that will also look great in your home. However, most units will feature a transparent plastic container so you can check the consistency of your chopping.
As most units require you to hold the power button longer for a finer chop, you really need to be able to see what you're doing. Glass would be another option, but there are limited glass models available.
Most units have plastic housing as well as work bowls. While we generally prefer metal kitchen appliances, plastic electric onion choppers are lightweight, inexpensive, and easy to wipe over. Make sure that your unit has a slip-free base to help keep it securely in place when in use.
Power – Watts
With their compact size and sharp blades, electric onion choppers don't need really high wattages to slice through your onions. Most models have between 200-350W of power and perform equally well.
If you are going to be using your electric onion chopper very regularly and want to slice various other food items with it, especially nuts and carrots, then you might want to look at models with 300-350W rather than 200W and below.
Cutting Speed Options
Given their compact size, the majority of electric onion choppers have a one-touch pulse operation. Simply hold down for a second or two for roughly chopped onions or hold down longer for finely chopped ones. Longer presses will give you smoother blending, ideal for making hummus, drizzles, and sauces for your BBQ side dishes.
That said, some units do have two speeds, which can be useful if you find it tricky to press down for just the right amount of time with a one-touch model. On the other hand, you may find you just stick to using the same button, so unless it's important to you, speed options are not really that essential and there are plenty of excellent models with just one speed.
Dicing Size
Dicing up your onions is really easy with an electric onion chopper. If you want roughly chopped onions for your BBQ sides, one or two light presses on the power mechanism will do the trick.
For finely diced onions, press a little longer or several times. For blended recipes, press longer and let your electric onion chopper blitz your ingredients to a smooth pulp or into a sauce.
Ease of Setup
Ease of setup can vary a lot between the different models. The main complaint that people often have with some new electric onion choppers is that it can be tricky to line up safety locking bowls and lids.
Some models get around this by using lids and bowls that need to be held down to engage the motor, making them very easy to set up, but your unit won't stay together for storage.
The vast majority of units are easy to set up, however, if you struggle with setting up this type of appliance or have any hand issues, you will probably want to look for a unit without a safety locking mechanism that requires you to twist parts on and off, lining them up.
Cleaning & Maintenance
For an easy clean up most models feature dishwasher-safe removable parts. As bases cannot be submerged in water, it is recommended you wipe them over with a damp cloth.
Personally, we prefer to handwash blades to prevent dulling, just as you would do with a chopping knife, although you can certainly place most models' blades in the top shelf of your dishwasher if recommended by the manufacturers.
Can it be used for other vegetables?
Yes! If you can chop an onion with your electric chopper, then you can chop most other vegetables. Some models are even suitable for chopping nuts too, as well as fruits and making small smoothies, dips, marinades, and homemade sauces.
Always follow the manufacturer's guidance as to suitability and if you are chopping up harder items and have your doubts, go slowly and don't force the motor.
Electric Chopper Vs Manual Chopper Vs Knife
Do you really need an electric onion chopper? What about a manual one? How about just sticking to a plain old chopping board and knife? Here's how you could benefit from treating yourself to an electric chopper.
Electric choppers
Advantages:
Easy to use – simply plug in and press for chopped onions and more.
Not tiring – unlike chopping with a knife or using a manual version, you won't tire out your hands. Ideal if you have hand problems.
Inexpensive – electric choppers are in fact cheaper than a lot of high-quality kitchen knives.
Professional looking results – if your hand chopping isn't that great, your sides will look much more professional with evenly chopped pieces when you use an electric chopper.
Fast – save time as well as effort with an electric food chopper.
Suitable for small quantities – ideal when you don't want to get your larger appliances out, use your electric chopper to quickly slice an onion, make salsa or mince garlic.
Easy to clean – most have dishwasher-safe removable parts.
No tears! – using a sealed chopper to slice your onion will keep your eyes tear-free.
Disadvantages:
Can be noisy – you don't want to be using one if you have young children nearby taking a nap or nervous pets around.
Less suitable for large quantities – if you want to chop up a lot of vegetables or make large quantities of a recipe, you'll be better off getting out your full-sized kitchen blender.
Need a power point – if you like to prep your BBQ sides outside as you keep an eye on your brisket, you'll need a power point near your outdoor cook station.
Manual choppers
Advantages:
No power required – use your manual chopper in your backyard while your BBQ or wherever you want to prepare your sides for your BBQ.
Fast – while they aren't as quick as electric versions, they will still chop up an onion much more quickly than by hand if you're not adept with a knife.
Easy to clean – most are easy to clean, just double check before you purchase that your model is dishwasher-safe.
Inexpensive – you can pick up a manual chopper for around $20 or even less.
No tears – unlike using a knife, your chopper will help your eyes to stay tear-free when you're slicing onions.
Disadvantages:
Some strength required – pressing or pulling depending on the design, can be pretty strenuous depending on the design and what you are chopping.
Some designs can cause hand discomfort – if you are chopping up hard vegetables, in particular, you may experience some hand discomfort.
Knife
Advantages:
Simple – often the simplest choice is the best. With a knife, you don't have any mechanisms or motors that could break or malfunction.
Easy to clean – after use we prefer to hand wash our knives and put our chopping board in the dishwasher. There are no crevices for small bits of food to get stuck and no disassembly, lids, or locking mechanisms to deal with.
Versatile – crush, slice, dice, mince, with a kitchen knife and some serious practice, you're in complete control of your end result.
Disadvantages:
Skill required – learning how to cut professionally with a kitchen knife is a skill that you'll need to practice.
Time – if you're a want-to-be chef with plenty of practice under your belt, no problem. For the rest of use, slicing an onion with a knife into neat even cubes can take quite a while.
Watery eyes – chopping onions with a knife by hand is enough to make most of us want to invest in an onion chopper. Spare your eyes and chop your onions the tear-free way.
Top Electric Onion Choppers Video
Final Thoughts
There are plenty of great electric onion choppers on the market, just make sure you consider your needs and all of the features discussed in our buyer's guide. Looking for the best all-round electric onion chopper? Great value for money with a highly effective stacked four-blade design, the Ninja Express Chop is the one to go for.
Alternatively, if you need more power or are looking for an electric onion chopper that is extra easy on the hands, you can't beat the Hamilton Beach Onion Chopper with its stack-and-press design. Plus it also benefits from a generous three-cup capacity.
Looking for an extra model for when you're prepping your sides outdoors or tailgating? The best manual onion chopper has to be the classic Zyliss Easy Pull Food Chopper. Highly effective and easy to use, this model can also be used for making salsa and dips, as well as chopping up your onions and vegetables.