Grinding your own meat by hand is a great way to take control of your diet. Not only is it a fun way to experiment with grinding different types of meat, vegetables and fish, you can also try out new recipes and come up with your very own gourmet burger patties.
The best manual meat grinder will save you money on your ground meat and allow you to try your hand at making new creations, as well as reinventing old classics. Here's how to choose the best model for your kitchen.
Best Manual Meat Grinder
Whether you're looking for a healthier way to eat or are more interested in getting creative in the kitchen, our top manual meat grinder reviews are the best way to choose your new model.
LEM Products Stainless Steel Clamp-On Hand Grinder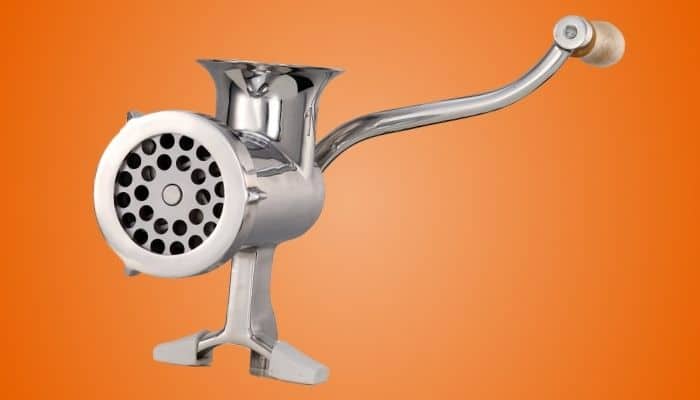 The #10 Stainless Steel Clamp-On Hand Grinder by LEM Products is one of the very best manual meat grinders on the market for the money. Use this all stainless steel, heavy-duty hand grinder to prepare your patties, sausages, and ground beef kabobs ready for your BBQ.
Its robust, rust-resistant construction makes this grinder a long lasting investment, while its wide opening clamp gives an easy and secure mount on almost any counter or table top up to 1 ¼" thick. This allows you to really get to work grinding, without worrying about your meat grinder moving around, as with less robust models with plastic suction cup fittings.
This model comes complete with numerous accessories and plates including a coarse and a fine plate, three stuffing tubes, one stuffing star, and a stainless steel knife. You can purchase additional special knives and plates specific to this model as needed. It's a good size for preparing family meals, without being too large that it becomes too difficult to turn the crank.
Given the price, it's a great value buy. While the casting and interior are a little rough and it does take quite a bit of elbow grease to get it going, you'll struggle to find a better model complete with accessories and everything you need to get started.
Pros – Things we liked
Stainless steel
Rust-resistant construction
Wide opening clamp
Numerous accessories and plates
Cons – Things we didn't like
Need to be strong to get it started
Huanyu Manual Meat Grinder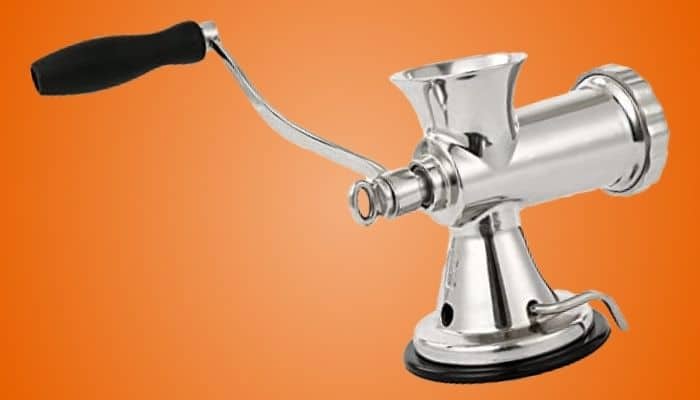 The Huanyu Manual Meat Grinder is a popular choice for making homemade sausages and chorizo, as well as all of your favorite ground meat, fish, and vegetable stuffing recipes. Made from highly durable, premium 304-grade stainless steel, complete with 3CR13 stainless steel blades and an auger, this manual grinder is built to last.
Rust-resistant, simply take it apart to easily clean after use, it is also very easy to set up and put back together after cleaning once you know-how. Unfortunately, the instructions are poorly translated into English. Thanks to its dual fixation system consisting of a stainless steel clamp complete with a strong suction cup, you get a very secure grip for next to no movement even when grinding tough cuts.
This stainless steel meat grinder comes with one small nozzle for making sausages, two round hole meat boards with holes sized 4.5mm and 8mm, an ABS plastic funnel, a push rod, plus a handy cleaning brush. You may want to pick up a sausage plate as there isn't one included with this unit. While the instructions state that one is not required, otherwise you may find that the auger moves about too much without an endplate.
Easy to use and clean, this sturdy manual meat grinder is a good all-round model that fixes securely for heavy-duty grinding.
Gideon Hand Crank Manual Meat Grinder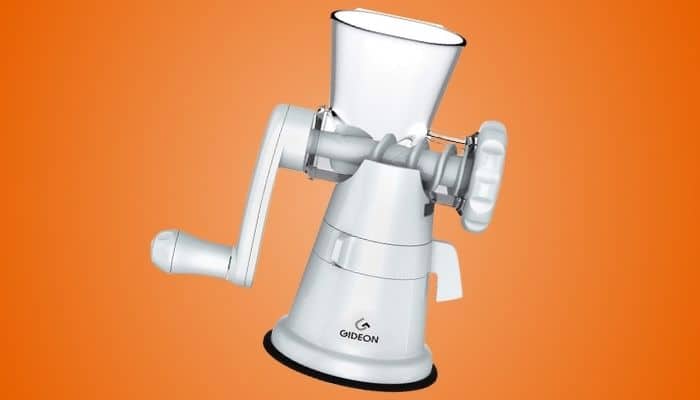 If you're looking for a compact food grinder for occasional use, check out the inexpensive Gideon Hand Crank Manual Meat Grinder. Unlike the heavy stainless steel alternatives, this plastic model is very lightweight and easily disassembled for compact storage, or to take with you on your next camping trip or BBQ picnic.
Most of this grinder's parts are dishwasher safe for easy cleaning. The blades and the two included mincing plates, one coarse and one fine, are made from stainless steel. You also get a meat pusher to ensure that your hands are kept away from the grinding, plus the actual blades are fully enclosed for safety purposes.
Unfortunately, this meat grinder requires a lot of food preparation to mince effectively. You'll need to remove as much fat as possible, then make sure that you chop your meat into small pieces to avoid clogging and having to take apart the machine. In this respect, this model is not a patch on the larger more robust stainless steel versions.
However, despite its flaws, it does fix well to kitchen countertops and grinds down small chunks of meat and vegetables more than adequately. If you are not happy with the poor quality of store-bought ground meat, pick yourself up one of these budget-priced manual meat grinders and give grinding your own meats a try.
At this low price, if you don't really take to it or only use it rarely, it's no big loss. If you really enjoy it, you may later decide to upgrade to a more substantial metal model.
LHS Manual Meat Grinder with Stainless Steel Blades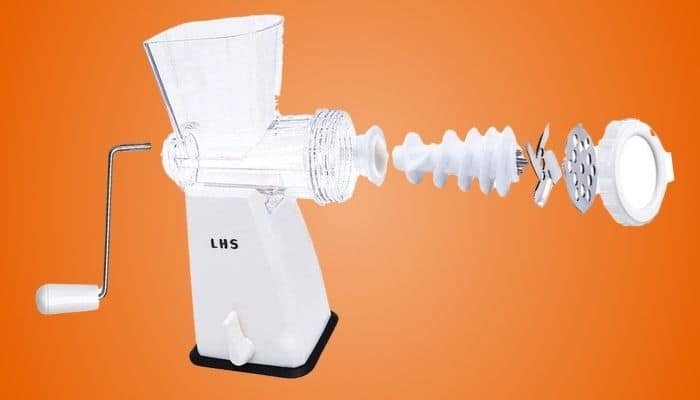 Another inexpensive plastic meat grinder, the LHS Manual Meat Grinder with Stainless Steel Blades is easy to store and clean up afterward, making it a good choice for anyone looking to try out making their own burger patties for the first time.
Available in gray, red, or white durable plastic, this model benefits from a larger hopper capacity compared to previous versions, so you can grind more in one go. Thanks to its secure suction base, you hardly get any movement when you turn the crank. The stainless steel blades are fully enclosed for safe operation with minimal risks to your hands.
This manual meat grinder comes with two steel blades, one coarse and one fine, one dough shaper with four designs, plus a handy pusher to keep your fingers away from danger. Replacement parts are also available, making this one of the better cheap eat grinders to go for as if you lose a part, you can simply order another.
Easy to put together, as well as to take apart and clean, if you are looking for an inexpensive model for light use, the LHS Manual Meat Grinder makes a great budget choice.
Kitchen Basics Manual Meat and Vegetable Grinder Mincer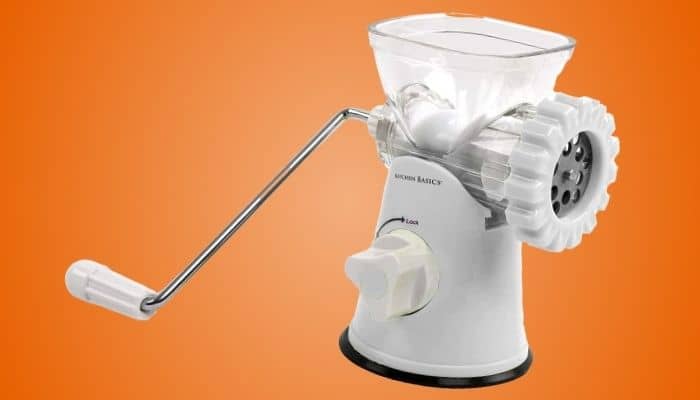 The Manual Meat and Vegetable Grinder Mincer by Kitchen Basics is a popular multi-purpose grinder.
Use it to grind meat or vegetables for your BBQs and home cooking with the two included stainless steel mincing plates. You can also use this model to make your very own sausages, with the three differently sized sausage funnels, or even use it to make your own pasta. Choose from rigatoni or spaghetti strands.
Easy to clean, this plastic meat grinder can be quickly disassembled and washed in your dishwasher. It is very easy to use and attaches well to your tabletop via its suction base. The extra-long crank handle makes for easier turning, although the hopper is a little small and there is no tool included to push your food down into the grinder.
This basic manual meat grinder is possibly not the most durable, made from fairly brittle plastic so care is needed. Like most entry-level, inexpensive meat grinders, you'll need to chop up your meat into small chunks before attempting to mince it.
While there are other more robust models out there, given its low price and versatility, this could make an interesting buy if you would like to try your hand at making some new dishes, without spending a fortune.
TUNTROL 304 Stainless Steel Manual Meat Grinder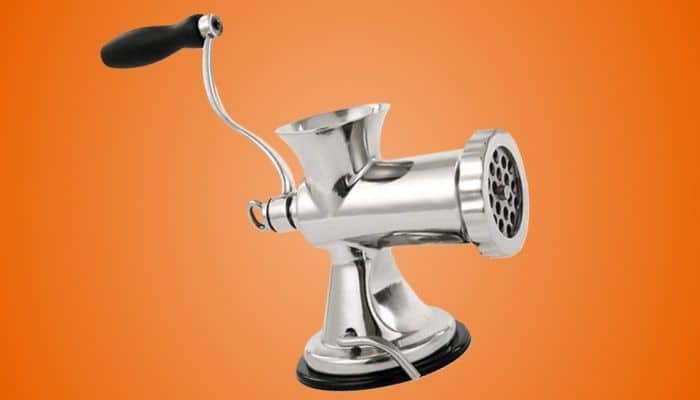 If you are looking for a more durable alternative to the large number of plastic manual meat grinders, take a look at this 304 Stainless Steel Manual Meat Grinder by Tuntrol. It grinds easily through meat, vegetables, and fish for smooth results. You can also use it to make homemade sausages to your very own recipe.
As this machine is made from 304-grade high-quality stainless steel, it won't rust. The reinforced blade is made from 420 food-grade stainless steel for extra sharpness and longevity. Despite its solid construction and 7.6lb weight, it is fairly compact and easy to store.
Use the coarse or fine plates to get your ground beef just how you like it. Thanks to its combination of a suction base with a steel clamp fixation system, this meat grinder stays securely in place even when you are grinding tougher cuts.
While this unit understandably costs considerably more than a plastic version, it is still good value for money and sure to last for many years. You also get several extra accessories with your purchase, including anti-cut gloves, a bowl, brush, and stirring rod. All in all, a good manual grinder that can stand up to regular use.
Benefits to Grinding your own Meat
There are plenty of benefits to grinding your own meat. Check out the following main advantages to DIY ground meat compared to the stuff you buy in-store.
Hygiene
Grinding your meat yourself at home is generally considered to be much more hygienic. Ground meat isn't usually freshly ground where you buy it, unless you are shopping at a local butcher's and they grind it to order.
Normally, your meat will be ground up in a factory many miles away, possibly several days earlier. The more time your ground meat has been sitting around before being cooked and consumed, the more likely it is to become contaminated with bacteria.
Ever noticed that it is recommended that you eat ground meat cooked right through whereas steak can be served rare? The reason is, once meat gets ground up it becomes exposed to the air.
The exposure drastically increases the likelihood of contamination. By grinding your meat freshly at home, at your BBQ, or at the campsite means that your meat will be much fresher and more hygienic.
Meat Quality
When you grind your own meat you can decide exactly what cuts you want to use, as well as how much fat you want to include. As we very seldomly see store-bought ground meat prior to it getting ground up, there's no guarantee just what kind of quality meat you're getting.
As it is going to get ground up and be physically almost indistinguishable to most consumers, a lot of offcuts and potentially less appetizing cuts are more likely to make their way into your ground meat.
When you grind your own you can choose to use any type of meat or cut of meat that you want, ensuring that it is fresh and in prime condition prior to grinding.
Choice of Ingredients
Fancy making venison burgers? Pork mince? Chicken sausages? When you invest in a meat grinder, you're free to try out a whole load of new recipes, as well as inventing some of your own dishes.
Try out some new kabab recipes or make your very own specialty sausage. You can even use your meat grinder to add in some vegetables or to make vegetarian dishes and sides for your guests.
Save Money
Grinding your own meat at home can be considerably cheaper than buying it in-store. You can also take advantage of any special offers and grind up a couple of large chuck roasts for family burger night. Specialty burgers and sausages can be really expensive in-store. Save yourself money and buy a joint then grind it at home for fresher, better-tasting meals that are also cheaper.
Manual Grinder Vs. Electric Meat Grinder
Provided you don't have any mobility issues, using a manual grinder for small quantities of ground meat at home can be a highly satisfying process. Manual models also cost less than electric ones, make less noise, and give you a good upper arm workout.
While electric models are faster and better for mincing large quantities of meat on a daily basis, for the occasional family meal or get together, a lot of people enjoy the sensation of getting back to basics and doing it by hand.
What's more, if you want to have a BBQ in your garden, are out camping or RVing, or any other situation where power could be an issue, a manual model makes a much better choice as you can use it anywhere.
Why Trust Us
All of our reviews are compiled with a combination of expert input, years of hands-on testing of grilling products, curating the reviews of real-life buyers in a "wisdom of the crowd" system, and of course our own expertise. All the products listed are the ones we would buy if we were looking to purchase a new manual meat grinder.
Methodology Used to Pick the Best Manual Meat Grinder
When picking the best manual meat grinder we looked at and then rated each grinder on the following criteria. Price, anchoring mechanism, the material used, attachments, ease to clean, total size, and warranty.
Buyer's Guide to Buying the Best Manual Meat Grinder
Tempted by the benefits of grinding your own meat? Wondering which is the best manual meat grinder to go for? Here's how to choose the best manual meat grinder for your needs.
Price
Manual meat grinders are surprisingly inexpensive, you can pick up a plastic model from around $25. While they don't work as well, or look as good as stainless steel versions, at such an affordable price, there really is no excuse to not try out making your own burger patties, meatballs, meatloaf, and sausages.
If you prefer to pay out more and start your culinary adventure with a more durable model that is not going to litter landfills for hundreds of years, a good quality stainless steel model will set you back around $100-$150.
These types of manual meat grinder should last for many years and can be recycled or sold if you later decide to invest in a more expensive model.
Anchoring Mechanism
When grinding meat at home, it's important that your manual grinder remains firmly fixed and stable through the grinding process. Here are some of the most popular anchoring methods. They can be used alone or some models use dual fixation systems.
Suction Cups
Suction cups can be surprisingly effective, provided they are large enough and used in conjunction with a clamp or bolt. While suction cups alone are unlikely to keep your manual meat grinder completely still whilst you turn the crank, they can be very useful at keeping your clamped or bolted manual grinder from moving slightly.
Clamps
Clamps provide much more security, but they can take a little while to close down into place. Make sure that your grinder has a clamp with a sufficient opening to accommodate your table or countertop.
Bolts
Bolting your manual meat grinder to your countertop is the most stable solution. However, this is a permanent fitting and not everyone wants to have a meat grinder permanently mounted to their kitchen counter, especially if space is an issue.
If you are considering a bolt-on model, make sure you think through exactly where you will attach it before purchasing
Materials Used: Plastic vs. Metal
Plastic is lightweight, easy to clean, and much cheaper. However, it is less durable, especially if you drop your grinder, and whereas you can sell on or recycle an old stainless steel model, broken or unused plastic kitchen appliances all too often end up polluting the planet in landfills.
Stainless steel models are much more durable and are also a better choice for more regular use as well as if you are planning on taking your grinder with you camping or RVing. Stainless steel meat grinders also look much more professional and clean well, whereas white plastic can stain and start to look a little dirty after extensive use.
Features & Attachments
A few extra features or attachments can make your manual meat grinder into a multi-purpose kitchen appliance that you'll use for more than just burger patties or bolognese.
Grinder Plates
Look out for models with two or more grinder plates. You'll want to have a coarse and a finer one so that you can make a range of different creations depending on your ingredients and the type of recipe that you are creating. For example, some burgers require coarsely ground meat, whereas if you decide to make sausages, you may prefer a smoother, finer grind.
Fully Covered Blades
Grinders are dangerous, so make sure that yours has fully enclosed blades to prevent any serious injuries from happening to your fingertips. Ideally, your set should come with a meat pusher to allow you to push your ingredients down into the grinder without risking your fingers.
Sausage Accessories
While most manual meat grinders aren't going to do quite the same job as a dedicated sausage maker, they can be a great way to try out something new and to enjoy healthier sausages, as well as trying out your own flavor combinations. Look out for grinders with sausage nozzles if this is something you'd like to try.
Pasta and Noodle Plates
Once again, a manual meat grinder is no match for a proper pasta maker. However, they can make pretty decent pasta with little effort and it's a great way to get started making more food at home from scratch. Some grinders come with a pasta plate included or offer them as an additional extra purchase.
Ergonomic Handle
Turning your meat grinder crank can be quite difficult at times. Models with ergonomic handles allow you to get a better grip and help to make it easier to turn the crank without getting hand or wrist ache.
Metal manual meat grinders tend to have ergonomically shaped wooden handles that are much more comfortable to tightly grip than plastic ones.
Cleaning & Maintenance
Check how easily your meat grinder can be dismantled for thorough cleaning. Some models are dishwasher proof which makes it much easier to get your grinder hygienically clean.
You may still want to hand wash and dry any blades as they are usually made from a different grade of stainless steel that is designed to hold a sharp edge and needs treating more carefully.
Size & Weight
It goes without saying that a stainless steel version is going to weigh considerably more than a plastic model. Size-wise, you can find both plastic and stainless steel versions in similar size, except that often plastic models can be completely disassembled for more compact storage.
Warranty
Whichever type of manual meat gender you choose, look out for a model with a good warranty. This is a sign that the manufacturer is willing to stand by their product. After all, nobody wants to buy a kitchen appliance that breaks due to a defect shortly after purchase.
While plastic models won't last as long as stainless steel versions, there are still some models out there with decent warranty periods to ensure you are getting the quality product that you have paid for.
Top Manual Meat Grinders Video
Final Thoughts
Manually grinding your meat yourself is a great way to take more control over what exactly goes onto your plate. It is also a fun way to experiment with new recipes and flavor combinations, as well as perfecting old classics such as meatloaf, bolognese, and meatballs.
Looking for a budget model to try making your own burgers and sausages? The multi-purpose Meat Grinder by Kitchen Basics is an inexpensive model with plenty of accessories allowing you to make patties, sausages, and pasta, as well as regular ground meat dishes.
If you're trying to avoid buying more plastic appliances, the Stainless Steel Clamp-On Hand Grinder by LEM Products makes an excellent choice. Hard-wearing and extremely durable, this manual meat grinder will see you through years of summer BBQs and camping trips. It comes complete with three stuffing tubes, two plates, and an easy-to-fit clamp attachment. You can also purchase additional accessories and plates as desired.