There's nothing quite like that sound when a perfectly formed and seasoned burger hits a hot grill. That sizzle, that quick whiff of seared beef, and the satisfaction of watching your burger grill uniformly all come down to the quality of your burger's shape and thickness.
The best way to get a perfect burger every single time is with a burger press. Today's review covers a range of different products to help you answer the question of which is the best burger press on the market.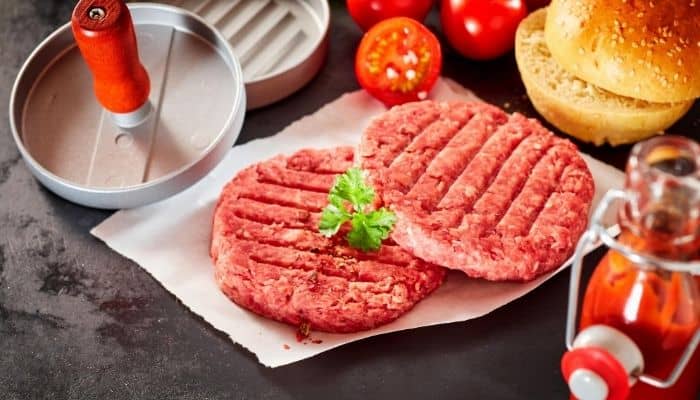 What is the Best Burger Press
There's a lot of debate around just what makes for the best burger press. Some people want perfectly uniform burgers with beautifully clean edges and a thickness that's to die for.
Others crave the irregular shape and crisped edges of a smash burger, while still more look for the gushing flavor of a thick stuffed burger.
While there are tons of choices, there are a few things that every high-quality burger press should have in common. The burger presses on our list below each embody the essential build quality, usability, and convenience we think every burger press needs.
Weston Burger Express Double Hamburger Press with Patty Ejector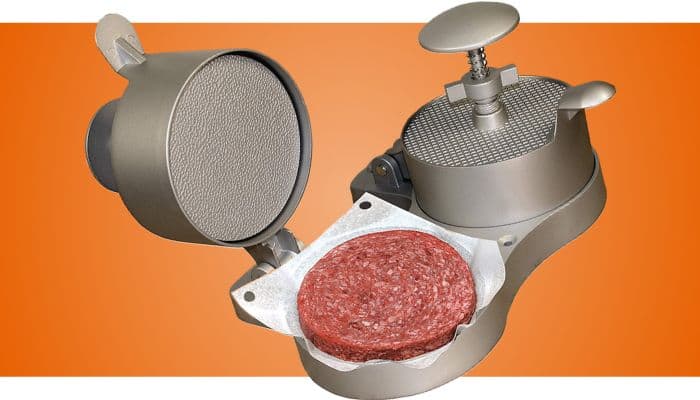 The Weston Burger Express Double Hamburger Press is a heavy-duty burger press with multiple thicknesses and weight settings. It's made of high-strength aluminum with a spring-loaded plunger capable of making multiple weights of 4.5" diameter burgers.
Lovers of thick and juicy hamburgers will love the ¾ lb setting. It gives you a really thick burger that has a substantial amount of heft to it. Not a big fan of unhinging your jaw to take a bite?
Pop ¼ lb of meat into the press with a swatch of wax paper and you'll end up with a perfect burger ready to be seared up.
The spring system makes it easy to get a perfect consistency every time and has the added benefit of popping the patty free from the top of the press. Both sides can be used independently, allowing you to make different weight and thickness burgers at the same time.
We were impressed by the construction of the press itself, the hinges that held it in place, and the frame. You can unscrew the top portion of the press to remove the spring paddles and scrub/sanitize the whole system with ease.
The only thing some will dislike about this double press is how heavy it is. It's a necessary feature given the heavy-duty construction but is still quite hefty. You could pick up the single burger press instead if you prefer a lighter press and aren't worried about losing the second press.
All in all, we highly recommend the Weston Burger Express Double Hamburger Press. It's heavy-duty, easy to use and clean, and makes a perfect patty every time.
Cuisinart 3-in-1 Stuffed Burger Press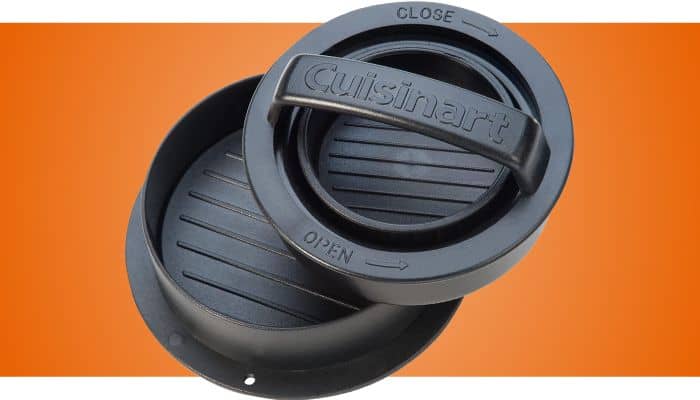 The Cuisinart 3-in-1 Stuffed Burger Press is an interesting grill gadget that allows you to make restaurant-quality stuffed burgers. It's made from surprisingly sturdy plastic and includes an additional smaller ring to make sliders and regular burger patties.
We tried it out to see if this thing really works and were pleasantly surprised at how easy it was. There are two top presses, a rounded on and a flat one. You start with the rounded press to create a depression in the center of your burger, fill it up with all the delicious stuffing you desire, then top it off with meat and press with the flat press.
Our previous experience with home stuffed burgers was tasty, but they fell apart about as soon as we looked at them. They were difficult to cook and a mess on the grill and griddle.
Using the Cuisinart we ended up with perfectly formed burgers that held together well on the grill and the bun. Even better, just using the flat press allows you to make standard burgers up to ½ lb.
If you're a fan of stuffed burgers there's no reason not to give the Cuisinart 3-in-1 Stuffed Burger Press a try. It's inexpensive, reasonably durable, and, most important of all, it works.
Mountain Grillers Burger Press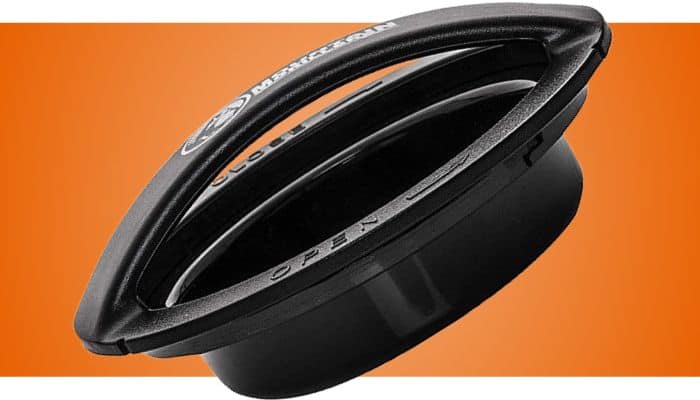 The Mountain Grillers Burger Press is a lightweight and versatile burger press capable of making both ½ lb and ¼ lb burgers. It's made up of a bottom press plus a flat press that hides an indented press within.
It comes in a drawstring carry pouch for easy storage and disassembles fully for cleaning. Even better, it provides you with 40 wax paper burger patty slips to prevent the freshly pattied burgers from sticking.
Our first impression when taking it out of the box was that the plastic was surprisingly thick. Many lightweight burger presses feel cheap and flimsy, not so with the Mountain Grillers Press. Setting it up was easy as could be, as was swapping out the indented press for creating a crater for filling and the flat press to seal it all up.
One thing to keep in mind is that this isn't the burger press for those who like thin and crispy burgers. You end up with slabs of hamburger easily an inch thick.
Still though, if you're someone who enjoys a stuffed burger there are few things not to like about the Mountain Grillers Burger Press.
Shape+Store Burger Master 8-in-1 Innovative Burger Press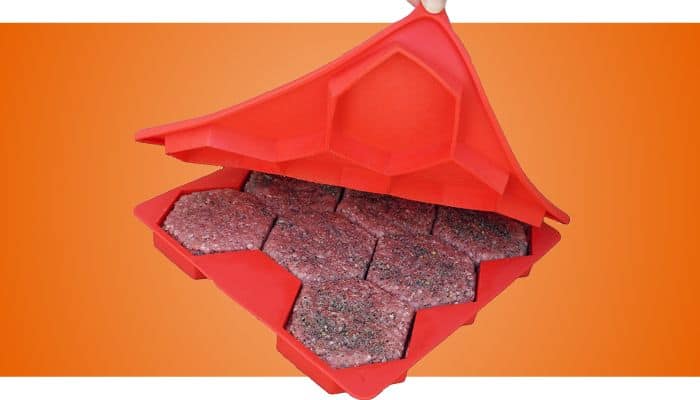 The Shape+Store Burger Master is a refreshing new take on the traditional burger press. Rather than a single circular press or a pair, it has eight individual hex-shaped presses in silicone that fit together with the press as a lid.
It allows you to both make eight burger patties at once and store/transport them to your cookout. What's even cooler is that the lid and base system forms a seal that's airtight. You can store your burgers in the freezer, fridge, or cooler before you grill out.
As basically nothing more than a silicone sheet you can put other things than burgers in here too. Fudge, candy, and even wet things like stew can be stored or frozen using this nifty little device.
Cleanup was equally easy. Once you've removed the burgers or other food, you can toss both halves in the dishwasher.
The only real downside to this is that it only makes quarter-pound burgers, and only makes them to a specific thickness and shape. You wind up with hexagonal burgers that can look a little weird to some.
If you're looking for a quick and easy way to make and store burger patties there are few better tools than the Shape+Store Burger Master.
Grillaholics Stuffed Burger Press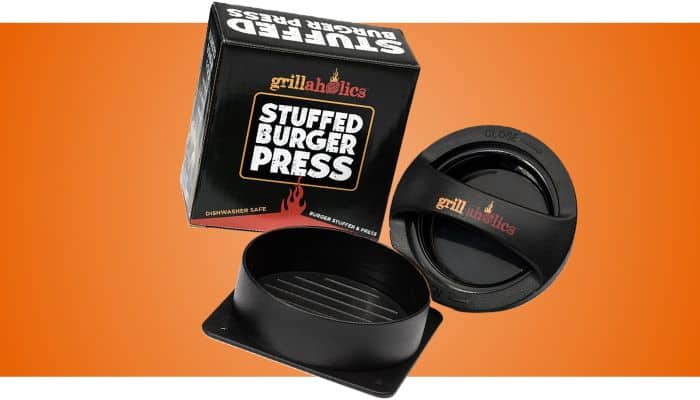 The Grillaholics Stuffed Burger Press is an inexpensive and easy-to-use burger press for making stuffed burgers. It combines an indented press plus a larger flat press to allow you to make the perfect stuffed burger with every press.
It's made of lightweight plastic and disassembles fully for easy cleanup. We were concerned about durability at first, but after making a few burgers we're confident it would be difficult to overuse this press.
Making stuffed burgers takes a bit longer than standard ones, but we were still able to churn them out at a good pace. That's awesome if you enjoy a filled-to-bursting stuffed burger but don't want to pay restaurant prices.
Overall we thought the Grillaholics Stuffed Burger Press worked well for its intended purpose and was reasonably priced.
Cuisinart Smashed Burger Press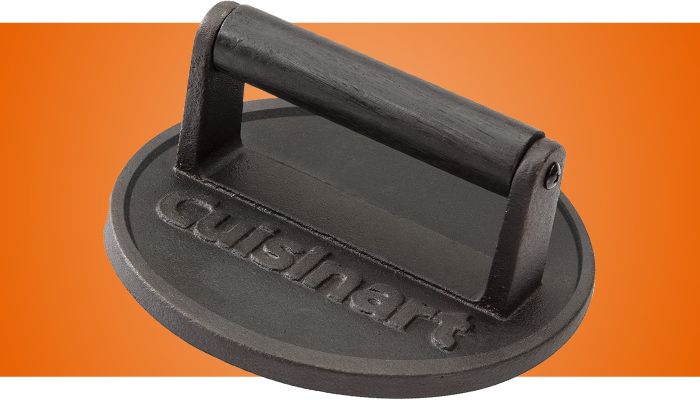 Not everyone craves an inch thick steak house or pub style burger. For those who prefer the crispy edges and fast cook time of a smash burger, there's the Cuisinart Smashed Burger Press.
It's a heavy-duty cast iron burger press designed to be used on a hot griddle or frying pan. Instead of pre-pattying a burger, you just throw a ball of hamburger meat on a greased skillet and smash it down flat with this heavyweight tool.
It has a one centimeter raised edge to give you the perfect thickness in all your burgers. Even better, as a cast iron tool cleaning up involves nothing more than wiping it down and giving it a new coat of oil.
It's that easy.
If you're looking for the perfect way to make deliciously thin griddle-seared smash burgers, the Cuisinart Smashed Burger Press is the perfect tool for the job.
BBQ-Aid Burger Press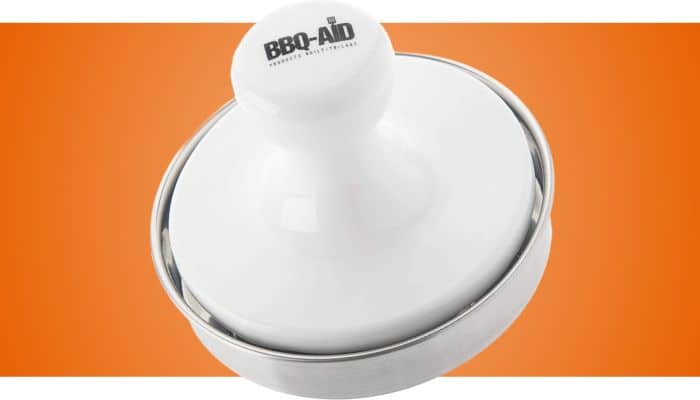 The BBQ-Aid Burger Press is a heavy-duty single burger press. It's made with a stainless steel bottom and white porcelain top to stand up to years of regular use.
It doesn't offer fancy features or adjustable settings, sticking with a basic yet high-quality design that works perfectly with every use. Each press of the top gives you a 5" diameter burger at up to 1" thickness.
You can switch between beefy steak house style burgers or thin and delicious smash burgers. Cleanup is equally easy, as there are only two parts and no nooks or crannies for food to hide in.
It's not 'cool' and it doesn't offer next-level performance, but it is a durable and reasonably priced burger press that allows beginner cooks up to experienced home chefs to make perfect burgers at a variety of thicknesses every time.
Cave Tools Burger Mold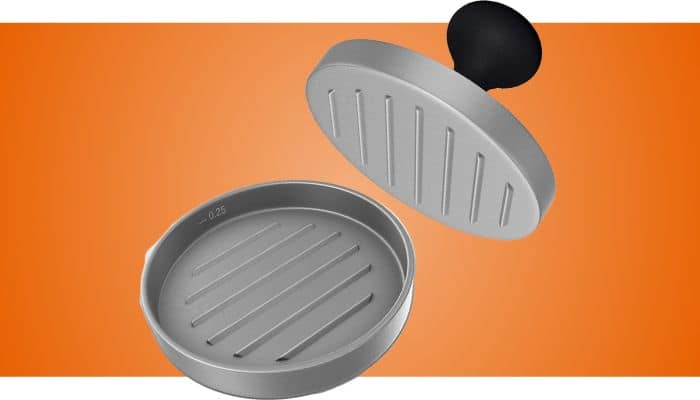 The Cave Tools Burger Mold is a single patty burger press made from heavy-duty materials. It's designed to produce the perfect ¼ lb to ⅓ lb burgers with every push of the palm shaped handle.
It's made from sturdy stainless steel and is both easy to use and dishwasher safe. One thing we really loved was the fill line within. It makes it much easier to tell when to stop pushing down for the perfect burger thickness.
As a bonus, Cave Tools included 200 free burger wax paper patty wraps to make it easier to get started right away.
The Cave Tools Burger Mold is reasonably priced, made from high-quality materials, easy to use, easier to clean, and even comes with some great bonuses. All in all, we can say with confidence it's a good option for most burger lovers.
Zica Commercial Hamburger Patty Maker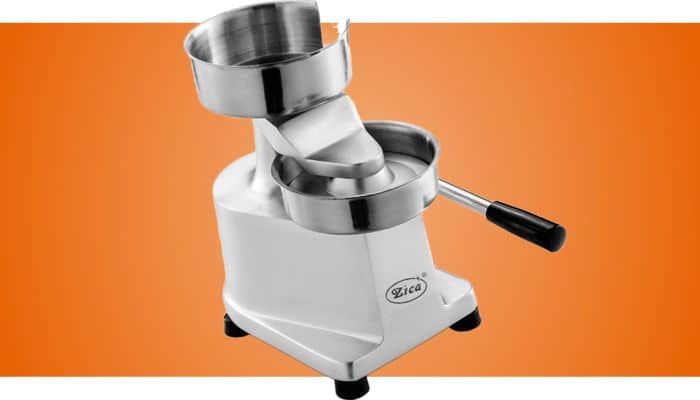 If you're the kind of home chef who needs to churn out patties to feed a hungry horde of friends and relations, the Zica Commercial Hamburger Patty Maker is the way to go. It uses a hydraulic press to apply the perfect pressure onto hamburger meat, leaving you with a perfectly shaped patty every time.
It's made from heavy-duty aluminum and is about the size of a large toaster on your counter. The press is honestly the easiest to use, especially if you want to run through burgers rapidly.
Even better, it includes 500 sheets of preshaped wax paper to keep your burgers from sticking. We had no problem making dozens of burgers in just a few minutes with this bad boy, especially once we got into the groove of it.
There are definitely some downsides here, though. To start with, it's priced where you would expect a commercial appliance to be, substantially above even the best home use burger presses. It's also larger and heavier, to the point where it eats up a lot of real estate.
Then there's the cleanup. Oh, the cleanup. You pretty much have to disassemble the press and its dishes to scrub them down every time. It's not bad, but it's definitely more than with other presses.
Overall the Zica Commercial Hamburger Patty Maker is an extremely nice burger press that can really churn out burgers. However, if you aren't the kind of person who needs to pump out 20+ burgers in a minute or two you probably won't need something this capable.
Buyer's Guide to Buying the Best Burger Press
Picking out the best burger press comes down to just a few key factors. You need to know your budget, what kind of and how many burgers you want to make, and what level of longevity and general upkeep you're looking for.
Price
In a field where BBQ accessories can quickly drain your wallet, burger presses are refreshingly low in price. Most start out around the $10 mark, and few go above $20.
If you want something really out there or are looking for a true commercial burger press you can definitely spend more, but you don't have to if you just want a quality press that gets the job done.
Size and Thickness
Not every burger press is created equal. If you're a fan of thick and meaty pub-style burgers you need a press built to create inch plus thick pucks of delicious hamburger meat. For those more enamored with thin and juicy smash burgers, you'll need a wider press with a much thinner design.
Most burger presses offer a reasonable amount of flexibility in the thickness of your burger, but not in the diameter. We recommend you buy a burger press that matches your favorite burger's thickness and diameter, with maybe a bit of extra space to spare.
You can always put a bit less pressure on a thin burger press, but if the maximum compression is half an inch you won't be able to get those perfect smash burgers.
Nonstick Coating
A nonstick coating is a useful extra feature to consider when picking out a burger press. Raw meat isn't going to burn on to your burger press but it can still stick onto it just from moisture.
A nonstick coating removes the need to press each burger patty with wax paper and can make your burger-making process more manageable, cheaper, and more sustainable.
Cleaning and Upkeep
We'll be honest with you, dealing with raw meat can be kind of gross. It's sticky, it's wet, and it doesn't come clean easily. Make sure your chosen burger press has features that make it easier to clean and sanitize.
We prefer presses that either disassemble for easier cleaning of individual parts or at the very least have a wide opening and no little crevices to hide small bits of meat.
Material
Burger presses require a certain level of strength and durability to do what they do. You need to be able to repeatedly apply substantial pressure between the two surfaces with enough weight and resistance to patty out the burgers.
There are plenty of inexpensive plastic and even silicone burger presses out there, but we highly recommend one made from heavy-duty material. You can find some basically bombproof models made from stainless steel and even cast iron.
These bad boys will be pressing burgers long after you've passed them on to your kids or even grandkids.
Number of Patties
If you're making burgers for yourself and a few family members or friends a single burger press works just fine. You can bang out eight to ten burgers in just a few minutes with one, plenty for a small scale cookout.
If you're the kind of grillmaster who relishes the challenges of an annual family reunion, that's not really the right choice. Multi patty burger presses can quickly and efficiently make multiple perfect hamburger patties at once.
There are commercial models capable of making 10+ patties, but for most home users a two to four patty burger press will do just fine.
How to use a Burger Press
A burger press is simple to use. The majority of it is self-explanatory, however it can be more difficult to comprehend how some presses behave differently than others when they include extra components.
Meat is typically measured out, placed in the press, and then pressed. Hey presto! The outcome is a magnificent burger.
Take these easy actions:
Meat should be measured out as needed or requested.
Put the meat ball in the press.
Use the press to form a patty out of the meat.
Check up the specifics for your press as well because some presses could have some extra instructions or suggestions.
If your press doesn't automatically create a slight dimple in the meat for you, you might want to think about doing it manually. The burger won't shrink as much as a result of this during cooking.
Making stuffed burgers requires a multi-step process that requires stuffing the centers, so it can be a little trickier than that. Below is a video for making smash burgers.
Tips to Keep Your Burgers from Sticking
One of the most annoying things about making hamburger patties is dealing with stuck-on meat on your press. Not only does it make cleanup more difficult, but it can also affect the shape and thickness of your burgers.
We mentioned nonstick burger presses above, but if you've already got one and want to deal with sticky meat, there are plenty of remedies you can try.
The best by far is to use a piece of wax paper, plastic wrap, or parchment paper between your burger and the press. That helps keep the burger press nice and dry to prevent later sticking and gives you burger patties in neat wraps for stacking on a plate.
Some people like to put a thin coating of cooking spray on the burger press between every few burgers, but we much prefer the parchment/wax paper method. If you're looking to cut down on single-use cooking materials, it can be viable.
Final Thoughts
Burger presses are deceptively simple tools. It may not seem like there's a whole lot of differences between different models but looks can be deceiving.
Thankfully finding the best burger press for your needs requires only that you know the basic features you're looking for and what price you're willing to pay.
There are great options at every price point.