Being comfortable is one of life's prerequisites. From the moment we pop out of the womb, everything is geared towards making ourselves as comfortable as possible. We choose our clothing, furniture, friends and even our food based on what we consider will provide us with the maximum amount of comfort.
I was recently at a friend's shindig where I was most certainly uncomfortable however and I just couldn't put my finger on why this was. The food was great, the company was, as always, superb and I was somehow still irritated by something. It may well be the free flowing alcohol that inhibited the answer that I sought but it did eventually come to me. The problem I discovered, was that the outdoor furniture, although of good quality, was lacking in variations of support. There was a distinct lack of outdoor pillows and cushions to go with the furniture which in turn led my larger frame to become uncomfortable.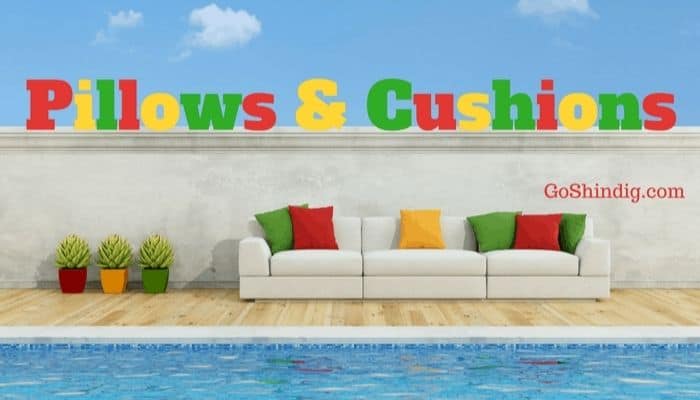 It led me to ponder whether this was just a case of me having to suck it up or whether you should expect more from an outdoor shindig. For my part, I do own furniture that comes with outdoor pillows and cushioned seats, but I'll have to admit to owning them by default as they came as an all-in-one package. I guess I just got lucky. Do we need to think about providing more comfortable surroundings for all our guests though? In this article I would suggest that the answer is a big fat yes.
It really does seem like it should be a rhetorical question when you pose it to yourself out loud, as the answer seems so obvious. Of course we want everyone to feel as comfortable as possible, that's the number one thing on the list of things you want to accomplish from your shindig. Maybe it's such an obvious thing though that we often overlook how best to achieve this.
I have to admit that the thought never really crossed my mind until that party, but on reflection it is something that takes such little time and effort but provides so much in terms of ambiance and your guests well-being that it inspired me to look into all the options available and share them with you.
The great thing about outdoor pillows and cushions is that they come in all shapes and sizes meaning you can opt for a subtle approach with pillows and cushions for your decking chairs which match up to your furniture or you can go for the full blown Moroccan effect and have scatter cushions strewn around your garden willy nilly. It really doesn't matter as long as the result at the end of the night is comfortable guests, then whatever you choose to opt for will be well worth it.
Outdoor Pillows
It might seem that a pillow is just a pillow but when buying outdoor pillows there's some things that you should probably make sure of. Whether it's an outdoor throw pillow you are looking for or just a pillow to act as a patio chair cushion you must look for ones specifically made for outdoor use.
This means the pillow should be made of a durable material in so much that it is able to withstand the rigors of outdoor life. There should also be an element of UV protection used in the production of the pillow cases to safeguard against fading due to exposure to the sun. Lastly, the pillow should be made from a good quality innard. All pillows and cushions will naturally flatten over time, it's just something we have to live with but if we can prolong the life by investing in good quality materials it can prove more cost effective in the long run.
Greendale Home Fashions offer the number one selling outdoor pillows on Amazon. They are described as overstuffed and measure a buttock pleasing 8 inches in depth which certainly provides a big tick in the comfort department. They also boast UV resistant outdoor fabrics and at 17 x 17 inches are big enough to be used as an outdoor throw pillow or small enough to fit as an outdoor chair cushion. What makes these pillows stand out though is the 24 unique designs which are available so you would be hard pressed not to find something which would suit your needs.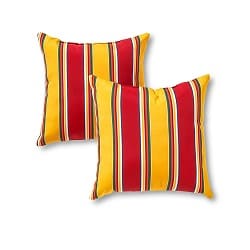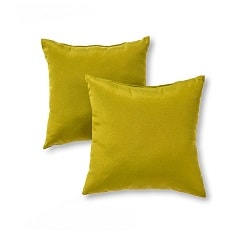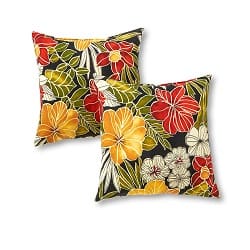 Pillow Perfect offer this set of two outdoor rectangular pillows which I would definitely use for lumbar support. Don't let the color put you off if it's not to your taste, they offer different shades which you have to search out yourself. These are the type of pillows that are an absolute life saver if you have any issues with your lower back. They encourage you to sit straighter, giving you better posture an alleviates any aches that you may have. They measure 18.5 x 11.5 x 5 inches and are made with outdoor use firmly in mind. To top it off they are a US product!
If you can't decide between throw pillows and rectangular ones why not get a set that includes both? It makes things a whole lot less complicated. This set from Resort Spa Home consists of two throws and two rectangular pillows. This means you can use the rectangular pillows on your patio furniture and use the throw pillows, which measure up to 20 inches, as a pair of scatter cushions for your patio.
Outdoor Cushions
When choosing a cushion to suit your outdoor furniture you need to be looking for the basic properties that we mentioned in the previous category, namely durable material with UV protection and a good quality foam that will stand the test of time. Alongside this however, there are a couple more things that you might like to think about.
If you are buying an all-in-one back and seat cushion or an outdoor bench cushion, be sure that there are quality ties that accompany the product. I've known many people who have bemoaned their new purchase as the ties have broken off after minimal use. Also, please take measurements of your furniture to make sure that what you are buying actually fits your furniture. The most frustrating thing when believing you have found that perfect item is to have to return it due to incorrect dimensions.
Best Outdoor Cushion, 1 Piece – Greendale Home Fashions make a return to this page with a durable offering that provides 5 inches of padding to ease your tush into. Being a 1 piece set means that the back and seat cushions are stitched together to create a fold in the middle which in turn means that if one moves, the other is likely to follow. This cushion comes with 2 sets of ties (1 set on the top and the other in the middle) to address this problem and also to prevent it blowing away in windier weather should you use it as a permanent outdoor cushion, although I would advise against this.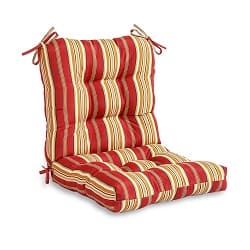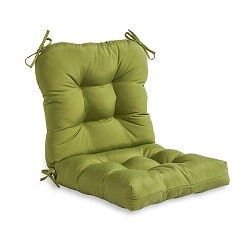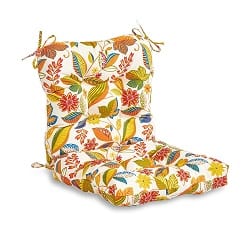 Best Outdoor Cushion, 2 Piece – Bossima offer an outdoor 2 piece cushion with 7, yes seven inches of padding! I've looked around a fair bit and can't find many cushions that are comparable – the standard seems to be 4 or 5 inches. I think the price does slightly reflect this fact but given the choice of buying one set every 18 months for a thinner set or every 5,6,7 years for thicker more durable cushions then it suddenly becomes a sensible purchase. This set comes in 12 different designs and looks stunning due to its flat bottom and pillow-like backrest. The one negative is that there are no ties with this set but I think it would take a major amount of fidgeting to dislodge this from your chair.
Best Outdoor Bench Cushion – Also making a return to this page is Pillow Perfect who offer this best-selling outdoor bench cushion. It is weather and sun resistant and made from 100% polyester fiber filling. It comes in at 45 inches so make sure to check your measurements before considering this cushion. This cushion also comes with ties to ensure a slip-free experience.