If I were a pedantic man I'd point out that picnic table covers and tablecloths are essentially two completely different items with different functions. One being used to protect the table from the elements when not in use and the other for beautifying it whilst being used. But I'm not pedantic and accept that people use both terms interchangeably, so I'll not point out the error of their ways and instead cover both topics in this article as if they are one and the same.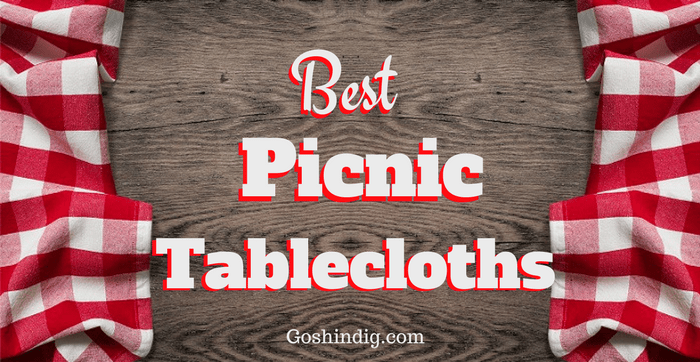 Outdoor Tablecloth
Most people's first consideration when buying an outdoor tablecloth is a beautiful color or pattern, and impulsive buyers will likely rue their purchase if that's all they consider. The fact you're reading this article suggests you're not an impulsive buyer as you're searching out information on outdoor tablecloths. So what are the other considerations to buying the perfect tablecloth? Tablecloth material is by far the most important aspect of a tablecloth you intend to use outside. This dictates whether it's waterproof, spill-proof, wipeable and how it drapes.
Outdoor Tablecloth Materials
Plastic Tablecloths – Often called PVC table covers, these are made out of 100% plastic. They are usually the cheapest tablecloth available as they aren't as durable as others and they fade quickly when exposed to sunlight. I'd only recommend these if you want a tablecloth just for a couple of outings – to be used more like a disposable tablecloth. Also, as they are made of plastic, they don't drape over table edges as well as other materials. Hoffmaster does a nice one.
Vinyl Tablecloths – Made of 100% cotton with a plastic coating. Being made of cotton means the tablecloth drapes better than a PVC tablecloth. It's also more durable; you should get a whole summer from a vinyl tablecloth. Everyday Luxuries make a good vinyl tablecloth.
Oilcloth Tablecloths – Made of 100% cotton with an oil coating. Slightly more water-resistant than vinyl. The rest of the properties of an oilcloth tablecloth are the same as vinyl. In fact, just like people interchange between table cover and tablecloth, many people do the same with oilcloth and vinyl tablecloths.
Teflon-coated Tablecloths – Made of 100% cotton with a Teflon coating. Just like with vinyl and oilcloth, it's normal for people to mix up the names of these three tablecloths. They all look the same and have the same properties.
Acrylic Coated Tablecloths – Made of 100% cotton with an acrylic coat. This coating lets the cloth fight the fading damage done by the sun better.
Sunbrella Tablecloths – Sunbrella outdoor fabric is 100% solution dyed acrylic. Other firms make 100% acrylic fabrics but although Sunbrella is a brand name and not a type of fabric it has become so popular that people say Sumbrella to describe outdoor fabrics in general, so it deserved a special mention. This is the best of all the outdoor materials but is also much more expensive. It's claimed the fabric will outlast the others by at least five years. You can get ready made tablecloths from sites such as outdoorlivingtablecloths.com, better still you can buy the fabric and cut it to the size you want.
Other Materials – The materials mentioned above are all specially made for the outdoors, but depending on the intended use of the tablecloth you can use any fabric or any indoor tablecloth. If you're having a yard picnic or having one in mild temperatures, there's no reason you'll need an outside tablecloth. So before spending your hard earn cash, be sure you don't already have what you need.
Parasol Tablecloth
Picnicking is a summer activity, and most picnic tables will have a hole for an umbrella for some welcome shade. If you're fair skinned like me, you'll be happy for this, and you'll also need to consider getting a tablecloth with a parasol hole.
Bias Binding
Bias binding is a fabric tape that runs around the edges of the main fabric for better draping and to make the ends stronger (less likely to fray). For many of the outdoor "coated" fabrics this isn't necessary as the coating seals the edges, but if you're making your own tablecloth or having one made, it does give it a better look. For non-coated fabrics it's best to buy one with bias binding as it will last longer as well as looking better.
Waterproof Tablecloths
What makes a tablecloth waterproof? Generally, this is due to the material. If it's plastic or coated with acrylic, oilcloth or Teflon then it will be waterproof. But you can make other fabrics waterproof by using a waterproofing wax or spray. This aspect of a tablecloth is normally unduly stressed about. Most picnics you'll not be out eating in the rain and if camping or at a festival you'll often be eating under a tent if it's raining. The only issue is for spills which you don't stress about if at an indoor dinner party, so I see no reason to worry just because you're going outside.
Tablecloth Clamps and Weights
Tablecloth clamps and weights are used for practicality, but there's no reason they can't also look good. Their purpose is to keep the tablecloth in place if there is a breeze or to make sure your beautiful spread doesn't go flying if one of the kids gives it a tug. For adult gatherings, I prefer to go with the weights, as they look better, and clamps if it's with the kids, as they hold better. A company called Prodyne makes a great outdoor tablecloth weight set – The weights are designed to look like insects. With clamps you want them to be discrete, so clear set is best, and that's exactly what Fun Express make.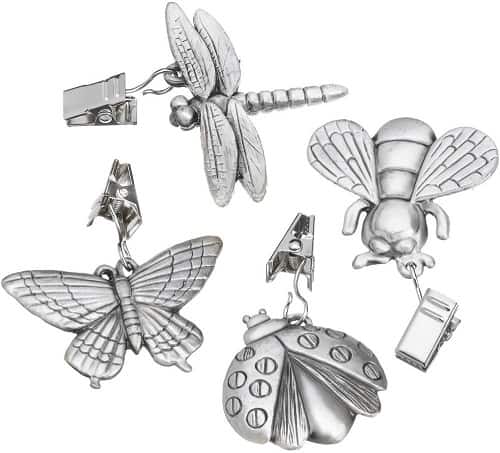 Fitted Picnic Tablecloth
Most people will agree that fitted tablecloths look better. I'd also say this but yet I don't have one. I go to lots of different picnic sites and have seen tables in all sorts of shapes and sizes – from the classic rectangle table to oblong, round, octagon, hexagon, and square tables. I can never be sure what table will be at a new picnic site and I don't want to have several tablecloths to fit each occasion. I like to have a decent sized cloth which I let drape over the edges and have it held in place with clamps. But if you have a backyard table then, by all means, get a fitted tablecloth.
What constitutes a fitted picnic table cover is a little vague. For me, it's a piece of fabric that covers the table and has an equal length drop (that's what the hanging fabric is called). For others, it's custom made fabric that wraps around the edges of your table. For this you'll need to either make a fitted picnic tablecloth yourself or go to a company like "Just Cover It Up" with your measurement and have them make it for you.
How to Size a Tablecloth
Sizing up a picnic tablecloth isn't difficult, but I understand some people simply don't have a head for numbers. So I'll explain it as simply as I can.
Rectangle and Square Tables – Measure the length and width of the table. Now add 12 inches to both measurements. Why add 12 inches? because this will give a 6-inch drop all around the table, which is long enough to use table clamps but not too long that children will be pulling on them.
Circular Picnic Table – Measure from one end of the table to the other, going through the center of the table. This will give you the diameter. Add 12-inches to this measurement for an equal 6-inch drop.
Stretch and Elasticized Table Cover
Another couple of categories of fitted picnic table covers are elasticized covers and stretch covers. Elastic table covers are great for circular tables due to there being just one big elastic band running around the cloth. Collections Etc are probably the best makers of circular elastic fitted covers available currently. Stretch table covers are best for ugly looking foldable tables. These tablecloths are normally used for displays (as they are suitable for sitting around), so if you plan on having a buffet style picnic this would be your best option.
3 piece fitted picnic table & bench covers
The 3 piece fitted picnic cover looks stunning. Whenever I've been to a picnic with matching bench covers and tablecloth I just know a lot of effort has gone into the planning and preparation, meaning I'm assured of a great time. Again, I see no reason for the 3 piece bench cover to be fitted, you can easily just use fabrics you already have and some clamps. However, if a fitted 3 piece table cover is what you want then "Premier Table Covers" make lovely looking handmade custom covers.
Outdoor Picnic Table Runners
Food at a picnic is obviously the most important aspect. And arguably presentation comes in second. A picnic table set-up with a 3-piece cover, table runners, placemats and some nice flowers looks amazing. It welcomes guests to come and sit down with smiles on their faces. Using table runners is probably going a bit far but once in a while it's nice to go the extra mile, especially if you're planning a romantic picnic.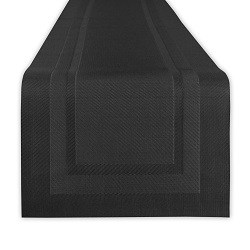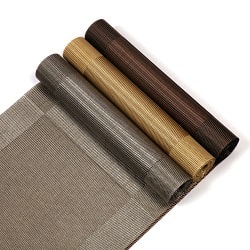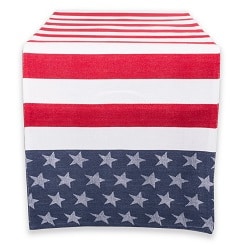 Picnic Table Covers used for Protection
The very best way to protect any outdoor furniture once the weather has turned is to store it indoor, somewhere like a garage. But this is understandably not an option for many people. So a picnic table cover will be needed for your outdoor table. This table cover will be solely used for storage purposes, it doesn't have to look pretty. It just has to do a good job at shielding your table from the rain. And there is no better multipurpose table cover for this job than Classic Accessories patio table cover.