The vast majority of outdoor entertaining is done in beautiful sunny weather and the major problem this brings is keeping food and drinks cold. The go to product to solve this is a portable cooler, and these work great, but there will be times when you want your food on display. This is where an inflatable buffet comes in handy. Easy to store and transport, a blow-up buffet server allows you to have your great selection of salads or drinks in full view of guests and at a nice cold temperature.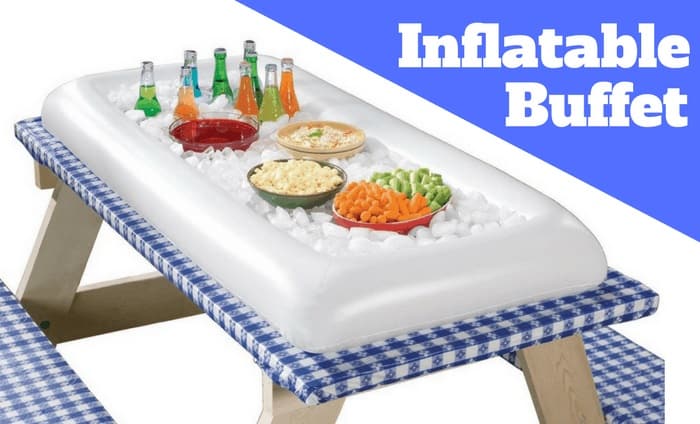 I'm not going to lie and say inflatable buffet coolers are for fine dining; they're not. However, they are a cheap and cheerful way to solve a very common problem, and they make a salad display just that little more enticing. And if it's a bring your own beer shindig, an inflatable buffet (or what's now an inflatable ice bar) is a great place for people to dump their beers as they enter.
Most inflatable buffet bars aren't built with longevity in mind. You'll likely only get one summers use out of them and the price reflects this. Often people will buy these inflatables for just the one themed picnic, BBQ or party and this has led companies to make inflatable buffets and coolers in all sorts of fancy shapes and designs. I'll go through some of the most popular themed party's and their matching inflatable buffets in a minute, but let's first look at the plain/basic inflatables that will fit into any outdoor gathering.
The most popular inflatable buffet is a plain white one. And based on Amazon sales the most popular of the white buffet bars is made by GGI INTERNATIONAL. The major selling point this inflatable has over most of its competitors is that it has a drain plug. For me, having a drainage point is only a tiny benefit. I never needed to use the drain plug on the inflatable I had as I just carried the buffet bar to the drain and tipped everything out. Apparently though, some people find this feature useful as the units with drain plugs far outsell the ones that don't.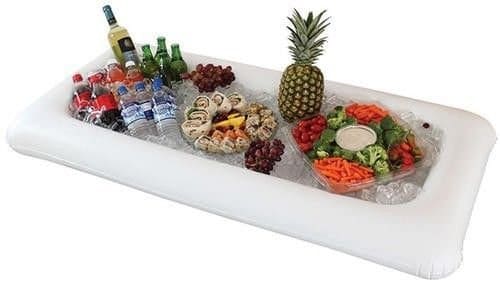 Another two great white inflatable buffet bar options are Big Mouth Inc's "Portable Inflatable Buffet Salad Bar" and Sorbus' "White Inflatable Serving Bar". Big Month Inc make many great inflatables and are very popular for party supplies. And Sorbus make many great kitchen products, so both are brands you can trust.
Inflatable Picnic Buffet – Ok, let's kick off the party themes with a picnic. Red and white chequered material is iconic at picnics, so if you want an inflatable for a picnic your best option is DOMAGRON's inflatable picnic buffet.
Superbowl Night – Well, Superbowl Night or any other football themed party. The inflatables available for this theme is greater than any other theme. Buffet bars are shaped like football fields so this makes sense, but you also have differently shaped novelty options available. For a standard type inflatable buffet you have two lovely football field designs to chose from, one from Big Mouth Inc and one from Fun Express.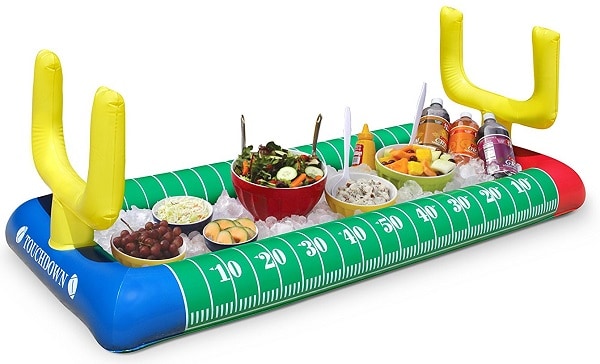 There are many novelty options available that deviate from the standard look of a typical inflatable buffet. These inflatables are normally used as drinks bars but some can also be used for salads and other foods. See some of the different styles below.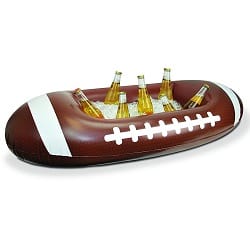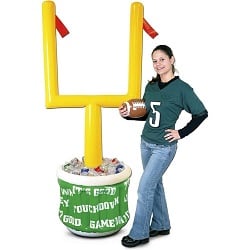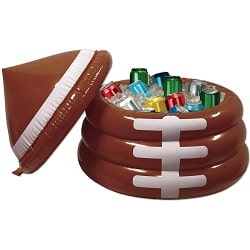 Taco Night – If you are hosting a taco night or having a try of our Mexican picnic ideas, these two inflatables will add a little bit of style to the event. Beistle offers you an inflatable Sombrero cooler, while Amscan have an inflatable cactus cooler that doubles as a ring toss game.
4th of July – Be patriotic and bring out everything you have in the colors of red, white and blue. And that includes your inflatable buffet if you buy this great offering from Shindigz (not affiliated with us at GoShindig.com)
Tropical Beach Party – A classic summer party theme. Tropical beach party themes lets your guests dress up and drink strange looking cocktails. So having an inflatable buffet that fits with all the other decorations is a must. Here are five inflatable available to give you some ideas.
Inflatable Buffet Accessories
You don't really need anything to go with an inflatable buffet as it's a very basic product. As mentioned earlier however, they are all pretty much cheap and cheerful, so if it's something you plan on using often I'd recommend getting a puncher kit because sure as eggs is eggs you'll get a tiny hole just before a big shindig. Depending on your lungs you might what to think about getting a pump. Inflatable buffets aren't hard to inflate but if you have respiratory problems better to be safe than sorry. And the last accessory I'd like to recommend is something we tipped up in our condiments article; the chilled condiment server. These two products sit extremely well together.