While grills are generally best used for grilling, we could all do with a change from time to time, so why not vary what you cook on your grill? If you are looking for a sure-fire crowd-pleaser, you can't get any more popular than pizza. With the best pizza stone you can use your grill to create deliciously crispy pizzas that are so good, you'll likely transform pizza night forever.
Here's how to choose your new essential grill accessory – the best pizza stone.
What is a Pizza Stone?
A pizza stone is a special slab that you can use on your grill or in your oven to achieve restaurant-quality pizzas at home without a special pizza oven. A pizza stone or steel heats up to a high temperature, removing moisture from your pizza base to crisp it up and give you a faster cook time with a tastier pizza.
Best Pizza Stones
Here is our top selection of the very best pizza stones and steels on the market. Find your ideal model right here, get your order placed, and start practicing your pizza dough.
Best Pizza Stone for Kamado Joe Grill
Kamado Joe Ceramic Pizza Stone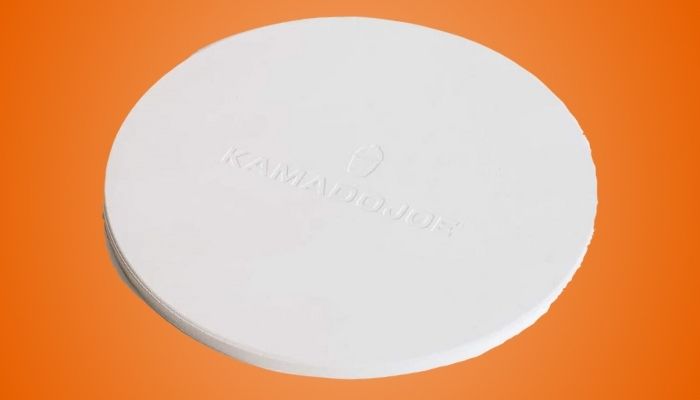 If you own a Kamado Joe, this Ceramic Pizza Stone is a must-buy accessory for deliciously crispy home-made pizzas cooked fresh on your grill. Even if you don't have a Kamado Joe, it still makes a great purchase for use with other types of grill.
Thanks to its heavy-duty, high-impact ceramic construction, the Kamado Joe Pizza Stone absorbs moisture and distributes heat evenly for a crispy base every time. You can purchase it for the Classic or Big Joe grills, with the smaller version measuring approximately 15 inches in diameter and the larger one around 19 inches.
Using a layer of flour on the stone will help to make it easier to clean, although to prevent the pizza from sticking, you may want to use a sheet of parchment paper. While it is not exactly difficult to clean, it won't look the same after use so don't expect it to still look brand new.
All in all, this is a highly popular, well-made pizza stone that does a good job of crisping up your pizza on your grill for restaurant-quality pizzas from the comfort of your own home made to your exact specifications.
Pros – Things we liked
High-impact ceramic pizza stone
Available for both Classic and Big Joe grills
Heavy-duty construction
Easy to clean
Cons – Things we didn't like
Can be tricky to get pizza off the stone
Best Cast Iron Pizza Pan
Lodge Pre-Seasoned Cast Iron Baking Pan With Loop Handles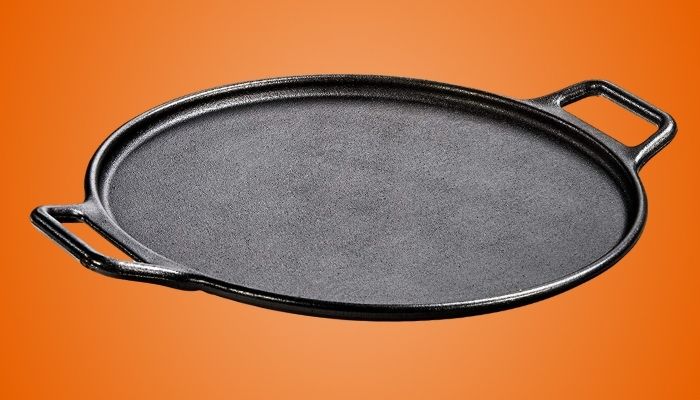 A great multi-purpose model, this Lodge Cast Iron Baking Pan can be used to cook a wide variety of dishes on your grill, not least of all pizza. As with most Lodge products, it comes pre-seasoned, although you may want to add a couple of extra layers of seasoning to ensure it remains in good condition and to prevent any sticking.
Thanks to its large loop handles, this cast iron pizza pan is easy to put on and take off your grill. Highly durable, it is not as sensitive as ceramic versions to thermal shocks, so it should last you for many years. Its 14-inch diameter makes it a great size for pizza, although you can also use it for just about any recipe.
Unfortunately, the belief that cast iron evenly distributes heat is a common misconception, so you may not have a completely evenly cooked all-over pizza. However, it is very good at retaining heat for a rapid heat up and speedy cooking times.
While it is not quite as good as an authentic pizza stone, if you are struggling to get a good crispy yet chewy pizza cooked on your grill, this cast iron model by Lodge could help you to improve the quality of your home-made pizzas.
Pros – Things we liked
14-inch cast iron baking pan
Large handles
Pre-seasoned with natural vegetable oil
Highly durable
Cons – Things we didn't like
Not very even heat distribution
May need seasoning again
Best Pizza Steel Plate
Conductive Cooking – Extra Large Pizza Steel Plate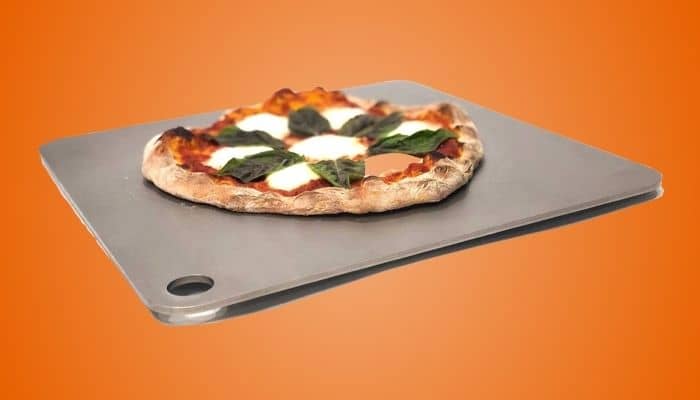 The Extra Large Pizza Steel Plate by Conductive Cooking is a fantastic way to cook pizzas on your BBQ in record time. Thanks to its highly conductive steel alloy construction, this steel pizza plate gets real hot, real quick.
Sized 14 inches by 20 inches, its rectangular design, complete with a handy hanging hole makes it a good fit for all grills, as well as regular sized pizzas. Thanks to its smooth, low drag surface, you won't get any sticking, meaning you can simply slide off your pizza and return your steel plate to your grill to get the second one cooking.
If you have a large family or like to cook for a crowd, you may want to upgrade from the 3/16 inch thick standard version to the deluxe ⅜ inch thick model designed for cooking several pizzas straight after each other. Whichever version you decide to opt for, bear in mind that this steel pizza plate will need cleaning, oiling, and seasoning before use.
For crispy, tasty pizza cooked on your grill, this steel pizza plate from Conductive Cooking really is a game changer that will immediately change your home-made pizzas for the better.
Pros – Things we liked
Highly conductive steel alloy
Extra fast cooking duration
14" x 20" with a 3/16" thickness
Smooth, low drag surface to prevent sticking
Cons – Things we didn't like
Needs cleaning and seasoning before use
Best Pizza Stone Grilling Set
Cuisinart 3-Piece Pizza Grilling Set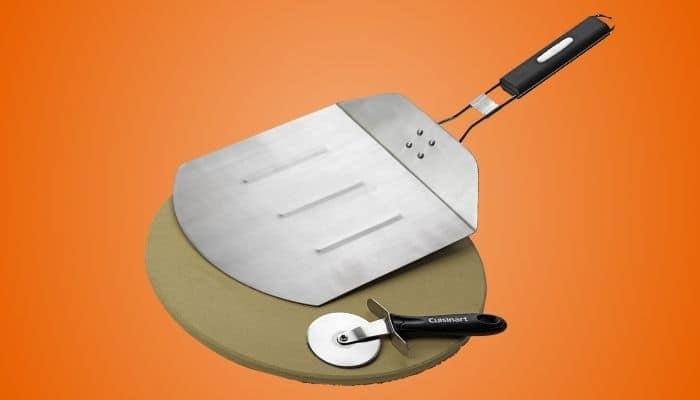 Looking for a fun little set to improve how you cook pizza on your grill? The inexpensive Pizza Grilling Set by Cuisinart makes a good option, specifically designed for use with outdoor grills.
While the pizza cutter isn't of the best quality, it still gets the job done and the folding-handle stainless steel pizza peel makes it easy to rotate and remove your pizza, without it taking up a huge amount of storage space. The 13-inch cordierite pizza stone is the real star of this set, transforming undercooked, doughy pizzas into crispy creations.
Simply place the stone on your heated grill and allow it to thoroughly warm through for 15 minutes. Thanks to its excellent heat retention levels, the stone will thoroughly cook through and crisp up your pizza dough in next to no time.
Given this little set's high usability and low purchase price, it makes a great choice for anyone looking to try out cooking pizzas on their grill, providing you with everything you need to start your very own grill pizza night. For the money, it's an excellent choice.
Pros – Things we liked
13″ cordierite pizza stone
Designed for use specifically with grills
Excellent heat retention for a good crispy crust
Includes a folding-handle pizza peel and pizza cutter
Cons – Things we didn't like
Poor quality cutter
Best Pizza Stone for Weber's Gourmet BBQ System
Weber Gourmet BBQ System Pizza Stone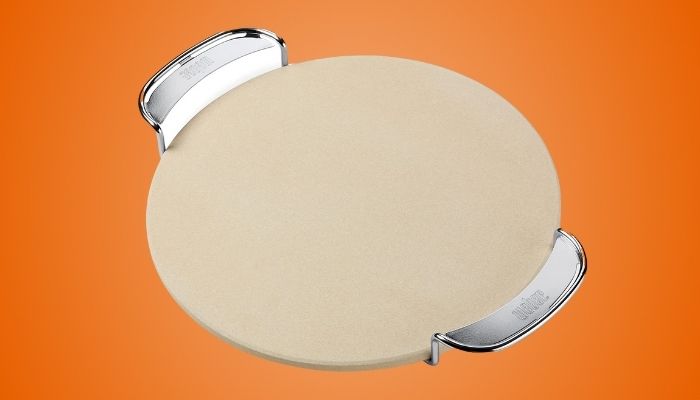 Specially designed to fit seamlessly into Weber's Gourmet BBQ System, the Weber Gourmet pizza stone can also be used with any normal grill. The 13.4-inch cordierite pizza stone absorbs heat and moisture to give you a perfectly crispy pizza base with every use.
While the metal carrying rack makes for easy transportation, unfortunately, it can get in the way a little. The stone heats up rapidly, although not quite as quickly as steel versions, and is easily cleaned after use, although some charring and staining will inevitably occur.
As most standard pizzas are around 16 inches minimum and most small pizza stones can generally accommodate 14-inch wide pizzas, at just 13.4 inches, this pizza stone is a little on the small side. However, it does still work well provided you get your grill and stone up to heat before adding your pizza.
If you have the Weber Gourmet BBQ System, this pizza stone makes a great addition. If not, you may prefer to save your money and go with a standard-sized, slightly larger pizza stone and pizza peel for easier removal.
Pros – Things we liked
Designed for use with the Gourmet BBQ System cooking grate
Suitable for use with any grill
13.4" diameter cordierite pizza stone
Carrying rack for easy transportation
Stone absorbs moisture for a light and crispy crust
Cons – Things we didn't like
Carry handles can get in the way
Pizza stone is a little small
Best High-Performance Pizza Steel
NerdChef Steel Stone High-Performance Baking Surface for Pizza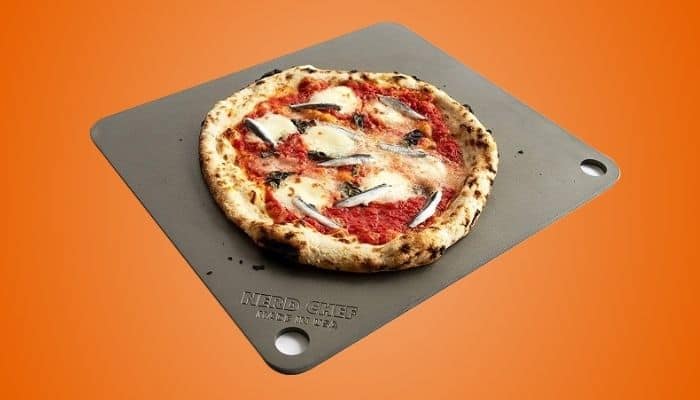 If you are looking for a high-performance pizza steel to revolutionize your grill pizzas, this is the model to go for. Thanks to its ultra-high heat conductivity, you get exceptional results from standard grills for crispy pizza bases with rapid cook times.
Made in the USA, Nerd Chef's premium pizza steel consists of quarter-of-an-thick solid, unbreakable steel for a highly durable model complete with a lifetime guarantee. Buy it today and use it for years to come, to create restaurant-quality pizzas on your backyard grill.
Measuring 14.5 inches by 16 inches, this pizza steel is a good size and comes pre-seasoned with flaxseed oil to save you time and effort. Its low friction, stick-free surface makes it much easier to use compared to regular pizza stones that often stick to your dough.
While this particular model is fairly heavy, weighing 16 pounds, it's testament to its high-quality construction, durability, and high heat conductivity. If you are looking for a pizza steel to really make a difference to your pizzas cooked at home on your grill, you'll definitely want to try out this model by Nerd Chef.
Pros – Things we liked
High heat conductivity
14.5" x 16" with a 0.25" thickness
Low friction, stick-free surface
Pre-seasoned with flaxseed oil
Unbreakable with a lifetime guarantee
Cons – Things we didn't like
Heavy – 16lbs
Best Pizza Stone for High Durability
Pizzacraft 15″ Square ThermaBond Baking/Pizza Stone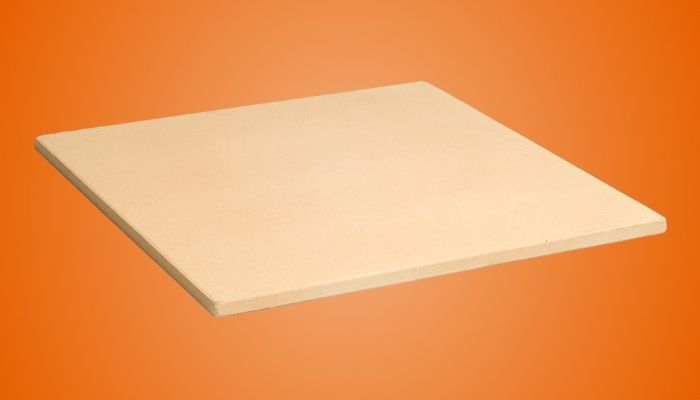 The ThermaBond Pizza Stone by Pizzacraft is a highly durable model thanks to its exclusive technology that eliminates thermal shock breakage for a longer lasting pizza stone with a more even heat distribution. Made from cordierite, this specially modified square pizza stone is a good 15 by 15 inch size.
Designed to withstand temperatures of at least 900 degrees Fahrenheit, this robust version makes a good buy for replicating your favorite authentic restaurant pizzas at home on your grill. It does not require any seasoning before use and as it is made from a porous material, you should not use soap to clean it as it will impart a soapy flavor to your next pizza base. Simply rinse it under running water.
While this pizza stone will help you to get restaurant-quality pizzas from your grill, unfortunately, it does take a long time to heat up, with the manufacturer recommending that you leave it to warm for 30 minutes before adding your pizza.
So, while it's not the best choice for pizza in a hurry, it's still a good dependable model that will last longer than a standard cordierite pizza stone.
Pros – Things we liked
15" ThermaBond cordierite pizza stone
No seasoning required
Thermal-shock resistant
Promotes even heat distribution
Cons – Things we didn't like
Needs heating for 30 minutes before use
Best Pizza Stone and Mini Peel Set
Hans Grill Baking Stone For Pizzas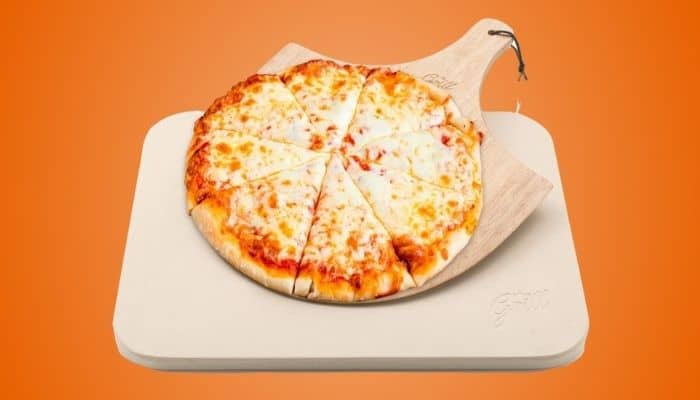 The Hans Grill Baking Stone For Pizzas comes complete with a wooden pizza peel. This 14.9 inch by 18.8 inch rectangular cordierite pizza stone gives good even heat and helps to absorb moisture from your pizza's base to ensure that you get a good crispy texture.
Designed for use with all grill types or your regular household oven, this stone can cook your pizza through in just 10 minutes, however, bear in mind that it does require a long heat up time of approximately 30 minutes to reach a high enough temperature to crisp up your base. Once the stone has heated up, you can continue to use it to cook extra pizzas without any further waiting time.
While the included wooden pizza peel is a nice extra touch, unfortunately, it is a little too small to be really useful and you may risk burning your hands when using it over the grill. All in all, this is a good pizza stone for the money, being easy to use and fairly inexpensive.
Pros – Things we liked
14.9" x 11.8" rectangular cordierite pizza stone
Moisture-absorbing stone for an extra crispy base
Cook pizzas in just 10 minutes
Includes wooden pizza peel
Cons – Things we didn't like
Peel is very short
Stone needs to be heated up for 30 minutes before use
Why Trust Us
All of our reviews are compiled with a combination of expert input, years of hands-on testing of grilling products, curating the reviews of real-life buyers in a "wisdom of the crowd" system, and of course our own expertise. All the products listed are the ones we would buy if we were looking to purchase a new pizza stone.
Methodology Used to Pick the Best Pizza Stone
When deciding on the best pizza stone we looked at and then rated each stone on the following criteria. Price, stone shape, the material it's made from, surface texture, total size, and ease to clean
Buyer's Guide to Buying the Best Pizza Stone
With so many different models available to choose from, finding the best pizza stone or steel for your grill can be a bit of a challenge. Here are the main deciding factors that you'll want to consider when making up your mind.
Price
Pizza stones and steels are not terribly expensive. You can get a regular pizza stone for use with any grill from around $30. Steel models tend to cost a bit more from $40-$80. If you are looking for an extra-large pizza stone or steel, expect to pay considerably more.
What's more, any pizza stone that is intended for use with a specific grilling system will usually be sold at a much higher price than standard versions, so expect to pay well over $50 for a pizza stone that fits into a special cooking grate.
While some more expensive models may work slightly better or have better durability, most versions are pretty similar. If you are new to using a pizza stone and using your grill to cook pizzas, you may be better off trying out a relatively inexpensive model at around $30- $50. Once you get the hang of it or end up making regular use of your pizza stone, you may decide to upgrade or to try out a different type of pizza stone or steel.
Circular or rectangular
While in theory, rectangular stones or steels are more versatile, round models are often the most popular.
As most budget pizza stones and steels work out slightly smaller than your average 16-inch pizza, you may feel obliged to make a pizza that goes right up to the edges of your stone. As most people instinctively think of round pizzas, they tend to go with a round model.
Rectangular versions can be useful for baking other foods, providing you with more usable space. However, if you are going to be using a large rectangular stone with a small round grill, just double check the sizes before you order.
Material
Here are the main types of pizza stone that you will come across when making your purchase. Find out which type is best for you.
Ceramic
Ceramic is a traditional pizza stone material. It helps to absorb moisture from your pizza base to ensure a crispy finish, while also providing good heat distribution for an even cook.
On the downside, ceramic is prone to breaking when faced with sudden temperature changes, so you'll need to be very careful when heating it up and cooling it down. Luckily ceramic pizza stones are readily available and fairly inexpensive so they are easily replaced.
Clay
Similar to ceramic, clay pizza stones are cheap and risk breaking if faced with a sudden change in temperature. Extremely porous, clay pizza stones crack very easily and absorb oil from your pizza, making them tricky to get clean.
Cordierite
Cordierite pizza stones are an improved version of clay and ceramic models. Cordierite is a mineral that is added to ceramic to make it stronger and more durable. As cordierite expands much slower when exposed to changes in temperature, it is much less likely to crack than ceramic, making it more durable. However, just like ceramic and clay versions, cordierite pizza stones remain hard to clean due to their porous nature.
Cast iron
Cast iron is not the best choice for cooking your pizza on your grill as it has uneven heat distribution which can lead to uneven cooking. However, cast iron does hold heat very well and provided you keep it well seasoned it can make a good enough choice for decent home-made pizzas.
Steel
Steel pizza plates are one of the most efficient pizza cooking methods around. Thanks to steel's very high heat conductivity, you can cook your pizza quicker and sooner when you opt for a steel pizza plate over a ceramic version.
Steel pizza plates are also easier to clean, although they will need regular seasoning to ensure that they don't start to rust. Generally more expensive than ceramic and cordierite models, if you are looking for an authentic restaurant style pizza at home on your grill with a crispy base, a steel pizza plate is going to be your best option.
Size, Weight & Thickness
Thickness is very important when it comes down to choosing the best pizza stone. Too thick and you'll need to leave it to heat up for several hours.
Too thin and it won't hold enough heat to evenly cook through your pizza so it's nice and crispy. Ideally look for pizza stones that are approximately ½" inch thick or steels that are around ⅜" thick.
Obviously thicker models will weigh more, so bear this in mind when making your decision. If you're looking to cook a lot of pizzas back to back, you may want to invest in a heavier, thicker-than-average pizza stone and heat it up for a good two hours before starting your pizza cooking marathon.
Aside from choosing a size that matches your pizza preferences, don't forget to check that your pizzas stone or steel will be a good fit for your grill. You want it to fit in the center with good clearance around the edges to ensure that it heats up fully all around.
Surface Texture
Ideally, you want to opt for a pizza stone with a coarse surface to encourage the formation of air pockets. Damp dough is more likely to stick to an overly smooth surface, whereas stones with a coarser texture will create an uneven surface that allows steam to escape from under your pizza base.
While most of the pizza steels that we've reviewed have a very smooth surface, given their considerably higher conductivity and temperatures, this is less relevant when choosing a pizza steel as opposed to a pizza stone.
Cracking
Ceramic and clay pizza stones are prone to cracking due to sudden changes in temperature known as thermal shock. Even when you carefully and slowly allow your pizza stone to warm up and cool down, simply placing your cooler dough on the stone can cause it to crack. To avoid cracking pizza stones, pay a bit more for a cordierite or steel model.
Cleaning
If you have chosen a porous pizza stone, you won't want to wash it out with soap as it will absorb the taste and odor, which it will then flavor your next pizza with.
These types of pizza stone are notoriously difficult to get clean and over time they will become oil stained and charred. However, this is no big deal. Simply wipe yours clean and rinse it over after use, being careful to avoid any sudden temperature changes.
Steel versions are easier to wipe clean, however, you will have to be careful that they don't start to rust. Use minimal amounts of water, always dry after wetting, and add a protective coat of oil after cleaning to keep your pizza steel in good shape.
How to Use a Pizza Stone
If you have never used a pizza stone on your grill before, you might want to learn exactly how to go about it before placing your order. Here's how to use your new pizza stone on your grill.
Always read the manufacturer's instructions fully before using your pizza stone. Some may require seasoning or a longer heating period for their first use.
If you have a steel pizza plate, you'll probably want to go ahead and season it, even if it already comes pre-seasoned. Once you've done that, your steel pizza plate will be heated up and ready to use in minutes.
Ceramic and cordierite pizza stones take much longer to reach the optimum temperature for cooking your pizza. As ceramic stones in particular are at risk of breaking from thermal shock, always make sure that you start them off on a cool, unlit grill, then allow them to gradually heat up and cool down afterwards.
While steel pizza plates tend to provide a smooth, stick-free surface, you may find that your home-made pizza dough gets stuck to your pizza stone. To prevent this from happening use flour on your stone or a piece of parchment paper between your pizza and the stone.
Be very careful when cleaning your pizza stone or steel. You do not want to remove any layers of seasoning from your pizza steel. If you are using a pizza stone, soap is to be avoided as their porous nature will absorb the odor and taste of the soap, flavoring your next pizza. Over time your pizza stone will darken and absorb oil from your pizza and its toppings, so don't be surprised if it looks very different after just a handful of uses.
Top Pizza Stones for Grills Video
Final Thoughts
There is no shortage of good pizza stones that would make an excellent addition to your grill. Rather than ordering a pizza delivery for next week's pizza night, why not create some tasty home-made pizzas on your grill with your family or friends?
Looking for the best pizza steel for a rapid heat up and cook time? You need the Nerd Chef Steel Stone High-Performance Baking Surface for Pizza. Pre-seasoned with flaxseed oil, this highly durable pizza steel has a lifetime guarantee, so you can be sure that you're getting a good deal. Thanks to its high heat conductivity levels, it's an excellent choice for recreating restaurant-quality pizzas at home on your grill.
If you are looking for a more traditional pizza stone, take another look at the Pizzacraft 15″ Square ThermaBond Pizza Stone. Made from durable cordierite, this pizza stone has a good 15 by 15 inch size and is resistant to thermal shocks, making it a good all-around choice.