The best cutting board for meat will not only help keep your knives sharp, it will also enhance your presentation and impress your guests at your next BBQ.
Whether you are looking to improve your culinary skills, or just appreciate items that combine functionality with beauty, a well crafted cutting board also makes a sound investment that can last for generations. Here's how to choose your new cutting board for meat.
Best Cutting Boards for Meat
Save your time and energy for your next brisket or tri-tip roast, rather than spending hours researching cutting boards. Here is our top-rated selection of the very best of the best cutting boards for meat – find your ideal model right here.
Best Reversible Maple Cutting Board
John Boos Block R03 Maple Wood Edge Grain Reversible Cutting Board
Maple is widely considered to be the very best wood for cutting boards for meat. This edge grain version by legendary cutting board creators John Boos makes an excellent choice thanks to its use of sustainably sourced northern hard rock maple. NSF certified, this cutting board meets strict public health protection standards, so you can use it for cutting your meat with full confidence.
Measuring a generous 20 inches wide by 15 inches high, with a good 1.5 inches depth, this board can accommodate large joints as well as smaller birds. Stylishly rustic, the R-series are highly functional and this R03 Maple Wood Edge Grain Reversible Cutting Board is no exception. Use it in your kitchen, outdoor cook station, or on your grill side table, it is easy to flip over thanks to its recessed finger grips.
Simple yet effective, just bear in mind that this model does not have a juice groove, so if you are looking for a meat cutting board for carving, rather than prepping, you would be better off checking out some of the others in our selection. Like all solid wood models, make sure that you regularly oil this highly durable traditional cutting board.
Pros – Things we liked
Sustainably sourced Northern Hard Rock Maple
20" x 15" x 1.5"
NSF certified
Recessed finger grips
Reversible
Cons – Things we didn't like
No juice groove
Best Cutting Board for Meat for Entertaining
Sonder Los Angeles Walnut Alfred Cutting Board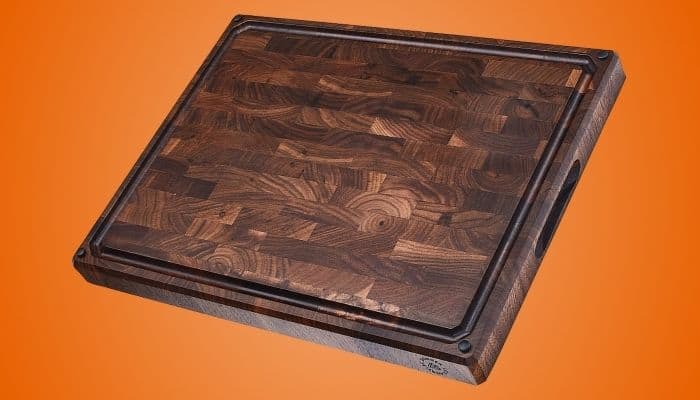 If you are looking for a beautiful cutting board that can also double as a serving platter for your smoked meats, the Walnut Alfred Cutting Board by Sonder Los Angeles makes a top choice. Its stunningly rich end grain surface will protect you knives from prematurely dulling, while wowing your guests.
This cutting board for meat is also very safe to use thanks to its removable non-slip feet. Use the side with the generous 3.5oz capacity juice groove to slice up your freshly grilled meat, then use the integrated end finger grips to flip it over and slice up a selection of accompaniments that can be served next to your sliced meats in the three handy compartment grooves.
Proudly made in America from sustainable black walnut, this 1.5-inch thick cutting board measures 17 by 13 inches and weighs 7.5 pounds. It would also make an excellent gift, especially as it comes in a special presentation box. The only real negative is that the finish in the compartments and groove is not as smooth as on the main cutting side of the board.
Pros – Things we liked
End grain walnut cutting board
Removable non-slip feet
Three compartments
3.5oz juice groove
Integrated end finger grips
Cons – Things we didn't like
Rough finish in compartments and juice groove
Best Plastic Cutting Board for Meat
OXO Good Grips Utility Cutting Board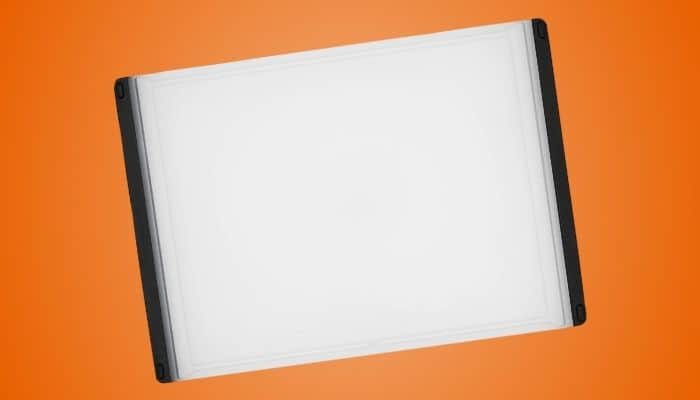 While wood cutting boards are generally considered to be the best all round, every kitchen can also benefit from a well designed, lightweight plastic chopping board – with the main advantage that it can be easily sanitized in your dishwasher.
This version by OXO features a double sided design complete with non-slip feet. While this board won't move around when you are chopping, it can flex slightly in the middle due to the corner location of its raised feet. Thanks to its soft, tapered edges, you can easily grip it at either end to turn it over.
This double sided plastic cutting board for meat has a grooved side complete with an integrated drip catcher and easy-pour corners – ideal for cutting up your juicy BBQ creations. Use one side for your cooked meats and the other for slicing up your BBQ sides, when you're done, simply place it in your dishwasher or an easy clean with no maintenance required.
If you are looking for a plastic cutting board for cutting meat from your BBQ, this version by OXO is a good choice that has been well thought out and fairly durable as far as polypropylene cutting boards go.
Pros – Things we liked
Double sided with a grooved side for meat
Non-slip feet
Integrated drip catcher with easy-pour corners
Soft tapered edges
Dishwasher-safe
Cons – Things we didn't like
Can flex in the middle when cutting
Best Flat Cutting Board for Meat
John Boos Maple Classic Reversible Wood End Grain Chopping Block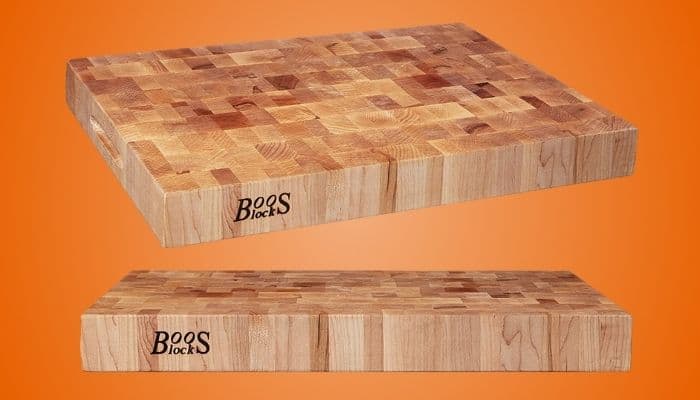 The Classic Reversible Wood End Grain Chopping Block by John Boos is made from hand selected Northern Rock Maple Wood.
Thanks to this chopping block's end grain construction, your knives will stay sharper for longer. Visually appealing and highly functional, this durable model has been designed to last for many years with the right level of care and attention.
Measuring 20 by 15 inches with a generous 2.25 inches depth, this is a large model that is suitable for slicing up your freshly smoked meats. Reversible, this flat chopping block features slightly tapered edges and integrated finger grips to make it easy to pick up and turn over.
Bear in mind that this version does not feature a juice groove, so if this is a deal breaker for you, read on and take a look at our other John Boos top selection complete with a juice moat. With maple end grain cutting boards for meat considered to be one of the very best types around, little wonder this model by world famous John Boos is such a highly popular choice.
Pros – Things we liked
Made from hand-selected Northern Hard Rock Maple Wood
End-grain construction
Measures 20 by 15 by 2.25 inches thick
Reversible
Integrated finger grips
Cons – Things we didn't like
No juice groove
Best Value Cutting Board for Cutting Meat
Royal Craft Wood Bamboo Cutting Board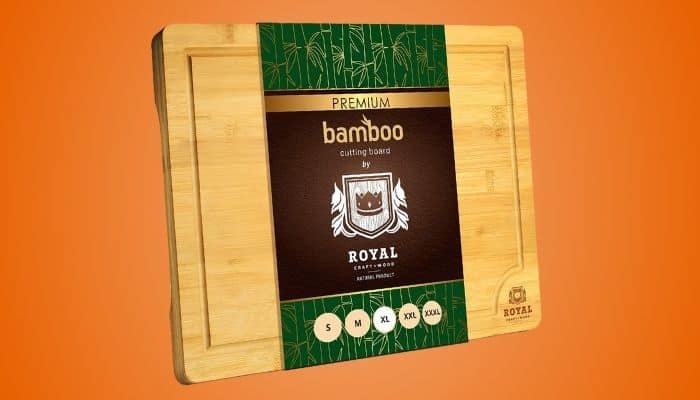 If you are looking for an all-natural cutting board for your next BBQ, this model by Royal Craft Wood makes a highly affordable option. Made from 100% bamboo, you won't have to worry about chopping off small bits of plastic into your meal, as with polypropylene versions.
This double-sided bamboo cutting board features built-in handles making it easy to grasp and serve from. One side is completely flat and can be used as a stylish serving platter, or for chopping up fresh produce for your BBQ sides. The other side is specifically designed for cutting meat with its deep juice groove.
Available in several different sizes, we think the XL version at 18 by 12 inches is a really handy model, ideal to have to hand when you're grilling, for both chopping nad serving. The only real drawback is that the edges can be a little rough, however, given its comparatively very low price, this isn't really an issue and you could always easily sand them down a little.
Pros – Things we liked
100% natural bamboo construction
Double sided
Deep juice groove
Built-in handles
Sized 18" x 12" for chopping and serving
Cons – Things we didn't like
Rough edges
Best Maple Cutting Board for Meat with Juice Groove
John Boos Block RA02-GRV Maple Cutting Board with Juice Moat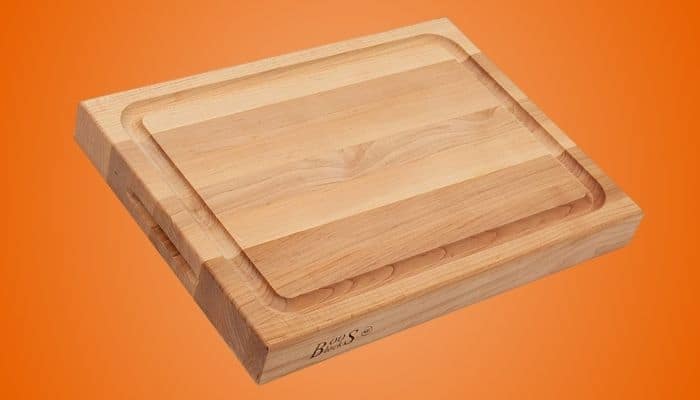 The RA02-GRV Maple Cutting Board with Juice Moat by John Boos is a perfect cutting board for slicing up your grilled meats. This end grain block is made from sustainably sourced Northern Rock Maple with stunning looks and a solid, heavy-duty construction for many years of use.
Thanks to its reversible design with recessed finger grips, it is easy to switch from one side to the other, whether you wish to use it to present your perfect smoke ring or to switch to chopping fresh produce for your BBQ side dishes. This natural wooden chopping board is NSF-certified, so you can use it with full confidence.
The large juice "moat" on one side allows your freshly cooked meats to drain for easier slicing. Measuring a hearty 2.25 inches thick, this is one serious chopping block, although some people might find it a little too heavy to be carried out to the BBQ or for use as a serving platter as this particular model weighs in at over 20lbs.
Pros – Things we liked
Made from sustainably sourced Northern Rock Maple
Edge grain construction
NSF certified
Recessed finger grips
Reversible with a large juice moat
Cons – Things we didn't like
Heavy – weighs over 20lbs
Best Budget Meat Cutting Board Set
Kikcoin Cutting Board Set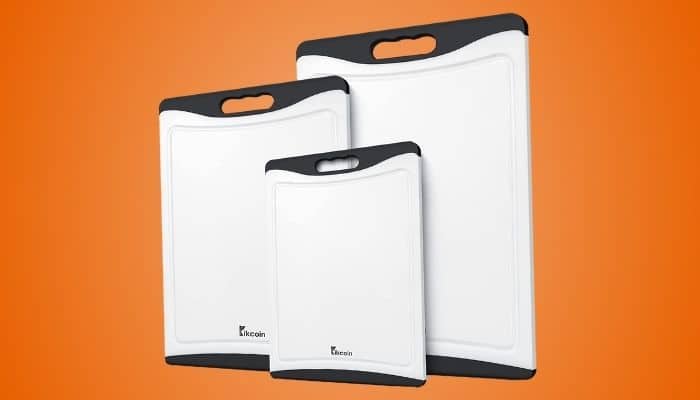 If you are looking for a cheap plastic set of cutting boards for meat, check out this budget set by Kikcoin.
While they are not the most durable, they are a cheap and cheerful addition to any outdoor cook station and as they are inexpensive and easy to clean, you won't have to worry about staining or damaging them – simply put them in your dishwasher after your BBQ.
The largest board in this set of three boards measures 12 inches by 17.3 inches, plenty large enough for slicing up your steaks. While each board has a juice groove, unfortunately, there are all too shallow to be of any real use. More worryingly, these boards are not very durable and tend to cut very easily, which means that small amounts of plastic could get transferred to your food.
Thanks to their rubber grip handles, they are fairly stable when in use. All in all, while there are plenty of better options out there, if you are looking for a cheap plastic set of cutting boards for meat, this version is good enough for the money, especially if you are only looking to use them for one BBQ season.
Pros – Things we liked
Set of three plastic cutting boards
Rubber grip handles
Dishwasher safe
Reversible design
Cons – Things we didn't like
Shallow juice grooves
Not very durable
Why Trust Us
All of our reviews are compiled with a combination of expert input, years of hands-on testing of grilling products, curating the reviews of real-life buyers in a "wisdom of the crowd" system, and of course our own expertise. All the products listed are the ones we would buy if we were looking to purchase a new cutting board.
Methodology Used to Pick the Best Meat Cutting Boards
When testing the best cutting board for meat we looked at and then rated each board on the following criteria. Price, materials used, does it have a juice groove, is it non-slip, ease of cleaning, size & weight, handles, and does it come in a set.
Buyer's Guide to Buying the Best Cutting Board for Meat
If you can't make up your mind which is the best cutting board for meat, take a read through our buyer's guide. We'll take a closer look at all of the important features that are essential to a good meat chopping block, so you can find the right model for your BBQ.
Price
There are plenty of excellent cutting boards for meat at a wide range of prices. If you are looking for a budget plastic meat chopping board, you can pick one up for as little as $10.
Bamboo models tend to start a little higher at around $20 for a good sized one that can be used for slicing your smoked joints fresh from the grill. Wooden meat cutting boards tend to cost from $30 upwards.
If you are looking for a sustainable, America-made wood chopping board for your BBQ then you should consider increasing your budget to start at around $50 for a good edge grain version. These models can reach several hundred dollars, with end grain models coming in at $120 and above.
While there are some beautiful wood cutting boards for meat priced at a premium, there are also plenty of reasonably wood priced models that will also last for a long time to come. So set your budget and then focus upon finding a model with the features that are important to you.
Juice Groove
If you've got your smoking technique just right, you'll be rewarded with juicy, tasty meat that is dripping with flavor. Even after allowing it to rest, you will still have some juices that will need to go somewhere as you slice through your joint.
Purchasing a meat cutting board with a deep juice groove will allow the excess juices to flow away from your cutting area, preventing your hands from slipping and the entire area from becoming a sticky mess.
Non-Slip
If you opt for a heavy wood version, it is less likely to slip around when you cut up your smoked meats. However, lightweight versions can slip and slide which can be very dangerous. If you don't particularly want to go for a model with silicone anti-slip feet, simply do what chefs do and get yourself a slightly damp kitchen cloth and place it under your meat cutting board.
Ease of Cleaning
While people generally associate plastic cutting boards as being easier to clean as they are dishwasher safe, if you stop to think about it, you will be handwashing your chef's knife to ensure it stays sharp and in the best condition. While you're quickly washing and drying your knife, it only takes just a few seconds longer to give your wooden chopping board a quick clean down and wipe dry.
Wooden chopping boards do, however, take more time to maintain, although rubbing a small amount of oil into your board every few weeks isn't really that much of a chore. Especially as it will give you a long lasting natural product, whereas plastic versions will end up eventually warping in your dishwasher and going to landfill.
Size & Weight
Cutting boards are available in various sizes and weights.
For cutting up generously sized smoked joints such as brisket, you'll want to look out for a large chopping board sized around 20-22 inches by 18 inches. For steaks and other smaller cuts, you'll probably want a smaller, more easily maneuverable medium sized model around 18 inches by 14 inches.
Wood cutting boards tend to weigh a lot more than lightweight plastic or bamboo models. Sometimes a really heavyweight end grain board is desirable, giving you good stability while you cut through large joints. On the other hand, for quickly slicing up a small joint to pass around using your board as a platter, you may prefer a lightweight model.
Some of the heaviest wood end grain versions can weigh around 20 pounds, with plastic cutting boards weighing just one pound.
Handles
Often overlooked when choosing a new cutting board, handles make it much easier to transport your board out to your food preparation BBQ area, as well as enabling you to easily flip your reversible chopping board over.
If you are also going to be using your cutting board for meat as a serving platter, a model with handles will make it much easier to pass around to allow your guests to serve themselves slices of your freshly smoked brisket.
Single Board vs. Set
While you'll want to have a dedicated cutting board for raw meats, this doesn't mean that you have to pick up a set rather than a single board. Chances are, you most probably already have a set of kitchen cutting boards.
If you are looking for a dedicated cutting board for meat smoked on your grill, we recommend choosing a good wooden model that is visually pleasing and can also double up as a serving platter.
While cutting board sets can be good value for money, if you chose a high quality, reversible board for cutting your BBQ meats, you can always use the other side for fresh produce for your BBQ sides, or prepare those inside with your regular chopping boards before your BBQ gets started.
Meat Cutting Board Materials
Wondering what is the best meat cutting board material? Here's the lowdown on each of the most popular types.
Wood
Pros:
Environmentally friendly – look out for sustainable American wood cutting boards.
All natural – you won't have to worry about getting small bits of plastic in your meal.
Won't harbor bacteria – wood chopping boards naturally inhibit bacterial growth.
Beautiful finish – a solid wood chopping board is very pleasing on the eye and will lend your culinary creations an air of professionalism.
Durable – look after your wood chopping board and it could serve you for many years to come.
Kind on your knives – wood meat chopping boards won't blunt your knives as quickly as plastic and glass chopping boards do.
Cons:
Price – sustainable wooden chopping boards will cost more than cheap plastic or glass ones. However, as they last so much longer, they can work out better value for money in the long run.
Maintenance – while quickly hand washing them down along with your knife takes next to no time, wooden chopping boards do require regular oiling to remain in good condition.
Plastic
Pros:
Inexpensive – one of the main advantages of plastic chopping boards is that they are cheap to purchase.
Dishwasher-safe – they can also be washed in your dishwasher, although some risk warping on hot cycles.
Cons:
Negative impact on the environment – creating plastic has a negative impact on the planet, putting out pollutants and contributing to global warming.
Not biodegradable – your cheap plastic chopping board will take many many years to break down, along with all of the other cheap discarded plastic chopping boards. When it does break down, it will become tiny micro plastic pieces that can harm wildlife and get into the water system.
Damages easily – plastic chopping boards are not very durable. They start to get some serious cuts in them from day one.
Harbors bacteria – these cuts are ideal places for bacteria to hide and grow. Eventually, your plastic chopping board will need to be thrown out or you will risk a case of food poisoning.
Dull knives – plastic chopping boards dull your kitchen knives very quickly making using a plastic chopping board counterintuitive as you have to sharpen your knives more often to get a better cut using your chopping board.
Bamboo
Pros:
Environmentally friendly – made from natural bamboo, it's a much more eco-friendly choice than plastic.
Sustainable – bamboo grows very quickly making it a sustainable natural alternative to plastic.
Durable – hard to the touch, your bamboo chopping board will last much longer than a plastic model.
Kind to your knives – bamboo cutting boards won't dull your expensive knives as fast as plastic or ruin them like glass will.
Easy to wipe clean – simply wipe it over with soapy water and rinse after use.
High-density composition keeps out water – this means your bamboo chopping board won't harbor any dangerous bacteria.
Cons:
Not dishwasher safe – although it takes seconds to wipe one clean with your knives after use.
Some oiling required – like wooden chopping boards, you'll want to occasionally oil down your bamboo board with mineral oil to keep it in prime condition.
Composite
Pros:
Made from recycled materials – making them a better choice for the environment.
Price – some can be fairly affordable although others are overpriced.
No maintenance required – they don't need oiling.
Cons:
Some versions can start to flake – especially thinner ones made with lighter paper rather than heavier recycled wood versions.
A lot of glue on the heavier versions – which can be less good for your knives.
Glass
Pros:
Easy to clean – glass is very easy to clean and can go in your dishwasher as well as being easily disinfected.
Non-porous – glass will not absorb any smells or tastes. It also won't harbor any bacteria provided you clean it well between uses.
Long-lasting – glass chopping boards last for ages, until they get thrown out or dropped.
Cons:
Slippery – glass chopping boards are dangerous to use as they slip and slide around. Even if you use them with a non-slip mat, your food will still slip on their smooth surface and you'll risk slicing into your hand.
Ruins your knives – glass chopping boards are very, very bad for your knives. Do not use any of your expensive models on a glass chopping board, ever.
Disagreeable to use – the sound, the feeling, the slippery sliding about, there is nothing agreeable about using a glass chopping board.
End-Grain Boards
End grain boards are wooden boards. They are worth a special mention due to their unique construction that juxtaposes several different cuts of wood with their grain perpendicular to the cutting surface, rather than parallel as is the case with edge grain boards.
End grain boards are considered to be the very best of the best cutting boards and are used in professional kitchens by chefs all over the world. While they take more skill and time to create, resulting in a higher price tag, they can last for generations when correctly maintained.
They are also a better choice for your knives as they will keep the blade sharper for longer as it passes in between the fibers with each slice.
What is the Best Wood to Use for a Cutting Board?
While there are lots of good woods out there to choose from and not everyone has quite the same preferences, if we were to pick the overall best wood to use for a chopping board, it would have to be maple.
Why maple? Well, for a start, maple is sustainable and a native species to North America with abundant stocks and a rapid regeneration rate compared to many other trees used for chopping boards.
Secondly, maple is affordable as it tends to grow in cool climates, being less susceptible to pests. As it is more abundant it costs less and being locally harvested and manufactured makes for cost savings as well as environmental ones.
Maple is also a nice light colored wood with subtle grain markings that makes it a highly attractive choice for chopping boards. Thanks to Hard Rock Maple's high density, it is very well suited for creating long-lasting chopping boards that are safe for food preparation.
Are Cutting Boards Safe for Meat?
Once your cutting board begins to show obvious signs of wear, it is usually time to replace it. This is especially true for plastic chopping boards that are at an increased risk of harboring potentially dangerous bacteria inside the cuts left after chopping that then become impossible to clean effectively.
While wooden chopping boards tend to provide a much more hygienic surface preventing bacteria from developing inside, if your wooden chopping board has any large crevices that are difficult to clean out, you should either replace it or sand it down to remove the crevice.
In a nutshell, yes, cutting boards are safe for meat provided they are cleaned immediately after use, left to thoroughly dry, and discarded when damaged.
Top Cutting Boards for Meat Video
Final Thoughts
A good cutting board for meat will not only make carving up your next smoked joint even more of a pleasure, it will also provide a nice serving platter as well as a stunning visual backdrop when you're showing off your brisket smoke ring.
There is certainly no shortage of excellent products around. However, if you are looking for the very best cutting board for meat, we recommend the John Boos Block RA02-GRV Maple Cutting Board with Juice Moat.
While this high-quality meat chopping board with juice groove has a pretty high price tag, its natural maple construction will last for generations provided you take good care of it. With its stylish looks and recessed finger grips, this reversible end grain meat cutting board is one of the very best models on the market, NSF-certified and made in the USA.
Alternatively, if you are looking for a good meat cutting board on a budget, check out the Royal Craft Wood Bamboo Cutting Board. Its generous dimensions, all natural construction, and deep juice groove make this affordable model a highly popular choice.