Whether you are looking to get into smoking meat or want to improve on your recent recipes, you can't go wrong with a good-quality cookbook. The best smoker cookbook will contain valuable advice, alongside a selection of carefully tried and tested recipes for you to try out at home.
Choosing the best version for your skills and needs can be a tricky task with so many excellent smoker cookbooks on the market to choose from. Make sure you know just what you are buying with our top reviews of the very best smoker cookbooks.
Best Smoker Cookbook Quick Summary
Best Smoker Cookbook
Whatever your level of experience, you are sure to find your perfect smoker cookbook amongst our top-rated essential smoker cookbook selection. Read on and find your ideal smoker cookbook right here.
Best Essential Smoker Cookbook
Project Smoke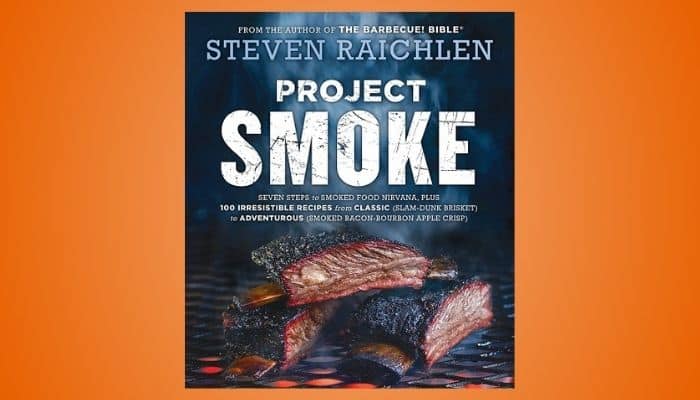 If you are only going to go for one smoker cookbook, you should definitely make it Project Smoke by one of New York Times bestselling authors Steven Raichlen. This masterpiece is highly recommended for any and every smoke enthusiast, whether you're just getting started or have been smoking for decades.
Not only does this excellent smoker cookbook teach you how to master all of the essential techniques, it also covers how to flavor your raw food prior to smoking, the different tools you'll need, plus fuels, and smoking woods. If you are looking at getting into smoking, you'll also find Raichlen's expert advice on how to choose the best smoker invaluable.
With 100 recipes covering the classics, such as brisket and pork shoulder, to more adventurous, innovative dishes including cheese and even cocktails, this smoker cookbook is both an essential guide and an inspiration. Complete with full-color photos that will get your mouth watering in anticipation, this book is a definite must-buy.
Just note that if you are easily overwhelmed and are looking for a simple recipe collection, this exciting, in-depth smoking compendium may be a little too in-depth for your needs.
Pros – Things we liked
100 smoker recipes
In-depth explanation of fuels and woods
Covers the classics and more innovative recipes
Complete step-by-step guide
Cons – Things we didn't like
Can be overly complex if you just want a simple guide
Best Texas-Style Smoker Cookbook
Franklin Barbecue: A Meat-Smoking Manifesto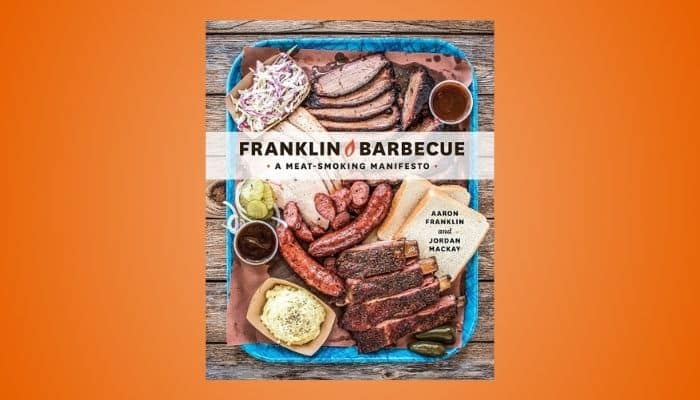 A New York Times bestseller, A Meat-Smoking Manifesto by top pitmaster Aaron Franklin explores the traditions and history of Central Texas BBQ through the author's rise to fame. Each chapter is an in-depth account of Aaron's experiences and development, both on a personal level, as well as discussing his choices of wood, smokers, and meats.
Rather than put together a recipe-laden smoker cookbook full of rights and wrongs, this book embodies the true spirit of Texas BBQ and invites the reader to look closer into the finer details. After reading, you will be emboldened to try out new ideas and up your smoking game.
A lot of detail is discussed for each essential element of smoking meats, making this smoker cookbook less suitable for the complete beginner. It is also heavy on the author's own progression and success, being more of a personal guide into the smoking mindset rather than a simple how-to.
For this reason, there are not a lot of recipes, as the reader is invited to begin their own personal adventure into a deeper understanding of smoking, rather than simply imitating popular recipes.
Pros – Things we liked
New York Times Bestseller
Unique insight into Central Texas BBQ
Good general knowledge to improve your own smoking style
A lot of detail into each element of smoking
Cons – Things we didn't like
Less suitable for complete beginners
Not a lot of recipes
Best Carolina BBQ Smoker Cookbook
Rodney Scott's World of BBQ: Every Day Is a Good Day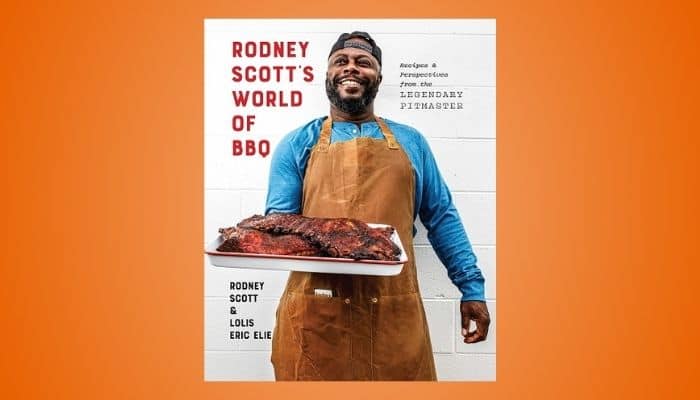 Rodney Scott's World of BBQ will transport you back into the past, sharing Rodney's childhood and perseverance that have made him what he is today. A classic, straightforward approach to Carolina BBQ, this smoker cookbook gives heart and feeling to the recipes that Rodney shares towards the end.
The recipes are simple and tasty, with a focus on flavor and the joy of creating delicious food. While the vast majority of this smoker cookbook is dedicated to Rodney's past, making it a very good autobiographical read, there is still a variety of recipes covering snacks, salads, desserts, and vegetables, as well as traditional meaty dishes.
The recipes are easy to follow and accompanied by outstanding images of the finished dishes. If you are looking to create some of Rodney's most popular dishes at home, then this book is a must-buy.
Otherwise, if you are simply looking for a smoker recipe book without the soul, you may find it a little too heavy on autobiographical content and lacking in the actual number of recipes.
Pros – Things we liked
Insights into Rodney Scott's journey to fame
Straightforward approach to BBQ
Simple, tasty recipes
Also covers snacks, salads, desserts, and vegetable recipes
Cons – Things we didn't like
A lot of autobiographical content
Best Smoker Cookbook for Beginners
Smokin' with Myron Mixon: Recipes Made Simple, from the Winningest Man in Barbecue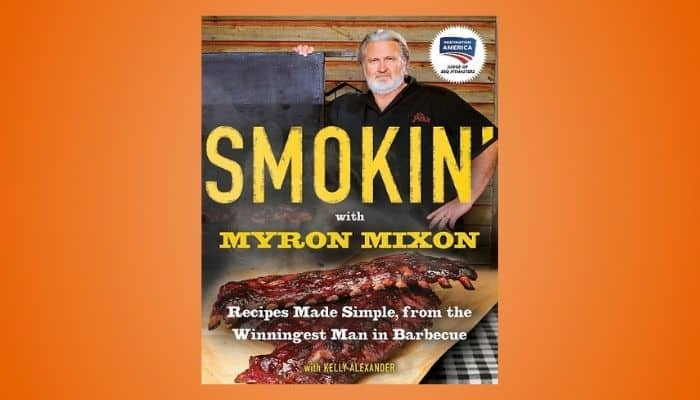 If you are just starting out smoking and are finding it all a little complex, take a leaf out of Smokin' with Myron Mixon and get back to basics.
Mixon's "keep it simple" mantra has won him more trophies, prize money, and fans than anyone else in the world of competitive BBQ and this smoker cookbook will help you to recreate some of his most classic dishes.
With a good focus on the basics, such as choosing the right wood and a good smoker, Mixon shares his cooking style and secrets with you in this guide to smoking the good old-fashioned. Aside from some invaluable insights into his methods, Mixon also details 70 of his all-time favorite, award-winning recipes, including his famous Cupcake Chicken.
While this smoker cookbook is without a doubt a great way to get some fantastic results, Mixon can come across as being pretty arrogant, which given his huge success he has every right to. However, if you are more experienced and are looking for inspiration to find your own smoking style, this approach will be less suitable for your needs.
Pros – Things we liked
70 award-winning recipes
Beautiful photos
Covers the basics
Includes formulas for rubs, marinades, and sauces
Cons – Things we didn't like
Author comes across as arrogant
Best Wood Pellet Smoker Cookbook for Beginners
Master the Wood Pellet Grill: A Cookbook to Smoke Meats and More Like a Pro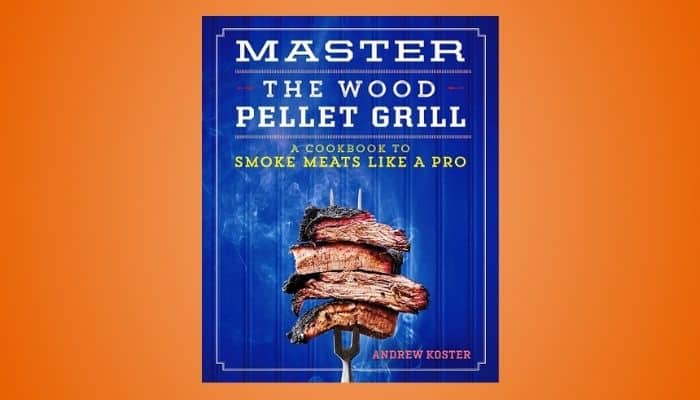 If you are new to wood pellet grills, then this smoker cookbook is a must-buy! Packed with useful information and plenty of detailed recipes, Andrew Koster shares his intimate knowledge of how pellet grills function in an easy-going, well-written read.
The first part of this wood pellet smoker cookbook deals with the basic components of your pellet grill, allowing the beginner to get comfortable with the smoker and how it works. Later chapters explore how to best select, prepare, and rest different cuts of meat, as well as sections on making your own marinades and rubs.
The troubleshooting guide will help you to get started and resolve any common issues you may be experiencing with your new pellet smoker, such as loss of fire or unwanted temperature fluctuations.
The recipes section has a good selection of really appealing dishes, from classics such as pulled pork and smoked spare ribs to more unusual offerings such as teriyaki beef jerky. On the downside, there are not very many accompanying photos of the finished recipes, which would greatly improve this cookbook's appeal.
Note that this is a fairly basic smoker cookbook, so if you already have some experience with your wood pellet grill, you may want to look for something more challenging.
Pros – Things we liked
Plenty of useful pellet grill information
Advice on preparing meats
Pellet grill troubleshooting guide
Good selection of pellet smoker recipes
Cons – Things we didn't like
Not enough photos
Fairly basic – best for beginners
Best Step-by-Step Smoker Cookbook
Smoking Meat 101: The Ultimate Beginner's Guide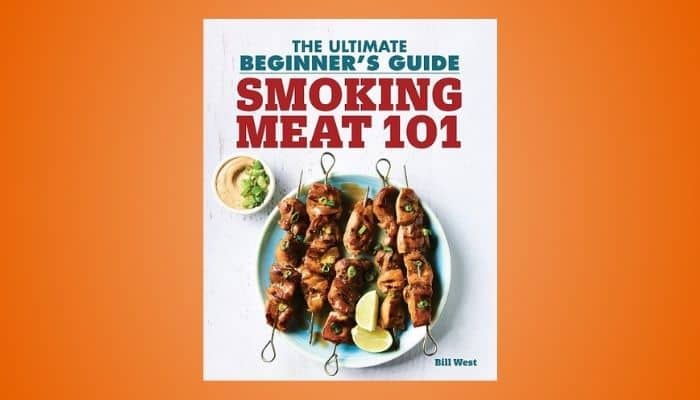 Smoking Meat 101 is a great choice for anyone completely new to smoking and looking for advice and step-by-step recipes to help build their confidence. Best-selling cookbook author Bill West comes to the rescue with plenty of useful, practical advice on choosing the best smoker, wood, and tools.
You'll also learn how to correctly season your meat, how long to smoke different cuts for, and how to troubleshoot common issues with Bill's invaluable troubleshooting tricks.
This smoking meat crash-course guidebook includes 75 recipes for foolproof masterpieces that will impress your friends and family. If you've never smoked a recipe before, take advantage of the five step-by-step recipes where you can learn all of the essential techniques as you prepare and smoke your very first dishes.
While this is a good, comprehensive guide to smoking for the complete beginner, it could be improved with a lot more photos. However, if you want to try smoking but literally have no clue where to begin, this is without a doubt a great cookbook to get started with.
Pros – Things we liked
75 smoked meat recipes
Step-by-step guidance with 5 "First Smoke" recipes
Troubleshooting section
Advice on wood selection and tools
Cons – Things we didn't like
Not a lot of photos
Best Scientific Smoker Cookbook
Meathead: The Science of Great Barbecue and Grilling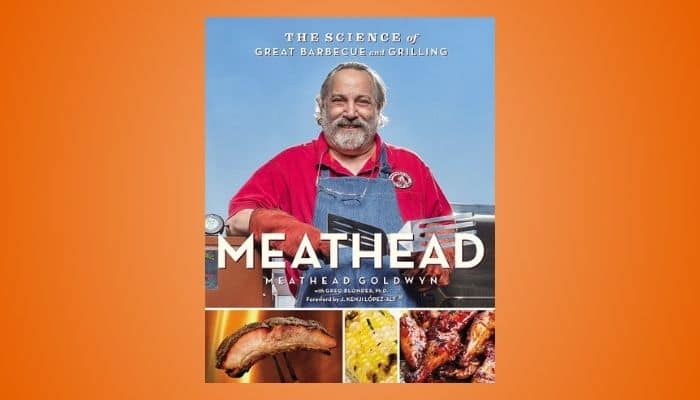 Meathead, the web's leading authority on all things BBQ, dispels some of the most common smoking and BBQ myths in this superb scientific smoker cookbook.
Using demonstrable science for a deepened understanding of how food, heat, fire, and smoke all interact for the perfect smoke, this highly enjoyable and thought-provoking read will change the way you BBQ for the better.
Explore the concepts behind smoking meats, check out different methods, and read about the tools and accessories that can really help make a difference to your performance. Meathead also shares some invaluable tips and tricks to enable you to up your game. Unlike a lot of other best-selling BBQ books, this smoker cookbook does a lot to explain rather than simply telling you what to do.
With over 100 hundred tried and tested recipes and hundreds of full-color photos, this cookbook is a veritable source of inspiration, as well as a great way to extend your smoking capabilities.
On the downside, a lot of this information is already available to read online. However, given this book's excellent presentation and easy reading, it's well worth picking up.
Pros – Things we liked
Over 100 tested recipes
Hundreds of full-color photos
Advice backed up by science
Legendary founder of the web's most popular grilling site
Cons – Things we didn't like
A lot of the info is available online
Best Smoker Cookbook for Discovering Different Styles and Regions
Pitmaster: Recipes, Techniques, and Barbecue Wisdom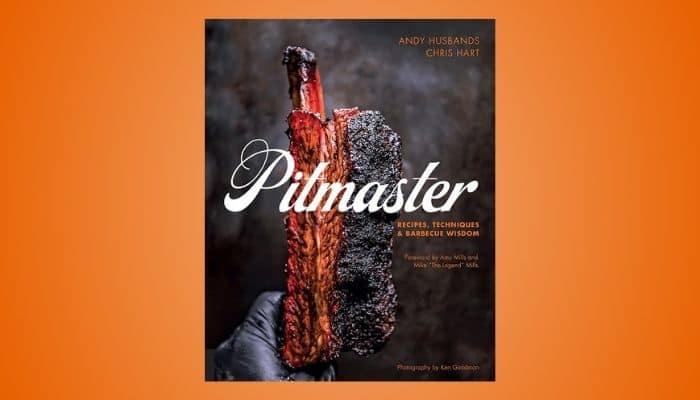 Step up your BBQ game with this fantastic smoker cookbook that explores specific regional barbeque styles peppered with expert advice on becoming a true pitmaster. This smoker cookbook takes things up a gear with its detailed and highly specific tips on using all classic smoker styles, from Kamado to Offsets.
Covering the basics of backyard grilling to advanced BBQ techniques and recipes such as Central Texas Beef Ribs, Pitmaster is a veritable goldmine of information for both aspiring and experienced BBQ lovers alike. Aside from some invaluable general advice this smoker cookbook also contains a wealth of competition BBQ recipes, including regional side dishes, cocktails, and desserts.
From exploring the new developing northern BBQ trends to the rich traditions found in the Carolinas, Texas, and Kansas City, this highly informative read also includes expert advice from guest pitmasters in their specialist domains.
With high-quality photography and a vast array of mouth-watering recipes, this cookbook touches on so many different styles and techniques that it can occasionally lose a little coherence. Nonetheless, it's still a must-buy cookbook for any BBQ lover.
Pros – Things we liked
Explores regional BBQ differences
Specific tips for each type of smoker
High-quality photography
Expert advice from numerous guest pitmasters
Cons – Things we didn't like
Can lack coherence with such diverse subject matter
Best Cleveland-Inspired Smoker Cookbook
Michael Symon's Playing with Fire: BBQ and More from the Grill, Smoker, and Fireplace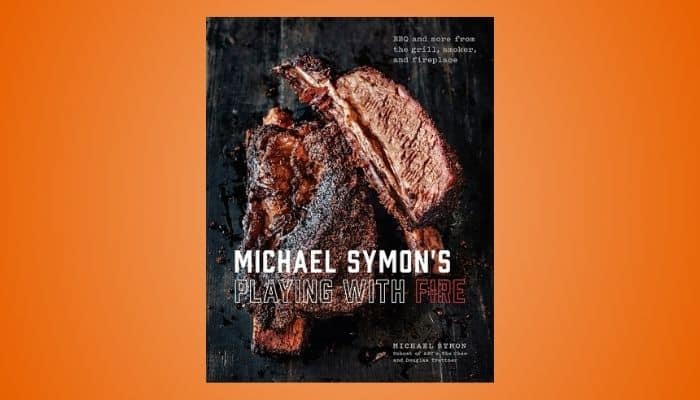 Michael Symon's Playing with Fire is a good read for any BBQ enthusiast. In this popular smoker cookbook, you'll discover how Michael was inspired by classic BBQ dishes from across America, as well as local heritage and geography to create his signature Cleveland-style BBQ for his restaurant Mabel's.
Including 72 inspirational recipes, this smoker cookbook gives a twist to traditional favorites, as well as providing an insight into working with different types of smokers and cuts of meats. There is also guidance on pairing different rubs, sauces, and sides with various meats, plus help choosing aromatic woods for smoking.
While this smoker cookbook is undoubtedly an interesting read from a highly regarded chef, it is more about ideas and general concepts rather than a step-by-step guide to smoking. For this reason, if you are looking for hands-on practical advice, you may find it a little rudimentary compared with more scientific offerings.
Pros – Things we liked
72 recipes
Expert advice on rubs, sauces, and sides
Guide to choosing aromatic woods
Tips and tricks to smoking meats
Cons – Things we didn't like
A little rudimentary
Why Trust Us
All of our reviews are compiled with a combination of expert input, years of hands-on testing of grilling products, curating the reviews of real-life buyers in a "wisdom of the crowd" system, and of course our own expertise. All the books listed are the ones we would buy if we were looking to purchase a new smoker cookbook for a friend.
Methodology Used to Pick the Best Smoker Cookbook
When picking the best smoker cookbook we looked at and then rated each book on the following criteria. Price, the number of recipes, technical tips, food science, the author's reputation, the variety of recipes, the quality of the images, different book formats, and whether the book was for beginners or experts.
Buyer's Guide to Buying the Best Smoker Cookbook
With so many excellent smoker cookbooks to choose from, finding the right one for your level and cooking style can be a little tricky. Here's what to look out for when choosing the best smoker cookbook.
Price
Good-quality smoker cookbooks tend to be priced in the region of $20-$30. You'll find some cheaper and others more expensive, but $25 makes a good ballpark figure for an attractively bound book with good photography and plenty of useful advice.
Larger hardback editions that also double as coffee table books with superior images will usually cost a lot more. However, that said, there are still plenty of reasonably priced smoker cookbooks, so don't be too guided by the price.
Focus on the other aspects in our buyer's guide to find a smoker cookbook that is really going to make a difference to how you BBQ.
What's Included – Number of Recipes, Technical Tips, Food Science
Content is important, after all, you are looking for a smoker cookbook to improve your skills. However, there can be a huge amount of difference between the various styles of smoker cookbooks. If you are mainly looking for recipes, check how many are included before you buy.
While a lot of smoker cookbooks by famous pitmasters go into quite a bit of autobiographical detail, this is not always to every reader's interest. So, we recommend reflecting upon what you want from your smoker cookbook before you hit buy.
Don't opt for an inspirational story of BBQ history peppered with some recipes, if you want a basic step-by-step guide to how to smoke meats. If you know the basics already and want to dig more into some of the advanced techniques and rich history of American BBQ, then a more autobiographical version will be a better choice.
Basically, try to find a smoker book that covers your needs. While step-by-step recipes are useful to beginners, more advanced users will appreciate the complexities of BBQing that are revealed by more intimate accounts of failure and success, combined with some tips and general guidance.
Scientifically-proved content can be useful to both beginners, experts, and the generally curious alike. Once you have decided on a cookbook that matches your domains of interest and general content requirements, you'll need to do some light research on the author.
Author Reputation
Nowadays, pretty much anyone can get published. So, what's to say the author is any good? If you are new to BBQing in general, you may even be unaware of some of the big names. Here's how to check if a smoker cookbook is written by someone who is worth taking the time to read.
Do they have a quality website or youtube channel? – Basically, does a quick search online lead you to any useful videos or articles written by the author about BBQing. If so, how useful are they to you?
Do they have a restaurant that sells smoked meat? – Professional chefs aren't always going to necessarily put their time and effort into their online presence. But, if the author has a restaurant selling smoked meat that's a popular venue, chances are they really know what they're writing about.
Check the BBQ Hall of Fame? – check here.
Lastly, do they have any competitions under their belt? Check out some of the biggest ones here at the Kansas City BBQ Society.
If your smoker cookbook author does not fulfill any of the previous criteria but is still a top-selling author, they could still be a good read.
However, BBQ authors who don't have a good online presence, nor the credentials to back up their claims, probably don't have much they can teach you, so steer clear.
Number of Pages, Size of Book
As the saying goes, quality is more important than quantity. A short smoker cookbook packed with advice, recipes, and tips, is going to be infinitely more useful than a longer version with less in the way of specific information.
That said, if you are looking for a smoker cookbook with a lot of detailed recipes, you'll want to opt for a version that is several hundreds of pages long to allow for sufficient explanations and photos, as well as general advice and other useful sections. Books with larger pages will have fewer pages compared to smaller formats.
Recipe Detail & Recipe Variety
Some smoker cookbooks give precise recipe instructions, whereas others provide more vague starting points for inspiration. Some will include the author's favorite or most successful recipes, whereas others incorporate a variety of recipes from different areas.
You can often get a better idea of what type of recipes are included by reading the summary from the back cover or sleeve of your smoker cookbook. Sometimes you'll find that some of the recipes are listed online as an incentive to buy.
Quality of the Food Images
Most smoker cookbooks double as works of culinary art, featuring impressive photography. There is nothing quite like high-quality food images to inspire you to get your smoker fired up. Images of completed recipes don't only provide a benchmark so you know just how your dish should look, they also inspire confidence.
A photograph of how your recipe should turn out lets you know that it's been tried and tested, plus if you like the look of the results, chances are you'll like how it tastes or at least want to try it out.
What Formats Are Available
Most smoker cookbooks can be bought in various formats including electronic ones, as well as paperback and hardback versions. While electronic ones are cheaper, they can be less useful for following recipes in the sun, although this depends on your device and personal preferences.
Some people prefer to have a hard copy, whereas others have an entire digitized library. If it's a large coffee table book with impressive images, hardback would probably be a good option for most people. For smaller, everyday formats, you may find a digital version to be easier to store and bookmark. Plus you don't have any delivery waiting times, it's yours to enjoy immediately.
Your Smoker Type
Before deciding on a new smoker cookbook, make sure that you choose a version that is adapted for your smoker type. The recipes and information that you'll find in a smoker cookbook for an electric smoker will be very different from what you will find in a cookbook for wood pellet smokers.
While most smoker cookbooks are aimed at owners of charcoal smokers, there are a growing number of pellet and electric models. If you don't own a charcoal smoker and are new to using a smoker, you would be best advised to look for a cookbook that is specifically written for your particular type of smoker.
Is the Book for Beginners or Advanced Smokers?
Make sure that your smoker cookbook is at the right level for your skills and smoking experience. While some general smoker cookbooks with tips and tricks are useful to all levels, beginners are going to be out of their depth with a smoker cookbook aimed at experienced pitmasters.
Similarly, if you have been using a smoker for quite a number of years and are looking for some new challenges, you will be disappointed with a step-by-step guide to using your smoker.
Top Smoker Cookbooks Video
Final Thoughts
There are plenty of excellent smoker cookbooks to choose from. Whether you are looking for a new smoker cookbook to get started smoking or to improve your skills, you're sure to find the best cookbook for your smoker in our comprehensive best-selling selection.
If you're smoking meat for the first time and need plenty of advice on how to get started, Smokin' with Myron Mixon is packed full of helpful advice and numerous award-winning recipes from one of the most successful pitmasters of all time.
For beginners or intermediate-level pitmasters looking for a better understanding of how a smoker works, as well as how to get the perfect smoke ring, Meathead: The Science of Great Barbecue and Grilling makes an excellent choice. Aside from debunked popular smoking myths, this smoker cookbook also contains numerous tried-and-tested recipes with plenty of high-quality photos.
If you are interested in BBQing in general and want to learn more about how different areas have contributed to our country's rich BBQing history, then you'll enjoy reading Pitmaster: Recipes, Techniques, and Barbecue Wisdom, our best smoker cookbook pick for discovering different styles and regions, a must for every true BBQ enthusiast.