Whether you're a dedicated foodie, or would like to dabble in some homemade sausage making in time for your next family BBQ, getting yourself the best sausage stuffer is a great investment.
They may be simple in design, but sausage stuffers make the process of sausage making much easier and more efficient. No more battling with a caulking gun, once you have a sausage stuffer, you'll feel like a pro in no time.
Sausage stuffers come in a variety of designs and capacities, but they all function more or less the same. That said, if you've never purchased one before, choosing the right model for your needs can be difficult.
In this guide, we take a look at the top-rated sausage stuffers on the market, so no matter if you're a newbie or a sausage stuffing veteran, you're sure to find the best model for your needs.
Best Sausage Stuffer
We've reviewed nine of the best sausage stuffers money can buy, and made sure to include models to suit all needs and experience levels. Read on to find your perfect match.
Hakka Brothers 7lb Sausage Stuffer 2 Speed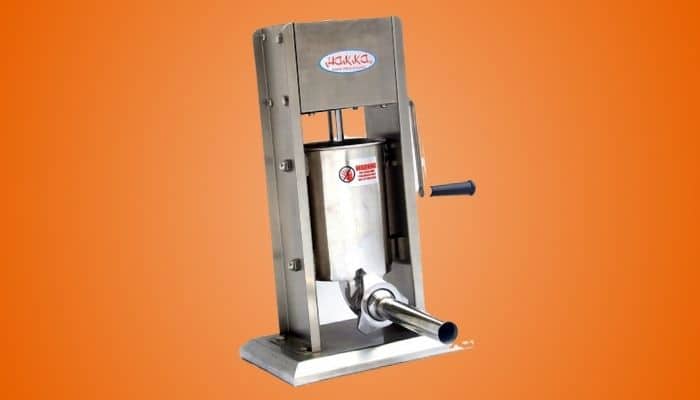 Top of our list is the Hakka Brothers 7lb Sausage Stuffer. Ideal for novices or seasoned stuffers alike, this vertical model has been designed with durability and ease of use in mind.
Crafted from a combination of chrome and stainless steel, this sausage stuffer is built to last. The 7 pound capacity provides plenty of space to make lots of sausages at once, but you may find there's a little meat left over once the plunger has fully depressed.
Simple to use, simply fill the cylinder with the amount of meat you need, attach the stuffing tube and set the fill speed. You can choose from two speed options, either slow or fast, so you can start slow if you're a beginner and speed up the process as you become more experienced. The base is well balanced and the whole unit remains very stable as you work.
The chrome-plated handle has an ergonomic design that makes it comfortable to grip and turn, so you can make a large batch of sausages without fatigue. We also like that the cylinder can be tilted back to make filling easier – this stuffer is quite tall, so if you place it on a counter, tilting it back will make it much more comfortable to use.
Another great feature of this sausage stuffer is its air release valve. This enables any trapped air to escape from the top of the cylinder, rather than being pushed through with the meat and creating annoying air bubbles in your sausages.
Aside from the meat itself, the Hakka Brothers 7lb Sausage Stuffer 2 Speed comes with everything you need to create delicious homemade sausages. It includes a set of four stuffing tubes of different widths so you can choose how chunky your sausages are, and all of the components that come into contact with food meet SGS food hygiene standards.
Pros – Things we liked
Made from chrome and stainless steel
7-pound capacity
Two-speed options
Well balanced base
Cylinder can be tilted back
Cons – Things we didn't like
Meat left over once the plunger has fully depressed
LEM Products 5-Pound Stainless Steel Vertical Sausage Stuffer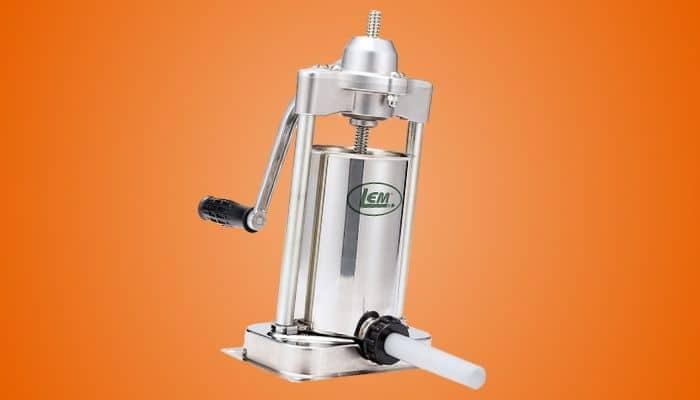 If you're a beginner or looking for something a little more compact, why not check out the LEM Products 5-Pound Stainless Steel Vertical Sausage Stuffer. This manual model holds 5-pounds of meat and comes with a set of three stuffing tubes so you can easily make different sized sausages.
This sausage stuffer has a vertical design but as it's only 15-inches high, it won't take up too much space in your kitchen. It secures to your countertop via two clamps, that keep it stable and prevent any wobbling during use. The stainless steel cylinder is easily removed, so you can take it off for filling and also give it a good clean when you're finished.
Once you have filled the cylinder with your meat, the large handle with rubberized grip is comfortable to hold and turn to push the meat through. Inside the unit, the durable carbon steel gears move smoothly and rarely jam or slip, so you can finish your batch without any hiccups. However, one drawback to this model is that the handle attachment is a little loose – therefore, it can sometimes become unscrewed and slip off as you're turning.
Just like the Hakka Brothers model above, this LEM model also has an integrated air release valve so that any trapped air can make its way out of the top of the cylinder, rather than getting pushed through into your sausages.
Overall, this model is a great choice for beginners or if you only plan to make sausages on occasion. The lightweight and fairly compact design is easy to use and won't take up much space in your kitchen.
KitchenAid Sausage Stuffer Attachment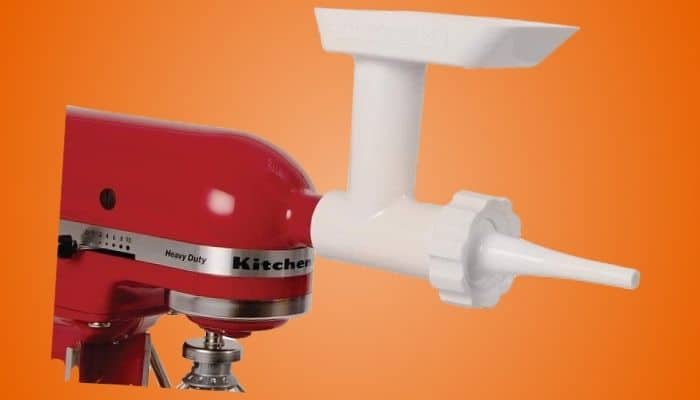 If you already have a KitchenAid, then you should definitely take a look at this sausage stuffer attachment that's specially designed for use with the KitchenAid meat grinder attachment. This accessory is a great option if you're interested to try sausage making before graduating up to a stand-alone sausage stuffer.
The plastic stuffer attachment connects to the food grinder and comes in a choice of two sizes – ⅜" and ⅝" so you can easily make sausages of different thicknesses. The kit includes a plastic ring that's used to attach the tubes to the grinder outlet. Even though everything is made from plastic, the pieces feel durable and can be placed in the dishwasher for hassle-free cleaning.
Swapping between the tubes is very straightforward. All you have to do is unscrew the ring, pull one off and attach the other. This takes a matter of seconds, yet the seal is very tight when screwed closed, so no meat or air can leak while you work.
On the downside, this model has a very low capacity, so you have to keep constantly adding meat to the grinder to make lots of sausage. It's also quite prone to blockages, which can really interfere with the whole process and become quite frustrating.
However, despite these flaws, the KitchenAid Sausage Stuffer Attachment is a good budget option if you have a KitchenAid already and would like to dabble in the art of homemade sausages. The kit comes with a limited one-year warranty, too, so you can be confident you'll get at least that much use out of it.
Hakka Brothers Horizontal Sausage Stuffer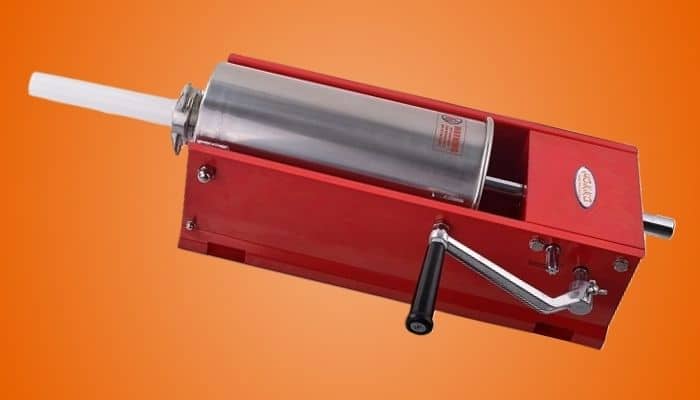 If you'd prefer a horizontal sausage stuffer, then we recommend taking a look at this option by Hakka Brothers. This model is a great choice if you like to make your own sausages regularly, as it features a highly durable design that will easily withstand heavy use.
This model is crafted completely from metal, with a stainless steel spout and cylinder, as well as a strong metal base that keeps the unit stable during use. The hand crank is comfortable to manipulate and has a rubberized grip on the end to prevent your hand slipping as you crank it.
With its 11-pound capacity, this sausage stuffer can make large quantities of sausage in one session. There is a choice of two processing speeds, so you can adjust the fill rate to suit you, and we like that the cylinder can be tilted up for simple loading and cleaning.
The Hakka Brothers Horizontal Sausage Stuffer comes complete with a generous set of four stuffing nozzles, ranging from ½ inch to 1-⅔ of an inch, so you can really get creative with your sausage making to impress your guests. All sections of the stuffer that come into contact with food also meet strict SGS food hygiene standards.
The main drawback to this model is its size. Due to its large capacity, you'll need somewhere to store it, unless you plan to leave it out on the counter all the time.
All in all, we think this model is a worthy choice if you're an experienced sausage stuffer looking to increase your batch sizes and experiment with different types of sausage. The unit is well-made and reliable, but keep in mind that it can take up quite a lot of space.
LEM Products 20-Pound Motorized Sausage Stuffer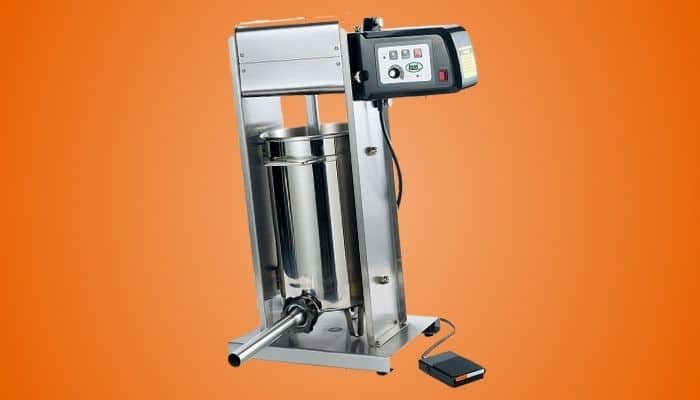 If you're well into the business of sausage making, the LEM Products 20-Pound Motorized Sausage Stuffer could be your new best friend. This automatic model will save you lots of time and exertion, so you can make large batches of sausages without breaking a sweat.
This model boasts an impressive 20-pound capacity, making it perfect for high-volume sausage stuffing. The stainless steel construction is very durable, and you can remove the cylinder for easy cleaning.
However, the stand-out feature of this sausage stuffer is its motorized design. Unlike previous vertical models, the LEM Products 20-Pound Sausage Stuffer is completely electric, so you won't have to hand crank the plunger to push the meat out. LEM Products claims that the 15 watt motor is powerful enough to push a ton of meat out, so you can imagine how well it performs with a capacity of 20-pounds.
The motor is operated by a foot pedal, that allows you to keep your hands free to control the stuffing process. There's a choice of eight variable operation speeds, so you can slow things down or speed them up as required. This model comes complete with four durable stainless steel tubes in varying sizes and the sturdy base keeps the machine stable during operation.
As you probably expect, this large capacity, hands-free sausage stuffer is one of the most expensive options on our list. This may make it less suitable for beginners or those who make sausages only on occasion. But if you are looking to upgrade your machine or make a business out of homemade sausages, this model is tough to beat.
LEM Products Tinned 3-Pound Manual Sausage Stuffer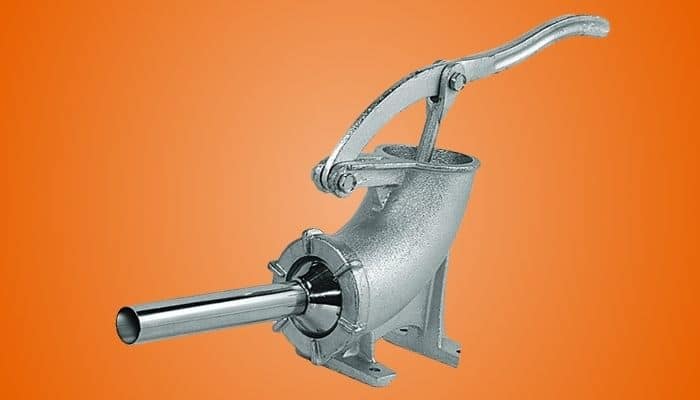 If you like to make homemade sausages occasionally, then the LEM Products Tinned 3-Pound Manual Sausage Stuffer is a great option. This compact sausage stuffer has a hobbyist-friendly capacity of just 3-pounds – large enough to make plenty of sausage for you and your family, but small enough not to take up too much space in your kitchen.
Crafted from durable cast iron and coming complete with three stainless-steel sausage stuffing tubes of varying sizes, this model is ideal for experimenting with different recipes. The plunger comes with an attached rubber gasket that helps to prevent any spilling or leakage as you push the meat through, and the wide mouth design ensures cleaning up is quick and easy.
Each of the stuffing tubes are simple to attach and detach, so you can switch up the filling size in minutes. The handle is comfortable to operate, and thanks to this units' compact size, you can easily depress the plunger with one hand and guide the meat with the other.
Overall, this model is a great, low-cost pick if you'd like to try your hand and sausage stuffing or just make the occasional batch here and there. The capacity is just right for hobbyists and the compact dimensions make it easy to store away in your kitchen when not in use.
Master Feng Sausage Stuffer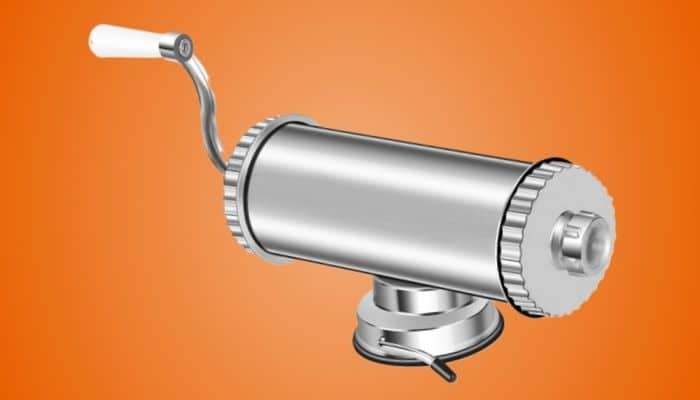 If you're looking for a good sausage stuffer on a budget, then we recommend checking out the Master Feng Sausage Stuffer. This model has a small, 2-pound capacity, but this is still plenty big enough to make sausages for family dinners.
This horizontal sausage stuffer comes with a selection of stuffing tubes in four different sizes, so you can experiment with creating a variety of sausages and salamis for yourself and your loved ones.
The main body of this model is made from highly-durable stainless steel, and attaches to your countertop via the included suction cup. This suction cup works fairly well, but it should be noted that it can sometimes come unstuck during operation.
Unlike the previous model we reviewed, this compact sausage stuffer uses a crank handle to push the meat through, rather than a simple plunger. The handle is a decent size and turns smoothly without jamming or coming loose, although the plastic hand grip could be more comfortable to hold.
Another great benefit of this sausage stuffer is that you can disassemble it completely when you're finished. This makes it much easier to clean out than some other models where only certain parts are removable.
In summary, this compact sausage stuffer is an excellent pick for beginners or those who only wish to make sausage occasionally. It's easy to use, takes up very little space in your kitchen, and is almost effortless to clean.
LiebHome – Best Cheap Sausage Stuffer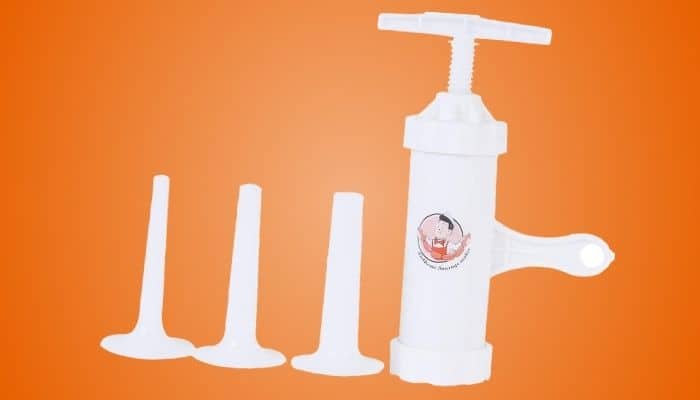 Last on our list we have the LiebHome – our pick for the best cheap sausage stuffer. This budget model is the perfect choice if you would like to occasionally make homemade sausages just for yourself or your family.
In contrast to the other models on our list so far, the entire unit is made from BPA-free, food grade plastic. This is the main reason this product is so cheap, but on the downside, it's unlikely to be as durable as metal options.
The set comes with three stuffing funnels in differing sizes, so you can get creative with your homemade sausages. The 8.6 inch x 2.3 inch barrel is fairly small – but it's plenty large enough to make a batch of sausages for a family dinner or BBQ.
The LiebHome Sausage Stuffer has a manual operation. Attach your preferred funnel size, fill the barrel with minced meat, and then twist the handle to depress the meat and push it out of the funnel. The funnels are easy to switch over and the entire unit can be disassembled for easy cleaning after you have finished.
Lightweight and convenient to store, the LiebHome sausage stuffer is a great product if you're curious to try out sausage making for the first time. Some users have commented that a small amount of minced meat often remains in the barrel after you have completely depressed the plunger, but considering the price, we don't think this issue is a dealbreaker.
What is a Sausage Stuffer
Sausage stuffers are devices designed to enable you to fill casings with sausage meat. They make the process much faster and easier than trying to do it by hand, and the results can be just as good as sausages you buy in the store.
Sausage stuffers are available in a choice of either manual or electric options. The cylinder is filled with meat, and then a piston or plunger is used to push the meat out through a funnel or tube – packing it tightly into the attached casing.
Sausage stuffers offer a quick, hygienic and efficient way of making your own sausages at home. This way, you can control the ingredients and decide which spices, salt content or even the amount of gluten that is used to make them. You can experiment with different consistencies and try out different ingredients, or follow simple recipes you find online.
Why Trust Us
All of our reviews are compiled with a combination of expert input, years of hands-on testing of grilling products, curating the reviews of real-life buyers in a "wisdom of the crowd" system, and of course our own expertise. All the products listed are the ones we would buy if we were looking to purchase a new sausage stuffer.
Methodology Used to Pick the Best Sausage Stuffer
When picking the best sausage stuffer we looked at and then rated each pair on the following criteria. Price, size, weight, motor, release valve, speed options, grinder, and ease of cleaning.
Buyer's Guide to Buying the Best Sausage Stuffer
Before rushing out to buy a sausage stuffer, you need to know exactly what to look out for before purchasing. In this section, we tell you everything you need to consider when shopping for your first sausage stuffer.
Price
The price you pay for a sausage stuffer will vary widely depending on its type and features.
Electric machines require less effort to use, but the cheaper versions often have lower quality gears or plastic components which means they may not last very long. If you really need the capacity and power that an electric machine can offer, you're better off choosing a quality model – but these are the often most expensive choices on the market, coming in at between $300- $500+.
Alternatively, cheaper, manual sausage stuffers can be highly-durable options if you choose one that is made from robust materials such as cast iron or stainless steel. So long as you look after it well, a high-quality manual sausage stuffer could last you several years, and cost several times less than an electric version.
Manual sausage stuffers can cost as little as $25 for a small capacity model, or as much as $300 for a large capacity version.
.
Size
Most sausage stuffers will be listed in terms of their cylinder capacity (the amount of sausage meat they can hold) usually in pounds or liters. This figure is important, because it tells you how many sausages you can create during each session.
Larger capacity sausage stuffers are great for rapid sausage production if you're planning on making large batches at a time. While it is possible to make several smaller batches with a lesser capacity model, it's not advisable. This is because the longer you leave the sausage meat out of the fridge, the more vulnerable it becomes to contamination by bacteria.
If you are planning on just making some homemade sausages occasionally for family dinners or BBQs, it's best to go with a small capacity model. This way, you can more easily store it when not in use.
Aside from the cylinder capacity, you should also pay attention to any stuffing tubes that come with the sausage stuffer. The majority of models will come with a set of 2-3 differently sized tubes – so you can create a variety of different types of sausage with one machine.
Salami sausages will require a smaller casing, around half an inch in diameter, while bratwurst sausages will need a much bigger casing of at least twice this size. You'll need to decide what type of sausages you'll want to make, and check that the accompanying tubes are up to the job.
Motorized or Manual
Manual sausage stuffers are generally less expensive than motorized models. They also take up less storage space. This means they are easier to store away in your kitchen cabinets in between uses, and won't take up too much space on your counter when making sausages. Because they don't require a power supply, you also have much more flexibility around where you use it.
Manual models are the best option for small capacity, hobbyist sausage making for yourself and your loved ones. But a drawback is that they require some effort to use. Instead of a motor, manual sausage makers require you to crank a handle or depress a plunger with your own strength. Therefore, if you're planning to make several batches of sausages, you may get tired out part-way through the process.
If you're expecting to make large batches of sausages, or think you may want to do so in the future after a little practice, then you're better off going for a motorized model. Electric sausage stuffers usually offer much larger capacities than manual options, and allow you to create bigger quantities without fatiguing your muscles.
Release Valve
A release valve, or air valve, is a useful feature that's worth looking out for. This helps any trapped air in the cylinder to escape out of the top of the cylinder when the meat is pressed – rather than getting pushed through into your sausages and creating annoying air bubbles or splitting the casings.
Speed Options
We recommend choosing a sausage stuffer that has a minimum of two operating speeds. This will allow you to start out slowly as a beginner, and then increase the speed as you become more experienced with sausage making.
Some sausage casings, natural ones in particular, can be a weaker option than others. This means they could split or tear if you operate the sausage stuffer at its maximum speed. Aside from the type of casings you're using, the type of ingredients and the coarseness of the mixture can also play a role. The more coarse the mixture, the more likely a high speed operation will tear the casing.
Having the option to slow down the filling process will allow you to adjust the speed depending on the circumstances.
Built-in Grinder
Some sausage stuffers come with built-in grinders, so you can both grind your meat and stuff sausages at the same time.
These options tend to be more expensive, but they can be very convenient if you're hoping to make a business out of making and selling homemade sausages.
Ease of Cleaning
As you would expect, it's crucial that you're able to clean out your sausage maker thoroughly after each use – otherwise, you run the risk of dangerous bacteria growing inside the machinery. Not only can this cause your sausage stuffer to smell bad, but it can also lead to serious food poisoning.
Make sure that any sausage stuffer you wish to buy can be fully or partially disassembled for cleaning. This way, you can easily access all those hard-to-reach areas where meat may become stuck during use.
Warranty
Warranty length is a fantastic indicator of a brand's faith in the quality of their product.
Electrical kitchen appliances, as well as those with lots of moving parts, are particularly prone to breaking down or malfunctioning with regular use. We recommend looking for a sausage stuffer that comes with at least a one-year warranty – so you can be sure that the manufacturer will repair or replace it for you if it fails.
For more expensive motorized models, check to see if you can extend the warranty period past the initial term so you are covered for longer.
Type of Sausage Stuffer
When you start shopping for the best sausage stuffer, it's important to understand the different types you will encounter. All types achieve the same purpose – stuffing sausages – but they have different designs and capabilities.
Horn sausage stuffers
Horn sausage stuffers are always manual. They are usually made from cast iron, but may sometimes be plated with chrome or tin to protect them against rust and corrosion.
Horn stuffers tend to have smaller capacities of between 3-5 pounds, so they can be a good choice for occasional sausage making for friends and family. They use a plunger which is pressed downwards through the cylinder via a curved handle.
A rubber gasket helps to prevent leaking during operation, but some models may leave a little mixture in the cylinder even after the plunger has been fully depressed.
Horizontal sausage stuffers
Horizontal sausage stuffers have a horizontal orientation, and a piston like cylinder.
Horizontal sausage stuffers are quite similar to vertical sausage stuffers, but they are laid flat across your counter instead of standing upright. Although some come with clamps, many horizontal sausage stuffers stay stable without needing to be secured. They are often easier to load with your sausage meat mixture than vertical models.
Horizontal sausage stuffers can take up quite a lot of counter space. A rotary crank handle is used to push the meat through the cylinder and out through the stuffing tube, but the long handle must overhang the counter in order for you to operate it properly.
Horizontal sausage stuffers often have quite large capacities, so they're a good option if you're planning to make big batches of sausage at home. However, we recommend looking for a motorized model if you're expecting to produce large quantities regularly.
Vertical sausage stuffers
Vertical sausage stuffers are the favorite choice for more experienced and professional sausage makers, but there are also some beginner models available.
This type of sausage stuffer tends to have the largest capacity of any type, and they can be found in both manual and motorized versions. Just like horizontal stuffers, vertical sausage stuffers hold the meat in a cylinder, which is then pushed through via a piston and out of the tube at the base into the casing.
Manual versions require you to extrude the meat using a crank handle, while motorized versions do this automatically. Electrical models tend to have larger capacities of up to around 15 pounds, while manual models typically have smaller capacities of around 5-10 pounds.
Top Sausage Stuffer Video
Final Thoughts
Sausage stuffers provide a much easier way to make sausages at home, whether you're making a few for your family, or large batches as a professional. The right sausage stuffer for you depends on your needs and intended use, so it's important to do your research carefully before buying.
If you're looking to make large batches of sausages, we recommend either the Hakka Brothers 7lb Sausage Stuffer 2 Speed, or the LEM Products 20-Pound Motorized Sausage Stuffer. Both models offer good capacities, but the motorized LEM sausage stuffer is best for producing very large amounts of sausage quickly and easily. The Hakka Brothers model is a manual option with a smaller capacity, but it's a cheaper option for making large batches at home.
If you're new to sausage stuffing and would like to try it out, the LEM Products Tinned 3-Pound Manual Sausage Stuffer or the Master Feng Sausage Stuffer are great options. Both models are very reasonably priced, but the plastic Master Feng is the less durable of the two – making it more suitable for occasional use.
Whatever type of sausage stuffer you need, we're confident you'll find your perfect match in our selection.