The number of different names I've heard a meat injector getting called is crazy. Even in the title of this article I decided to go with "best marinade injector" as that seems to be how it's most commonly known. But you may have heard it referred to using any combination of the following – flavor, spice, seasoning, BBQ, turkey, cajun, cooking, injector, infuser, syringe, needle, or pump. As confusing as it may seem, they are all referring to the same device, a meat injector.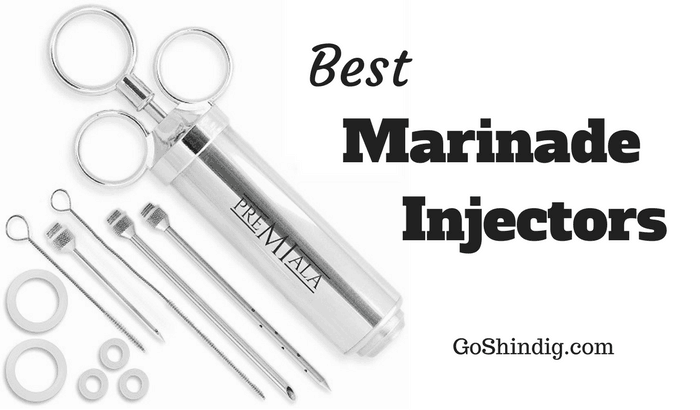 The Best Meat Marinade Injectors
Because of my meat-heavy diet, I've tried every technique there is to make meat juicy and tasty. After trying a few other methods, I concluded that meat injectors are the best.
They come in a variety of sizes and shapes, making it simple to add that extra flavor to your meat.
Over the years, I have utilized plenty of meat injectors. If you want tasty meat, look no further than my recommended meat injectors.
Premiala The Original Turkey Injector
Best Home Marinade Injector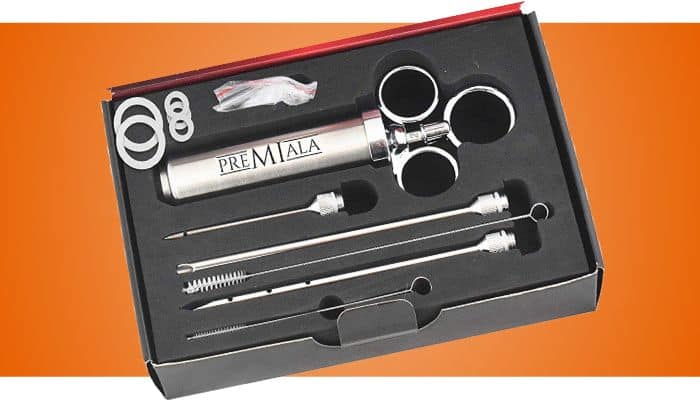 Let's cut to the chase. What is the best marinade injector? Unfortunately, well, fortunately actually, I'm scoring the best meat injector as a draw. There are two really good injectors with very little to separate them, meaning you have a choice and are still guaranteed an amazing injector.
The Premiala marinade injector meets my criteria for what to look for in a quality injector and then goes the extra mile by offering a free e-book on injector techniques and recipes. It's made from the right material, gives you multiple needles, and has the functionality needed to be a top-quality meat injector. And one extra I really like is it also comes with customized needle cleaners.
This reliable injector is made entirely of stainless steel, down to the barrel end and plunger disc. Injectors often use stainless steel for all parts that will come into touch with food and the Premiala does a good job of this.
This helps to preserve the product's longevity, but it also helps to ensure that the surface is clean and won't attract germs the way that cheaper materials can when they come into continuous touch with food, especially meat.
Spare silicone rings are included in the injector kit to protect against normal wear and tear, and Premiala also sells replacement needles, o-rings, and brushes so that you can replace individual parts rather than the entire needle if necessary.
In addition, three different needles are included for use with various types of meat. These come in a variety of sizes and shapes to accommodate marinating meats of varying lengths and widths.
The thing that makes this one stand out from the rest is that the thicker marinades are no match for the widest needle. As a result, there aren't a lot of meat injectors that are as flexible as this one.
The beautiful carrying case only adds to its durability. This, plus the availability of replacement components from Premiala, makes it an excellent purchase for the future.
Pros – Things I liked
Spare parts are available
Free eBook
Stainless steel components
Three needles for different uses
Reasonable price
Cons – Things I didn't like
No paper instructions
Small capacity
SpitJack Magnum Meat Injector
Best Competition Marinade Injector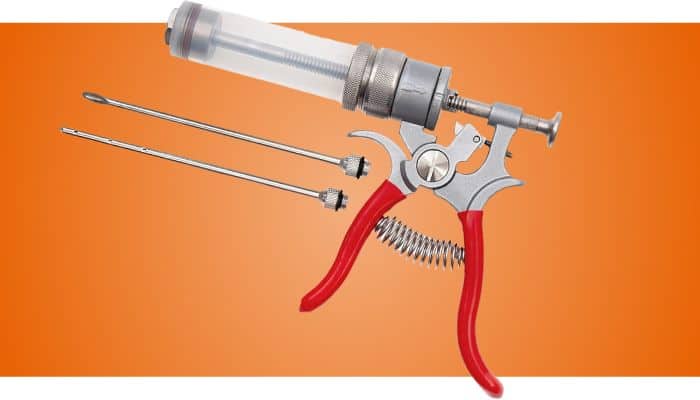 The Spit Jack marinade injector is my recommendation for the best competition meat injector. What makes it different from the normal home injector is the heavy-duty build quality (on the competition circuit you expect several knocks and bumps, and the last thing you need is to arrive for competition and realize your injector is broken) and the precision injector gauge, allowing you to inject exactly the right amount of marinade without guessing.
Spit Jack makes the bold claim of being the number one marinade injector of competition champions which shows how highly rated this marinade gun is among the top BBQ teams. And to back up their faith in the tool they offer a one-year warranty.
With its sturdy construction and generous assortment of accessories, the SpitJack Magnum Meat Injector Gun stands out as a top choice among meat injector gun kits. Additionally, it has a hefty price tag, but its longevity and features may make up for it.
Medical quality materials and sturdy construction mean this device won't break easily. The juices may be injected without putting too much pressure on your hand because of the convenient squeeze handle. The dial can be turned to select doses from 1 to 5 ml per squeeze.
There are also four professional-quality needles provided. Smaller cuts and barely detectable puncture marks can be achieved with the thinner needle. The marinated chunks are no match for the large needle. Then there are two long thin needles, one with side perforations for liquids and one with a slanted tip to permit some spices and herbs through. The limited capacity and sharp needles make this smoker unsuitable for whole hogs, but it's perfect for turkeys, roasts, port butts, and whatever else you like to prepare.
The three different-sized brushes that come with the set make quick work of cleaning the barrel and the needles. After washing, pack everything back into the hard case for safekeeping or transport to a friend's house or a cooking competition.
Pros – Things I liked
Four Needles
Adjustable doses
Easy cleanup
Durable carrying case
3 cleaning brushes
Cons – Things I didn't like
Expensive
Chop's Power Meat Injector System
Best Catering Marinade Injector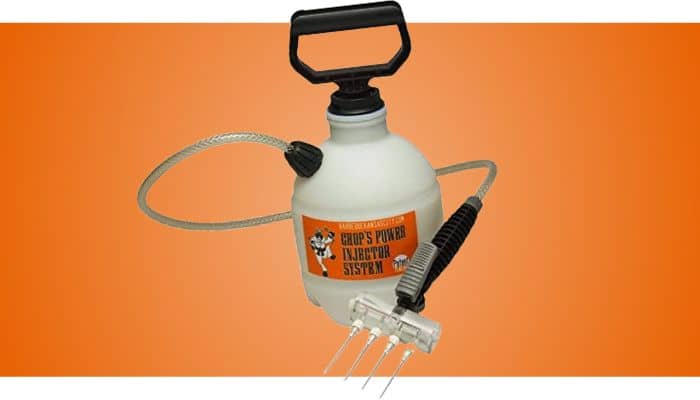 Speed is of the essence for catering as there is so much to be done in what seems so little time. So what's better than one marinade injector? Four injectors built into one! And that's what Chop offers in their injector system which has a hose and pump handle that allows you to marinade large amounts of meat in a super fast time.
A slow meat injector won't cut it when you're trying to feed a large group of people or marinade a whole hog. The best BBQ meat injector for large tasks is the Chop's Power Injector System.
The marinade will last for hours without having to be replenished, thanks to the food-grade plastic bottle. All the remaining components are of clinical quality and can be used with complete confidence with any dish on the menu.
This injector requires little to no training to use. To use, simply fill it with your preferred marinade and pump the handle. When the trigger is pulled, the marinade is forced through the needles and into the meat.
Fast injections into larger portions of meat are possible thanks to the injector's four 14-gauge needles, which are evenly spaced along the arm. To make a cut, you can use as few or as many of the needles as you like; when you're using fewer than four, simply insert the plug screws into the corresponding needle holes. Needles can be stored securely in the provided needle protectors when the meal is over.
Needles with a smaller bore size struggle with thick marinades, but larger bore sizes are available. A smaller, half-gallon version is also available for less marinade-intensive jobs.
Pros – Things I liked
Four needles
Quick injections
Capacity
Beginner friendly
Cons – Things I didn't like
Only good for big cuts of meat
Pricey
Heavy when full
Grill Beast Meat Injector Kit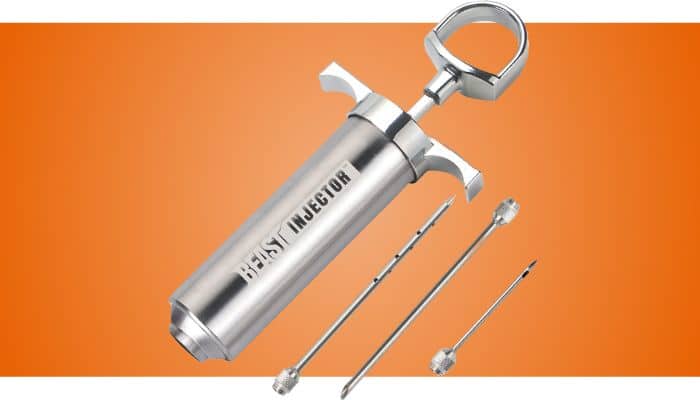 This meat injector is the best of its kind. Though it may not seem like much at first glance, a great product is one that is satisfied with excelling solely in its designated function.
There are no gimmicks or extras, just top-notch workmanship and an ideal range of customization possibilities.
Everything, including the frame, is made of durable, food-safe 304 stainless steel, so there is no risk of corrosion. The bottle and its accompanying steel frame are a single, seamless unit, and the device also features needles that can be switched out for a fresh set and a stainless steel plunger with finger loops for a secure grip.
There is a wide range of possible performances available from the three needles, all of which are outstanding. All of your marinating needs can be met with this set, which includes a 6-inch needle with an angled tip, ideal for herb-based marinades, a 6-inch needle with a solid tip with 12 holes spread along its length, ideal for evenly dispersing thinner marinades, and a 3-inch needle with a similar 12-hole design, ideal for smaller cuts of meat (like chicken breast) and precision injections.
If you have all three, you can use whatever marinade you choose to infuse any kind of food you want.
It comes with a lifetime warranty, a money-back guarantee, and a cookbook packed with tasty recipes and inventive marinades as bonus features. Both are good to have but neither is necessary (especially considering the inexpensive cost).
Pros – Things I liked
Large 2oz barrel
Great stainless steel construction
Capacity
Easily affordable
Cons – Things I didn't like
Can't clean it in the dishwasher
Cave Tools Meat Tenderizer Injection Syringe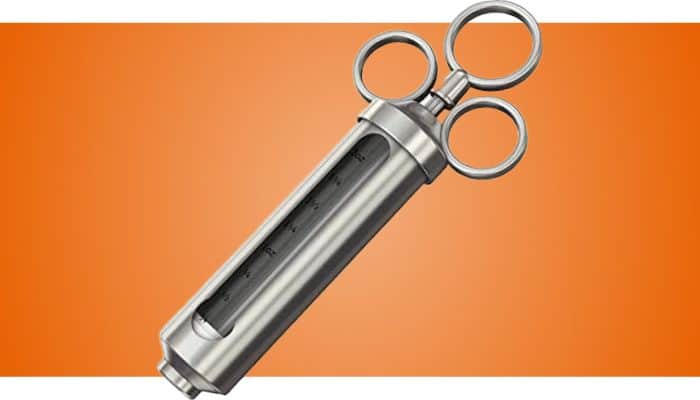 This Cave Tools Meat Injector Kit is one of the best manual meat injectors you can get.
The 2-ounce barrel capacity is immediately useful for injecting. It's easy to get into a rhythm and a flow when injecting meats. Having to interrupt the flow to regularly refill your barrel is inefficient and wasteful and thankfully not something to worry about with Cave Tools.
The Cave Tools Injector includes three different needles for use in various settings. The strong, angled cut and wide tip of the single 6-inch needle makes it ideal for use with chunky marinades and rubs that feature finely chopped ingredients. For liquid marinades, try the 6-inch needle with 12 holes. There is also one 3-inch needle needed for pinpoint accuracy and handling smaller portions of meat.
When it comes to cleanliness, you can put this injector in the dishwasher without worrying about breaking it. It's as simple as it gets in terms of washing!
A three-ringed handle provides a secure grip without causing hand discomfort, and a sturdy plunger ensures that the injector can be used with precise pressure control.
There are also some great bonuses, such as a lifetime warranty and an ebook with injector tips and a how-to guide.
Pros – Things I liked
Made from 304 stainless steel
Dishwasher safe
Comfortable plunger
Lifetime warranty
3 quality needles
Cons – Things I didn't like
Expensive
Ofargo Plastic Marinade Injector
This review of the Ofargo Plastic Marinade Injector will show you that you don't have to pay a fortune to acquire a great clear meat injector for adding some more flavor and fluids to your meats. In addition to being portable and simple to operate, this item also comes with a few handy features.
Everything from the barrel to the handles to the pump plate is made of BPA-free plastic, so it won't leach chemicals into your food or harm the environment. Despite the limited capacity, the millimeter and ounce measures along the barrel allow for exact dosing, even if frequent refills are required for larger cuts.
The injector comes with two needles, each measuring three inches in length and made of stainless steel. One has a small hole for puree marinades and the other an angled cut for sauces with finely ground spices. A safety cap is included with each needle to prevent damage to the point and potential harm.
Needles are secured in place with an O-ring connection and anti-shake technology, so you won't have to worry about them wandering about as you work. Once you're done using the injectors, you may clean off any remaining marinade with the needle brush and place the caps in the injector handle.
A PDF book is included with the injector, needles, and brush. You'll find helpful hints and recipes, as well as information on how to maintain and care for your injector.
Pros – Things I liked
Cheap price
Measurement markings
Safe plastic
Nice PDF book
Cons – Things I didn't like
Small capacity – 1oz
Norpro Deluxe Stainless Steel Baster with Injector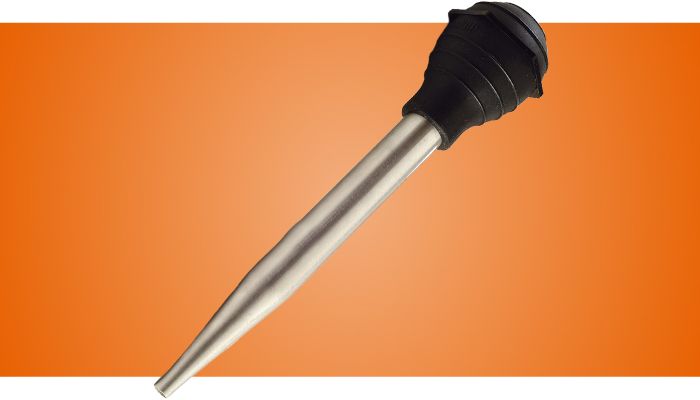 Norpro is not a meat injector gun like the ones mentioned above. This device is a multi-purpose injector and baster in one. This implement resembles a standard turkey baster in appearance, with an elongated tip and a bulb at the top that creates strong suction.
It comes with a needle that can be attached to it and used to inject liquids in order to increase flavor and moisture. After securing the needle, you can infuse the meat with flavor before cooking it in the oven or on the grill.
When used occasionally, this baster and needle set served me well. As opposed to simply squeezing the liquids over the meat, this method yields better results.
A specialist meat injector pistol offers more precision, but this one doesn't come close. Additionally, the 1.5 oz capacity is considerably less than that of competing meat injectors but is more than enough for smaller cuts of meat or poultry.
Pros – Things I liked
Cheap price
Easy to clean
Baster and injector combo
Stainless steel material
Cons – Things I didn't like
Small capacity
Why use a marinade injector
The reason to inject meat is pretty straightforward. It's simple to add great flavors and moisture throughout the meat and not just on the surface. There are other methods you can use to achieve the same effect, such as curing the meat, but using a marinade injector is much faster and eliminates the safety concerns of curing.
What to Look for in the Best Meat Injectors
Firstly, let me tell you what you should be looking for in a good quality marinade injector, so if you don't like the injectors I recommend you know what to look for in others. My assumption here is that most people reading this are looking for a marinade injector for home use while cooking for the family. However, I will recommend some meat injectors for caterers and grillers that do large cookouts.
Capacity
Take note of the length and thickness of the barrel. All but one of the injectors for meat on this list have a 2-ounce or less barrel. If you frequently handle large pieces of meat, it may be more convenient to use a larger barrel so that you may spend less time replenishing it.
While larger barrels may be preferable for larger cuts, smaller barrels are easier to clean and store.
When marinating a single huge piece of pork, a 2-ounce barrel should be sufficient. This size also makes it possible to gently force out the marinade inside without damaging the contents. Pieces as little as chicken breasts and lamb legs can benefit from 1 oz.
Material
Look for a marinade injector that's made from 304 stainless steel. This is a very durable material and will not break as easily as the many plastics options available. Also, stainless steel will not affect the taste of your marinade, unlike other metals that will react to any salt content.
Needles
Ideally, you'll get more than one needle. You'd want a thick one with a wide opening for chunky marinades, a long one with several side openings for an even spread of watery marinades, and a shorter needle with a side opening for thinner cuts of meat.
Functionality
A good marinade injector should be easy to dismantle, making it easier to clean and store away. You should also be able to store the needles in the injector's body so they don't get lost or hurt somebody (alternatively the injector kit should come with a custom-made box for storage). You'll also want a good-quality gasket to prevent any leaks.
Cleaning
As marinade injectors are often used on raw meat, they must be thoroughly cleaned before and after each usage. However, the small tubes and needles used in many marinade injectors make them a pain to keep clean. Find anything that can be taken apart simply to be cleaned. Many are also sold with cleaning brushes that are useful for getting into tighter spaces.
Warranty
Any problems with the meat injector, such as broken or missing parts or improper operation, are covered by the guarantee. You should research the brands you're interested in thoroughly before making a purchase to avoid being disappointed by the level of coverage they provide. The Chop's Power Injector System, for example, is only covered by a 30-day warranty, despite the fact that the manufacturer guarantees it won't break.
Most competing brands include some sort of guarantee that will pay for repairs made during the first year. A guarantee that lasts for the rest of one's life, or a refund policy with no expiration date, is the best kind of deal. Whenever you have an issue with your product, the manufacturer would gladly send you a new one at no cost to you, or provide a refund if that's more convenient.
In addition to retaining current customers, this type of service also encourages those consumers to spread the word about the brand to their friends and family, which more than makes up for the price of the replacement equipment.
The best types of meat to inject
Just as you can marinade any piece of meat you can also inject flavors into any cut of meat. But just because you can, it doesn't mean that you should. There is very little point in injecting a one-inch thick rib-eye steak. The traditional method of marinading will work just as well for such thin cuts and rib-eye isn't a dry cut.
The meats that benefit the most from using a marinade injector are large cuts that you deem a little bland in the taste department or that easily dry out. Here are a few examples of cuts that are great for meat injecting.
Brisket
Pork Butt (Shoulder)
Turkey Breast
Lamb Leg
Pork Loin
What should you inject into your meat
Experimentation is the key to knowing what the perfect marinade to inject into meat is because your taste buds are very different from mine, as well as all the other people out there giving advice. I like a spicy kick to my marinades whereas my better half prefers citrus marinades. So I'd say you should experiment with flavors you already know you like.
There are some general rules I'd say you should adhere to if you plan on making your own injections. You can add anything from herbs, spices, oils, juices, sauces, syrups, stocks, broths, and more, but keep any one ingredient to a minimum. Firstly keep the salt levels below 2% of total weight. Some ingredients like fresh pineapple juice contain enzymes that tenderize the meat so definitely be careful with any of these. Always grind herbs and spices as finely as you can so they don't block the needle. And avoid mixing dark liquids with light meats.
Here are a few excellent recipes
Pork Marinade Injection – Six-time World Champion Chris Lilly's pork shoulder injection
Beef or Venison Marinade Injection – Award-winning beef brisket injection
Poultry Marinade Injection – Injecting a whole chicken with a simple marinade
How to use a meat injector
The key to injecting meat is to go easy, you want the meat to still taste like meat. Use the herbs and spices of your marinade to enhance the natural flavors of the meat, and to bring extra moister and tenderness, not to overpower the taste of meat.
Injecting meat isn't rocket science, in fact, it's extremely easy. Once you have made your injection solution and chosen the correct needle (making sure it is clean from any previous marinade) it's time to start injecting.
The easiest way to get the marinade into the injector is to suck it up via the needle. To do this, you push the plunger all the way down, then insert the needle into the marinade and pull the plunger back up.
Start your injecting in the center of the meat, as deep as the needle allows. Slowly press the plunger while slowly withdrawing the needle. The goal is to try and get about an ounce of liquid per pound of meat. Repeat this every inch and a half of meat.
I'd recommend you wear an apron while doing this as liquid could squirt out when you remove the needle.
Is There a Big Difference Between Marinating and Injecting?
To assist you in gaining a better understanding of how injecting works, I'll make a comparison to marinating, which is a common method of meat preparation. Simply put, marinating is submerging meat in a seasoned liquid. The meat's flesh will absorb the liquids, enhancing the flavor, if you immerse it for several hours.
Chicken breasts are commonly used because of their small size and the ease with which they may be completely covered in marinade. Larger chunks of meat can be marinated in this way, although the process can be a little bit of a hassle as the marinade will only seep into the flesh's surface. So for big chunks of meat, there is a need for a meat injector since this can cause the interior of the meat to become dry and flavorless.
Injecting not only provides a foolproof method for prepping the interior of our meat, but it also provides a slight shortcut for cooking the meat rapidly. Although external marinating is still necessary, injecting the marinade directly into the meat reduces the length of time it needs to rest before being grilled or smoked.
It's the most convenient and time-efficient method I've found for imparting flavor to my meat.
Final Thoughts
Meat injection is a fantastic way to impart the exact tastes you want into your meat. Additionally, it's a fun way to wow your guests with your culinary skills while providing them with delicious meat they'll be begging you to make again.
My best marinate injection guide was written with the sincere desire that it will be of some service to you for your BBQ. Don't forget to share your thoughts with us by commenting below. You are free to add to this list if you think I've forgotten any important considerations.