The number of different names I've heard a meat injector getting called is crazy. Even in the title of this article I decided to go with "best marinade injector" as that seems to be how it's most commonly known. But you may have heard it referred to using any combination of the following – flavor, spice, seasoning, BBQ, turkey, cajun, cooking, injector, infuser, syringe, needle or pump. As confusing as it may seem, they are all referring to the same device, a meat injector.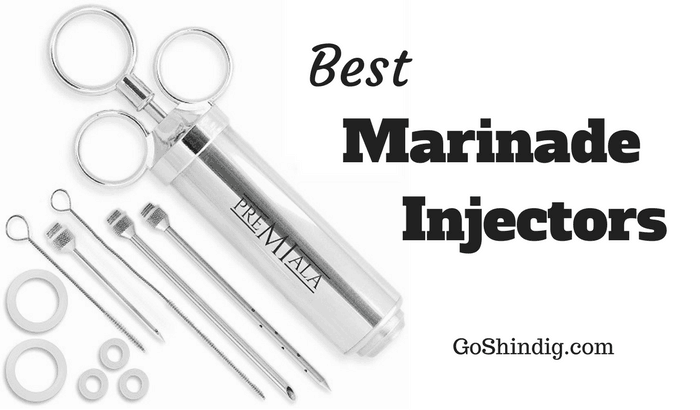 The Best Meat Marinade Injectors
Firstly, let me tell you what you should be looking for in a good quality marinade injector, so if you don't like the injectors I recommend you know what to look for in others. My assumption here is that most people reading this are looking for a marinade injector for home use while cooking for the family. However, I will recommend some meat injectors for caterers and grillers that do large cookouts.
Material – Look for a marinade injector that's made from 304 stainless steel. This is a very durable material and will not break as easy as the many plastics options available. Also, stainless steel will not affect the taste of your marinade, unlike other metals that will react to any salt content.
Needles – Ideally you'll get more than one needle. You'd want a thick one with a wide opening for chunky marinades, a long one with several side openings for an even spread of watery marinades and a shorter needle with a side opening for thinner cuts of meat.
Functionality – A good marinade injector should be easy to dismantle, making it easier to clean and store away. You should also be able to store the needles in the body of the injector so they don't get lost or hurt somebody (alternatively the injector kit should come with a custom-made box for storage). You'll also want a good quality gasket to prevent any leaks.
Best Home Marinade Injector
Let's cut to the chase. What is the best marinade injector? Unfortunately, well, fortunately actually, I'm scoring the best meat injector as a draw. There are two really good injectors with very little to separate them, meaning you have a choice and still guaranteed an amazing injector.
The Grill Beast and Premiala marinade injectors both meet my criteria for what to look for in a quality injector and then go the extra mile by offering a free e-book on injector techniques and recipes. Both are made from the right material, give you multiple needles and have the functionality needed to be a top quality meat injector. The only difference between the two that might edge the Premiala to the top of the pile is it also comes with customized needle cleaners.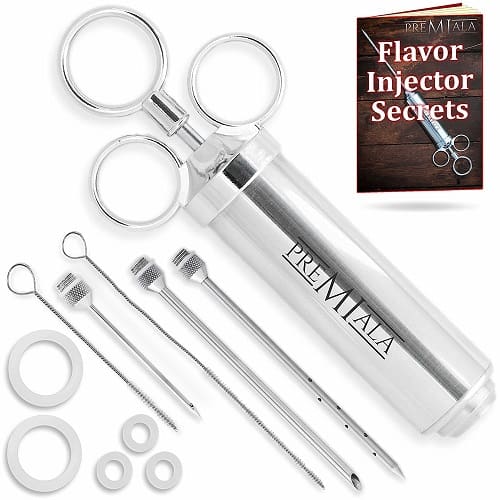 Best Competition Marinade Injector
The Spit Jack marinade injector is my recommendation for the best competition meat injector. What makes it different from the normal home injector is the heavy duty build quality (on the competition circuit you expect several knocks and bumps, and the last thing you need is to arrive for competition and realise your injector is broken) and the precision injector gauge, allowing you to inject exactly the right amount of marinade without guessing.
Spit Jack make the bold claim of being the number one marinade injector of competition champions which shows how highly rated this marinade gun is among the top BBQ teams. And to back-up their faith in the tool they offer a one-year warranty.
Best catering Marinade Injector
Speed is of the essence for catering as there is so much to be done in what seems so little time. So what's better than one marinade injector? Four injectors built into one. And that's what Chop offer in their injector system which has a hose and pump handle that allows you to marinade large amounts of meat in super fast time.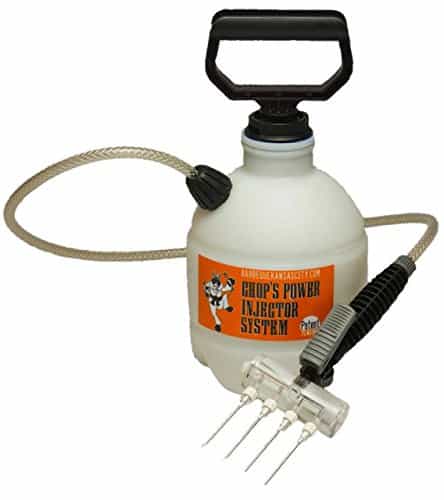 Why use a marinade injector
The reason to inject meat is pretty straightforward. It's simply to add great flavors and moisture throughout the meat and not just on the surface. There are other methods you can use to achieve the same effect, such as curing the meat, but using a marinade injector is much faster and eliminates the safety concerns of curing.
The best types of meat to inject
Just as you can marinade any piece of meat you can also inject flavors into any cut of meat. But just because you can, it doesn't mean that you should. There is very little point injecting a one-inch thick rib-eye steak. The traditional method of marinading will work just as well for such thin cuts and rib-eye isn't a dry cut.
The meats that benefit the most from using a marinade injector are large cuts that you deem a little bland in the taste department or that easily dry out. Here are a few example of cuts that are great for meat injecting.
Brisket
Pork Butt (Shoulder)
Turkey Breast
Lamb Leg
Pork Loin
What should you inject into your meat
Experimentation is the key to knowing what the perfect marinade to inject into meat is because your taste buds are very different to mine, as well as all the other people out there giving advice. I like a spicy kick to my marinades whereas my better half prefers citrus marinades. So I'd say you should experiment with flavors you already know you like.
There are some general rules I'd say you should adhere to if you plan on making your own injections. You can add anything from herbs, spices, oils, juices, sauces, syrups, stocks, broths and more, but keep any one ingredient to a minimum. Firstly keep the salt levels below 2% of total weight. Some ingredients like fresh pineapple juice contain enzymes that tenderize meat so definitely be careful with any of these. Always grind herbs and spices as finely as you can so they don't block the needle. And avoid mixing dark liquids with light meats.
Here are a few excellent recipes
Pork Marinade Injection – Six-time World Champion Chris Lilly's pork shoulder injection
Beef or Venison Marinade Injection – Award-winning beef brisket injection
Poultry Marinade Injection – Injecting a whole chicken with a simple marinade
How to use a meat injector
The key to injecting meat is to go easy, you want the meat to still taste like meat. Use the herbs and spices of your marinade to enhance the natural flavors of the meat, and to bring extra moister and tenderness, not to overpower the taste of meat.
Injecting meat isn't rocket science, in fact, it's extremely easy. Once you have made your injection solution and chosen the correct needle (making sure it is clean from any previous marinade) it's time to start injecting.
The easiest way to get the marinade into the injector is to suck it up via the needle. To do this, you push the plunger all the way down, then insert the needle into the marinade and pull the plunger back up.
Start your injecting in the center of the meat, as deep as the needle allows. Slowly press the plunger while slowly withdrawing the needle. The goal is to try and get about an ounce of liquid per pound of meat. Repeat this every inch and a half of meat.
I'd recommend you wear an apron while doing this as liquid could squirt out when you remove the needle.