An amazing burger bun Recipe for your perfect burger. These hamburger buns go great with both smash burgers or flame-grilled patties. For the best results lightly butter your buns and toast them before adding your sauce and toppings. You'll find these buns are soft and have a slightly sweet taste to them.
Show us your homemade burger buns on our grilled burger Facebook group or subscribe to our youtube channel for more burger and BBQ ideas
Join our Grilled Burger Group on Facebook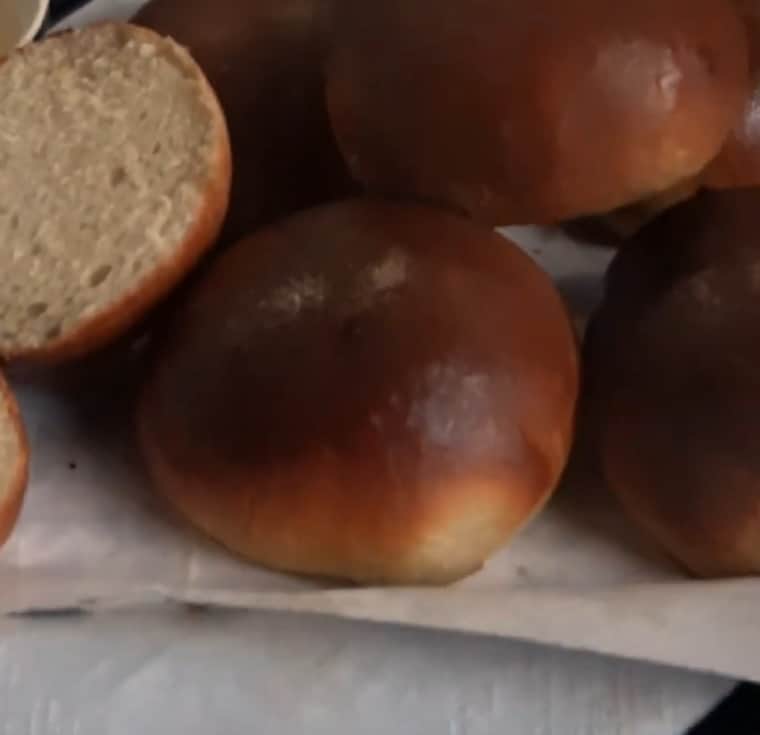 Hamburger Bun Recipe
Total Time:
3 hours
43 minutes
Looking to take your favorite burgers to another level? Then making your own burger buns is a must. These tasty hamburger buns are surprisingly easy to make and will add a whole new dimension to your juicy burgers.
Ingredients
Burger Bun Paste
2 tablespoons (20g) bread flour
2 tablespoons (27g) water
4 tablespoons (60g) whole milk
Dough Mixture
1/2 cup (120g) whole milk
1 tablespoon (9g) instant yeast
2.5 cups (320g) plain flour
1 teaspoon (7g) fine sea salt
2.5 tablespoons (35g) granulated sugar
1 whole egg & 1 egg yolk
3 tablespoons (42g) unsalted butter
Egg Wash
1 whole egg
Splash of whole milk
Instructions
Start by making a burger bun paste. For this, you'll need to mix 4 tablespoons of milk, 2 tablespoons of water, and 2 tablespoons of flour over medium heat. Constantly stir this mixture until it becomes a paste. This paste will be added to the main bun dough to make it lighter. But for now, set it aside to cool.
Now make a prime yeast mixture. Heat half a cup of milk to 95 degrees Fahrenheit and mix in a tablespoon of instant yeast. Let this sit in a warm area for at least 8 minutes.
In a mixing bowl add your dry ingredients of two and a half cups of flour, a tablespoon of fine sea salt, and two and a half tablespoons of granulated sugar along with your yeast mixture.

Place your mixing bowl into your stand mixer and mix the ingredients. Once everything is nicely mixed together add the burger bun paste and an egg and egg yolk.

As soon as the dough starts coming together slowly add the butter. Turn off the mixer and scrape down the sides of the bowl if the dough or the butter sticks to the sides. This whole mixing process should take around 10 minutes.
While you're waiting for the dough to finish mixing lightly grease a bowl with olive oil.
Once everything is nicely mixed together transfer the dough mixture to the lightly greased bowl and cover with a damp towel. Let the mixture proof until it roughly doubles in size, this normally takes about one to one and a half hours
Before shaping the dough you first have to punch it down. This punch-down technique releases any gas bubbles that have formed during rising.
Divide your dough into 6 equal parts of approximately 100 grams
Now for the tricky bit, shaping the dough. Flour your work surface and then gently pinch a section of the dough and stretch the dough to the center. Repeat this process and slightly turn the dough each time until you have completed a full circle.

Flip the dough and use the friction of the work surface to create tension in your dough ball. You do this by gently pulling the ball across the surface.
Place your six-dough balls on a tray lined with parchment paper about two and a half inches apart. Cover the balls with another tray so they don't dry out while you leave them to rise some more. You'll want them to double in size, which should take between one and two hours depending on the temp of your kitchen.
Just before you place your buns in a pre-heated oven of 375 degrees Fahrenheit which is 190 Celcius you'll give the buns a little egg wash. Mix one egg with a splash of milk and then brush this mixture over the dough balls.
Place your tray in the oven and then in 18 to 20 minutes, you'll have beautifully baked burger buns. For an extra layer of flavor, I like to brush on some melted butter before I let them rest for a couple of minutes.
Nutrition Information:
Yield:

6
Serving Size:

1
Amount Per Serving:
Calories:

527
Total Fat:

13g
Saturated Fat:

7g
Trans Fat:

0g
Unsaturated Fat:

5g
Cholesterol:

123mg
Sodium:

257mg
Carbohydrates:

83g
Fiber:

3g
Sugar:

11g
Protein:

19g
These values are automated and might not reflext the real nutrition amounts