Pizza and burgers are the world's two most popular fast foods, so it should come as no shock that a pizza burger tastes absolutely amazing. My favorite pizza is a spicy pepperoni, so this is the version I am going to make, but you can make tweaks to this recipe to match your favorite pizza.
Show us your homemade pizza burgers on our grilled burger Facebook group or subscribe to our youtube channel for more burger and BBQ ideas
Join our Grilled Burger Group on Facebook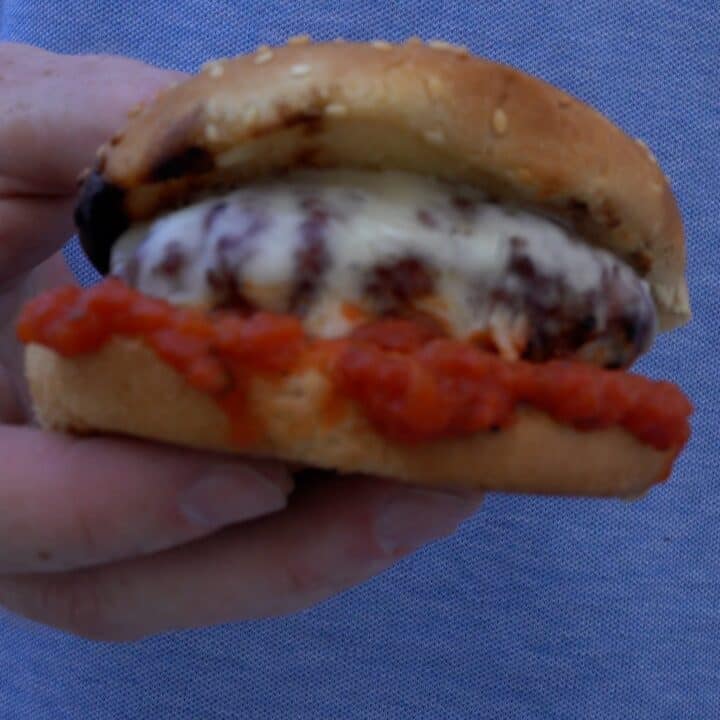 Pizza Burger
A homemade pizza burger recipe with a spicy tomato sauce. This burger will become a family favorite due to its flame-grilled burger and stringy mozzarella cheese.
Ingredients
Pizza Burger Sauce
2 tbsp Olive Oil
1 Grated Onion
3 Clove of Garlic
1 Red Chili Pepper
1 tsp Salt
2 tbsp Fresh Basil
1 tbsp Oregano
1 tbsp Brown Sugar
2 tins of Chopped Tomato
Pizza Burger Ingredients
2.5lbs Minced Meat (20/80 fat ratio)
10 Slices of Mozzarella
20 Slices of Pepperoni (cut into small pieces)
10 Burger Buns
Instructions
Pour two tablespoons of olive oil into a pan and heat
Add the grated onion and fry until it has softened
Slice and dice the garlic and pepper and add to the pan along with the salt and fry for about a minute
Pour in the 2 tins of tomatoes, and add the oregano, chopped basil, and brown sugar
Bring the whole mixture to a boil and then reduce the heat to a simmer and leave for 30 minutes
While the sauce is thickening fire up your BBQ
When there are 10 minutes left for your sauce to be ready add your burgers to the indirect area of the grill
Once the burgers hit an internal temp of 150 degrees Fahrenheit give them a sear over the hot coals
Bring the burgers back to the indirect cooking zone and fry the pepperoni in a skillet
Toast the burger buns
Add the cheese to the burgers to melt
Finally construct the burgers. Add a scoop of sauce to the burger bun base. Slide on the burger and melted cheese. And then sprinkle on some pepperoni
Recommended Products
As an Amazon Associate and member of other affiliate programs, I earn from qualifying purchases.
Nutrition Information:
Yield:

10
Serving Size:

1
Amount Per Serving:
Calories:

580
Total Fat:

32g
Saturated Fat:

13g
Trans Fat:

1g
Unsaturated Fat:

16g
Cholesterol:

127mg
Sodium:

809mg
Carbohydrates:

27g
Fiber:

2g
Sugar:

5g
Protein:

43g
First up we'll make the pizza sauce. You can go down a rabbit hole on this subject, from authentic Italian classic sauces to modern regional American sauces and even fusion sauces from many sauce-loving nations around the world. So if you have a sauce you love then stick with that, what I'm going to make is a classic spicey tomato sauce that goes by the name arrabbiata.
Heat two tablespoons of oil in a saucepan over low heat, then add a small grated onion and gently fry for about 15 minutes or when the onion has softened and turned translucent. While the onions are cooking finely slice some garlic and dice a chili pepper. Add these along with a pinch of salt and fry for another minute. Pour in two tins of tomatoes, I'm using chopped tomatoes, along with oregano, freshly chopped basil, and a tablespoon of brown sugar.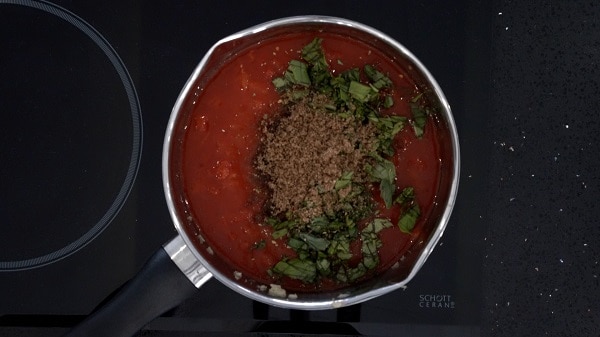 Bring to a boil and then lower the heat to a simmer for approximately half an hour. The sauce should be thickened by this time. If you want a really smooth sauce you can now blitz with a hand blender. If you are preparing this sauce in advance it will keep in the fridge for one week.
Depending on the type of grill you own you'll want to fire it up so it'll be nice and hot and ready to cook burgers around the time the sauce will be ready. I think this recipe works best with a flame-grilled burger so I'll be using my charcoal Weber Master Touch grill.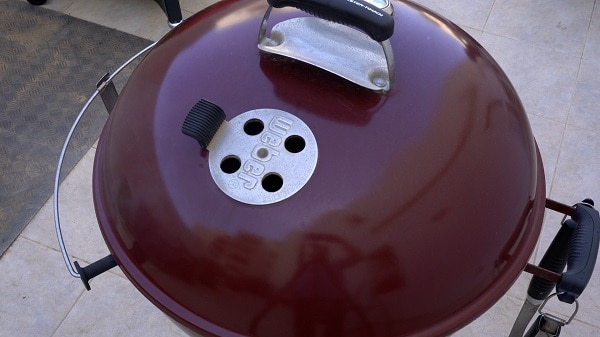 First you'll cook the burgers to an internal temp of 150 degrees Fahrenheit with indirect heat, before giving them a quick sear over the hot coals.
Timing is now key, you'll want to flip the burgers back to the indirect area of the grill, toast some buttered buns, fry chopped pepperoni on a skillet, and add some slices of mozzarella to the burger so it's nicely melted when it's time to pull everything off the grill. (the internal temp of the burger should now be at the recommended 160 degrees safe temp)
Assembling the pizza burger is the easy part, you have done all the hard work and you are seconds away from enjoying the fruits of your labor. Scoop a big spoonful of your pizza sauce onto a toasted bun. Slide on one of the flame-grilled burgers and melted cheese. And then garnish with a good helping of pepperoni.