Today I'll be reviewing the Blackstone 22-inch tabletop griddle. This isn't a sponsored article, I purchased this griddle myself.
I'm sure we all know that BBQing has long been one of the favorite summertime pastimes around the world. You could argue it started when humans first started cooking meat over fire 1.8 million years ago. Fast-forward to today and the availability of quality outdoor cooking equipment at reasonable prices has come a long way over a few short years. And one area of great growth is the griddle marketplace.
For a long time we would buy a separate griddle plate to place on our standard BBQs or over a fire. I have several such plates and would still recommend them to people that will not griddle often. But if you plan to griddle regularly I'd 100% recommend getting yourself a standalone gas griddle, and there is no better place to start than with the market leader and their tabletop griddle – the Blackstone 22 inch griddle
Blackstone 22 Inch Griddle Review
Blackstone is a company that seemed to come out of nowhere to become the leader in everything griddle-related. And the great thing about Blackstone is they are always trying to innovate. They have several different size griddles, from their cornerstone 36-inch griddle launched in 2008 down to a 17-inch model. They even have a griddle with built-in air-fryers. Along with all these different models of griddle they also have every conceivable accessory a griddle fan could ever need.
So if you buy anything with a Blackstone label on it you can be assured it's coming from one of the experts in the field. The question for us to answer is does the Blackstone 22 griddle match the quality of their other griddle models and how does it stack up compared to similar griddles from other brands?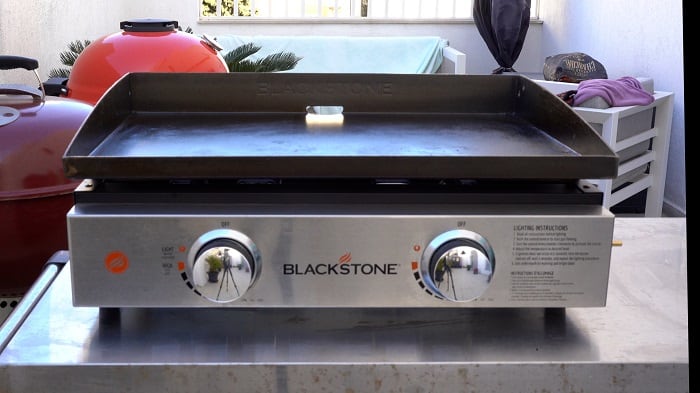 What's In The Box
The sturdy box comes nicely packed with almost everything you need to get up and running. The only extras you'll need to get yourself cooking is a one lb bottle of gas, and the instructions say you need an adjustable wrench but I found it was ok to tighten things by hand. Once you empty the box you'll find the following.
Griddle Body – This section of the griddle is the brains, it consists of the piezo-electric ignition system, the H-burners, and the connecter for the gas regulator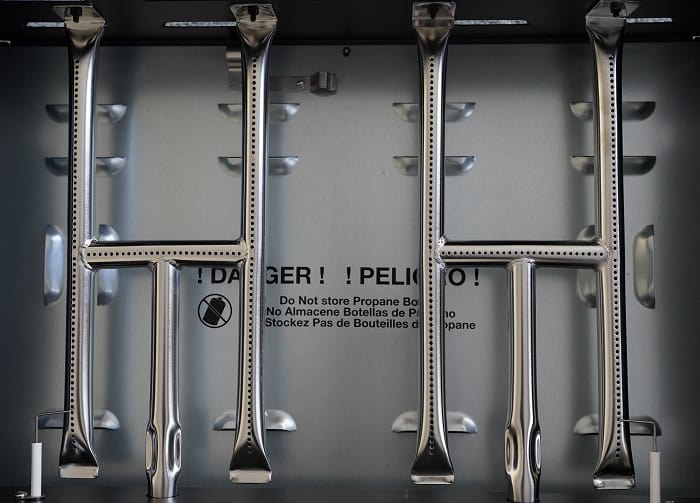 Griddle Top – This is the brawn of the unit, made from a single piece of rolled carbon steel which is durable and corrosion-resistant. The griddle top also has a small hole in the back where the grease cup goes.
Regulator – You get a threaded brass regulator connector that fits a one-pound gas bottles. This is fine if you intend for this griddle to be portable and take it along on activities such as fishing trips or tailgating. But if you plan to add this griddle to your backyard BBQ setup I'd recommend also buying the Blackstone propane adapter hose & regulator for 20 lb tanks
Grease Cup and Foil Tray – Something so simple yet so important, a grease cup. This little addition to griddles makes cleaning and maintaining your cooks so much easier. And Blackstone does this better than most griddles with their patented large opening for the grease cup at the back of the steel top, this positioning is better as you are pushing hot grease away from yourself. Many other griddles have the grease tray at the front which makes it more likely to splatter yourself with grease, and the holes aren't large enough and cause blockages.
Griddle Feet & M8 Flange Nuts – Nothing fancy about the griddle feet. You get four rubber cone-like feet that will grip any surface quite well and stop the griddle from sliding. One improvement that could have been made would be to have the feet slightly adjustable so you could have a level griddle top even if the table or surface you were cooking on was a little bit wonky.
Setup & Ease of Use
Setting up the Blackstone 22-inch griddle couldn't be simpler. The hardest part is to tighten the four nuts to install the feet, which is something most people could do with their eyes closed. You should do this with an adjustable wrench but if you don't have one then hand tight should be good enough.
Once the feet are attached you simply place the griddle top onto the body. This griddle is a solid piece of rolled steel so it isn't light, but unless you are frail you'll not have any trouble. Of course, if you are worried get a friend to help you lift it into place.
These first two really easy steps are the bulk of the setup. Now just hook on the grease tray and connect the regulator and you're ready to fire up the griddle. This whole setup shouldn't take much more than two minutes.
Seasoning The Griddle
Whenever you get a new grill or griddle the first thing you want to do is fire it up and test it out with one of your favorite cooks. Unfortunately with most griddles, you'll have to rein in that excitement a little and first season the griddle plate before use.
If you've bought a brand new griddle then it has come straight from the factory, so it's best to clean off any debris or oil that might be left from machining the griddle plate. Wiping with a damp cloth should be enough.
Now you need to heat up the griddle plate. Ignite the griddle to medium heat and then slowly turn the knobs so that both burners are on high heat. Wait until the griddle top starts to discolor before repeating the following steps 3 to 5 times (stop when there is a noticeable sheen on the griddle top). The heating of the griddle top should take about 10 minutes.
Add a tablespoon of cooking oil onto the griddle. Check our guide to the best cooking oil for seasoning.
With folded paper towels and a pair of tongs spread the oil over the entire surface of the griddle top.
Allow the oil to heat until smoking occurs, this is when the oil bonds with the griddle and creates a non-stick surface
Depending on the types of foods you cook, this first seasoning should be enough and you'll not need to reseason. But if you do find foods are starting to stick just repeat the process again and you'll be good for main more cooks.
Temp Range & Hot Spots
The two main tactics Blackstone implements to minimize hot spots are having a really thick rolled steel griddle top that helps to disperse heat better than thinner griddle tops, and their H-shaped burners that heat a larger area at the same time. These H burners work much better than single strip or circular burners that other griddles implement.
Do the tactics implemented by Blackstone eliminate hotspots completely? No. But I have never seen a griddle that has eliminated hotspots. There is always some disparity between the center, or area under the burner, and the outer edges. However, What the H-burners and thick steel does do is reduce the temperature differences across the griddle top more than any griddle unit that doesn't have these elements.
Zonal Grilling
There are times, like when cooking loads of smash burgers, when you want the whole griddle top to be the same temp. But there are many other times where you will be cooking several different items where you'd much prefer to have different temperature cooking zones – for example, a fried breakfast. And with the Blackstone having two independently controlled burners you have this option.
Some quick observations I've made. If you test you might get slightly different results as outdoor temps, humidity and wind will all play a part.
If you need an extra heat zone another great option is to buy a warming rack. You'll be able to find many online but as this is a Blackstone 22 inch griddle review I'll give a shout-out to the Blackstone extendable warming rack.
So the observations, if you have one burner on low and slowly turn it to max and the other burner turned off these are the two-zone cooking temps you can expect to work with.
| Burner | Hot Zone | Cooler Zone |
| --- | --- | --- |
| 1 Bars | 360F | 215F |
| 2 Bars | 400F | 240F |
| 3 Bars | 450F | 270F |
| 4 Bars | 480F | 280F |
| 5 Bars | 540F | 300F |
Size & Portability
Blackstone has a range of griddle sizes and they normally inform you of the width of the griddle top in the unit's name. The name of this unit is the Blackstone 22-inch griddle, so obviously, the width of the griddle top is 22 inches. But more importantly, you'll probably want to know the total grilling area as this dictates how much you can cook. The total grilling area is 339 Square Inches.
The 22-inch griddle is deemed a portable griddle, but I'd say it is on the heavier end of portable griddles. I bought my one about a mile from my house and decided to walk, by the time I got home my arms were pretty pumped and I would have needed to rest if I lived any further.
So the portability of this griddle is great if you are RVing, tailgating, or car camping but if you are taking it fishing, for a picnic, or to a campsite that is a decent distance from where you can park you might be better with a smaller griddle or just buy a camping stove. There is defiantly no chance of you taking the 22-inch Blackstone hiking.
Build Quality & Value
The griddle plate itself is absolutely solid. I'm sure you could throw this off a mountain and it will survive unscathed. So I'm 100% sure you'll not have any issues with the griddle plate.
The body of the unit feels a little light, some might say flimsy, but there isn't really any need for it to be any heavier. This is a minimalist bit of kit that has one job, to get the griddle plate hot, and it does this with flying colors. And with any item that is made to be portable, there is always a trade-off between being lightweight and being robust.
As for value, this could be the pound-for-pound champion in my setup. I see this griddle becoming a weekday warrior when I haven't got time for a long cook.
Safety
This griddle runs on gas, so you have to take all the standard safety measures when cooking on gas and other basics such as keeping children and pets away and don't move the griddle while in use.
One thing people don't realize when buying a quality griddle is how hot it can get. When it comes to searing this is a big positive, but on the safety front, this can be a negative. This high heat can not simply be contained in the griddle and it will spill off into surrounding areas. This means any plastic sauce bottles or cooking utensils placed close to the griddle risk melting. Everyone I know that has a griddle has done this at some point, most people have done this more than once.
A safety check you'll only need to carry out once is checking for any burrs on the metal edges. I'm sure Blackstone will have some sort of quality control in their factories, but with any machined metal, it's best to check for any sharp or jagged edges before using.
My last safety tip is to get an instant-read thermometer. Griddles are great for cooking small bits of food fast or for searing meat. They aren't the best for slowly cooking larger bits of meat. So I recommend getting a thermometer to check the internal temps of any larger chunks of meat you plan to cook
Cleaning & Maintenance
The grease management system has a hole big enough to scrape small bits of food when cleaning. Lots of people worry about being able to buy the right foil tray to fit this system, but having used this and many other griddles I don't think it should be a concern. Personally, I just use the non-stick grease cup without the tray. It's easy to clean after cooks along with other utensils I've been using. But if you really want an insert tray you can simply make a foil boat from a sheet of foil yourself.
So you have your grease management system all set up. At the end of your cook, while the griddle is still hot, you scrape all the oil and food debris into the grease tray. Again, while the griddle is still hot, so use heat-resistant gloves if you need to, clean the last small bits with paper towels. And then give the griddle a thin layer of oil to smoke off as you did during the seasoning. And that's it, turn the gas off and enjoy your food.
Storage, Lids, or Covers
The basic griddle doesn't come with any type of storage box, carry case, lid or cover. I have seen some stores offer specials where you get a cover or lid with your purchase for a slight discount on buying both separately but in most cases, you will just be getting the griddle.
The cheapest option is to keep the box the griddle came in, it's a very sturdy box, and will be good if you plan to store the griddle away in your garage over the winter months. It's also handy to have to pack into your car if you're off camping or tailgating. Of course, no matter how well you look after the box, it is only made of cardboard so you will need to upgrade at some point if you travel with it often. The upgrade I'd recommend if you want to have the griddle as a portable option is a carry case. And Blackstone makes their own carry case for the 22-inch griddle.
If you don't have any storage options for the griddle over the winter or wet months of the year I'd defiantly recommend buying either a lid or a cover. For the cover you can use any cover you already own that is big enough to fit over the griddle and then just tuck any excess material under the griddle feet. But for less than 20 bucks you can buy the Blackstones cover that is made specially to fit the 22-inch griddles.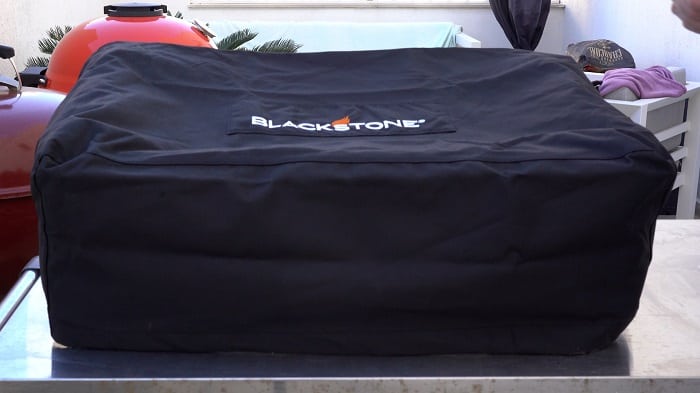 The final option offered by Blackstone is their griddle lid. This is the best-looking option and works great at keeping the griddle clean between cooks, but if you want something just to protect from the elements I'd go with the griddle cover. The reason is that the lid only protects the griddle plate and not the buttons on the base.
Blackstone 22 Inch Griddle Review Video
Pros & Cons
This is more a cons section than a pros and cons section, as I've already mentioned many of the things I liked. Like the thickness of the griddle plate, the H-burners, the ignition system, the innovative grease management system, and the total griddle cooking area.
The main con for this unit is the gap between the plate and the body. It is a large gap, and I have seen people complain that if it's windy the flame can be blown out. Meaning people have to buy or make makeshift windbreakers. I have to say it's not windy where I live so I've not had to deal with this.
My other complaints about the Blackstone 22-inch is me just nitpicking. I mentioned the issue already, I think the feet should be adjustable so you can level the griddle on an uneven table.
Another minor gripe is I'd say the buttons aren't very intuitive, I am used to turning things on and then carrying on in the same direction to get more power. With this griddle, you turn it on and then if you keep going you turn down the gas.
I also think the griddle should come with an option on the gas regulator, I knew I'd not be using the 1lb gas bottles right from the start so would have preferred to have bought the griddle with the 20lb tank regulator and not have to buy it as an extra. And I know Blackstone has to balance the books, but I'd also like to have seen a cover ship with this unit as standard, everyone will need one and they aren't that expensive.
Classic Griddle Cook Test
The most important question, and one I often see overlooked when reading reviews, is how well does this griddle cook? It's all well and good having great-sounding specifications and a wonderful-looking unit, but if it's awkward or useless to cook on then it's not worth buying. So let's do a round-up of popular griddle cooks and see how the Blackstone 22-inch griddle holds up.
Smash Burgers
The reason I and many people I know got a griddle was to make smash burgers. It's one of the most classic burgers and even seems to have gotten more popular over the last few years. What's so great about smash burgers? It's the crust that forms when searing the beef, known as the Maillard reaction, and griddles are great at getting to the high heat needed to make this happen.
So how does the Blackstone 22-inch griddle handle smash burgers? I'd say this is what the griddle is made for. I made a basic smash burger with toasted buns, cheese, and a simple burger sauce made of mixing the 3 main sauces of ketchup, mayo, and mustard, with a little bit of diced pickle and a spoonful of pickle juice.
I'll be doing a smash burger tutorial soon, along with many other burger and BBQ videos, so if that is something that interests you subscribe to our Youtube channel.
Breakfast For Two
When you wake up after a night under the stars camping and you know you have another big day of adventure ahead of you there is nothing better than having a big cooked breakfast to send you on your way. Can the Blackstone give you this?
To test I am going to make breakfast, for two people, consisting of 2 sausages, 2 bacon, an egg, potatoes, and a pancake. Timing is key when making a meal with multiple ingredients, so don't be disappointed if you don't nail it on the first cook. But there is a good margin of error in using the two-zone cooking method.
On one side of the griddle, I'll have the burner on medium heat and the other side will just be residual heat. Essentially a warming station. Start with the bigger cuts of meat and potatoes first and then work your way down to the faster cooking items.
And as you can see, the Blackstone griddle can easily handle making a cooked breakfast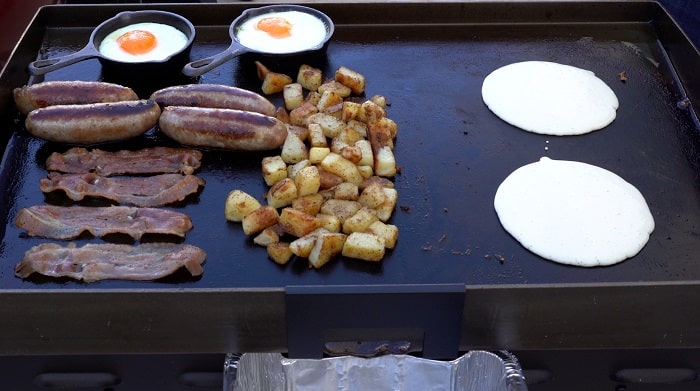 Fried Rice
I like to make fried rice as a side dish when doing a large BBQ. When you have more than five people coming over you never really know how much to cook. So I find that doing the meats on my BBQs and then having fried rice ready to go on the griddle as a filler for anyone really hungry is a great option. As fried rice is quick, cheap, and tasty. And it's always hard to do sides without going into the kitchen.
The demonstration I'm giving of how well the Blackstone griddle handles fried is a simple one. It'll just be chicken, orange pepper, rice, and a store-bought sweet teriyaki sauce. The rice was boiled the day before and left in the fridge overnight. The Blackstone handles fried rice amazingly and using a sweet sauce caramelizes the sauce for an amazing flavor. The only issue is a dish like this is a little harder to clean up after.
Final Thoughts
Griddles have long been firm favorites with RV'ers, campers, and tailgaters, but they seem to have taken their time becoming part of a backyard BBQ'ers arsenal. With quality griddles like this 22-inch model from Blackstone this is quickly changing. And I can see why. The variety of different cooks you can do and the speed at which you can do it makes a griddle a must-have for me. And the price you pay for what you get is hard to beat when it comes to quality outdoor grilling equipment. I'd happily recommend this griddle to beginners or seasoned pitmasters.