Choosing the best built-in grill for your outdoor kitchen is no easy feat. First of all, there's the substantial cost involved. Then you'll also have to choose from a mind-boggling array of different brands, series, and models, plus various extra features that you may not even know that you want or need.
Take the easy route to choosing your built-in grill with our exclusive top-rated selection and buyer's guide covering all that you need to know.
Best Built-In Grills
Wondering how to get started in your quest for the best built-in grill? We've short-listed the very best models in our best built-in grill reviews. Read on and find your ideal model right here.
Best Value Built-In Grill
Weber Summit Built-In Gas Grills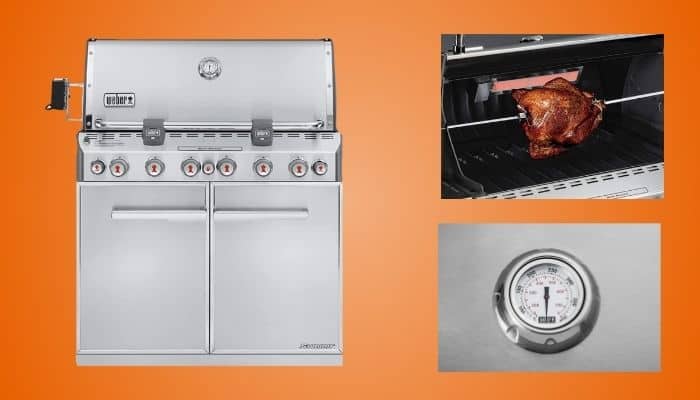 Grill experts Weber are renowned for their customer service and quality, so you can choose from their top-of-the-range Summit Series Built-In Gas Grills with every confidence. Available in a choice of propane tank or natural gas versions in several sizes to better fit your outdoor kitchen.
Choose between the 460 with its 48,800 BTU main burner output and 580 square inch cooking area with space for 20 burgers or the larger 660 with a 60,000 BTU main burner output and a 769 square inch cooking area. Both models have a sear station 10,600 BTU burner, a stainless steel smokebox with a 6,800 BTU smoker burner, plus a rear-mounted 10,600 BTU infrared rotisserie burner. Basically, whatever you want to cook, the Summit can handle it.
All models also come with numerous extra features including Electric Continuous Spark ignition for easy lighting, Weber's famous Flavorizer bars to prevent flare-ups and add extra taste, plus 9mm stainless steel rod cooking grates, and lighted control knobs. Highly durable, made from stainless steel, Summit grills come with a 10-year warranty on all grill parts.
The only real complaint about this otherwise excellent value for money built-in grill is that the stainless steel exterior could be better quality, so make sure that you remove any spills or garden debris that could stain immediately and be sure to keep it well covered.
Pros – Things we liked
4 burners – main, sear station, smoker box, and rotisserie
Total cooking area: 580/769 sq inches depending on the model
Durable stainless steel finish
Electric Continuous Spark ignition with lighted control knobs
10-year warranty
Cons – Things we didn't like
Stainless steel could be of better quality
Best High-Capacity Built-In Grill
Napoleon Built-in Prestige PRO 665 RB Natural Gas Grill Head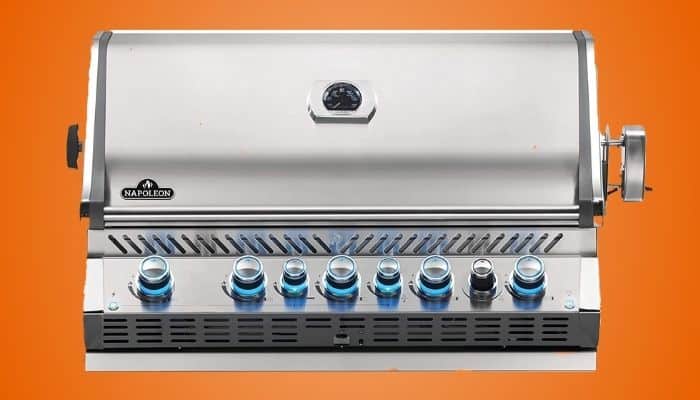 If you regularly cook for a crowd, the Built-in Prestige PRO 665 RB Grill by Napoleon is definitely a top model to consider. It has a huge 655 square inch primary cooking area that can accommodate 41 burgers, plus an additional 335 square inch cooking area on its warming rack so you can invite the whole family around and show off your new BBQ.
Not only is this a high-capacity built-in gas grill, it's also a powerful one, with a total of 68,000 BTUs over the five main stainless steel burners. The stainless steel sear plates give even, intense heat for extra flavorsome steaks, while the built-in smoker tray complete with its own burner allows you to create delicious smoked meats. That's not all, there is also a rear 18,000BTU infrared burner complete with Napoleon's heavy-duty rotisserie kit.
The Jetfire ignition system is backed up by a back channel between the burners to ensure easy lighting every time. The durable stainless steel finish is accentuated with chrome details and LED spectrum night light control knobs with almost infinite color possibilities, plus interior lights for late-night grilling sessions. While this is a high-quality model, do be careful when removing the drip pan as some of the edges are not smoothed off sufficiently.
All in all a great built-in grill if you have mains gas and enjoy cooking for large get-togethers, plus it's reasonably priced considering its construction quality and the extra features.
Pros – Things we liked
5 x main stainless steel burners plus sear plates
665 sq inches primary cooking area
Integrated smoker tray with dedicated burner
Interior lighting & LED spectrum night light control knobs
Includes infrared rotisserie burner & kit
Cons – Things we didn't like
Sharp drip tray edges
Best Charcoal Custom Built-In Grill
Kamado Joe Classic II Stand-Alone Grill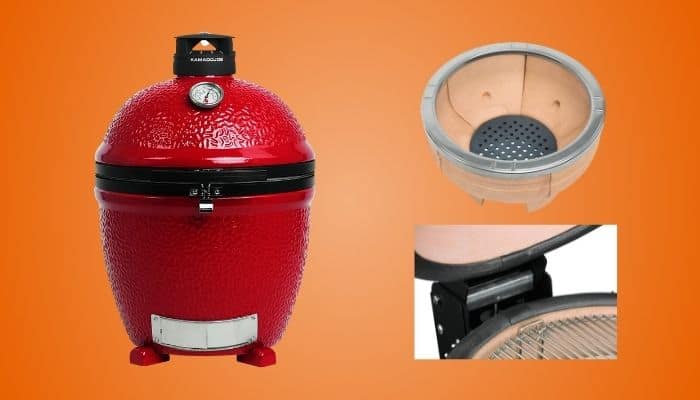 Okay, so Kamado Joe haven't just released a built-in grill… but given the versatility and huge popularity of the Joe Classic II, it's pretty common to see these grills incorporated into custom-built outdoor kitchens.
If your outdoor kitchen plans haven't yet been finalized, or if you're pretty handy when it comes down to DIY, you might want to stop and consider fitting a Kamado Joe into your outdoor kitchen worktop.
A stand-alone Joe Classic II costs around half the price of your standard built-in gas grill and you get all of the flavor from grilling with charcoal. This ceramic grill has thick, heat-resistant walls so it cooks from all sides, not just below like traditional grills. This model has an 18-inch cooking surface that benefits from Kamado Joe's famous Divide & Conquer Flexible Cooking System to allow you to cook different foods on different levels with different cooking surfaces.
With a heat range between 225-750 degrees F, this grill can be used to cook, grill, or smoke just about anything. Plus, it is also very easy to use thanks to its Air Lift hinge for easy opening and the Kontrol Tower Top Vent that allows for great temperature control.
Whether you're short on space or just love the flexibility and flavor that you get from cooking with a kamado grill, the stand-alone version of the Classic II makes an increasingly popular choice as a built-in outdoor kitchen grill.
Pros – Things we liked
18-inch adjustable cooking surface
Famous Divide & Conquer flexible cooking system
Thick heat-resistant ceramic walls
Heat range: 225°F – 750°F
Air Lift hinge for easy access
Cons – Things we didn't like
Needs to be custom fitted
Best Professional Quality Built-In Grill
DCS Series 9 Evolution Built-in Grill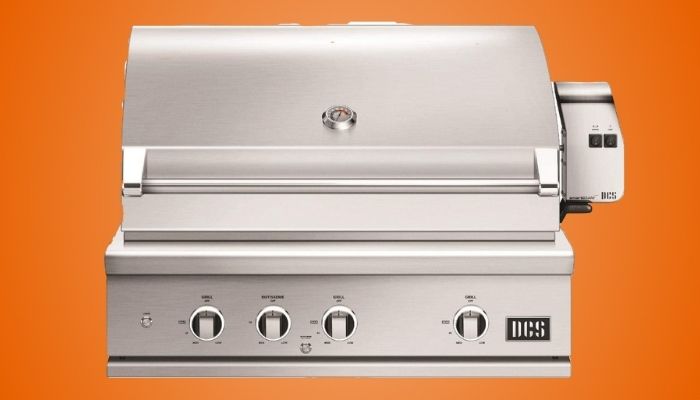 If you want to cook like a pro, the DCS Series 9 Evolution Built-In Grill is going to be your best choice.
Available in a choice of either natural gas or propane, choose between the 36-inch or a 48-inch model depending on your available outdoor kitchen space and your needs, both finished with weather-resistant 304 stainless steel.
The 36-inch model features three powerful 25,000 BTU burners with 630 square inches primary and 534 square inches secondary cooking areas, while the 48-inch model has an extra 25,000 BTU U-burner, 855 square inches primary and 738 square inches secondary cooking areas. Both models are high-performance with plenty of space for all of your cooking needs, plus a full-sized smoker box for charcoal grilling.
Thanks to DCS's Ceramic Radiant Technology, you get intense, even heat that is consistent across the entire grilling area. The durable double-sided stainless steel cooking grids are designed to be used on the gently curved side for vegetables and fish or turned over for searing meat and removing grease.
The Grease Management System effectively reduces flare-ups, while the rear infrared 14,00 BTU rotisserie burner comes complete with a heavy-duty kit that can handle birds weighing up to 50 pounds.
Naturally, quality comes at a price and the Series 9 grills are the most expensive models in our reviews. However, in terms of high quality and performance, they really are excellent built-in grills.
Pros – Things we liked
Primary cooking area: 630sq inch/855sq inch (36"/48" model)
Three or four 25,000 BTU U-burners (36"/48")
Ceramic Radiant Technology
Full-sized smoker box for charcoal grilling
14,000 BTU rear burner with rotisserie kit
Cons – Things we didn't like
Expensive
Best Entry-Level Built-In Gas Grill
American Outdoor Grills L-Series Grill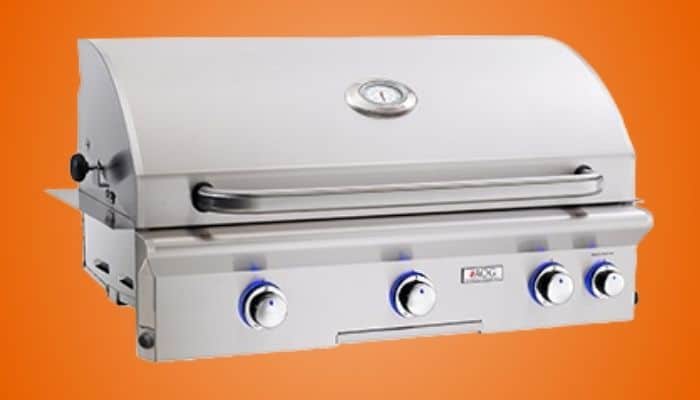 The 36-Inch L-Series Grill 36NBL by American Outdoor Grills is a good entry-level model combining good looks with value for money.
It has a large 648 square-inch cooking surface and 50,000 total BTUs over its main U-shaped burners, making it a good choice for cooking for large numbers of people.
One of the main advantages of this model is its stainless steel vaporizer panels that reduce flare-ups while enhancing flavor. You also get solid brass valves for more precise temperature control and durability, plus a funnel grease management system complete with a slide-out drip tray.
Hook your 36NBL grill up to 120V power to benefit from the interior halogen lights – ideal for late-night grilling. It also features an electronic push button ignition system for easy lighting.
While this makes a good all-around entry-level unit, it can suffer from uneven heat across the main cooking surface. However, it is a good unit available at a reasonable price and comes complete with AOG's 15-year warranty.
Pros – Things we liked
Heavy-duty 304 stainless steel construction
Primary burners total output: 50,000 BTUs
648 sq inch cooking area
Solid brass valves for durability
Interior halogen lights
Cons – Things we didn't like
Does not heat as evenly as other models
Best Premium Built-In Grill
Blaze Professional LUX Built-In Grills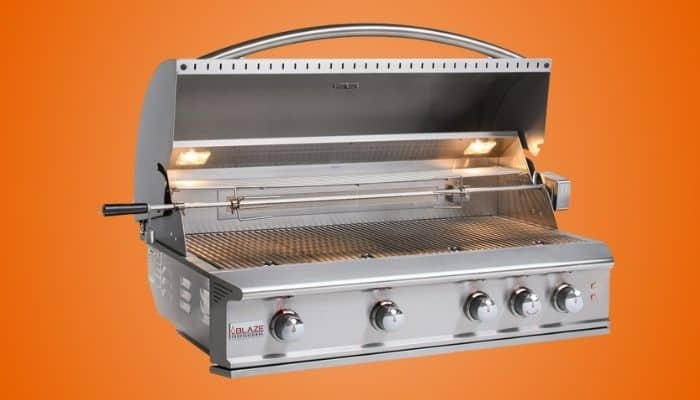 If you are looking for a premium built-in grill make sure that you take a good look at the Blaze 4-Pro Lux Built-In Grill. This model features four commercial-quality cast stainless steel H burners each with an 18,000 BTU output. It also has a rear infrared rotisserie burner with a 10,000 BTU output and an included rotisserie kit with a waterproof motor.
Thanks to its total of 1,050 square inches of cooking space with 12mm heavy stainless steel hexagon cooking rods, this large built-in grill is a good choice for any outdoor cooking enthusiast.
Heat zone separators divide up the cooking area into distinct zones, ideal for cooking multiple dishes at different temperatures simultaneously. The flame-stabilization grids help to add flavor and minimize flare-ups, while the full-width drip tray with removable baffles makes for an easy cleanup.
Complete with a push and turn flame-thrower primary ignition system plus an individual flash tube secondary ignition, you'll get off to a fast start every time. Just be aware that the control knobs are a little on the sensitive side when it comes down to temperature regulation.
They do, however, illuminate to enhance the appearance of your grill and outdoor kitchen late at night. This unit also benefits from interior lights for grilling after sunset.
Pros – Things we liked
4 x 18,000 BTU H burners
10,000 BTU infrared burner with rotisserie kit
1,050 sq inches total cooking space
Interior lights and illuminated control knobs
Lifetime warranty
Cons – Things we didn't like
Controls are fairly sensitive
Why Trust Us
All of our reviews are compiled with a combination of expert input, years of hands-on testing of grilling products, curating the reviews of real-life buyers in a "wisdom of the crowd" system, and of course our own expertise. All the products listed are the ones we would buy if we were looking to purchase a new built-in grill.
Methodology Used to Pick the Best Built-In Grill
When deciding on the best built-in grill we looked at the following criteria and gave ratings accordingly. Price and warranty, fuel, BTU, total cooking space, how many burners, lid size, vents and Temperature control, temp range, does it come with a built-in thermometer, grill grate material, ignition, and any extras.
Buyer's Guide to Buying the Best Built-In Grill
To make sure that you find the very best built-in grill for your outdoor kitchen, take a read through our comprehensive built-in grill buyer's guide. We'll discuss all the essential features so you can make your purchase in confidence.
Price
Purchasing a built-in grill is a major investment and you should carefully plan your budget before choosing your model. You may also need to consider the amount you will need to spend on building your outdoor kitchen island to house your grill if you are planning a new outdoor cook station.
Built-in grills tend to cost more than freestanding models, with good entry-level models starting around $2,000. $2,500-$3,500 will get you a good mid-range model, with premium versions costing in excess of $4,000.
Carefully consider your needs, skills, and anticipated usage before splashing out. You should also check out which features are included and how much any extra accessories will set you back.
While premium models will give you better performance and are made with superior materials for greater durability, if cooking is not your forte and you're not in the market for something with all the bells and whistles, a basic model will most likely be the best choice for your needs.
Alternatively, if you are really out to build the outdoor kitchen of your dreams and tend to spend most of the year grilling a large variety of different dishes outside, then you'll want to spend more on a top-of-the-range model.
Fuel
Make sure that you choose a built-in grill with a fuel type that works best for your needs and preferences.
Charcoal
While most built-in grills tend to be gas, you could always adapt your outdoor cooking space to accommodate a charcoal grill or even build your own.
Charcoal grills cost less than electric and gas ones and give you a good smoky flavor. They can, however, be more challenging to cook depending on your skills and experience.
Mains Gas
If you have mains gas, then it makes sense to opt for a built-in grill that runs off natural gas. You won't have to worry about refilling gas bottles or buying charcoal, however, you will need to get a professional in to install your gas line to your outdoor cooking station.
Gas Tank
There are a good number of built-in grills that run off large propane tanks. Some come with conversion kits so you can use them with your natural gas supply or propane tanks, whereas others are one type only.
Make sure that you pay close attention to the type of gas when ordering your built-in gas grill.
Electric
You may want to consider installing a built-in electric grill if you don't have mains gas and don't want to have to keep switching propane tanks. However, you should note that electric grills should not be used in wet conditions.
BTU
BTU stands for British Thermal Unit. It's a measurement of how much heat your grill can produce.
Manufacturers will often give you a total figure for all of the burners on your grill which can be deceptive. To work out whether or not your gas grill has enough heating power you'll need to work out the total BTUs of the burners located under the main cooking area and divide the number by this area.
If you get a figure that's over 80, then your gas grill should be up to the job. For example, say your total primary burners come in at 50,000BTU and your primary cooking space is 665 square inches, your result is 50,000 divided by 665 equals 75.18. This model would be a little underpowered and not very even in terms of heat distribution.
Cooking Area
Before you decide which built-in grill to choose, you first of all need to establish how large a cooking area you'll need your grill to have. Generally speaking around 300 square inches of cooking space is considered ample for serving four.
Large built-in grills with primary cooking surfaces of 600 square inches plus can be used to cook for large gatherings of family and friends depending on what you are serving.
Number of Burners
The larger your grill's primary cooking area, the greater number of primary burners you'll need to ensure an even heat circulation. Medium built-in grills tend to have three main burners, with larger versions boasting four or even five.
In addition to these main burners, you may also have a side burner or sear station, plus a charcoal burner, and a rear infrared rotisserie burner.
Lid
Lids are an essential feature of built-in grills. They can be used to trap the heated air inside to increase the temperature, but more often than not they will protect your grilling surface and burners when your grill is not in use, preventing dirt, dust, and debris from damaging and dirtying your cooking surface and burners.
Vents
Your in-built gas grill will need to be installed so that its vents will not be obscured. Vents are essential to ensure that there is enough air for correct combustion.
A build-up of grease and partially obscured venting could cause a very dangerous situation, so always pay close attention to the location of your grill's ventilation.
Temperature Range
Most built-in gas grills have a temperature range between 300-550 degrees F. Cooking with the lid down will give you consistently sustained high temperatures.
Charcoal grills tend to burn hotter, typically around 500 degrees F, going up to around 750 degrees F. It can be harder to get steady low temperatures with a charcoal grill if you have less experience grilling.
Built-in Thermometer
Most built-in grills will feature a thermometer in the hood area. While they can be useful and certainly make your grill look the part, we recommend not paying too much attention to any grill's built-in thermometer.
The best way to check on any grill's cooking temperature is to use a digital thermometer probe that you can place down at the grate level, where your food actually cooks, for a much more accurate reading.
Grates
Grates are either made from cast iron or stainless steel. Stainless steel is the best option to go for being much more durable and easier to clean than cast iron.
Some of the best built-in grills have special wave or extra thick flavorizer bars. Others utilize thick stainless steel cooking rods to ensure your food gets good color and flavor, as well as preventing smaller items from slipping through.
Ignition System
Pretty much all built-in grills will have an automatic ignition system. Some utilize a Piezo or similar push-button system, while others use an electronic ignition that will require batteries or for your grill to be hooked up to your electricity supply.
Total Size & Weight
Make sure that the dimensions and weight of your built-in grill are compatible with your outdoor kitchen island. While outdoor built-in grill sizes can vary considerably, most people choose to go for models sized between 36-48-inches depending on their needs and the available space in their outdoor cooking station.
You will also need to consider the depth of your grill, as well as its length. Most models will benefit from at least three inches counter space behind to ensure that they are well supported. What's more, if your grill's depth is not far off that of your outdoor island, you will need to factor in a few extra inches of space behind to ensure that the lid can open without banging into a wall or fence.
Your outdoor kitchen will also need to be capable of supporting the weight of your built-in grill. If you have a professionally-installed counter, this shouldn't be too much of an issue, but it is still worth checking out with the manufacturer. In any case, you'll want to double-check the weight for your installation and if necessary to get an extra pair of hands to help out.
In other words, unless you are replacing like for like, measure carefully, then measure again. It can help to do a sketch of your outdoor kitchen plan to ensure that you will be able to fit in not only your grill but also any other appliances and features that you may be planning to install at a later date, especially large items such as a sink.
Extras
Most built-in grills come with numerous extra features as standard, plus some additional add-ons that you can order separately. Here are some of the extras that you may want to look out for.
Warming rack – handy to use not only for warming your burger buns but also for resting your meat or as an indirect cooking area for veggies.
Rotisserie – make delicious roast chicken and turkey effortlessly with a rear rotisserie burner. Make sure that your grill comes with an included rotisserie kit with a motor or else order it separately.
Side burner – handy for sauces and cooking your sides, a side burner makes your outdoor kitchen much more functional.
Sear station – if you love tasty seared steaks, you need a model with a dedicated sear station.
Smoker tray – add extra smoky flavor with a dedicated smoker tray for charcoal cooking. A lot of larger built-in gas grills come with a charcoal tray complete with its own dedicated burner for smoking meats the easy way.
Lights – make late night cooking easier and opt for a grill with internal lighting. Most premium models also have light up control knobs that also enhance your grill's aesthetics.
Storage units – while they are not usually included as standard,you may like to consider adding on some storage units with a matching finish, such as covered shelving or plate warmers. If you have gone for a propane model, don't forget to factor in where you will store your gas tank.
Warranty
Given the cost of purchasing your built-in grill, plus the fact that it will be the centerpiece of your outdoor kitchen, you'll want to make sure that you choose a model with a good warranty.
Most have at least a one-year warranty, however, we recommend looking for a model with at least a five-year guarantee. Some of the more expensive units even come with a lifetime warranty.
Before purchasing, make sure that you read the small print that accompanies the warranty. Most manufacturers set terms and conditions over which parts are covered and for how long.
General wear and tear is not included, nor is any damage you may accidentally cause. Unauthorized repairs may invalidate your warranty, so make sure that you always contact the manufacturer in case of any issues.
Built-In Grills Vs. Freestanding Grills
If you've not quite finalized your plans for your outdoor cooking and entertaining area, you may be wondering whether it's best to go for a built-in grill or a freestanding one. Here are the main considerations to bear in mind when making your decision.
Built-in grills
Built-in grills have the following advantages over freestanding models:
More durable – built-in grills are by and large designed and manufactured to be extremely durable and should outlast most of your indoor home cooking appliances. Freestanding models, on the other hand, tend to need replacing more often.
Larger cooking areas – feeding a hungry crowd on a freestanding grill can take a long time and a lot of effort. As built-in grills have much larger cooking areas, it is much easier to cook for more people.
More powerful – built-in grills have more burners and higher BTU outputs than freestanding models, giving you more power as well as more space.
More features – while newer freestanding grills are beginning to offer more and more features, they still struggle to compete with built-in ones. Plus, even if you are looking at a built-in grill with a lot of extra features such as a rotisserie kit and side burner, on some models, these can be extra and buik up the price considerably. Built-in models give you the best range of features and allow you to use them simultaneously for cooking varied menus outdoors.
Easy to maintain – given their sturdy, more durable construction, built-in grills often have lower maintenance requirements and you don't have to worry about them getting blown away and damaged in bad weather.
Freestanding grills
Here are some reasons you may want to opt for a freestanding grill over a built-in one:
Lower purchase price – freestanding grills are much more affordable than built-in ones. Plus you don't need to spend a lot of cash getting an outdoor cooking space set up to accommodate your freestanding grill. Pick one with side tables and get a table and chairs for your guests and that's all you'll really need.
Portability – freestanding grills often feature stands with wheels making them easy to move around your patio to better suit your plans. Thinking of moving your outdoor furniture around? Want to grill in the shade or sun? Need a sheltered spot? With a freestanding model you can switch your grilling position in seconds. What's more, you can also pack up compact versions to grill round at a friend's or family member's house, as well as more easily selling or donating older models when you choose to upgrade.
Compact – sometimes smaller is more practical. If you live alone or as a couple and rarely cook for numerous guests then a huge built-in grill may be impractical and end up being seldomly used.
Top Built-in Grills Video
Final Thoughts
Purchasing a built-in grill for your outdoor kitchen is a big investment and your choice shouldn't be made on a whim. First of all consider your available space, needs, and budget, before carefully focusing upon the top-rated built-in grills in our reviews.
If you are looking for a good value for money model that is feature-packed and easy to use, consider the Weber Summit Series. Available in several different sizes, in either propane or natural gas, you get a sear station, smoker box, rotisserie burner, plus a good main cooking area BTU output all at a reasonable price, complete with Weber's high levels of customer service.
For an outdoor cook station to rival the pros, treat yourself to the Series 9 Evolution Built-in Grill by DCS. This premium built-in gas grill is made from high quality materials complete with numerous extra features including: Ceramic Radiant Technology for even heat distribution, a full-sized smoker box, double-sided stainless steel cooking grids, plus at least three powerful 25,000 BTU U-shaped burners on your main cooking area.
This powerful premium model will give you effortlessly professional results.