Burgers are all about the garnish, sauces, and toppings. While some people may rave about grilling up gourmet burgers, a burger just isn't a great burger unless it comes with the right extras.
While preferences vary from one person to the next, a fresh, crunchy lettuce leaf is pretty much the one burger garnish that almost everyone agrees on. It adds texture, color, and keeps your bun from getting soggy.
Choosing one of the best lettuce keepers will help you to ensure that when you fire up your grill, your lettuce won't let the side down.
Best Lettuce Keepers
Here is our selection of the very best lettuce keeper on the market. Order yourself one of the following models and enjoy crisp, fresh tasty lettuce on your next burger.
Best Multi-Purpose Lettuce Keeper
Progressive International Lettuce Keeper Produce Storage Container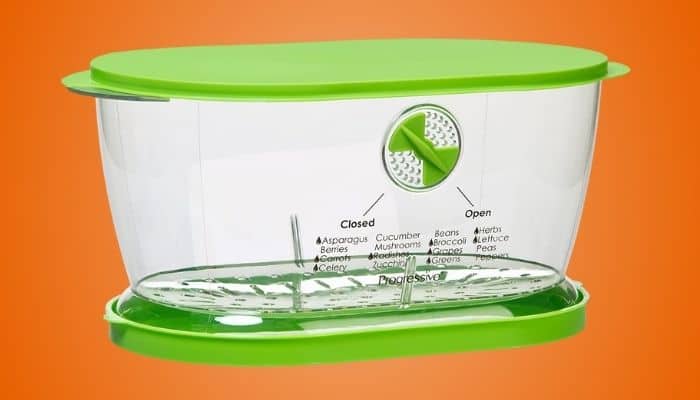 Keep your lettuce fresh in between grilling sessions with this handy Lettuce Keeper by Progressive International.
It has a generous 4.7-quart capacity and comes complete with a handy divider that stores in the lid when not in use – ideal for separating fresher lettuce from an older one or other fresh produce for your BBQ sides.
Thanks to its removable base and perforated bottom, this model can also be used as a handy colander, ideal for preparing your burger garnish outdoors. The base also doubles as a water reservoir and the air vent allows you to create the ideal environment for longer-lasting lettuce.
While this lettuce keeper is stated as being dishwasher-safe on the top shelf, even hand washing with warm water can cause the lid to warp slightly which may become an issue over time. To make this lettuce keeper last longer you may wish to use cold water and sanitizing products when cleaning.
Its high capacity will be great for burger night if you have a large family or grill for a crowd, however, it may be a little bulky for just one or two.
Pros – Things we liked
4.7 qt capacity
Doubles as a colander
Top-rack dishwasher safe
Divider stores in the lid
Air vent and water reservoir
Cons – Things we didn't like
Lid warps fairly easily
Can be bulky to store
Best Durable Lettuce Keeper
Rubbermaid Produce Container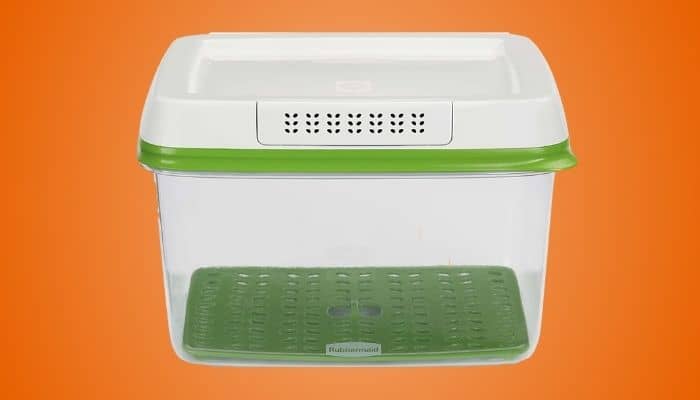 The FreshWorks Produce Saver by Rubbermaid is made with high quality BPA-free materials for a durable lettuce keeper that will keep your burger garnish crisp and crunchy for longer.
With the combination of its lifetime filter that does not require replacements and the FreshVent membrane, the flow of carbon dioxide and oxygen are regulated to ensure extra lettuce longevity.
This lettuce keeper also features a crisp tray in the base that keeps your lettuce up and out of any moisture to rescue spoilage. The entire unit is well made and has a high quality feel to it. You can wash it in your dishwasher, although you won't want to put the part with the filter in too.
Thanks to its 4.3 quart capacity, it can accommodate an average sized head of lettuce. This is important as it is essential that you do not chop up or wash your lettuce prior to storage for the best results.
Unfortunately, this isn't always clear as the instructions are printed on the inside of the wrapping which invariably gets torn and thrown out. Make sure you take the time to carefully unwrap this model and follow the manufacturer's recommendations for the best results.
Pros – Things we liked
FreshVent membrane
Lifetime filter
Spoilage-reducing crisp tray
4.3 qt capacity (17.3 cups)
BPA-free plastic
Cons – Things we didn't like
Instructions are printed on the inside of the wrapping
Best Dishwasher-Safe Lettuce Keeper
OXO Good Grips GreenSaver Lettuce Keeper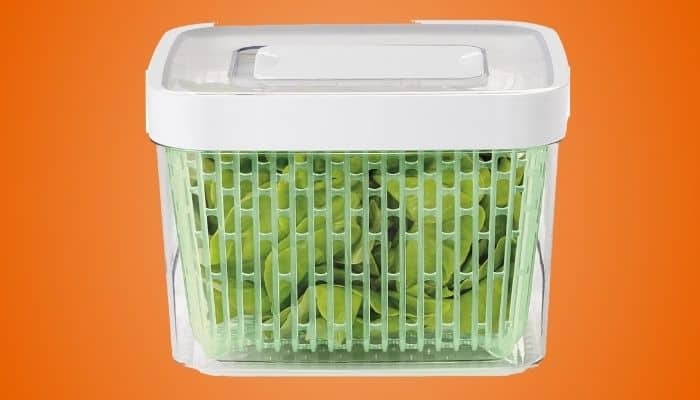 BPA-free and dishwasher-safe for easy cleaning, the Oxo Good Grips GreenSaver Lettuce Keeper is a popular choice to keep your lettuce crisp for a tasty, appetizing burger garnish.
This model utilizes an internal colander that keeps your lettuce away from the container walls to promote airflow and prevent rotting, keeping the lettuce in a moist environment without it coming into direct contact with water.
The adjustable airflow vent on the lid allows you to control humidity levels, while the carbon filter absorbs ethylene gas which causes wilting, spotting, and rapid degradation. On the downside, this filter needs replacing every 90 days, which is one more thing to have to remember.
Fortunately, with the money you will save on no longer having to prematurely replace your lettuce for burger garnishing, these refills will pay for themselves pretty quickly.
Use the internal colander to rinse out your lettuce before making up your burgers out on your deck next to your grill. The 4.3 quart capacity is large enough for an average-sized head of lettuce and will easily store your leftovers, keeping your lettuce spoil-free from one burger night until the next.
Pros – Things we liked
4.3 qt capacity
Enhanced carbon filter to absorb ethylene
Elevated colander for 360-degree airflow
Adjustable top vent
Dishwasher-safe and BPA-free
Cons – Things we didn't like
Filter needs replacing after 90 days
Best Budget Lettuce Keeper
Walter Drake Lettuce Crisper Salad Keeper Container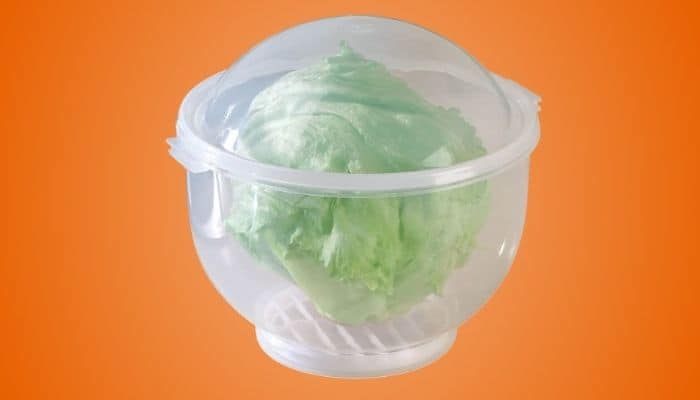 If you are looking for a basic, inexpensive lettuce keeper to make sure your lettuce stays crispy for a couple of days until your next BBQ, this model by Walter Drake makes a good budget choice. Lightweight and sturdy, it is made from a durable plastic that can also go in your dishwasher for easy, hygienic cleaning.
This model has a simple yet effective design. Wash your lettuce before storing, then simply place it on the spike, cover, and seal the lid. The spike ensures that your lettuce does not come into contact with the side or base and allows for improved air circulation. The base contains a handy water tray to lock excess moisture away that you can easily drain.
Thanks to its spherical design with a good seven inches height and eight-inch diameter, this lettuce keeper has been designed to accommodate a good sized head of iceberg lettuce, so no more messing about trying to cram your round lettuce into a rectangular lettuce keeper.
On the downside, the lid can be a bit difficult to remove. All in all a good no-nonsense, value for money buy for fresh green lettuce on your burgers.
Pros – Things we liked
7" tall by 8" diameter
Dishwasher-safe
Water reservoir
Raised lid
Spike to keep lettuce away from sides and water tray
Cons – Things we didn't like
Top is difficult to remove
Best Looking Lettuce Keeper
Snips Saver Salad Keeper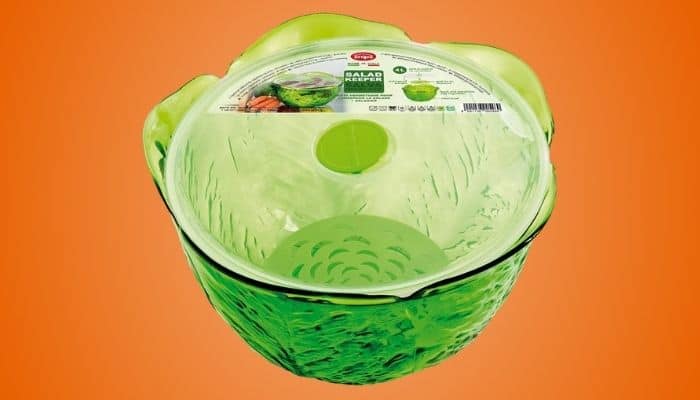 Just because it's only a lettuce keeper doesn't mean you have to opt for an ugly model. The Saver Salad Keeper by Italian company Snips is good enough to serve your lettuce in, after having kept it fresh, so that your guests can build their own burgers as you serve them up next to your grill.
With its attractive lettuce design, this unit has a good 4.2 quart capacity (4L), easily accommodating your head of lettuce for your burgers. It has a flat lid, so despite its size, you can stack other items on top of it so it won't clutter up your refrigerator. Made from BPA-free plastic that is 100% recyclable, this model is also a good choice if you are worried about what happens to your kitchen containers after their useful lifespan.
With a freshness-saving vent in the lid and a water tray in the base, this model is a good way to keep your lettuce crisper for longer. However, note that the lid is not very tight fitting which may pose a problem for storing your lettuce in prime condition for periods longer than a couple of days.
With its good looks and stackability, this makes a great model if you don't need to keep your lettuce fresh for long periods.
Pros – Things we liked
Attractive Italian design
2-in-1 lettuce keeper and server
Freshness-saving lid valve
Flat lid for stackable storage
BPA-free and 100% recyclable
Cons – Things we didn't like
Top could fit more tightly
Best 2-in-1 Lettuce Keeper and Spinner
Cuisinart Salad Spinner Container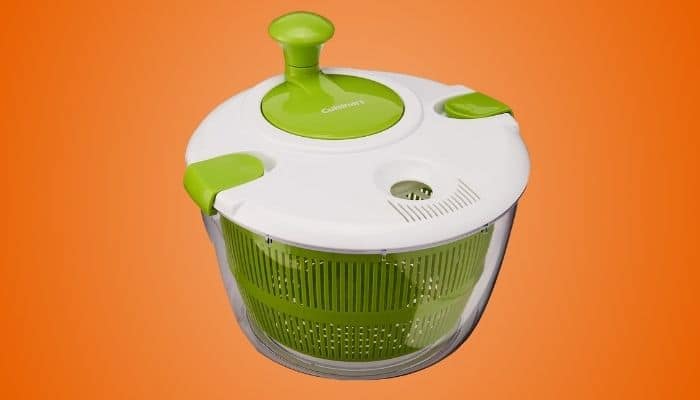 Save space in your kitchen and round your grill with this 2-in-1 lettuce keeper and spinner by Cuisinart.
Prepare your lettuce for your burgers, then preserve it in your refrigerator until you're ready to serve fresh from the grill. Thanks to its large 5 quart capacity, this model can hold plenty of lettuce to garnish a large number of burgers.
Use the small opening on the lid to add or remove water without having to take off the lid. The handle makes spinning easy, while the internal colander keeps your freshly spun lettuce out of the water that collects in the base. The lid locks securely into place which helps to maintain your lettuce's freshness and you can turn out the spun and dried lettuce into the clear base and use it to serve your garnish when you're ready to eat.
While this unit does have a non-skid base, bear in mind that it needs securely holding down while you spin as it shakes quite a lot. All in all, a good 2-in-1 lettuce keeper and spinner, provided you are only looking to preserve your lettuce for a couple of days.
Otherwise, for longer spells between burger BBQ nights we recommend opting for a dedicated lettuce keeper rather than 2-in-1 model.
Pros – Things we liked
Large 5 qt capacity
Locks tightly shut
Add/drain water without removing the lid
Non-skid base
Easy-to-turn spin handle
Cons – Things we didn't like
Shakes a lot as it spins
Best Multi-Pack Lettuce Keeper
LUXEAR Fresh Container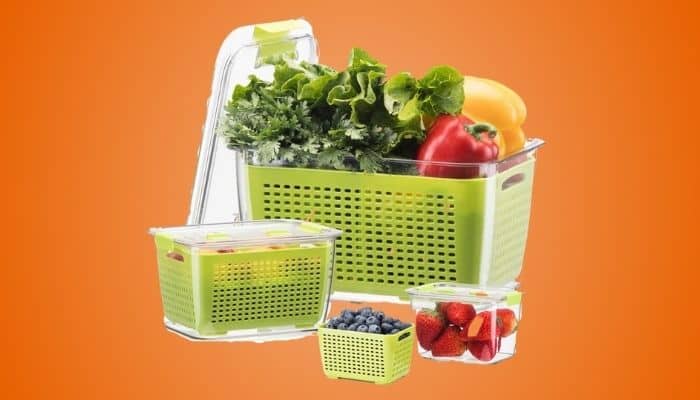 If you have plenty of other ingredients that you also need to keep fresh in between your grilling sessions, check out this multi-pack set by Luxear.
The large container has a good 4.5 quart capacity (18 cup), giving you plenty of space to preserve your lettuce leaves for your next BBQ. The two accompanying smaller containers can be used for other fruits or vegetables that you need to keep fresh for your marinades or BBQ sides.
Each container is made from transparent BPA-free plastic, complete with an internal opaque colander that keeps your fresh produce away from the sides and any residual moisture at the bottom of the container. You can also use these handy baskets to rinse out your burger garnish before serving.
Thanks to a silicone seal, these fresh produce containers help to preserve your lettuce, while the vented design allows you to regulate the airflow depending upon what you are storing. The only downside is that these containers are not dishwasher-safe, so you will have to wash them by hand once your BBQ party is over.
All in all, a good three-pack of handy containers to preserve all types of fresh produce, handy if you don't need to regularly preserve full lettuce heads.
Pros – Things we liked
3-pack food containers
BPA-free
Silicone seal for snug fitting lids
Internal basket colanders
Vented design for regulated airflow
Cons – Things we didn't like
Not dishwasher-safe
Why Trust Us
All of our reviews are compiled with a combination of expert input, years of hands-on testing of grilling products, curating the reviews of real-life buyers in a "wisdom of the crowd" system, and of course our own expertise. All the products listed are the ones we would buy if we were looking to purchase a new lettuce keeper.
Methodology Used to Pick the Best Lettuce Keeper
When choosing the best lettuce keeper we looked at the following criteria. Price, ventilation, lid, total capacity, materials used, durability, and excess water controller.
Buyer's Guide to Buying the Best Lettuce Keeper
Looking for an easy way to find the best lettuce keeper for fresh, crisp leaves on your burgers the next time you grill? Here's our guide to finding the best model.
Price
Lettuce keepers are generally fairly inexpensive. That said, they do cost quite a bit more than your standard cheap food containers.
While some people are loath to pay out for a special lettuce keeper, if you stop to think about the inconvenience and money wasted having to drive down to the store each time you decide to fire up the grill, a good lettuce keeper will soon pay for itself many, many times over.
Most lettuce keepers retail between $10-$20. Paying more can get you a more durable, better looking model that is easier to clean. However, price isn't always an indicator of better performance when it comes down to choosing the best lettuce keeper.
Ventilation
Vented models ensure that your lettuce has sufficient air circulating to keep it in good condition.
As lettuce needs both airflow and moisture, you'll want to opt for a lettuce keeper with adequate venting to ensure that you can still use your lettuce on your burgers the next time you get good grilling weather.
Most units have a vent situated in the lid or the front of the unit that you can open, close, or partially close, to ensure that your fresh produce gets the right amount of airflow that it needs to stay fresh and crisp for longer.
Lid
Without a tight-fitting lid, you may just as well sit your lettuce in a bowl.
A good lid is essential to keep your lettuce safe from potentially getting crushed inside your refrigerator, as well as providing a barrier to gases such as ethylene given off by other fresh produce. While you will want a vented container for your lettuce, you still want to keep it apart from other items.
If, like most of us, you struggle for space in your refrigerator, especially when you've got all of your meat on hold for grilling, you'll want to look out for a lettuce keeper with a flat lid.
This will make it easier to stack other containers and products on top of your lettuce keeper to optimize the space in your fridge.
Capacity
Most lettuce keepers have a capacity of around 4-4.5 quarts. Depending on the shape, this can be enough to accommodate a whole small to medium-sized head of lettuce, or you may need to slice one up to fit it into a narrow rectangular container.
Some types of lettuce keepers are designed to better preserve a whole lettuce, uncut and unwashed, whereas others can be used with sliced portions, or for shorter periods of time, even leaves washed, separated, and ready to serve on your burgers.
BPA-free
Keeping moist food in direct contact with certain plastics can lead to a leaching of chemicals into your food. For this reason, we recommend looking for lettuce keepers that are made from 100% BPA-free plastic for toxic-free food and a healthier lifestyle. BPA can disrupt normal hormone functions and has only officially been banned from some child and infant products by the FDA.
Durability
If you are going to go to the trouble of buying yourself a lettuce keeper, it's best to choose a model that is going to last rather than sending extra, unnecessary plastic waste to landfill.
Spending a couple more dollars on a more sturdy model will save you from replacing it after a short period of use. What's more, if you are looking for an easy-to-clean, dishwasher-safe model, it helps to choose a more durable version made with thicker plastic.
Otherwise, you may risk it warping and failing to fit tightly back together.
Moisture and Excess Water Controller
Look out for lettuce keepers that either have an inner basket, colander design, or a separate water tray. This will ensure that your lettuce remains in a sufficiently moist environment, but that it is not sitting in water which would cause it to rapidly go off.
A vent in your lettuce keeper will allow excess moisture to be expelled to the outside, so the air won't be overly moist causing water to pool on your lettuce leaves which can cause spotting, wilting, and rapid degradation.
Tips for Keeping your Lettuce Fresh for Longer
Cut down on food wastage and save fuel and pollution traveling to the store to replace your wilted lettuce with our top tips for keeping your lettuce fresh for longer.
Lettuce basically needs moisture and airflow to stay in good condition, provided you respect these two conditions, you should be able to improve the useable lifespan of your lettuce.
Lettuce heads
Don't wash whole heads of lettuce before storing – simply place your head of lettuce inside your lettuce keeper as soon as you get home from the grocery store or market.
Heads of lettuce can last several weeks before going off provided you don't cut into them and use a lettuce keeper. This makes them a better choice to have in if you need lettuce for your burgers but aren't quite sure which day you'll get round to firing up your grill.
If you notice that your lettuce head is starting to look a little past its best prematurely, simply peel off the first layer of leaves from the outside, leaving the rest intact until you're ready to use it. Don't leave it too long after this though.
Individual lettuce leaves
Rinse your lettuce leaves as soon as you get back from shopping, taking care to remove any damaged or less healthy looking leaves.
Gently dry the leaves and place them inside your lettuce keeper.
Check on your lettuce leaves on a regular basis, removing any wilted leaves on a day-to-day basis.
Individual lettuce leaves don't normally last much longer than several days. A lettuce keeper could help to extend this to 5-7 days, although you may lose some of the crispness.
Final Thoughts
Lettuce keepers are inexpensive and surprisingly useful. If you've not used one before, you should definitely consider ordering one today for fresh lettuce on your homemade burgers. They are also really handy for storing other types of fresh produce for use in your BBQ recipes and side dishes.
If you're looking for a good, durable model, the Rubbermaid Produce Container makes an excellent choice. Its robust construction ensures good longevity, while its lifetime filter saves you cash and the hassle of organizing replacements. Complete with a FreshVent membrane and a spoilage-reducing crisp tray base, this dishwasher-safe, 4.3-quart lettuce keeper is one of the best models on the market.
Alternatively, if you are looking for a cheap lettuce keeper for your iceberg lettuce heads, the Walter Drake Lettuce Crisper Salad Keeper Container makes a good choice thanks to its inexpensive price and spherical form that makes it much easier to fit in a full lettuce head. It contains a water reservoir tray for easy emptying, plus it is also dishwasher-safe for easy cleaning.