Whether you are grilling up a picnic in the great outdoors or need to keep your food and beverages cold and at hand in your backyard, choosing the best Yeti alternative will allow you to enjoy your day rather than worrying about constantly restocking with ice.
Yeti is renowned as one of the best premium cooler brands. Unfortunately, they also come with a price tag that's as high as their reputation. If you're looking for a good Yeti alternative, we've got you covered with our top cooler reviews and buyer's guide.
A Quick Comparision of the Best Yeti Alternative
Here's a quick summary of your options with more info on each cooler in the best Yeti alternative section.
Best Yeti Alternative
Whether you are looking for a more affordable cooler or want to check out the competition for a high-performance Yeti alternative, we've reviewed eight of the very best models.
Find your top-rated cooler right here for longer-lasting ice and a better BBQ wherever you want to go grilling.
Best Chest-Style Yeti Alternative
RTIC Hard Cooler Ice Chest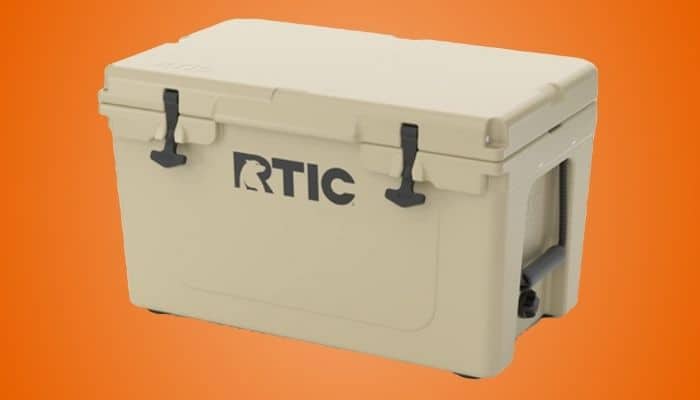 This durable, mid-sized cooler by RTIC is a popular Yeti alternative, providing similar performance levels and construction at a more affordable price. With a generous 45-quart capacity it will hold up to 36 cans, giving you plenty of space for food and drinks.
The RTIC Hard Cooler has an impressive three-inch commercial-grade foam insulation and a rotomolded construction for extra ice longevity. Heavy-duty rubber T-latches and a freezer-style lid gasket make it easy to open and close while ensuring your items stay ice-cold. Plus the non-slip feet and cool-lift design help to keep your cooler better isolated from the hot ground.
While chest-style coolers are not always the most portable, this model features heavy-duty rope side handles. However, as it weighs 29 pounds empty, you may need help to transport it when it's full. The rapid V-drain system makes it easy to empty when you're done and its sleek, bear-resistant design with an integrated locking system is useful if you make trips out into the backcountry.
On the downside, despite its quality construction and mid-range price tag, this Yeti alternative has a pretty short one-year warranty. For the money and RTIC's position in the market as a solid Yeti alternative, we would have expected a lot longer. Warranty and weight aside, it is nonetheless a top model to consider.
Pros – Things we liked
45-quart capacity holds up to 36 cans
3" thick commercial-grade foam insulated walls
Heavy-duty rope side handles
Easy-flow drain spout
Integrated locking system
Cons – Things we didn't like
Fairly heavy – 29lbs empty
One-year warranty
Best High Performance Yeti Alternative
Engel High Performance Cooler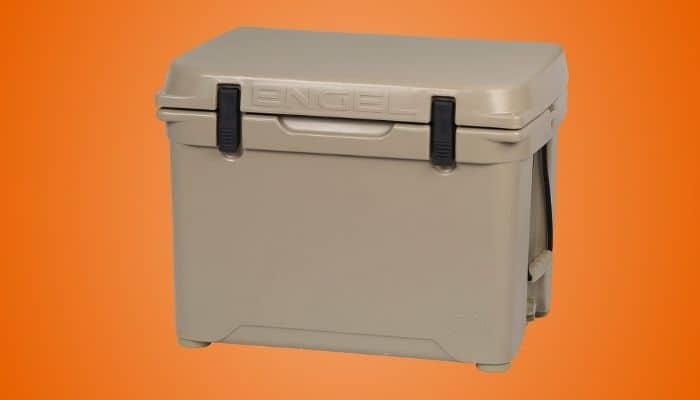 If you are looking for a premium Yeti alternative, check out this model by Engel – the ENG50 High Performance Cooler. A must for bear country, this cooler is an IGBC-certified bear resistant container, while its rotomolded SingleForm hardshell construction ensures strength and durability, no matter where you take it.
Thanks to its 48-quart capacity, with enough space for up to 60 cans, you can get a lot packed into this Yeti alternative cooler for grilling at home or away. The two-inch closed-cell foam insulation paired with Engel's silicone Arctic Vault gasket ensures maximum ice longevity with an almost airtight seal.
Engel's Unity Latch System gives you a secure closure thanks to its durable stainless steel construction, plus the DuoLock security holes allow you to lock your cooler shut. Thanks to its Anvil Hinge, the lid stays upright when lifted making it easier to access and load up your provisions, while the one twist Flick Drain plug allows you to quickly and conveniently empty out your cooler when you're done.
While the texture is great for scratches, bear in mind that if you go for a lighter color it can be very difficult to keep it looking clean. Highly rated and a very popular choice, the Engel ENG50 comes with a good 10-year warranty, testament to its excellent quality and durability.
Pros – Things we liked
48-quart capacity – holds up to 60 cans
Durable silicone gasket seals
2" closed-cell foam insulation
Stainless steel Unity Latch System
10-year warranty
Cons – Things we didn't like
Textured finish can be difficult to get clean
Best Yeti Alternative for Durability
Pelican 30 Quart Elite Cooler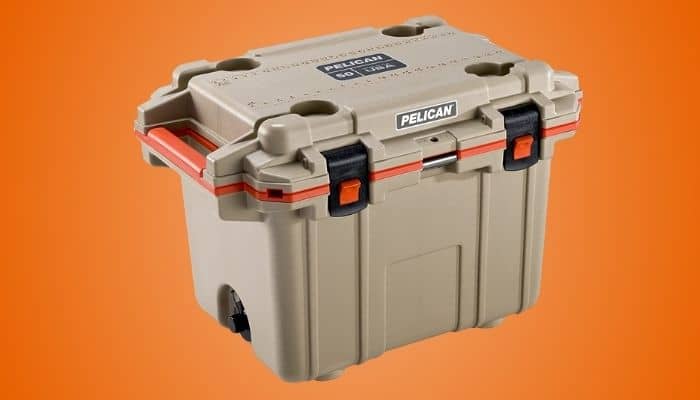 Made in the USA, if you are looking for a tough and durable Yeti alternative, the Pelican Elite is the cooler to go for. While this model does not come cheap, the Elite has a lifetime warranty making it well worth paying the extra for if you are looking for a highly resilient cooler you can take with you on outdoor adventures.
The 30-quart Elite has enough space for up to 22 cans with a 2:1 ice ratio. Given its extremely robust construction and two-inch thick polyurethane insulation, the Elite is very bulky for a mid-sized cooler. So, if size is an issue for you, you may be better off with another Yeti alternative.
This model has several built-in extras, including a bottle opener, four molded self-draining cupholders, and molded-in tie down slots to keep your cooler secure overnight or when you're on the move. The sloped drain with a tethered drain cap makes it easy to empty, while the raised feet help to keep your items cooler for longer, better isolating your cooler.
If you like to BBQ away from home in the great outdoors, this cooler is a good rugged choice that will keep your food chilled for several days. However, for use at home in your backyard or for trips down to the lake grilling up a picnic lunch, it may be a little overkill.
Pros – Things we liked
30-quart capacity – 22 cans
2" polyurethane insulation
360-degree freezer grade gasket
4 self-draining cupholders in the lid
Lifetime warranty
Cons – Things we didn't like
Bulky for its capacity
Best Wheeled Yeti Alternative
Coleman 100 Quart Xtreme 5 Wheeled Cooler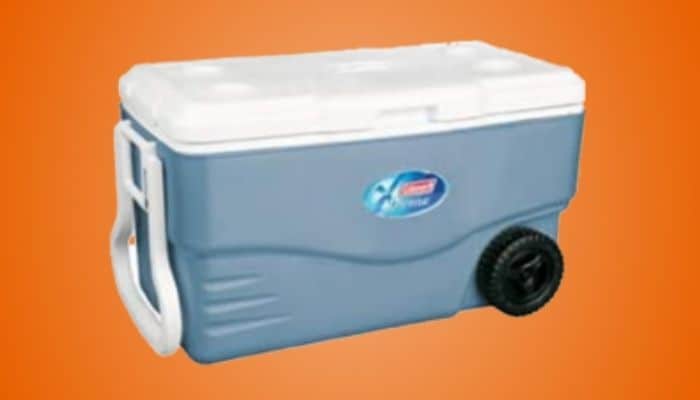 If you need a high capacity cooler for grilling away from home, the Coleman Xtreme 5 makes an excellent Yeti alternative. Made in the USA, this large wheeled cooler is ideal for transporting chilled beverages and food from your vehicle to the park grill station.
With its impressive 100-quart capacity, that's enough space for 160 cans, this cooler can hold plenty of refreshments. Thanks to its Xtreme insulation technology with extra lid and wall low-CO2 Thermozone insulation, it's a good choice to keep things cool while also opting for a model that has a lesser impact on heating up the planet.
The large wheels make this cooler easy to roll over most terrain, as does the large tow handle. Just be aware that the handle can be a little fragile, so you may want to get a little help pushing it if it is fully loaded and the ground is a little rough. For lifting it in and out of your vehicle there are two-way side handles.
Aside from its easy portability, one of the main advantages of taking this particular model out grilling with you is that its lid can also be used as a drinks table, thanks to its molded cup holders, or a sturdy seat, capable of supporting up to 250 pounds. The leak-resistant channel drain makes it easy to empty when your picnic is over.
All in all, a great Yeti alternative for the money. If you are looking for a high-capacity, wheeled cooler the Coleman Xtreme 5 is hard to beat.
Pros – Things we liked
100-quart capacity – 160 cans
Heavy-duty wheels & tow handle
Leak-resistant channel drain
Cup holders molded into the lid
Made with low CO2 Thermozone Insulation
Cons – Things we didn't like
The handle is a little fragile
Best Compact Yeti Alternative
RTIC Soft Cooler Insulated Bag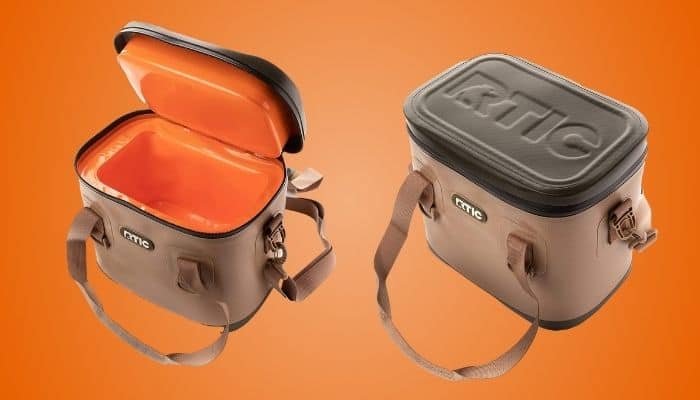 The Soft Pack Cooler by RTIC is a good compact model that makes an affordable alternative to Yeti's Hopper. Its lightweight construction, weighing just two pounds when empty, complete with double carry handles and long shoulder strap ensure maximum portability.
This 5.5-quart model has an eight can plus ice capacity, making it a great size to carry enough refreshments for two with enough space for your chilled food for the grill. The heavy-duty nylon shell is leak-proof and puncture resistant, while the internal insulation consists of up to two-inch thick closed-cell foam for long-lasting cooling.
An antimicrobial liner helps to keep your soft sided cooler hygienically clean, while the external pocket is handy for small dry items. Although the waterproof zipper works well at keeping the cool in, make sure that you use some zipper lube on it. Not only is it a little tough to pull shut, the zipper has some durability issues, so do take care not to force it.
If you are looking for a small, lightweight Yeti Hopper alternative, this model makes a good choice at a relatively low price.
Pros – Things we liked
8 can + ice capacity
Heavy-duty nylon shell
Antimicrobial liner
Lightweight – 2lbs
Waterproof zipper
Cons – Things we didn't like
Zipper could be more durable
Best Yeti Alternative Backpack
TOURIT Leak-Proof Soft-Sided Cooler Backpack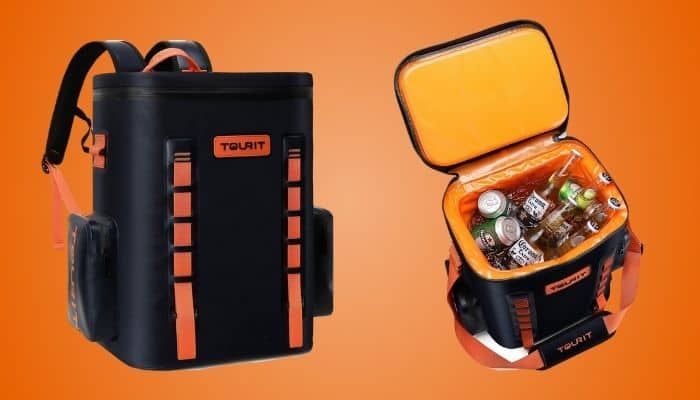 If you are considering investing in a Hopper Backflip but want to check out the competition first, the Tourit Voyager Backpack could be your ideal Yeti Alternative. This model has a good 17-quart capacity, which can accommodate up to 36 cans with ice – plenty of space for your beverages and food for grilling down at the beach or park.
This cooler backpack has three-layer BPA-free insulation to keep your items chilled for up to three days. The durable outer shell is waterproof and features two zippered side pockets for your valuables or small dry goods. The adjustable webbing loops on the front of the backpack can be used to attach various extras, plus the strap also has a bottle opener attached.
While the backpack straps are larger and padded, this backpack cooler is primarily a cooler and when it is full it is not very comfortable to carry. This makes it more suited to short distances rather than a day's trekking. It also has a shoulder strap which makes it easy to carry over short distances when it has a light load.
For hands-free carrying your food and refreshments to the park grill station or elsewhere, this backpack is a pretty good Yeti alternative, although it is still a pretty expensive model.
Pros – Things we liked
17-quart capacity – 36 cans plus ice
Backpack straps and a shoulder strap
Adjustable webbing loops
2 side pockets
Bottle opener included on strap
Cons – Things we didn't like
Uncomfortable to carry when fully loaded
Best Value Yeti Alternative
Igloo BMX Cooler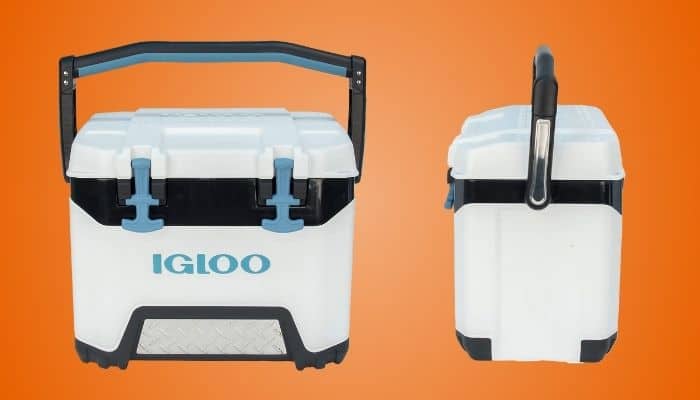 The Igloo BMX Cooler is a good value for money buy, ideal if you are looking for a decent hard-sided cooler for short periods but don't want to splash out on a Yeti Roadie. With its 25-quart capacity, it can hold up to 37 cans – plenty of room for your grilling ingredients and beverages.
The thick foam MaxCold body helps to keep your items chilled for longer, complete with an insulated lid. Unfortunately, this model does not have a gasket, although you could easily add one yourself and get a more comparable performance to premium models without spending a fortune. The elevated molded base helps to reduce ice melting by insulating your cooler from warm surfaces.
Despite its low cost and lack of certain high-end features, such as a drain, this hard-sided cooler is surprisingly hardy with durable stainless steel hinge rods and a heavy-duty blow-molded body. The three-point grab handle has a comfort-grip making it easy to pick up and transport when full over short distances.
If you are looking for an improvement on your average cheap cooler but don't want to spend big bucks, the Igloo BMX is a good choice. For short periods keeping your food and beverages cool, it performs just as well as higher end models and if you add a gasket, you could significantly improve its ice retention for a very small amount of time and effort.
Pros – Things we liked
25-quart capacity – up to 37 cans
Thick foam MaxCold body
Durable stainless steel hinge rods
3-point grab handle with comfort grip
Elevated molded base
Cons – Things we didn't like
No drain
No gasket
Best Budget Yeti Alternative
Arctic Zone Titan Deep Freeze Zipperless Hardbody Cooler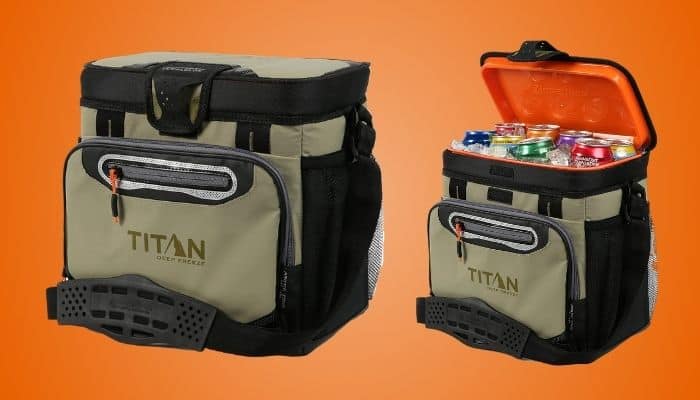 The Titan Deep Freeze Zipperless Hardbody Cooler is a cheap Yeti alternative that would make a good budget choice if you need an extra cooler for your picnic trips. With its 16-can capacity it is large enough for one person or a couple, factoring in a decent amount of ice.
The triple layer ColdBlock base helps to keep your food and beverages insulated from hot surfaces, while the plastic hard body liner prevents soft items from getting crushed. Use the smart shelf to separate fragile items, keeping them protected from heavy drinks bottles.
Thanks to its flip-open zipperless lid, it is very simple to access the contents and you won't have to worry about the zipper failing after several months of usage, as often happens with other budget-priced Yeti alternatives. In addition to the internal section, this hard-body cooler also has a front zippered pocket for your small valuable items, as well as two mesh side pockets for dry items.
As you would expect for the price, this cooler is not the best quality and the plastic insert is very thin, being quite fragile and brittle. However, if you are looking for a budget Yeti alternative to keep your food and drinks chilled for a couple of hours, this could well fit your needs.
Pros – Things we liked
16-can capacity
Front zippered and side mesh pockets
Flip-open zipperless lid
Removable hard body liner with smart shelf
Triple layer ColdBlock base
Cons – Things we didn't like
Plastic insert is very thin
Why Trust Us
All of our reviews are compiled with a combination of expert input, years of hands-on testing of grilling products, curating the reviews of real-life buyers in a "wisdom of the crowd" system, and of course our own expertise. All the products listed are the ones we would buy if we were looking to purchase a new Yeti cooler alternative.
Methodology Used to Pick the Best Yeti Alternative Cooler
When testing the best Yeti alternative we first looked at the different styles of cooler available and then rated them on the following criteria. Price, total capacity, ice retention, carrying options, compartments, drainage, portability, and construction
Buyer's Guide to Buying Cheaper Yeti Alternatives
Wondering which is the best cheaper Yeti alternative to go for? Check out the following cooler features and find out what you really need to look out for when choosing your new cooler.
Price
Obviously, if you are looking for a cheaper Yeti alternative, you're probably looking to spend under $300 on a mid-sized cooler.
However, while there are plenty of Yeti alternatives that are much cheaper, there are also several premium models that come in not much less than a Yeti. Budget models start at around $50 and premium ones go up to over $300.
As always when it comes down to choosing a new cooler, be realistic in terms of your budget. If you want to keep food and drinks cold for over 24 hours, then be prepared to spend over the $100 mark.
On the other hand, if you are just looking to keep your chilled food and drinks cool for a couple of hours, then don't overspend, a budget Yeti alternative will keep your items chilled for short periods.
Spending more will get you longer lasting ice retention, better insulation, more features, and a premium finish. If you want a Yeti alternative that is comparable to a Yeti in terms of performance but with a lower price tag, you'll still have to pay out quite a bit of cash.
Otherwise, concentrate on your needs and what your priorities are. Making a compromise in one or two of these areas will get you a cheaper cooler that will still fulfill your needs.
Intended Use
So, you want a cooler for a day out with a BBQ – but you need to consider where you're going and what you'll be transporting, as well as how long you expect to be out for.
Taking a couple of dishes to grill down at your local beauty spot with a handful of beers won't require a huge amount of insulation. However, if you are looking for a cooler to stick in your ride all day while you drive to your camping destination, set up a campfire, then get grilling, then you will more likely need a premium model.
Will your cooler be for drinks, food, or both? If you are only transporting beverages, while it can be annoying if your last couple of drinks are not as chilled as you would like, it is more of an inconvenience than a problem.
However, if you are transporting raw chicken for grilling or dairy products for your BBQ sides and garnishes, you certainly won't want to risk eating them if your cooler hasn't kept temperatures low enough to be safe.
A premium, highly insulated model is a must if you are looking to transport raw food or any products that need to be kept chilled. It is also the best option for extra cold refreshing drinks on long trips and less ice refills if you are camping out or driving for several days.
Capacity & Size
If you have had a good sized cooler in the past, you should know what capacity works well for you. However, don't forget to double check the internal and external dimensions as there can be huge differences between different models, even with the same capacity.
Most manufacturers will give you an estimation of the number of cans that their cooler can hold, while some are pretty honest estimates including ice, others are slight over-exaggerations.
Double-check the internal dimensions and mark the internal base size on some paper, measuring the height on another sheet. This will give you a good idea of the exact size that you'll have to pack your items into.
Don't forget that most manufacturers recommend a 2:1 ice ratio, so you'll only want to fill a third of the internal space with food or drinks. Loose ice can fit around your items to help save space, while ice packs tend to be bulkier, leaving you with less space for your food and drinks.
Insulation and Ice Retention
Look out for coolers with a good thick layer of insulation between the inner and outer walls.
The top and bottom of your cooler will also need to be insulated to ensure that heat stays out. Closed-foam is one of the best insulators as it contains a lot of air and as the bubbles are not interconnected, heat passes more slowly through.
Most cooler publicity departments come out with outlandish sounding claims that your cooler can retain ice for days upon days on end. These are not meant to reflect real life usage, but rather to allow you to compare similar products by providing a benchmark. Cooler manufacturers fill up their coolers completely with ice, usually at an ambient temperature and test how long the ice lasts before melting.
In real life, you will need to open your cooler, probably at least several times, and likelihood is, your cooler won't be 100% full of ice. Some people, understandably, get a little worked up when they purchase a cooler that states it can keep ice for two days, only to find it has melts after six hours.
So, treat the ice retention figures as an ideal scenario possibility and not how it's going to work in day-to-day use.
Straps, Zippers, Bungee Cord, and Buckles
Most Yeti alternative coolers will have carry handle straps to make it easy to get your cooler in and out of your vehicle, as well as taking it over to where you'll be BBQing. Lighter models can benefit from a shoulder strap that you can use for hands-free carrying, while backpack versions should have broad, padded straps.
Soft-sided coolers often come with a zipper fastening. Zippers should be durable and waterproof to ensure that you and your vehicle don't get soaked when transporting your cooler towards the end of a hot day.
If you are going to be taking your cooler out to the park or beach on a regular basis, look out for a model with large teeth as smaller ones can get easily stuck with small particles or sand or soil.
Buckles are a popular alternative to zips and can be much easier to open. Coolers with bungee cord or webbing attachment points make great options for attaching your grilling, hiking, or other picnic equipment to.
Dry Bins and Dividers
Most cooler brands sell dry bins and dividers as additional purchases, although a few Yeti alternatives do come with one included. Dry bins help to prevent your produce from getting wet as your ice melts. Dividers help you to better organize your cooler and can also prevent softer items from getting crushed by heavier ones.
Base Drain
When you're done with your cooler, you can simply tip it out and get rid of any water and left over ice. However, if you are using your cooler for longer than several hours, you will want to look for a model with a base drain.
This will allow you to keep your items chilled for longer as you will be able to drain away any melted ice without having to open up your cooler, allowing warm air to enter. Regularly removing melted ice will help to improve ice retention.
Wheels, Mobility, Weight and Portability
Before investing in a Yeti alternative cooler, consider how far you will typically need to carry it and how heavy it's likely to be when fully loaded. Some hard-sided coolers already start off around 30 pounds when empty.
For large coolers that are not going to be used off the beaten track, wheels can really help. Consider what type of handles and straps your cooler has to make it easier to carry. Lightweight soft-sided coolers usually have a lower capacity and are generally much more portable.
Durability, Materials and Construction
Consider how durable your new Yeti cooler alternative is likely to be. Hinges, zippers, and straps are common failure points on lower quality models.
Whether you are opting for a hard or soft-sided model, you should check on the thickness and the individual components. Small details, such as stainless steel hinge rods can make a big difference in terms of durability.
Rotomolded coolers are generally considered to be the best type of cooler construction as they are devoid of seams, so warm air takes much longer to penetrate inside. Liquid plastic is poured directly over the insulation for longer ice retention times and a higher quality finish.
Types Of Yeti Cooler Alternatives
With our guide to the four most popular types of cooler, find out which is the best type of alternative Yeti cooler for your needs.
Wheeled Coolers
Wheeled coolers are a great option if you are going to be carrying your chilled meat and other ingredients for the grill across fairly even terrain, say from your vehicle over to the park's grill stations.
Or, they are also handy for transporting a large number of chilled beverages, which would otherwise be too heavy to carry. As long as you can easily pull your wheeled cooler over the ground, even fairly long distances are easily covered.
They are not suitable for very rough terrain or bumpy, hilly paths, where you would be better off with a backpack cooler. As wheeled coolers tend to have a high capacity and generous dimensions, they are the best choice for family days out or get-togethers with friends where you want to relax around a BBQ with drinks.
Soft-Sided Coolers
Soft-sided coolers are lighter than wheeled or hard-sided versions. As they are lighter and have non-rigid sides, they also tend to be more versatile and are suitable for regular use. Easy to carry, thanks to their low weight, soft-sided coolers are also easy to store.
On the other hand, a soft-sided cooler is less suitable for grilling in the wilderness as they will not stand up to any wildlife or rough vegetation. While models vary from brand to brand, if you are looking for the longest period of ice retention, then a hard-sided cooler of a comparable quality is going to keep ice for longer than a soft sided version.
Designed to be light and highly portable, soft sided models are less suitable for carrying large quantities of food and drinks.
Hard-Sided Coolers
Hard-sided coolers are a good choice for keeping your food and beverages chilled over longer periods.
While they are less portable, large models are ideal for keeping in your vehicle and can easily be carried by two over to set up camp at your grill station. Medium and small-sized models tend to have a carry strap or handles and can easily be carried by one person over short distances, but they will be pretty heavy when fully loaded.
Much more durable, with higher capacities, and better ice retention, if you need to keep large quantities of food or beverages chilled, a hard-sided cooler will be your best choice. They can also double up as drinks tables, meal prep areas, casting stations, or even seats. For smaller amounts and easier carrying, you'd be better off choosing another type of cooler.
Backpack Coolers
Backpack coolers are ideal for transporting your chilled drinks and food to more remote places or over uneven ground. While they have a lower capacity than hard-sided versions, they are much easier to carry and allow you to keep your hands free for transporting other items or grilling accessories.
Less versatile than soft-sided coolers and with a lower capacity than hard-sided ones, if you are going to be regularly carrying your chilled items for several hours, then a backpack cooler makes good sense. Otherwise, consider investing in another type of Yeti alternative.
Is It Worth Buying a Fake Yeti Cooler?
No, it is definitely not worth buying a fake Yeti cooler. Not only are fake Yetis illegal, the manufacturers of counterfeit products are not interested in creating a high quality cooler. All they want to do is create a quick buck on the back of someone else's hard-earned reputation.
If you are looking for a cheaper Yeti alternative, we've covered all of the best. Any model from our Yeti alternative reviews will perform much better than a knock off, with manufacturers using their own name and standing by their own products that they have worked hard to perfect.
Top Yeti Alternatives Video
Final Thoughts
While Yeti is certainly one of best cooler brands, there are plenty of excellent alternatives as demonstrated in our Yeti alternative reviews. Before you order yourself a new cooler, be sure to take the time to carefully consider your needs and intended usage.
For transporting large quantities of chilled food and beverages for BBQs down at the lake or park grilling area, the Coleman Xtreme 5 makes a great choice. Highly practical with its extra-large wheels, this high-capacity 100-quart cooler will keep your items chilled plenty long enough to get your BBQ underway and the drinks flowing.
Alternatively, if you are looking for a smaller cooler than the Coleman that will keep your food and beverages cold for about the same amount of time as a Yeti, take another look at our top performing pick – the Engel High Performance Cooler. This premium cooler has a good 48-quart capacity, holding up to 60 cans. Thanks to its two-inch thick closed-cell foam insulation and durable silicone gasket seal, it will keep your ice solid for longer and also benefits from an impressive 10-year warranty – proof of money well spent.