There are many ways to BBQ but if you want the traditional experience and flavor, nothing beats cooking over charcoal. Charcoal gives your food that genuine taste of smokiness that you just can't replicate on a gas grill. With the best charcoal grill, you can perfect your technique and produce mouthwatering BBQ anytime!
Charcoal grills are the classic way to make backyard staples like burgers, steaks and hot dogs. By adjusting your charcoal you can also create cooking zones for lower-and-slower meats like chicken or pulled pork. Charcoal grills are extremely versatile once you master a few basic techniques for managing your fire.
Charcoal grills are a bit more hands-on than cooking over gas but they aren't difficult to learn. While any grill can make some tasty food, only a charcoal grill naturally produces that complex BBQ flavor pitmaster's strive for. Buy a charcoal grill this summer and eat like a king throughout the season!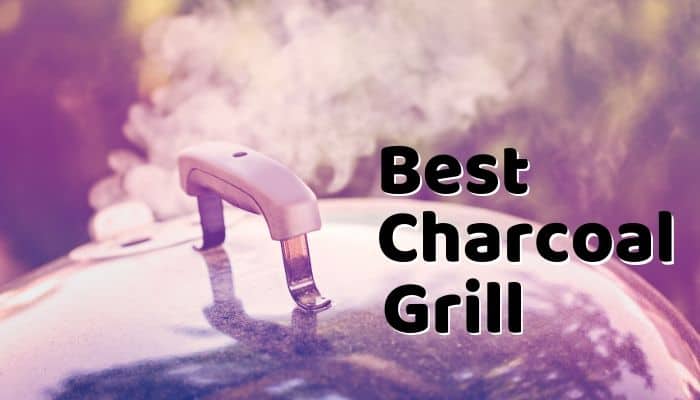 Best Charcoal Grill 2020
While any grill can technically make some good BBQ, charcoal grills do it as a matter of course. You don't have to add wood chips or other use other additives to make your food taste like real BBQ. The charcoal fuel does it as a natural part of the cooking process.
Charcoal has a reputation for being a bit challenging to use compared to the set-and-forget gas grills. It's true that cooking over charcoal requires more effort on the part of the cook. Playing with fire is half the fun of charcoal grilling!
Mastering a charcoal grill is all about learning to manage your charcoal and internal temperatures. Different arrangements of charcoal can produce hot or cool cooking zones, for example. Using the dampers, you can raise or lower the temperature inside your grill.
Each charcoal grill comes with a learning curve and even experienced pitmasters have to master the ins and outs of a new grill. The more experienced you become with charcoal grilling, the shorter your learning curve will be.
If you are looking to buy the best charcoal grill this summer, check out our product recommendations and Buyer's Guide. We've got all the info you need to pick the perfect grill for your family.
Weber Master Touch – Best Charcoal Kettle Grill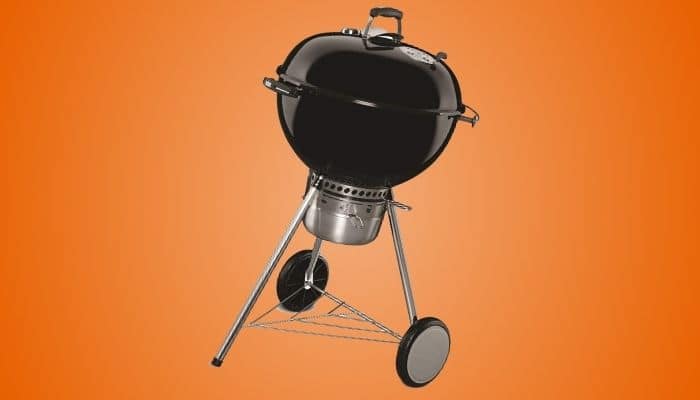 If you want a charcoal kettle grill you can't go wrong with a Weber Master Touch. This is one of my all-time favorite grills and you can read my full review here.
This Weber grill comes packed full of features. It has an integrated stand with wheels and a one-touch ash catcher that is really easy to empty. The hinged cooking grate makes accessing your coals a breeze and it works with other GBS inserts sold by Weber.
The Master Touch measures 42 x 24 x 29.5 inches and weighs 37.2 pounds. It offers 363 square inches of cooking capacity. That's enough to hold up to 13 burgers at a time!
The lid slides back into the tuck-away lid holder on the side.  Hanging tool hooks keep your tongs and basters organized and ready to use. The built-in thermometer updates you on your grill's internal temperature.
This is a high-quality grill that is sturdy, durable and very user-friendly. Weber makes many accessories compatible with the Master Touch as well.
Weber stands behind their products and this grill is no exception. The Master Touch comes with their 10-year warranty, so you know it will last a long time.
Weber Go Anywhere Charcoal Grill – Best Charcoal Grill Under $60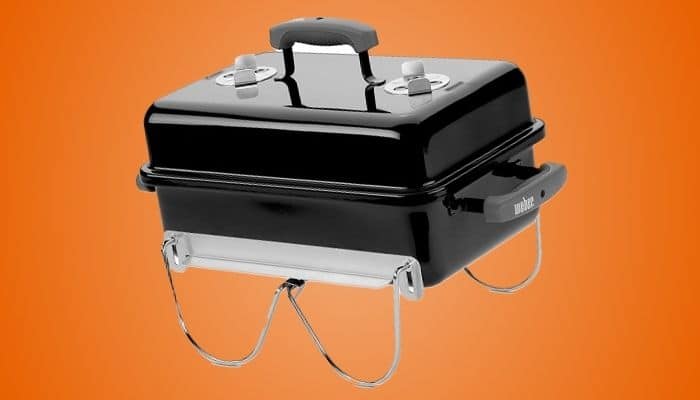 Another grill I frequently recommend is the Weber Go Anywhere. This portable charcoal grill is proof that impressive things can come in small packages. It is also one of our top-rated tabletop grills.
Lightweight and easy to carry, the Go Anywhere is ideal for use on a small balcony or at an outdoor picnic. The lid locks tightly for portability and the plated steel legs fold down easily to support the grill. You can even carry it with hot coals inside.
You can use it on a table or directly on the ground if you prefer. The porcelain enameled lid and firebox have no bolts or welds to get in the way and are very well insulated. The dampers make it easy to adjust your temperature.
The Go Anywhere measures 12.2 x 21 x 14.5 inches and weighs 13.98 pounds. The plated-steel cooking grate has 160 square inches of cooking capacity. That's enough capacity to cook 6 hamburgers at a time.
This grill comes with Weber's 10-year warranty and there are many accessories available for it.
Kamado Joe Classic III – Best Charcoal Ceramic Grill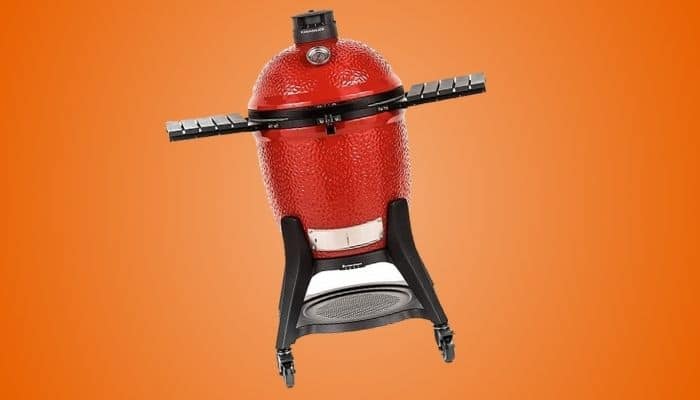 If you have read my article on the best Kamado grills then you already know I am a fan of these big "egg-shaped" cookers. This newly-released model takes the classic design to the next level. Meet the Kamado Joe Classic III!
As the newest member of the Kamado family, the Classic III has the same high-quality construction of the original Joe. The thick ceramic interior absorbs and radiates the heat from your charcoal and is very energy efficient.
Where the Classic III really ups the game is with the included SloRoller insert. The SloRoller recirculates the air and smoke inside your grill so it is evenly distributed around the inner chamber. Your food will cook evenly and perfectly every time and you won't have to babysit your food.
Kamado grills have the widest temperature range and can go from 225-750°F. This makes it one of the best charcoal grill for steaks because you can get a really good sear at such high temperatures. The Classic III offers up to 510 square inches of cooking capacity.
Like the other Kamado grills, this one has a counterbalanced Air Lift hinge on the lid so you won't have to struggle to open it. The heavy-duty rolling cart is made from galvanized steel and has locking caster wheels. The Classic III measures 47 x 50.5 x 30.2 inches and weighs a hefty 282 pounds.
The Kamado Joe Classic III is expensive but is also built to last a lifetime. The ceramic interior has a lifetime warranty and covers other internal parts from 1 to 5 years.
Char-Griller AKORN Jr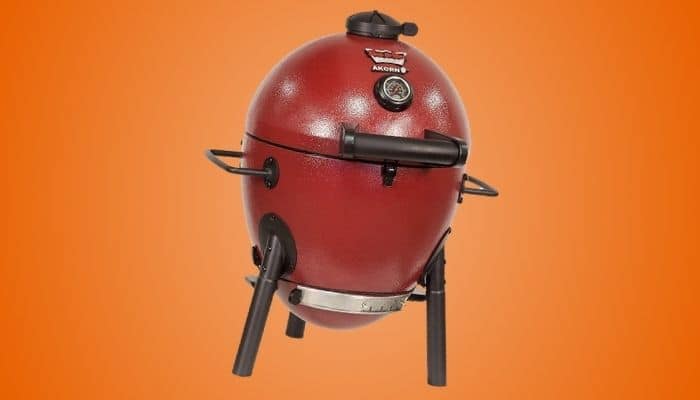 If you want a ceramic grill and the others are out of your price range, consider the Char-Griller AKORN Jr. It is a compact portable tabletop grill with some nice features, and it typically is well under the costs of a Kamado grill.
This grill is ideal for tailgating, RV and camping trips. The sturdy legs elevate the main chamber and keep it from starting a fire. You can use it on a table or right on the ground.
The AKORN measures 20.5 x 21.5 x 25.3 inches and weighs just 37 pounds. The triple-walled insulation retains the heat and locks in the smoke and moisture. It has dampers at the top and bottom so the temperature is easy to regulate.
This grill has a temperature range from 200-700°F and offers 153 square inches of cooking capacity. The thick insulation is energy efficient so the AKORN uses less charcoal than a typical charcoal grill.
The AKORN comes with a comprehensive 1-year warranty. This tough little ceramic grill should stand up to years of travel and adventures.
Char-Griller Patio Pro Charcoal Grill – Best Cheap Charcoal Grill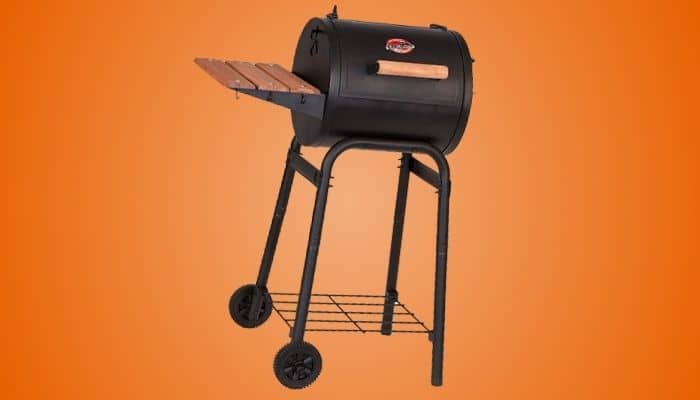 If you want a cheap charcoal grill, this budget Char-Griller Patio Pro could be the one for you. It is one of the least expensive on our list and has a generous capacity considering the price.
This is a compact barrel grill perfect for small patios or decks. It is a straightforward charcoal grill and is suitable for both novice and experienced BBQ cooks.
The Patio Pro is made from heavy gauge steel and stands on a cart with wheels and a little side table. The Stay-Cool wooden handle is durable and won't burn your hands when you open the lid.
The cast iron cooking grates offer 250 square inches of cooking space. The slide-out drawer makes it easy to adjust your coals and it even has a damper. It is very easy to adjust the temperature in this grill.
The Patio Pro measures 31 x 21 x 44 inches and weighs 50 pounds. It comes with a full 1-year warranty. The fire box has an additional 5-year warranty against rusting.
Char-Broil TRU Infrared Kettleman Charcoal Grill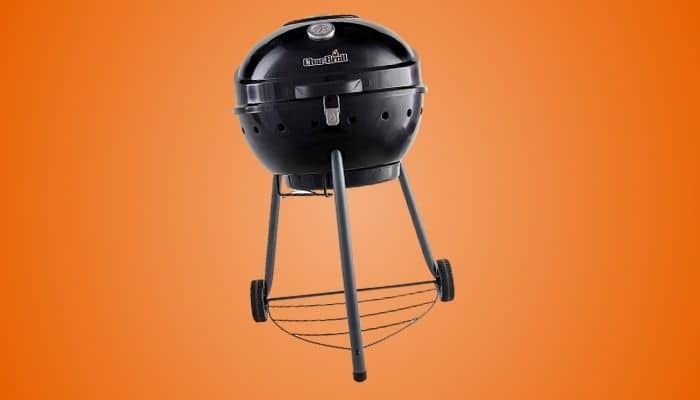 Infrared grills have been around for a while but you most commonly see this feature in high-end gas or electric models. This kettle grill from Char-Broil is the exception.
This unique charcoal grill utilizes TRU infrared technology.  The Char-Broil has specially-designed cooking grates that radiate heat directly around your food. These infrared grates prevent flare-ups and help your food cook evenly.
The Char-Broil has a hinged lid with a temperature gauge built right in. The wheeled stand makes for easy transport. This grill has really superb temperature control.
The porcelain enameled cooking grates keep your foods in place and prevent them from slipping through. This grill has 360 square inches of cooking capacity on a 22.5-inch round cooking grate.
This is a very energy efficient grill and uses less charcoal than many due to the infrared grill grates. The ash can is removable and makes clean up really simple.
The Char-Broil kettle measures 25.8 x 25.8 x 38.8 inches and weighs 36 pounds. It comes with a 10-year limited warranty, so you don't have to worry about replacing it anytime soon.
Lodge Cast Iron Sportsman's Charcoal Grill – Best Hibachi Charcoal Grill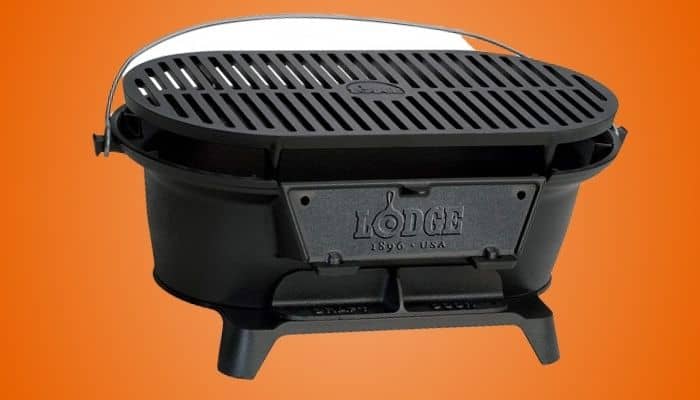 A hibachi is a Japanese-style grill that has a lower chamber to hold charcoal and an upper grate or griddle you can cook on. These grills are portable and are very popular in the US for tailgating.
This sturdy hibachi-style grill from Lodge Cast Iron could become your new family heirloom. Constructed entirely from seasoned cast iron, you can take this grill anywhere and not worry about breaking it.
The central chamber holds the charcoal and you can access the coals through the draft door or by removing the grill grate. The draft door also controls the temperature of your coals, similar to a damper. The height is adjustable and has two positions.
The Sportsman's grill measures 19 x 18.2 x 10.2 inches and weighs 32 pounds. It comes with three pieces: the adjustable base, the main chamber with hinged draft door and the upper cast iron grill grate.
The Lodge grill provides about 150 square inches of cooking capacity. Next to the Kamado Classic III, this is the best charcoal grill for steaks. You will get a lovely sear when you cook meat on this grill.
Even better this grill comes with Lodge's lifetime warranty!
Royal Gourmet BBQ Charcoal Grill – Best Charcoal Barrel Grill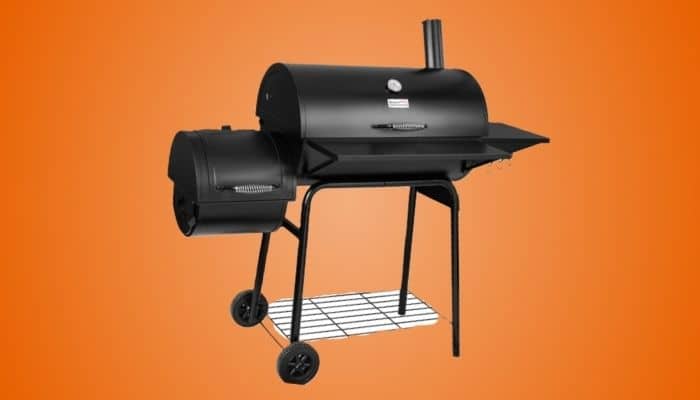 If you have the room for a big grill with a lot of capacity, then you should check out the charcoal barrel grill from Royal Gourmet. This sturdy grill has capacity to spare and even comes with a side smoker box. You can grill, roast and smoke meat in this beauty!
The Royal Gourmet is an offset-style grill and smoker made from heavy, coated stainless steel. The porcelain enameled cooking grates retain the heat and help your foods cook evenly.
This grill has 800 square inches of cooking capacity. The main chamber has 438 square inches of primary cooking capacity and another 179 inches on a swing-away warming rack. The side box also has 183 square inches of capacity for either charcoal grilling or smoking meats.
The Royal Gourmet also features a smoke stack and has a built-in temperature gauge on the lid. The side air vents help control your internal temperatures. The charcoal access door allows you to get to your coals without removing your food from the grates.
This grill measures 55.1 x 27.2 x 48.4 inches and weighs 54.2 pounds. It does require assembly and it comes with wheels so you can easily move it around your yard. The grill comes with a 1-year limited warranty.
Char-Griller Outlaw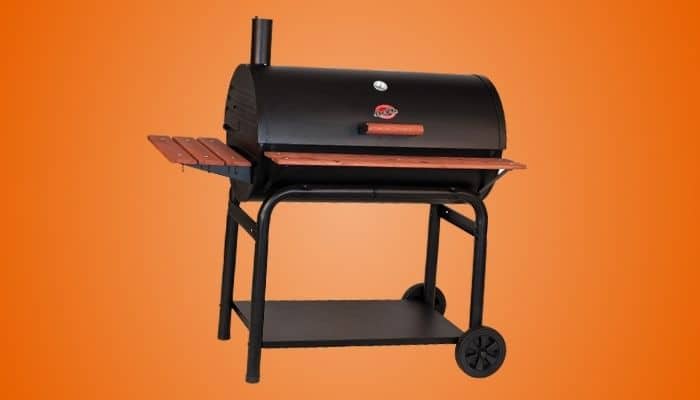 Another option if you need a lot of capacity is the Outlaw from Char-Griller. It has the most capacity of any grill in this review and is one of the larger grills on the market. You can even use this grill as a smoker if you want to.
The Outlaw offers 1,063 square inches of cooking capacity between the main cast iron cooking grates and the warming rack. This grill has nearly 3 times the capacity of the Weber Master Touch!
The heavy steel construction will stand up to years of use and the grill has a double-bottom for extra durability. The fire grate is adjustable for easy cleanup and temperature control. It's very easy to add more fuel to the grill and to dump out the cooled ashes.
The Outlaw measures 49 x 29 x 50 inches and weighs 110.9 pounds. The flanged hood is airtight and has a temperature gauge built into it. The stand is very sturdy and has wheels so it's easy to move around.
Char-Griller backs this grill with a mixed warranty. Some parts have a 5-year warranty and others have a 1-year warranty.
Types of Charcoal Grill
There are many charcoal grills on the market but most fall into one of three categories. Each type has its benefits and downsides and no single type is ideal for every situation.
Expect your new grill to have a learning curve, as each type has its own peculiarities. Some types are easier for a novice to master, while others are harder to learn but offer more versatility. The more experience you have with charcoal grilling the faster you'll learn to use your new grill.
The best charcoal grill for your family will depend on a few factors. Price is an important consideration, and from there it really depends on your needs and what you plan on cooking. Pick the type that best fits into your budget and cooking style and you should avoid frustration.
Kettle
Kettle-style grills are one of the most popular options in a charcoal grill and you see these in backyards across the country. They tend to be the least expensive types and are the easiest to use for novice pitmasters.
A kettle grill has a compact shape and is ideal for situations where your outdoor space is limited. These grills are usually round or square-shaped and have a simple dome lid. They may be portable or have an integrated stand, and some have an additional side table or cart attached as well.
This is the largest category of charcoal grills and they come in a wide range of sizes, styles, features and price points. Kettle grills are ideal for all your basic BBQing and most are large enough for zone-cooking and even meat smoking.
The downside to using a kettle grill is that they don't have a lot of capacity. They are the perfect size for a family meal but are too small to handle something like a whole brisket. If you need to feed a lot of folks or grill large cuts, you may prefer the capacity of a barrel grill instead.
If you are new to grilling, you couldn't pick a better type for learning on than a kettle grill. They are easy to use and it doesn't take long to perfect your fire management and heat control. Even experienced pitmasters break these babies out for a quick weekday meal.
Ceramic
If you want a charcoal grill that is also a highly-rated meat smoker then a ceramic grill might be what you are looking for. These versatile cookers can handle the low-and-slow temps needed for traditional meat smoking. You can also crank the heat up for searing meat or baking a wood-fired pizza.
This type of grill is typically round or oval-shaped and looks like a giant egg. The body and lid of the grill are made from a thick ceramic material which absorbs the heat from your burning charcoal. This heat radiates from the ceramic enclosure, so your food cooks evenly and develops a nice, smokey flavor.
Ceramic grills are ideal for meat smoking because the heavy construction locks in the heat, smoke, and moisture. Your meat stays juicy even as it cooks for hours. This type of grill is also more energy efficient and uses less charcoal than the other types.
The downside to using this type is that it is more useful as a smoker than it is as a grill. Depending on its size and shape, you may not be able to easily create zones for indirect cooking. Deflector plates help to manage and redirect the heat, but it still not as straightforward a setup as the other types.
Ceramic charcoal grills tend to be one of the more expensive types and they are very heavy. If you drop a ceramic grill it could shatter, and the interior can crack if it's hit the wrong way. This type of grill requires a bit more skill to manage than a kettle grill but it isn't difficult to learn.
Ceramic "eggs" are some of the best charcoal grills on the market and they are ideal for folks who want to cook at a wide range of temperatures. If you are as interested in meat smoking as you are grilling, then this could be the best type of grill for your home.
Barrel
When you think of a traditional BBQ you may picture a barrel grill in your mind. This is the type often see at restaurants and BBQ competitions. Historically, folks built these DIY-style from old scrap parts in their backyard.
Take a metal barrel, turn it sideways and slice it in half. Elevate it on a stand and you have a sturdy barrel grill! Add in some dampers for heat control and a grill grate and you are ready to cook!
You can still see the shape of the scrap barrel in the modern versions of these grills. Of course, these days most people prefer to buy their barrel grill rather than build one from scrap. But many folks still modify their barrel grill further once they get it home.
A barrel grill is an impressive backyard cooker and has a lot of room under the lid. This is the grill you need for hosting a large BBQ or for making whole briskets and racks of ribs. A barrel grill can easily convert into a smoker and some even come with a side fire box already installed.
Barrel grills can be more challenging for novices to master than the other types. These grills tend to heat unevenly inside because they are so large. You will have to monitor your temps and adjust your charcoal and meat so things cook evenly.
Barrel grills run from cheap to quite expensive. A premium barrel grill with a smoker box and extras can easily run over $800. While you don't have to break the bank to buy a good barrel grill, avoid the cheapest ones.
One of the most frustrating BBQ experiences of my life was trying to cook on a really badly constructed barrel grill. The shoddy materials and leaky openings made regulating the temperature a nightmare. Invest in a higher quality grill and you will save yourself a lot of frustration.
Mastering a barrel grill takes time, trial and error and a whole lot of experience. If you have never used a charcoal grill before you may have better success learning to use a kettle grill first. Once you have your fire management down to a science then you should have no problems mastering a barrel grill.
Fuel for Charcoal Grills
Charcoal is the lightweight, black residue left behind when you burn organic materials in a low-oxygen setting. The resulting chunk of carbon burns hotter and produces less soot and smoke than burning wood. For traditional BBQ, nothing tastes as good as meat cooked over a charcoal fire.
Charcoal is the ideal fuel for grilling because it gives off a steady release of heat. By simply adjusting the position of your charcoal you can create a hot zone for searing a steak. Or you can set up a cool zone for indirectly grilling a whole chicken.
The key to making great BBQ is in managing your charcoal. Once you master the art of the fire you can make the best BBQ on nearly any grill or smoker.
There are many different types of charcoal, but for grilling you will primarily be choosing between lump charcoal and briquettes. Which is better is really a matter of opinion. I think they both have their place in backyard BBQ.
Lump Charcoal
Lump Charcoal is made from hardwoods like cherry, oak or apple. Hardwoods burn longer and hotter than softwoods like pine or cedar and don't produce as much soot and smoke. This makes them ideal for building campfires and for making lump charcoal.
Lump charcoal is the traditional BBQ fuel. Back in the olden days, folks would create their own burn piles and make lump charcoal from their local hardwood trees. These days most of us buy bags of high quality lump charcoal to fuel our grills and smokers.
The benefits of lump charcoal are a big part of their popularity with some BBQ purists. They light faster, burn hotter and leave behind less ash than briquettes. Also, cooking over lump charcoal can add a touch of subtle flavor to your meat.
Not every BBQ enthusiast is a fan of lump charcoal, however. Lump charcoal is typically more expensive than briquettes. High quality, eco-friendly, single wood-source lump charcoal can be a lot more expensive.
The lumps are not a standard size, either, unlike the uniform briquettes. It's harder to get an even layer of hot coals distributed across your grill when you use lump charcoal. A grill fueled with lump charcoal will burn hotter than one with briquettes but it will also burn out faster.
A good rule of thumb is to use lump charcoal for faster cooking, high-heat items like burgers and steaks. For longer cooking sessions or low-and-slow BBQ you might get better performance from using briquettes. This is the recommendation given by the experts at Weber Grills.
Briquettes
Briquettes are made from a mixture of carbon and other binders compressed into a little square charcoal pillow. The carbon in the briquettes usually comes from sawdust left over from other manufacturing processes. The sawdust can be a mixture of many types of hard and softwoods.
Higher quality briquettes are all-natural and usually made with only a minimal number of additives. Every briquette needs something to bind it together, and many brands include cornstarch or clay for this reason. Briquettes are typically less expensive than lump charcoal of a similar quality.
Briquettes are uniform in size and burn longer than lump charcoal. While it depends on your grill setup and the amounts of fuel you use, a typical briquette will burn for a good 1.5 to 2 hours. Since briquettes are all the same size it's easy to spread a layer of them across the bottom of your grill.
The downside to using briquettes is they take longer to light than lump charcoal and leave behind a lot more ash residue to clean up. Honestly, if you use a chimney starter then firing up your coals will be easy no matter which kind of charcoal you use.
Please don't ask "but what about using lighter fluid?" No, don't poison your BBQ with that stuff! You do not need to use lighter fluid or buy briquettes that contain a starter agent to easily light your BBQ.
Avoid these products like the plague. They make your food taste like chemicals instead of tasting good. The fastest way to ruin a nice cut of meat is to cook it over chemical-laden fast-starting briquettes or bathe the coals in lighter fluid.
Whether you prefer to cook with uniform briquettes or want to play with chunks of lump charcoal, they both make great traditional BBQ. Personally, I use both types in my backyard.
Cleaning a Charcoal Grill
When the party's over you are still faced with a task- cleaning up. Tempting as it is to grab another beer and head in for some Netflix, don't leave just yet. You still have to tend to the grill before calling it a night.
A well-maintained grill will last longer and cost you less in the long run. If you have ever seen grill grates covered in old food, rust and mildew, then you know this problem first hand. It's better to care for your equipment regularly than to have to rehab it at the beginning of the summer.
There are safety aspects to this after-BBQ clean up as well. Playing with fire is fun but potentially risky. Be sure your coals have been safely discarded and you have dealt with any other hazards before you turn in.
Equipment
Cleaning your grill doesn't have to be a pain. With the right equipment, your grill will always be tidy and ready for the next BBQ!
Grill brushes and scrapers – These useful brushes, scrapers and cleaners remove food scraps and crusted debris from your grill grates. A good brush or scraper can clean between the grates and in those awkward corners. The best brushes are made with sturdy wire bristles and have long easy-to-grip handles. You may need more than one type of brush or scraper to adequately clean your grill.
Ash vacuum – If you have a charcoal grill you should definitely invest in an ash vacuum to make your clean-up easy. These special vacuums are ideal for removing the ashes from charcoal grills, fireplaces and even wood burning stoves! They are made from fire-resistant materials and many even have filters to prevent ash dust from leaking out. This is the easiest way to remove cool ashes from your charcoal grill.
Ash can – Those leftover ashes need go somewhere, and it is best to keep them in a tightly-sealed, fireproof container like an ash can. Leaving ashes to cool in your grill can be risky, because if something knocks the grill over it could start a fire. Get a sturdy ash can with a tight fitting lid and you should be safe.
Grill cover – A grill cover is usually an extra, and many folks don't invest in them right away. A cover isn't a cleaning tool or device, but it is an easy way to protect your grill from the weather. This way rain can't leak through your dampers and fill the fire box. It also cuts down on dirt and dust, leaving you will less routine cleaning!
Method
Everyone develops their own schedule for maintaining their grill. The best schedule really depends on how frequently you use your grill and whether you grill year-round or seasonally.
I prefer to do routine maintenance each time I use my grill and then clean it thoroughly twice a year. This way my grill is always ready to use and is never left with dirty grates or filled with old ashes.
It also saves me time when I am preparing my grill for a BBQ. Since the grill is already empty and clean I can launch straight into the preheating stage.
Cleaning Grill Grates
It is easier to brush or scrape your grill grates clean while they are still warm. At the end of a BBQ I allow the coals to cool for a while, and then break out the brushes. The warm grates usually clean up nicely with a bit of elbow grease.
Alternatively, you can clean your grates before you grill if they were left dirty from the previous BBQ. As long as they haven't developed any rust or mildew, you don't need to pay special attention to cleaning them.
Just preheat your grill and allow the grates to heat up. Some food debris may even burn off for you. Then use your brush or scraper to clean your hot grates.
You can also apply a light coating of oil to your grates after you have scraped them clean. You can read more about oiling your grates below.
Cleaning the Exterior
Ok, I admit my grills look used. I don't spend a lot of time polishing the stainless steel with special cleaners or worrying about a bit of weathering. When the outside starts to look dirty I just use a bit of dish soap, hot water and a sponge to wipe it clean.
Using a cover will dramatically cut down on the amount of cleaning you need to do to maintain the exterior of your grill. Then you can focus on removing any drippings or grease that may have splashed on the outside.
It's best to allow your grill to fully cool before wiping it clean so you don't accidentally burn yourself.
Full Seasonal Breakdown
Twice a year I do a real deep-clean on my grills. I remove the grates and then use brushes and scrapers to get into every nook and cranny. There is usually a lot of soot build-up on the underside of the lid and crusted ash inside the fire box.
I remove all the soot and crusties, and vacuum all the debris from the grill. This is a great opportunity to check that the fire box is in good shape and not showing signs of wear or rust.
I also clean the exterior as I describe above. If I am planning on storing the grill unused for a while I will also oil the grill grates for extra protection.
Preventative Measures
If you regularly maintain your grill and store it properly you will not have to spend a lot of time getting it ready for a BBQ. The best preventive measures you can take are to clean your grill after each use and to protect your grill from the weather. Store it in a protected location and preferably with a grill cover.
To protect your grill grates and to help them remain non-stick, you can also oil or season them. I prefer to season my grates like a cast iron pan. Then I only need to apply more oil occasionally and the seasoning prevents food from sticking.
To season your new cast iron grates you first have to heat them to remove any residue from the manufacturing process. Just leave them in a hot grill for an hour and allow them to cool.
Next, apply a light coating of canola or other high-temperature vegetable oil to the grates and toss them back in the hot grill for 15-30 minutes. Remove, cool, oil, reheat. I usually do this 3 or 4 times until they are nicely seasoned.
If you prefer to oil your grates regularly you can do that as well. The folks over at Char-Broil have this handy guide to oiling grill grates if you need some pointers.
This process is similar to seasoning but has fewer steps. Preheat your grill, apply oil, heat grates for 15-30 minutes and then add food!
Eventually, your grates may become seasoned through this frequent oiling.
Why Trust Us
All of our reviews are compiled with a combination of expert input, years of hands-on testing of grilling products, curating the reviews of real-life buyers in a "wisdom of the crowd" system, and of course our own expertise. All the products listed are the ones we would buy if we were looking to purchase a new charcoal grill.
Methodology Used to Pick the Best Charcoal Grill
When picking the best charcoal grill we looked at and then rated each grill on the following criteria. Price, total grill size, build quality, ease of use, lid, vents, temperature control, and accessories.
How We Selected the Best Charcoal Grill
Shopping for a charcoal grill can be a lot of fun. No matter what you are seeking, you will likely find a grill that fits the bill. There are so many brands, sizes and accessories available that it isn't hard to find the best charcoal grill for your family.
When it comes to charcoal grills, most folks settle on a brand first. Once they have nailed down their preferred brand they can seek out the best grill in their price range.
Here are the things you should consider before buying your grill:
Price
Charcoal grills are available in a wide range of prices. The best charcoal grills are sold by well-known brands and made with high-quality materials.
Portable charcoal grills are smaller and less expensive than their full-size cousins. Additions like wheeled carts, side tables and high-quality cooking grates usually increase the price of a grill.
The price of your grill should reflect the brand name, construction and overall quality.
Kettle grills typically start at about $50 for a small or portable charcoal grill up to $300 for larger, premium models.
Ceramic grills tend to be more expensive than the other types due to their construction materials. Lower-end ceramic grills can sometimes be found for under $300. The premium and brand-name eggs typically start around $400 and go well over $1000 for the largest versions.
Barrel grills start at about $150 and can easily top $1000 for the largest models or those with premium features.
Grill Size
The size of your grill will determine how much food you can cook on it at one time.
Most grills calculate the capacity by measuring how much area the cooking grates provide. So a particular grill might advertise that it has 200 square inches of primary cooking space and another 75 square inches on the warming rack.
You can compare these measurements between grills and get a rough idea of their capacities. Of course, the actual size of the foods you cook will be the determining factor in how much capacity your grill really has. Look at the shape and measurements of the grates in your grill to see if they will work for you.
The size of your grill also influences where you can safely use it on your porch or deck and how easy it is to store.
Build Quality
You usually get what you pay for in a BBQ grill. The price tag should reflect the quality and construction of your grill.
More expensive or premium grills should be made from the best materials and be sturdily constructed. A grill should last for many years and not need seasonal replacement.
Look for grills constructed out of thick steel, with tidy welds and tight-fitting dampers. Avoid grills that use a lot of plastic or chrome as these materials don't wear very well.
Ease of Use
This is difficult to determine until you use a grill, but often online reviews and comments can point out models with problems. Often, cheaper grills are harder to use because their materials and construction work against you. A grill with thin steel walls can't maintain heat as easily as one with more insulation, for instance.
Your grill should be easy to use. You should not have to struggle to remove the grates to access your coals. The handle to your lid should not burn your hand. Your grill should have enough insulation and functional dampers so you can easily adjust the temperature.
If you have the option, go into a store and play around with a floor model before you buy a grill. Sometimes a grill looks great in an ad but disappoints in person.
Temperature Control
Temperature control is a key feature in any charcoal grill. Your primary way of controlling the temperature will be to adjust the dampers. This adjusts the amount of oxygen your coals have access to and causes them to burn hotter or cooler.
Opening the dampers should increase the temperature pretty quickly, while closing them should reduce it. All charcoal grills have at least one damper, and larger grills may have several.
Look for grills with multiple dampers that seal well. Your dampers should not leak any smoke when closed.
Don't waste your time with a grill that has crappy dampers or worse- dampers that can't fully close. You will spend your time fighting to maintain your temperature instead of enjoying your BBQ.
Accessories
There are an endless number of accessories out there for charcoal grills. Some are generic, while others are brand or model-specific.
Well known brands like Weber, Kamado and Char-Broil make a large number of accessories specifically for their grills. If you own one of these grills you'll have no trouble finding extra accessories that fit perfectly by design.
Here is a list of common charcoal grill accessories, in no particular order:
Cooking tool sets – typically include long-handled tools like tongs, forks, knives and silicone basters. Some sets may include a grill brush. Or you can buy the tools you need individually.
Cast iron cookware – perfect for baking a casserole or pie on a grill, cast iron cookware offers increased versatility to your charcoal grill.
Specialty grill grates – you can upgrade your grates for increased performance. Look for cast iron and porcelain enameled cast iron grates. Some brands like Weber have their own specialty grate systems with additional accessories.
Grill baskets and kabob holders – useful for cooking delicate or small items like fish or veggies, grill baskets prevent your food from sticking or falling through the grates. Kabob holders allow you to grill multiple skewers at a time and makes it easy to rotate them for even cooking.
Grill lights – if you don't have lights on your porch or deck, you might appreciate these clip-on grill lights for a late-night BBQ. It's hard to cook if you can't see your food!
Grill mats – these fireproof mats go under your grill and protect your deck or porch from hot grease and burn marks. Very useful if you use a charcoal chimney starter! You can place the starter on the mat and not have to worry about setting something on fire.
Smoking boxes/wood chip holders – if you want to use your charcoal grill as a smoker, you need something to hold the wood chips. Many companies make these little smoker boxes for use on charcoal grill. Just fill with wood chips and place in your grill and your meat will be smoking!
Charcoal chimney starter – I know I mentioned these about under the Fuel for Charcoal Grills section, but it's worth saying again. The best way to light your charcoal grill is to use a chimney starter. It's the fastest, safest, easiest way. Get one and you will thank me later.
Warranty
When shopping for the best charcoal grill you should definitely look at the warranty before you click the buy button. A grill's warranty can give you a lot of useful information. Read the fine print and check out the company's website too.
The length of the warranty will give you an idea of grill's overall quality. Say you are dropping $200 on a grill and it only has a 90-day warranty. That tells you that the company really doesn't expect their grill to last for very long.
Many charcoal grills have warranties that cover some parts longer than others. So a company might back the fire box for 5 years but their grill grates are only covered for a year. This can tip you off to the parts you need to keep an eye on.
Check and see how easy it is to use your warranty as well. Does the company have a local outlet or service center? How easy is it to reach someone if you have a problem?
Cheap grills often have short warranties that require you to ship the grill back at your expense to make a claim. Sometimes it isn't worth the cost to use a warranty, unfortunately. Better to know your coverage in advance.
Conclusion
If you want to make BBQ like a professional pitmaster, you should buy the best charcoal grill you can afford. Invest in your culinary future by getting a high-quality, durable and easy-to-use grill with the features you want. You will use it for years and maybe even pass it down to the grandkids.
Our comprehensive reviews and Buyer's Guide will help you find the ideal charcoal grill for any situation or location. Whether you want a portable ceramic grill or a large-capacity barrel grill, we have all the info you need when shopping for a new grill. When you get a charcoal grill you can play with fire and feed your family at the same time!