With so much focus on the main event, burger sides often get overlooked. You've probably planned which meat to use, your grind, practiced various different burger meat blends… but have you given your burger sides a second thought? The best burger sides will add an extra taste dimension to your burger, be it a refreshing summer salad or a spicy jalapeno popper.
Short of time and space? Don't worry, we've covered all types of burger sides, including ones that you can make in advance, as well as others that take up a minimum of space on your grill. So, the next time you want to try something new on your BBQ, instead of paying out for expensive cuts, try out a couple of our burger sides and rethink your next burger night.
Best Potato-Based Burger Sides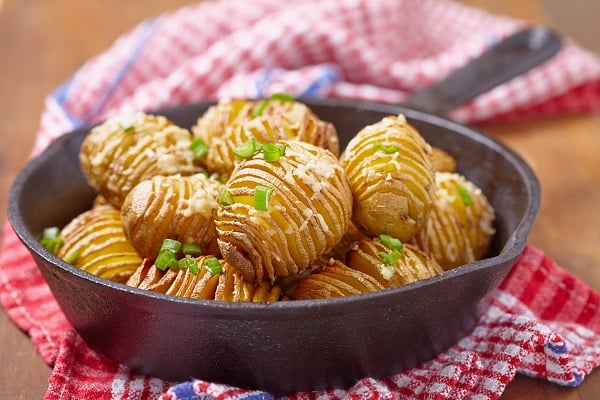 Potatoes are a classic side that complements any type of burger. Check out our potato-based burger sides, from traditional burger and fries to grilled Hasselback potatoes, we've got all of the best potato BBQ dishes covered.
Potato side dishes are surprisingly easy to get right and often a lot quicker on the grill than in your kitchen, so make sure you try out something new.
Fries
Fries are the ultimate all-time classic burger side. Unfortunately, homemade fries are pretty much impossible to get right on your grill.
So, unless you're lucky enough to have a deep fryer in your outdoor cook station, we recommend using frozen oven fries. Do not be tempted to use a pan of hot oil on your grill, it could very easily end up causing a catastrophic accident.
The best way to make fries on your grill is to use foil boats. Start off by tossing your frozen oven fries in melted butter, then transfer them to a piece of foil. Fold the edges up so that the fries remain in the center in a single layer.
Place the foil boat in your indirect cooking zone, cover your grill, and allow 20-30 minutes cooking time, stirring once. Add cheese just before serving and top with bacon bits.
Wedges
Wedges can be easily done on your grill, although they will take at least 45 minutes, depending on thickness. Toss your freshly cut wedges in oil and add any seasonings, such as pepper, salt, and rosemary.
Take a baking sheet, cover with parchment paper, and add your seasoned wedges. Place on your grill at a temperature of 350 degrees F. Once golden brown, they're ready to enjoy. Serve while warm with your favorite dips.
Baked Potato
Easy to make and a great crowd-pleaser, if you are looking for hassle-free sides, baked potatoes are the way to go. Light and fluffy inside with crispy, toasted skins, serve with butter and light seasoning or jazz them up into loaded potato skins.
With your grill heated up to high, around 400-450 degrees F, coat your potatoes with melted butter. Season, double wrap in foil and place them on your grill. Replace your grill cover and leave to cook for around thirty minutes, turning a couple of times to ensure they cook evenly.
Hasselback Potatoes
Who doesn't love hasselback potatoes? Once you've got them prepared, they are extra easy to cook on your grill. They also make really good sides for burgers and are sure to impress your guests.
SImply slice your potatoes almost through, season, add butter, and wrap in foil. You can also add seasoning, plus garlic, shallots, or herbs. Place on the indirect heat zone on your grill for around 30-40 minutes.
You can remove them from the heat and they will stay warm in their foil wrappers while you finish off the rest of your grilling.
Potato Salad
Potato salad is another classic side that you can easily rustle up on your BBQ. With your grill preheated to 400 degrees F, slice up your potatoes into one-inch pieces.
Toss in olive oil and season, then place them in a grill basket and over your indirect heat zone. Turn throughout cooking and serve up around 30 minutes later with green onions, bacon, and BBQ sauce.
Chips and Dip
No space on your grill? Too busy to take on another dish? No problem. Don't stress out, take the easy option and serve up some chips and dips, no cooking required. Often underrated, the crispness of chips go really well with a juicy tender burger.
Plus, they are also really handy to have on standby in case of any delays to your meal, giving your guests something to nibble while they're waiting.
Best Salad, Veg & Pasta Based Burger Sides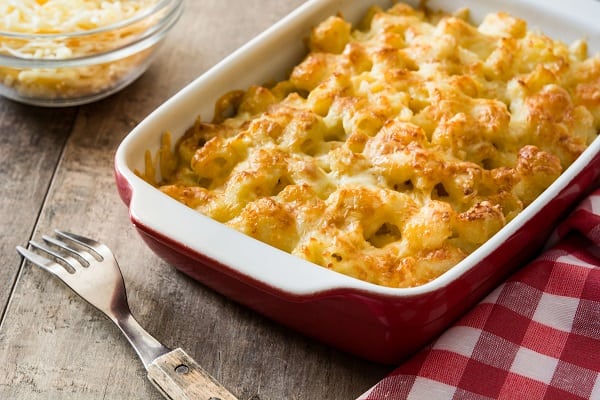 Salads, vegetables, and pasta-based sides can really elevate your burgers into a full meal, without making you feel like you've really overdone it. They are also a great choice over summer, providing a refreshing crispy, crunchy texture when the temperature starts to rise.
Whether you are looking for a healthy vegetable side to serve with your burgers or a healthier alternative to tater tots, we've got plenty of options to share.
Corn on the Cob
A really popular side that makes an excellent pairing with burgers, corn on the cob has a sweet, buttery flavor that will enhance your burger's meaty taste. A BBQ classic, simply fire up your grill to a medium-high heat.
Prepare your corn and place on your grill directly over your coals. Turn frequently and remove from the grill after 10 minutes. If the kernels have charred but are not soft enough, place the corn back on your grill but in an indirect heat zone to soften.
Slaw
Slaw is an excellent accompaniment to any BBQ dish, including burgers. It's really easy to prepare and you can get it ready in advance, so all you'll have to do is serve. Finely shred cabbage, pepper, and carrot.
Mix and add your favorite slaw dressing. We like to use a combination of sour cream and mayonnaise, with a touch of sugar, sweet pickle, and white vinegar. The sweet and sour tanginess really goes well with a burger, breaking through the rich meatiness.
Mac n Cheese
There's only one way to beat a side of mac n cheese, turn it into smoked mac n cheese! Prepare your noodles indoors on your stove and preheat your smoker to 225 degrees F.
Once you've got your mac n cheese ready, bring it out and place it inside your smoker for one to two hours with the lid closed. Serve while warm and enjoy the delicate smokiness.
Beans
Barbecued beans make a great burger side and they are also really easy to prepare. Set up your grill for indirect cooking and heat to medium low. Once you have a good supply of smoke, place your bean mixture in foil pans and cook them in an indirect heat zone with your grill lid on. They should take around an hour to thicken and take on a rich smoky flavor. Rest them for 15 minutes before serving with your burgers.
Veggie Dippers
Looking for healthier sides to accompany your burgers? Veggie dippers are ever so simple and provide a nice crunch and stark contrast to heavy, meaty burgers.
When possible, prepare them in advance and keep them ready in your fridge until it's time to serve, otherwise, quickly slice up your vegetables into strips while you wait on your burgers to finish grilling. Serve with a selection of dips.
Onion Rings
A little tricky to do on your grill, onion rings are best cooked in a deep fryer. If you really want to try grilling onion rings you'll need to get your grill ready at around 375 degrees F.
Place your pre-prepared onion rings on a sheet pan, arranged with plenty of space between them. Cook for around eight minutes per side. For even better results, we recommend trying out the bacon-wrapped onion rings below in the meat-based burger sides section.
Pickled Onion
Pickled red onion makes an excellent burger side or even an extra topping. What's more, it's quick and easy to prepare.
Bring a pan of water to a boil and pour over your bowl of finely sliced red onions. After one minute, strain and place the onions in a jar with a tight fitting, sealed lid. Add three-quarters of a cup of water, three-quarters of a cup of white wine vinegar, and one-an-a-half teaspoons of pickling salt.
As you can store it in your refrigerator for up to two weeks, you can get ready for your BBQ nice and early, or bulk up and prepare for several meals in advance.
Cauliflower Tots
Crispy cauliflower tots make a nice change from regular burger sides. Once you've prepared them in your kitchen and they've rested in your fridge, you can finish them off on your grill.
With your grill running steady at 375 degrees F, brush your grate with canola oil to prevent sticking. Place your cauliflower tots directly on your grill and cook for around 10 minutes until lightly brown. Serve with your favorite dips for a tasty alternative to tater tots.
Watermelon Feta Skewers
For a burst of freshness combined with a creamy tanginess, you can't beat watermelon and feta skewers. Alternate bite-sized chunks of watermelon with feta cheese on each skewer and brush with olive oil. Grill over a high heat on each side for a minute until all sides are slightly charred. Serve with a balsamic dressing.
Watermelon Feta Skewers Recipe
Pasta Salad
Pasta salad is a staple summer BBQ side dish. You can make it up before you start up your BBQ and have it ready and waiting in your refrigerator.
Cook your pasta, add your vegetables, add your favorite BBQ sauce, mayonnaise, seasonings, and stir. An excellent way to add in some extra vegetables and a fresh tasting, chilled side that is sure to be a hit with everyone.
Salad
There are millions of great salads you can serve up with your burgers. My favorite is a classic Greek salad, fresh, colorful, and tasty. Not only does it taste good, it stands up to summer BBQs much better than leafy salads that wilt as soon as you serve them next to your hot burger.
Combine sliced tomatoes, cucumber, onions, olives, and feta cheese with an extra virgin Greek olive oil dressing. Perfect for cutting through that slightly greasy aftertaste you can get after a great burger.
Best Meat Based Burger Sides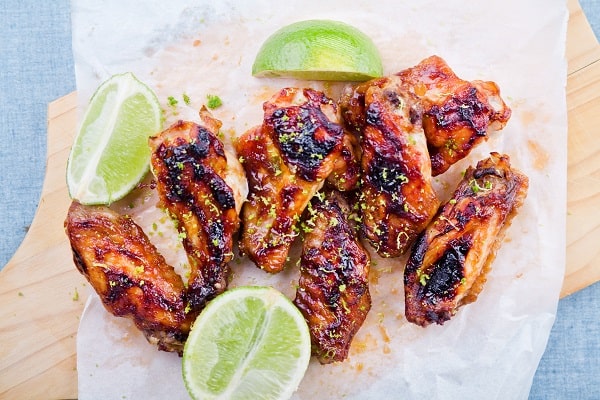 It seems that you can never have too much meat at a BBQ. While salads and potatoes make great burger sides, you can't beat serving up one of the following meat-based sides in terms of popularity.
From spicy jalapeno and sausage to the insanely popular pork belly burnt ends, make sure you try out a couple of our favorite selections at your next BBQ burger night.
Wings
Smoked chicken wings are set to be one of your most popular burger sides, delicious smothered with a tangy BBQ sauce.
Set up your grill or smoker to 250 degrees F. add your wings and cook for around two and a half hours. Once your wings have cooked through with an internal temperature of 165 degrees F, it's time to crank up the heat to high.
Cover your wings in sticky BBQ sauce and place them back on your grate. Cook for five minutes on high before tuning for another five minutes. Remove from your grill and rest for 10 minutes before serving.
Jalapeno Popper
Jalapeno poppers are really versatile and can be made with whatever type of meat you have ready, such as bacon, Italian sausage, or even chicken thigh. They give a nice kick, combining cream cheese with spicy or sweet seasonings.
Simply half and hollow out your jalapenos, fill with a mixture of cream cheese and your chosen seasoning, wrap with bacon and grill over indirect heat for approximately 15 minutes.
Scotch Egg
Smoked scotch eggs are guaranteed to be a hit at your next family BBQ. Plus, not only do they look really impressive, they also taste really good, and take up very little space on your grill.
You'll need to boil your eggs for around six minutes. When they're done, place them in very cold water to stop the cooking process. Deshell all of the eggs and coat them with sausage meat. Smoke for 45 minutes at 250 degrees F before coating with BBQ sauce and leave them to set for 10 minutes on your grill.
Armadillo Eggs
Bacon-wrapped armadillo eggs are great burger sides. This classic Texas BBQ dish consists of jalapeno peppers stuffed with cream cheese, wrapped in sausage, and rolled in a slice of bacon brushed with BBQ sauce.
Set your smoker to 125 degrees F. With your armadillo eggs all ready to smoke, set them over indirect heat and let them smoke with the lid closed for around two hours. Once you get a 165-degrees F internal reading, remove from your smoker and coat with BBQ sauce. Turn up the heat and cook for a few minutes longer to crisp up the bacon.
Bacon-Wrapped Onion Rings
If you've never tried bacon-wrapped onion rings before, you'll be surprised at just how tasty they are. They are also easy to make, ideal for serving up as sides with your burgers, and unlike regular onion rings, they can be prepared on your grill.
Peel your onions and cut them so you get half-an-inch tall rings, pop out the central parts so you have two layers for each ring. Brush your onion rings with a thick hot sauce, before wrapping entirely in bacon – you may need two to three slices of bacon per ring depending on the sizes. Secure your bacon with a skewer and grill with indirect heat for around an hour and a half.
Bacon-Wrapped Onion Rings Recipe
BBQ Chicken Pasta Salad
Bright, colorful, and packed with flavor, a BBQ chicken salad is always a popular side with burgers or any other grilled food. You can easily make up this quick salad before you start grilling, saving you time and space.
Cook your chicken, then add sliced onions and pan fry. Boil a large pan of salted water and cook your pasta. Drain and rinse with cold water. Slice up your chicken into tiny chunks and mix it with the onions into your bowl of chilled, cooked pasta. Add BBQ sauce and mayonnaise, stir well and set aside in your refrigerator.
Either just before serving or whenever is convenient, add extra vegetables and seasoning, such as sliced or cubed tomatoes, cheese, and cayenne pepper.
BBQ Chicken Pasta Salad Recipe
Moink Balls
If you've not heard of moink balls before, don't worry, they are just bacon-wrapped meatballs. Why the peculiar name? Well, it actually stands for a combination of a cow's "Moo", for the meatball, and a pig's "Oink" for the bacon.
With that clarified, despite their peculiar name, moink balls are really delicious little bites that make great extras for any occasion. Take your meatballs, homemade or otherwise, and wrap each one up in a slice of bacon, securing with a skewer.
Dust with your favorite BBQ rub and place on your grill at 275 degrees. After an hour's grilling, check your bacon is a nice brown color. Remove from your grill and dip each moink ball into a pot of BBQ glaze. Return them to your grill for 10 minutes to set the glaze, then serve immediately.
Pork Belly Burnt Ends
Admittedly they do have a long smoke time of four hours, but these pork belly burnt ends will most definitely steal the show. Crispy, tender, and irresistibly moreish, its sides like these that really make all your hard work stand out, giving you instant recognition from family and friends.
Rub your cubed pork belly with a mixture of brown sugar, chipotle, and salt and pepper. Heat your grill up to 250 degrees and place your pork belly cubes on your grates and close the lid. Grill for approximately two and a half hours. Remove, sprinkle with sugar, add butter, hoisin, and hot sauces, then return the cubes to your grill for another hour and a half.
In a saucepan, mix up your glaze of BBQ sauce, honey mustard, and butter, simmer and thicken before adding the cubes. Return the glazed pork belly ends to your grill for around half an hour, then rest for 15 minutes before serving.
Pigs in Blankets
These fun BBQ sides are small American breakfast style sausages wrapped in bacon. Extremely popular with little and big kids alike, they are quick and very easy to make. Simply get a couple of packs of American sausages and wrap each sausage in a slice of bacon.
Grill the sausages for around 30 minutes, turning them halfway. Check the sausages' internal temperature before serving. The bacon should be crispy and dark.
Note that this side dish traditionally calls for a UK chipolata sausage, which equates more or less to an American style one, although you could always try using hot dogs instead.
Smoked Deviled Eggs
Strictly speaking, smoked deviled eggs are not meat, although we recommend serving yours up with a sprinkling of bacon, so here they are in the meat-based burger side section.
Hard boil your eggs, deshell, and cold smoke for one hour. Slice and spoon out the yolks into a bowl. Mix the yolks with mayonnaise, hot sauce, and mustard. Spoon this mixture back into each egg half and top with crispy bacon bits.
Delicate, yet spicy, with a good hint of smokiness, these deviled eggs make a nice alternative to regular BBQ sides.
Burger Sides Final Thoughts
Sometimes when we're planning a BBQ we get so caught up on the mains that we forget about how many great sides there are. Whether you want to impress your guests or just want to try something new, we've covered the most popular and best burger sides around.
Still, we're always up for trying something new, so if you have any favorite burger side dishes that we've not mentioned, let us know in the comments below, as well as rating your top burger side dish.