Crispy on the outside and tender on the inside – it is no secret why chicken wings are America's favorite snack. They are quick and easy to make, perfect for game day tailgates or family gatherings. You can prepare chicken wings in a wide variety of ways, but arguably the best wings – the crème de la crème – are smoked chicken wings.
Smoked chicken wings are the perfect balance between crispy skin, juicy meat, and delicious flavor. Ready to make some unbelievable smoked chicken wings? We've got the goods on how to smoke chicken wings that will really wow a crowd.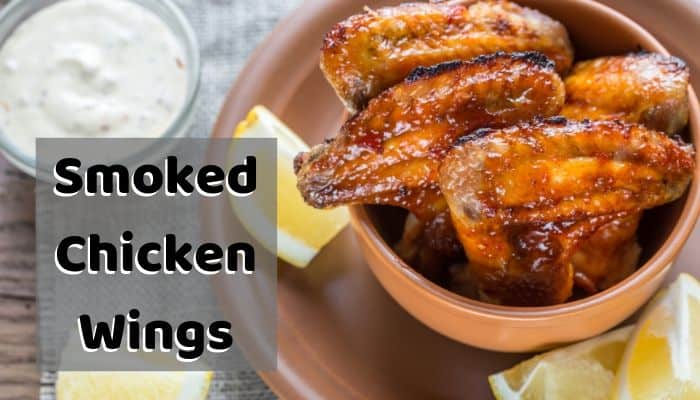 Start With the Rub
A smoked wings dry rub is a mixture of herbs and spices that is rubbed on top of the meat. This creates an amazing and unique flavor depending on the variety of spices you use. Not only do dry rubs enhance the taste, but they also help create a crispy crust on the skin. Using high-quality spices is important for really bringing out the best flavors. You can really play around with what combination of herbs and spices to use. Whether you like sweet, spicy, hot, or mild wings, the possibilities are endless.
Dry rubs stick best to dried chicken. If you are using fresh chicken wings, pat them down thoroughly with a paper towel. If you are working with frozen chicken wings, we recommend using this guide for defrosting chicken fast before drying the wings.
When you fully incorporate your selected spices, it is important to make sure the chicken wings are fully coated. We recommend tossing all of your spices together in a large, zippered, plastic bag. Then, add your chicken wings and shake until evenly coated. Rub the dry rub on all sides of the chicken wing and press the coating firmly to the skin.
Best Dry Rub for Smoked Chicken Wings
As we said, smoked wing dry rubs can be made from many different herbs and spices. It's up to you to experiment with the kinds of flavors you want to bring out in your smoked chicken wings. There are millions of smoked chicken wing recipes out there, but we believe we have a great chicken wing dry rub for smoking.
What You Will Need:
1 tbsp onion powder
1 tbsp smoked paprika
1 1/2 tsp chipotle powder
1 1/2 tsp garlic powder
1 ½ teaspoons dried oregano
1 1/2 tsp black pepper
1 ½ tsp kosher salt
Mix all of the ingredients together in a bowl. You can use the dry rub directly in a plastic bag or you can store it in an airtight container for up to a year. It's a good idea to have a tasty dry rub on hand for whenever you want to enhance to the flavor of any meat.
How to Smoke Chicken Wings
Whether you are using a pellet smoker or an electric smoker, chicken wings require smoking at a low temperature. Preheat the smoker to 250 degrees. You can use any wood you like (we'll get to some of our favorites in just a moment), but you should soak your wood chips for about an hour prior to smoking. Wood smoke helps the fat to render out from underneath the skin and gives the meat a delicious, smoky flavor.
Place the wings directly on the rack closest to the heat source. Add your soaked wood chips to the tray and close the door.
How Long to Smoke Chicken Wings
Chicken wings start out low and slow. You should smoke the wings for around 45 minutes at 250 degrees. Then, flip the wings and add more chips if necessary. You want to limit the amount of heat loss, so work quickly to get the door closed again. Smoke for another 45 minutes.
While some drying of the skin will occur naturally during smoking, you'll need to increase the heat to really get the crisp skin that chicken wings are known for. Most smokers can't make a very quick jump to high temperatures, so you may want to have a preheated oven (375-400 degrees) or broiler ready. You can transfer the wings from the smoker to the oven to ensure a crispy skin in the last few minutes of cooking. If your smoker is up to the task of high temperature cooking, you can increase the heat to 375 degrees for the last 45 minutes of cooking, flipping as needed to maintain even cooking as you crisp the skin.
Check the temperature of the wings using a reliable thermometer. You do not want your chicken undercooked! We recommend taking a look at some of the best smoker thermometers for an accurate reading. The chicken is fully cooked when it has an internal temperature of at least 160. However, we like to aim more in the 165-170 range, as the chicken just seems to taste better that way.
If you want to apply sauce to your smoked chicken wings, do so in the last 20 minutes of cooking. Many sauces have high sugar content, and sugar tends to burn when exposed to high heat. Brushing the sauce on near the end of cooking will prevent your wings from charring or burning.
Best Woods to Use
Smoking is more of an art than a science. You can use any wood or combination of woods that you like to create new and exciting flavors. Chicken lends itself especially well to fruit flavored woods, such as Cherry, Pecan, or Apple. Hickory also provides a nice flavor, but a little Hickory goes a long way. Be careful not to overdo it.
It's also possible to mix and match flavors. Cherry and oak, for example, together have a subtle sweetness that doesn't overpower the meat. Try experimenting with different combinations of woods to find the flavor profile that you like best.
Dipping Sauce?
There are a million different ways to eat wings. To some, a dipping sauce may seem like a strange addition, as most wings are either dressed in sauce or a dry rub. Both provide plenty of great flavors. However, in some parts of the Carolinas or places like Alabama, they like their sauce on the side. Particularly, Carolina gold sauce or Alabama white sauce. You can read more about the different styles of bbq here.
We tend to prefer our wings already dressed for success, so hold the sauce. However, there are two dipping sauces that win hands down in regards to popularity. Ranch and Bleu Cheese dipping sauces can help beat the heat of the wings and give them a cool, delicious flavor. Staple sides at every party, Ranch and Bleu Cheese are guaranteed crowd pleasers if you want to have a smoked chicken wings dipping sauce at your next gathering. Store-bought is fine, or get adventurous and try making your own sometime!
What if I Don't have a smoker?
If you think you are out of luck because you don't have a smoker, think again. You can have smoked wings on any grill with the addition of a smoker box. We took a look at some of the best wood chip smoker boxes and found them to be a great way to add a smoky flavor to food without investing in another whole outdoor cooking appliance.
A smoker box sits directly on top of the cooking grates of your regular gas or charcoal grill. Add your favorite wood chips inside, and let the heat from your grill do all of the smoking work. The wood chips do not have to soak in water beforehand to achieve that same great, smoky flavor that you crave. Smoker boxes are relatively inexpensive and a great tool to have on hand any time you want smoked foods without having to purchase an entire smoker.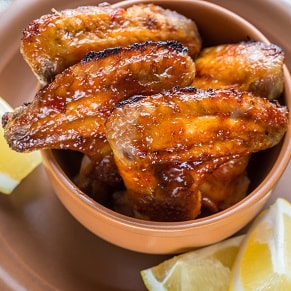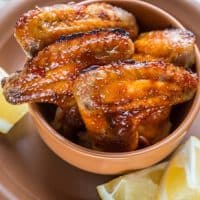 Smoked Chicken Wings
Cook Time:
1 hour
45 minutes
Total Time:
1 hour
55 minutes
It may take a while to sort through all of the best smoker recipes, so let us go ahead and recommend this knockout recipe for smoked chicken wings. It's simple yet delightfully mouthwatering. It will be your go-to smoker recipe every time you get a craving for chicken wings. Without further ado, here's our best smoked chicken wings recipe:
Ingredients
3 pounds chicken wings, flats, and drumettes
1 tbsp onion powder
1 tbsp smoked paprika
1 1/2 tsp chipotle powder
1 1/2 tsp garlic powder
1 ½ teaspoons dried oregano
1 1/2 tsp black pepper
1 ½ tsp kosher salt
1 cup BBQ sauce, homemade or store-bought
Cherry Wood
Instructions
Mix ingredients of the dry rub
Preheat the smoker to 250 degrees
Add rub to chicken wings
Add wood to the smoker
Place wing in the grill (indirect heat)
Smoke for 45 minutes before turning and smoking for another 45 minutes
Now ramp up the temp to 375 and place the wings over direct heat to get crispy skin
Notes
PRO TIP – If you like your wings extra crispy, once they have reached 165 degrees, transfer them to a baking sheet. Then insert the baking sheet under a broiler on high for 2-3 minutes on each side before adding the bbq sauce.
Nutrition Information:
Yield:

3
Serving Size:

1
Amount Per Serving:
Calories:

1703
Total Fat:

113g
Saturated Fat:

40g
Trans Fat:

1g
Unsaturated Fat:

63g
Cholesterol:

379mg
Sodium:

3952mg
Carbohydrates:

90g
Fiber:

5g
Sugar:

33g
Protein:

80g
Conclusion
Forget baking or frying. Once you have tried smoked chicken wings, nothing will ever seem to compare! Smoked chicken wings pack a full blast of flavor and are perfect for a delicious snack or a full meal. Serve them up at your next game day gathering or family sized feast. There is a lot of opportunity to experiment and create a smoked chicken wings recipe that all of your friends and family will love.