Portable butane stoves make excellent side burners if your BBQ doesn't have one built-in. Inexpensive, easy to use, and cheap to run, if you don't already own one, investing in the best portable butane stove will definitely raise your grilling game and also give you a handy extra option for camping, picnicking, or hiking. Here's everything you need to know to find the best model.
Best Portable Butane Stove
Need help choosing the best portable butane stove for your backyard BBQ or trips out into the wilderness? We've reviewed some of the very best models around, so whatever your needs, you're sure to find your perfect match right here.
Best Budget Portable Butane Stove
Gas One GS-3000 Portable Butane Camp Stove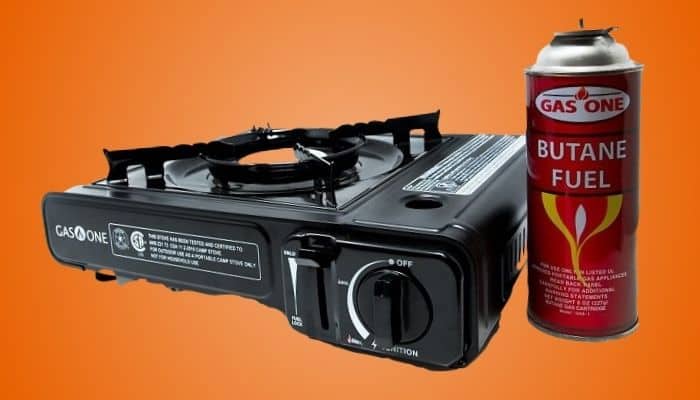 Looking for an inexpensive portable butane stove for your next BBQ? The Gas One GS-3000 is a great budget choice if you need a side burner for your sauces and accompaniments. Despite its low price, it has an impressive 9,000 BTU output and is very easy to use, taking 8oz butane canisters.
Weighing just 3.3lbs, it's also easy to grab and set up with its metal body and enamel-coated drip pan for quick cleaning. Thanks to its Piezo ignition system, you won't need to locate your matches or lighter to get it started, while the included case makes for easy storage.
This model has three main safety mechanisms: automatic safety shut off, a safety lever, and a built-in cartridge ejection system. If irregular gas flow or pressure is detected the unit shuts down and the cartridge is ejected. The safety lever prevents you from connecting your butane without the dial being turned to the off position.
While the case isn't very durable, otherwise this portable butane stove is great value for money and ideal for occasional use. Powerful and lightweight, if you are looking for a budget model, you won't find a better version at such a low price.
Pros – Things we liked
9,000 BTU output
Piezo ignition
Automatic safety shut off
Lightweight 3.3lbs
Cons – Things we didn't like
Poor quality case
Most Powerful Portable Butane Stove
Iwatani Corporation of America Butane Stove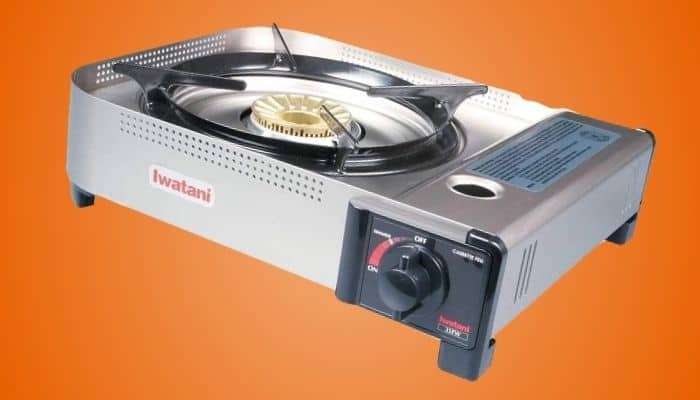 The 35FW by the Iwatani Corporation of America is one of the most powerful portable butane stoves around with its powerful 15,000 BTU output. If you are looking for a model that produces a lot of heat for quick stir fries as you BBQ, you won't find a better version than this Japanese-made one.
Made from lightweight aluminum with a solid brass burner for extra durability at high temperatures, this is one of the most expensive portable butane stoves, but also one of the very best on the market. Thanks to its double wind guard, your flame is protected from all angles allowing you to use it in windy weather without overly extending your cooking times.
The automatic ignition system is very reliable and easy to use, as is the magnetic locking system for the 8oz butane containers. This system replaces locking lever safety mechanisms and makes it virtually impossible for you to incorrectly load your fuel canister for improved safety. Its built-in Heat Panel System maintains a constant pressure to maximize output from your canister and to ensure consistent performance throughout its lifespan.
Choose the 35FW if you are looking for the best of the best and don't mind paying for it. User-friendly, powerful, and secure, it also comes with a rigid carry case to protect it when it's not in use.
Pros – Things we liked
15,000 BTU output
Double wind guard
Solid brass burner
Magnetic gas locking system
Cons – Things we didn't like
Expensive
Best Value Portable Butane Stove
Camp Chef Butane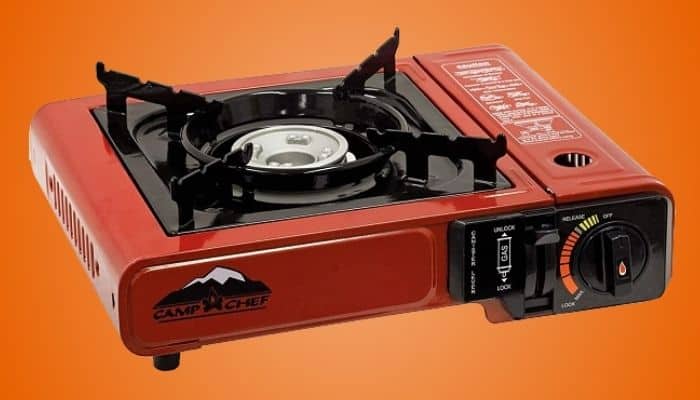 Compact and lightweight, the Camp Chef Butane Stove provides a resectable 8,000 BTU output, which is hotter than a lot of residential stovetops. Combined with its low price and user-friendly operation, it makes the best value buy.
Thanks to its porcelain drip tray, this model is easy to clean up when your BBQ is over. The heat control dial is fully adjustable, so whatever side dish you're cooking, you have complete control over your heat level to speed cooking up or slow it down. It's easy to lock an 8oz butane cylinder into place via the front safety locking switch.
Unfortunately, this stove does not feature any wind protection, so if you live in an area with frequent windy weather you may want to choose an alternative model. Also, while the included carry case is a nice idea for storage, it isn't very durable given its fragile construction.
On the whole, if you need a portable butane stove for the occasional BBQ this is a good value choice that will get the job done if there aren't any high winds.
Pros – Things we liked
8,000 BTU output
Compact
Matchless ignition
Fully adjustable heat control dial
Cons – Things we didn't like
Fragile case
No wind protection
Best with a Large Base
Coleman Portable Butane Stove with Carrying Case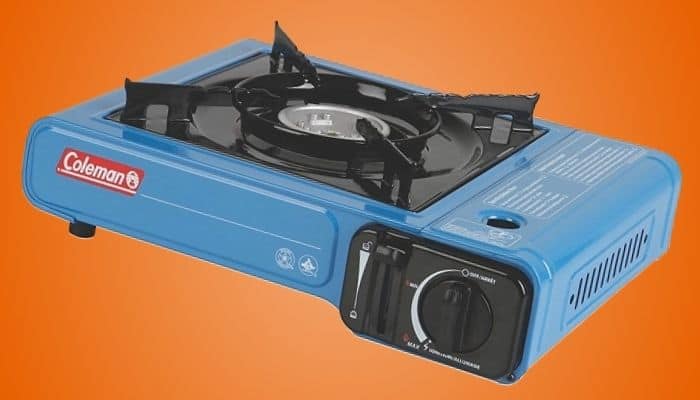 The Coleman Portable Butane Stove has a large stable base that can easily accommodate a 10" pan and stirring without moving around. It has a 7,650 BTU output for cooking quickly and the integrated wind baffles help to shield the flame to direct most of the heat to your pan.
Thanks to its aluminum burner, this unit will remain rust-free year after year and the porcelain-coated grate allows for quick and easy cleaning after use. Very simple to use, this butane camping stove takes an eight oz butane cylinder – just pull out and lock into position to cook.
Ignition is also extra easy with no matches required thanks to the Instastart Ignition System that automatically lights your burner when you turn the dial. Compact and easy to store, despite its stable base, this unit also comes complete with a carry case and a one-year limited warranty. On the downside, butane cylinders do not last very long, giving you just 1.25 hours on full power for one 8.8oz cylinder.
If you are looking for an easy to use model and don't need a really high heat output, then the Coleman Portable Butane Stove makes a sensible choice from a reliable brand in outdoor cooking and grilling.
Pros – Things we liked
7,650 BTU output
Large stable base fits a 10" pan
Wind baffles
Instastart Ignition System
Cons – Things we didn't like
Butane tanks don't last very long
Best Lightweight Portable Butane Stove
Gas One Emergency Gear Camping Mini Butane Portable Gas Stove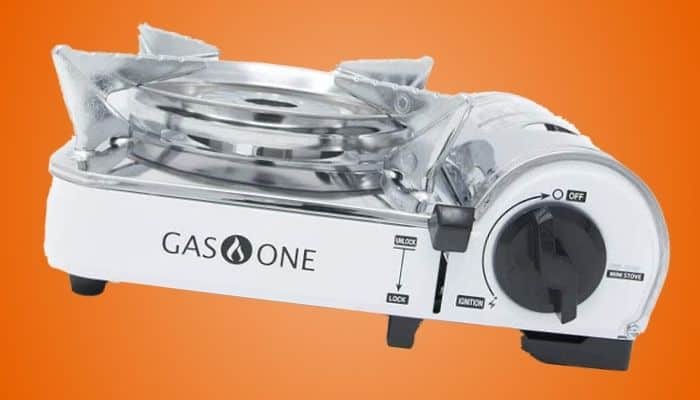 Inexpensive, lightweight, and compact, the Gas One Mini Portable Gas Stove is a great choice if you're looking for a light side burner that can fit on your BBQ side table. Weighing just 2.2lbs and measuring 9.6" by 8", this mini butane stove still gives out up to 7,172 BTUs, burning hotter than some residential stovetops.
Easy to store and carry, this portable butane stove comes with a handy carry case, although you will need to store your butane cylinder separately as it will not fit inside the case itself. Thanks to the Piezoelectric starter system, this stove is very easy to get lit first time, without needing matches or a lighter.
With its stylish white and stainless steel body, the Gas One Mini is very easy to clean, complete with a porcelain-enameled drip pan. If you need a lightweight side burner for your next BBQ and are looking to slowly cook through your sides or sauces on it, this compact mini butane stove makes an excellent choice.
Pros – Things we liked
7,172 BTU output
Weighs 2.2lbs
Metal body with porcelain-enameled drip pan
Carry case included
Cons – Things we didn't like
Have to remove fuel before storing in case
Most Versatile Portable Butane Stove
IWATANI CORPORATION OF AMERICA America EcoPremium Portable Butane Stove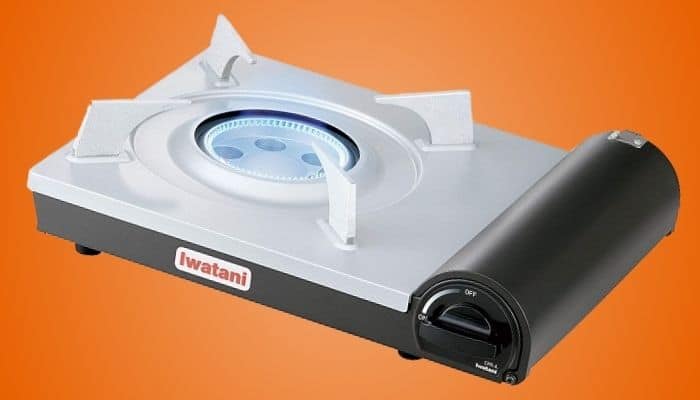 The Iwatani EPR-A EcoPremium Butane Stove makes a fantastic complement to any BBQ thanks to its energy-saving design, powerful 10,000BTU output, and the numerous extra accessories that enable you to cook various dishes with it, including BBQ and grill plates.
Use it to boil, simmer, fry, or broil, the EcoPremium comes with a non-stick steel drip pan making it incredibly easy to wipe clean after use. Its ultra-efficient design not only makes sure that no residual fuel is left behind through its Heat Panel System, it could also save you around 16% of fuel making it well worth paying out the extra for over regular models.
Safety-wise, this portable butane stove has numerous features including a magnetic safety lock mechanism, a pressure sensor with an auto shut-off function, and a pressurized receiving guide to ensure your canister and regulator have an air-tight seal. It is also very easy to light thanks to the Piezo Electric ignition system.
Another great feature is this unit's offset burner head. This allows it to accommodate larger 11.5cm pots and pans, as the burner is located further away from the gas compartment than on regular models, so you won't risk overheating the fuel canister.
Made in Japan, very easy to use, and packed with highly practical features, the Iwatani EcoPremium is an excellent choice all-around and one of the most versatile portable butane stoves around.
Pros – Things we liked
10,000 BTU output
Fuel-efficient energy-saving design
Off-set burner head
Magnetic safety lock mechanism
Cons – Things we didn't like
Costs more than most other models
Best Commercial Standard Portable Butane Stove
Chef-Master Butane Countertop Burner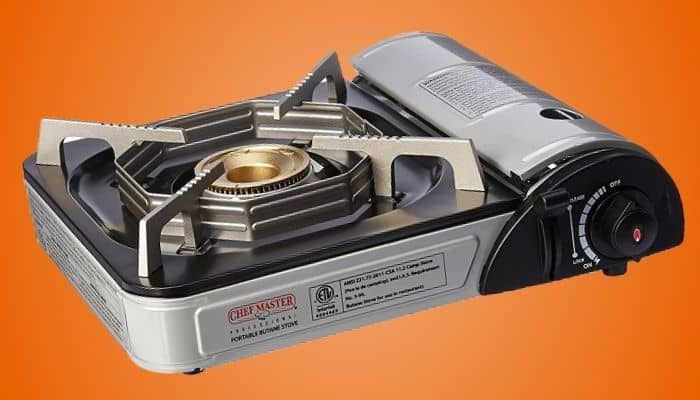 Designed for indoor commercial use, if you are looking for a side burner for your BBQ that provides you with professional performance, look no further than the highly popular Chef-Master Butane Countertop Burner. With its high heat output of 10,000 BTUs, use the adjustable heat range to boil, simmer, broil, and pan-fry.
Thanks to its highly durable brass burner, this portable stove resists deforming and corrosion, even when used regularly on high. Its Piezo Electronic System makes it effortless to light, while its Safety Stop feature automatically shuts down your stove should overheating be detected. It also features an in-line regulator with a pressure-sensing shut-off to help keep you safe.
Its heat transfer plate maintains a high heat output reducing energy loss, while the double wind guard reduces losses from the breeze or AC unit when used indoors. Complete with a high-impact carry case, the only possible downside of this really well designed model is that you can only use BF1010 butane canisters with it. While they don't cost more, you may not always find them in store, so make sure you stock up.
All in all, a really great stove that will make your BBQs even better and give you the heat you need for cooking up any extras while you're grilling.
Pros – Things we liked
10,000 BTU output
Double wind guard
Durable brass burner
Boil to simmer heat range
Cons – Things we didn't like
Only use with BF1010 butane
Best Foldable Butane Stove
Gas One Foldable Butane Camp Stove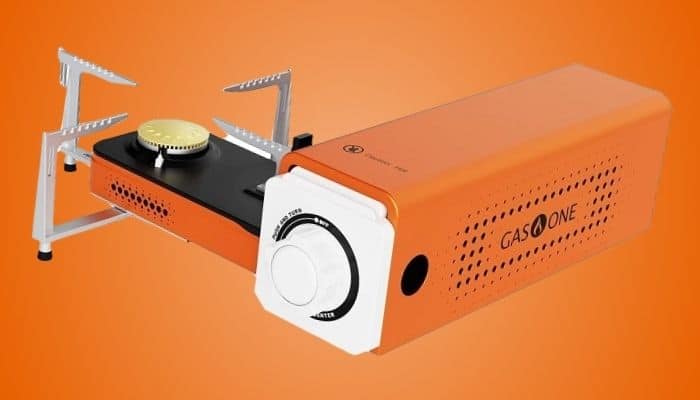 The Spyder Stove by Gas One combines sleek styling with a highly compact design – ideal if you're struggling for space and need a compact side burner option on your backyard cook station. With its 8,000 BTU heat output, it's powerful enough to quickly boil water or use the push and turn control knob to cook low and slow.
Its durable brass burner head, multiple ventilation holes, and easy to clean enamel coating make this unit highly reliable and quick to wipe over after use. Folded up it's similar in size to a 32 oz water bottle. Fold it out and it can easily support your pot or pan with its stable support system. Set up is quick and easy, taking up next to no time.
Piezo Electronic Ignition makes it easy to light, however, as this model does not have any wind guards, it is less suitable for cooking outdoors on blustery days. Ideal for storing in tiny spaces, the Spyder Stove also comes with a robust storage case so you can take it with you on your outdoor adventures.
Stylish, modern, and highly portable, if you are looking for a foldable portable butane stove, the Spyder comes highly recommended.
Pros – Things we liked
8,000 BTU output
Compact folding design
Easy-clean enamel coating
Piezo auto-ignition
Cons – Things we didn't like
No wind guards
Best Dual Fuel Portable Stove
Gas One Dual Fuel Portable Twin Stove Burner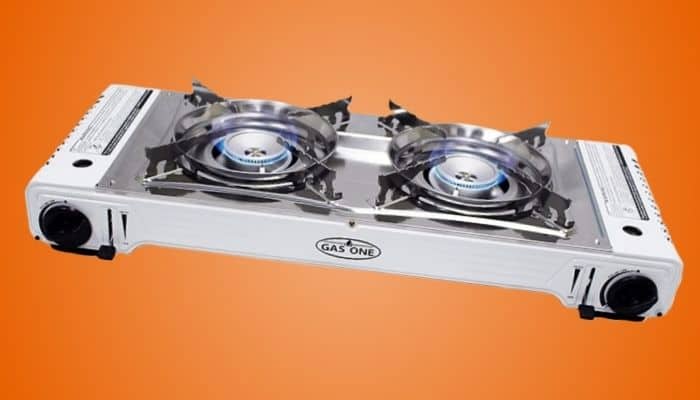 Not only does the popular GS-2000 contain a modified built-in regulator for use with butane or propane, it also features two burners – ideal if you're cooking different dishes or feeding a crowd. It has a combined heat output of 16,000BTU and features Piezo Electric Ignition for ease of use.
Connecting to either an 8oz butane canister or a 16.4oz propane tank, this dual burner portable stove incorporates multiple features to ensure a safe and pleasant cooking experience. The Cartridge Ejection System and Gas Flow Cut Off Mechanism prevent gas leaks and cut off flow if over-pressure is detected. There is also an Auto-Safety Shut Off Mechanism, plus a safety lever.
Made from a durable stainless steel body, this model comes complete with air vents, non-slip feet, and a wind guard to improve efficiency in windy weather. Weighing 10lbs, it's quite a bit heavier than the other models we've reviewed, although it's still extremely portable and comes with a carry case. Unfortunately, the case handles are not of the best quality. However, for carrying to and from your outdoor BBQ and cook station, this isn't going to be a major issue.
Easy to use and especially useful for cooking for larger groups, if you are looking for a double burner stove with dual fuel capabilities, the GS-2000 is a popular choice.
Pros – Things we liked
Combined 16,000 BTU heat output
Two burners
Dual fuel – butane or propane
Piezo Electric Ignition
Cons – Things we didn't like
Case handles are easily broken
Is a Portable Butane Stove Safe to Use Indoors?
Portable butane stoves are by and large designed to be used outdoors. While some models may be classed as being destined for indoor commercial use, you'll generally see the warning "For Outdoor Use Only" accompanying your new portable butane stove.
If you're affected by a power cut and it's raining outside, for example, you may be wondering if it is safe to cook inside on your butane stove. Cooking outdoors with these units is always recommended as deadly carbon monoxide can be created during the combustion process.
Some people choose to use their portable butane stoves indoors regardless. However, in order to reduce the chances of carbon monoxide being created, it is essential that the room is well ventilated.
If you use a butane stove without sufficient ventilation, instead of burning and producing carbon dioxide and water, your butane will produce carbon monoxide when not enough oxygen is present.
The Pros of Using a Butane Stove
Wondering if you should go for a butane stove? Here are some of the main advantages of using one:
Efficient burning – butane is a highly efficient fuel in warm weather climates.
Conveniently sized canisters – even if you BBQ on your balcony off a tiny apartment, you'll be more likely to easily store several 8oz canisters rather than large tanks.
Slightly cheaper than propane – every cent adds up, especially if you often use your butane as a side burner stove.
Highly adjustable flame – gives you greater control over your cooking so you can cook a wide range of sides, sauces, and other dishes even, while your meat, veggies, or fish grills.
Small and lightweight stoves – ideal for easy storage, portable butane stoves take up very little space and you can also take them out with you camping or picnicking.
The Cons of Using a Butane Stove
And some reasons you may want to consider another type of portable stove:
Not suitable for low temperatures – propane burns much less efficiently at low temperatures. Once you get down to 40 degrees you'll notice a substantial decrease in performance. Below 30 degrees your butane stove will not function.
Need good ventilation – butane stoves should only be used in well-ventilated areas.
Why Trust Us
All of our reviews are compiled with a combination of expert input, years of hands-on testing of grilling products, curating the reviews of real-life buyers in a "wisdom of the crowd" system, and of course our own expertise. All the products listed are the ones we would buy if we were looking to purchase a new butane stove.
Methodology Used to Pick the Best Butane Stoves
When picking the best butane stove we looked at and then rated each stove on the following criteria. Price, BTU rating, is it dual fuel, burn time, ignition, construction, carry case, burners, and safety features.
Buyers Guide for Buying the Best Butane Stove
Stuck trying to decide which is the best butane stove to enhance your next BBQ get-together meal? Here are all of the main factors that you should consider when choosing a portable butane stove.
Price
Butane stoves are generally fairly inexpensive. It is much cheaper to pick up a new grill without a side burner, or to use your existing one, and complement it with a butane stove. Prices start from around $30 for the most basic models, going up to $160 or over for premium versions.
While most portable butane stoves priced under $50 will be all you need, if very high heat, a good design, or extra features, such as an off-set burner, are important to you, you should consider spending over $50.
Durability is another factor to consider, as well as your anticipated usage frequency. If you only BBQ a couple of times every summer, then replacing a cheap model every few years won't set you back too much.
However, if you use your outdoor cook station a lot, or also want to use your stove camping, you may be better off spending more for a more durable product that will stand up better to frequent usage.
Intended use
Consider where you are going to be using your butane stove the most. If it's predominantly going to be sat next to your backyard BBQ, then factors such as low weight and compact storage are going to be less important.
For car camping and RVing, you'll want a compact version, but weight isn't quite as important. For hiking and fishing trips that require you to carry your stove for several miles, you'll want a lightweight and compact model.
BTU Rating
Your stove's BTU rating is a measurement of its heat output. The higher the number of BTUs, the more powerful your stove will be, heating up faster and cooking at higher temperatures. Most standard portable butane stoves have a BTU rating of around 7,000-8,000. More powerful models can be found at 10,000BTU, or more rarely up to 15,000BTU.
Dual Fuel
If you live in or often visit areas with a cold climate, you may want to look out for a dual fuel butane and propane stove. Once temperatures drop below 30, your butane-only stove will stop working.
Propane, on the other hand, continues to vaporize at very cold temperatures, so all you'll need to do is to pick up an extra canister of propane rather than having to invest in a new stove for winter or RV trips to snowy scenery.
Burn Time
Aside from temperature and altitude, your burn time per butane canister will also be affected by your cooking temperature and your stove's design. In general, you can expect an average 8oz butane canister to last around 1-2 hours on high heat or 3-4 hours on low.
Ignition
While you'll probably still want to have a backup method of lighting a fire on you if you are not BBQing in your backyard, automatic ignition makes lighting up your butane stove much faster and easier, especially when you take into account the time spent searching for your matches or lighter.
Safety features
It is paramount that your butane stove has all of the essential safety features to ensure that it will automatically cut out should a malfunction occur, especially when this concerns the canister.
Here are some of the most important safety features on portable butane stoves that you'll want to keep an eye out for.
Pressure sensor with auto shut-off function – shuts down your stove in the event of any pressure abnormality.
Magnetic safety lock mechanism or locking lever – to ensure your canister is correctly loaded.
Overheating sensor with auto off – cuts off your stove should your canister start to get too hot.
Built-in canister ejection system – if any pressure or flow irregularities are detected, your butane canister is automatically disconnected from your stove.
Windscreen & Weatherproof
A butane stove with a windscreen will help to improve fuel efficiency in windy weather, as well as preventing your flame from going out. You'll also want to look out for a model with a weather-resistant coating to ensure that your stove resists corrosion and is easy to clean after use.
Burner(s)
If you're short on space or going to be hiking with your stove, you'll want a lightweight compact unit with just one burner. If you are feeding a crowd and cooking at home from your outdoor BBQ cook station, you may want to invest in a butane stove with two burners.
The very best burners are made from brass which is highly durable and resistant to high temperatures, as well as wear and tear. Aluminum burners are another popular choice as they absorb heat faster and also cool down afterward much more quickly, as well as being lightweight.
Quality of Construction
A good quality butane stove will be well designed and consist of high-quality materials ensuring a long lifespan and ease of use. Enamel, non-stick, and stainless steel finishes are all great options, protecting your metal stove from the elements and ensuring it stays easy to clean.
Obviously high-quality manufacturing and components come at a higher price, so try to find a balance between how much use you'll get out of your butane stove and your budget.
Carry Case
While not essential for backyard use, a carry case is nonetheless a useful addition to protect your stove when it's not in use. If you are going to be traveling with your stove, a carry case will enable you to keep it safe when you're on the go, as well as protecting your other items from your stove.
Top 3 Butane Stove Brands on the Market
As the saying goes, "Buy cheap, buy twice". If you are looking for a high quality butane stove to use for the foreseeable future, we recommend paying particular attention to our butane stove reviews by the following top manufacturers.
Gas One
Gas One manufactures a huge range of affordable butane stoves that are made from good quality components for excellent reliability. If you are looking for a value for money butane stove, this brand makes a great place to start your search.
Iwatani Corporation of America
Japanese firm Iwatani Corporation of America is one of the best, and most expensive, portable butane stove brands around. If you are looking for a well designed, long-lasting model with excellent features, you should definitely consider purchasing an Iwatani butane stove.
Coleman
A classic favorite, campers have been using Coleman grills and stoves for years. Reliable, with a large range of products at various price points, if you are not quite sure which type of butane stove to go for, check out what Coleman has on offer.
Top Portable Butane Stoves Video
Final Thoughts
There is no shortage of great portable butane stoves to choose from in our top-rated reviews.
If you are still struggling to make up your mind, why not take another look at one of our favorites and the most versatile model around, the EcoPremium by Iwatani. Boasting an off-set burner head, a powerful 10,000BTU output, numerous safety features, and an ultra-efficient heat panel system, it certainly is one of the very best portable butane stoves on the market.
Looking for a value for money option, you'll find it hard to better the Camp Chef Butane Stove. This affordable model has an 8,000BTU output, Fully adjustable heat control, and is very easy to change over canisters with the front locking safety switch.
For backpacking or hiking, take another look at our favorite ultra-lightweight pick, the Gas One Mini Portable Gas Stove. Weighing just 2.2lbs, this light, compact model gives out up to 7,172 BTUs and comes with a porcelain-enameled drip pan, plus a handy carry case for your travels.