Deep frying your turkey gives you uncomparable flavor, for a tender, moist bird with perfectly crisped up skin. Turkey fryers often get bad press, but provided you are careful, there is quite simply no better way to a deliciously-cooked Thanksgiving turkey. Plus you can also use them year-round for frying other dishes, as well as cooking soups and stews. Here's our guide to the best turkey fryers and how to safely use them.
Best Turkey Fryers
Wondering which is the best turkey fryer for Thanksgiving for your next family get-together? Find the best model right here with our top-rated turkey fryer reviews and buying guide.
Best Turkey Fryer Pot
Bayou Classic 30Qt Turkey Fryer Pot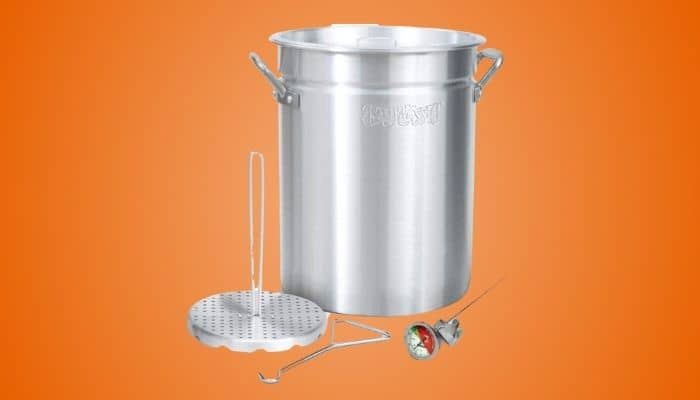 Whether you already have a suitable burner or are looking to pick one up separately (see our turkey fryer burner recommendations below), the Bayou Classic Turkey Fryer Pot is one of the very best pots to go for when frying turkey. Plus it can also be used all year round for stocks, soup, gumbo, and more.
Thanks to its 30-quart capacity and 18-gauge aluminum construction, this turkey fryer pot can accommodate a whole 18-lb turkey and when heated up to temperature, get it perfectly cooked in just 45 minutes.
You also get a vented lid, plus the side handles are securely riveted on – essential for ensuring your safety when dealing with a pan of hot oil. Obviously, as there is no burner included you will need to supply a suitable heat source, although you have more control over the specifics when buying separately.
Aside from the fast heating, generously dimensioned 12 ¾" by 15 ¾" pot, you also get all the accessories you need for frying your Thanksgiving turkey safely and easily. The patented, perforated poultry rack makes slowly lowering and removing your turkey really easy with the included lift hook.
You also get a thermometer for safe operation, so you know just how hot you're cooking, plus a trial one-ounce injector if you want to try out seasoning your bird before frying.
Pros – Things we liked
30-qt capacity fryer pot with vented lid
Fast-heating aluminum construction
Riveted handles for extra security
Perforated poultry rack and grab hook
Includes trial seasoning injector and thermometer
Cons – Things we didn't like
Need a separate burner
Best Oil-Less Turkey Fryer
Char-Broil The Big Easy TRU-Infrared Oil-Less Turkey Fryer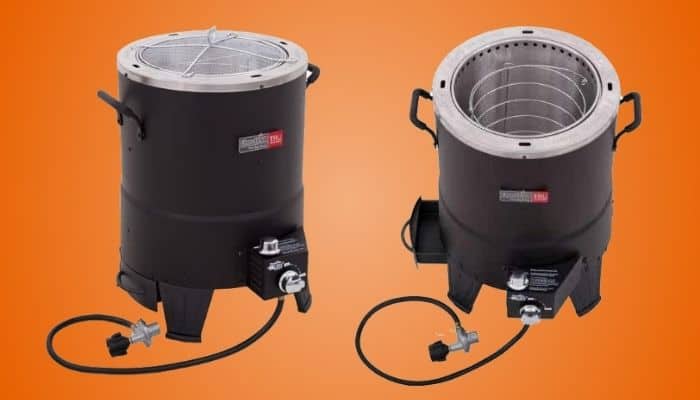 If you are looking for an oil-less turkey fryer, the Big Easy by Char-Broil is our top pick. As far as oil-free models go, this is definitely one of the very best, giving you excellent results thanks to its 16,000 BTU burner and its TRU-Infrared cooking technology for healthier food with no splatters or spills.
Use it to cook turkeys up to 16 pounds or any large cut of meat, including roasts and ribs. It cooks in around 8-10 minutes per pound depending on the type of meat you're cooking and you don't have to mess about with any settings. Simply attach your propane tank, fire it up, and your oil-less turkey fryer will start to cook. Even lighting it is easy thanks to its rotary ignition system.
As there is no oil to deal with, cleaning up afterward is much more simple, especially with the front-access grease tray. The only real drawback is that this model is pretty time-consuming to put together out of the box.
Easy to use, with a wide range of extra accessories available to buy for even greater versatility, if you are looking for a turkey fryer without oil, the Char-broil Big Easy is the one to go for.
Pros – Things we liked
Oil-free TRU-Infrared cooking technology
16,000 BTU burner
Cooks turkeys up to 16lbs
Front-access grease tray
Easy rotary ignition
Cons – Things we didn't like
Time-consuming assembly
Best Large Turkey Fryer
King Kooker Propane Outdoor Fry Boil Package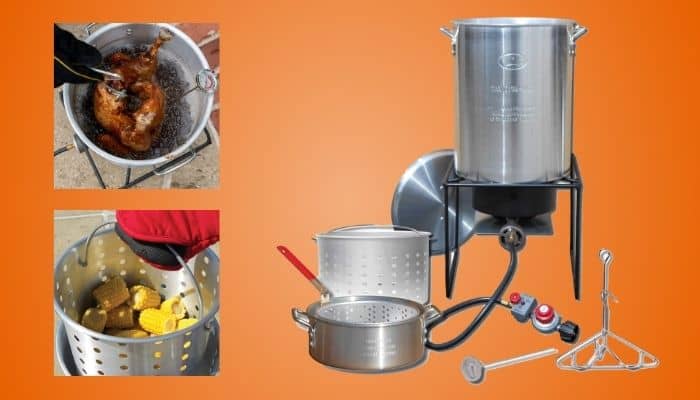 For frying large turkeys up to 20 pounds, the King Kooker Propane Outdoor Fry Boil Package is a good value buy. Thanks to its high-capacity 29-quart aluminum turkey pot and powerful 33,000 BTU burner, this set is a great choice for getting your Thanksgiving turkey cooked better and faster than ever before.
Not only do you get the burner with its stable 12-inch welded steel frame plus a handy turkey rack and lifting hook, you also get numerous additional accessories that will make this Outdoor Fry Boil Package useful all year round. The punched aluminum basket and lid make the pot extra versatile for cooking large quantities of corn, potatoes, or fried fish. You can also use the smaller 11-quart frypan with its basket for your sides while your turkey is resting.
Complete with a deep-fry thermometer to ensure that you always know what temperature your oil is at, this model also features an extra-safe adjustable regular with a battery-operated timer. While this will help to keep your turkey frying operation safely under control, bear in mind that you will need to reset the timer every 15 minutes or it will cut out.
Extra safe, but less than ideal if you are keeping a close eye on it anyway, except you don't want to stop the rest of your meal preparations that often to keep it alight.
Pros – Things we liked
29-quart aluminum pot with lid & basket
Turkey rack & lifting hook
Accommodates a 20lb turkey
Adjustable regulator with timer
Includes frypan & deep fry thermometer
Cons – Things we didn't like
Timer needs resetting every 15 mins
Best Most Versatile Turkey Fryer
Creole Feast Propane Turkey and Fish Fryer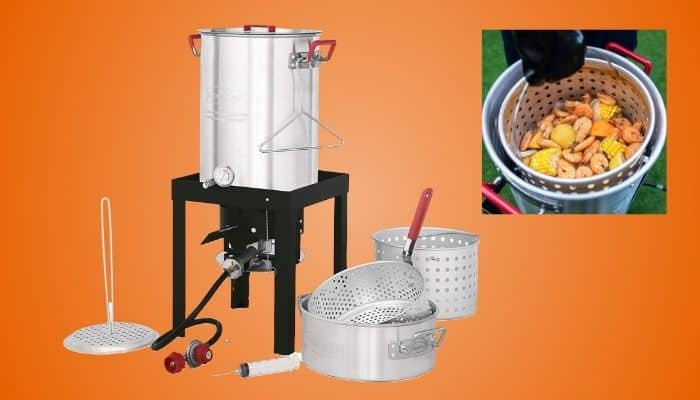 If you're looking for a kit that will do much more than just fry a turkey, the Propane Turkey and Fish Fryer by Creole Feast is a popular choice.
Thanks to its powerful 50,000 BTU burner it heats up fast and is great for large batch cooking. Use the large 30-quart pot for your turkey or the included 10-quart version for frying your fish. You can also steam or boil other large items with ease and the pots come with dual-riveted handles for extra security.
The cast-iron burner is robust and comes with a stable four-leg steel stand which is fully welded for extra strength. The adjustable air control panel has a mesh covering for enhanced protection and durability. Frying your turkey is easy thanks to the 11.8-inch long temperature probe, complete with a turkey rack, and lifting hook to make lowering your turkey and removing it extra safe.
This set also includes a two-ounce marinade injector for adding extra flavor to your fried turkey. Stable, easy to use, and extremely versatile, this set is a good model to go for. However, just be aware that due to the burner's extra power and the pots' fairly thin-walled construction, you'll need to make sure that you don't cook too high and risk burning through them.
Pros – Things we liked
Includes 30-quart & 10-quart pots
Powerful 50,000 BTU cast-iron burner
Stable four-leg steel stand
11.8-inch temperature probe
Adjustable air control panel
Cons – Things we didn't like
Pots are easily damaged if cooking too high
Best Budget Turkey Fryer
GasOne Propane Burner with Steamer Pot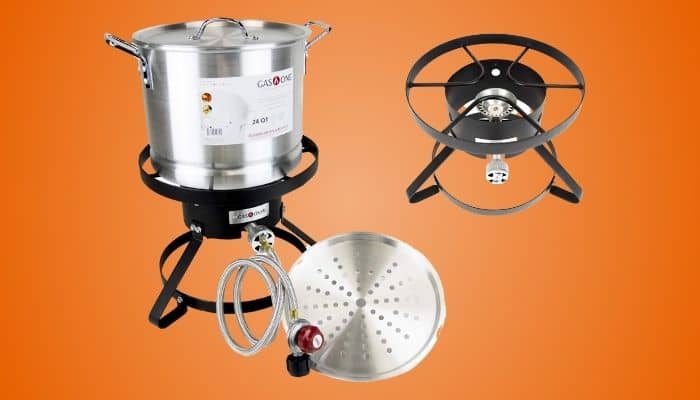 The GasOne Propane Burner with Steamer Pot is a good compact turkey frying set at a budget price.
Bear in mind that while it's a popular choice for small backyards, unfortunately, the included 24-quart aluminum pot is too short for frying medium or large turkeys, so it's best used for frying 12-pound birds or turkey portions. Thanks to the included steamer rack, you can also use it for cooking various other dishes.
While the included stand only has three legs, it is fairly robust and stable. The included propane burner comes with a 0-5PSI high-pressure regulator and a maximum operating temperature of 350 degrees F. Unlike a lot of other similar models, this small turkey fryer comes with a heat-resistant, steel-braided hose for extra durability.
If you are thinking of choosing this budget turkey fryer for cooking small turkeys, don't forget that you will need to purchase an additional oil temperature probe to ensure that your oil is not overheating – this is one of the few packages that does not include one.
However, it is still a good budget buy if space is of a premium and you're not frying turkey for a large group.
Pros – Things we liked
24-quart aluminum pot
Lightweight & compact bundle
Includes steamer rack & lid
High-pressure propane burner & regulator
Riveted handles
Cons – Things we didn't like
Pot is too short for frying medium or large turkeys
No thermometer included
Best Turkey Fryer Burners
If you already have an appropriate pot with accessories for frying your turkey or have decided to go for our top pick turkey fryer pot, the Bayou Classic, you'll need to invest in a single propane burner to fry your turkey outdoors.
Here are two of the best turkey fryer burners that can also be used for a wide variety of other dishes, either on their own or as a side burner for your BBQ.
Best Value Turkey Fryer Burner
GasOne Heavy-Duty Propane Outdoor Cooker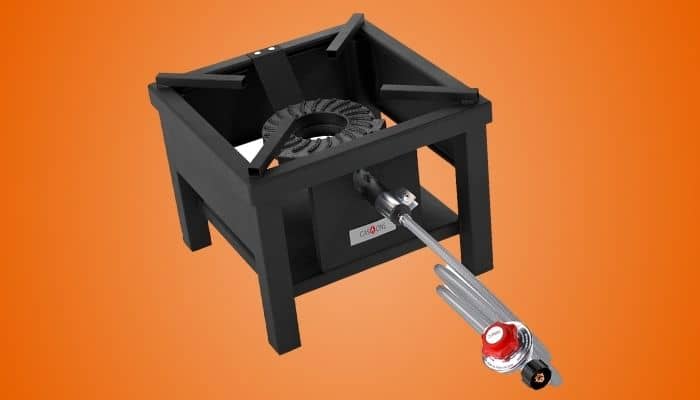 If you are looking for a good value for money turkey fryer burner, the B5250 Heavy-Duty Propane Outdoor Cooker by GasOne is an excellent option to go for.
The sturdy cast iron stand is extremely stable thanks to its 18-pound weight and four-leg construction. Its low-profile design also makes it extra secure, as well as making it highly portable so it's easy to store in your garage or take out with you when tailgating or car camping.
The cast iron burner head features a spiral pattern for more even heat distribution, while its recessed location within the frame ensures excellent wind protection thanks to the surrounding barrier guards. Used with a standard turkey fryer pot, this burner will easily stay lit. Thanks to its fully adjustable 100,000 BTU heat output, you get a lot more power than from most of your standard turkey fryer kits with burner and pot included – making this a much better option for all-round use.
On the downside, this unit does not feature an electronic ignition, however, it does come with GasOne's durable steel-braided hose and propane regulator that is compatible with 5-100-pound propane tanks.
Durable, stable, and suitable for use in windy conditions, the B5250 is a great budget turkey fryer burner that you'll enjoy using for outdoor cooking all year round.
Pros – Things we liked
Heavy-duty cast iron stand
Fully adjustable heat output up to 100,000 BTU
Built-in wind blockers
Portable, low-profile design
Durable steel-braided hose
Cons – Things we didn't like
No electronic ignition
Best Premium Turkey Fryer Burner
Concord Deluxe Banjo Single Propane Burner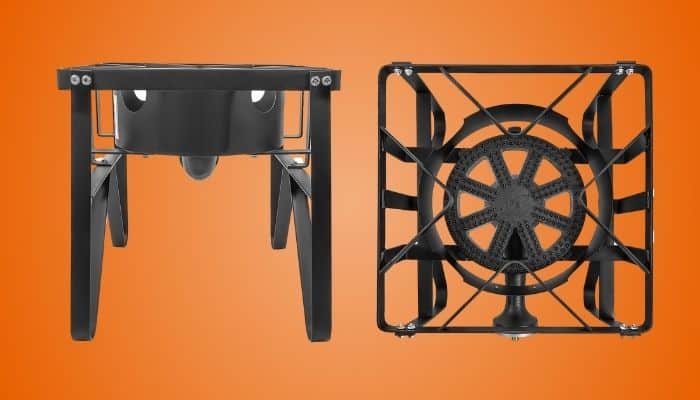 The Deluxe Banjo Single Propane Burner B-4229 by Concord is our best premium turkey fryer burner pick thanks to its high heat output and extra-wide 10-inch burner head.
Capable of supporting large oil-filled turkey fryer pots with capacities up to 200 quarts, the sturdy cast-iron stand is extremely stable and highly durable. Plus, when you're clearing up for the day, you can even detach the stand legs for space-saving storage.
Not only does this extra-wide burner give you a more even heat distribution, it also has a high 200,000 BTU maximum heat output for a fast heat up and greater temperature variation when cooking. A high-pressure 20 PSI CSA-certified regulator comes with the burner, complete with a hose and connector. The regulator gives you a wide range of adjustment, making it easier to get your oil heated up and to hold it at a safe frying temperature.
Unfortunately, this model does not feature any built-in wind guards, so you may want to pick up a windscreen for propane burners if you aren't going to be turkey frying in a very sheltered location. Thanks to its heavy-duty construction, sturdy 16.5-inch wide stand, and high heat output, this turkey fryer burner is one of the best on the market.
Pros – Things we liked
Up to 200,000 BTU heat output
Can support liquid-filled pots up to 200qts
Durable cast-iron stand
Detachable legs for easy storage
Extra-wide 10" burner
Cons – Things we didn't like
No wind guard
Why Trust Us
All of our reviews are compiled with a combination of expert input, years of hands-on testing of grilling products, curating the reviews of real-life buyers in a "wisdom of the crowd" system, and of course our own expertise. All the products listed are the ones we would buy if we were looking to purchase a new turkey fryer.
Methodology Used to Pick the Best Turkey Fryer
When choosing the best turkey fryer we looked at and then rated each fryer on the following criteria. Price, type of fryer, total size, BTU, do you get the burner & stockpot together, any accessories, and safety features.
Buyer's Guide to Buying the Best Turkey Fryer
Choosing the best turkey fryer is much easier when you know just what to look out for. Make an informed decision and get the best model for your needs with our turkey fryer buyer's guide.
Price
Turkey fryers are generally not that expensive and while you may be reluctant to spend $100-$200 just for cooking your Thanksgiving turkey, they can also be used for many other dishes. In fact, if you already own a suitable heavy-duty burner, you may only need a turkey fryer pot kit that can be purchased for less than $100.
Generally, it is recommended that you select a specific burner and pot designed for turkey frying. You don't want to risk any accidents due to equipment failure when you're dealing with a huge pot of hot oil. If you're buying a burner and pot kit, allow between $100-$150 or expect to pay between $120-$200 if you are buying your burner and turkey fryer pot separately.
More expensive models aren't necessarily always the best, although you do tend to get an easier-to-use version made with more durable materials. Provided you take all of the following considerations into account when choosing your turkey fryer, you are sure to find an excellent model within this price range.
Size
Consider how many guests you normally have at Thanksgiving and other gatherings of family and friends. If your turkey fryer can't safely accommodate your turkey, you'll be back to oven roasting, so make sure that your turkey fryer pot has ample capacity for the size of bird that you tend to cook.
As a rule of thumb, select a 24-quart turkey fryer for birds up to 14 pounds, around 26-quarts for 16-pound turkeys, and 30-quarts for 20-pound birds.
Purchasing a turkey fryer pot that is much larger than your needs is not going to be that good an idea – you'll need much more oil and it will take longer to heat up. For extra large gatherings, remember, you can still cook your turkey in around half the time it would take in the oven, so you could always do two, one after the other – plus this helps to reduce any bickering over who gets the best bits.
BTU Output
Turkey fryer burners with a high BTU (British Thermal Unit) output are more powerful.
This means high-rated models will heat your oil up faster and cook your turkey quicker. You tend to also get more temperature adjustability with higher output burners, however, make sure that your pot is sufficiently robust to take high heat levels and that you don't overheat your oil.
Larger turkey fryer capacity pots will benefit from being heated with burners that have high BTU ratings over 50,000. This will allow you to more easily heat up your oil and ensure that once you have added your turkey, you can rapidly reach, then continuously maintain high enough oil temperatures for a crispy skin rather than a greasy turkey.
Stockpot & Burner Together or Separately
If you are looking for the easy option, you could opt for an all-in-one set with both your turkey stockpot and burner. While this ensures compatibility and is often the cheaper option if you are looking for the best burner you'd be better off purchasing it separately from your stockpot.
Most of the burners that are included with turkey fryer pots are a lot less powerful than the ones sold separately, even when they're from the same brand. For this reason, you'll get a better burner for faster cooking and oil heat up times if you choose your burner separately.
Accessories
The right accessories can make frying your turkey much easier and transform what is otherwise just a very large stockpot into a fully-fledged turkey fryer. Here's what you'll need to look out for when choosing your turkey fryer stockpot.
Thermometer
If one isn't included, you'll need to invest in a separate deep-fry thermometer to monitor the temperature of your oil. Without an oil thermometer probe, you risk at the very best a greasy, undercooked turkey.
At the worst, if your oil gets too hot and starts smoking it could very easily catch fire. In short, you can't really successfully or safely fry a turkey without a deep-fry thermometer, so make sure your set comes with one or pick one up before you get started frying.
Fryer basket/rack
All sets will have either a fryer basket or rack, with some having both. A fryer basket is really useful to have as you can use it for other items when you're not deep frying your turkey or to get some of your sides quickly cooked while your turkey is resting. A turkey rack is also a popular choice, place your turkey sitting upright on the rack and slowly lower it with the included lifter.
Turkey injector
As you cannot use any rubs or other external seasonings on your deep-fried turkey, some people like to inject seasoning for extra flavor. As fried turkey is automatically much more flavorsome and juicier than oven-roasted turkey, this is an optional extra.
Turkey lifter
Another essential accessory, even if you are wearing full-length heat-protective gloves, you'll still need a turkey lifter to remove your fryer basket or rack with your turkey from your fryer. These devices more often than not resemble a twisted-up clothes hanger.
However, they are much sturdier to ensure you can safely remove your heavy turkey from the hot oil, without risking it dropping back in causing a huge splashback and potentially scalding you. For this reason, always be careful when using a turkey lifter and don't try to remove your turkey from the fryer with any untested items.
Safety Features
Turkey fryers can be very dangerous, just like any vat of hot oil. Luckily, there are plenty of safety features that will help you to securely fry your turkey the safest way possible.
Temperature gauges
A temperature gauge is essential to safely operate your turkey fryer. With your temperature gauge in your fryer, you can keep an eye on how hot your oil is and adjust your burner accordingly, preventing splattering, smoking, and fires.
Turkey lifters
The further you can keep your hands away from the burning hot oil, the better. Turkey lifters are a secure way to slowly lower or remove your turkey from your hot fryer.
Strong enough to support the weight of your turkey with a secure hook, they can help to prevent you from accidentally dropping your turkey into the fryer or getting your fingers so close that you burn your hands.
Timers
Some turkey fryer burners come with battery-operated timers. These timers need to be reset after a certain period, usually 15 minutes, for your burner to continue to operate.
While some users find it annoying to have to manually rest their turkey fryer every 15 minutes, timers do help to ensure that you are, in fact, keeping a close eye on how your turkey is cooking. Doing so will ensure that you notice any potential safety hazards as they develop, rather than later on.
Automatic shut-off features
Propane turkey fryer burners, in particular, tend to be equipped with numerous automatic shut-off features. Sensors detect any abnormalities in the gas flow and will automatically switch off your burner should any variations in pressure be detected.
They also come into effect should your flame go out. Electric turkey burners normally have auto shut-off protection in case of any voltage variations or circuits overheating.
Wind guards
Wind guards aren't just there to ensure that your flame stays lit and your turkey cooks through, they can also help to prevent burns, fires, and overheating of your oil, all of which can be caused by sudden gusts of wind.
Sturdy stand
A sturdy stand is perhaps the most basic, yet most essential turkey fryer safety feature. Look out for models with four legs and a good solid construction. A pot of oil with a large turkey cooking can weigh almost 60 pounds. If your stand is not stable, your hot oil could risk getting split causing severe burns.
Types of Turkey Fryer
Wondering which type of turkey fryer is the best to go for? Here is our guide to the main differences between each type of turkey fryer, as well as what you'll need to consider when choosing between an outdoor or indoor turkey fryer.
Propane turkey fryers
Propane turkey fryers can only be used outdoors on level ground. You need good ventilation to use a propane burner and turkey fryers are not safe to use on your deck or inside your garage.
Propane turkey fryers tend to give the best results, for golden brown, crispy skin and tender, juicy meat. If you have suitable outdoor space and are willing to follow the safety instructions to the letter, then a propane turkey fryer is going to be your best option for a succulent fried turkey.
Electric turkey fryers
Electric turkey fryers do not have an open flame, making them safe for indoor use. If you live in an apartment or don't have a suitable outside area, an electric model is going to be your best turkey fryer. While they don't perform as well as propane models and tend not to really crisp up the skin the same, you'll still get a nice tender turkey that's an improvement upon oven roasting.
Oil-Less turkey fryers
Oil-less turkey fryers use infrared to cook your turkey without any oil. Technically speaking, these are not really turkey fryers, however, they still provide an easy way to a deliciously cooked turkey.
You won't get anywhere near the same results as you do with propane or electric turkey fryers using oil, however, for anyone who has a major fear of turkey fryer fires or young children and pets running wild, an oil-less model is a safer choice.
They also work out cheaper to run overtime as you don't have to buy oil, plus they are an all-around healthier option, a little like a large air fryer for tasty turkey with fewer calories.
Indoor vs. outdoor fryers
Countertop electric turkey fryers can be used indoors, however, they can cause quite a bit of mess splattering and take up a large amount of space.
Plus who wants the odor from what is essentially a huge deep fat fryer in their kitchen? For those of us who have no alternative, if an indoor model is the only option then so be it.
Otherwise, if you have the space outside for an outdoor fryer, we strongly recommend getting an outdoor version over an indoor one, more specifically a propane turkey fryer. Not only will it give you a better tasting fried turkey, your kitchen will remain splatter-free, cooler, and ready to receive your Thanksgiving guests.
Turkey Fryer Safety Guide
First of all, let's just state the obvious – turkey fryers can be extremely dangerous. Do not underestimate the potential of a huge vat of hot oil connected to a propane tank to cause serious injury and destruction.
That said, if you respect the instructions and remain attentive to your fryer throughout your cook time and subsequent cool down time, you'll be able to act should any issues arise before the situation becomes dangerous.
To ensure that you stay safe when frying your turkey, make sure that you follow the following turkey fryer safety tips:
Preparation is key – plan where you will be frying your turkey, what possible problems could arise, who will be around?
Ensure you have an oil fire extinguisher to hand, plus a fire blanket.
Small children and pets will need to be kept away from the area where you are using your turkey fryer. Do not get started until you have someone reliable around to watch the little ones while you sort out the turkey – turning your back for a couple of minutes to sort out an argument or switch the TV channel could result in a fire.
Set up your turkey frying station carefully. You'll want a stable flat surface, preferably on cement although compacted earth will do. Set up your propane tank at least two feet away from your burner and surround the ground around your stockpot with cardboard or old newspapers to absorb any splatters.
Prepare your turkey – it needs to be defrosted and dry.
Don't use too much oil – it will expand when heated. Always respect the maximum fill line. Place your turkey in your fryer before lighting and pour over just enough oil to cover it. Remove your turkey and set it aside before lighting your burner.
Pay close attention to the readings on your deep-fry thermometer. When your oil hits 350 degrees, turn off the heat and slowly lower your turkey down into your fryer with the included lifter. Once the oil has gone back down, switch back on the heat to get back up to 350 and keep your turkey frying at this temperature.
Respect the recommended cook times and turn off your fryer before removing your turkey. Set it to rest and check its temperature internally with a probe.
When you're done frying your oil will stay dangerously hot for several hours afterward, so the area will need to remain a no-go for pets, kids, and any curious dinner guests who may have had a few drinks.
Why Risk Frying a Turkey?
With all the safety precautions, you may be tempted to play it safe and just stick your turkey in your oven like every year.
So, why take the risk of frying your turkey? The main reason is that you will get much better results with a more tender, juicier, more flavorsome bird that has a deep, crispy skin.
What's more, frying your turkey takes less than half the time than it would in a conventional oven and it also frees up your oven for other dishes to cook.
Top Turkey Fryers Video
Final Thoughts
When it comes down to choosing a turkey fryer, you really want to make sure that you get the very best model for the best results and a safe and secure experience.
Our overall favorite is the highly-rated Bayou Classic 30-Quart Turkey Fryer Pot, it is sturdy, hard-wearing, and comes with all the necessary accessories. For your burner, the Concord Deluxe Banjo Single Propane Burner makes an excellent choice with its high 200,000 BTU output, strong, sturdy frame, and extra-wide 10-inch burner head.
Alternatively, if you are looking for the best oil-less turkey fryer, we recommend the Big Easy by Char-Broil with its TRU-Infrared cooking technology for superior results, front-access grease tray for easy cleaning, and rotary ignition for added ease of use.