Making your own jerky is a great way to save money and create an even tastier treat. With the best dehydrator for jerky, you'll be able to make your own meat jerky with next to no effort or experience necessary. Here's our guide to choosing the best model and our favorite dehydrator for jerky picks.
What is a Dehydrator?
A dehydrator is an appliance that is used to remove moisture from your food. Equipped with a heating element and a fan, dehydrators draw moisture out of your ingredients placed inside the unit on special drying trays.
Once your food has dried out, you can store it at room temperature in an air-tight container and it will remain perfectly edible for months.
Best Dehydrators for Jerky
Choose your dehydrator for jerky from our top-rated selection. We've put in the hard work, analyzing numerous models to bring you our short-list of the very best dehydrators for making jerky.
Best Beginner's Dehydrator for Jerky
NESCO Snackmaster Pro Food Dehydrator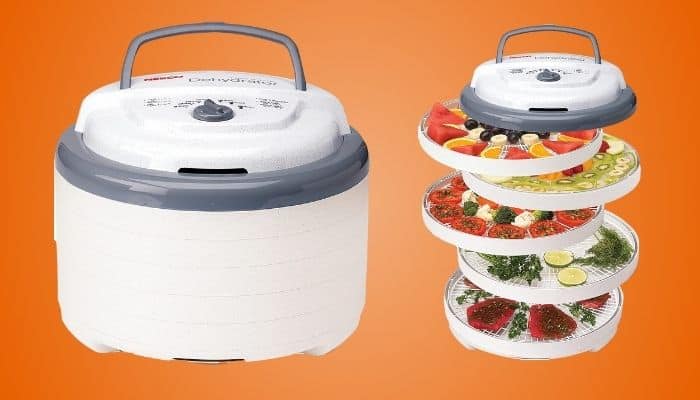 The Snackmaster Pro Food Dehydrator by Nesco is a good choice if you are looking to try out making your own jerky, with the possibility to expand your dehydrator at a later date. It comes complete with five BPA-free drying trays and the capability to expand it up to a total of 12 trays, thanks to its tower design, large fan, and 600W of drying power.
While it does have a top-fan location, which is less preferable to a rear-mounted model, fortunately, this unit benefits from Nesco's patented Converga-Flow drying system. This ensures that air is forced down and flows horizontally across each tray so your flavors won't mix and tray rotation is non-compulsory.
Drying temperature can be adjusted between 95 to 160 degrees F, so it's a great all-around choice for drying jerky as well as other more delicate items.
The base and trays are dishwasher-safe (provided they are removed before the drying cycle) for easy cleaning. Plus you also get a 52-page recipe and instruction book, making this a great choice for beginners.
Pros – Things we liked
600W drying power
95°F – 160°F adjustable temperature control
Patented Converga-Flow drying system
5 BPA-free drying trays included
Easy-clean base & trays
Cons – Things we didn't like
Top fan location
Best Premium Dehydrator for Jerky
Excalibur 9-Tray Electric Food Dehydrator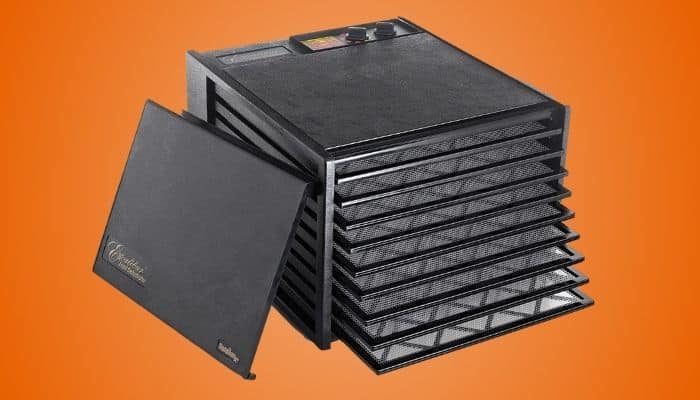 Often considered the gold standard in dehydrators, Excalibur's Nine-Tray Electric Food Dehydrator 3926TB is an excellent premium option, provided you are willing to pay top dollar. With nine 15 by 15-inch trays giving you 15 square feet of drying space, it's a spacious model that is best suited to making large quantities of jerky.
Thanks to its combined 600W of drying power and Parallax Horizontal Airflow system with a seven-inch rear-mounted fan, this unit is a great choice for dehydrating meats for jerky.
Adjust the temperature via the upper dials between 105 up to 165 degrees F for safely drying your meat. The timer has a maximum setting of 26 hours complete with auto shut-off, allowing you to leave your unit to get on with drying.
If you're new to dehydrating, you'll find the included guide really useful with plenty of instructions and drying time guides. While this large dehydrator for jerky is one of the more expensive ones out there, it does come with 10-year limited coverage and is assembled in the USA.
Pros – Things we liked
600W power
Adjustable Thermostat 105°F to 165°F
9 trays – 15 sq feet drying space
Parallex Horizontal Airflow system
26-hour timer
Cons – Things we didn't like
Expensive
Best Easy-Clean Dehydrator for Jerky
Ivation Stainless Steel Tray Electric Food Dehydrator Machine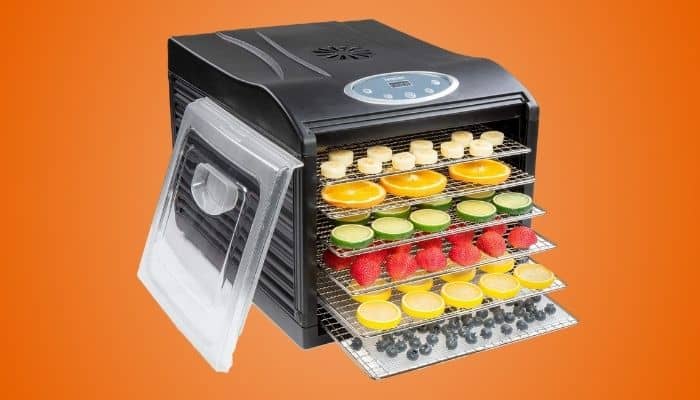 With its rear-mounted fan for even drying without rotation and its easy-to-clean, dishwasher-safe stainless steel trays, little wonder this dehydrator by Ivation is such a popular choice. It has room for six 13 by 12-inch stainless steel trays giving you 936 square inches of drying space and the entire unit is BPA-free.
With a good 480W of heating power, this unit features an easy-to-set digital thermostat with a maximum temperature of 158 degrees F. This is a little lower than some other units, so you will need to heat up any poultry for making jerky to a higher temperature before dehydrating.
The digital timer can be set in 30-minute increments up to a maximum of 19.5 hours and features an auto shut-off. However, if you are unfamiliar with dehydrating meat for jerky you'll need to do some research before getting started as, unfortunately, there are no instructions or drying time guide included with this model.
Pros – Things we liked
480W heating power
Digital thermostat 95-158ºF
Six dishwasher-safe stainless steel trays
Digital timer with auto shut-off
Rear-mounted fan for even drying
Cons – Things we didn't like
No guide to drying times or usage included
Low maximum temperature
Best Space-Saving Dehydrator for Jerky
Presto Dehydro Electric Food Dehydrator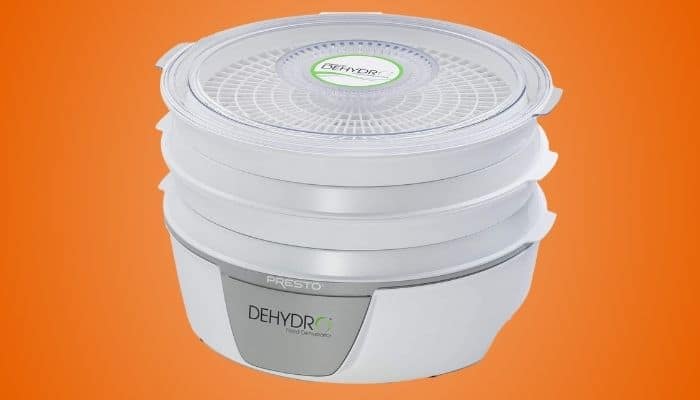 If your kitchen cabinets are already bulging with kitchen appliances, you may be hesitant to add another to your collection. Fortunately, the Presto Dehydro Electric Food Dehydrator features a compact space-saving design and can even be expanded if you decide you need more drying space.
Complete with four drying trays, with the capability to expand up to a total of eight, when it's not in use, you can simply nest the trays within one another, while the power cord neatly stores inside the base. The transparent cover lets you see how your jerky is getting on, while the 600W drying power and bottom-mounted fan give you optimum airflow.
On the downside, this dehydrator operates at a preset temperature of 165 degrees F. While this is great for jerky, if you also want to try dehydrating other types of more delicate food, you may prefer to opt for a model with an adjustable temperature control. Also, bear in mind that it does not have a power switch, although there is a power indicator light.
Dishwasher-safe and highly affordable, if you are looking for a space-saving entry-level dehydrator for your small kitchen, this model is definitely one to consider.
Pros – Things we liked
600W drying power
Includes 4 trays
Space-saving storage design
Expandable system
Dishwasher-safe cover and trays
Cons – Things we didn't like
No power switch
Non-adjustable temperature
Best All-Around Dehydrator for Jerky
COSORI Premium Food Dehydrator Machine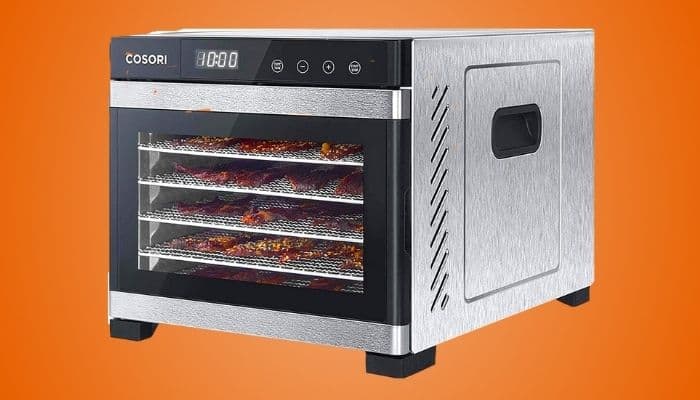 Thanks to its premium construction and excellent usability, the Cosori Premium Food Dehydrator is our overall favorite model.
Made with food-grade stainless steel with a glass front door, it's good looking enough to take pride of place on your kitchen counter. Its six dishwasher-safe trays are also made from stainless steel for easy cleaning and safe, toxic-free food.
This dehydrator for jerky has a rear-mounted fan and 600W motor for fast and even drying without tray rotation. Set the 48-hour timer in 30-minute increments and go about your day while your jerky dries.
The temperature can be set between 95-165 degrees F, making this a highly versatile model. Both the timer and thermostat are set via a digital control panel for ease of use and greater precision.
If you are looking to also dehydrate small fruits and berries as well as your jerky, you will want to invest in a couple more tray liners, as only one is supplied. The included recipe book has some good jerky recipes to get you started, ideal for beginners.
All in all, the Cosori Premium Food Dehydrator is an excellent choice and comes highly recommended.
Pros – Things we liked
600W power
Temperature range: 95-165ºF
6 stainless steel trays
Built-in 48-hour timer
Dishwasher-safe
Cons – Things we didn't like
Only one liner for six trays
Best Budget Dehydrator for Jerky
Elite Gourmet EFD319 Food Dehydrator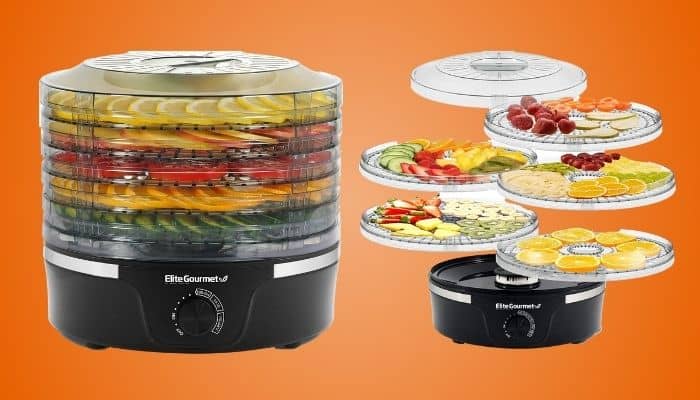 If you're on a budget, take a look at the EFD319 Food Dehydrator by Elite Gourmet.
This competitively-priced jerky dehydrator comes with five stackable trays. Each removable round tray measures 11.25 inches in diameter and is BPA-free. Plus you also get a vented lid for extra control over your dehydration levels. As the trays and cover are transparent, you won't need to open up your dehydrator to check on your ingredients.
Despite its low price, this model features adjustable temperature control from 95 up to 158 degrees F, with a large bottom-mounted fan to improve air circulation. Compact, when stacked this model measures just 8.5" tall so it will easily fit under your wall-mounted cabinets on your worktop. Its low height also makes it easier to store.
While this dehydrator is easy to use and boasts dishwasher-safe trays for an easy cleanup, unfortunately at 350W it is pretty low-powered. Also, it does not feature a timer. However, if you don't want to spend a lot, it could be a good starter model, especially if you are short on space.
Pros – Things we liked
Adjustable temperature: 95-158ºF
Transparent trays and cover for easy viewing
Compact – just 8.5" tall
Vented lid for extra control
Dishwasher-safe removable parts
Cons – Things we didn't like
Low power – 350W
No timer
Best Value Dehydrator for Jerky
Hamilton Beach Digital Food Dehydrator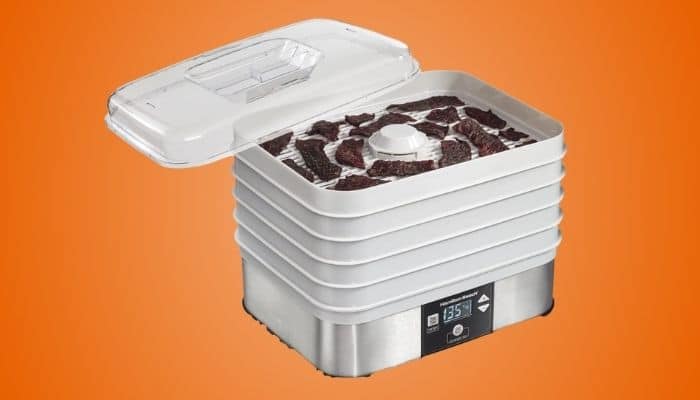 The Digital Food Dehydrator by Hamilton Beach makes an excellent value for money buy, giving you the high quality and features found in models that cost twice the price. It has 500W of drying power with a bottom-mounted fan for continuous airflow and even drying over all five stackable drying trays.
Thanks to its adjustable digital thermostat, it is easy to set your temperature between 100-160 degrees F, while the 48-hour timer complete with auto shut-off means you can simply set it and forget it. The transparent lid makes it easy to check on your jerky without having to disrupt the dehydrating process. The trays are dishwasher-safe for easy cleaning and BPA-free for your safety.
On the downside, the fan is a little noisy on this model, although it won't disturb you in the next room. This unit comes complete with a handy little instruction manual that contains some sample recipes.
All things considered, this entry-level electric food dehydrator is great value for money and very easy to use making it well worth trying out.
Pros – Things we liked
500W drying power
Adjustable digital thermostat: 100-160° F
5 stackable trays
48-hour timer with auto shut-off
Transparent lid
Cons – Things we didn't like
Little noisy
Why Trust Us
All of our reviews are compiled with a combination of expert input, years of hands-on testing of grilling products, curating the reviews of real-life buyers in a "wisdom of the crowd" system, and of course our own expertise. All the products listed are the ones we would buy if we were looking to purchase a new jerky dehydrator.
Methodology Used to Pick the Best Jerky Dehydrator
When picking the best dehydrator for jerky we looked at and rated the following criteria. Price, airflow, total size and capacity, temp settings, noise, and does it have a timer.
Buyer's Guide to Buying the Best Dehydrator for Jerky
Wondering which is the best dehydrator to go for to get delicious, easy homemade jerky? Check out our buyer's guide and find out what essential features you'll need to look out for to choose the very best model.
Price
Electric food dehydrators are fairly inexpensive. You'll find small entry-level models that start at around $40, with larger premium versions costing several hundred dollars. Apart from size alone, paying more often gets you extra features, greater usability, and higher quality materials.
So, how much should you spend on your new food dehydrator for making jerky? For a reasonably good model, made from quality materials that will stand up to regular use, we recommend spending around $100.
Obviously, if you are on a budget and just want to try out making jerky at home, then you can get away with spending less on a model for occasional use. Alternatively, for making large quantities, you may want to spend more on a larger model with a better designed airflow system.
Vertical/horizontal airflow
Performance issues aside, you'll notice straightway that horizontal airflow units with the fan located to the rear tend to cost a lot more than models with top or bottom-mounted fans. Vertical airflow dehydrators also tend to be more compact, making for easier storage.
If you are looking for a more efficient dehydrator that needs less tray rotation, opt for a horizontal airflow model. As the fan is located to the rear, dry air is more evenly circulated over each drying tray.
What's more, as horizontal airflow models have more easily removable sliding trays, as opposed to the commonly found stacking variety of vertical airflow models, it can be much easier to check on, remove, and load up your jerky if you choose a horizontal airflow dehydrator.
Size
Consider how much drying space you actually need. Do you need enough homemade jerky for the whole family or just the occasional nibble? Do you want to batch dry a large amount of jerky to store or are you happy to dry out a small amount every week?
Most units have between 5-12 trays and the manufacturer will list the tray dimensions, so you can get a good idea of your total drying area in square inches to figure out how many strips of meat you'll be able to do in one load.
You should also check the unit's external dimensions to make sure that you'll have enough space to accommodate it on your worktop and to store it in your cabinets or shelves when it's not in use.
Temperature Settings
To be completely safe, the USDA recommends heating up beef for jerky to 160 degrees F before dehydrating.
Other meats may require higher temperatures, poultry for example should be heated to 165 degrees F, so look out for a machine that has a good temperature range.
Most home electric dehydrators will heat up to around 160-165 degrees F. If your model has a lower maximum setting, or doesn't quite reach its top temperature, make sure that you heat up your meat to the recommended temperature before dehydrating to ensure any bacteria is killed off.
Not all models have adjustable temperatures, which may not be an issue for jerky but could be useful for dehydrating more delicate items including fruit and berries. Temperature control is either via a rotary dial or a digital control panel depending on the model.
Noise
In general, electric jerky dehydrators are not too noisy compared to most kitchen appliances.
While the noise from the fan may be imperceptible over the day-to-day noises of a busy household, if your home is calm and quiet, you may wish to choose a low noise model. This may be a priority for you if you have a small home, are sensitive to noise, and wish to run your dehydrator overnight.
Timer
A timer can be a useful extra, especially when combined with an auto shut-off. Most are programmable in 30-minute increments and vary between a maximum duration of 19-48 hours.
Picking a unit with a timer allows you to set your meat to dehydrate without worrying about leaving it on for too long, so you can get on with your busy day. It can also save you energy and prevent food waste, as you will no longer run the risk of accidentally overdrying your jerky.
How Does a Dehydrator Work?
Electric dehydrators have a heating element and a small fan to circulate warm air around the interior of your unit.
You place your sliced meat for jerky or other items on the trays and your meat will dry out safely and evenly. Moisture is absorbed from your food by the warm air which is then expelled from the unit via a vent.
Dry air from the exterior is drawn into the unit, heated, and expelled. This makes it much faster to use an electric dehydrator rather than alternative, traditional methods as the moisture is effectively removed and cannot be reabsorbed by your meat.
Dehydrator vs Smoker vs Kitchen Oven
Of course, people have been enjoying meat jerky for a lot longer than electric dehydrators have been around.
As these units have been specially created to make dehydrating your food faster and easier, little surprise they are the method of choice for most people.
However, you could always use your smoker or kitchen oven to make jerky, here are some of the pros and cons –
Dehydrator
These specially made units are the go-to option for most users, although this means investing in an extra appliance for your kitchen.
Pros
Specially designed trays to accommodate meat strips for optimum drying. (As well as fruits and other food items)
Low drying temperatures to ensure your jerky is dehydrated without burning or losing its flavor
Fast results thanks to highly efficient air circulation
Easy to use
Compact size – this makes most electric dehydrators easy to store when not in use
Can be used indoors from the comfort of your kitchen
Cons
Have to buy a special unit
Smoker
If you own a smoker already and have plenty of time on your hands, you can make extra-flavorsome jerky in your backyard.
Pros
If you already own a smoker then you won't be spending any extra
Smokers will give your jerky extra flavor
Electric smokers can provide a good steady temperature for even drying
Cons
Time consuming preparation – hanging the strips individually, on toothpicks, for example, can take a lot of time
Higher temperatures – you may struggle to keep the temperature as low as a dehydrator depending on your smoker type and fuel
Less efficient airflow – make sure you prop open your lid to get the air flowing without temperatures mounting
Less suitable for use in winter if you don't want to spend a considerable amount of time checking up on your jerky in the cold
Oven
While not ideal, if you really want to, it's perfectly possible to make jerky in your home oven. Just make sure that your oven can cook low enough to avoid burning your meat strips.
Pros
Most homes already have a built-in oven so you don't have to purchase an additional appliance
Cons
Risk of burning – some ovens do not have very low temperature settings
You may struggle to hang your jerky strips without a special dying tray
You will heat up your home – not great if using during summer as you will want to prop the door open to allow moisture to escape
You won't be able to use your oven for other tasks until your jerky is thoroughly dried which could take up to five hours
Top Dehydrators for Jerky Video
Final Thoughts
Electric food dehydrators are by far the easiest way to make delicious homemade jerky. While you can't go wrong with any of the models in our top-rated dehydrator for jerky reviews, make sure that you consider your needs and anticipated usage as discussed in our buyer's guide before choosing your model.
The best all-around dehydrator for jerky has to be the excellent Cosori Premium Food Dehydrator with its powerful motor, rear-mounted fan, and digital control panel for precise temperature control with a 48-hour timer. An excellent product made with high-quality materials for easy cleaning and extra durability.
Alternatively, if you are not going to be regularly making jerky and are looking for a basic entry-level model at a low price point, we recommend taking another look at the Hamilton Beach Digital Food Dehydrator. This model has all the features you need, such as a timer with auto shut-off and a digital adjustable thermostat, all for an affordable price making it an ideal choice for making jerky at home.