Do you enjoy smoking your own meats and cheeses? Looking for a better way to slice the finished product? The best meat slicer will give you even, fine slices that will do justice to your home smoked creations, as well as any joints that you have bought to freshly cut up on an as-needed basis.
Here's how to find the best meat slicer for your needs, whether you're cutting up charcuterie appetizers or making deli-style sandwiches.
What is a Meat Slicer?
A meat slicer is a slicing machine that utilizes a sharp spinning blade to slice meats, sausages, bread, and cheeses. Meat slicers can cut more evenly and finely than handheld knives and they don't crush or adversely affect the texture of the ingredient that they are slicing,
giving you professional-looking, even slices every time.
Best Meat Slicers
Looking for the best meat slicer? You're sure to find the perfect model for your needs right here in our top-rated meat slicer reviews.
Best Large Capacity Meat Slicer
KWS MS-12NT Premium Commercial Electric Meat Slicer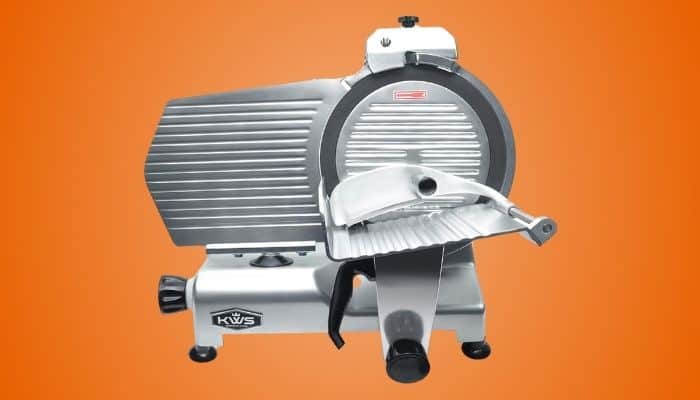 If you are looking for a commercial-grade meat slicer for frequent home use, this large capacity model by KWS makes a good choice. Thanks to its powerful 420-Watt motor you can use it repeatedly without having to top to allow it to cool down, unlike smaller models.
This semi-automatic model features a larger-than-average 12-inch Teflon blade for superior cutting, while its high rotary speed of 440 revolutions per minute ensures even slicing, whether you are cutting your home smoked cheese or beef jerky into strips. You also get a good degree of cutting thickness adjustability – between 0-0.6 inches, so you can cut wafer-thin prosciutto or thick slices of bread.
ETL and NSF-approved, you can be sure that this meat slicer is safe for your food with no harmful materials used in its construction. On the downside, like most commercial-grade meat slicers. It isn't that easy to clean up after use – another reason it is more suitable for prolonged use. You need to remove several screws to take off the blade for a thorough clean, something you may be a little loath to do for just two slices of bacon.
All in all, for the money, this is the best model that can slice up food up to ten inches high, making it a good choice if you regularly smoke your own meats or like to buy large cuts to slice freshly at home.
Pros – Things we liked
420-Watt motor
Cutting thickness 0-0.6"
12" round Teflon blade
ETL & NSF-approved
Rotary Speed: 440 r/min
Cons – Things we didn't like
Minimal instructions
Need to unscrew the blade cover to clean
Best Manual Meat Slicer
BESWOOD 10″ Premium Chromium-plated Carbon Steel Blade Electric Deli Meat Slicer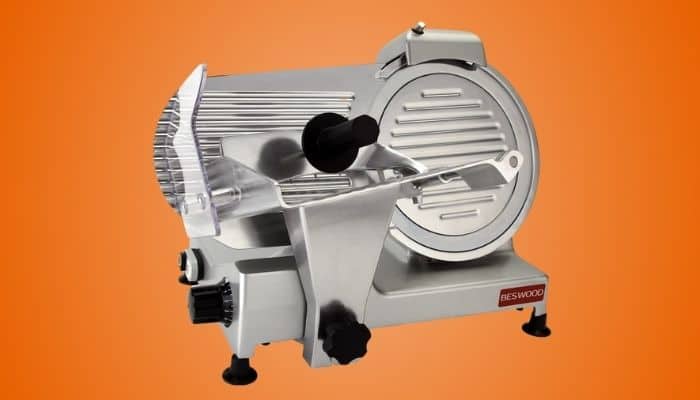 The Beswood 250 is our top manual meat slicer pick. While it has a slower rotational speed than the following 10-inch KWS model at just 282 revolutions per minute, it does have a built-in sharpener for less maintenance and a sharper blade.
At 240W its motor is powerful enough for most home slicing needs, so you should be able to use it for long periods without having to switch it off to cool down. Thanks to its 10-inch chromium-plated carbon steel blade you get excellent slicing performance with a very sharp blade.
Suitable for cutting meats, cheese, or vegetables with a height up to 6.69 inches and up to 8.25-inches wide, this versatile manual meat slicer can get through a wide variety of products for your sandwiches or salads, as well as slicing up your home smoked or cured meats.
ETL and NSF-approved, the only real drawback to this model is that it is quite tricky to clean after use, requiring a wrench to remove some parts. This detail aside, it's a good manual meat slicer that can be used at home or for commercial use. It's also a great buy for the money.
Pros – Things we liked
10" chromium-plated carbon steel blade
Mounted two-stone sharpener
Blade revolution: 282/min
Slicing thickness 0-0.5"
NSF and ETL-approved
Cons – Things we didn't like
Wrench required to remove some parts for cleaning
Best Meat Slicer with Built-in Sharpener
KWS MS-10NS Premium Commercial Electric Meat Slicer 10-Inch Stainless Steel Blade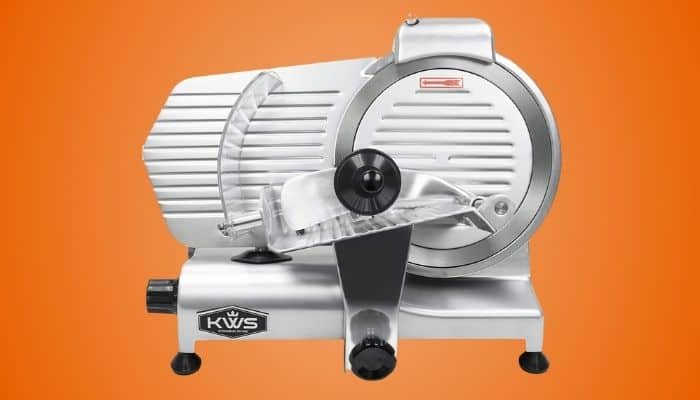 The MS-10NS by KWS is another great 10-inch meat slicer. With its powerful 320W motor, it is suitable for both commercial and home use, making it a good model to go for if you are going to be slicing large quantities fairly regularly.
Thanks to its 10-inch cutting blade made from 304-grade stainless steel and a high 525 revolutions per minute speed, you consistently get even slices with an adjustable thickness between 0-0.4 inches.
This meat slicer also comes complete with an integrated dual stone sharpener to ensure that your blade stays sharp. Plus, a replacement whetstone and an additional belt are included with your purchase to ensure that your meat slicer stays in good working order.
This commercial-grade slicer has a waterproof power switch and anti-slip feet for a safe operation. Unfortunately, like the two previous professional quality models, this one is also pretty laborious to clean, requiring the removal of three screws to get the blade off.
However, given its even, consistent slicing and good power rating, if you are looking for a 10-inch meat slicer for regular use, this is the model to go for.
Pros – Things we liked
320-Watt motor
10" 304 stainless steel blade
Built-in dual whetstones
0-0.4" cutting thickness
Rotary Speed: 525 r/min
Cons – Things we didn't like
Needs partially dismantling to clean
Best Budget Meat Slicer
Chefman Die-Cast Electric Deli & Food Slicer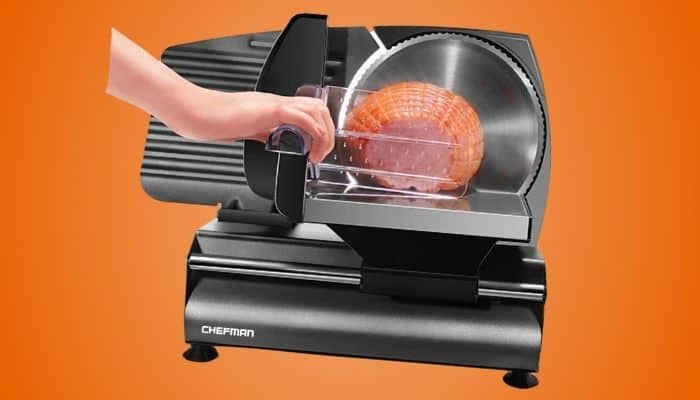 The Electric Die-Cast Deli Slicer by Chefman is our top budget choice. While it is not the most powerful model, if you are just starting out smoking or grilling, it's a good basic model that will enable you to create delicious charcuterie boards and deli-style sandwiches with your culinary creations.
Its 7.5-inch serrated blade is easily removable and the entire unit has been specifically designed to be much easier to clean than commercial-style models. While the 180W motor means this meat slicer is best suited to being used for short bursts only, it is adequate enough for cutting a few slices at a time.
Despite being an entry-level, low budget model, you can still adjust your cutting thickness between 0-0.25 inches – for wafer thin pork shoulder or chunky thick slices, depending on your preferences and what you're making. This slicer's 9-inch by 7-inch compact footprint will save you countertop space, while the blade safety guard and food pusher help to keep your hands safe.
All in all, given its low price, it's a good model for occasional use, although the suction cup feet could be improved to stop it from sliding around when you're slicing.
Pros – Things we liked
Removable 7.5" serrated blade
Blade safety guard and food pusher
0-0.25" slicing thickness
Space-saving 9" x 12" footprint
Easy to clean design
Cons – Things we didn't like
180W motor is not very powerful
Non-slip feet could be improved
Best Compact Meat Slicer
Berkel Red Line 220 Food Slicer
If you are looking for a compact meat slicer, this stylish red model by Berkel makes an excellent choice. Its innovative design and single-mold casting make it not only a highly attractive model but also very easy to clean with no gaps that can harbor bacteria thriving on food juices and spillages.
The inclined food plate enables easier, more precise slicing, while the 14 millimetric adjustment positions allow you to select the perfect slicing thickness to suit your preferences whether you are slicing home smoked cheese or bacon. Thanks to the nine-inch chromed steel blade, you get excellent precision, while the built-in sharpener complete with two separate movements ensures that your slicer stays in top slicing condition.
The Red Line 220 has a 210W motor for good performance levels, plus an aluminum blade cover removal system for easy cleaning along with an IP65-rated control panel. Despite its relatively compact design, measuring 19 inches by 20 inches, this unit is fairly heavy at 48 pounds, so you don't want to be frequently moving it around. This is, however, testament to its high quality construction.
Pros – Things we liked
9" chromed steel blade
210W motor
Built-in slice thickness adjustment system
Fully sealed IP65 control panel
Integrated sharpener
Cons – Things we didn't like
Fairly heavy – 48lbs
Best Value Meat Slicer
Chef's Choice Electric Meat Slicer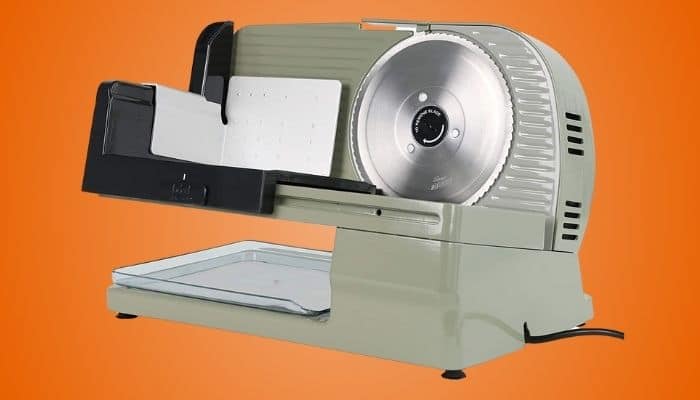 The Chef'sChoice Electric Meat Slicer is our best value pick thanks to its useful features and affordable price tag. Although it only has a 120W motor, provided you only use it for under 10 minutes at a time, this isn't too much of a constraint.
Compact and lightweight, this model features a seven-inch serrated stainless steel blade that is easy to remove, along with the carriage, food pusher, and plate for thorough and hygienic cleaning.
While this model is mainly made from aluminum and stainless steel, unfortunately, it does contain BPA which may put some potential buyers off. It does, however, come with an easy-to-grip metal food pusher, unlike many more expensive models.
Use the adjustable thickness dial to alter your slices from deli-thin up to around three-quarters of an inch. The tilted food carriage allows for more efficient and consistent slicing, while the safety lock ensures your slicer is safely secured when not in use.
On the whole, given its relatively low price, the Chef'sChoice Electric Meat Slicer makes a great buy for the money as a good entry-level meat slicer.
Pros – Things we liked
7" serrated stainless steel blade
Adjustable thickness up to 0.75"
Safety lock
Easy-grip metal food pusher
Easy to clean design
Cons – Things we didn't like
Low 120W motor
Contains BPA
Best Easy to Clean Meat Slicer
CUSIMAX Meat Slicer Electric Food Slicer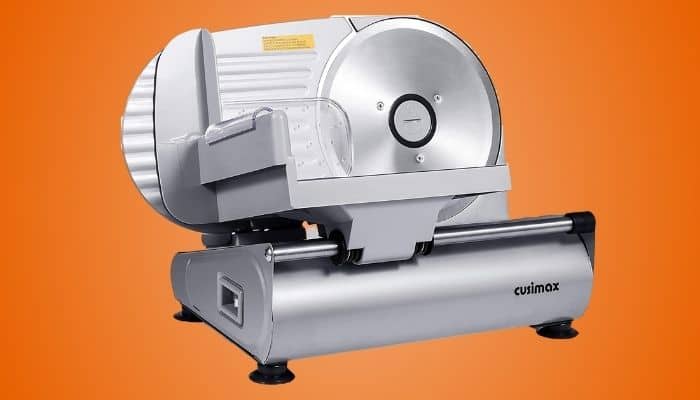 The Cusimax Electric Food Slicer is one of the easiest to clean models on the market. When you're done slicing, simply turn the coin slot in the center of the blade to remove it, then wipe the blade over with warm soapy water before drying and replacing it.
This unit benefits from a 200 W motor, although the actual blade speed seems very slow, a lot slower than you would expect. The lack of speed combined with the general construction can give you some fairly inconsistently thick cut slices, so if this is likely to be an issue for you, you may be better off spending more on another model.
The 7.5-inch stainless steel blade is sharp and easy to slice with, thanks to the 7.2-inch sliding platform. The thickness adjustment knob allows you to select your slicing thickness between 0.04-0.6 inches thick, while the strong suction feet help to keep it stable while you slice.
For the cost, if you are looking for an inexpensive meat slicer that won't take up too much space on your work surface and has an easy to remove and clean blade, this model by Cusimax could be just what you need to get started slicing your own smoked meats and cheese.
Pros – Things we liked
7.5" stainless steel blade
200W motor
0.04"-0.6" adjustable slicing thickness
7.2" sliding platform
Blade removes easily for cleaning
Cons – Things we didn't like
Slow blade speed
Inconsistently thick cuts
Why Trust Us
All of our reviews are compiled with a combination of expert input, years of hands-on testing of grilling products, curating the reviews of real-life buyers in a "wisdom of the crowd" system, and of course our own expertise. All the products listed are the ones we would buy if we were looking to purchase a new meat slicer.
Methodology Used to Pick the Best Meat Slicer
When choosing the best meat slicer we looked at and then rated each slicer on the following criteria. Price, type of meat slicer, motor power and noise levels, blade size, blade style, does it have a built-in sharpener, can you adjust the thickness, safety features, and ease of cleaning.
Buyer's Guide to Buying the Best Meat Slicer
If you're looking for the best meat slicer for the money, be sure to check out our buyer's guide. We'll cover all of the essential features so you can choose the best model with confidence.
Price
Price is mainly dedicated by your meat slicer's grade, with commercial models starting at around $300 and going up to several thousand dollars.
Meat slicers destined for the home market are generally priced between $50-$300, with some crossover light commercial/heavy home use versions costing around $300-$500.
Expect to pay more for premium models designed for the residential market that feature innovative designs, special features, and improved aesthetics.
Motor
The more powerful your meat slicer's motor, the faster your blade will be able to spin for better, more even slicing. Models with low wattage motors are not as powerful and will struggle to run for extended periods of time. When possible, pick a meat slicer with a wattage of at least 200W.
For cutting through hard cuts of meat and cheese, you want to select a model with a 300W plus motor, which is also essential if you want to fit in some extended slicing sessions without having to shut down your slicer every 15 minutes to cool down.
Blade Size
Blade size is an important consideration that you'll want to focus on before choosing your meat slicer model.
You'll need to think over what exactly you want to slice with your meat slicer. If the blade is too small, you won't be able to accommodate certain cuts of meat, whereas if you are only looking to slice small items, you could get away with sending less on a smaller model that takes up less storage space.
Generally speaking, your blade will be able to slice through items that are approximately two inches smaller than its diameter. For example, if you choose a model with a 10-inch blade, you should have no problem cutting items that are up to eight inches in diameter. Slicing large joints of meat from your smoker will require a commercial-garde model with a 12-14-inch blade.
Is the Blade Edge Serrated or Straight?
Straight blades are generally the most popular as they are easily sharpened and provide the best all-around performance – cutting thin deli slices as well as thick slabs.
However, if your slicer is lacking in power or if you mainly just want to slice bread, you may be better off with a serrated blade. Just bear in mind that they can stick to thin slices of meat, causing them to tear.
Built-in Blade Sharpener
If you are looking to purchase a meat slicer with a straight edge blade, it makes sense to look out for a model with a built-in blade sharpener.
Built-in blade sharpeners make it much easier to keep your slicing blade nice and sharp for precision cutting. While you can sharpen your blade manually, it can be tricky, not to mention pretty dangerous – so whenever possible opt for one with a built-in sharpener.
Adjustable Slice Thickness
Make sure that your meat slicer can slice at the thickness that you want. Most manufacturer's will give you a guideline as to the minimum and maximum thicknesses their slicer can cut.
It is also a good idea to look at the actual thickness adjustment knob on the machine itself to see how many different graduations it has. The more graduations, the more precisely you will be able to control how thickly or thinly your machine slices.
Safety Features
Meat slicers can be very dangerous when not used correctly. Here are some of the most essential safety features that you will want to see incorporated into the design of your meat slicer.
No-slip feet – to prevent your meat slicer from moving as you use it.
Blade guard – designed to prevent cut hazards, the blade guard ensures that as little of the blade is exposed as possible.
No-volt release – after a power cut or having unplugged your unit for cleaning, you'll need to press the power button to restart your meat slicer even when the power has come back on or it has been reconnected.
Safety lock – this can be used to lock the carriage in place or to lock the central gauge plate in position to allow you to remove the product tray or to clean the blade in situ without risking your fingers.
Meat tray size
Slicing meat with your slicer is much easier if your meat tray can accommodate the size of your slices. Otherwise, you will have to stop after each slice to transfer your slice individually to a dish.
While this doesn't really sound like a big deal, if you regularly slice the same size cut of meat that is too large for your meat tray it can get pretty annoying. So make sure you check that your meat tray size is compatible with what you will mostly be slicing before you order.
Ease of Cleaning
On paper, most meat slicers are very easy to clean. However, in reality, if you are looking to give yours a thorough clean and not just a quick wipe over, you may find you'll have to spend at least 20-30 minutes.
Commercial models in particular are the most time-intensive to get clean, usually requiring you to unscrew the blade guard with a screwdriver to remove the blade for cleaning.
Look out for units with all-in-one housing without any gaps where dirt and meat juices can easily accumulate. Most residential meat slicers are much easier to clean than heavy-duty commercial units and can also often be dismantled for easy cleaning without tools.
Noise Levels
Meat slicers are generally pretty quiet and certainly won't make enough noise to bother anyone in the next room.
If your meat slicer starts to make more than a slight hum, check that there are no obstructions to the transmission system and that your unit is free from dirt build-up.
Transmission – Belted or Geared
The transmission system is how your slicer's motor connects to the blade to make it turn. Gear driven models are generally more expensive but considered to be more durable and longer lasting.
However, when they do break, you'll need a professional to fix them. Belted systems are not as durable, but they are much easier to replace. In fact some units even come with a spare belt that you can simply put on yourself should the original one break.
Intended Use
Another important factor to consider is what you will be slicing in your meat sicir and how often you will be using it.
For regular use slicing hard cheeses, frozen meats, and large joints, such as hams or roast beef, you'll want a commercial-grade meat slicer.
For occasional to regular use at home, typically slicing medium cheeses and cooked meats, a 200-300W residential model will get the job done and you won't have to shut it down as often when slicing up multiple items.
For light, very occasional use slicing bread, cooked meats, and vegetables, a 100-150W residential meat slicer will save you money and still live up to your expectations. Expect to have to shut off your unit to cool it down if you are cutting more than a few slices at a time.
Types of Meat Slicer
There are three main types of meat slicer available, here's how to tell them apart.
Automatic meat slicers
Automatic meat slicers have a motorized carriage and blade. Once you have set up your meat securely in place for slicing, you switch on the unit and no further input is required – the slicer moves the meat back and forth slicing it automatically.
This type of meat slicer is mostly used in large commercial premises. Most automatic meat slicers also have a manual setting so that you can use them for smaller amounts and some are programmable for greater control. Most are self-sharpening.
Manual meat slicers
Manual meat slices do not feature a motorized carriage, merely a motorized blade. Your blade spins around when the unit is switched on and you move the carriage back and forth to slice your meat. A lot of manual meat slicers are self-sharpening.
Flywheel meat slicers
The traditional option, you'll typically see flywheel meat slicers in gourmet delis or at farmer's markets. As they are hand cranked they do not require any electricity, although some models may also feature an automatic option and can be plugged in.
Flywheel meat slices can cut extremely fine slices and are favored for their good looks and precision cutting.
Benefits of Using a Meat Slicer
Wondering if you should really invest in a meat slicer or just keep slicing by hand? Check out the following benefits of using a meat slicer before you make up your mind.
Uniform cutting – do you want professional-looking, even slices when you put together a plate of charcuterie or make up a sandwich? A meat slicer will slice far more evenly than you can with a knife and cutting board, which can elevate your culinary creations and make your sandwiches taste much better.
Save money – sliced meats always cost a lot more. Save yourself money by buying a joint of meat to slice at home. In time, your meat slicer will pay for itself.
Slice your own home-smoked meats/cheeses – if you enjoy smoking meat or cheese at home, you'll need a meat slicer to perfect the finished result. From perfect home-made beef jerky to ham, bacon, or smoked cheddar cheese, investing in a meat slicer will allow you to really enjoy your creations.
Efficient – do you have hours to spare finely slicing your appetizers? What about slicing up all of the ingredients for a sandwich? With a meat slicer you will save time and effort.
Freshness – rather than picking up pre-sliced products that are sometimes treated to stay looking fresh or that will go off before you get to finish the entire packet, slicing up your meat and cheese to order at home makes for a fresher, tastier meal.
Top Meat Slicers Video
Final Thoughts
Meat slicers are extremely useful kitchen appliances that are essential for evenly and finely slicing your home smoked or grilled meats, with results that you just cannot get with a knife alone.
If you are looking for a better way to showcase and enjoy your home cooked meats, the KWS MS-10NS Premium Commercial Electric Meat Slicer makes an excellent choice. Ideal for highly regular use, this model has a 320W motor, a fast 525 revolutions per minute blade speed, plus a built-in sharpener.
If you are looking for something smaller and more visually appealing, the Berkel Red Line 220 Food Slicer combines function with style for an easy to use, highly efficient meat slicer. With its nine-inch chromed steel blade and 210W motor, this meat slicer is a pleasure to use and behold.