Is getting your meat prepped up for grilling not quite as easy as it was just last month? Have you been sharpening your knives to no avail? You need to invest in the best honing steel to realign your knives' blades for a clean, sharp cut.
Here's how to choose the best models and our selection of the best honing steels on the market.
What is a Honing Steel?
A honing steel, also known as a sharpening steel, is a long, thin rod, often made from steel, ceramic, or occasionally diamond coated. The best way to get a better understanding of what a honing steel actually is, is to take a look at what it is used for.
What is a Honing Steel For?
Honing steels are used for blade realignment. Even if your knife blade is sharp, with regular use the edge can become slightly curved to one side resulting in a dull feeling knife that seems less sharp.
Using a honing steel does not sharpen your knife, which involves removing steel from the blade, rather it ensures that the edge of your knife is straight and not curved for a sharper cut.
Honing steels are designed to be used frequently and you can use them every time you get your knife out to cut. As honing steels have no sharpening function, they are safe to use on a daily basis, whereas using a knife sharpener every day would eventually wear away your knife.
Best Honing Steels
Find the best honing steel for your knives right here in our top-rated selection. Whether you are looking for a diamond sharpening steel or a stainless steel honing steel, we've rounded up eight of the very best models on the market.
Best Diamond Sharpening Steel
Wusthof 10-Inch Diamond Sharpening Steel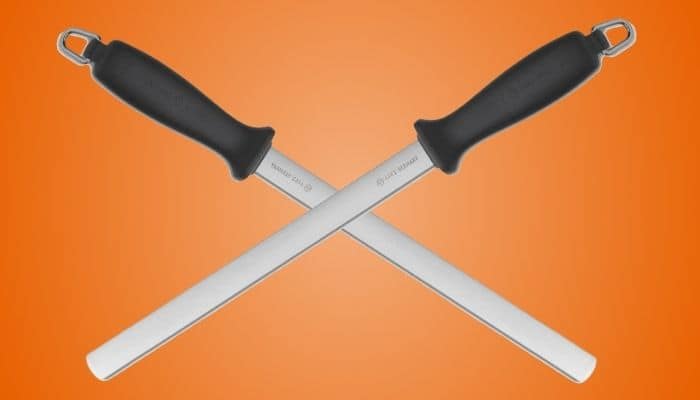 If your knives are in bad shape, you may want to consider purchasing this Diamond Sharpening Steel #4483 by renowned German knife makers Würsthof. Just a word of caution before you order, this particular model is quite aggressive and actually sharpens rather than just correcting the blade alignment, so you won't want to go overboard with it.
However, if your knives do need quite a bit of steel removing before you go on to hone them, this is a highly popular knife sharpener. The durable diamond-coated steel shaft has a fine grit level to take off small amounts of steel for a sharp edge, while its domed shape makes it more intuitive to use.
Complete with a 10-inch shaft for ease of use and a comfortable, ergonomically-shaped handle, this diamond knife sharpener is a great way to keep your kitchen knives ready for action before you get your grilling started.
You may, however, want to team it with a slightly less abrasive stainless steel or ceramic honing steel for day-to-day usage, such as Würsthof's #8861 which is specifically designed for honing as opposed to sharpening your knives.
All in all, a good choice for neglected, blunt knives and a really easy way to bring back a sharp cutting edge.
Pros – Things we liked
Diamond coated steel shaft
Extra fine grit
10-inch shaft
Ergonomically-shaped handle
Cons – Things we didn't like
Too abrasive for highly regular use
Best Ceramic Honing Steel
Dalstrong Ceramic Honing Rod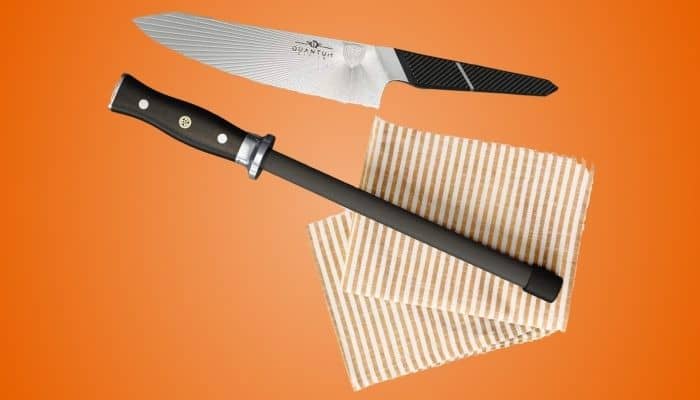 Premium Chinese knife makers Dalstrong are a trusted brand to go for with good customer service. Their Ceramic Honing Rod is an excellent model to keep your knives' blades correctly aligned and ready for action, although it is a lot more expensive than most comparable models on the market.
This is a highly durable model, thanks to its strong stainless-steel core and scratch-free ceramic coating. At 10 inches long, it is easy to maneuver and store, while remaining long enough to easily hone most home kitchen knives even for cutting through joints of beef for your smoker. The ceramic coating is slightly abrasive to ensure that even your valuable knives with high Rockwell hardness ratings are effectively realigned.
The non-slip G10 handle makes this honing steel comfortable to hold, while its triple-riveted construction ensures extra longevity as well as style. Thanks to its silicone-covered tip, this honing rod will hold firm and not slip, making honing your knife extra easy, even for first timers.
Despite its elevated price, this ceramic honing steel is a popular choice that has been built with premium materials for extra durability and customer satisfaction.
Pros – Things we liked
Stainless-steel core
Scratch-free ceramic coating
Easy to maneuver 10-inch shaft
G10 handle
Silicone-covered tip
Cons – Things we didn't like
Expensive
Best Professional-Quality Honing Steel
ZWILLING Professional S Sharpening Steel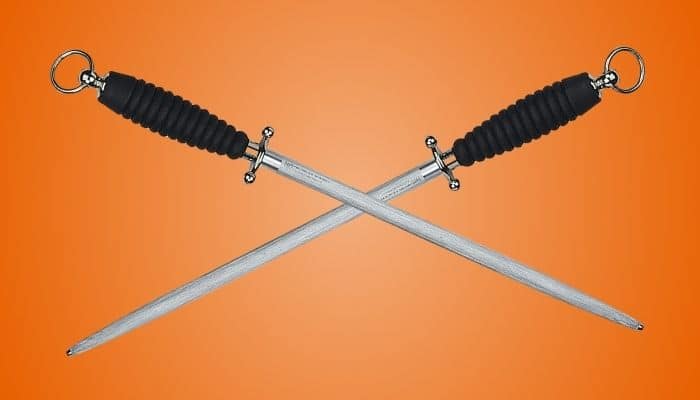 If you are looking for a honing steel to hone your knives like a pro, you won't find a better model than the Professional S Sharpening Steel by premium kitchenware and knife specialists Zwilling.
This professional honing steel has a durable 12-inch shaft made from a hard steel alloy. Thanks to its extra long length it is safer to use, keeping your sharp blades further away from your hands and allows you to hone longer knives up to 12 inches long with ease.
Use it to quickly regain your knife's sharp edge, this honing steel can be used very regularly for blade realignment and it won't remove any metal from your expensive blades. Given its high-quality construction, as you would expect this is quite a comparatively heavy piece at 14.4 ounces, although this makes it easier to use in some respects and a good durable choice for use when you're grilling outdoors.
The chunky ribbed handle is comfortable to hold for both large and small hands, while the steel finger guard helps to ensure that your fingers stay out of the danger zone. At the end of the handle there is a hanging ring, so you can keep this beautifully constructed piece close to hand and easily stored.
Complete with a lifetime warranty, this Professional S Sharpening Steel by Zwilling is undoubtedly one of the very highest quality honing steels on the market and a pleasure to use.
Pros – Things we liked
12-inch shaft
Hard steel alloy
Steel finger guard
Comfortable ribbed handle
Lifetime warranty
Cons – Things we didn't like
Heavy 14.4oz
Best Durable Honing Steel
DMT CS2 12-Inch Ceramic Steel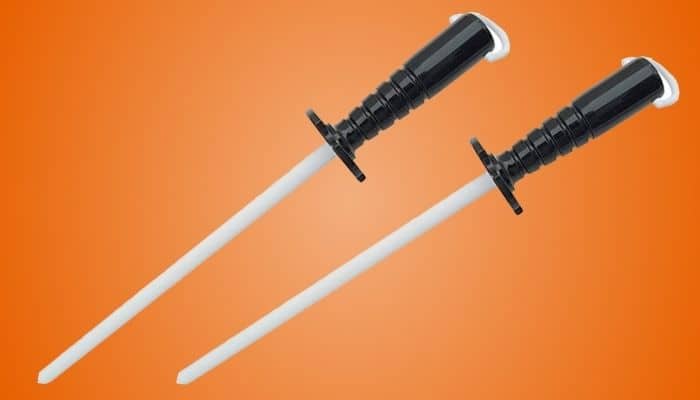 The CS2 12-Inch Ceramic Steel by American company DMT is proudly made in the USA.
Crafted with premium quality materials to ensure high levels of performance and durability, this wear-resistant, unbreakable sharpener has been designed to provide you with years of service – ideal for using outdoors around your grill.
Made with a lightweight aluminum base, this ceramic honing steel will give your knives a polished, razor sharp edge for slicing like butter through smoked brisket. The sanitary plastic handle is comfortable to hold and has a large, robust safety guard to keep your fingers out of danger's way. It also features a hanger ring for easy storage, making it simple to grab each time you reach for your knives.
Thanks to its full 12-inch shaft, this model is a good choice for keeping all of your knives i rpie condition, being long enough to work effectively with your 12-inch chef's knives, as well as the rest of your knife collection that regularly gets used when you're grilling. The only slight drawback to this highly popular robust ceramic sharpener is that you need to make sure that you clean it through after each use.
Cleaning aside, this is a good USA-made ceramic honing steel that will last you for the foreseeable future and improve your knives' sharpness and edge.
Pros – Things we liked
12" ceramic rod
Lightweight aluminum base
Durable, wear-resistant sharpener
Hand guard and hanger ring
Made in the USA
Cons – Things we didn't like
Needs cleaning thoroughly after every use
Best 10" Stainless Steel Honing Steel
DALSTRONG Honing Steel Gladiator Series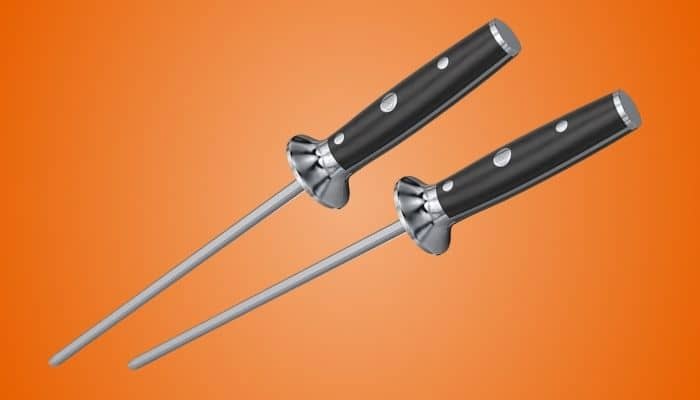 The Gladiator Series Honing Steel by Dalstrong features a 10-inch rod that is hand-crafted from high carbon steel for durability and ease of use. If you use the Gladiator knives from the same series for your BBQ prep, you may also like to ovest in the honing steel in the same style.
This rod features tiny grooves along the surface of the steel to realign and straighten up your knife's edge for sharper, greater precision cutting. The bolster helps to keep your fingers safe while you hone your knives and the ultra-durable pakkawood handle has an ergonomic contour to ensure you maintain a steady grip.
Unfortunately, this model has had some problems with the handle working loose although Dalstrong has a good customer service record in the event of any problems. With its 10-inch length, this steel can be easily used to hone almost all of your kitchen knives so they are ready for slicing up your BBQ meats.
All in all, if you are in the market for a 10-inch honing steel and don't want to spend a large amount, the Gladiator Series Honing Steel could be your ideal choice.
Pros – Things we liked
High carbon stainless steel rod
Protective bolster
Multiple tiny grooves to realign edge
Contoured pakkawood handle
Cons – Things we didn't like
Handle can work loose
Best Value Sharpening Steel
Wusthof 10″ Knife Sharpening Steel with Loop
If you are looking for a good buy, this 10-Inch Knife Sharpening Steel by master knife crafters Wüsthof represents good value for money.
Thanks to its 10-inch length it can be easily stored in most knife blocks or you can hang it up in your outdoor kitchen next to your grill via the hanging loop after honing your knives ready to tackle your smoked meats.
The slip-resistant plastic handle gives you a good grip and helps to protect your fingers from the blade. This honing steel is made out of a magnetic steel alloy that attracts metal fibers, so you won't have to wipe up so many tiny fragments after use, although you will need to clean this honing steel after each and every use.
Thanks to its fine grit level, aside from realigning your knife's edge, this honing steel also allows you to remove and even out any slight nicks that your knife edge may have developed during your cutting.
Given its reasonable price, good quality, and the fact that it is from one of the most famous names in knife crafting, this 10-inch honing blade is our top value for money pick.
Pros – Things we liked
10-inch magnetic steel rod
Hanging loop
Slip-resistant handle
Fine grit level
Cons – Things we didn't like
Needs cleaning after each use
Best Budget Honing Steel
Green Elephant Ceramic Sharpening Rod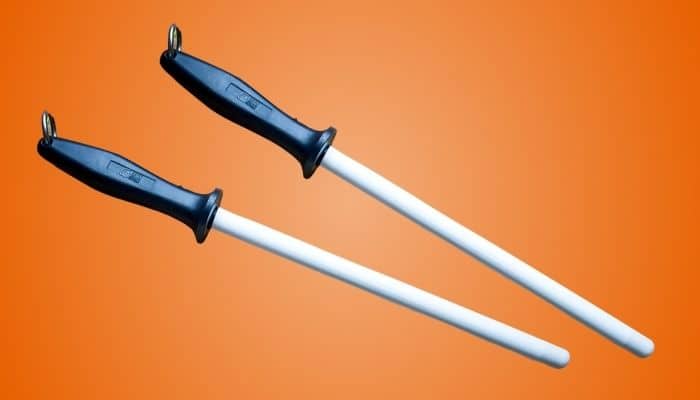 The Green Elephant Ceramic Sharpening Rod is very competitively priced, making it our top budget pick.
While it costs less than the other honing steels in our selection, this model is still an excellent choice, capable of realigning even Japanese steel blades thanks to its hardness rating of over 100.
Made from ceramic which does, unfortunately, have a tendency to break when dropped, this 10.75-inch honing steel comes with a unique shock absorbing feature that can prevent as many as 80% of falls from ending in shattering your sharpening rod.
Marketed as one of the most durable ceramic sharpening rods on the market that should last for years, we are less than impressed that these claims are only backed up by a very short 30-day warranty.
Easy-to-use and suitable for honing virtually all types of steel straight-edged knives, this model benefits from an easy-grip handle with fingertip protection, plus an internal silicone seal to help to absorb vibrations when you're honing your blade.
While there are other models out there with much better warranties, for the price, if you are looking for a ceramic honing steel that can even be used with sharp Japanese knives, this could be your best option.
Pros – Things we liked
10.75" ceramic rod
Lightweight for ease of use
Silicone seal to absorb vibrations
Easy-grip handle with finger protection
Cons – Things we didn't like
30-day warranty
Best Honing Steel For Large Butchering Blades
Victorinox Honing Steel Black Plastic Handle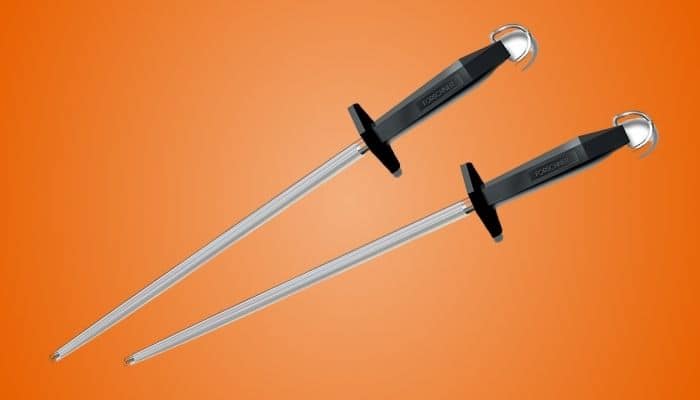 If you need to restore the edge to your heavy-duty butchering knives before you get the weekend's grilling underway, this Victorinox Honing Steel is definitely the best model to go for. Thanks to its long 14-inch shaft, for a total of almost 20 inches in length including the handle, this steel can take on all your big knives used for preparing your BBQ cuts and subprimals.
The injection-molded polyurethane handle is octagonal in design to give you an improved grip as you hone your large blades. Given that this honing steel weighs approximately 14 ounces and is designed to be used to hone large knives, its slightly unusual handle design makes perfect sense, as does the finger protection. The heavy-duty "D" ring allows you to easily store this extra-large honing blade vertically.
Thanks to its magnetized steel construction, this heavy-duty honing rod will catch any metal microshavings, for an easier cleanup after honing. Given its larger-than-average dimensions and high quality construction as you would expect from Victorinox, if you regularly butcher your own meat for grilling or smoking, this honing steel is going to be your best choice to restore the edge to your heavy-duty knives.
Pros – Things we liked
Long 14" steel shaft
Suitable for honing large butchering knives
"D" ring for hanging storage
Octagonal handle with finger protection
Magnetized to catch any metal microshavings
Cons – Things we didn't like
Heavy – 14oz
Why Trust Us
All of our reviews are compiled with a combination of expert input, years of hands-on testing of grilling products, curating the reviews of real-life buyers in a "wisdom of the crowd" system, and of course our own expertise. All the products listed are the ones we would buy if we were looking to purchase a new honing steel.
Methodology Used to Pick the Best Honing Steel
When testing the best honing steel we looked at the following criteria to pick our winners. Price, honing steel length, the materials used, quality of construction, the handle, and the grit of the honing steel.
Buyer's Guide to Buying the Best Honing Steel
Wondering which honing steel to choose to get your knives back to razor sharpness before your weekend BBQ? Check out our honing steel buyer's guide and find out which features really matter.
Price
Honing rods are not that expensive with budget models starting at around $20 and premium models from reputable knife makers starting at around $40-$60 and over.
So, how much should you spend on a honing steel? First of all, consider what type of knives you use. If you have a set of high quality kitchen knives, you're probably going to want to spend at the higher end of the price range to look after your investment.
A lot of people like to get a honing steel from the same manufacturer as their knives, although this is not essential. Just make sure that your honing steel will be hard enough for any specialty knives you may own.
For example, Japanese steel knives y can be a lot harder than your average Western knife set. Alternatively, if you have a set of pretty average knives that get the job done but didn't cost you top dollar, you may be perfectly happy with a budget-priced honing steel.
One more consideration to bear in mind when it comes down to deciding how much to spend is how often you are likely to be using your honing steel. As with all of the kitchen items that you use pretty much day in and day out, it makes sense to pay more to get a better quality product.
If, on the other hand, you are only going to be sharpening your knives every so often for your next grilling session, you may prefer to save your money with a budget-priced honing steel.
Length
Length is actually really important when it comes down to choosing your new honing steel.
You will need to make sure that your steel is long enough to accommodate your larger knives' blades. Small paring knives, for example, can be honed with pretty much any steel, but large chef knives will benefit from being honed on a steel that is at least as long as the blade.
For this reason, unless you only have a couple of small 10-inch blades for prepping your BBQ, we recommend going for a 12-inch honing steel or longer if you have some serious butchering blades. The longer your steel is the more length you will have to pull your knife along to realign the entire edge. So a short steel is just not going to get the job done as well or as effectively as a longer version.
Material
Honing steels are made out of three main materials, stainless steel, ceramic, and diamond-coated steel. Wondering which type is best for your knife collection? Here's the lowdown.
Stainless Steel
The traditional version, stainless steel is a good choice as it is highly durable. Unlike ceramic that risks shattering. It is also non-abrasive, unlike diamond-coated versions that risk removing some steel from your blades rather than just correcting the alignment.
For these reasons, stainless steel is the material of choice for a lot of people, as you can use it to hone your knives and prevent them from dulling on a daily basis, without risking wearing down your blade with regular use.
Ceramic
Ceramic sharpening rods, while fragile if dropped, do have a very slight sharpening effect borne testament by the gray-colored streaks you'll notice on your ceramic honing rod after use.
Ceramic is a fairly popular choice although it's not quite the same as using a traditional steel. If you're careful and take good care of your knives and honing rod, ceramic could be a good choice for you.
Diamond
Diamond-coated honing steels are a good choice for cheap knives as they have quite good sharpening properties.
Almost a hybrid between an actual knife sharpener and a honing steel, you wouldn't want to use a diamond-coated steel on your expensive knives every day.
They can, however, when used infrequently, but regularly, help to extend the time between sharpensings and ensure that your knives are never blunt.
Handle
A good handle is important to any honing steel to enable you to grip it correctly and safely while manipulating sharp knife blades.
You'll want to keep a lookout for non-slip handles with good grips and finger protection to ensure that your fingertips are well protected from your blade movements.
The longer and heavier your steel, the more important a good handle is to ensure that you keep your steel stable and your moving knife blade directed onto it.
What Grit is the Honing Steel?
Unlike sharpening stones that are designed to remove metal from your blade to sharpen it, honing steels are designed to just realign the blade, without sharpening.
Some models do, however, have a slight sharpening effect. The lower the grit rating, the more abrasive it is, so for honing steels with some sharpening properties, you'll want to see a grit rating of 2000 to ensure that you can regularly use it without removing too much metal from your blade.
However, the best option to take good care of your expensive kitchen knives is to sharpen them as needed and hone with a non-abrasive honing steel every time you use them to ensure the blade is perfectly straight. Using an abrasive steel regularly would eventually wear out your knife, requiring you to replace it prematurely.
What's the Difference Between Honing and Sharpening?
Honing is a simple realignment of your blade's cutting edge. When your knife is sharp, it can easily bend very slightly.
While this isn't enough to notice with the naked eye, you can definitely feel it as you cut. Honing your knife restores the blade edge, straightening it so that it cuts in perfect alignment for a sharper, more precise cut.
Sharpening, on the other hand, removes metal from your knife's blade in order to thin out the blade for a sharper cutting edge. Sharpening is either done with a sharpening stone or a mechanical knife sharpener.
However, diamond-coated and ceramic honing steels, being much harder than stainless steel versions and the steel of the blade itself, do tend to remove some metal, which with regular use will lead to a sharpening effect.
How Often Should you Hone and Sharpen your Knife?
Honing – you should hone your knife after every heavy chopping session. This could be every time you cook, or once every couple of weeks. Provided you use a non-abrasive stainless steel honing rod, you can hone even your expensive kitchen knives with every use.
Sharpening – if you regularly hone your blades with an abrasive diamond-coated honing steel you can space out your sharpening sessions to once every six or 12 months depending upon how much use your knives get. Otherwise, with highly regular use and non-abrasive homing, sharpen your knives every 4 months or whenever you feel like they are starting to dull in spite of regular honing.
How to Use a Honing Steel
While there are various different ways to hone your knives, we're going to focus on the most popular way for first-timers to hone their kitchen knives.
Grasp your honing steel by the handle and hold it vertically with the tip firmly placed on your kitchen counter. Make sure your fingertips are safely on the handle.
Take the knife that you want to hone and place the heel against the top of the steel with the very tip pointing slightly upwards.
Adjust how you hold the knife so that you're holding the blade at 15 degrees from the steel.
Keeping this angle and applying a light amount of pressure, slide your knife down your steel pulling it towards your body as it gets lower, finishing with just the point in contact with the steel by the time it reaches your counter.
Pass the tip over the bottom of the steel to finish up.
Repeat the entire motion on the other side of the steel to hone the other side of the blade.
Repeat on each side, alternating after each pass for around three to five passes on each side, depending on your blade's condition.
Does A Honing Steel Wear Out?
With time, like pretty much everything, your honing steel will eventually wear out.
However, if you opt for a high-quality model this could take years and years. Some models even last for decades. It also depends on how often you use your honing steel. If it's once a week, your steel is going to last much longer than if you use it every single day.
If you are wondering whether it's time to replace your honing steel, take a close look at the tiny grooves on the steel. If they are smooth and barely visible, it's time to replace it. You will probably also notice that your knives are not quite cutting as well.
Top Honing Rods Video
Final Thoughts
There are plenty of excellent honing steels to choose from to ensure that you get your BBQ preparation done for hassle-free grilling, smoking, and carving.
If you are looking for the best honing steel, we recommend taking another look at the excellent Professional S Sharpening Steel. This professional-quality honing steel will realign the edge of your knives without being over aggressive for long lasting sharp edges and knives. It also comes complete with a lifetime warranty, testament to the quality of its construction.
For butchering large cuts for your grill or smoker, treat yourself to the heavy-duty 14-inch Victorinox Honing Steel, capable of honing all of your butchering knives for clear, razor sharp cuts. If you butcher your own meat for grilling, you won't find a better homing steel to help keep your large knives sharp.