While most grill enthusiasts will agree that charcoal or propane is the most flavorsome way to grill your food, if you need to grill inside, you'll need to opt for an electric model. Whether you live in an apartment or want to grill over winter out of the cold, purchasing the best indoor grill will allow you to enjoy delicious grilled food no matter where you live or what the weather is doing.
Best Indoor Grill
If you're struggling to find the best indoor grill for your home, we've reviewed nine of the very best models covering a range of styles and budgets.
Read on and find your ideal model right here in our top-rated indoor grill reviews.
Best Smart Multi-Function Indoor Grill
Ninja Foodi Smart XL 6-in-1 Indoor Grill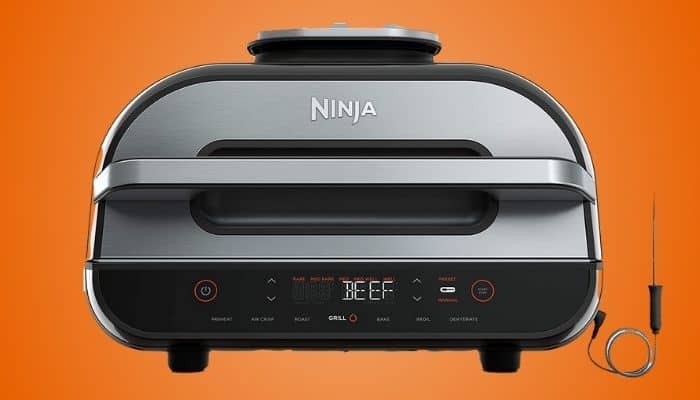 The Ninja Foodi Smart XL is the best high-capacity multi-function indoor grill on the market.
Use it not only to grill, but also to air crisp, roast, bake, broil, and dehydrate, all guided by the unit's programming and smart thermometer which even lets you know when it's time to flip depending on how you want your meat done. Cooking with the Ninja Foodi does have a bit of a learning curve but it really couldn't be easier – making it the ideal choice for pretty much anyone.
Measuring just under 15 inches by 16 inches with a height of 11 inches, this unit does take up a fair bit of space on your kitchen countertop, but it can grill up to six seven-pound burgers in one go.
Thanks to its 1760W power with a 500-degree F upper heating element and fan you get searing on all sides. Plus this unit is also virtually smoke-free which makes it a great choice for indoor grilling and the grill grate even gives you chargrill marks.
Easy to clean with dishwasher-safe ceramic-coated parts, on the whole, this is one of the easiest models to both use and clean up afterward. Plus it does so much more than just grill. On the downside, the power cord could be a bit longer, which can limit where you can use it.
All in all, the best smart multi-function indoor grill on the market by a long way.
Pros – Things we liked
6-in-1 indoor grill: Grill, Air Crisp, Roast, Bake, Broil, and Dehydrate
Grills 6 x 7oz burgers
Easy to clean with dishwasher-safe ceramic-coated parts
Smart Thermometer
500℉ top heating element and fan
1760W power
Cons – Things we didn't like
Large footprint
Short power cord
Best Healthy Option Indoor Grill
George Foreman Smokeless Indoor/Outdoor Electric Grill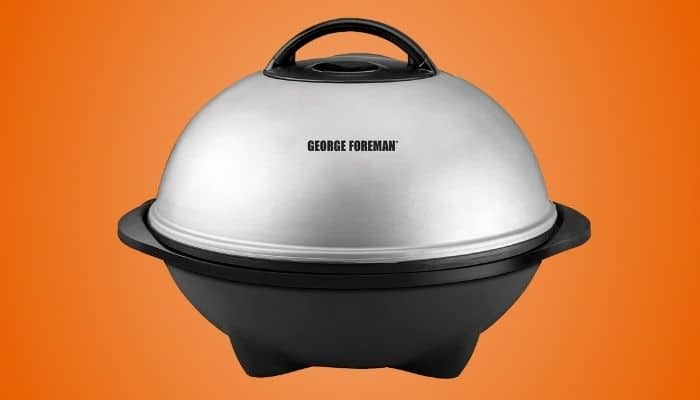 There are two main advantages to this George Foreman Smokeless Indoor Grill.
Firstly you can use it both indoors and outdoors with its removable stand, making it a good choice for apartments with small balconies or for using on your deck during summer and indoors in winter. Secondly, it provides you with a healthier way to grill – ideal if you need to cut down on added fats.
With its large 240 square inch cooking surface, you get enough space to grill 15 servings. Thanks to the grill's patented fat removal slope, grease drains down into the grease tray, while the George Tough nonstick coating means you'll be able to cut right back on adding any fats. Heat up is fast thanks to its 1600W power rating and you can adjust the heat level with five adjustable settings.
Use the high domed lid complete with vents to roast larger joints or a whole chicken, this indoor grill is a good choice for feeding large groups or cooking up full meals. Just be aware that it can be a little difficult to get clean due to its large circular design, you'll struggle to clean the lid and grate in a small sink.
What's more, while the stand could be a little sturdier, it's easy to set up and pack away.
Pros – Things we liked
240 sq inch cooking surface for 15 servings
George Tough non-stick coating
Suitable for indoor & outdoor use with its removable stand
Five heat settings
Patented fat-removal slope
1600W power
Cons – Things we didn't like
Difficult to clean grate in small sinks
Stand could be sturdier
Best Infrared Indoor Grill
Philips Avance Indoor Grill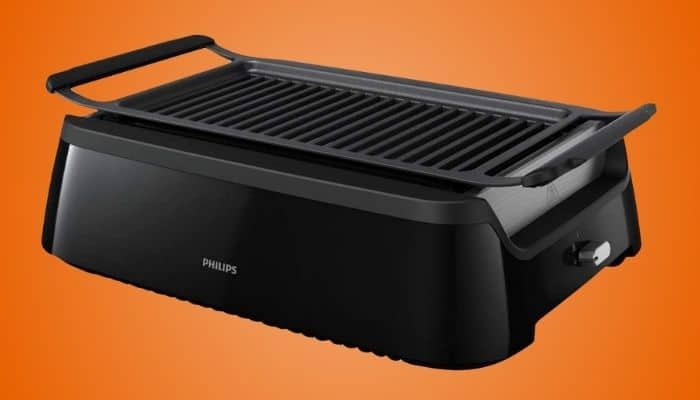 The Philips Avance Indoor Grill is our best infrared indoor grill pick thanks to its ease of use and uncomplicated setup.
Consisting of just two parts to assemble, place the grease tray under the unit and the cooking grid on top. Plug it in and you're ready to start grilling in just one minute thanks to its 1660W power.
Thanks to this indoor grill's advanced infrared technology complete with special heat reflectors, all sides are evenly grilled and a virtually smoke-less operation, especially as the drip tray remains cold. This model does not require any changes to temperature, it heats up to and keeps a constant temperature of 446℉, although there is also a keep warm setting.
As the fat runs down the cooking grid and collects in the grease tray below, your food is a lot healthier than models where it sits in its own grease. The non-slip feet keep this indoor grill securely in place, while the removable grid and drip tray can both go in your dishwasher for an extra easy cleanup.
Given this model's bright red glow, it can be a little difficult to gauge just what color your meat is, so you may have to remove it from the grill to check on its progress. Also, at around 123.5 square inches of cooking space, while this unit is great for small families or couples, it's less suitable for cooking for groups of people.
Pros – Things we liked
Infrared technology with heat reflectors
Non-slip feet & removable drip tray
Keeps a consistent temperature of 446℉
Dishwasher-safe detachable parts
1660W power for fast heat up
Cons – Things we didn't like
Can be hard to see food color
Less suitable for large families
Best Budget Indoor Grill
Techwood Electric Grill for Indoor & Outdoor Use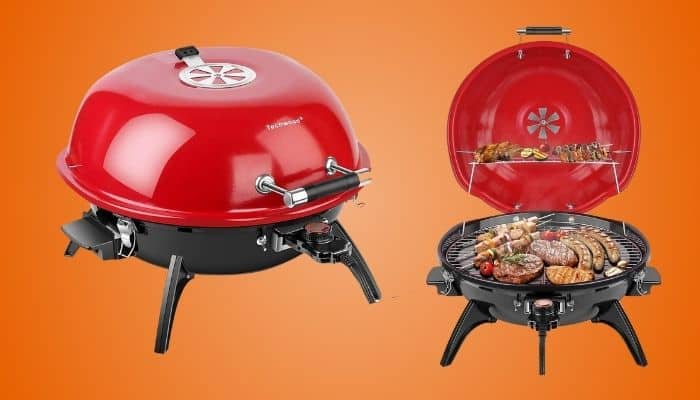 If you are looking for an inexpensive electric indoor grill, this model by Techwood is one of the cheapest indoor grills available.
It has a good power rating of 1600W complete with adjustable temperature control. Thanks to its large 240 square inch cooking area plus foldable warming rack, you can cook around 15 servings on this grill.
Use the domed lid with its rotary vent to cook juicy roast chicken or large cuts of meat. It also helps to keep your kitchen free from splatters. With its stable frame and cool-touch side handles, this indoor grill is easy to set up and carry. It also heats up quickly so you can get your meal started shortly after you get it out.
Unfortunately, while this indoor grill does have a porcelain-coated cast iron grate for durability and an easy clean up, the truth is, it is far from easy to clean. Unlike almost every other grill on the market, this unit does not have a drip tray so grease from your food ends up pooling in the bottom around the heating element where it could catch fire and will definitely start to smoke.
Cleaning this area after use requires you to partially disassemble the grill which can be quite time-consuming.
Pros – Things we liked
1600W grill with adjustable temperature control
240sq inch cooking area
Large domed lid with vent
Foldable warming rack
Porcelain-coated cast iron cooking grate
Cons – Things we didn't like
No drip tray
Needs disassembling to clean
Best Indoor Grill and Griddle
Cuisinart Griddler Elite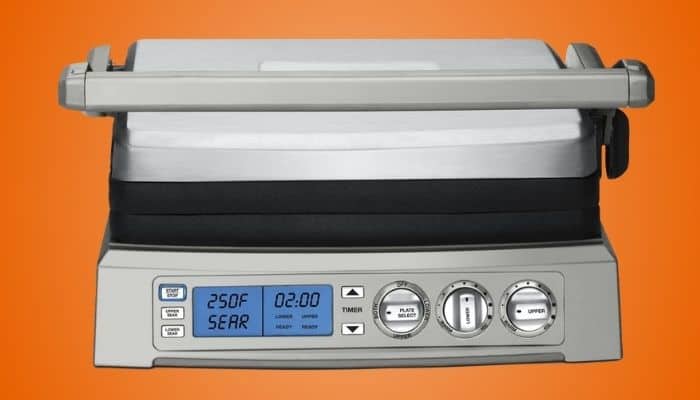 The Cuisinart Griddler Elite is a great multi-purpose indoor grill that also doubles up as a griddle and a panini press. Ideal for making breakfast, sandwiches, and grilling indoors, this powerful 1800W indoor grill features reversible plates and when you use it in its open position you get an impressive 240 square inches cooking surface.
Use it as a grill or a griddle, or both, thanks to the dual-zone temperature you can cook low and slow griddling on one side while turning up the temperature hot and fast on the grill plate on the other side. Use the two-minute sear function to quickly color your steaks, locking in the flavor at 500 degrees F. The top cover is also fully adjustable, allowing you to press your sandwiches or loaded paninis.
Both the plates and drip tray can be washed in your dishwasher, however, while cleaning up this indoor grill is pretty easy, as the plates are fairly shallow, it's easy to end up with quite a lot of splattering or even grease pooling on your kitchen counter.
While this unit is easy to use thanks to its electronic display complete with timer and temperature control dials, unfortunately, it does have some durability issues.
Pros – Things we liked
Powerful 1800W grill, griddle, & panini press
500℉ sear function
Removable non-stick griddle/grill plates
Dual-zone temperature control
Dishwasher-safe plates & drip tray
Cons – Things we didn't like
Shallow sides on cooking plates
Not the most durable
Best Indoor Grill for Searing
Hamilton Beach Electric Indoor Searing Grill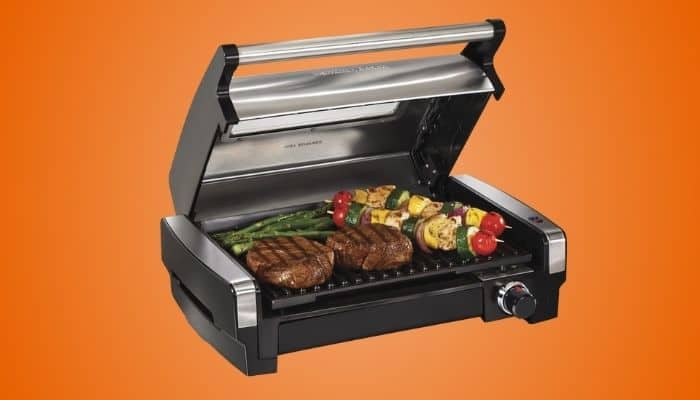 The Hamilton Beach Electric Indoor Searing Grill makes a great choice for getting your steaks nicely colored when you're grilling indoors thanks to its adjustable temperature and 450 degrees F sear mode. As steaks often give off a lot of grease and juices, this unit comes with an extra-large drip tray so you won't have to worry about trying to empty it while you are grilling.
Thanks to its viewing window, you can easily check on how your meal is progressing without having to open the removable hood. For an extra-easy cleanup, you can wash the hood, grill plate, and drip tray all in your dishwasher. The grilling plate has a ceramic non-stick coating for extra durability and gives you a good 118 square inch cooking area – ideal for small families or serving up to six individual items.
While this model does have convenient power and heat up lights so you can check that it is on, unfortunately, it doesn't have a power switch, so you'll have to remember to unplug it directly at the wall when you are done. Also, the power cord itself is fairly short, so make sure that you've got a free socket right where you are planning to use it.
All in all, this is a good value for money buy that works great for searing and general indoor grilling.
Pros – Things we liked
1200W indoor grill with removable hood
450℉ sear plus adjustable temperature control
118 sq inch grilling surface – serves up to 6
Viewing window
Dishwasher-safe hood, plate & drip tray
Cons – Things we didn't like
No on/off switch
Short power cord
Best Easy Viewing Indoor Grill
Techwood Smokeless Indoor Grill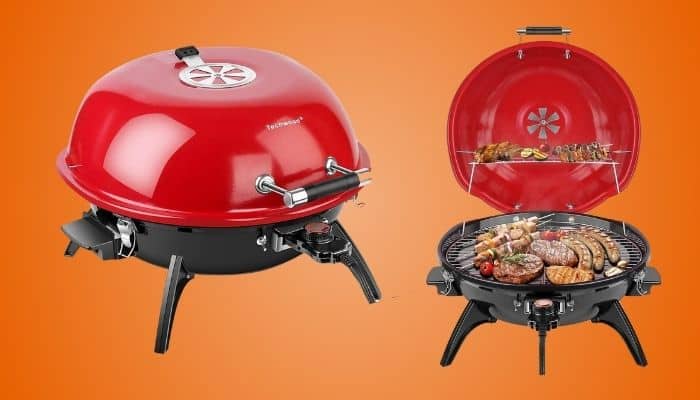 The Techwood Smokeless Indoor Grill is a great model if you want to be able to keep a close eye on your steaks as you grill them indoors. Thanks to its tempered glass lid you can easily see when it's time to flip, without having to open up your grill, reducing smoke getting into your home and grease splatters.
This 1500W indoor grill has a really useful LED temperature control system, allowing you to set your grill temperature between 220-450 degrees F. Before you start grilling make sure that you half fill the grease tray with water. Combined with the internal fan, the water tray allows you to really reduce the amount of smoke put out by this model for an almost smokeless indoor grilling session.
Thanks to its non-stick grilling surface and the dishwasher-safe grill plate and drip tray, cleanup is very fast and easy. On the downside, the instructions are very poor, mentioning non-existent features and neglecting to include other essential details such as how to fix the handle to the unit.
Also, you may find the fan to be a little bit noisy if you have a quiet home.
Pros – Things we liked
1500W power
Tempered glass lid for easy viewing
LED temperature control from 220-450℉
Water tray to reduce smoke output
Non-stick grilling surface
Cons – Things we didn't like
Poor instructions
Fan is a little noisy
Best Automatic Indoor Grill
T-fal Stainless Steel Large Indoor Grill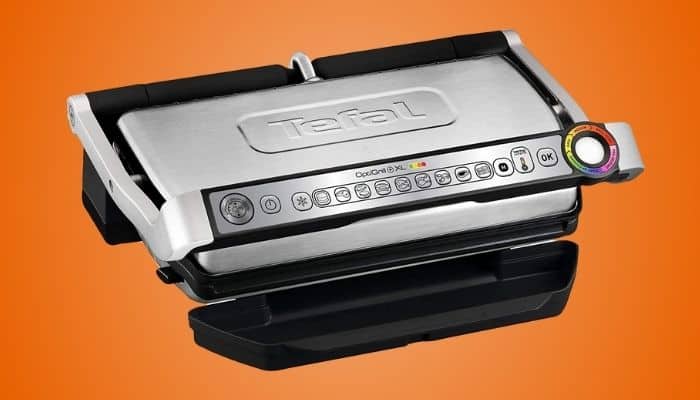 If you are looking for an automatic indoor grill, you won't find a better model than the T-fal OptiGrill Stainless Steel Large Indoor Grill.
Thanks to its Automatic Sensor Cooking Technology and Automatic Thickness Sensor, the OptiGrill immediately detects how many items you have on your grill and then automatically adjusts its temperature and cooking time depending on the thickness and size of your food as well as your levels of doneness preferences.
With nine automatic cooking programs, including: burgers, poultry, red meat, fish, shellfish, pork, bacon, sausage, and sandwiches, you can quickly get your grill set up to cook your meal. Cooking from frozen? Select the special frozen mode. Want to cook something different or to your own specification? Switch it into manual mode. Not only is this powerful 1800W indoor grill very easy to use, it is also easy to clean thanks to its dishwasher-safe drip tray and plates.
While this is a very useful indoor grill that virtually cooks your food all by itself, it can occasionally need a full reset and that requires a phone call to Tefal to go through the steps. Also, if you open the grill during cooking mode, to add seasoning or to check on the color, for example, it automatically switches to manual and you lose your automatic cooking alerts.
These slight issues aside, if you are looking for an automatic indoor grill that gives off next to no smoke and will cook your food with the minimum of intervention, this is the model to go for.
Pros – Things we liked
Powerful 1800W indoor grill
9 auto cooking programs plus frozen & manual modes
Automatic Sensor Cooking technology
Automatic thickness adjustment
Dishwasher-safe drip tray and plates
Cons – Things we didn't like
Have to ring to get reset info
When you open it, it automatically switches to manual mode
Best Portable Indoor Grill
Kenyon Frontier All Seasons Portable Stainless Steel Indoor Grill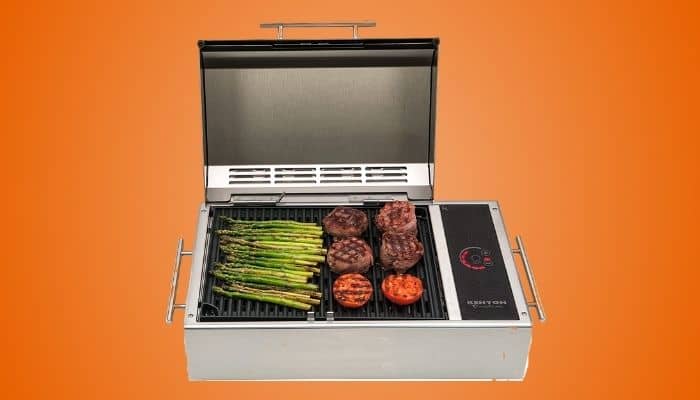 The Kenyon Frontier All Seasons Portable Indoor Grill is a great choice if you are looking for a premium indoor grill that you can also use outdoors or take with you round to friends and family thanks to its highly portable, weather-resistant design.
Made from marine-grade 304 stainless steel, this model also features a waterproof touch control panel for precise heat control, as well as a built-in GFCI power cord for your protection.
Rated 1300W, this stylish indoor grill can reach up to 600 degrees F, making it a great choice for searing, thanks to its insulated lid and fast preheat time of under seven minutes. The concealed heating elements eliminate flare ups, ensuring even heat distribution throughout the grilling surface. With its rectangular lid and flange you get 155 square inches of grilling surface, ideal for serving three to four people.
Note that this model utilizes disposable drip trays, which is reasonable enough considering its portable nature, although you will still have to remember to order replacements.
While the grill grate is dishwasher-safe for easy cleaning, unfortunately, its double coating is not the most durable, which is a little disappointing given the high price of this otherwise exceptional unit.
Pros – Things we liked
1300W indoor grill max temperature: 600℉
304 grade stainless steel construction
Digital touch control panel
155 square inch cooking surface
Pre-heats in under 7 minutes
Cons – Things we didn't like
Disposable drip tray
Grill coating is not the most durable
Why Trust Us
All of our reviews are compiled with a combination of expert input, years of hands-on testing of grilling products, curating the reviews of real-life buyers in a "wisdom of the crowd" system, and of course our own expertise. All the products listed are the ones we would buy if we were looking to purchase a new indoor grill.
Methodology Used to Pick the Best Indoors Grill
When picking the best indoor grill we looked at and then rated each grill on the following criteria. Price, total grilling surface area, power, the maximum temperature, temp controls, the grill plates, build quality, the lid, and any portability features.
Buyer's Guide to Buying the Best Indoor Grill
To help you to select the very best indoor grill for use in your home, we've compiled this buyer's guide so you can easily identify the most important features to consider when making your purchase.
Price
Consider your budget before checking out the market, as well as your cooking skills. If you are looking for an inexpensive indoor electric grill, you can easily pick up a budget-priced model for under $100.
Standard indoor grills with better quality design and easier to use features tend to be priced around $100-$150. If you are looking for a smart indoor grill expect to pay out around $200-$300, with premium versions costing $400 and over.
So, how much should you spend on your indoor grill? A lot depends on your situation, as well as how often you intend on using your indoor grill.
For example, if you mainly grill outside with a charcoal or propane grill and are just looking for an indoor model for a couple of grilling sessions over winter, you probably don't want to spend a huge amount. $100-$200 seems like a reasonable figure, given you're only really looking for a seasonal model.
On the other hand, if you live in an apartment and your indoor grill will be your only grill, plus you are looking for a model that you can use regularly for all types of food, you'd be better spending more, say around $300-$400.
While smart indoor grills are really useful, they are not to everyone's taste, so if you just want a basic indoor grill that's well designed, but will leave you in complete control of temperature and time, a $100-$200 model should suffice.
Grill Surface Size
Make sure you don't leave anyone out and select a grill that can accommodate enough food to grill for your entire household.
Large models, although more difficult to store and taking up a considerable amount of space when in use, can cook for up to 15 servings with large grilling surface areas of around 240 square inches and over.
For families of three to four members, a smaller model with a grill surface around 150 square inches should do you fine. 80 square inches should be enough for couples or if you are living on your own.
Power
Most indoor electric grills are rated between 1200-1800W. Any model in this range should provide you with adequate power for your home grilling needs. Any models under 1000W are likely to take a long time to adequately heat up and may struggle to get thick steaks cooked through.
Plus, you'll have to forget searing and high temperature grilling, so make sure you choose an indoor grill with a high enough wattage for your needs.
Max Temp and Temp Control
Your average indoor electric grill will have a top temperature of around 400 degrees F. Some models may even go as high as 450, 500, or even 600 degrees F. If you are going to be regularly searing thick steaks, make sure you get a model with at least a 450-500 degree F maximum temperature.
Temperature control is also important. Some models feature a basic dial that allows you to select a power level or temperature approximation. If you are looking for highly accurate temperature control, look for indoor grills with LED screens or smart versions that allow you to select the precise temperature for your recipe.
Grill Plates
Some models have removable grill plates for a much easier clean up after use. Always check what type of coating is used on your grill plate to make sure that your food doesn't stick to it.
Grill plates with grease channels and slight slopes make for a healthier choice, allowing the excess fat to drain away into your drip tray rather than having your meat stew in extra calories.
Build Quality & Materials
Higher priced models tend to have better build quality and use more durable materials. Stainless steel is a popular choice for its durability, although you will also see a lot of models that make extensive use of toughened plastic for lower weight and a more affordable product.
Likewise, cheaper indoor grills often have less efficient designs and may require extensive assembly or even some modifications before use. More expensive indoor grills should be ready to use out of the box and should feature a better range of higher quality materials and designs.
Lid
A lid is a good extra that will help you to keep your kitchen free from splatters and reduce smoke that will ruin your interior air quality.
Domed lids enable you to cook larger items such as whole chicken or meat joints, although these are only commonly found on large indoor grills.
Contact indoor grills have an upper grill plate that also doubles as a lid or you can also find some models that come with an upper glass lid or viewing window so you can see when you need to flip your food over.
Portable Features
Even though you'll be grilling indoors the odds are you'll still need to move your grill around to store it. Also, you may want to grill in a different room or to switch to a different counter depending on your power outlets and available space.
If you're going to be storing your grill in your garage, a carry handle can make it much easier to transport. Some indoor grills are also certified for outdoor use and may come with their own free-standing stands.
Top Indoor Grills Video
Final Thoughts
There are plenty of excellent indoor grills to choose from. Whether you're an apartment-dweller looking for an indoor grill for year-round use or have plenty of outdoor space but prefer to grill in the warmth or coolness of your kitchen, you're sure to find the very best indoor grill for your needs with our top-rated indoor grill reviews and buyer' guide.
If you are looking for a good value model, take a second look at the modestly priced Hamilton Beach Electric Indoor Searing Grill. With adjustable temperature control, plus a 450 degree F sear mode, this grill will cook whatever you want. Easy to use and clean up after with its removable hood complete with viewing window, if you are looking for an uncomplicated, good value indoor grill, this model is hard to beat.
Alternatively, if you are looking for an indoor grill that you can use to cook just about anything, you should consider our all-around favorite the Ninja Foodi Smart XL. This multi-function indoor grill also roasts, bakes, broils, dehydrates, and air crisps, as well as grilling. With its 500 degree F top temperature and all round searing, this is a high-powered indoor grill that comes complete with a smart thermometer for excellent results every time you use it.