Griddles are an excellent way to cook outdoors. Whether you've invested in a freestanding outdoor electric grill and griddle or are using a cast iron griddle over your BBQ, you'll need the right equipment to make cooking on your griddle a success. Most importantly, you'll need to invest in the best griddle spatula to ensure even cooking and easy serving. Here's our guide to finding the best griddle spatulas on the market.
Best Griddle Spatulas
With so many hundreds of griddle spatulas to choose from, searching for the best models can seem like a never-ending quest. Save yourself time and hassle researching with our top ten griddle spatula and griddle spatula set reviews
Best Overall Griddle Spatula
Mercer Culinary Hell's Handle Spatula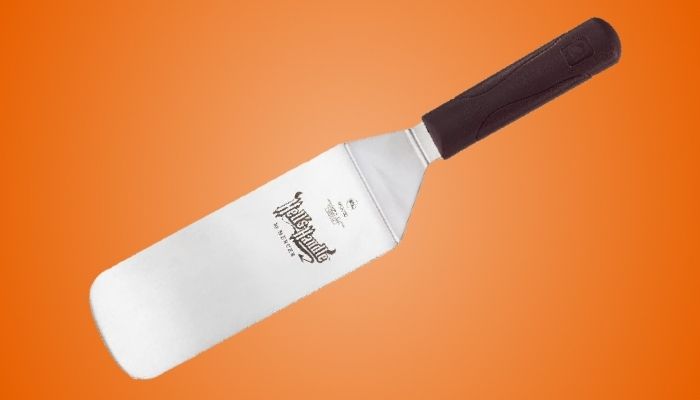 The Mercer Culinary Hell's Handle Spatula is the best all-around griddle spatula on the market.
Measuring eight inches long by three inches wide, its precision-ground Japanese stainless steel blade provides an excellent combination of strength and flexibility, perfect for long items such as fillets of fish, as well as being sharp enough to separate meat when flipping your smash burgers.
Its special heat-resistant nylon handle absorbs 50% more heat than regular polypropylene handles remaining cooler for longer. Complete with a dual textured finish to resist slipping and improve grip, the handle is also capable of withstanding temperatures as high as 450 degrees F and features a sanitary sealed design.
While some people find this spatula to be a little on the heavy side at just over eight pounds, its premium construction and excellent design make it a highly functional griddle accessory that gives you impressive reach with a total length of 14 and three-quarter inches.
Complete with a lifetime warranty if you are looking for the very best griddle spatula, the Hell's Handle Turner is the one to beat.
Pros – Things we liked
Japanese stainless steel blade
Heat-resistant handle
Blade measures 8 inches by 3 inches
Lifetime warranty
Cons – Things we didn't like
A little heavy 8.3oz
Best Professional Griddle Spatula Set
Blackstone Flat Top Griddle Professional Grade Spatula Kit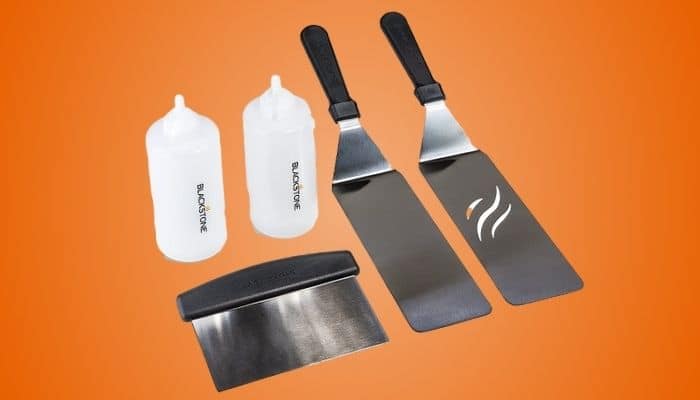 The Blackstone Flat Top Griddle Professional Grade Spatula Kit contains everything you need to start cooking with your new griddle in a money-saving bundle.
This kit contains two stainless steel spatulas that are easily maneuverable on a good-sized 20-22 inch griddle. Large enough to get good amounts of food moved and flipped, the perforated spatula is a good choice for your burgers and other items with high fat content.
This griddle spatula set also includes two branded liquid dispensers for oils and water, plus a handy chopper that also doubles up as a scraper to keep your griddle clean. While the spatulas are pretty flimsy, bending a little too easily, they do have a good amount of flexibility for working around a packed griddle.
The long spatula blades help to prevent the handles from becoming too hot to hold, while their plastic construction makes for easy cleaning and great durability. As an extra bonus this Blackstone griddle spatula set also includes a cookbook sampler containing 53 recipes for your griddle. While the spatulas are not the very best, the entire kit is a good starting point for anyone new to using a griddle.
Pros – Things we liked
Includes two stainless steel spatulas
Two branded liquid dispensers
One stainless steel chopper/scraper
Blackstone Cookbook Sampler
Good starter set
Cons – Things we didn't like
Spatulas bend a little too easily
Best Multi-Purpose Griddle Spatula
OXO Good Grips Restaurant Turner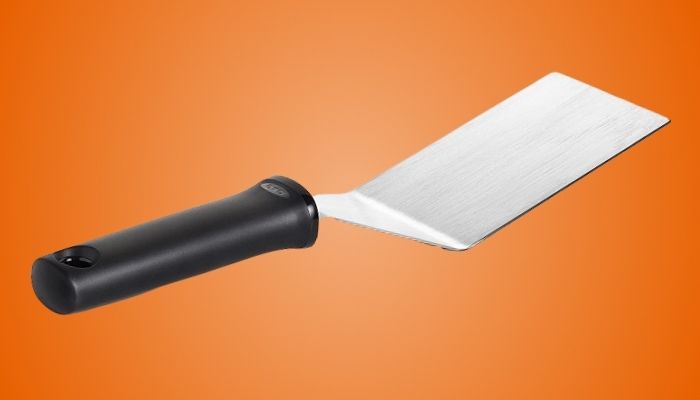 The Oxo Good Grips Restaurant Turner is made with a stainless steel blade that features three beveled edges.
This makes it a good choice for chopping while you cook, as well as scraping down your griddle when you're done. Measuring almost three inches wide, it enables you to keep large food items intact when lifting, while its 12.4 inch length keeps your hands away from the heat of your griddle.
The flared non-slip handle allows for a comfortable grip, making turning easy and preventing your hands from getting too close to the head. However, this particular model is lacking a little in flexibility, so you may find it a little stiff when you have a lot of items to manage on your griddle.
Easy to clean after use, the Oxo Restaurant Turner is dishwasher-safe. Weighing just 0.43 pounds it is also very lightweight so you're less likely to get tired using it to flip burgers. If you are looking for a dishwasher-safe griddle spatula that can also double up as a chopper and scraper, this model makes a good choice.
Pros – Things we liked
Wide stainless steel head
Beveled edges for cutting
Non-slip handle
Dishwasher-safe
Lightweight
Cons – Things we didn't like
A bit stiff
Best Premium Griddle Spatula Set
Weber Spatula Tool Set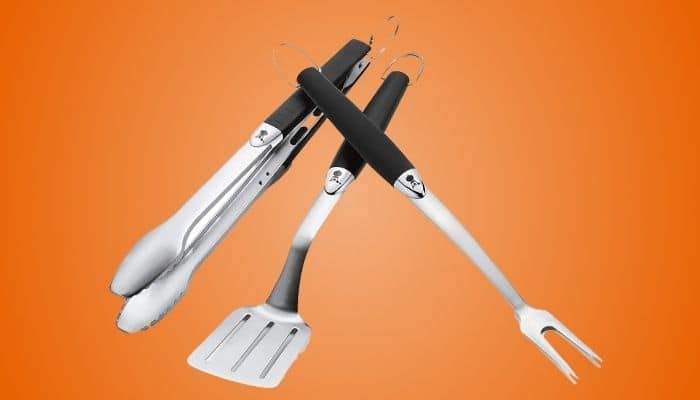 If you're looking for a premium set of tools for your griddle, the Weber Spatula Tool Set is our top pick. Consisting of a spatula, fork, and locking tongs, this set is extremely useful for any griddle owner. All of the tools are made from durable stainless steel and have soft-touch, non-slip handles.
The spatula measures a good 18 inches long and benefits from a wide 3.8-inches wide head for an easy transfer from your griddle to your serving plate, as well as flipping pancakes and other wide food items. It also features an arched neck to make it easier to maneuver while keeping your hand away from your hot griddle surface.
Dishwasher-safe, these three essential griddle tools are easy to get clean and they all feature end loops. Hang them on your grill's hooks so they'll be at hand when you need them. While this is a really popular set, unfortunately, the spatula could be a little more sturdy, not being quite up to the same high standard as the tongs and fork.
Pros – Things we liked
Spatula, fork, and locking tongs set
Made from stainless steel
Dishwasher-safe
Soft-touch handles with non-slip grips
Cons – Things we didn't like
Spatula could be more robust
Best Griddle Spatula for Hamburgers
New Star Foodservice Wood Handle Hamburger Spatula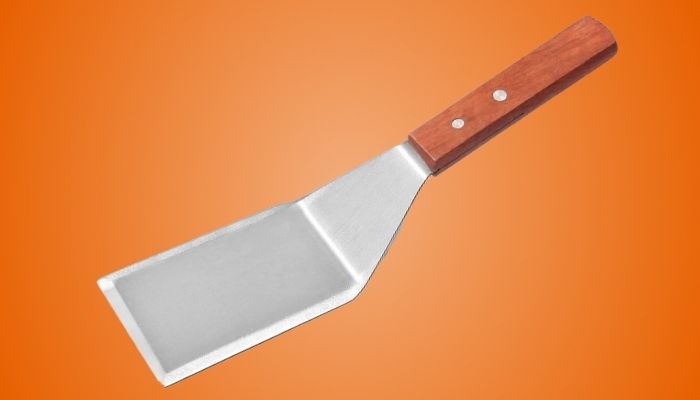 The best spatula for making both smash and regular burgers on your griddle is the Hamburger Spatula by New Star Foodservice. Thanks to its three-inch wide stainless steel head complete with two sharp beveled edges, it gets under burgers with ease as well as having enough rigidity to smash them.
Use the sharp beveled edges to cut through meat, the securely riveted wooden handle makes this griddle spatula easy to grip. Measuring 11.5 inches long it is strong enough to pick up and flip even large, heavy items, as well as delicate ones such as omelets and pancakes.
To maintain the edges on the stainless steel head and to ensure the handle doesn't crack or become damaged, this item is hand wash only. So, if you are looking for a dishwasher-safe spatula for your griddle, you'd be better off with another top-rated griddle spatula from our other reviews.
Otherwise, this hamburger spatula makes an excellent value for money buy and is a perfect design for cooking burgers on your griddle.
Pros – Things we liked
Three-inch wide stainless steel blade
Securely riveted wooden handle
Two sharp beveled edges
11.5-inch total length
Cons – Things we didn't like
Hand wash only
Best Value Griddle Spatula Set
Cuisinart Stainless Steel 5-Piece Griddle Spatula Set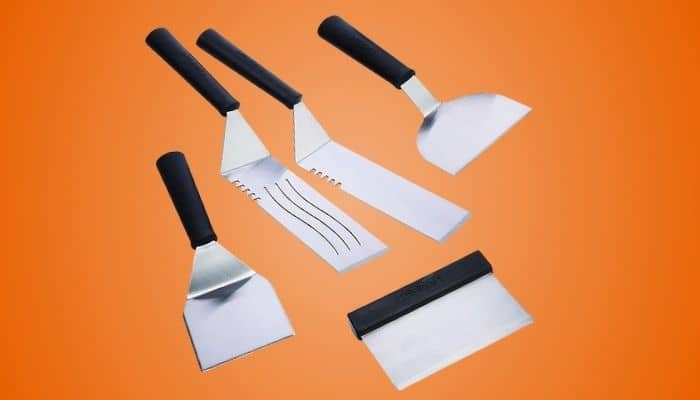 This Five-Piece Griddle Spatula Set by Cuisinart is fantastic value for money and makes an excellent purchase.
All heads are made from durable, high-quality stainless steel as you would expect from this premium brand. The two long flexible spatulas are perfect for sliding under delicate food such as eggs or fish, thanks to their beveled edges.
Use the perforated model to allow excess grease to drip away when serving. Both long spatulas have a serrated edge to enable you to easily cut into your food to check that it is cooked to your liking. There are two shorter turner spatulas, one rounded that is a great choice for flipping burgers while the tapered shoulder one is great for sandwiches.
There is also a scraper in this spatula set that is ideal for chopping up food on your griddle as well as cleaning it after use. Highly functional, the only real drawback to this comprehensive set is that the spatulas do not have any loops or holes to hang them up.
All in all, you won't find a better value griddle spatula set of such high quality.
Pros – Things we liked
2 spatulas, 2 turners, & 1 scraper
Durable stainless steel heads
Beveled edges for easier control
Chop foods directly on your griddle
Cons – Things we didn't like
No hanging loops
Best Griddle Spatula Set for Breakfast
Anmarko Teppanyaki, Pancake Flipper or Hamburger Turner Spatulas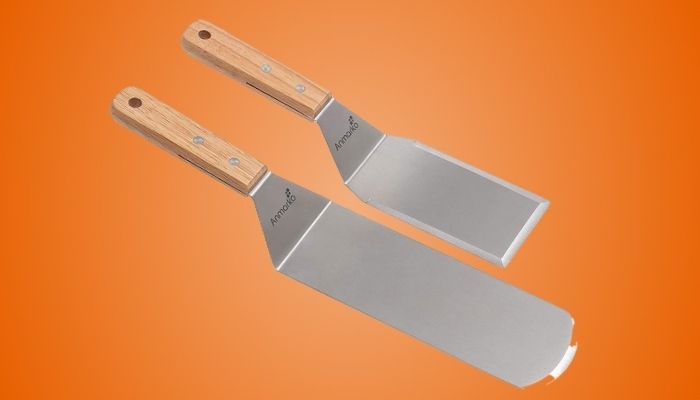 If you love making breakfast on your griddle, you'll want to check out this set of two stainless steel griddle spatulas that are ideal for flipping pancakes. Both heads feature beveled edges to allow you to get right under your pancakes and eggs with ease. You can also use them to cut through your ingredients directly on your griddle.
Complete with unfinished wood handles that are riveted securely on, these griddle spatulas make a good quality, durable choice. However, bear in mind that the handles themselves are not very ergonomic, so they can be a little uncomfortable if used extensively.
The long spatula is 18 inches in length, ideal for reaching over larger griddles with plenty of food cooking. The shorter one is better for turning your food items with its easier to maneuver 12-inch length. Both have a good three-inch width to easily serve up your breakfast fresh off your griddle.
All in all, a good griddle spatula set for the money. As well as serving up breakfasts, this set would also work well for cooking and serving other fragile items such as fish and shrimp on your griddle.
Pros – Things we liked
Two stainless steel spatulas
Long heads for easy pancake flipping
Riveted wooden handles
Beveled edges
Cons – Things we didn't like
Handles are not very ergonomic
Best Griddle Accessory Kit
Rivexy Multipurpose Griddle Spatula Set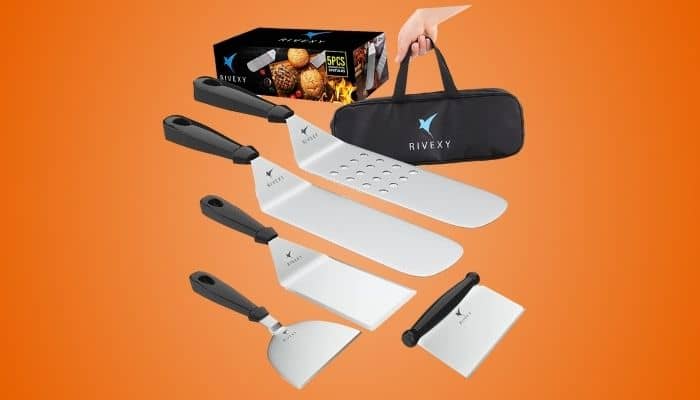 If you are looking for a full accessory kit for your griddle, this spatula set by Rivexy will not disappoint. It features five different pieces, including two long spatulas, one of which is perforated to remove excess grease before serving, one wide flipper for your pancakes, a rectangular turner, and a griddle scraper/chopper.
With this comprehensive set, you'll have the right tool for just about any recipe you want to cook on your griddle. All five pieces have sharp beveled edges which makes it really easy to get under your food, even tricky, delicate items like pancakes or eggs. The long spatulas can also be used on your grill and all of the items have non-slip, easy-to-grip handles.
While this is a robust griddle accessory set, unfortunately, the spatulas are not very flexible. However, being such great value for money, you could easily pick up a low cost additional spatula that has better flexibility to use with this set.
To keep all of your equipment neatly and safely stored, this griddle accessory kit comes complete with a convenient storage bag.
Pros – Things we liked
Five piece spatula & scraper set
Stainless steel heads
Non-slip plastic handles
Storage bag included
Cons – Things we didn't like
Not very flexible
Best Budget Griddle Spatula Set
Wanbasion BBQ Griddle Spatula Set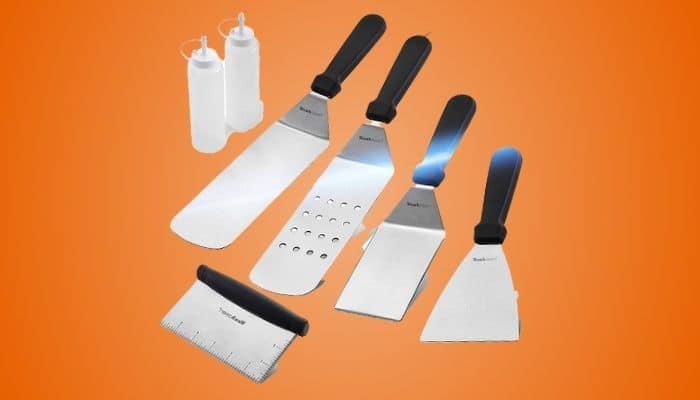 One of the best griddle spatula sets at a low price, opt for the Wanbasion BBQ Griddle Spatula Set if you're looking for a reasonable set of griddle tools without spending a lot of cash. This seven-piece set consists of two spatulas, one flipper, one turner, one scraper, and two lidded squeeze bottles.
The oversized flipper, in particular, stands out thanks to its extra wide blade measuring just under four inches wide. This makes it a good choice for flipping and serving up fried eggs and omelets. Unfortunately, the scrapper is not quite as useful as it tends to bend when you apply pressure to it.
Made from durable stainless steel with heat-resistant, anti-slip handles, this set would make a good starting kit for anyone new to using a griddle. The lidded squeeze bottles have wide mouth openings so you can easily fill them with your favorite oils or water and keep them handy throughout your cooking.
All in all, while there are better quality griddle spatulas out there, this budget-priced set will get the job done and could save you a lot of money.
Pros – Things we liked
7-piece set
Oversized extra wide flipper
Heat-resistant, non-slip handles
Durable stainless steel construction
Cons – Things we didn't like
Weak scraper
Best Luxury Griddle Spatula
Victorinox Offset Spatula/Turner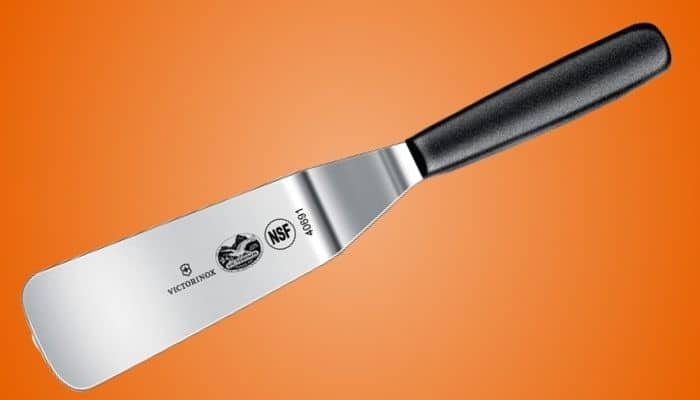 If you prefer to invest in the best tools for cooking, you'll definitely want to take a closer look at the Victorinox Offset Spatula, our top luxury griddle spatula pick. Precision-made in Switzerland, this spatula is flexible, lightweight, and highly durable.
Good looking and highly functional, this griddle spatula features a durable high carbon stainless steel blade. The handle is comfortable to hold and made from NSF-approved polypropylene to minimize the risks of slipping. Ideal for deftly turning your delicate food items on your griddle, this spatula is also a great choice for general use in the kitchen as well as on your griddle.
On the downside, at just six inches, it is a little small for large family meals with a lot of flipping, although Victorinox does make a larger 10-inch model that could be a better choice for heavily loaded griddles.
Thanks to its superior construction, this griddle spatula is one of the very best models on the market and a highly durable model that will last for many years to come.
Pros – Things we liked
NSF-approved polypropylene handle
High carbon stainless steel blade
Made in Switzerland
Lightweight
Flexible
Cons – Things we didn't like
A little small for some items
Why Trust Us
All of our reviews are compiled with a combination of expert input, years of hands-on testing of grilling products, curating the reviews of real-life buyers in a "wisdom of the crowd" system, and of course our own expertise. All the products listed are the ones we would buy if we were looking to purchase a new griddle spatula.
Methodology Used to Pick the Best Griddle Spatula
When picking the best griddle spatula we looked at which style of spatula was best for griddling and then rated each spatula on the following criteria. Price, spatula length, head size, the materials it was made from, its grip, slots, and whether it came as a set and if so, what was in the set with it.
Buyer's Guide to Buying the Best Griddle Spatula & Spatula Set
Don't just buy the first griddle spatula set you come across, make sure that your griddle spatula is the best model for your needs with our griddle spatula buyer's guide.
Price
Griddle spatulas are generally fairly inexpensive, with prices starting at around $8 for an entry-level individual model. Basic sets with two spatulas tend to be priced between $10-$20, although you can also find some budget kits consisting of four to five pieces priced from $20 upwards.
Premium griddle spatulas that are sold individually can cost between $20-$50 and over, often much more than a cheap set of griddle spatulas. However, purchasing a good quality model often means you get a longer lasting tool that will be easier and more enjoyable to use.
If you are new to using a griddle, you may want to get yourself a basic starter kit and slowly supplement it with higher quality individual models as you figure out what you cook the most on your griddle.
Spatula Length
Spatulas for griddles come in a wide range of lengths. Some are as short as 5-6 inches, whereas others may even reach 15-16 inches in length. For heavy food items, you'll be better off with a stocky version to help to support the extra weight. For large, light items, such as omelets, a longer model with good flexibility can be a better choice.
You should also bear in mind how large your griddle is and how many people you tend to cook for. One or two portions can be easily flipped with a short-handled spatula. If you have a large grill with a lot of food on it, a longer handled spatula can make it easier to reach in between portions at the back of your griddle without getting your hand too hot.
Head Size & Thickness
Thick spatulas are generally more durable, however they can be more difficult to slide under your ingredients. Models with beveled edges can make it much easier to get a thicker spatula under your eggs, for example. Thinner spatulas also tend to be more flexible, a desirable characteristic of griddle spatulas that can make flipping much easier.
Your spatula head size should correspond to what you have cooking, especially for large, heavy items or fragile ones that are likely to tear. For stir fries and vegetable mixtures, you'll want a spatula with a good wide head to rotate a maximum of ingredients per pass.
What Materials is it made from?
The best material for griddle spatulas is stainless steel. Corrosion-resistant and safe for use with food, stainless steel is also highly durable and strong. Handles are typically made from wood or polypropylene. Spatulas with wooden handles are often unsuitable for cleaning in your dishwasher.
Grip
A good grip is important or else you may find that you end up dropping a lot of your meal or burning yourself trying to retrieve it. Ergonomically shaped handles or ones with textured surfaces give much better grip, especially when you're dealing with slippery, oily foods over the heat of your griddle which can make your palms moist.
Slots
Slots or perforations on your spatula head allow excess grease or moisture to fall back onto your griddle when you remove your cooked food. This makes for much easier serving, saving you from having to go round each plate wiping off any unsightly liquids.
Best Spatula Set Extras
If you opt for a griddle spatula set rather than an individual spatula, you may find that your set contains more than just your standard griddle spatulas. Here are some of the most useful extras that you can find in some of the best spatula sets.
Chopper/Scraper
Griddle scrapers are very useful accessories, so if your set doesn't come with one, you may want to consider purchasing a separate scraper. Stick your vegetables on your griddle and chop them as they cook with your scraper for hassle-free recipe preparation.
Choppers also double up as handy scrapers, ideal for getting off any burnt-on food and keeping your griddle in excellent condition without having to resort to extensive cleaning routines.
Squeeze Bottles
Two or more squeeze bottles, one filled with water, another with oil, will make it much easier to cook with your griddle. Look out for bottles with wide mouths for easy filling and make sure that they have flat bases so you can stand them up in between squirts.
Grill Press
A grill press is a heavy, flat weight that is used to speed up your cook times. It is usually used for burger patties and steaks, giving you more even coloring and ensuring your burger is thoroughly cooked through.
Tongs
Tongs are an essential grilling accessory. Anything that you cook on your griddle that you could also grill can generally be more easily handled with tongs. Sausages, steaks, wings, chicken, and large vegetable slices are all often much easier to rotate and turn with tongs.
Forks
Forks are useful for removing items from your griddle, as well as for holding your food still for slicing. They can also be handy to have to move larger items around your griddle.
Different Sized Spatulas
A selection of different sized spatulas will make it easier to flip, stir, and serve a wider variety of dishes. Long spatulas are good for getting in between items when you have a lot cooking on your griddle. Shorter, wider spatulas are good for turning large or fragile items.
Carry Case/Bag
While not essential, a carry case or bag is a nice extra that will help you to keep your griddle spatulas neatly organized and ready for use. As some models have sharp beveled edges, a dedicated storage bag can also be a safer way to store your griddle spatulas and ensure they stay sharp.
Top Griddle Spatulas Video
Final Thoughts
Before you hit buy, take a few moments to consider which griddle spatulas really are the best models for your needs. While everyone has different cooking styles and favors different recipes, a few griddle spatulas really stand out as exceptionally well designed tools.
If you are looking for the very best griddle spatula, you can't go wrong with our overall favorite, the Hell's Handle Spatula by Mercer Culinary. This model features an exceptional Japanese stainless steel blade with the perfect combination of flexibility and strength. The textured, heat-resistant handle provides excellent grip and is also hygienically sealed to ensure no drips or spills will penetrate inside.
Alternatively, if you are looking for a high-quality griddle spatula set, the Five Piece Griddle Spatula Set by Cuisinart is an excellent value for money purchase. With two long spatulas, two turners, and one chopper, all made from high-quality stainless steel, this set is a must-buy for anyone looking to extend their griddle accessory collection without breaking the bank.