Grilling is a great hobby, and like all hobbies, there is an endless list of accessories out there to help support your BBQ habit. One accessory that often seems like an afterthought, though, are grill tool sets. And yet, without the right tools, grilling is harder than it needs to be! When pitmasters don't have the best BBQ grill tool sets for the job, they can end up frustrated as they try to make do with what they have on hand.
We spend a lot of time and money buying grills, cooking baskets, grill lights and even outdoor furniture. But many people skimp when it comes to picking out a good set of BBQ tools.
I have seen folks burn themselves trying to flip hot dogs with a kitchen fork, or melt plastic spatulas trying to rotate kabobs. There is nothing like grilling the perfect steak…only to have it fall to the ground when the beat-up tongs lose their grip mid-flight.
Avoid these BBQ fails! We have picked out the 11 best BBQ grill tool sets on the market to get you grilling with ease. Whether you are new to barbecuing or need some replacement pieces, there is a toolset here to meet any requirement.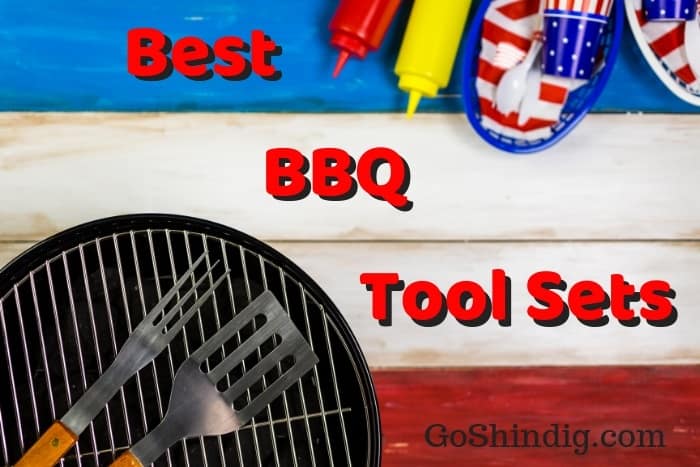 Best BBQ Grill Tool Sets- Top 11
How do you pick the best BBQ grill tool set for your family? It depends.
Every user is going to have slightly different priorities for buying a tool set. You may want a set with a special tool for every job. Or one designed for camping or specialty grilling. Alternatively, you might prefer to start with a nice, well rounded basic set and then add individual pieces as you desire them.
Some things are universal about the best BBQ grill tool sets, though. You want a set that feels good in your hands. Ergonomic grips can make a big difference in how the tools handle under fire. You also want a set that is sturdy and will last through years of hard use.
Weber 3-Piece Stainless Steel Tool Set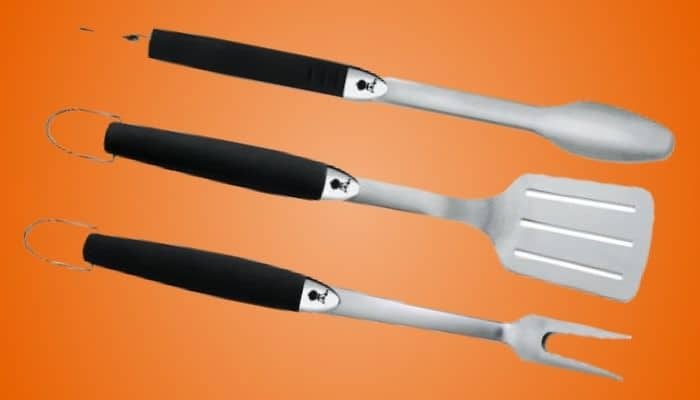 If you read this site frequently, you already know I am a big fan of Weber products! This premium Weber tool set is ideal for both beginners and grill masters.
Made with dishwasher-safe stainless steel, these tools have a non-slip soft touch handle that makes them sit comfortably in your hands. You won't lose your grip while grilling with these tools.
They are also the perfect size to take with you on a campout! At 18 inches in length, these compact grill tools are easy to pack away and store when not in use.
Whilst basic, the set is complete with the three tools we use the most when grilling. It comes with a spatula, a fork and a pair of locking tongs.
Alpha Grillers Heavy Duty BBQ Grilling Tools Set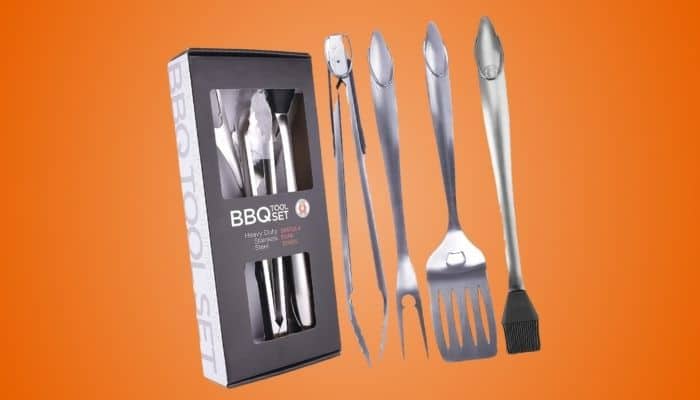 If heavy duty is something you look for in tools, then this might be the set for you. You will never bend, dent or break the tools in this set.
Made from solid stainless steel, this hefty set has comfortable contoured rubber grips and convenient long loops for hanging on your grill. You can toss them in the dishwasher for an easy cleanup.
Alpha Grillers backs these tools up with a lifetime guarantee. You can feel safe knowing your investment will last through years of outdoor cooking.
This 4-piece set includes a spatula, a fork, a pair of locking tongs and a silicone basting brush. As their ad says, it has everything you need and nothing you don't!
Romanticist 21-Piece BBQ Grill Accessory Set with Thermometer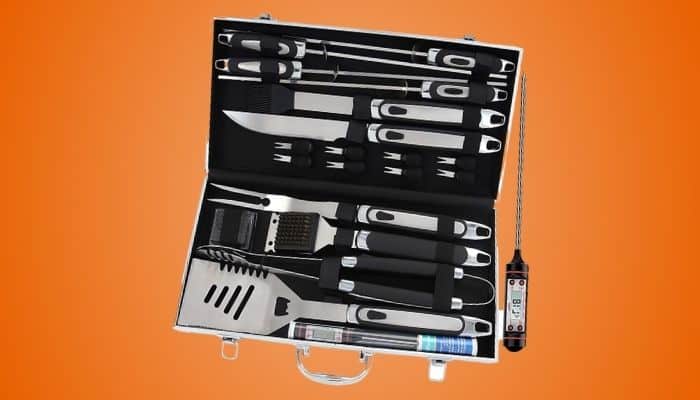 BBQ enthusiasts will want to play with this tool set. It comes complete with everything one could want, and even includes a carrying case!
The durable stainless steel construction of these tools can take a beating and keep on cooking. The extra thick rubber handles with a non-slip design are well suited to big hands.
The lightweight aluminum case has Velcro and elastic loops to ensure that the tools stay in place when you are on the go. It looks pretty awesome too!
This set has an oversized spatula, a fork, a pair of tongs, a knife, a cleaning brush with an extra brush head, a basting brush, and a digital meat thermometer. It also includes 8 corn holders and 4 kabob skewers.
Home-Complete BBQ Grill Tool Set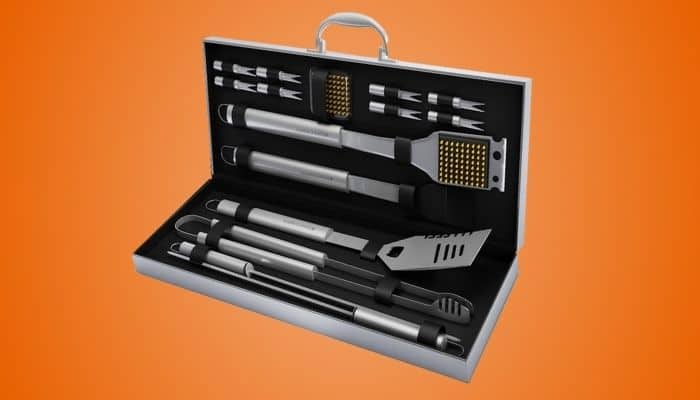 Another tool set that will spark desire in a BBQ lover, this one also comes with a sturdy aluminum case. A great choice if you want to look like a professional griller!
Made with top-quality stainless steel, these tools can handle the heat and will resist rusting. The handles fit comfortably in your hands and let you flip and serve with proficiency.
The convenient storage case has Velcro tapes to keep your tools organized, and the sturdy construction makes it easy to bring these tools with you to a picnic or on a campout.
The 16-piece set includes a spatula, a fork, a pair of tongs, a basting brush, and a cleaning brush with an extra head. It also includes 8 corn holders and 2 kabob skewers.
Romanticist 8-Piece BBQ Professional Griddle Tool Set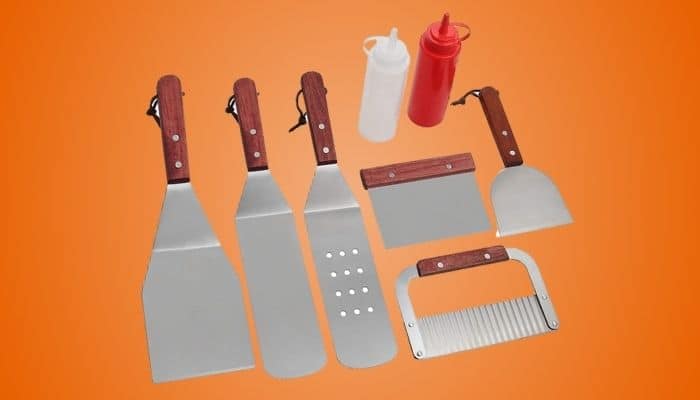 This set is a little different from the others, but it is a great option for those who enjoy using a griddle while tailgating or camping. Many of the best BBQ grill tool sets are not ideal for griddle cooking, but this one will have you flipping flapjacks like a line cook!
Made with high-quality stainless steel, the wood-handled tools will fit comfortably in your hands. The offset design of the handles will make it easy to get under eggs and flip hash browns for the perfect crust.
With care, these tools work on a grill as well as a griddle. Just keep those wooden handles clear of the direct flames!
This set is complete with two long spatulas, a wide spatula, a griddle scraper, a straight and a curvy chopper (for crinkle-cut fries), and two squeeze bottles.
Grill Art Utensil BBQ Tools Set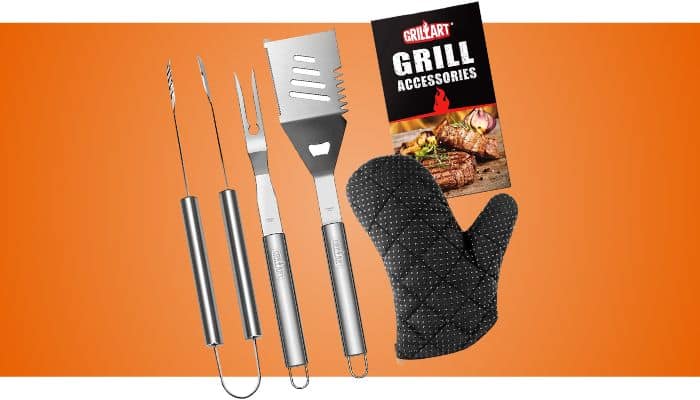 This heavy-duty set is for those who really like to play with fire! Not only is it a complete set of all the basic tools you need for grilling, but it also comes with a heavy-duty grill mitten to keep your hand burn-free.
These professional-grade stainless steel tools are sturdy and feel great in your hands. The reinforced steel tongs should stand up to the fire for years to come.
There is no need to worry about this set wearing out. Grill Art backs this product with a lifetime guarantee.
The set includes a spatula, a fork, a pair of tongs, and a grill glove. With such high quality, it is no surprise that this is one of the best BBQ grill tool sets around.
OlarHike BBQ Tools Set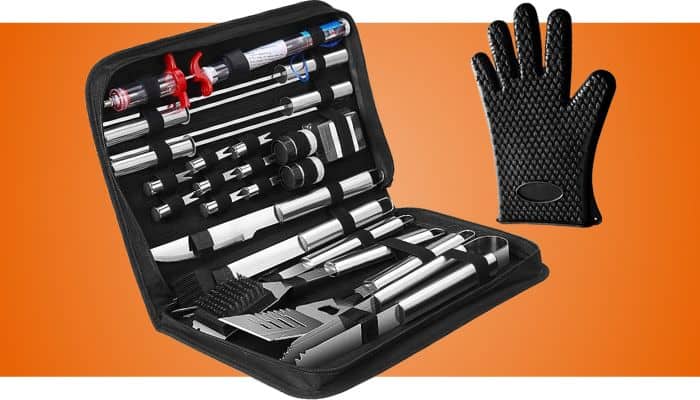 22 grilling tools, including a digital meat thermometer, grill cleaning brush, salt and pepper shakers, meat injector, kabob skewers, and a silicone glove, are included in this OlarHike BBQ tool set.
The big handles on all of the grilling utensils provide for a secure hold. The handles are long enough that you might not need to use a grill glove when grilling thanks to the stainless steel construction, which also prevents melting or bending.
The barbecue tool set is not dishwasher safe. But because of the materials employed, I discovered that cleaning it by hand was simple. The tools can be easily hung up using their metal hooks, and the cleaning brush also includes an extra brush head.
Cuisinart Deluxe Grill Set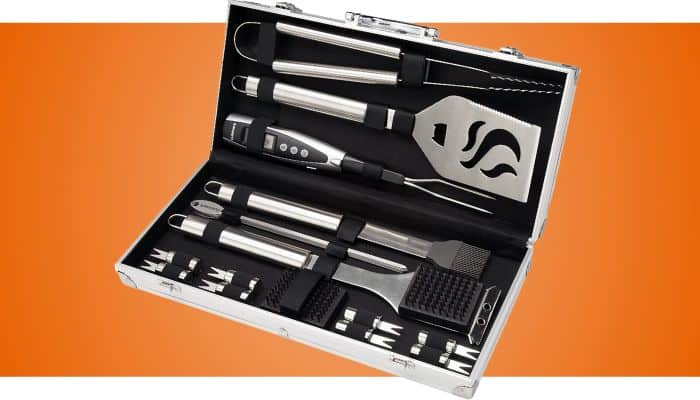 This Cuisinart 20-piece grill set comes with a well-designed assortment of tools that are an attractive and useful complement to a grilling setup.
The spatula stands out above the other grilling essentials because its wide surface area, which makes it easy to support even larger burgers. The 17-inch tongs, which offer plenty of length for rotating hot dogs or lengthy shish kebabs on a hot grill, are among the other standout features.
By combining the grill fork with a digital thermometer that emits an alarm to prevent overcooking the meat, Cuisinart takes a new approach to the grill fork. The extra-long 18.5-inch grill brush makes it easier to scrape char from a hot grill, and practical extras like corn holders and skewers are also included.
Style is added by design details like the beautiful flame pattern in the spatula head. For transportation to the barbeque, all of the tools fit into a stylish protective case made of stainless steel.
Ohuhu BBQ Griddle Spatula Tool Set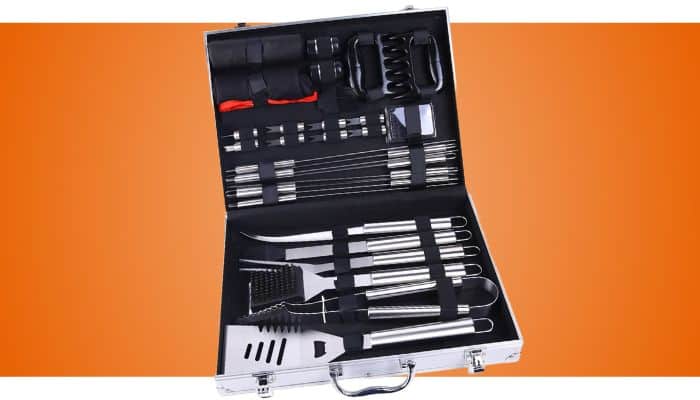 This 31-piece collection of grilling tools from Ohuhu has stainless steel construction and includes everything required for the upcoming family barbecue. Each grilling utensil features extended handles that are comfortable to hold, have a unique appearance, and are simple to clean after the barbecue. Additionally, the majority of these tools include hanging rings for simple storage.
A spatula, a barbecue fork, a grill brush with a replaceable head, a slotted spatula with a scraper, grill tongs, and several practical extras, including a large carving knife, a basting brush, meat shredders, corn holders, skewers, a bottle opener, and even a barbecue apron, are all included in this set.
A set of stainless steel salt and pepper shakers and a stainless steel carrying and storage case are just two of the thoughtful extras that are included.
Great Grill Tool Sets
My opinion on what makes my best grill tool set list changes from year to year. This could be due to new grill sets becoming available, companies upgrading a toolset, or simply because a certain tool set isn't being made anymore. So instead of deleting the BBQ tools set from the article completely I have decided to keep the toolsets I have removed from my best BBQ tool set list and add them to this great grill tool set section. I've done this because these are still amazing products and if you find them at a discounted price or second hand they will likely be bargains too good to turn down. Just click on the open button to see more details.
Table Comparing Great Grilling Tool Kits
Sunneko Grill Tool Set for BBQ
Buy on Amazon

Sunneko Grill Tool Set for BBQ

Designed for travel, these tools and aluminum case are perfect for the outdoors. If you have a travel grill, you might want this set to keep it company.

The restaurant-quality stainless steel is heavy-duty and extremely sturdy. The rounded handles and rubber grips will keep these tools comfortably in hand.

This set has a 100% money-back guarantee, so there is no risk you will be unhappy with these tools. Sunneko takes its customer service seriously.

Along with the aluminum case, this set includes a spatula, a fork, a pair of tongs, a silicone basting brush, and a cleaning brush.

The Sunneko grill tool set product picture

Kacebela BBQ Tools Set
Buy on Amazon

Kacebela BBQ Tools Set

Looking for a complete tool set with an easy-to-use carrying case? Then check out this pick!

Designed with the user in mind, this set is made from premium stainless steel. The rounded handles are sturdy and fit well in anyone's hands, and they are dishwasher safe.

The aluminum carrying case has Velcro tapes to keep all of your tools in their place. It is easy to take this set with you or store it away when you are not using it.

This set includes a spatula, a fork, a pair of tongs, a knife, a silicone basting brush, and a cleaning brush with an extra head. It also has 4 kabob skewers and 8 corn holders.

The Kacebela grill tool set product picture

Mr. Bar B Q Forged 5-Piece BBQ Tool Set
Buy on Amazon

Mr. Bar B Q Forged 5-Piece BBQ Tool Set

If the BBQ lover in your family prefers a classic look to their tools, then this is the set for them. Even the case is made from hardwood!

The forged stainless steel tools are sturdy and will last a lifetime. The handles are hand-carved out of rosewood, and fit beautifully in the hand.

The case has slots for each tool, and the cushioning around each slot will ensure that the tools don't get damaged in transit. The Velcro tapes will keep them securely in their place.

This set is complete with a spatula, a fork, a pair of tongs, a basting brush and a knife. With the hardwood case, this is the most beautiful of the best BBQ grill tool sets we are featuring here.

The Mr. Bar B Q grill tool set product picture

Grill Joy 7-Piece BBQ Grill Tool Set
Buy on Amazon

Grill Joy 7-Piece BBQ Grill Tool Set

A great option for the new BBQ master, this set has everything you need for outdoor cooking. The included apron even doubles as a storage case!

These heavy-duty professional-grade stainless steel tools are durable and comfortable to use. They are also dishwasher-safe for easy cleanup.

The apron has slots to hold your tools while cooking, so they are always within your reach. And the set comes with a 100% money-back guarantee!

The tool set includes the apron/case, a spatula, a fork, a pair of tongs, a grill mitten, and a salt and pepper shaker.

The Grill Joy BBQ tool set product picture

Poligo 12-Piece Grill Tools Set
Buy on Amazon

Poligo 12-Piece Grill Tools Set

This is the ultimate grill tool set for tailgating, picnics, and camping trips. Not only does it come with a handy carrying case for the tools- you can even keep 15 cans of soda or beer cool in it as well!

The professional-grade stainless steel tools will stand up to hard use and are dishwasher-safe. The rounded handles are comfortable and have loops to make it easy to hang them from your grill.

The cooler case has a special compartment to keep your tools separate from your beer. The tool section will keep your utensils safe and in their place while you hike around.

This set is a picnicker dream. It includes the cooler case, a spatula, a fork, a pair of tongs, a large knife, a steak knife, a small fork, a corkscrew/bottle opener, a small cutting board, a grill glove, and a salt and pepper shaker.

The Poligo grill tool set product picture
Features to Look for in a Grill Tool Set
There are several things to think about when seeking to purchase a grill tool set to make sure you get the best toolset for you. If you want to guarantee a seamless grilling experience for many years to come, you should consider the components, their quality, and a number of other distinguishing characteristics in addition to the price.
You need to understand precisely what will enhance your grilling experience, how the various grill tool sets may facilitate your job around the grill, and how to recognize the ideal ratio between high quality and affordability. It's also crucial to realize how much easier it is to buy a set of grilling tools than to buy each item separately.
Let's examine what characteristics a great set of grilling utensils should have, what to look out for, and how to make sure you're obtaining the greatest set possible for your money.
Tools Included
A smaller set often comes with three to five grilling utensils, while a larger set may have up to 30 tools in a convenient hard shell box. For instance, most barbecue tool sets include necessary items as well as a few luxuries. For me, there are only two essential tools all set should have (a pair of tongs and a spatula), but many people would disagree with me on this and add other items. So you need to decide if something is essential for you or not. And obviously, you can buy a toolset with the bulk of the gear you need and slowly add to it with individual tool purchases.
A selection of the following, a spatula, a barbeque fork, a grill scraper, a basting brush, and tongs are all included in both smaller and larger sets. A meat thermometer, a meat injector, grilling gloves, BBQ knives, skewers, and corn holders are frequently included in larger sets that contain up to 30 items.
Some sets also include uncommon tools like meat claws, grilling brushes for cleaning, and salt and pepper shakers. Some grilling equipment might potentially have multiple uses. For example, grilling spatulas with integrated bottle openers are useful for opening a cold drink or a spatula having serrated edges for cutting and flipping meat and veggies.
Tongs
When utilizing a barbecue, you just cannot do without tongs. The most effective approach to cooking your meal on the grill when utilizing cuts of meat is to manipulate it with a pair of tongs. Tongs can be used to handle your meat while it is in the marinade, when you put it on the grill, when you turn it over as it cooks, and when you take it off the grill and place it on a serving plate. To handle hot coals for charcoal grills, many people also use tongs. Tongs must have long handles that shield your hands from heat and be well-balanced to make handling food simple. Usually scalloped, they make it simple to handle bigger portions of meat. Many tongs have a locking and closing mechanism for simple storage. Additionally, I've written a thorough evaluation of BBQ tongs if you wish to buy a pair separately from a grilling tool set!
Grilling Spatula
A spatula is one of the first and most crucial items you should get if you're using a barbecue because it has so many applications. The majority of the time, spatulas are used to turn or flip food on the grill, particularly delicate meat, fish, and soft vegetable slices. Using a spatula, you can put food on the grill to cook it, then take it off when done. A spatula's length is an important feature since it enables you to manage food on the grill without having to get too near to the fire. A spatula's edges are often thin and tapered, which makes it simple to slide food under them. Additionally, many spatulas feature sharp serrated sides that can be used as knives to slice up meats and vegetables or to clean the grill grate if something sticks. Have a read of my best griddle Spatula sets guide also.
BBQ Fork
Anyone who appreciates barbecue is probably well aware of the value of having a good barbecue fork on hand. The straightforward tool is an excellent cooking partner that may make a variety of cookout jobs so much simpler. The instrument is, as its name suggests, just an extended fork and is normally made with two prongs. You can move food without coming too close to the hot grill or flames thanks to this.
A digital temperature fork is sometimes included in more expensive grill tool sets so you can check the internal temperature of your meat. And some forks will have long prongs so you can roast marshmallows with them.
Basting Tool
The basting brush is an essential brush for your set of grilling implements. On the grill, meats lose a lot of moisture and, if left unattended, eventually start to dry up. To fix this, periodically baste the meat with a flavorful liquid, such as a marinade, sauce, or flavored butter, to add moisture back into the flesh. With its long handle and thick, long bristles made of a heat-resistant substance, the basting brush makes it simple for you to accomplish this. To achieve juicy, luscious meat, simply dip and baste the meat.
BBQ Cleaning Brush
Any grill tool set must have two distinct types of brushes because they are essential for grilling. You need a Basting brush first, and then a grill cleaning brush. Grill grate leftovers such as sauces, fats, and burnt food fragments can build up over time. If you don't clean it frequently, the food may acquire a nasty flavor. This is a simple problem to eliminate with some grill brushes. These frequently contain metal bristles and are designed to fit into the grill grates' cracks and crevices for a rapid scrape that keeps everything clean.
Grill Gloves
Use potholders, grilling mitts, or gloves to protect your hands and arms from heat sources while grilling food. It's crucial to take precautions to protect the skin because grilling temperatures are frequently higher than those for roasting in a standard oven.
Conventional oven mitts can be worn when grilling, however, grilling gloves are preferred because they are longer and cover the hand and lower arm. Because they can withstand extremely high temperatures, silicone and welding gloves are common choices. If your grill set doesn't have grilling gloves I recommend buying a pair from my guide to gloves.
Spray Bottle for Water
Flare-ups that get out of control can be put out with the use of a water spray bottle. A flare-up is likely to occur when melted fat from food drips onto hot coals. Only while using a charcoal grill is a water spray bottle a must. You can also use a spray bottle to spritz your meat with extra flavor. I normally add apple juice to my bottle and spritz my ribs.
Electronic Thermometer
Not just because it might be the difference between raw chicken or an overdone steak and the ideal pulled pork or juicy dinner, a reliable instant-read thermometer is a need in any grilling setup. This tool also assists in ensuring that the food you are about to consume or serve was cooked to a safe level, shielding you and your loved ones from foodborne illnesses like salmonella.
Instant read thermometers have an advantage over older, analog-style thermometers in that they may provide an accurate reading in only a few seconds. They measure the temperature of your food and display it on displays that are frequently digital.
The appropriate knives can make all the difference in the world for people who enjoy their smoked or barbecued foods very much. In light of this, the following five knives are crucial for every devotee of BBQ or outdoor grilling, chef's knife, boning knife, paring knife, carving knife, and butcher's knife. Any bbq tool set with these grilling knives will make a great addition to your grill setup.
Grill Lights
It's not necessary for outdoor cooking to take place in the sunlight. With the aid of a grill light to make sure that your workspace is well-lit, you can certainly barbecue or smoke during the night. This supplemental tool can be fastened to your grill or smoker and offer a direct source of light for whatever you're about to cook. So adding a grill light to your toolbox is a smart idea.
Skewers
Skewers that have been barbecued and grilled are the epitome of a summer cook-off. They may be made with almost anything and are flavorful and fresh. from crisp vegetables to chunks of beef. If you intend to cook any kebabs, stainless steel grill skewers are a necessity. Small slices of meat and vegetables are supported by the long, thin shaft as they are roasted or grilled. So be sure to check your grilling equipment for skewers.
Corn Holders
You will frequently find a few corn holders in tool kits for grills. It is much simpler to handle and consume the corn with the help of these metal prongs with plastic handles that can be placed into the end of your cob after cooking.
Meat Injector
Meals can be improved by flavoring the meat before cooking. Some people accomplish this using spice rubs and sauces, but if you're not careful, those can burn and quickly sabotage a wonderful barbecued chicken or pork roast. Using a meat injector to inject the meat with a variety of sauces, liquids, and seasonings is one of the simplest methods to enhance the flavor of anything you're cooking.
Design
Every grill tool has a distinctive design that takes into account the materials used to make the handle, the tool's overall length, and how it works.
Material – To determine the best material for the finest BBQ grill tool set, we must first examine the grilling procedure and the potential weather scenarios. Grilling generates a lot of heat, thus the equipment needs to be heat-resistant to prevent bending, melting, and deformation. A material that can withstand heat will shield your hands from the flame. Because of this, wood and silicone are the two materials most frequently utilized to manufacture the handles of grilling equipment.
High temperatures can be tolerated by the materials utilized in the top-rated grill tool sets on my list. The majority of the instruments may be cleaned easily in the dishwasher.
In order to choose the best BBQ grill tool set with a case, search for an aluminum case that is both lightweight and durable enough to provide the tools with protective storage while still being portable.
The majority of grilling equipment is composed of stainless steel, which is a sturdy material that won't rust or corrode and is essential for cooking. Nearly all grill tools are made of stainless steel since it is less difficult to clean than other materials.
Handles – Large and comfortable to hold, the handles on grilling tools are constructed of metal, wood, or rubber. Of the third substance, metal, is the most resilient, although it does transfer heat, which could result in burns. Although more prone to damage, wood has a timeless appearance and won't conduct heat. Rubber ensures that users can grip the tools firmly and prevents heat transmission, but if left on a hot grate, a rubber handle can melt. So they all have their pros and cons.
Length – To enable users to control the grill from a safe distance, grill tools are noticeably longer than their kitchen equivalents. Tongs, forks, and spatulas that are 15 to 18 inches long are typically included in barbecue tool sets, making it simple to move food on the grill without getting burned.
Hooks – BBQ equipment will get quite hot, so don't just set it down everywhere. Make sure the handle includes an eyelet so you can hang the tool up when not using it for cooking.
Functionality – Some grilling gadgets may be more functional with additional capabilities. Serrated-edged spatulas allow cooks to flip and cut meat with just one implement. Barbed barbecue forks help hot dogs and steaks stay on the grill by sinking into them.
Weight – Using heavy equipment to flip, lift, turn, or move food on the grill requires more work. Arm pain may result from this. However, stronger materials must be employed for sturdy, long-lasting construction.
Dishwasher safe – While wood may crack, decay, or grow weaker and less rigid, silicone, rubber, and stainless steel may all be thrown in the dishwasher for easy cleaning. Dishwasher tools are more hygienic due to the high temperature of dishwashers, which also kills bacteria.
Warranty – Depending on the manufacturer and model, you can be given a warranty that lasts for the rest of your life. Of course, finding a lifetime money-back guarantee would be the ideal offer. Stick with big brand names, as they have warranties you can trust. Some companies are happy to give long warranties knowing they will only be in business for a couple of years, so the warranty is meaningless.
Versatility
The versatility of larger, more complete barbecue tool sets is obviously greater. While almost all sets come with a spatula, a grill fork, and tongs, larger sets offer a wider range of equipment for various grilling techniques.
Kebabs, a dish frequently cooked on the grill, go well with skewers. It is unnecessary to carry a knife from the kitchen drawer to the barbecue if your grill tool set has knives already.
A few tools are made specifically to make grilling simpler. Gloves protect against burns, meat thermometers help the griller avoid over or undercooking the meat, and grill light help you see what you are doing in the dark. Even grilling mats are included in some sets for preparing veggies and delicate fish.
Additionally, grilling equipment can be made to prepare meals or clean up after a barbeque. Meat claws are perfect for tearing apart chicken or pork butts for barbecue lovers who like to smoke their food. To avoid having your fingertips burned while eating hot, grilled corn, use corn holders.
Pork tenderloin, chicken breasts, and roasts are flavorfully infused with marinade using meat injectors. Scrapers clean up food debris from the grill to get it ready for the next cookout.
Storage
Most grill tool sets come with a convenient carrying container that keeps everything together when not in use, even though some of them contain up to 30 components. These containers can be made of sturdy hard stainless steel or molded plastic, or they can be aprons that the chef can hang on or near the grill for easy access to all of the utensils in the set.
To transfer uncooked meat from the refrigerator to the barbecue, grill sets might also come with cooler bags. In addition, tongs, spatulas, and barbecue forks frequently include hooks to hang from the edge of the grill so they are available when needed.
Frequently Asked Questions
Grilling is an art form that brings people together, and having the right tools can make all the difference in creating a memorable outdoor cooking experience. In this section, we've compiled a list of frequently asked questions to help you navigate the world of BBQ grill tool sets. Whether you're a seasoned griller or just starting out, these questions cover the key aspects of choosing, using, and maintaining the best BBQ grill tool set for your needs.
From understanding the importance of a BBQ grill tool set to tips on selecting the right tools and caring for them, we aim to address common inquiries that often arise when it comes to enhancing your grilling game. So, let's dive into these FAQs and equip ourselves with the knowledge needed to make informed decisions about the best BBQ grill tool set for your outdoor cooking adventures.
Why do I need a BBQ grill tool set?
A BBQ grill tool set is essential for anyone who loves grilling. It provides you with the necessary tools to handle, flip, and serve food on the grill. With a well-designed tool set, you can enhance your grilling experience and ensure that you have all the tools you need conveniently in one place.
What should I look for in a BBQ grill tool set?
When choosing a BBQ grill tool set, consider the quality of the materials used, durability, and heat resistance. Look for tools made from stainless steel or other high-quality materials that can withstand high temperatures. Additionally, ergonomic handles and a variety of tools, such as tongs, spatulas, skewers, and forks, are important features to consider.
How many tools should be in a good BBQ grill tool set?
A good BBQ grill tool set usually includes at least three essential tools: tongs, spatula, and fork. However, many sets offer additional tools like basting brushes, skewers, corn holders, and grill brushes. The number of tools you need depends on your grilling preferences and the types of food you commonly cook.
Are all BBQ grill tool sets dishwasher safe?
Not all BBQ grill tool sets are dishwasher safe. While some tool sets are labeled as dishwasher safe, it's always a good idea to check the manufacturer's instructions before placing them in the dishwasher. Some tools may have wooden handles or other components that are not suitable for dishwashers. Handwashing with warm, soapy water is generally recommended for maintaining the longevity of the tools.
Can I use BBQ grill tool sets for indoor cooking?
Yes, many of the tools in a BBQ grill tool set can be used for indoor cooking as well. Tongs, spatulas, and forks are versatile tools that can be used on indoor stovetops, griddles, and ovens. However, be mindful of using certain grill-specific tools, such as skewers and grill brushes, indoors, as they may not be suitable for all types of cooking surfaces.
How do I clean and maintain my BBQ grill tool set?
To clean your BBQ grill tool set, wash the tools with warm, soapy water after each use. For stubborn grime, you can use a grill brush or a non-abrasive scrubber. If the tools have wooden handles, avoid immersing them in water for extended periods to prevent damage. Additionally, periodically inspect the tools for any signs of wear or rust and replace them as needed.
Can I purchase individual BBQ grill tools instead of a set?
Yes, individual BBQ grill tools can be purchased separately if you prefer to customize your tool collection or replace specific tools. Many retailers offer a wide range of individual grilling tools, allowing you to build your own set according to your needs and preferences.
Are expensive BBQ grill tool sets worth the investment?
Expensive BBQ grill tool sets often provide higher-quality materials, better craftsmanship, and more durable construction. However, the value of a tool set ultimately depends on your grilling frequency and personal preferences. It's important to balance your budget with the quality and features you desire. There are excellent tool sets available at various price points, so it's possible to find a suitable set for your needs without breaking the bank.
Conclusion- Best BBQ Grill Tool Sets
The best BBQ grill tool sets are those that fit comfortably in your hands and are sturdy enough to stand up to years of use. Whether you prefer a feature-packed set with extras or a more basic fork-spat-tongs option, our list of the best BBQ grill tool sets should have you covered. Happy grilling!