Do justice to your griddle and griddling skills with the best griddle accessories. Not only will using your griddle become much more enjoyable, with the right tools for the job your griddle creations will look and taste much better.
Whether you are looking to upgrade your tools, or simply wondering what to buy first, you'll find plenty of food for thought right here.
Best Griddle Accessories
Here's a selection of our favorite griddle accessories. Looking for the basics, or want to try out something new? We've covered all of the must-have griddle accessories, so you're sure to find inspiration right here.
Spatulas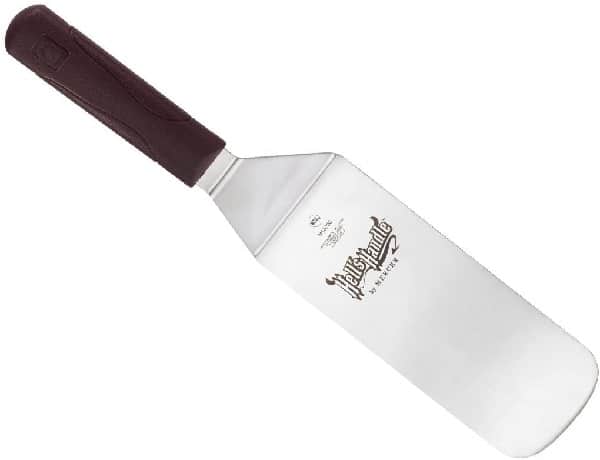 Raise your game with the best spatula for your griddle, the Hell's Handle Turner by Mercer Culinary. Precision ground from the highest-quality stainless steel, this spatula has just the right balance of flex and stiffness to make flipping nice and easy, while the thin edge allows you to get under your food with ease.
Rust, corrosion, and discoloration-resistant, this NSF-certified spatula has an impressive limited lifetime warranty, testament to its high durability. Thanks to its high heat-resistant handle, you can use it for long periods over your griddle without burning your hands, it can safely withstand temperatures up to 450 degrees F.
The handle also features a dual-textured, anti-slip finish, complete with sanitary sealing to ensure no foodstuffs become trapped inside. Whatever you need to flip on your griddle, from pressing and flipping smash burgers, to delicate items like fish or eggs, this is the ultimate griddle spatula that will make using your griddle even more enjoyable.
Chopper/Scraper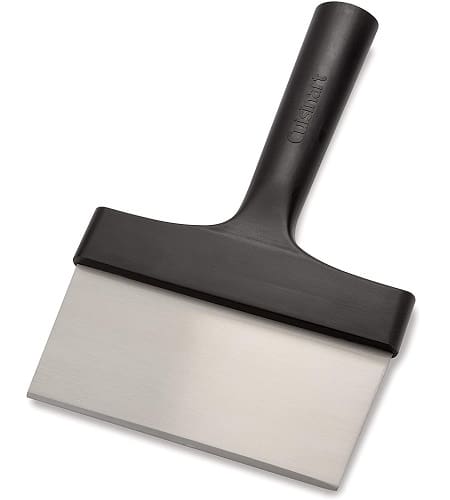 The Multi-Purpose Griddle Scraper by Cuisinart is ideal for scraping, chopping, and serving.
If you are only going to treat yourself to one item from our list, then this one makes an excellent all-rounder. Its six-inch stainless steel blade is very durable, made from high-grade rust and corrosion-resistant steel. Use it to transfer your food from your griddle to your plate, just like a spatula.
You can also use this multi-purpose scraper to chop on-the-go right on your griddle, saving you time and reducing the number of items to clean afterward. Chop and dice as your food cooks, be it stir-fry, veggies, or fajitas, this sharp scraper makes light work of all your slicing needs.
Lastly, when you're all done and it's time to scrape down your griddle, use this scraper to remove oil and cooked debris with ease. You can also use it to cut your pizzas, dough, and other similar items.
With its easy-clean plastic handle and efficient, highly effective design, this multi-purpose griddle tool is definitely a top choice to go for.
Squeeze Bottles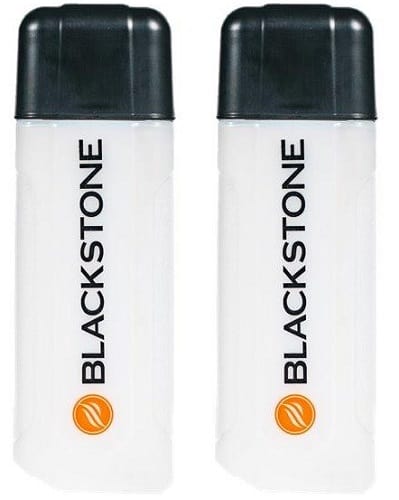 Perfect for your oil and water, or even dressings and vinaigrettes, this two-pack Squeeze Bottle Set by Blackstone is a cut above the rest. Carefully designed to correspond to your needs when griddling, these squeeze bottles make griddling even easier and more enjoyable.
Thanks to their square design, they are more ergonomic than standard round bottles, giving you a better grip and less chance of slipping. What's more, two of their sides feature an easy-grip surface, perfect for when your hands are a little slippy. As they are square-shaped, if you were to drop one, it would not roll away.
The easy-open flip lids make these griddle squeeze bottles nice and simple to use. Liquid only comes out when they are actually squeezed, so you won't have to worry about any leakage or spills.
Measuring nine inches tall by three inches wide, they are a great choice to fit in the Blackstone Portable Caddy Bag or any standard sized griddle caddy.
Tongs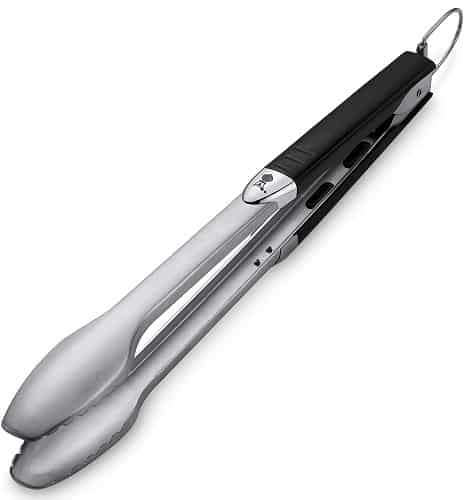 A good pair of tongs are essential for griddling. Use them for turning over and moving a wide variety of food, as well as for picking up hot tools, domes, or other accessories. You'll need a good pair that have good grip, balance, and a spring-locking action.
Our favorite griddle tongs are the Weber 6610 Original Tongs. Thanks to their unique front-end design, you get a good secure grip on almost all food types. The soft-touch, non-slip grip on these high-quality stainless-steel griddle tongs make them easy to use, while the 17" length keeps your hand away from the heat.
The handles lock easily for compact storage, while the large oblong ring on the end makes these tongs easy to hang just about anywhere. Dishwasher-safe for easy cleaning, these tongs are an excellent choice for cooking on your griddle with a good grip, nice balance, and a sound construction.
Grill Forks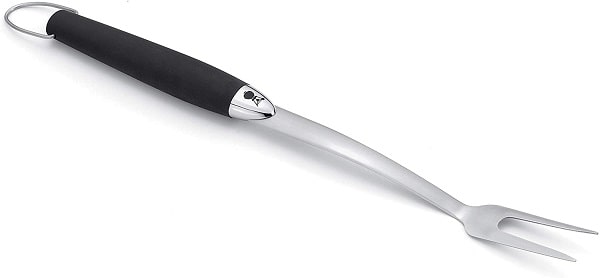 A grill fork is an essential griddle accessory and the Weber Original Fork is the best one around. Made from stainless steel, with a soft-touch non-slip grip, this grill fork is nicely balanced and its long handle makes it ideal for working over a large outdoor griddle.
This griddle fork has specially designed tines that are sharp enough to pierce your food without shredding it. As they are flat, this fork makes it easy to hold meat in place for slicing, as well as being useful for flipping, turning, and lifting, especially heavy and bulky items, such as whole birds.
Dishwasher-safe, this Weber grill fork makes an excellent all-around choice that is sure to last for many years to come. Quite simply a must-buy accessory for any new griddle owner.
Griddle Cleaning Scraper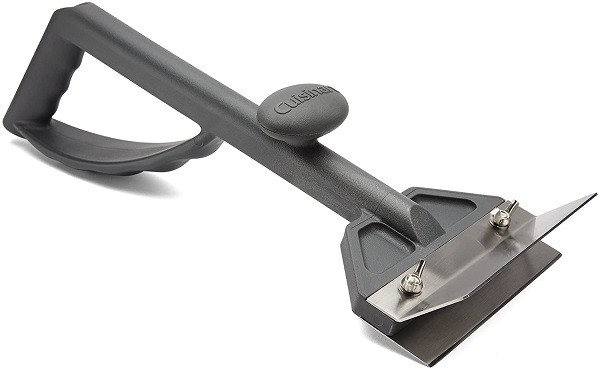 Steel bristled scrapers can shed and potentially contaminate your next batch of food, so make sure you clean your griddle safely with a cleaning scraper. The Cuisinart CCB-500 Heavy Duty Scraper makes getting your griddle cooking surface clean much easier than standard models.
Featuring a durable six-inch stainless steel blade, you won't need to make so many pass overs, for less effort and less time spent cleaning your griddle. Thanks to its ergonomic long handled design, this griddle cleaning scraper provides more leverage than short versions, enabling you to more easily and effectively scrape away cooked-on debris.
With its knob-grip, you can use your other hand to provide extra pressure and control, ensuring easy removal of even tough baked-on residue and a better clean. Well-made with a nice balance to it, the removable splash guard helps to keep oil, grease, and debris from splashing upwards protecting your clothes and hands.
Grill Press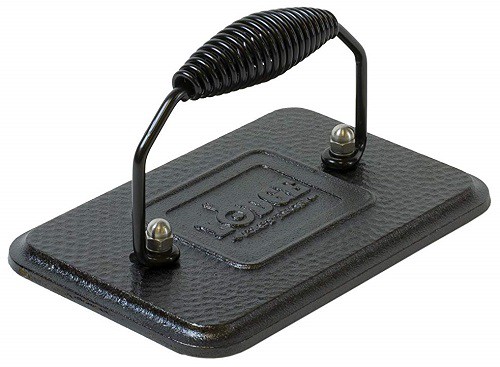 Seasoned and ready for use, if you don't already own a grill press for your griddle, Lodge's Cast Iron Grill Press is the best model to choose. Made in the USA, this highly durable grill press provides unparalleled heat retention and even heating.
Excellent for pressing out excess fat from meats or eliminating bacon curl thanks to its three-pound weight, this rectangular model is ideal for your griddle. Measuring 6 ¾" by 4 ½", this press is a good handy size and with its cool-grip spiral handle, you won't have to worry about burning your hands when it's time to remove it.
A grill press is also a great choice for getting a restaurant quality sear on your griddle, as well as significantly speeding up cooking time when preheated. Thanks to its rectangular shape, this grill press is also a great choice for your paninis and other hot sandwiches cooked on your griddle.
Stainless Steel Dome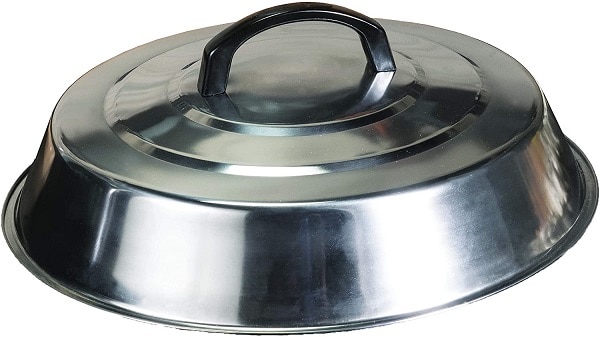 The 12" Round Basting Cover by Blackstone makes a great choice for melting cheese, steaming vegetables, potatoes, or even beer steamed burgers! A stainless steel dome is pretty much essential for creating an oven-like environment to reduce cooking times.
This version is one of the best thanks to its generous size and durable stainless steel construction. It is well built and, importantly, dishwasher-safe for an easier cleanup after your meal. As you'd expect from Blackstone, the quality is really here in terms of construction and finish.
You should also note that this griddle dome has a good sized, heat-resistant handle, making it really easy to remove with your tongs or a spatula. You don't want to go for a model with a hard-to-grasp knob that will be red hot, so do yourself a favor and go for this highly popular, practical griddle dome.
Griddle Food Mover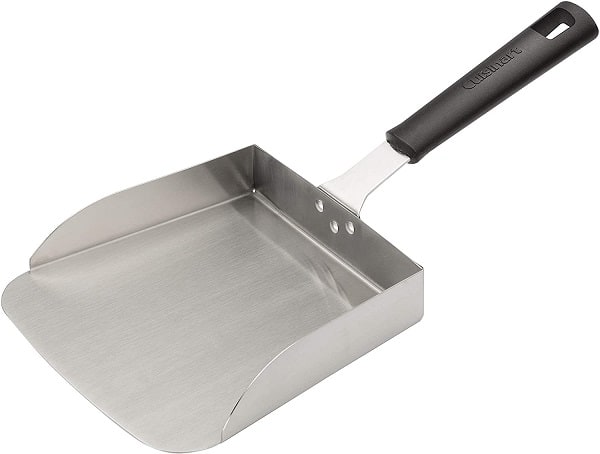 An essential for large quantities of loose food, such as fried rice, sautéed veggies, or scrambled eggs, the Cuisinart Griddle Food Mover is a must-have griddle accessory for entertaining large numbers. It also makes it easier to transfer food to your serving dishes without any accidents or balancing acts with spatulas.
Thanks to its extra-large, scoop-like construction, this food mover has a large spatula blade that is ideal for getting under your food. It holds an impressive five cups of cooked rice or vegetables, making cooking family-sized portions on your griddle much easier.
Scoop up hash browns, chicken wings, stir-fry, this handy griddle food mover will soon become one of your favorite griddle accessories. Thanks to its sturdy stainless steel construction, it is long lasting and can also be used to press down your smash burgers, as well as serving your sides.
Egg Ring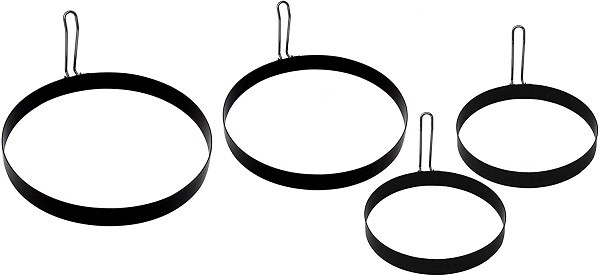 The Ultimate Egg Ring Set by Cuisinart is an exceptionally easy way to cook perfectly round eggs, pancakes, and omelets on your griddle. Breakfast, lunch, desserts, sides… you'll be surprised just how much use you actually get out of these griddle egg rings.
This four-piece set includes two four-inch egg rings for perfect breakfast muffins or small pancakes, a six-inch pancake ring for restaurant-style stacks of pancakes, and an eight-inch omelet ring. The ring shape contains all your omelet ingredients and makes it easier to flip and serve, for tasty, thick omelets without the mess.
All of the rings feature a non-stick coating for ease of use, as well as handles that fold away for compact storage. Around eight inches high, these egg rings are a great choice for easy griddle omelets, eggs, and pancakes that look as good as they taste.
Warming Rack

If you don't already own a warming rack for your griddle, then you need to get one. Essential for keeping your food warm while you're waiting on another item, they are also useful as bun stations and for slow cooking foil-wrapped veggies
Compatible with most outdoor griddles, the Cuisinart Adjustable Griddle Warming Rack is an excellent choice. It fits most 17"-36" griddles, simply place it to the rear and clip the base units on to the sides. This clever design gives you the necessary height for unimpeded access to your entire griddle cooking area.
Easy to install and easy to fold away after use for compact storage, this cleverly designed griddle warming rack is one the very best around. It features a rust and corrosion-resistant stainless steel coating and should be hand washed to ensure extra longevity.
Griddle Taco Rack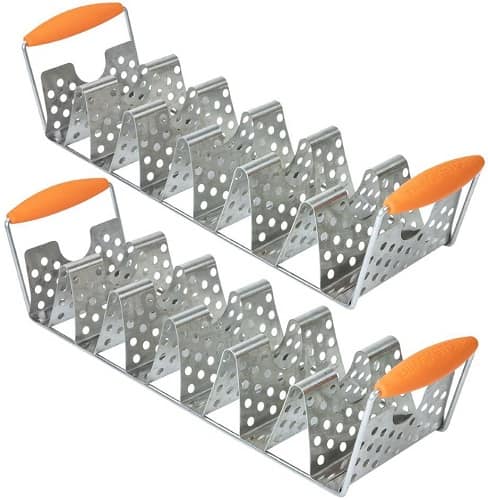 If you love tacos, the Blackstone Two-Pack Taco Rack is a must-have accessory for your griddle. No more messing around trying to hold and fill your shell, each handy griddle rack securely holds up to six tacos while you get to work filling. As they come as a two-pack, you can get everyone's taco filled in one go.
Thanks to its stainless steel construction, you can set this rack right down on your griddle – ideal for warming up your taco shells, or even crepes or tortillas, before you fill. The heat-resistant handles make it safe and easy to remove this rack after warming and filling, so you can even carry it straight to the table to serve.
Dishwasher-safe for an easier cleanup, this griddle taco rack is a great quality product that makes creating mouth-watering tacos on your griddle even easier than ever before. Order yours today for your next taco night.
Batter Dispenser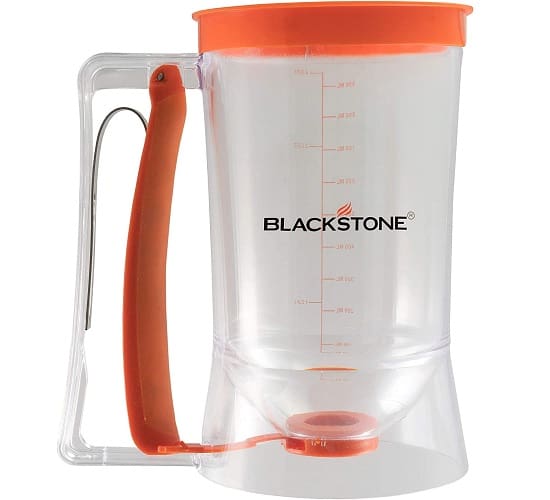 This professional-quality Breakfast Kit by Blackstone makes cooking breakfast so easy on your griddle that you'll never want to cook it indoors again.
The ideal solution for making bacon, eggs, and pancakes on your griddle, this four-piece kit features an excellent batter dispenser accompanied by a bacon press and two egg rings.
With its large four-cup capacity, the easy-to-use batter dispenser also features handy measurement increments down the side. Use it with various batter types, the handy lid keeps bugs out of your batter while you cook and prevents spills. Easy to pour, it's also a good way to prevent drips from covering your griddle when making pancakes.
Along with the cast-iron bacon press and non-stick steel egg rings, both with wooden handle details, all items in this set are hand-wash only. As the batter dispenser is a little fragile, be sure to take extra care when using and cleaning it.
Crepe Spreader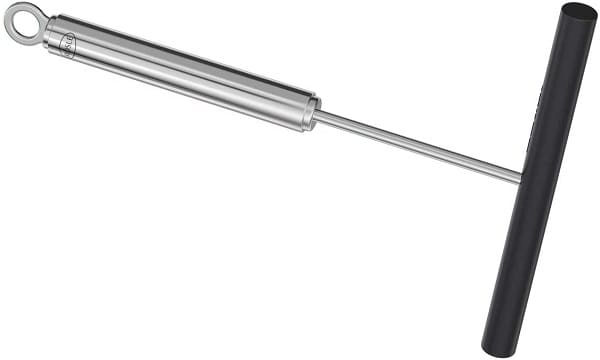 If you are looking to make perfect crepes on your griddle, then you need a crepe spreader. The Rösle Round-Handle Crepe Spreader is an all-round superior choice that will help you on your way to home-made crepe perfection.
Made from a highly durable 18/10 stainless steel complete with a silicone roller, this model will outlast your standard wooden versions many times over. In fact, it is even covered by Rösle's lifetime warranty, so you can be sure you're getting a high quality product.
At 7.1-inches long, it's the perfect balance of length and control, while the silicone has a very high temperature resistance of up to 500 degrees F, so you won't have to worry about burning it on your griddle. Dishwasher-safe and very easy to use, simply slide it lightly over your crepe batter for professional results.
Crepe Spatula

Breakfast pancakes, homemade crepes, fresh tortillas… If you're cooking items on your griddle that require some delicate handling and flipping, then this Crepe Tortilla Spatula by Blackstone is a must. Its thin, sleek design has been specially conceived to make it really easy to get under and loosen omelets, crepes, and tortillas.
Thanks to its ergonomic shape, you'll be able to flip your crepes on your griddle without any mishaps, for deliciously fresh home cooking al fresco. At 10 ½" long, this model gives you plenty of maneuverability, so you can easily slide it into place.
Made from rust-resistant stainless steel, it's a high quality product that will stand up to long-term outdoor use, as you'd expect from Blackstone. The five-inch heat-resistant handle makes it easy to hold even when you're working your fresh tortillas at high heat.
Burger Bun Butter Roller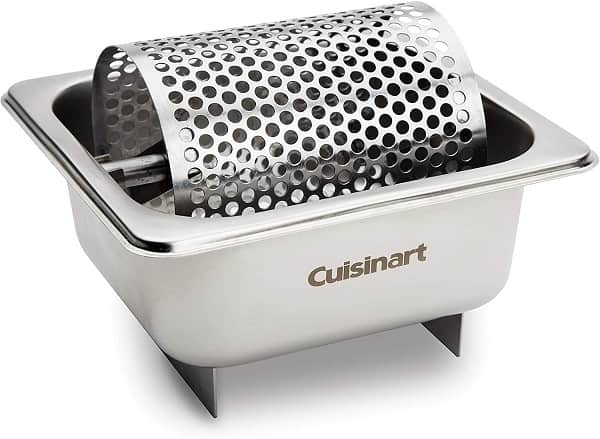 Flipping burgers on your griddle is so easy. Getting all those buns buttered and ready to fill is not quite so easy, especially when you're cooking for a crowd. Pick up one of these Cuisinart Butter Wheels and get your buns ready in just seconds, each one perfectly coated with deliciously melted butter.
It really doesn't get any easier, simply place your butter inside, put the unit on your griddle, let the butter melt, then roll your buns over it. It's also an easy way to butter your sandwiches, rolls, or even veggies and other foods.
Made from high-quality stainless steel, the wheel spins smoothly and the entire unit has been manufactured to last, as you'd expect from Cuisinart. The wheel can also be removed for easy cleaning. This handy time-saver is such a great griddle accessory that you'll wonder why you didn't get one sooner.
Griddle Caddy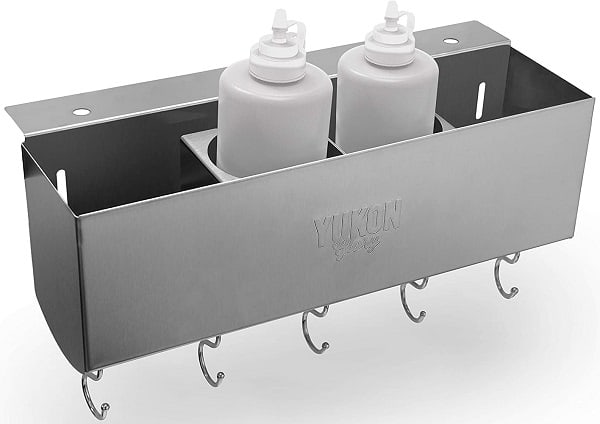 If you have a standard 28" or 36" Blackstone griddle and are looking for a basic tool caddy at a good price, this Griddle Caddy by Yukkon Glory is sure to fit your needs. Griddle caddies are a great way to keep your griddle workstation clean and organized, plus you'll also have all of your tools to hand throughout your cook.
This griddle caddy features a removable squeeze bottle holder and plenty of space for your gloves, sauces, and utensils. The five S-hooks located beneath are perfect for hanging your spatulas, tongs, and other essentials, ensuring your griddle stays uncluttered and clean.
Made from stainless steel, this model only fits standard Blackstone griddles and installation takes just 10 minutes. Two mounting plates, screws, and a hex key are included, so you'll have all the hardware you need to get it easily fitted to the side of your griddle. While it's not the most durable, it is a good value buy.
Griddle Portable Caddy Bag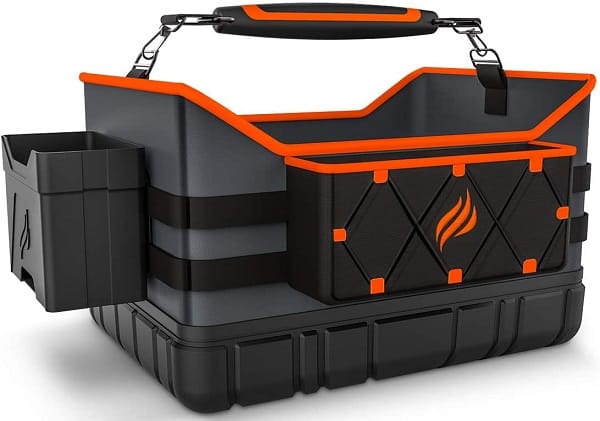 Whether you're griddling on-the-go or out in your backyard, it helps to have all of your griddle accessories neatly organized and easy to carry in an all-in-one caddy.
Not only will this eliminate a lot of trips back and forth, this Blackstone Griddle Caddy also keeps all of your essentials within easy reach, so no more overcooking your food while you search for a specific tool.
Very sturdy, with a spacious interior that can accommodate all of your essential griddle accessories, this caddy is an excellent choice. The bottle holder side pocket holds two square bottles, while the spice pocket can take up to four spice bottles. The roomy interior can easily fit your dome, gloves, tongs, and much more, plus some cleaning supplies.
The handle makes it easy to carry and it can also be clipped off for easier access when you're cooking. No need to worry about setting this caddy down on the wet grass when you make breakfast on your griddle – the bottom features a fully water-tight base.
Tool Holder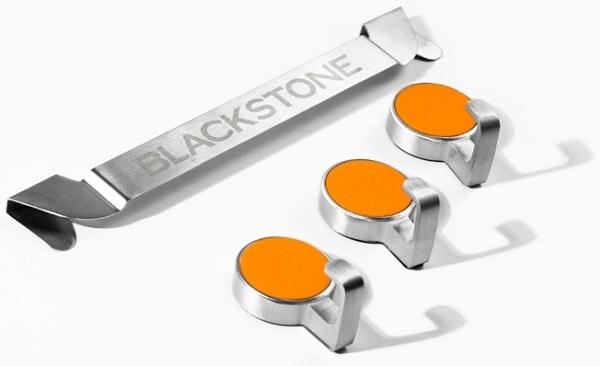 Unobtrusive and extremely practical, the Blackstone Tool Holder Combo is a great way to keep your griddle tools at hand without ruining the look of your griddle. Made from durable stainless steel, this weather-resistant set is a tried and tested favorite with griddlers all over.
Consisting of a small tool rack that clips onto the back edge of your griddle, use it to hold your spatula or scraper handy. The three magnetic hooks with the signature Blackstone orange color can be attached wherever you like on your griddle, giving you fully customizable tool storage placement.
Easy to clean, these high-quality tool holders are a great way to keep all your most-used tools to hand, such as your tongs, spatulas, and grill forks, without encumbering your griddle. They also look smart and thanks to their magnetic fitting they are highly convenient and easy to relocate as needed.
Griddle Light
Enjoy delicious food outdoors on those balmy summer evenings with this highly efficient LED griddle light. When the sun starts to set, it can get tricky seeing just how your food is doing on your griddle, even with your porch lights. This battery operated task light can be used anywhere for bright, focused light.
Thanks to its 12 LED bulbs and 12-inch adjustable gooseneck, you can easily illuminate your entire griddle cooking area. You can even adjust it 360-degrees to get a really clear view at any angle and as it is battery powered, this durable, heavy-duty aluminum task-light can be used anywhere. It is also highly weather-resistant.
With its magnetic base, this light simply attaches to your griddle with no need for any complicated mounting options. It also features a screw clamp with rubber protection, so you are free to use it elsewhere when you're not griddling.
Check our best grill light review for more great options
Spice Dredge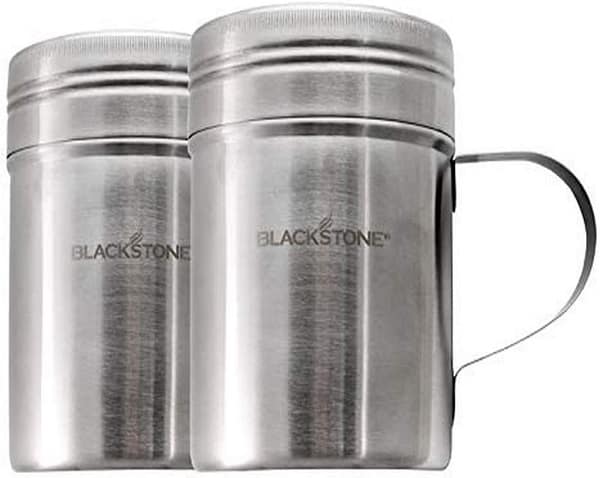 Make spicing up your meal extra easy with this two-piece spice dredge set by Blackstone. Made from durable stainless steel, these sleek shakers not only look the part, they will stand up to outdoor use, and are a great way to use your own multiple seasonings in one handy mix.
Thanks to the handle, they are easy to grasp, much easier than trying to pick up numerous spice containers and delicately powder your food without spillages. These griddle spice dredges come complete with a plastic lid that keeps your spices protected from moisture, as well as getting knocked over.
Fill one with salt, the other with your favorite seasoning blend – not only do they make getting just the right amount out nice and easy, they are also dishwasher safe. Another great little outdoor cooking accessory that will spice up your griddle with style.
Disposable Drip Trays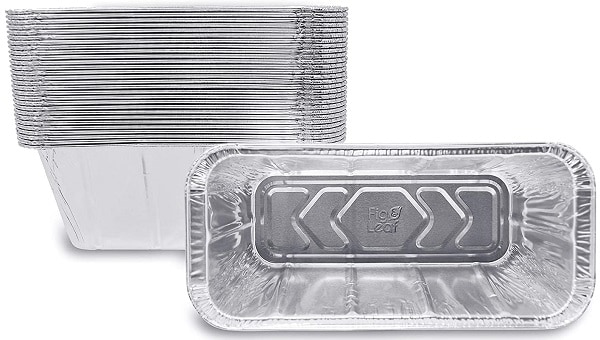 Fig and Leaf make cleaning up a breeze with their heavy-duty disposable drip trays. Specially designed to ensure a perfect fit with Blackstone's 26 and 36-inch griddles, getting rid of all that grease has never been so convenient – simply insert in your griddle's drip pan and dispose of it when you're done!
These griddle rear cup pan liners are sized 8" x 3.7" x 3", so they are compatible with most drip pan sizes. Being made from sturdy aluminum they are flexible while retaining their shape, so you can easily push them in to fit with other sizes such as the Blackstone 22-inch griddle.
Save yourself time and effort cleaning out your catch, these disposable drip trays for griddles come in a really handy value-for-money 30-pack. As you'll get a couple of uses out of each pan, that makes for a lot of fantastic meals with a much easier clean-up afterward.
Griddle Cover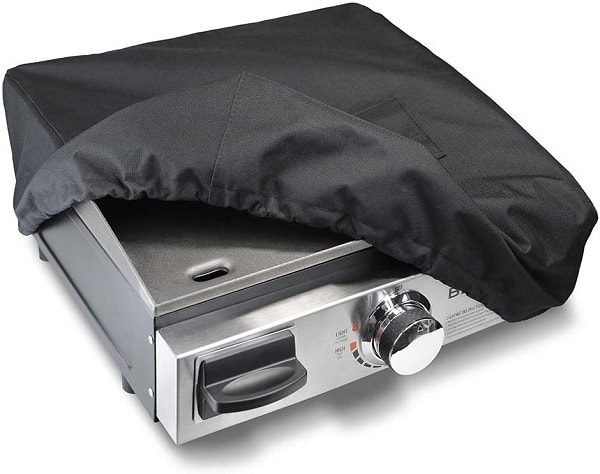 Your griddle will need protection from the elements to stay in prime condition, so don't forget to order yourself a griddle cover. Blackstone Griddle Covers come in a wide variety of sizes, specially designed to fit your specific model.
Made from heavy-duty canvas, these covers are all-weather-resistant and feature a double-layered construction, complete with reinforced stitching for extra durability and higher levels of protection. Thanks to their stylish fitted form, they have a sleek, understated appearance that will look great in any backyard.
Suitable for protecting your griddle all-year-round from rain, snow, leaves, grit, and sun, these windproof covers feature poly-resin buckles for easy installation and to keep your griddle securely covered even in windy weather. If you need a new griddle cover, Blackstone makes some of the very best models around.
Best Griddle Tool Sets
If this is your first ever griddle, you may prefer to invest in a griddle tool set to get you started. They also make great gifts for any griddle lover in your life, as well as being a nice treat to yourself if you'd like to upgrade your griddle accessories.
Griddle Accessory Tool Kit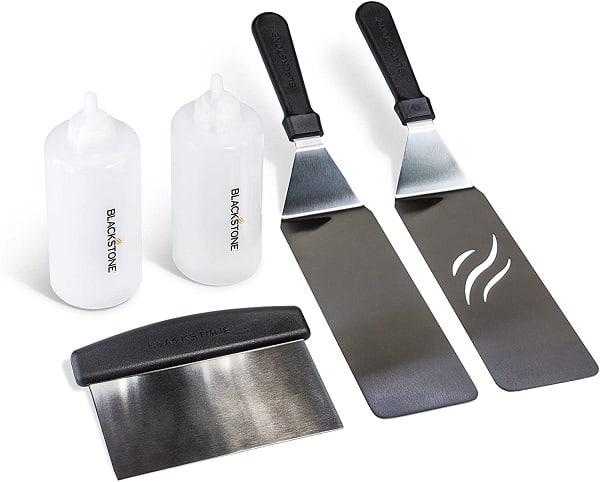 An excellent starter pack, the Blackstone Griddle Accessory Tool Kit features all you need to get started, including a bonus griddle cookbook.
Featuring two heavy-duty, stainless steel spatulas, you'll be set to flip, serve, and sear. Deliberately oversized for extra ease of use, whether you're cooking veggies, burgers, or pancakes, these spatulas are a griddle essential.
A stainless steel scraper for slicing your food, as well as cleaning up your griddle after use is also included, plus two leak-free fine-tip bottles for your water and oil. All items are of professional quality and have been specially designed for griddling needs.
All tools in this set are dishwasher-safe, making for an easy cleanup. This set is also great value for money, providing you with the basic griddling essentials that you'll need for a good base that you can add to over time as your experience grows and your needs develop.
Homenote Griddle Accessories Kit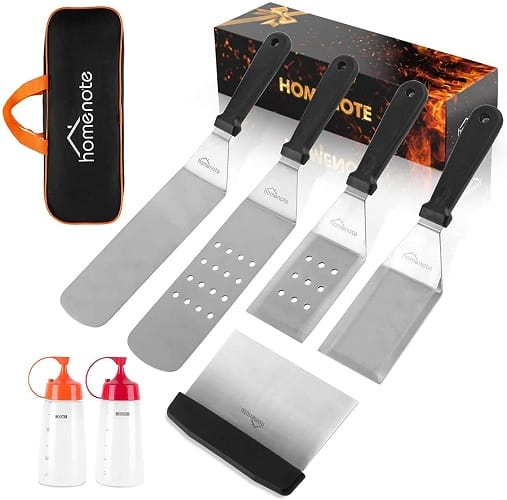 The Homestone Griddle Accessories Kit is a good budget buy, containing all the tools you'll need for your griddle at a great price. It also includes a handy storage and carry case to help to keep all your griddle accessories protected and in one place.
Featuring two large oversized spatulas, two regular-sized spatulas, a cutter/scraper tool, a recipe booklet, and two squeeze bottles, whatever you want to cook on your griddle, you'll be able to do so with ease. The spatulas and cutter/scraper are made with thick stainless steel and feature durable plastic molded handles.
While the bottles are a little flimsy and the entire set may not be quite as durable as some of the big brands, this set is a good entry-level version that will get you off to a flying start.
Griddle Crepe Kit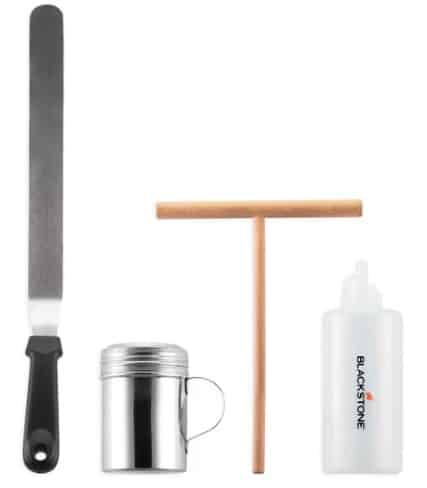 If you want to make deliciously beautiful crepes on your griddle, then we recommend getting one of these fantastic Blackstone Crepe Kits. No more struggling to get the perfect sized crepes, this kit has everything you need to succeed.
Consisting of four professional pieces, you get a natural beech-wood crepe spreader, a stainless steel offset spatula, a powdered sugar dredge, and a 16oz bottle for your oil or sauce. The spatula has been specifically designed for flipping delicate crepes with its long and thin, round-tipped blade.
Powdering your crepes with the dredge is extra easy thanks to the side handle that gives you a good grip and provides more control over how much sugar is released. The fine-tipped bottle is a great choice for your crepe sauces, enabling you to get creative with your presentation.
All in all, if you want to improve your griddle crepes this kit is a must-buy.
Griddle Cleaning Kit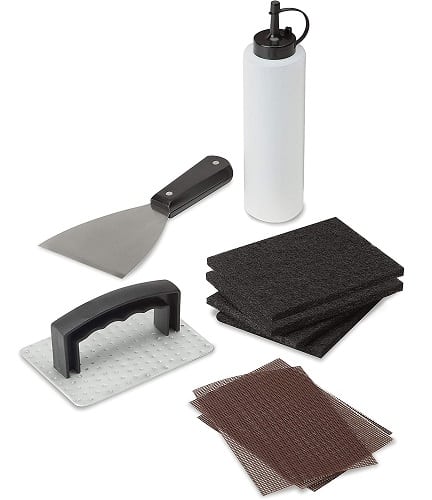 Make the least enjoyable part of griddling much faster and easier with this 10-Piece Griddle Cleaning Kit by Cuisinart and keep your griddle in prime condition. Including a durable scraper, a cleaning handle, cleaning pads, screens, and a water bottle, this kit will help you to deep clean your griddle from day one onwards.
Use the included scraper to remove any baked on dirt. Once you've got rid of any grease and debris squirt on some water and use a cleaning pad and screen with the handle to remove any last traces of food for a deep down clean. Then simply add a tiny amount of oil and your griddle will be ready to use for next time.
This cleaning kit is a good purchase that will help you to keep your griddle cleaner than using a scraper alone. It's a good quality set that will also work wonders on cleaning up a previously neglected griddle, helping you to restore it to its original appearance.
Top Griddle Accessories Video
Final Thoughts
There's a huge selection of fantastic griddle accessories available. While some are absolute essentials, others depend on your cooking style and needs.
If you're new to griddling and are looking for a good griddle accessory starter set, we recommend the Blackstone Griddle Accessory Tool Kit, it's a good quality set that will get you off to the very best of starts.
Looking for the best multi-purpose griddle tool, take another look at the Multi-Purpose Griddle Scraper by Cuisinart for chopping, serving, and scraping. Other top picks include the Weber 6610 Original Tongs, with their great balance and grip, or how about the Cuisinart Adjustable Warming Rack?
If you're just browsing and don't really think you need a new griddle accessory, why not treat yourself to one of our more unusual favorites, such as the highly-popular Cuisinart Butter Wheel, the Blackstone Taco Rack, or the excellent Cuisinart Griddle Food Mover?
With so many fantastic griddle accessories to choose from, take advantage of our top selection and build up your collection with the very best griddle accessories.