Grilling out is one of the best ways to cook up a delicious meal for your family, but does present its own share of challenges. Nowhere is this more apparent than while trying to grill out past sundown.
We all love when the hot summer sun slips below the horizon, but it can definitely make telling the difference between rare steaks and char-broiled shoe leather difficult. Enter the grill light. These lumen-packed wonders give you all the light you need to get those steaks searing and veggies roasting even in pitch black conditions.
Today we're covering the best grill lights on the market to help you find the one that perfectly matches your needs.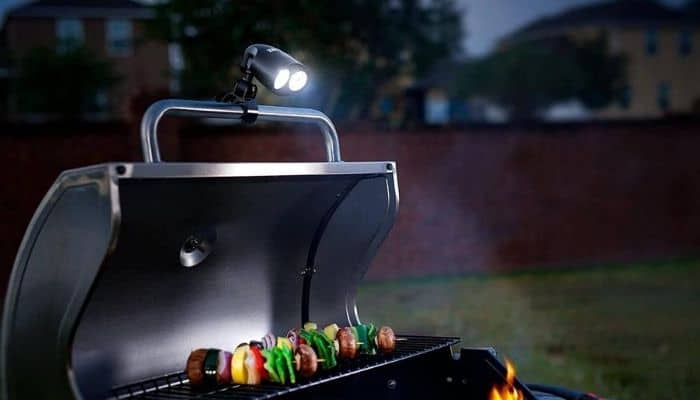 Best Grill Lights
There's a lot more variation in different grill lights than you'd expect at first glance. Pretty much all use LED bulbs now, but the actual configuration, mounting method, and bulb orientation still give you a lot of choices.
We checked out as many grill lights as we could get our hands on for this review. The ones that made the cut vary in style, size, and type but all showcase excellent build-quality and offer tremendous bang for your buck.
LED Concepts BBQ Grill Lights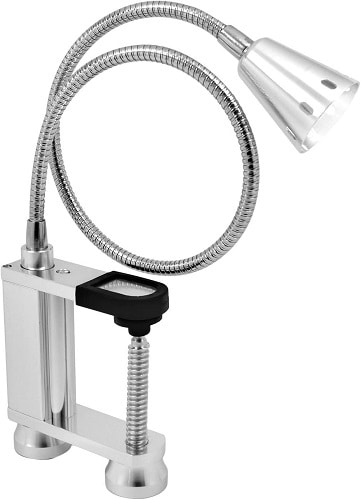 The LED Concepts BBQ Grill Light is a combined magnet and clamp style LED light that offers a lot of versatility. It has a 22" long gooseneck with an ultrabright set of 12 LED bulbs on one end.
What's great about this light is how easy it is to mount it. You can attach it to the side tables or lid of your grill with the magnets, or give it a more secure grip on non-metallic surfaces with the included clamp. You can use it on your grill, a workbench, over a desk, or anywhere else you need targeted light.
It runs off three AAA batteries and provides a bright, white light that gives you ample illumination for cooking. The neck is plenty long enough to reach all over large grill surfaces yet holds steady once put in place.
We liked the LED Concepts BBQ Grill Light. It was inexpensive, well-made, and got the job done when it counted.
Zeust Sirius 2.0 Barbecue Grill Light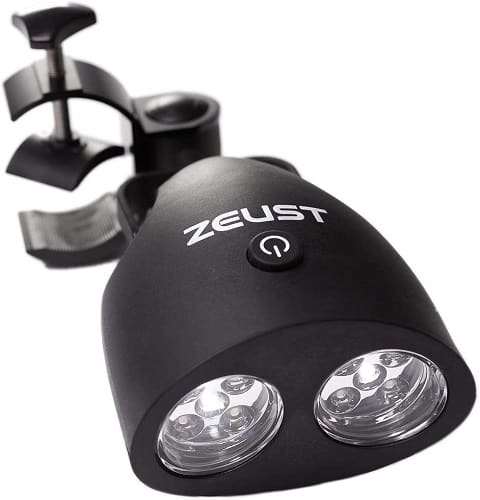 The Zeust Sirius 2.0 Barbecue Grill Light is a compact yet extremely bright light for grilling and smoking. It's designed to attach to the handle of your grill and provide a bright, white light down on your cooking surface.
It uses 10 LED bulbs to do this, powered by three AAA batteries. They give you up to 18 hours of runtime on a single set, plenty for multiple nighttime grilling sessions.
To attach it to your grill, simply slip the C-mount over your grill's handle and twist it tight. No tools are required and it can easily be removed when done.
One thing that really impressed us was the quality of the plastic. Many grill lights that look very similar to the Zeust are made of cheap composites without heat treatment.
The Zeust actually bumped up against the searing hot bottom section of our grill during testing and showed no ill effects. According to the manufacturer, it's capable of withstanding up to 550℉.
If you're looking for a 'fix it and forget it' style of grill light, it's hard to go wrong with the Zeust Sirius 2.0 Barbecue Grill Light.
Grillinator Handle Mount BBQ Grill Light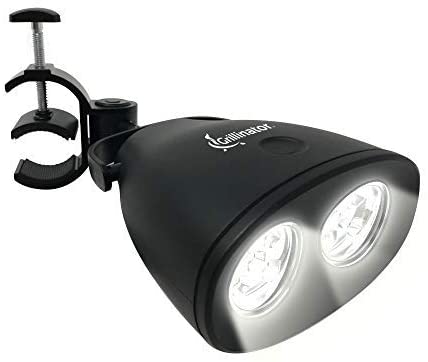 The Grillinator Handle Mount BBQ Grill Light is a small yet powerful LED grill light designed for general illumination. It uses a sturdy C-clamp mounting system and attaches securely to a grills handle.
Once in place, it gives you 100+ lumens of bright white light to flood your grill's cooking surface. That's plenty for checking temps and grill marks even under full darkness conditions.
Even better, the body is made from heat- and weather-resistant polymer that can handle use next to the searing temps of a loaded grill.
What's even cooler is how versatile this light is. If you're planning to bring your grill on a cookout you can use the Grillinator Grill Light as a tent light, makeshift flashlight, and even as an over table light for dining.
If you're looking for a powerful yet reasonably priced grill light, it's hard to go wrong with the Grillinatotr Handle Mount BBQ Grill Light.
KOSIN Barbecue Magnetic Grill Light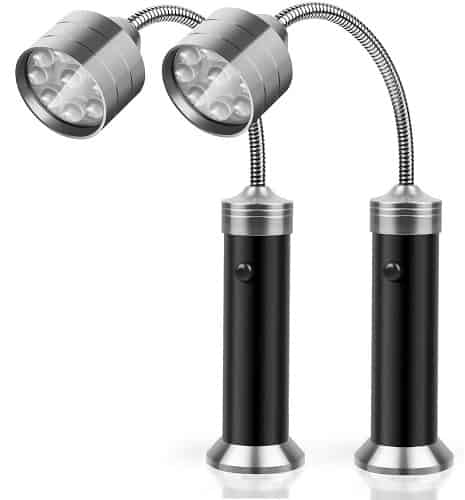 The KOSIN Barbecue Magnetic Grill Light is a flashlight shaped grill light with a small gooseneck design. It has a body that looks like an old-fashioned flashlight with a 4.5 inch gooseneck on top.
When paired with the powerful magnet on the base, this design allows you to attach your light to your grill and still maneuver the light to where it's most needed. The best place we found to use it was on the bottom of the handle, just above the grill surface.
Putting it there gave us good general lighting over the whole grill yet still allowed us to adjust the light right where we needed it.
The light runs on three AA batteries, which are included. That's a really nice touch by itself as not many grill lights come with batteries anymore.
Given that the KOSIN grill lights come in a pack of two, we think they're a good value. You can pick up two of them for less than the price of many other grill lights and still get a really good product to light up your grill with.
Cave Tools Barbecue Grill Light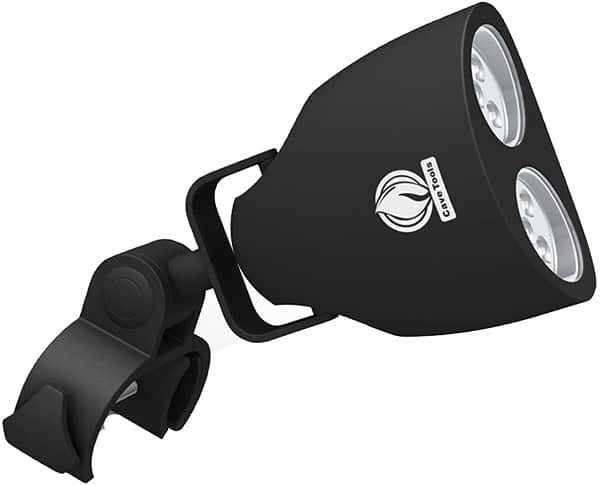 The Cave Tools Barbecue Grill Light is a handle mount light designed to provide non-directional lighting over your entire grill surface. It combines ten bright LED bulbs with a durable and heat-resistant body for effective long-term use.
It uses a fully adjustable aluminum handle clamp that can fit any type of round or square handle. You can twist it on without tools and remove it when needed for cleaning.
The LED bulbs provide over 100 lumens on max power, plenty to give you perfect visibility for your cook surface. They run off of AA batteries and last basically forever.
What's even cooler are all the extras Cave Tools included. It comes with 25 professional BBQ recipes plus access to step-by-step instructions and videos online or through their mobile app.
For BBQ enthusiasts who don't want to be slowed down by the setting sun, the Cave Tools Barbecue Grill Light offers a good value for a highly effective product.
Weber Grill Out Handle LED Light
The Weber Grill Out Handle LED Light is an automatic grill light from one of the biggest names in the barbecue world. It mounts onto the handle of your grill and includes some advanced features other lights can't match.
To start with, the light itself is seriously sharp looking. It's made from a light gray polymer with a textured finish and recessed light. It also is one of the only smart grill lights we've ever seen.
It has an on/off switch and includes a tilt sensor that automatically activates the light when it detects a change in tilt. What this means is that every time you open your grill the light will automatically turn on.
Other than the extra features, though, it's a bit underwhelming. The biggest flaw by far is the lack of waterproofing. It's 'weatherproof' but we wouldn't rely on it. Given that it literally screws into place on your grill's handle this is a much bigger problem than it would seem at first.
The Weber Grill Out Handle LED Light is a fresh product, but definitely won't be for everyone. If your grill is stored in a weatherproof location, it can work for you, but if there's a good chance it will get wet we recommend you go for a different light.
Light Accents Barbecue Grill Light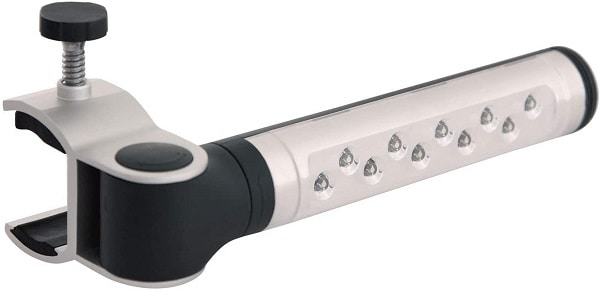 The Light Accents Barbecue Grill Light is a rotating bar light designed to mount onto a grill handle. Instead of directional LEDs, it uses ten omnidirectional bulbs that provide a bright and diffused light over your grill's surface.
It uses a C-clamp style mount with a tool-free installation process. The light both swivels around the mounting point and rotates 360°. You can position it so that the light illuminates the entirety of your grill or provides brighter light on a single section.
It's powered by three AA batteries and is honestly one of our favorite designs from the perspective of broad lighting. It gives you an excellent distribution of light across the whole surface of your grill and can make getting to and from your grill much easier.
If you're looking for a targeted grill light, this isn't it. If, on the other hand, you want one that will give you good lighting over the whole of your grill, the Light Accents Barbecue Grill Light is the way to go.
Broil King Handle-Mount LED Grill Light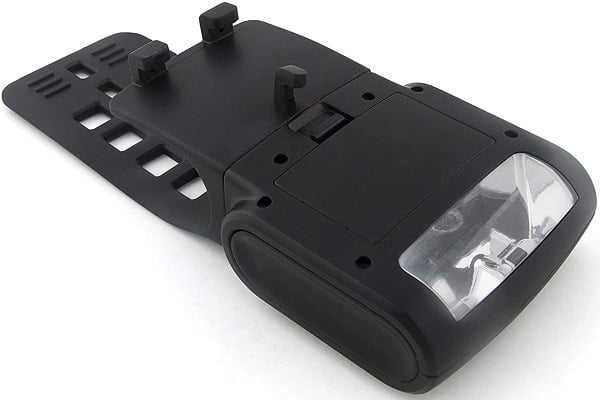 The Broil King Handle-Mount LED Grill Light is an easy to install light designed to illuminate your grill's full cook surface. It uses a unique rubber strap system to quickly wrap around your grill handle and secure it in place.
We were skeptical of how well this would actually work but were pleasantly surprised. It wrapped tightly around the handle and stayed in place even while we lifted it up and down several times.
The light itself isn't quite as bright as some others, but it's well positioned over your grill's full cooking surface. You're definitely going to have to adjust it a bit when you first put it on to find just where you want it though.
All in all, we really liked the Broil King Handle-Mount LED Grill Light. It's reasonably priced, attaches securely to your grill, and does a great job illuminating the grill surface.
Buyer's Guide to Buying the Best Grill Light
Grill lights are uncomplicated tools with straightforward requirements. They need to be bright, they need to be reliable, and they need to be able to easily and securely attach to your grill. The features covered below explore the details of those broad features.
Price
Grill lights are both inexpensive and very homogeneous in pricing. They start around $15 and top out at about $30.
You can pay more than that for one, but there's really no reason to do so.
Brightness & Illumination
The type of light provided and its brightness are both important considerations when picking up a grill light. Floodlight style setups provide you with a good view of your whole work area, while spotlight ones give you targeted brightness right on individual pieces of meat.
We always recommend you go as bright as possible. The amount of time you use your light each session is usually low, so battery life isn't as big a concern as it would be with something like a hiking light or tactical flashlight.
Power Supply
There are several options available for powering your grill light. Battery-powered includes most of them, with a few corded grill lights still available.
We greatly prefer battery-powered grill lights that use rechargeable batteries. You can plug these into a standard USB and charge them up whenever they run low.
They're cheaper to operate than those that use primary batteries but a lot less annoying than one that has to be continuously plugged in.
Gooseneck
A gooseneck is a useful extra to have on your grill light. It's the long, articulating metal neck that allows you to reposition the beam of light to any point on your grill.
They can move around even a large grill and let you place the light high above for a general look or target a specific piece of meat to really get an in-depth look.
Clamp
Many grill lights use a clamp-based system to attach to your grill. This allows them to hook onto the side trays of your grill, the handle, or even onto the top once you've opened the grill up.
A couple of things to consider with clamp style grill lights are how large the clamp is, how powerfully it clamps on, and whether the battery compartment is contained within or adjacent to one of the clamps.
Better grill lights have clamps made from heavy-duty materials that can handle the heat while still giving you a secure grip.
Magnetic Attachment
Magnetic grill lights are some of our very favorites. They use powerful rare earth magnets to attach securely to any part of your grill's surface.
Instead of fiddling around with clamps or trying to decide where to mount a light permanently, you end up with a secure attachment that can be moved at any point needed.
Portability & Ease of Installing
Not everyone is grilling from the comfort of their back porch. If you're the kind of grillmaster who's more likely to take your grill out into the wide world a portable and easy to install grill light is the way to go.
The most portable are tiny, barely more than a few inches long, and designed to install using magnets or a small clip to go onto your grill's handle.
Runtime
Most grill lights don't need a substantial runtime to work effectively. Grilling sessions rarely last more than an hour or so, allowing you to charge up your light in between.
That being said, longer runtimes are always beneficial. They allow you to go longer in between charges, making your grilling experience a lot easier.
Water Resistance
While we doubt you'll be doing much grilling during monsoon rains, there's a good chance your grill light will get splashed or at least damp. We recommend you choose one that offers at least some water resistance for this reason.
Full waterproofing is even better, but you'll pay more for it
Grill Light Alternatives
We love a good grill light, but it isn't a real necessity for grilling, or even for nighttime grilling.
If you've got flashlights or even a headlight, there are other ways to get the same effect. A good headlamp lets you carry the light with you, using it to get around while not grilling and check individual pieces of meat with a focus hard to match with grill mounted lights.
If you want to go even fancier, there are grill tongs, forks, and even spatulas that have a light built into their handle. These tools let you use a smaller and more targetable light that precisely illuminates the piece of meat you're inspecting.
If you're more of a one size fits all kind of grill master, there's always the old flashlight in your mouth trick. It frees up your hands to manipulate the meat on the grill and still works just as well as it did for your granddad.
Frequently Asked Questions (FAQ)
Have questions about grill lights? We've got you covered! In this section, we'll address some of the most commonly asked questions about grill lights, helping you understand their importance and find the perfect lighting solution for your barbecue needs. Whether you're a grilling enthusiast looking to enhance your outdoor cooking experience or a seasoned pitmaster seeking optimal visibility for perfectly grilled meals, this FAQ section will provide valuable insights and guidance. So let's dive in and shed some light on the frequently asked questions about the best grill lights!
Why do I need a grill light?
A grill light is a handy accessory for your barbecue grill that illuminates the cooking surface, allowing you to grill safely and effectively even in low light conditions. It helps you monitor the cooking progress, prevent overcooking or burning, and ensures you achieve the desired level of doneness for your food.
How does a grill light work?
Grill lights typically use LED (Light Emitting Diode) technology to provide bright, focused illumination on the grilling surface. They are designed to be attached to various parts of the grill, such as the handle, lid, or grill grates. Many models feature adjustable goosenecks or magnetic bases, allowing you to position the light exactly where you need it.
What features should I look for in a grill light?
When choosing a grill light, consider the following features:
Brightness: Look for lights with high lumen output to ensure sufficient illumination.
Durability: Opt for lights made from sturdy materials that can withstand outdoor conditions.
Power source: Decide between battery-operated or rechargeable lights, depending on your preference.
Mounting options: Check if the light can be easily attached to your grill in a convenient location.
Adjustability: Look for lights with flexible goosenecks or pivoting heads for customizable lighting angles.
Weather resistance: Ensure the light is designed to handle exposure to heat, rain, and other elements.
Can I leave my grill light outside when not in use?
It is generally recommended to remove your grill light from the grill and store it indoors when not in use. While many grill lights are weather-resistant, prolonged exposure to the elements can reduce their lifespan. Storing the light indoors will help protect it from potential damage and ensure it remains in optimal condition for longer.
Can I use a grill light on any type of grill?
Yes, grill lights are compatible with various types of grills, including gas grills, charcoal grills, electric grills, and even smokers. However, it's essential to ensure the light you choose is suitable for your specific grill model and has the necessary mounting options.
How long do grill light batteries typically last?
The battery life of a grill light depends on factors such as the type of batteries used, the light's brightness settings, and how frequently it is used. Battery-operated lights can last anywhere from a few hours to several months, depending on these variables. Rechargeable grill lights usually offer longer battery life and can be replenished when needed.
Are grill lights waterproof?
While many grill lights are designed to be weather-resistant, not all of them are entirely waterproof. It's crucial to check the product specifications to determine the level of water resistance. Some lights may be labeled as waterproof or IPX-rated, meaning they can withstand exposure to water to a certain extent.
Can I use a grill light for purposes other than grilling?
Yes, grill lights can be versatile and used for various purposes beyond grilling. They can serve as convenient task lights for outdoor cooking or as general lighting for camping, fishing, or any other activity that requires illumination in low light conditions.
Remember to consider your specific grilling needs and preferences when choosing the best grill light for your barbecue setup. Always follow the manufacturer's instructions for installation, usage, and maintenance to ensure the longevity of your grill light.
Final Thoughts
Grill lights are handy accessories for anyone who does any grilling at night.
They give you targeted lighting directly onto your grill's cook surface and improve your ability to plate and serve food.
Picking out the best grill light for your situation really comes down to what type of grill you've got and what kind of lighting you're looking for.
So long as you know those two facts it's quite straightforward to choose the best grill light for your needs.