Be forewarned, the best BBQ knives come with big price tags. But a knife being expensive is no guarantee of quality. There are many "scam" knife sellers, especially for a style described as Damascus steel knives. So doing some research, such as reading this BBQ knife guide, is paramount if you don't want to fall into the marketing traps the grilling world is full of.
First, you must understand the different knife styles and their purposes. Although this article is about the best BBQ knives, there is actually no such thing as a BBQ knife, just your traditional knives that work best with BBQ-style food. So let's run through the typical knife styles you'll likely find in the hands of a Pitmaster.
The top three knives on my list are what I call the "barbecue power three knives". With these knives, you'll have a quality tool to do pretty much every cutting job needed for the slicing, dicing, and trimming of competition-looking BBQ food. But for those of you with money to burn I'll also recommend what I believe to be the best BBQ knives from several other styles so you can have a full set.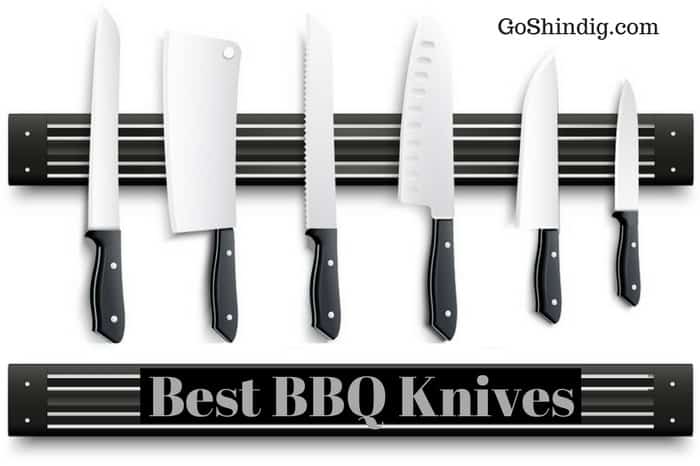 The Best BBQ Knives
For those who take great delight in their smoked or barbecued meats, the right knives make all the difference in the world. So, with that being said, the following five knives are essential for every backyard griller or BBQ enthusiast and will make up the majority of my reviews.
Chef's knife – The chef's knife is the workhorse of your kitchen cutlery collection and the item most people go for first. Additionally, a chef's knife made of stainless steel will be useful throughout the BBQ. Before and after grilling, these are your go-to staples. Some people even have entire sets of chef knives to choose from.
Boning knife – The boning knife is ideal for slicing through tough connective tissue around the bone. These carbon steel knives are ideal for cutting through tougher cuts of meat like ribs or brisket while being gentle enough to use on more delicate foods like chicken and fish. Boning knives are indispensable for any BBQ.
Paring knife – Some grill masters may underestimate the importance of the paring knife, but this tool is truly the unsung hero of the grill. Cutting up tomatoes, onions, and other barbeque vegetables will go much more smoothly if you have a good paring knife.
Carving knife – For perfectly even slices of meat, especially brisket, nothing beats a carving knife. You can get your slicing done quickly with these stainless steel brisket knives that, in many cases, feature a granton edge. Use them with a high-quality carving fork to preserve the meat's taste with each cut.
Butcher's knife – Cutting raw meat requires a butcher's knife or meat cleaver made of heavy-duty stainless steel. These blades are strong enough to cut through sinew, bone, and other tough materials. If you have a nice butcher's knife, slaughtering will be a snap.
Dalstrong Shogun Series X Chef Knife
Best Chef's Knife for BBQ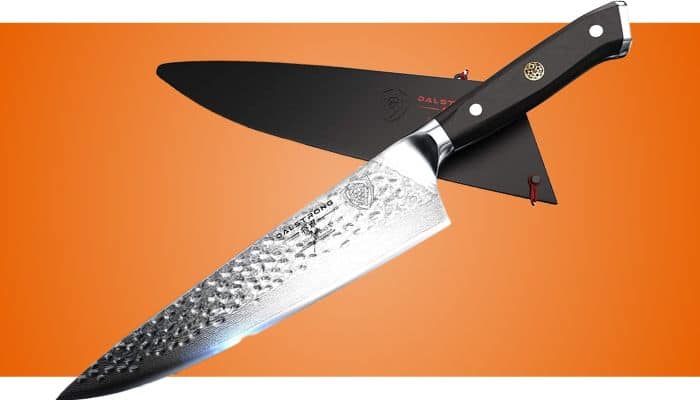 If you can only afford one high-quality, razor-sharp knife then a chef knife should be the style that empties your wallet. It's a very versatile knife that's good for cutting, chopping, trimming, and slicing and for this reason, it's considered the primary general-utility knife for most western cooks.
My recommendation for the best chef's knife for BBQ food is the Dalstrong Shogun Series X chef's knife. Its blade is eight inches long, which all good chef's knives should be, triple riveted for extra strength, and is scalpel-sharp due to being sharpened via the three-step Honbazuke honing method (Honbazuke honing is a traditional Japanese blade sharpening technique that gives swords and knives exceptional sharpness. Done by hand the three steps are, coarsely ground the blade with a vertical rotating sharpening stone, then fine honing with a horizontal sharpening stone, and finished off by polishing using a leather stropping block)
The finished look of the Dalstrong chef knife is achieved by what's called hammered tsuchime (a weird name considering the translation of tsuchime is hammered). This effect isn't solely to give the knife a beautiful look – it also helps reduce drag while cutting and minimizes the amount of food that sticks to the blade.
If all this wasn't enough, the final point to convince you that this is the knife to buy is it has a Rockwell hardness of 62+ (Rockwell hardness ratings measure the hardness of steel and 62 is very hard for a knife), and a G10 handle, which is a bit technical for the scope of this article but you can read about on the Knife Art website.
The knife has seen a lot of BBQ action from me by now. Visually, it's a work of art, and if I take care of it, it will survive longer than I will. The amazing design on the blade is difficult to capture on my camera. It was pretty sharp when it arrived, but I'm sure if you have skills with a knife sharpener you could get it sharper.
I think the factory sharpness is already sufficient and it's certainly sharper than anything else I use in the kitchen that I haven't personally sharpened. The knife's ergonomic grip and well-balanced design make for effortless cutting. I'm sure I'll get a lot of use out of this knife, the only issue you'll have is you'll want to replace all of your knives with others in this range, which will be expensive.
That being said, here are some things you might find interesting. A knife's sharpness, ergonomics, aesthetics, and build quality are the four most important factors for me when selecting one.
Sharpness – First, its razor-sharp edge makes quick work slicing even the densest veggies like butternut squash.
Ergonomics – Second, ease of use was a primary priority because I have had bad experiences with other high-quality knives. But the grip is well made, and the knife, despite its size, is comfortable in the hand.
Aesthetics – Thirdly, the design; I was expecting to be slightly let down by this knife, as the photographs make it seem too wonderful to be true. Thankfully, it feels as good as it looks in your hands. From the slanted butt to the intricate etching on the blade and handle, this knife is a work of art. The knife is so well made that not even its polishing could be improved.
Build quality – The materials and craftsmanship used to make this knife are top-notch in every way. Many knives that appear to be of high quality turn out to be flimsy, quickly become dull or even break. Although I've only had this knife for about two years, I know that this knife will be with me forever.
In conclusion, this knife has my highest recommendation. There is a lot of thought put into the presentation, and the package is lovely. Any recipient of this BBQ knife as a gift would be very appreciative.
Victorinox Fibrox pro slicing knife
Best BBQ Knife for Slicing Meat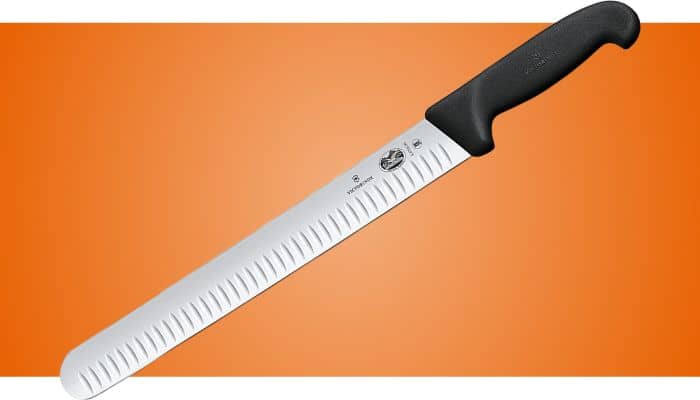 Big lumps of slowly smoked meats are my favorite meats for barbecue parties, particularly beef brisket, but you need a really nice slicing knife to give your guest the best-looking slices of meat and not hacked at chunks. My recommendation for the best slicing knife for BBQ food is the Victorinox 12-inch Fibrox pro slicing knife with a Granton blade.
Twelve inches might seem long for a blade, and it might be for standard cuts of meat you cook in the kitchen. But for barbecues, we often go super size and get the biggest cuts we can fit on our grills. So twelve inches will be perfect.
The Victorinox slicing knife also has a Granton blade (the small indents that run across the whole blade). This minimizes cutting drag by creating small pockets of air, which means less food sticks to the blade, reducing friction for a smoother, high-efficiency cutting motion.
This knife, which I originally got just to make jerky, is the best purchase I've made since getting a dehydrator.
There was no sawing involved, and the cuts were as smooth as glass. All of the cuts were perfectly even, the knife didn't bend or create uneven areas, I was able to cut completely through (horizontally beneath the meat), and there was no tapering. I also didn't have to reposition the roast to cut from the trailing edge. I was done slicing in a third as much time as before. Then, when I needed to trim to size, this knife did the job, cutting like butter, and I obtained some great pieces thanks to its length.
I couldn't wait to use this knife on brisket and ham, it also did a fantastic job with some leftover turkey breast.
The only possible drawback is that the knife comes in a plastic cover that, while enabling a good view of the knife and protecting the edges during delivery, lacks the beauty of a box that some customers may prefer and other knife makers provide. There was also no edge guard, but as I cook for just grownups, that's not a problem for me.
For me, the most important thing is having a decent knife, and the packaging is irrelevant once the knife is in my hand.
In conclusion, the Fibrox handle worked well in a variety of cutting positions. The Granton blade can be used on either side. The blade is centered in the handle and balanced so that it can be used by either the right or left hand. In spite of its 12-inch length, this blade is surprisingly lightweight and easy to use. This knife has been tested and approved by the NSF, and it was made in Switzerland. Despite its advertised dishwasher safety, I would be careful to avoid having other dishes knock against the blade, and I'd advise cleaning any quality knife by hand.
Best Boning Knife for BBQ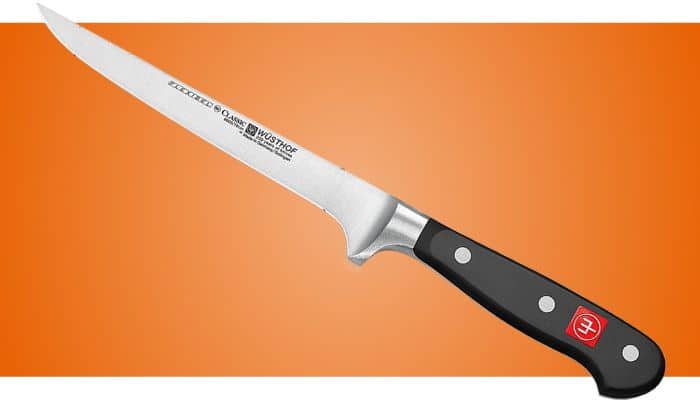 If you're just a hotdog and burgers type of griller then you'll not need a boning knife, but cutting meat from the bone is a regular task for serious pitmasters so I strongly recommend adding one to your collection.
A boning knife is very specialized as it has to be narrow and flexible yet still very strong (and of course, extremely sharp). A knife that is all this and more is the Wusthof Classic 6-Inch flexible boning knife which is my choice as the best BBQ boning knife.
Both experienced chefs and amateurs find this knife to be indispensable. Its arching blade makes trimming and slicing easy and pleasant for a variety of chefs. Having a finger shield to cover your fingers is a nice added safety feature, and the synthetic handle is very pleasant to hold.
The blade is slightly flexible, but not to the point where it can't withstand harder cuts. Although it is more expensive than some knives, this one is well worth the cost if you want a reliable blade that will last for many years.
Working closely around bones and joints requires a knife with a tapered, pointed blade, and Wusthof's Classic Series 5″ Boning Knife fits the bill. Wusthof Classic Knives have the following features: The knives' are high carbon, and the high-stain resistance steel is easy to maintain and keeps razor sharp. From bolster to tip and back to edge, the blade is finely tapered.
The blade's edge is hand-honed and extremely sharp; it has been laser-tested for quality assurance, it will last a long time, and it can be resharpened with ease. Wusthof's "signature" feature is the bolster/finger guard, which is also responsible for the knife's heaviness. The Classic series' fully visible tang is triple riveted to the long-lasting Hostaform-C handles, making for a seamless and hygienic handle/tang assembly.
Wusthof Classic Paring Knife
Best Paring Knife for BBQ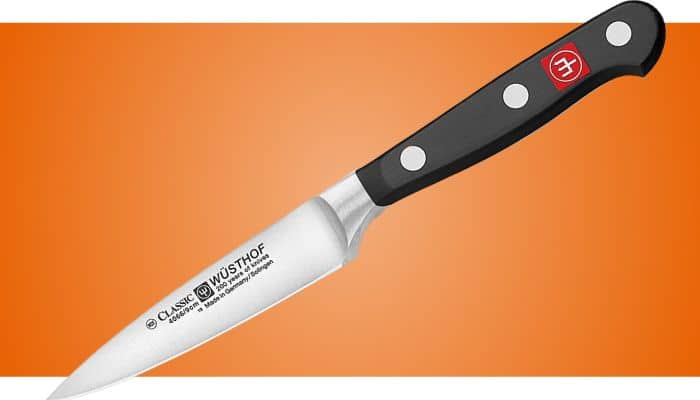 I use a paring knife as a backup to the jobs of a chef knife where the size of the chef's knife makes the task at hand difficult. I think of it as a small chef's knife that's good for slicing, chopping, trimming, and cutting hard-to-reach or smaller bits of meat. And the Wusthof Classic 3-1/2-Inch paring knife is perfect for these jobs.
This high-grade stainless steel paring knife is built to last and will not shatter or rust if you use it frequently. The knife's ergonomic handle makes it easy to hold and maintain a secure grip. The company's unique edge technology makes the blade much sharper than a standard paring knife.
With a price tag of just under $50, the Wusthof Classic 3.5-inch High Carbon Steel Paring Knife is on the higher end of the paring knives I examined. Its sleek profile and well-balanced handle set it apart from the competition right away. It was quite flexible and easy to manipulate, and it hung loose in my palm while I peeled and deveined shrimp. When the razor-sharp blade effortlessly sliced through everything from an apple peel to orange segments, I knew we'd found my best BBQ paring knife winner.
Dalstrong Obliterator Meat Cleaver
Best Meat Cleaver for Barbecue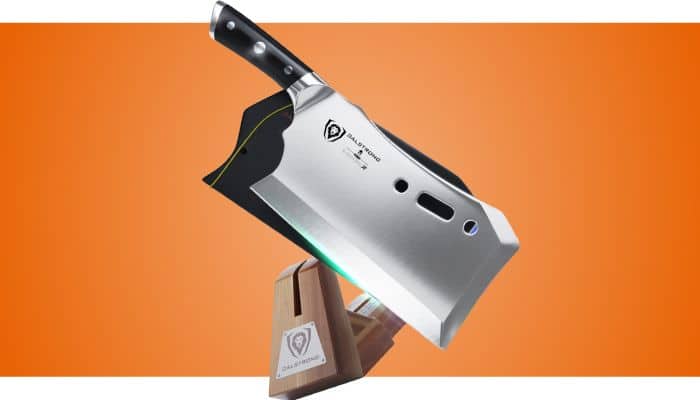 A meat cleaver is a tool I've noticed many novice grillers are scared to use. I understand why. It has a scary look about it and if you watch as many films as I do you'll notice it's more often used as a torture device than a tool for great food. And as it's swung more like a hammer than the cutting motion of a knife I'm sure people are worried about losing fingers.
Whether you have the skill and confidence to use a meat cleaver, I'll let you decide. I'll just inform you which I think is the best. But the meat cleaver is a knife that has a skill set none of the other knives have. It's designed to withstand repeated blows directly into thick meat, dense cartilage, and bone, and therefore has to be extremely strong.
As the strength of the blade is so important for cleavers you'll want to make sure the one you buy is full-tang – which means the steel of the blade is cut so that it also forms the handle (part-tang means it forms a small part of the handle). The reason you want full-tang is you don't want the blade to come loose from the handle while swinging a cleaver.
I recommend the Dalstrong Obliterator Meat Cleaver. Dalstrong is a knife manufacturer with a long history in the industry. The Obliterator Meat Cleaver from their Gladiator Series R is a favorite among those looking for an aesthetically pleasing cleaver for occasional use.
The nine-inch blade and full tang construction of this cleaver make it ideal for professional use. The blade measures 5.11 inches in length, is forged from high-carbon 7cr17mov steel that has been heat-treated to 60HRC and has been hand-sharpened for effortless knuckle clearance and meat transfer from cutting board to grill.
The three rivets and soft, ergonomic G-10 resin grip enhances safety and control. But because of its incredible 2.9-pound weight, this knife is less nimble than lighter models, and it may benefit from finger grooves to help you keep a better grip with sweaty fingers.
This meat cleaver is great for chopping huge chunks for smoking or grilling, and it also serves as a conversation starter thanks to its acacia wood presentation stand and protective sheath. If you need to sever thick ribs or port shoulders, this is your best bet.
Victorinox Fibrox Pro Ultimate Competition BBQ Set
Best Set of BBQ Knives
Everyone knows the name Victorinox, whether they're shopping for their first set of BBQ knives or they've been collecting blades for decades. You've probably seen the name on a Swiss Army knife, and you might not automatically associate it with barbecue blades. This great set of competition barbecue knives shows that this isn't all the firm does.
The only aesthetic that matters in a competition is how the meat looks in the presentation box before being judged. These Victorinox knives may not be the most aesthetically pleasing option, but they are built to last and perform consistently, without adding unnecessary strain to your day.
The knives in this BBQ set include a paring knife, a boning knife that is flexible enough to reach into small spaces but sturdy enough to get the job done, a breaking knife for disassembling a chicken, a chef's knife, and a slicer. It also contains a sharpening rod to ensure your blades stay in top condition.
You can stop worrying about whether or not your knives will rust thanks to their stainless steel blades and instead focus on finishing your presentation box on time. Keep in mind that even stainless steel needs to be cleansed and cared for correctly or it could get damaged. Knives with Fibrox handles are great for use in the high-pressure setting of a barbecue competition since they are not affected by sweaty hands.
Since they first began producing knives in 1884, Victorinox has built a solid reputation as a brand you can trust. R.H. Forschner & Co, Victorinox's exclusive distributor at the time, brought them to the United States in 1937. In fact, in the early years, that was the name of the knives. Just be confident you're getting the quality competition BBQ knife set you want when prepping or working through all hours of the weekend.
Cuisinart Electric Knife
Best Electric Knife for BBQ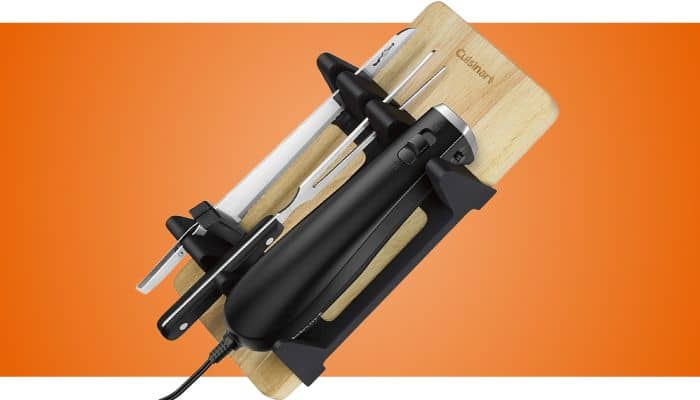 How much do you fancy the concept of a razor-sharp knife that glides effortlessly into flesh without requiring any brute force? One of the best electric knives for barbecuing is the Cuisinart AC Electric Knife. Micro-serrated blade made of stainless steel makes quick work of both meat and bread. There's also a comfortable grip that's been intended for use with the hand.
The Cuisinart electric knife has a safety lock button that engages immediately after the trigger is released, preventing accidental cuts, and a blade release button that facilitates speedy, dishwasher-safe cleanup. The ergonomic grip is also made for ease of usage by either the left or right hand. In addition, there is a carving fork and cutting board included in the electric knife set, so your barbecue will be ready to serve in no time.
The razor-sharp blade of the electric knife makes quick work of slicing through tough bones and crusty loaves of bread. Furthermore, the ergonomic handle ensures precise, even slicing even after long periods of use. As an added safety measure, the knife has a trigger on/off switch that disables the blade the moment the switch is depressed.
When slicing meat with an electric knife, your thumb will become fatigued from having to hold the big "On" button down the whole time. It would have been nice if pressing and holding down this button wasn't necessary.
Bear Paws Meat Claws
Best Pulled Pork Claws for BBQ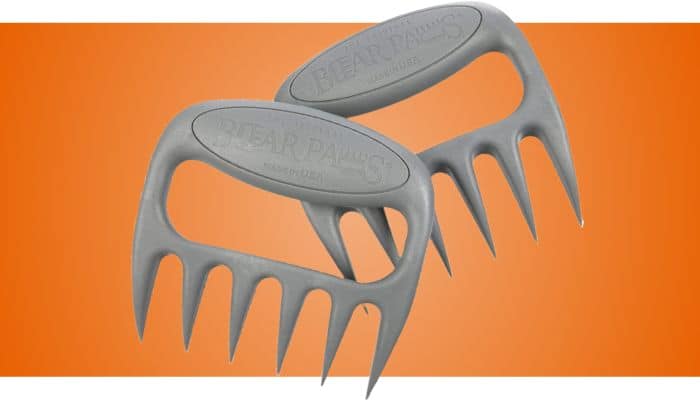 Pulled pork claws are obviously not a knife, but as this article is about cutting meat I thought I'd give them a quick mention. Knives aren't very good at "cutting" pulled meats. In fact, I used two forks for pulled pork instead of knives before I bought some claws. So if you are a big fan of pulled meats you should consider adding some pulled pork claws to your collection of knives.
How to Pick the Best BBQ Knives
As we've established, it's not easy to find the greatest barbecue knives, but it is possible if you know what to search for. You're in luck because I've compiled extensive details on the most crucial factors to think about while selecting the finest BBQ knife.
Price
If you want your BBQ knives to function well and endure a long time, it's best to invest in a name brand. Like the value of a brand name, the cost of a knife is also significant. Spending a lot of money on a high-end set that falls short in performance is a waste of money. It's also not wise to skimp on a quality knife because you're afraid they won't cut it. Unfortunately, it's a minefield out there selecting the best BBQ knives, but thankfully you are smart enough to be reading this guide which should lead you to a great knife.
Material of the Blade
Titanium, ceramic, stainless steel, and carbon steel are just some of the many materials used to make blades. Titanium blades are more pliable than those made of other metals, yet no other material can match their corrosion resistance. Ceramic blades, also non-metallic, resist corrosion completely and stay sharp for a very long time. Nonetheless, the material isn't particularly sturdy and will break apart upon impact if dropped.
Only stainless steel and carbon steel remain as viable options for the blades of chef's knives and barbecue tools. A blade made of stainless steel is the most popular because it is long-lasting, resistant to corrosion, and easy to maintain a razor's edge. Even so, stainless steel blades require frequent sharpening since they dull so easily.
Blades made of high-carbon steel are both sharper and stay sharp for longer than their stainless steel counterparts. Carbon steel, on the other hand, is more prone to rust and so requires more frequent and thorough cleaning and maintenance.
The material you prefer for your BBQ knives is, of course, a matter of taste.
Stainless Steel Blades
Stainless steel blades are widely used in buildings because they are long-lasting and resistant to corrosion.
Stainless steel is a metal alloy that consists of chromium, nickel, iron, carbon, and molybdenum, among other elements.
Carbon Steel Blades
Before stainless steel became popular, these blades dominated the market.
Knives made of carbon steel are even more razor-like than those made of stainless steel. However, carbon steel lacks chromium while stainless steel is 11% chromium.
This makes it susceptible to corrosion, necessitating thorough cleaning right after each use.
Titanium Blades
Titanium is a powerful substance that offers resistance to corrosion. Titanium is immediately recognized by its distinctive dark silver color. This material is used for blades because of its non-magnetic and long-lasting properties.
Titanium blades are less rigid and sharper than those made from other materials. On occasion, however, they will have a different substance applied on top.
Ceramic Blades
Blades made of ceramic are extremely durable and resistant to corrosion because it is a non-metallic material. The material also maintains its edge for a long time.
Zirconium oxide is used in its construction, making it even harder than steel. When dropped, however, ceramic blades tend to shatter. It needs specialized equipment to sharpen as well.
Weight and Balance
Finding a knife with a good balance between the blade and the handle will make slicing meat into uniform slices effortless. This is crucial because it allows you to do any sort of cutting without your hands getting tired.
When slicing through thick cuts of meat, a heavier knife means less force is needed from the user. However, prolonged use could be uncomfortable with a knife that is too hefty for you and badly balanced.
Length
When deciding on the ideal knife for you, it's important to think about your preferences in terms of both the handle and the blade size. A complete set of barbecue knives will include knives between 5 and 14 inches in length. If you're just getting started, it's probably best to steer clear of a set that comes with exclusively long knives. However, a set that consists of short knives will be of little use when slicing through thick cuts of meat. So when buying a new BBQ knife you at the knives you already own, and their length and buy a knife that has a length that will give you more options than what you already have.
Handle
Before settling on a knife, it's important to think about the material and design of the handle. Knife handles can be crafted from a variety of materials, including wood, plastic, rubber, or even stainless steel. For maximum grip and security, look for handles made of nonslip material.
The knife's handle is distinctive in its form. Slicing for extended amounts of time calls for a blade with an ergonomic form that provides a comfortable grip thanks to features like finger grooves. However, check if the finger grooves work for both left and right-handed users. You can't go wrong with a BBQ knife that has a solid handle that provides a firm grip.
Storage Pouch, Sheath, or Block
Think about if you want a knife set with a block for semipermanent storage or one with a roll-up carrying case or sheath for individual knives. If you want to take your new knife collection with you on camping trips, tailgating cookouts, or BBQ parties, you'll need a carrying case.
Buying a knife set that includes a beautiful knife block to show off your new knives can be more practical if you only plan on using them for home cooking or you only plan on backyard grilling.
Warranty
When shopping for the best BBQ knives, it's always a plus to have some sort of warranty protection. Some manufacturers will provide full or partial lifetime guarantees, while others won't. More expensive knives are more likely to have a warranty since the materials used to make them are of higher quality, while cheaper knives are likely to be made from lesser materials and not have a warranty.
Best BBQ Knives Video
If you're looking to upgrade your knife collection with a BBQ knife, choose one that lives up to the expectations of a top-tier blade. Your blades should be made of durable materials, like carbon steel or stainless steel.
The edge's Rockwell hardness should be 56 or above. You should also look for an ergonomically designed handle. Blade length and design are subjective factors dependent on the intended use.
As with any other activity, your barbecue requirements may differ from mine. I recommend keeping a boning knife, paring knife, chef knife, butcher knife, and slicer close at hand.
You shouldn't scrimp on any knife for the kitchen, but a BBQ knife in particular. True quality blades don't come cheap, but they'll last you a lifetime.
A high-quality knife is an investment that pays off over time through cost savings and aesthetic gains in the kitchen. Have a look at this BBQ video for some ideas.
Types of BBQ knives
By now you've undoubtedly figured out that there isn't just one type of BBQ knife, but rather a variety. I found that there are five distinct knives required for a successful barbecue. Listed below, I'll elaborate on each one:
Chef knife – In terms of knives, a chef knife is probably the most widely used. The blade is substantial and the tip is sharp. The blades of certain varieties are scalloped. Cutting, slicing, trimming, and chopping are just a few of the many tasks that may be accomplished with a chef's knife. It is the best all-rounder knife for BBQ.
Boning knife – A boning knife is a type of barbecue knife characterized by a long, thin blade that is used for deboning meat. A sturdy grip is ensured by the knife's generally thick handle. The boning knife is essential for preparing meat and fish for barbecuing by removing the bones and excess fat.
Paring knife – Many pitmasters may overlook the value of the paring knife, yet this tool is the unsung hero of the grill. If you have a decent paring knife, cutting up tomatoes and onions for burgers, or other BBQ vegetables will be much easier.
Slicing knife – Barbecues also call for another type of knife: the slicing knife. A slicing knife, distinguished by its long blade and curved or rounded tip, is the tool of choice for slicing BBQ evenly and without tearing the meat.
Butcher's knife – The blade of a cleaver is thick and substantial. Using a chopping motion, it can easily cut through tough, thick meat. If you want to chop thick cuts of meat instead of trimming or slicing them, this is the instrument for you.
The Jargon of Barbecue Knives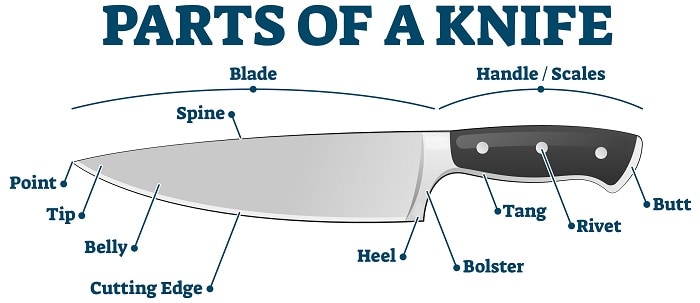 If you want to find a good knife, you should have some idea of what to search for first.
Knife steel consists of the blade, the bolster, and the tang.
It's important to note that the blade itself is composed of four distinct sections: the tip, the point, the edge, and the heel.
The tang is the part of the knife to which the scales (the handle components) are attached using rivets, and the bolster is the part of the knife that separates the handle from the blade. Wood isn't the only material used for handles; sometimes they're made of molded plastic.
The type of blade should also be taken into account. The cutting edge of most blades is straight. The serrated and scalloped edges, however, make short work of crusty or tough fare.
How To Sharpen Your BBQ Knives
A high-quality barbecue knife, like any other, will dull and dull quickly if not cared for. A honing steel, stone, or pull-through sharpener can all be useful tools for keeping your blades in tip-top shape.
Honing Steel
Be sure the honing steels are in the right position before you begin sharpening your knives. Lightly but firmly slide the honing steel from the back of your knife's heel to the point of the steel at an angle of 22 degrees. To sharpen the steel, move the knife from left to right.
Japanese Water Stones
In terms of sharpening quality, Japanese water stones are often considered to be among the best in the world.
It's recommended to soak it for 5-10 minutes in water before using it, as the name says. Put the stone somewhere it won't roll away. The knife should be laid down on the water stone.
Tilt the back of the knife up by 10 to 15 degrees. Moving the knife up and down the water stone is a great way to sharpen your blade.
While sharpening, a slurry will form. It's simple to remove with water, or you may leave it on the stone for a more refined look. Always give the blade a quick rinse between grits to keep the edge sharp.
Pull-Through Knife Sharpener
Sharpeners with a pull-through design are portable and simple to operate. Just insert your knife into the sharpener and pull it through from the handle end to the point of the blade.
Because of the sharpener's design, you won't need to exert excessive force while using it. Old knives can be maintained with pull-through sharpening.
You might best not to use a sharpener like this if you get a high-quality BBQ knife and opt for the options above.
How to Use a Barbecue Knife Safely
Knives are extremely dangerous instruments around the grill and possibly drunk guests. Here are some guidelines for the safe use of your new barbecue knives.
Safe Storage – Maintaining the security of your BBQ knife set is a must. Make sure the sheaths for your knives are properly fastened over the blades before putting them in your bag.
Sharpen Before Use – A knife that isn't sharp can cause serious injury. Dull knives necessitate greater effort to use, which might increase the risk of slippage and injury. The safest way to utilize blades and guarantee clean, precise cuts is to sharpen them before use.
Keep your cutting board steady – Protecting your knife by using a cutting board is a must, but so is making sure the board is secure so that you and others around you don't get hurt. There's a higher risk of harm if you use a cutting board on a slick surface.
Questions & Answers About Barbecue Knives
If you want to be ready for anything when you fire up the grill, you need a BBQ knife. A BBQ knife is a perfect tool for chopping tough meats and vegetables, as well as for any other cutting tasks.
Given that there is no one "ideal" knife, many distinct designs and kinds of knives are available. There is bound to be a BBQ knife that is ideal for you, whether you seek a simple knife or something with all the extras.
Even if you're not a master chef, investing in a high-quality BBQ knife can make your grilling sessions more enjoyable and will allow you to master any barbecue recipe you throw at it.
Picking the greatest instant-read thermometer is a critical chore, and so is shopping around for the best BBQ knife. And that's why I compiled this FAQ list on BBQ blades in the first place.
What is a BBQ knife?
For barbecuing, you'll need boning knives, paring knives, granton-edge slicers, a chef's knife, and a butcher's knife or cleaver.
BBQ knives are multipurpose blades that can be used for a wide variety of tasks, including but not limited to cutting raw meat, deboning, slicing cooked meat and bread, chopping vegetables, mincing garlic, and so on. A BBQ master relies heavily on their collection of BBQ knives. In other words, the term "BBQ knife" actually refers to a collection of knives.
How often should I sharpen BBQ knives?
Previously, I discussed how even the sharpest blades will lose their edge over time. Depending on how often you use them, you may need to sharpen your BBQ knives once every few months to maintain them in tip-top shape.
How to care for stainless steel BBQ knives?
When compared to traditional carbon steel blades, stainless steel BBQ knives require very little upkeep. In addition, they are simple to sharpen. It's more convenient to use dishwasher-safe barbecue knives. But if they're not, wash them in hot, soapy water and dry them with a clean towel. Avoid letting them air dry.
Are BBQ knives dishwasher safe?
The knife's design will determine whether or not it can be cleaned in the dishwasher. But I'd strongly advise that all professional knives be washed by hand and dried immediately after use in order to prevent rust and corrosion. The heat from a dishwasher can loosen the rivets on a quality knife and ruin them. I know lots of people that have made this expensive mistake.
Final Thoughts
Some knives are superior to others, and this is true across the board. Some well-known brands have been exposed as selling cheaply made knives at inflated prices. Since grilling knives get regular use, it's crucial to find ones that are comfortable to hold and use, as well as strong and long-lasting.
I know it won't be simple to track down the finest BBQ blade, which is why I've compiled my own list to help you avoid purchasing a fake.
We wish you the best of luck with the rest of your search for the best BBQ knives and hope you enjoy the results of your efforts. Since everyone has their own ideal knife, I've just listed my personal favorite knives. Knives for use in the kitchen or on the grill can be found from all the brands I've mentioned. Some people prefer to accumulate knives of varying brands, while others prefer to have only one brand.
Keep in mind that purchasing a high-quality knife is an investment that will pay dividends for many years in the form of improved cutting performance and security. The use of a low-quality BBQ knife is generally met with annoyance and even injury. BBQ knives from reputable manufacturers like Wusthof, Victorinox, and Dalstrong will serve you well.