Wondering whether you should shun charcoal and buy yourself the best portable electric grill?
Electric grills have several advantages over gas and charcoal models. Not only are they free from flames, smoke, and fumes (making them ideal for use on campsites and indoors) but electric grills are also very easy to use and simple to clean.
Portable electric grills are a great choice for lightweight travel, camping, and RV'ing, because they don't require you to bring any additional fuel. Instead, electric grills cook your food over a heating element – so as long as you have a power connection, you're good to go.
If you're sold on the idea of a portable electric grill but don't know where to start, you're in the right place. In this guide, we have reviewed six of the best portable electric grills available today, and included a handy buying guide to help you get started.
Best Portable Electric Grills
Is your mouth watering? Let's take a look at the leading portable electric grills on the market today. We have reviewed six of the best models money can buy, so you can find your perfect match and get grilling.
Weber Q 2400 Portable Electric Grill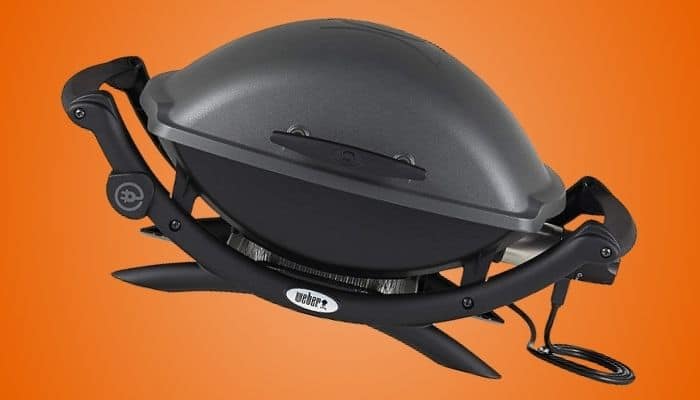 Featuring an ultra-compact design and powerful 1560 watt heating element, the Weber Q 2400 Portable Electric Grill is a great choice for your outdoor adventures.
This model offers a 280 square-inch cooking area that can fit 12 burgers at once, so there's plenty of space to grill up all your favorites. The cast-iron grates heat up fast and distribute heat evenly, for perfectly cooked food without any troublesome cold spots. We also like that the grates are porcelain-coated, as this increases durability and ensures they are resistant to rust.
The Weber Q 2400 has a sleek design that sits low to the ground. At only 31.5 x 14.5 inches, this model takes up very little storage space, so it's easy to bring with you on your next camping trip. It can be safely used on a table top or on the floor, but if you would prefer, it can also be converted into a freestanding grill with the Weber Q stand (sold separately).
The ergonomic side handles ensure it's comfortable to carry to your cooking location, and because it only weighs 42 pounds, it's easy to manage single-handedly. This model may be small, but it's also tough enough to stand up to the rigors of outdoor cooking. The lid and body are constructed from scratch-resistant cast aluminum, that can easily withstand any accidental knocks or bumps.
Ready to go right out of the box, the Weber Q 2400 is super simple to use with no setup required. This makes it ideal for spontaneous gatherings, all you need to do is plug it in, switch it on and get cooking. And once you've finished your meal, the removable grease pan means you can clean up in minutes and get back to socializing or enjoying the view.
Pros – Things we liked
1560 watt heating element
280 square-inch cooking area
Cast-iron grates
Weighs only 42 pounds
Cons – Things we didn't like
No built-in thermometer
Cuisinart Outdoor Electric Tabletop Grill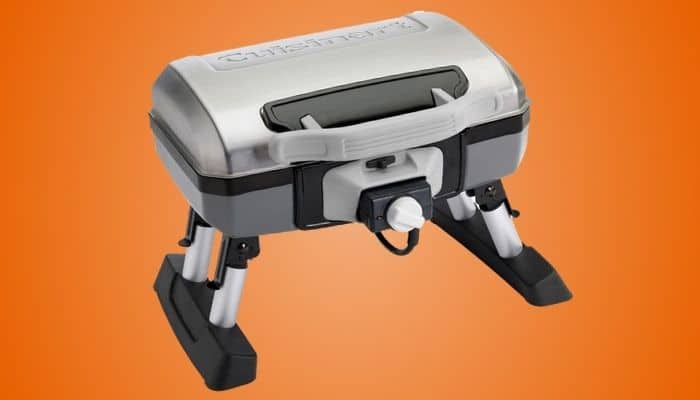 Another great option is the Cuisinart Outdoor Electric Tabletop Grill. Compact and powerful, this portable electric grill is packed with features that are perfect for cooking on the go.
Great for couples or small groups, this model has a 145 square-inch cooking grate that provides enough space to cook for up to 4-8 people at once. The grill grate is porcelain enameled for optimum heat retention, distribution, and overall durability. It's pretty powerful, too – the 1500 watt element kicks out high heat levels that are suitable for searing steaks and burgers for an authentic taste.
The Cuisinart Electric Tabletop grill is incredibly lightweight at just 17 pounds, so it's easy to transport without any strain. The sturdy legs keep the grill well-balanced and stable – and they also fold up underneath for simple storage, so it takes up very little space in your car or RV. There's also a handy lid lock to ensure the grill stays firmly closed during travel.
Unlike larger grills, this model requires no assembly or preparation to get started. Just gather your pals, unpack the box and you're ready to start cooking. This makes it great for impromptu trips or surprise visitors. The simple temperature control knob on the front is straightforward to use, and the convenient drip tray means cleaning up is a breeze.
Overall, this model is an excellent choice for easy outdoor cooking. It's well-made, powerful, simple to transport, and takes next to no time to set up.
George Foreman Indoor/Outdoor Electric Grill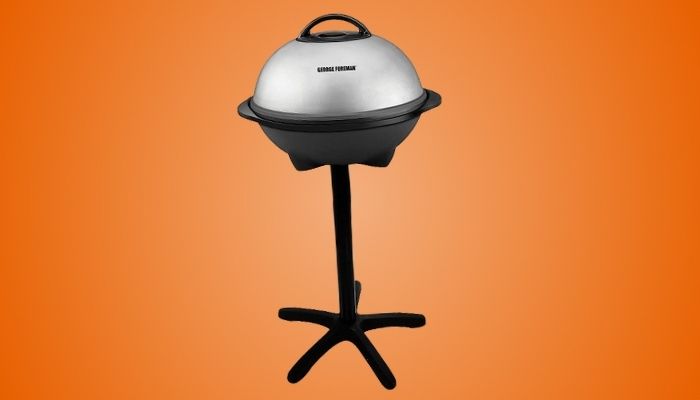 Looking for a portable grill that can be used both indoors and out? Then this model from George Foreman could be just what you need. This model features a removable stand, so you can choose to grill on your countertop, or bring the fun outside and cook in the fresh air.
The George Foreman Indoor/Outdoor Electric Grill is a great choice for large gatherings or family camping trips. The circular grill plate offers 240 square-inches of cooking surface, so you can grill burgers, steaks, and veggies for up to 15 people. It is also slightly slanted so excess fat can drain off into the attached drip tray, for healthier results without any loss of flavor. This is great if you're watching your weight or have guests that are counting calories.
This model has a special 'George Tough' non-stick coating, which means you can get right to grilling without any oil or butter. Thanks to this durable coating, the surface of the grill is also super easy to clean. Just lift it out, wipe it over with a soapy cloth and you're done.
The George Foreman offers a temperature range from 250-500℉ , that's perfect for cooking a wide variety of dishes. The temperature probe on the edge of the grill is simple to use, too – just twist it to choose from five heat settings for delicious results.
Overall, we think this model is a great, simple to use option if you frequently host large groups. It's easy to clean, creates healthier food and can be used both inside and out. So, if the rain hits, you can just bring it inside your kitchen, RV or trailer and continue cooking without a care in the world.
Char-Broil Patio Bistro TRU-Infrared Electric Grill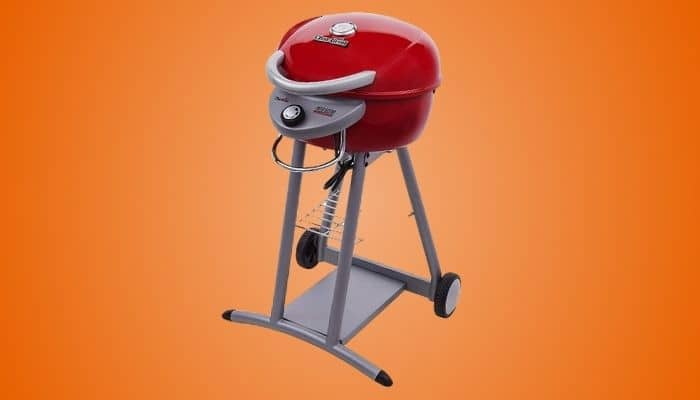 Next on our list we have the Char-Broil Patio Bistro TRU-Infrared Electric Grill. This model features a 240 square-inch cooking space and an additional 120 square-inch warming rack, so there's plenty of room to cook for large gatherings.
Despite its large capacity, the Char-Broil Patio Bistro is relatively lightweight at just 40 pounds. It also has wheeled legs for easy transportation, so you can bring it along to your friend's yard or out on your next camping trip without any hassle.
Using special TRU-Infrared Technology, this electric grill is easy to use. The porcelain-coated grate is highly-durable and distributes the heat evenly across its surface – eliminating the risk of hot/cold spots for precision cooking and juicy results.
This model does take some time to heat up compared to other electric grills, but once it's ready, the temperature is simple to adjust via the integrated control knob. There's also a handy integrated temperature gauge in the lid, which makes it easy to monitor heat levels for precision cooking.
Another great feature of this grill is the integrated front handle. Not only does this make the grill more comfortable to transport, but it also doubles up as a handy towel holder or somewhere to hang your cooking utensils.
Once you've finished cooking, this infrared grill is easy to clean. The non-stick grates are simple to wipe off and there's also a pull-out grease tray for hassle-free cleanup.
While it takes a little while to heat up, we think this portable grill is still a good choice for outdoor cooking with family and friends. It offers a generous grilling capacity and is easy to use for beginners and seasoned grillers alike.
Techwood Portable Electric BBQ Grill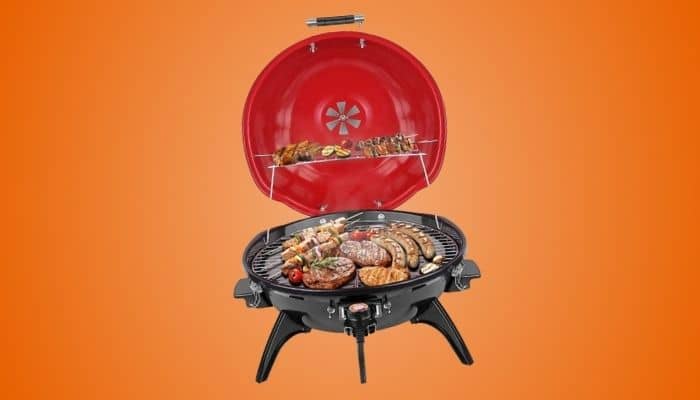 Another great pick is this Portable Electric BBQ Grill from Techwood.
Boasting 240 square-inches of cooking space, this compact electric grill is ideal for grilling with loved ones both indoors and out. With a 1600 watt heating element, this grill is powerful enough to reach high cooking temperatures of up to 425℉ – making it perfect for searing meats and fish.
The grate capacity can grill enough food to serve up to 15 people at once, or you can use it with the lid down for roasting and baking. The grates are porcelain-coated for durability, and have non-stick qualities that make them easy to clean.
This model features simple temperature controls that make it a good choice for beginners. The dial on the side displays the heat ranges, so you can bump up the temperature with a twist. We also like that the stay-cool lid handle doesn't conduct heat, so you don't have to worry about burning your hands during use.
There's also vents in the lid, so if you're cooking with the lid down, you can open them up to adjust the temperature. Unfortunately, though, this model doesn't come with its own temperature gauge – so you may wish to buy your own if you plan to use it for roasting and baking.
Thanks to its low-slung body and stable base, this portable electric grill can be used both on the countertop, or on the ground at your campsite. The sturdy handles on each side make it easy to carry to your destination, and its compact dimensions take up very little space when in storage.
Kenyon Frontier All Seasons Portable Stainless Steel Electric Grill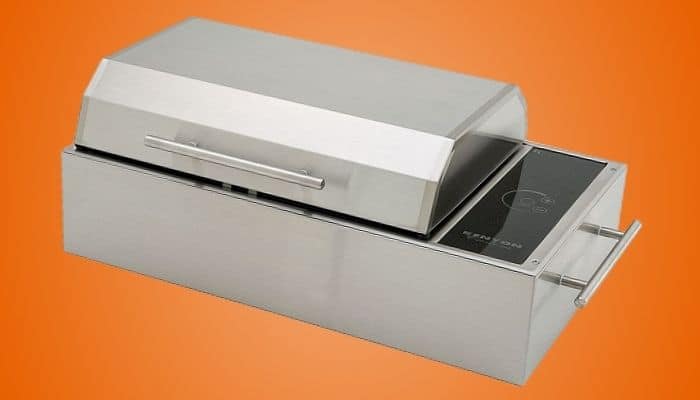 Last but not least – we have the Kenyon Frontier All Seasons Portable Stainless Steel Electric Grill. This model has a sleek, stylish design that's sure to impress your friends and family.
Crafted from marine-grade, 304 stainless steel, the Kenyon Frontier Grill is highly-durable, weather-proof and built to last. It's slightly smaller than some of the other models on our list, but the 155 square-inch grilling surface is large enough to cook around 4-6 burgers at once.
The 1300 watt heating element can reach a maximum temperature of 600℉ in just 10-minutes, so it's great for high-heat cooking and steak searing. The temperature is simple to adjust using the intuitive digital touch controls, so you can easily set the heat in seconds. We also like that the lid is insulated, which helps to protect against accidental burns – especially if children are around.
In terms of portability, this model has several features that stand out. Not only does it have a compact, space-saving design, but the Kenyon Frontier is also lightweight and has built-in handles for easy carrying. The rectangular shape also makes it convenient to store when not in use.
You can choose to use this grill indoors or outdoors, on a tabletop, countertop or with its accompanying stand (sold separately). For added safety, this model will automatically switch off after a set period of either 60 or 90 minutes – great if you get distracted by your guests.
When it's time to clean up, this model keeps things simple. The grill grates have a double non-stick coating, that can be wiped clean or even removed and placed in the dishwasher. It also comes with disposable grease drip trays, so you can just throw them in the bin, rather than spending time wiping them out.
Overall, this model is an attractive, highly-efficient choice for portable grilling. The only drawback is that it's quite expensive, but considering its build quality, we think it's good value for money.
Why Trust Us
All of our reviews are compiled with a combination of expert input, years of hands-on testing of grilling products, curating the reviews of real-life buyers in a "wisdom of the crowd" system, and of course our own expertise. All the products listed are the ones we would buy if we were looking to purchase a new portable electric grill.
Methodology Used to Pick the Best Portable Electric Grill
When picking the best portable electric grill we looked at and then rated each grill on the following criteria. Price, grill surface area, portability, temp range, temp control, and build quality.
Buyer's Guide to Buying the Best Portable Electric Grill
Still confused about which is the best portable electric grill for your lifestyle?
In our in-depth buying guide below, we tell you everything you need to consider before purchasing.
Price
Cost is an important factor when shopping for any product. The right portable electric grill for you will be determined by your budget, but there's plenty of good options to choose from across all price ranges.
Basic models can be found for less than $100. These types of portable electric grills may have a smaller capacity and fewer features than more expensive options, but they can still make great choices for occasional weekend trips and backyard gatherings.
At the other end of the scale, we have the premium options. These electric grills can reach $700 or more, and are usually made from high-end materials, with top quality heat controls and a variety of convenient portability features.
If you're just starting out and want a good quality model at a reasonable price, the middle ground is your best bet. The majority of portable electric grills will fall in this $200-600 price range, where you can find great models that will meet all your needs.
Grilling Surface Area
Grilling surface area is an important consideration. If you go for a grill that's too small, you'll find yourself having to cook in batches for your guests. On the other hand, if you choose a grill that's too large for your needs, you'll make portability more difficult.
Small grills of around 150 square inches are best suited to couples. Sure, you could cook for more people, but it'll be more difficult to keep everything warm so you can all eat together.
For larger groups, we recommend opting for a portable electric grill that has 250-280 square inches of cooking space. This is enough to comfortably cook for around 8 – 10 people at once, but isn't so large that the grill loses portability.
Size, Weight & Portability Features
Most of the grills we have featured are compact and lightweight tabletop models that are easy to transport.
When shopping for a portable electric grill, you should pay attention to the weight and dimensions. Ask yourself if it's light enough and small enough for you to comfortably carry to wherever you plan to use it. Are you going to put it in the trunk and drive to a friend's house, or do you need to pack it in your trailer for camping?
We recommend looking for models that have a streamlined design, foldable legs, lockable lids and wheeled cradles for easy transport. For tabletop models, those that have comfortable side handles are a great choice, as these will offer a stable grip when carrying.
Max Temp & Temperature Control
The majority of electric grills will offer a high setting of between 500-650℉. Having the option to cook on high temperatures allows you to achieve that authentic sear on meat, while ensuring it stays tender inside.
As electric grills are powered by heating elements, they will have either a knob or touchpad that is used to adjust the temperature as needed. The best option for you depends on your preferences, but controls should at the least be well-made and easy to understand.
Some models will also have vents in the lid, so you can adjust the heat when baking or roasting.
Build Quality & Materials
Portable grills are at greater risk of damage during their travels, so it is important that you choose a model that's durable enough to withstand occasional bumps and knocks on the way.
The best choices are made from tough materials like stainless steel, cast iron and cast aluminum. Grill grates that are coated with porcelain enamel are also great options – as this will resist rust and increase their longevity.
Top Portable Electric Grills Video
Final Thoughts
All of the portable electric grills we have reviewed are great options, but the best one for you depends on your needs and lifestyle. We recommend reading through our portable electric grill buying guide again and keeping our tips in mind when shopping for your own model.
If you have a large family or frequently meet up with several friends, it's best to opt for a portable electric grill that has plenty of capacity.
The Weber Q 2400 Portable Electric Grill, George Foreman Indoor/Outdoor Electric Grill or the Char-Broil Patio Bistro TRU-Infrared Electric Grill all offer a generous grilling space of 240-280 square inches, so there's sufficient room to cook for everyone. Each of these models are simple to use, and their compact design means you can easily take them with you without any trouble.
For singles, couples or small groups, there's simply no point in buying a grill with more cooking space than you need. The Kenyon Frontier All Seasons Portable Stainless Steel Electric Grill or the Cuisinart Outdoor Electric Tabletop Grill are your best bet. These models are very compact and have a more conservative cooking area, but they're still powerful enough to grill all your favorites.
Whatever type of portable electric grill you need, we're confident you'll find your ideal match in our selection.