As the saying goes, use the right tool for the right job. When you're faced with large cuts of meat to prepare for your smoker or BBQ, you need a meat cleaver. Meat cleavers make light work of slicing through bone, thick meat, and cartilage, saving your expensive kitchen knives from damage, as well as making your job much easier. Here's all you need to know about how to choose the best meat cleaver.
What is a Meat Cleaver?
A meat cleaver is a large and heavy, ax-like knife that is typically used for sectioning large pieces of meat, including slicing through cartilage, joints, and bones. Meat cleavers are designed to get through hefty cutting jobs that would easily blunt your chef's knife.
For this reason, they have a much heavier, thicker blade that is normally straight to intensify the force as you bring it down to break apart tough, difficult-to-slice ingredients in one well-aimed chop.
A Quick Comparision of the Best Meat Cleavers
Here's a quick summary of your options with more info on each cleaver in the best meat cleavers section.
Best Meat Cleavers
To help you to find the best meat cleaver for your needs, we've analyzed a huge number of models in great detail. The result: our top selection of the very best meat cleavers on the market.
Best Showcase Meat Cleaver
DALSTRONG Obliterator Meat Cleaver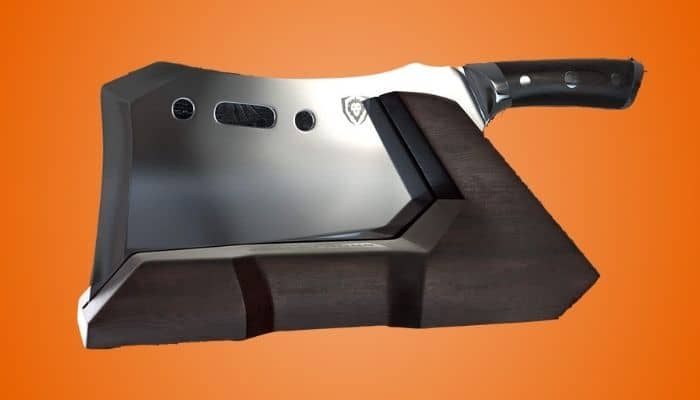 Dalstrong manufactures high-quality knives in Yangjiang, China, a location rich in knife-making heritage. The Obliterator Meat Cleaver from their Gladiator Series R is a popular choice if you are looking for a visually stunning cleaver for occasional use.
With its full tang, nine-inch blade, this cleaver means business. Made from high-carbon 7cr17mov steel, heat-treated to 60HRC, and hand-sharpened, the blade measures 5.11 inches tall to allow for easy knuckle clearance and transferring meat from your chopping board to your grill.
The ergonomic G-10 resin handle is comfortable to hold and triple riveted for greater security and control. However, given this knife's impressive 2.9-pound weight, it is less maneuverable than lighter models and could benefit from some finger grooves to help you to keep a firmer grip with slippery fingers.
All in all, a great choice for butchering large cuts for smoking or grilling, this meat cleaver is also an instant conversation piece and comes with an acacia presentation stand and a protective sheath for transportation. If you need to cut through tough bones and large shoulders, it's a highly effective choice.
Pros – Things we liked
High-carbon 7cr17mov steel
Ergonomic G-10 handle
9" long 6mm thick blade
Weighs 2.9lbs
Includes sheath & stand
Cons – Things we didn't like
Not very maneuverable
Best Luxury Meat Cleaver
Wüsthof 6-Inch Classic Cleaver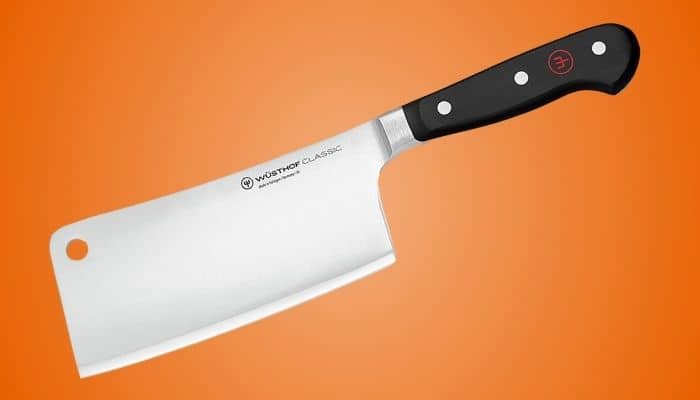 If you are looking for the best of the best and cost isn't an issue, check out the Six-Inch Classic Cleaver from renowned
German knife makers Wüsthof
. Precision-forged from a single piece of exclusive Wüsthof high-carbon stainless steel, this knife is made in Germany and comes with a lifetime warranty.
Sturdy, yet sharp and perfectly balanced, this meat cleaver will slice cleanly through meat and bones, making light work of all of your butchering for your grill or smoker.
Weighing one pound five ounces, with a blade width of 2.75 inches, this six-inch meat cleaver is rated 58 on the Rockwell C Scale and has a 14-degree blade angle on each side for superior sharpness. Thanks to Wüsthof's Precision Edge Technology, your blade is uniform and stays sharper for longer.
Full tang, the triple-riveted polyoxymethylene handle resists fading and gives you a comfortable grip, even after hours of chopping. Buffed and polished by hand, if you are looking for refined elegance, combining cutting-edge technology with traditional expertise, you'll struggle to find a better meat cleaver.
Pros – Things we liked
Forged from a single piece of high-carbon stainless steel
58 Rockwell Hardness
14-degree blade angle with Precision Edge Technology
Triple-riveted Polyoxymethylene (POM) handle
Made in Germany with a lifetime warranty
Cons – Things we didn't like
Expensive
Best Traditional Meat Cleaver
Dexter-Russell 8″ Stainless Heavy Duty Cleaver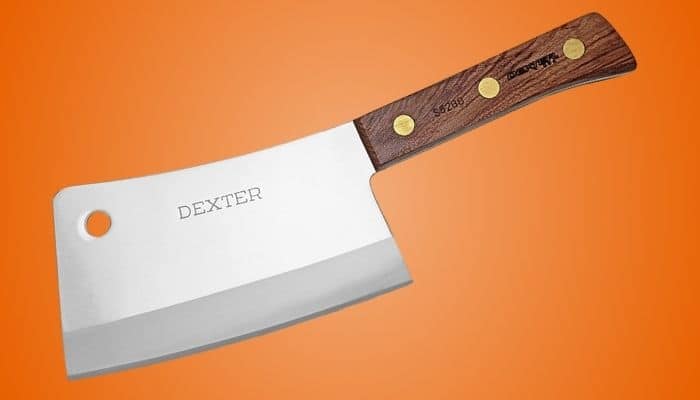 Made in the USA, the
Dexter-Russel Heavy Duty Cleaver
is the fruit of over 200 years of American expertise in knife making. This traditional meat cleaver with its polished rosewood and triple brass riveted handle looks as good as it performs with its rustic style and powerful two-pound weight.
The long six-inch handle admittedly isn't the most comfortable to hold over long periods, but it does give you the extra leverage that you'll need for cleaving tough joints and bones.
The squared handle edges prevent this powerful cleaver from rolling or twisting as you chop for extra safety when cutting through bones. Just be sure that your chopping board is up to the job or you could easily risk splitting it.
This full-tang meat cleaver features a proprietary DexSteel stain-free, high-carbon blade for longevity and slicing power. Precision ground, it retains its edge and is easily resharpened.
Given this meat cleaver's heritage, robust construction, and traditional styling, it makes an excellent companion to preparing your meat for your grill, especially for portioning up carcasses and cutting through tough joints.
Pros – Things we liked
High-carbon, stain-free DexSteel blade
Precision ground for lasting edge retention
Polished rosewood handle
Traditional brass compression rivets
Weight: 2lbs
Cons – Things we didn't like
Handle is a little uncomfortable
Best Budget Meat Cleaver
Mueller 7-inch Meat Cleaver Knife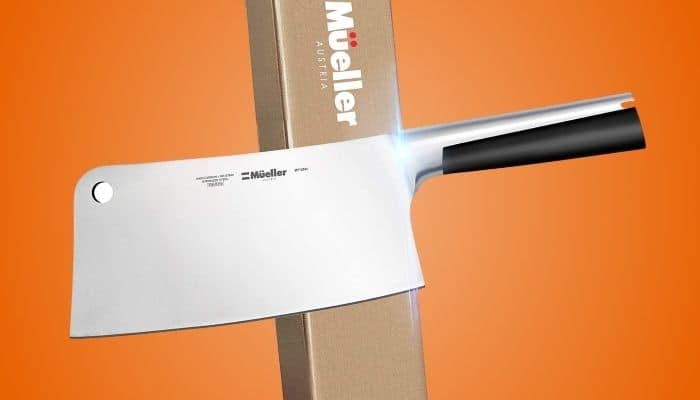 The Seven-Inch Meat Cleaver by Müller Austria is a good buy if you are looking for an inexpensive model for occasional use. It has a durable stainless steel blade with a double-sided edge and an 18-degree cutting angle.
It is easy to use and weighs just one pound, so you won't get the same arm or wrist fatigue when using it over long periods as with classic heavy meat cleavers. Thanks to its low price, this budget meat cleaver is a good choice for anyone looking to get started grilling large cuts of meat that require some butchering.
If you later decide it's too much hassle, given this knife's low price, you won't have wasted a lot of money. Plus it is also really handy to have around for squash and other large vegetables.
While this is a pretty good buy on a budget, unfortunately, the steel handle can be fairly slippery and doesn't feature any ergonomic shaping or finger grips. A lot of excellent products are made in China, so this brand comes across a little deceptively by putting "Austria" in its name – we struggled to find any connection to Austria the country whatsoever.
Aside from this misleading marketing, it's a good choice if you're looking for an inexpensive meat cleaver.
Pros – Things we liked
7-inch stainless-steel blade
Double-sided blade edge
18-degree cutting angle
Affordable
Cons – Things we didn't like
Deceptive branding
Handle can be slippery
Best Multi-Purpose Meat Cleaver
Victorinox Cleaver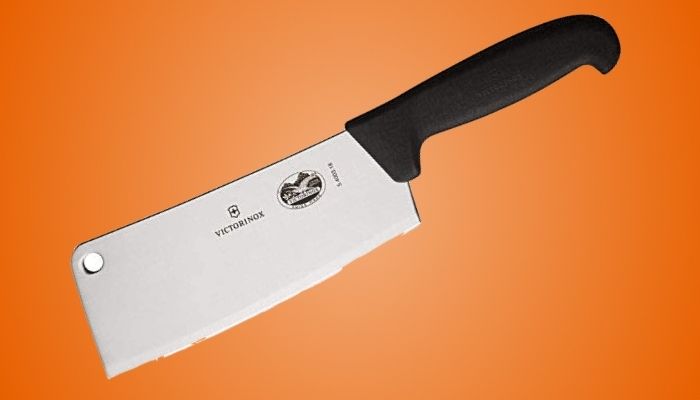 The Seven-Inch
Victorinox Fibrox Kitchen Cleaver
is an excellent choice if you are looking for a meat cleaver that you can use for plenty of other tasks apart from chopping through large cuts of meat for your BBQ. Thanks to its excellent balance, you can use it for extended periods with maximum chopping power for very little effort.
While this is a very lightweight cleaver, weighing just under 11 ounces, this does make it easier to use for roughly chopping a variety of different ingredients, including fish and vegetables, as well as cuts of meat. It has a good Rockwell hardness rating of 56, while its ice-tempered high-carbon stainless steel straight-edge blade makes light work of any chopping task.
The soft, anti-slip Fibrox handle keeps you in control of slicing and makes for a comfortable grip even when chopping through tough cuts. This multi-purpose meat cleaver is also dishwasher-safe, so you can simply put it in to wash with the rest of your grill accessories and tableware.
All in all, a great buy and a really handy knife to have.
Pros – Things we liked
Ice-tempered high-carbon stainless steel blade
Rockwell hardness rating: 56
Non-slip ergonomic handle
Dishwasher-safe
Excellent balance
Cons – Things we didn't like
Lightweight
Best Damascus Meat Cleaver
DALSTRONG Cleaver Knife – 7″ – Shogun Series X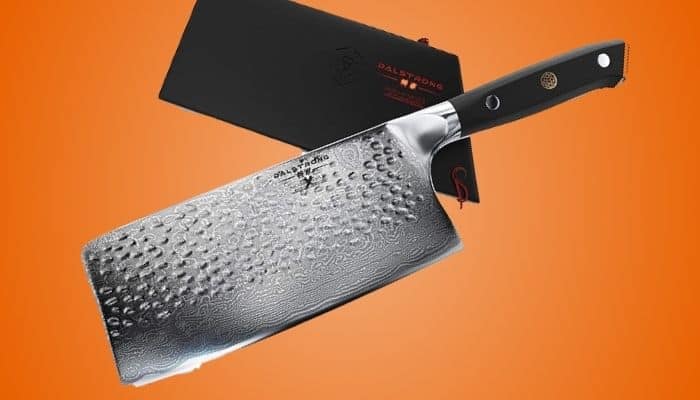 The
Shogun Series X Seven-Inch Chinese Cleaver by Dalstrong
chops well through small joints of meat and poultry, as well as hard vegetables. If you like the stunning finish of Damascus steel knives, this hand-polished model made from ultra-sharpened AUS-10V Japanese steel will certainly impress.
Thanks to its full-tang and triple-riveted handle, this meat cleaver is well balanced. The ergonomic handle is made from G-10 fiberglass resin for extra durability and easy handling.
The blade edge has an 8-12 degree angle on both sides and is rated 62 on the Rockwell scale. It also has long-lasting edge retention, while the hammered finish reduces drag and minimizes the amount of food that sticks to it while chopping. .
While the Shogun X Chinese Cleaver is a useful knife to have around for preparing your BBQ meat and side dishes, it is less suitable for highly regular use, having some chipping and durability issues. However, if you are looking for an impressive Damascus Meat Cleaver this one certainly has the wow factor.
It comes complete with a branded sheath for safety and maintaining sharpness when not in use.
Pros – Things we liked
High-carbon Japanese AUS-10V steel blade
Ergonomic G-10 resin handle
62 Rockwell hardness rating
Triple-riveted full-tang
Hand polished
Cons – Things we didn't like
Not the most durable for regular use
Why Trust Us
All of our reviews are compiled with a combination of expert input, years of hands-on testing of grilling products, curating the reviews of real-life buyers in a "wisdom of the crowd" system, and of course our own expertise. All the products listed are the ones we would buy if we were looking to purchase a new meat cleaver.
Methodology Used to Pick the Best Cleaver Knife
When picking the best meat cleaver we looked and then rated each knife on the following criteria. Price, type of steel, the blade profile, the spine, the knifes balance, the total size, tang, and clever handle.
How We Selected the Best Meat Cleaver
Choosing the best meat cleaver can be tough with so many great models to choose from. Narrow down your list of favorite models and select the very best one for your needs with our meat cleaver buyer's guide.
Price
Like most kitchen knives, meat cleavers come in a wide range of prices. At the lower end of the price scale, you can pick up models for as little as $20-$30. If you want to treat yourself to a premium version, you can spend well over $200. But just how much should you spend on a meat cleaver for your BBQ?
It's hard to come up with an exact figure, however, if you are looking for a durable meat cleaver that will stand up to regular use, portioning up large joints or subprimal cuts for your smoker, you're going to want to spend around $50-$100. Why? Spending more than the bare minimum should get you a better quality knife that is easier to use and more durable.
Alternatively, you could go with a budget model, although it may need replacing a lot sooner and you may find it less comfortable to use. While, understandably, you may not want to spend several hundred dollars on a meat cleaver if you've never used one before, rest assured they are a very useful knife to have around for your BBQ preparation, as well as around the kitchen in general.
Our advice, spend a little more and get an entry-level version from a high-quality brand. Even if you are pretty handy with a meat cleaver already and are looking for an upgrade, you still have a great selection of highly reputable models around or under $100.
Blade Profile
There are two main types of meat cleaver blade profiles, the Western model and the Chinese model.
The Western resembles more of a mini ax or hatchet, complete with a thick spine. This thickness continues down the blade right up to the cutting edge that is generally between 12-25 degrees. This design gives you more brute force and much greater durability, but less precision. Ideal for cutting through bones and large cuts of meat.
The Chinese-style meat cleaver is a more multi-purpose style of knife that is also used for chopping vegetables as well as meat. The blade is thinner and has a lower cutting angle. While they provide a more accurate cutting action, they are less durable and not as hefty when cleaving bones and very tough cuts.
The Spine
You'll find a meat cleaver with a good, thick spine to be much more useful when you've got a lot of thick bones to cut through or are butchering up a sub-primal of beef. Some models have a slight upwards curve toward the front of the spine.
If you are having difficulty aiming your cleaver to cut through bones, you can take a small rubber kitchen mallet and hit this rounded peak at the top of the knife to cut through the bones without having to take a huge swing.
Balance
While a slightly blade-heavy meat cleaver can help to cut through large cuts of meat with less effort, if your knife is too blade-heavy your chopping action is going to be ineffective with only the top part of the blade making contact.
So, although it is important that the blade of your cleaver is sufficiently weighted to help give you an extra boost in a downward motion, balance is also important to prevent your blade from tipping too far forwards, losing power, and slicing ineffectively.
Check out your knife's weight and whether or not it is full tang, which will help to improve balance. Most meat cleavers and knives in general made by reputable knife makers should have a good balance with slightly more weight in the cleaver's blade but not too much that it pulls down too much on your hand and wrist, making it uncomfortable to use.
Blade Size & Height
Before you choose your new meat cleaver, you'll need to decide which size meat cleaver is best for your needs and comfort.
Long blades can be very unwieldy, heavy, and inaccurate to chop with depending on your arm and hand strength as well as your precision. However, shorter blades, while easier to maneuver, can struggle to cut through larger items and tend to get stuck more frequently.
Consider how large you will need the blade of your meat cleaver to be to comfortably cut through the items you are most likely to be preparing. Seven to eight inches in length is probably the most versatile size, combining ease of use with a decent enough length to tackle your average BBQ needs.
Obviously, if you are thinking of doing some major butchering for your BBQ, you'll want to invest in a second longer meat cleaver around 9 or 10 inches long or even a bone saw.
Often overlooked, blade height is also important. You'll want to consider meat cleavers sized three inches and over in terms of height to ensure that you get adequate knuckle clearance when you're chopping.
If you have pretty large hands, you may want to opt for a model with more height.
Tang
The tang is the unexposed part of your knife that continues after the blade down into the handle. Knives with a full tang, where the metal that the blade is made from continues for the full length of the handle, are preferable to those with a partial tang, which only extend slightly into the handle area.
Partial tang knives can occasionally separate at the handle, as the full length of the handle is not riveted through the same piece of metal as the blade. If you stop for a few seconds to consider the consequences of a heavy meat cleaver separating at the handle mid-swing, you can see why we've only recommended full tang meat cleavers in our meat cleaver reviews. A partial tang meat cleaver is an accident waiting to happen.
Handle
When choosing the best meat cleaver a lot of your focus will understandably be on the blade.
However, the handle is just as important for your comfort and safety. As meat cleavers are generally heavy and can require a fair amount of force, you'll want to look out for a model with an ergonomic, non-slip handle.
Wooden handles are a traditionally popular choice, although there are some non-slip plastic handles which are also a good choice for when you've got wet, slippery hands.
Type of Steel
Another important feature to consider of any knife is the type of steel used. Here is our guide to some of the most common types of steel that you will find used for meat cleavers and kitchen knives in general.
X50CrMoV15
One of the most popular stainless steels used in the manufacture of kitchen knives, X50CrMoV15 has high rust resistance and retains a good sharp edge. The X indicates that it is stainless steel, with the 50 denoting 0.5% carbon.
The Cr and the 15 at the end are for its 15% chrome content, while the Mo and V indicate small quantities of Molybdenum and Vanadium which increase corrosion resistance and durability.
ZDP-189
One of the hardest stainless steel alloys available, ZDP-189, also known as MC66 is very hard, reaching up to 66 on the Rockwell C scale. It is, however, more sensitive to corrosion than some other types of kitchen knife steel and as it is so hard, it has an increased chance of breaking.
HRC 60 – Carbon steel
This type of steel contains under 1% carbon and is hardened to 60 on the Rockwell C scale. Bear in mind that it is not stainless steel, so you'll want to make sure that you treat it like any good quality knife that you purchase, hand washing and drying it immediately after use.
AUS-10 Steel
Produced by Aichi Steel in Japan, AUS-10 steel knives are hard yet flexible with very high carbon content. They are easily sharpened but can be a little fragile, resulting in the addition of manganese, silicon, and nickel to improve ductility.
Knives produced from AUS-10 are highly corrosion and wear-resistant. They also retain their edge for long periods.
Why Do You Need a Meat Cleaver?
Aside from general use in the kitchen, if you prep your own cuts of meat for your grill or smoker, you will need a meat cleaver. Without one, not only will you struggle to cut through certain cuts, you'll also risk damaging your expensive kitchen knives.
Here are some of the main benefits of investing in a good cleaver knife.
Benefits of a good cleaver knife
Makes light work of cutting through meat, bone, cartilage, and hard vegetables.
Investing in a good meat cleaver means a more durable knife that will last a long time.
Ergonomic handles on better models make it easier to chop more accurately.
Better models have more balance and make more precise, powerful cuts.
Consequences of a bad cleaver knife
Inexpensive cleaver knives can start out well but quickly lose their edge.
They can also be a safety hazard, especially if they do not have full tangs or use poor quality materials.
Poorly balanced models won't cut as effectively.
They can also have uncomfortable handles that are more likely to slip through your grasp or hurt your palm.
Purchasing a poor quality cleaver knife can mean you need to purchase a replacement shortly afterward.
How Do You Use a Meat Cleaver?
Even though a meat cleaver looks like an ax you don't use it in the same manner. You don't want to be making large aggressive swings as this is dangerous and normally overkill in a kitchen. You use a meat cleaver simply by setting it with one hand and then pushing through with the other.
What is a Good Brand of Meat Cleaver?
Kitchen knives, including meat cleavers, are one of the most dishonest and untrustworthy industries I have come across in the food industry. Brands are always popping up with slick marketing, influencer backing, and bold claims selling expensive knives only to disappear once everyone realizes they have been sold a cheap piece of steel.
So what are the best brands you can trust? They are the ones that have stood the test of time. You are always in good hands with brands such as Victorinox, Dalstrong, and Wüsthof.
Top Meat Cleavers Video
Final Thoughts
With so many meat cleavers to choose from, finding the best model can be a long process. However, with our top-rated meat cleaver reviews and buyer's guide, you're certain to find the perfect model for your needs.
If you are looking for a traditional-style meat cleaver that is proudly made in the USA, you won't find a better version than the Dexter-Russell Eight-Inch Stainless Heavy Duty Cleaver. Robust, highly durable, and sharp, this cleaver means business and will be invaluable for preparing all your meat for smoking and grilling.
Alternatively, if you are looking for a more refined meat cleaver with excellent balance that can also be used multi-tasking around your kitchen, as well as preparing your joints for the BBQ, take a second look at the Victorinox Fibrox Kitchen Cleaver. Durable and sharp, complete with a soft-grip anti-slip handle, it's one of the very best meat cleavers all-round.