Drum and barrel smokers are growing in popularity as more and more people discover their numerous advantages. Easy to use and inexpensive to purchase, the best drum smoker will smoke your brisket to perfection, without you having to stand over it. Champions of the "set it and forget it" style of outdoor grilling, if you don't already own a drum smoker, now is definitely the time to try one.
Best Drum and Barrel Smokers
We've shortlisted five of the very best, top-rated drum and barrel smokers. If you are struggling to choose your new smoker, make sure that you check out our drum smoker reviews.
Best Luxury Drum Smoker
Oklahoma Joe's Bronco Pro Drum Smoker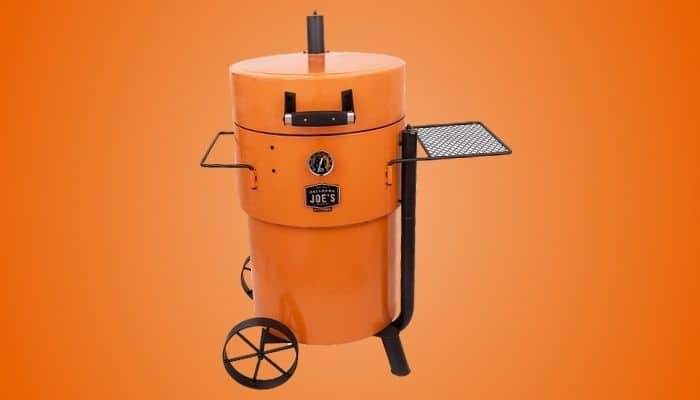 A larger version of the acclaimed Bronco, the Bronco Pro by Oklahoma Joe has a generous 21.5" cooking surface teamed with an oversized charcoal basket that holds enough fuel for 15 hours – perfect for your next brisket smoking marathon. Available in a stylish black or bright orange, the Bronco Pro is made of heavy-gauge steel for maximum durability and high performance.
Thanks to its unique airflow system and gaskets, this smoker holds your cooking temperature consistently for hours, ensuring a perfect cook without you having to babysit it. Multiple hangers and hooks allow you to customize your setup to accommodate your menu along with the included easy-to-clean porcelain-coated grate.
Aside from its good looks and ease of use, the Bronco Pro is also a highly practical model. Its convenient side shelf gives you handy support for tools or food, while the large wagon-style wheels allow you to easily relocate your Bronco Pro to another part of your backyard or into your trailer for competition cooking. Note that due to the fasteners for the legs, the ash pan stand is slightly offset which can result in your firebox becoming slightly offset when tilted, just straighten it up on arrival.
All in all, the Oklahoma Joe's Bronco Pro Drum Smoker is an excellent smoker that will most definitely take pride of place in your BBQ collection.
Pros – Things we liked
21.5" cooking surface
Oversized 15 hour charcoal basket
Side shelf and wheels
Porcelain-coated grate
Hinged lid with gasket
Cons – Things we didn't like
Firebox can become offset when tilted
Best Value Barrel Smoker
Classic Pit Barrel Cooker Package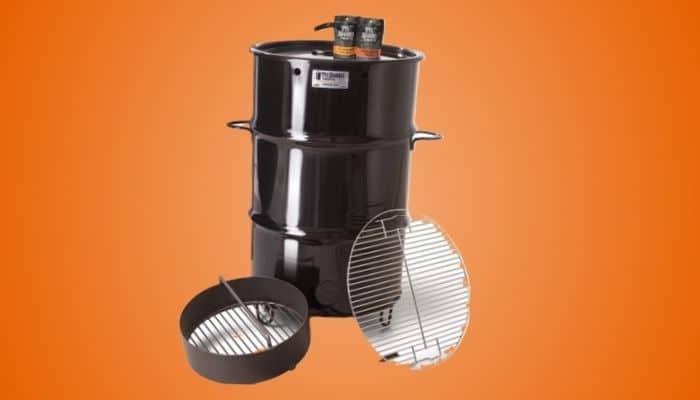 The Classic Pit Barrel Cooker Package is one of the very best value smokers on the market capable of producing impressive results with minimal effort. The 18.5" PBC consists of a 30-gallon porcelain-coated steel drum complete with a good-sized charcoal basket, 2 hanging rods, 8 stainless-steel hooks, and a standard grate for grilling and searing.
Pretty much ready to cook out-of-the-box, this barrel smoker requires minimal assembly, so you'll be smoking within minutes. Be sure to pay close attention to the instructions, then you can simply set it and forget it, using the PBC easy-to-control airflow damper system, which makes this model one of the easiest barrel smokers to use on the market.
While the Pit Barrel Classic will give you excellent results, if you also want an easy clean-up, you'll want to purchase the ash-catcher pan that's an optional extra. Likewise, for grilling and smoking simultaneously the drop-hinged grate is really useful but that is also an optional extra, so you may want to spend more and opt for a PBC package that includes these products.
The PBC provides excellent results for next to no effort and compared to most other smokers provides really good value for money. Whether you're new to backyard smoking or are looking for an easier way to a perfect smoke ring on your next brisket, the Classic Pit Barrel Cooker won't disappoint.
Pros – Things we liked
18.5" 30-gallon porcelain-coated steel drum
Minimal assembly required
"Set it and forget it" cooking design
Easy-to-control airflow damper system
Includes 8 hooks plus grate for grilling and searing
Cons – Things we didn't like
Ash-catcher pan & hinged drop grate sold separately
Best Bullet Smoker
Weber Smokey Mountain Cooker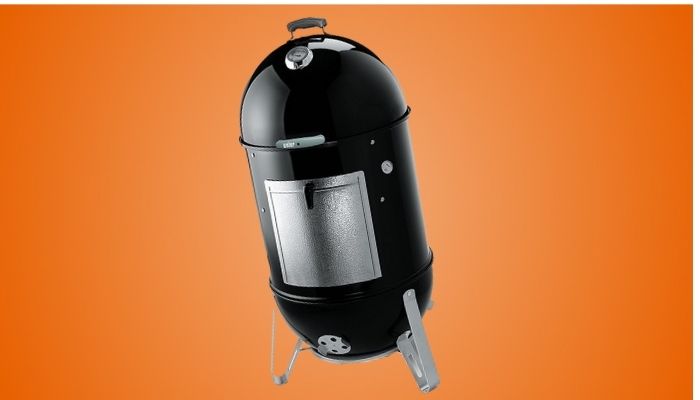 If you are looking for a bullet smoker, the Weber Smokey Mountain is a great classic choice. Available in three sizes: 14", 18" and 22", whether you're cooking for two or the whole family, there's a Smokey Mountain for you. The 22" version is the most versatile with 726 square inches of cooking space over two grates, meaning you can cook two large items simultaneously or copious quantities of ribs.
The WSM features a porcelain-enameled interior which improves heat retention for consistent cooking temperatures. The built-in lid thermometer with silicone grommet makes it easy to check on how hot you're smoking, while the four rust-resistant aluminum dampers allow you to control the temperature without having to lift the lid. For extra moisture and further temperature control, you can use the included water pan.
Thanks to the side fuel door, you can easily add extra fuel or adjust your coals while smoking. However, the door itself is not of the best quality, being pretty flimsy and easily bent. Aside from the door, the rest of the smoker is a high-quality durable construction that has been manufactured to last.
Pros – Things we liked
726 sq inches cooking space over 2 grates
Built-in lid thermometer
4 rust-resistant dampers
Porcelain-enameled interior
Water pan for extra temperature control
Cons – Things we didn't like
Flimsy side door
Best Budget Drum Smoker
Cuisinart COS-118 Charcoal Smoker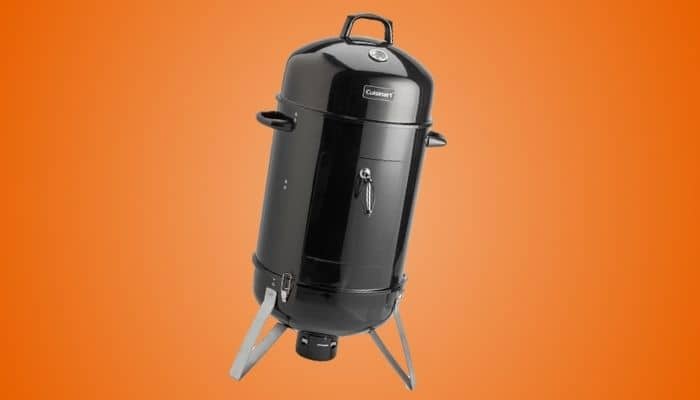 A good entry-level model, if you are looking for a budget-priced drum smoker, the Cuisinart Vertical Charcoal Smoker is the best one to go for. This non-insulated bullet drum smoker is best for shorter smoking periods of four to five hours, although you can add fuel via the vertically-hinged side door to increase your smoking duration for larger items.
With two 18" stainless steel racks, you can smoke quite a large amount of food with a total cooking area of 510 square inches. Use the porcelain-enameled water bowl to add moisture and improve the smokey flavor. Temperature is easy to fine-tune thanks to this smoker's dual air vent system with top and bottom vents.
Easy to assemble in 15 minutes with a screwdriver, this model features an easy-access latching base. If you decide to go for the Cuisinart Vertical Smoker you may want to add some sealant around the door as it can leak quite a bit of smoke. Lightweight with two large side handles, this vertical smoker is also easy to move around, so you can store it inside over winter.
While there are plenty of other smokers that will burn for longer, if you are looking for a good basic model at a low price, the Cuisinart Vertical SMoker is hard to beat for the money.
Pros – Things we liked
Two 18" stainless steel racks
Vertically-hinged side door
Porcelain-enameled water bowl
Dual air vent system
Easy-access latching base
Cons – Things we didn't like
No seals around the door
Not insulated
Best Drum Smoker Kit
Big Poppa's DIY Drum Smoker Kit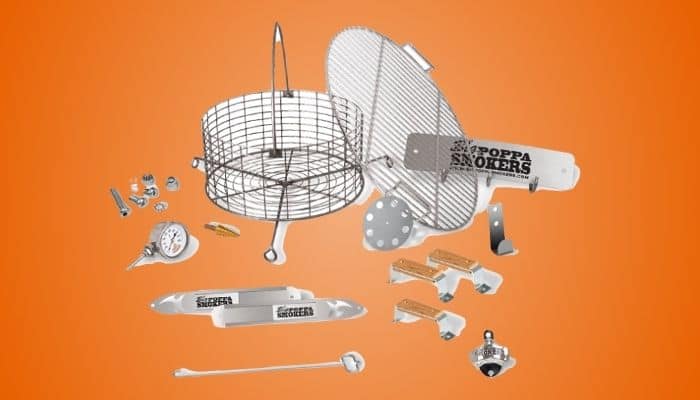 Another low cost option is the Big Poppa's DIY Drum Smoker Kit, one of the best drum smoker kits on the market. Building your own barrel smoker allows you to fully customize it to suit your needs, although note that this kit does not include a drum, so you'll also need to source a 55-gallon food-grade drum and lid before you can get started.
Fully assembly instructions are included and you only need an electric drill plus a couple of wrenches, with no specialist tools required. All necessary mounting hardware comes complete in the set, plus a bottle opener and tool hook shield that make nice extras that you won't find on many pre-built models.
For temperature control you get two stainless steel bottom slide vents that make it easy to increase and decrease airflow as needed. Three stainless steel handles, one for your lid, two for the barrel, with wooden grips complete the package and make it easy to lift up and transport your smoker.
While you can pick up the necessary hardware to make your own barrel smoker, this DIY barrel smoker kit by Big Poppa certainly makes it a lot easier and you will end up with a more professional-looking finished product that smokes really well.
Pros – Things we liked
Full assembly instructions
2 stainless steel slide vents
Thermometer
Bottle opener and tool hook shield
Includes mounting hardware
Cons – Things we didn't like
Drum not included
What is a Drum Smoker?
Also known as a UDS (Ugly Drum Smoker), drum smokers essentially consist of a barrel-like structure with a lid, a charcoal pit, and a rack for your meat. There is usually a small air vent located to the bottom of drum smokers to allow you to control the airflow and with it your smoking temperature.
Drum smokers can be used to smoke a wide variety of foods. As your charcoal burns, the smoke is trapped inside the barrel and your meat juices drip down onto the hot coals keeping the interior humid and improving the flavor of your smoked meats.
What's the Difference Between Drum & Barrel Smokers?
While the terms drum and barrel smokers are often used interchangeably, there are several differences that are well worth noting between these two types of vertical smokers.
Drum smokers
One piece body unit.
Designed to cook hot and fast with direct heat.
Better for hanging large cuts vertically.
Give a stronger flavor due to meat dripping on your coals.
Barrel smokers
Body comes apart in several pieces.
Designed to cook low and slow.
Have a water pan.
Less intense flavor although you can remove the water pan and use it like a drum smoker for extra flavor.
Why Trust Us
All of our reviews are compiled with a combination of expert input, years of hands-on testing of grilling products, curating the reviews of real-life buyers in a "wisdom of the crowd" system, and of course our own expertise. All the products listed are the ones we would buy if we were looking to purchase a new drum smoker.
Methodology Used to Pick the Best Drum Smoker
When picking the best drum smoker we looked at and then rated each smoker on the following criteria. Price, ease of construction, quality of materials, total cooking area, vents, thermometers, and ease of cleaning.
Buyer's Guide to Buying the Best Drum Smoker
Before you take the plunge and order yourself a new drum smoker, make sure that you check out our Drum Smoker Buyer's Guide. We've covered all of the essential points that you'll need to consider when deciding which drum smoker is best for your needs.
Price
Drum smokers tend to be much cheaper than many other types of outdoor grills and BBQs, given their relatively simple design. However, like all things in life, paying out more can get you a higher quality product made with better materials and a longer lifespan.
That said, if you are looking for an entry-level drum smoker, there are models priced around $150-$200 that will get you off to a great start learning to smoke with delicious tender cuts. Alternatively, you could build your own drum barrel smoker with a kit and save yourself some cash without skimping on quality.
Alternatively, if you're already a seasoned hand at smoking, you may want to treat yourself to a more expensive model. Top of the range versions can be well over $500 and shouldn't require any modifications to get excellent results. They should also last much longer than budget-priced versions and require little maintenance.
You can get a perfectly decent drum or barrel smoker for around $300-$400, although you may want to pay out for some extra add-ons, such as a cover or additional hanging racks and grates. Once you get above this figure, you are arguably paying less for improved performance and more for style or extra features for greater ease of use.
Ease of Use
On the whole drum smokers are very easy to use, the hardest part being perfecting your temperature and timing. If you are in the market for a barrel smoker, consider looking for a model with a fuel door to allow you to add extra fuel as you smoke.
As their design is very simple, you generally won't find an easier to use model than a drum smoker. Once you've become accustomed to your model, you should be able to "set it and forget it" as the saying goes, giving you time to prepare other items on your menu or to relax with a beverage.
Cooking Area
Most barrel and drum smokers can be found sized between 14"-22.5" in diameter. Your standard drum smoker will typically utilize a 55-gallon drum taking you to around 20"-23". If you are using a drum version, you'll be able to make maximum use of the large amount of vertical space by hanging your cuts.
For barrel smokers, opt for a model with two grates to double your cooking area – handy if you are smoking a large item or have guests over. While 14" models can be a little limiting, they make excellent secondary smokers or for tailgating, as they can be more easily picked up.
18" smokers are a good size, providing around 500 square inches of cooking space over two grates. If you regularly entertain or like to smoke a lot of large cuts you will want to opt for a 22" model with over 700 square inches of cooking space over two grates.
Vents and Thermometers
Look out for rust-resistant, weatherproof vents that will remain easy to alter year after year. The more vents, the more control you will have over your airflow and smoking temperature, with most units having two to four damper vents at the bottom of the unit.
While an integrated thermometer is a nice touch that can really make your smoker look the part, they are not always very accurate and as with your BBQ grill, it is recommended that you invest in a digital thermometer. This will allow you to accurately measure the temperature at the grate level where your meat is cooking, rather than the air temperature at the lid level.
Easy to Clean
Your drum smoker will need to be cleaned free of ash deposits and grease after each use, while the interior will need cleaning every couple of weeks. Porcelain-enameled grates and interiors will make it easier to remove ash. An ash catcher pan can make day to day cleaning much quicker.
Pros of Drum Smokers
There are numerous advantages to using a drum smoker, here are some of the main drum smoker pros.
Budget Friendly
Drum smokers are generally inexpensive when compared to other types of smokers and BBQs. If you enjoy the taste of smoked meats, you can save yourself money on purchasing an expensive model and pick up a drum smoker for excellent results at a much lower price.
Fuel Efficient
As drum smokers tend to last for hours without needing to be refueled, you can also save money on charcoal and wood chips, as well as saving yourself time and hassle.
Portable
If you opt for a small drum smoker, you'll easily be able to take it with you tailgating or for trips out with friends. Even larger models remain easy to move around as they are very light, so you can simply stick one in the back of your truck, as well as relocating it around your backyard.
Extra Flavor
Drum smokers are synonymous with full-flavored, tender smoky cuts of meat. When you use a drum smoker, the meat juices drip directly onto the hot coals below enhancing flavor.
Use in any weather
With their lid, drum smokers can be used in pretty much any weather. Just keep an eye on your temperature and adjust airflow accordingly.
Set and forget it
Once you've got your drum smoker lit and to temperature, you can pretty much leave it to it. While a new model will take you time to learn, once you've mastered how to get the best results out of your model, aside from the occasional temperature check, you're free to get on with other stuff.
Cons of Drum Smoker
There are a couple of drum smoker disadvantages to consider before making your purchase.
Limited cooking space
You'll get more space on offset smokers, however, while drum smokers tend to have relatively compact 22" grates, models with double grates will maximize your available cooking space. Plus, you can make use of all of that extra vertical space by hanging your meats to smoke – you'll be surprised just how much you can fit in.
Lack of Insulation
As drum smokers are not insulated, you will need to use extra fuel in cold weather and be more aware of any large temperature fluctuations when smoking overnight for example.
Difficult Learning Curve
While drum smokers are very simple and easy to use, they do require you to follow the manufacturer's lighting instructions carefully. Plus you'll need time to practice adjusting the airflow and your cooking times before getting perfect results.
Top Drum Smokers Video
Final Thoughts
Drum and barrel smokers are both extremely popular models to smoke brisket, ribs, and whole birds at home or when tailgating. There are plenty of great models to choose from and provided you consider your needs, you can't go wrong with any of the above models in our drum and barrel smoker reviews.
Looking for a great value drum smoker that gives you exceptional results with very little effort required? The Pit Barrel Classic is a must. Easy to use, this high capacity model features an easy-to-control damper system. Reasonably priced and widely acclaimed, the PBC is one of the best models out there.
Alternatively, if you are fairly handy and want to make your own drum smoker, you can save yourself several hundred dollars with the Big Poppa's DIY Drum Smoker Kit. It has all the parts that you'll need to transform a standard food-grade 55-gallon drum and lid into your very own customized drum smoker.