Weber is well known for being one of the leading grill manufacturers in the market.
Their name is associated with top-quality, feature-packed grills that create delicious results. But with so many models to choose from, you may be wondering which is the best Weber grill for your needs.
In this guide, we bring you our pick of the very best Weber grills in every category, so you can find the right model for you.
Best Weber Grills
Want a Weber but not sure which model to choose? To help you decide, we've reviewed the best Weber grills in each category.
Our selection covers charcoal, gas, electric, portable, pellet, built-in, and smoker models – so read on to find your ideal match.
Summit E-670 – Best Weber Gas Grill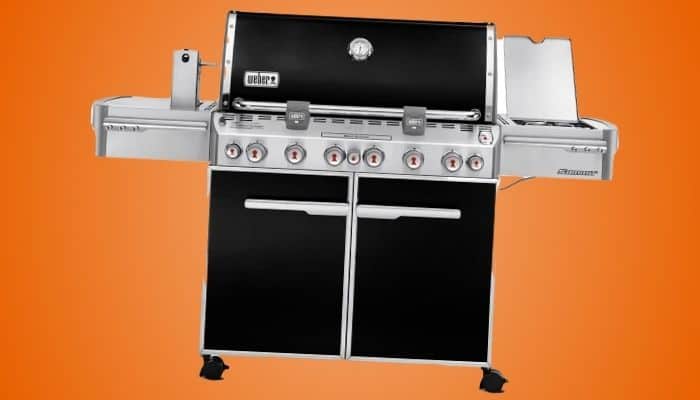 First on our list we have the Summit E-670 – our pick for the Best Weber Gas Grill. With a sleek black and stainless-steel construction, this large grill looks stylish and has everything you need to cook up a feast.
Perfect for entertaining, the Summit E-670 has a huge, 769 square-inch cooking space so you can serve full meals for up to 12 people at once. It has 6 stainless-steel main burners that give out a total of 60,000 BTU for high-powered heat, and each one can be independently controlled via the front panel for precision cooking.
The "Snap Jet" ignition system ensures that each burner is reliably lit at the push of a button, while the large control knobs make it easy to control the heat to meet your needs.
Aside from the main burners, the Summit E-670 also includes a separate side burner that's designed for use with a wok or, a smoker box for extra flavor cooking, a dedicated sear station for authentic sear marks on your steaks and an infrared rotisserie burner for succulent whole chickens.
To ensure your food tastes its absolute best, this model has Weber's popular Flavorizer bars. These bars capture the juices as they drip from your meat, allowing them to cook and smoke away just below the surface, so you don't lose out on flavor.
Other great features include sensor-activated grill lights in the lid for nighttime grilling, an LED fuel gauge that tells you how much gas you have remaining, two side stations for preparation and serving and a roomy storage cupboard beneath the grill.
There's very little to complain about with this gas grill. As a large, feature-packed model, it is at the expensive end of the scale, but we think you'll struggle to find anything better at this price range.
Pros – Things we liked
769 square-inch cooking space
6 stainless-steel burners
Snap Jet ignition system
Separate side burner
Cons – Things we didn't like
Would be better with a bigger smoker box
Master-Touch Premium – Best Weber Charcoal Grill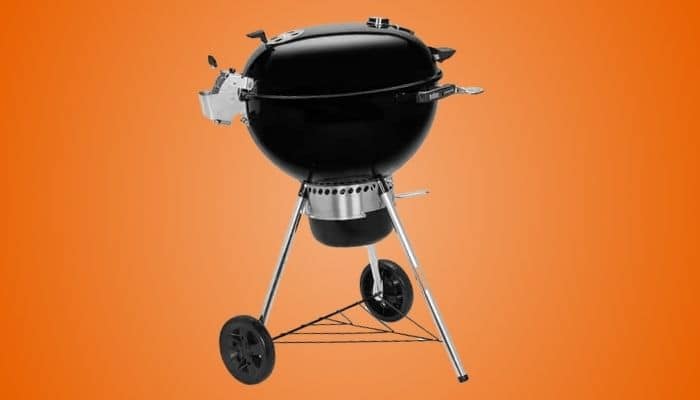 If you prefer grilling the old fashioned way, the Master-Touch Premium Charcoal Grill by Weber is our pick for the Best Weber charcoal grill. This model has a lightweight and portable design that's great for use both in the yard and out on your adventures.
With a 363 square-inch grill grate, this grill is plenty large enough to cook for around 10 people at once. The grate is crafted from highly durable plated steel, so it retains heat very well without any overly hot or cold spots.
We particularly like that this model has a hinged lid, so you don't have to find somewhere suitable to place it. The hinge is made from stainless-steel and moves smoothly for ease of use. When closed, the lid fits tightly with a good seal, and thanks to the included diffuser plate, means you can turn this grill into a smoker whenever you like.
The Master-Touch Premium has a deep charcoal bed that's easy to access via the hinged grates. It's large enough to hold plenty of coals and wood chips for long-duration cooking, and the one-touch ash cleaning system makes it easy to clear out when you're done.
Temperature control can be a challenge if you're new to charcoal grills, but this model has everything you need to keep the heat just right. The built-in temperature gauge in the lid eliminates any guesswork, while the upper and lower vents are simple to adjust as required.
With three sturdy legs, we like that this freestanding grill has a comfortable height so you can cook without hunching over the grates. It also has wheels for easy transportation and convenient hooks for storing all your grilling tools close to hand.
All in all, this model is one of the best Weber grills on the market if you prefer to cook with charcoal. Not only is it easy to use, but it has a generous grill area and functions very well as a smoker, too.
Weber Q 1400 – Best Electric Grill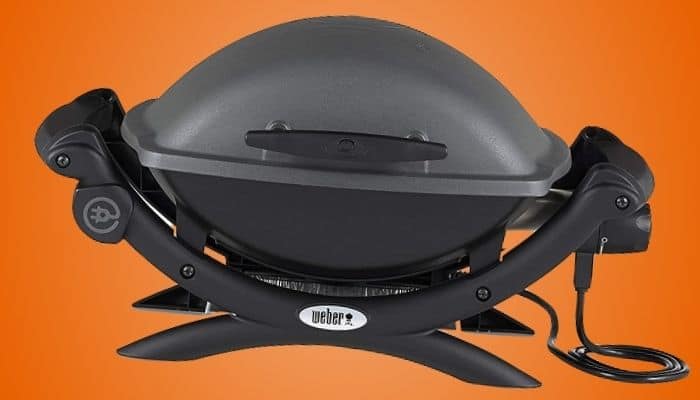 If you're a fan of electric grills, we recommend the Weber Q 1400 – our pick for the best electric grill.
This model has a compact design that's great for travel, but don't let that fool you. It also has a powerful 1560 watt heating element for fast heat up and high temperature cooking – making it comparable to some gas grills.
The Weber Q 1400 is great for use on apartment balconies or on campsites where fire bans are in place. It has a 189 square-inch grilling surface that's large enough to cook for around 6 people at once, making it great for families or small gatherings. The cast-iron grates are porcelain-enameled for high heat retention and even distribution, so you won't have to worry about hot or cold spots ruining your dinner.
We like that this model is simple to set up in a couple of minutes, so you can get cooking right away. All you need to do is plug it in, switch it on and turn the dial to set the temperature as desired. The sturdy legs have a scissor-like design that keeps the grill steady on your tabletop, so it won't wobble as you flip your steaks.
This grill may be small, but it is made from tough materials that are designed to last. The lid and body are crafted from cast aluminum, so it can withstand the odd knock or bump without getting damaged. It also has a glass-reinforced nylon frame that keeps its weight low while increasing overall durability.
The only drawback to this model is that it can be awkward to clean. Even though it has a removable grease tray, the juices drip down over the heating element, so you'll need to give it a thorough clean after each use.
Go-Anywhere – Best Weber Portable Grill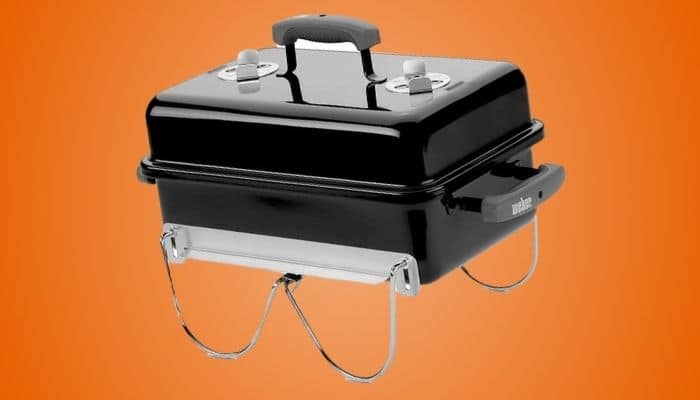 If you need a compact and lightweight grill that you can take camping, then we recommend the Weber Go-Anywhere – our pick for the best portable Weber grill.
This portable charcoal grill boasts a 160 square-inch grilling area, that's plenty large enough to feed as many as 6 people. It measures just 12.2 x 21 x 14.5 inches, so it's simple to store and will easily fit in the trunk of your car for day trips with friends and family.
True to its name, this model is designed to be effortlessly portable. It has wire, fold-out legs that hold it off the ground during cooking and keep it steady on rough surfaces. There are sturdy handles on the sides and lid for comfortable carrying, and the lid can be securely locked so it doesn't fall off during transport.
Despite its portable design, the Weber Go-Anywhere is tough enough to handle the trials of the great outdoors. The grill grates are made from plated steel for strength and effective heat retention, while the weather-proof, porcelain-enameled body is resistant to rust.
We like that this model is easy to set up, so you can start cooking in just a few minutes. The charcoal grate has a tightly-woven mesh design so small pieces don't fall through, and the upper grill grate simply slots in above ready to hold your food. You can control the heat as needed via the dual dampers in the lid, so if the flames get a little too hot, you can tame them instantly.
Weber also sells a gas version of this model, which is great for beginners or those who prefer to use a clean-burning fuel. The gas model is just as compact as this one and uses 1 pound propane cylinders for maximum portability.
Spirit II E-210 – Best Budget Gas Weber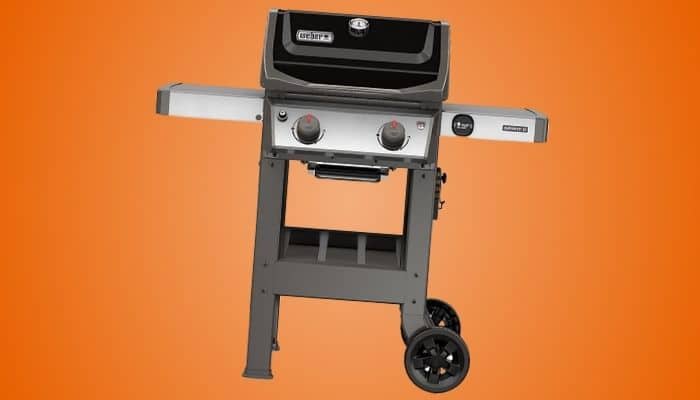 If you'd like a freestanding Weber gas grill but are watching your spending, then we recommend the Spirit II E-210 – our pick for the best budget gas Weber grill.
This compact gas grill is designed to fit comfortably into small spaces, so it's a great choice if you have a small yard or decking area. Despite its compact dimensions, this model boasts a 360 square-inch cooking grate and additional warming rack, which is plenty big enough to cook for 3-4 people at once.
A particularly impressive feature of this budget gas grill is that you can reverse the cooking grates to meet your needs. One side of the grate is thin, making it perfect for more delicate foods such as shrimp or fish. The other side is thicker and ideal for achieving wide sear marks on steaks and burgers.
Aside from being versatile, the grill grates are also highly durable. They are made from porcelain-enameled cast iron, so they retain heat efficiently and won't rust or peel over time. They also don't need to be seasoned before use, so you can get straight to cooking without any preparation required.
This grill has two powerful stainless-steel burners that give out 26,500 BTU combined. Ignition is easy, thanks to the reliable "infinity" ignition system and the heat is simple to control via the built-in gauge and large dials on the front panel. While cooking, tasty juices drip down onto the built-in flavorizer bars beneath, so they can sizzle and smoke away – adding more flavor to your meal.
This low-cost Weber gas grill is cleverly designed to maximize available space. It has a fold-down side table on the left side, so you can open it up during use for food prep or holding your condiments and pack it away for easy storage. There are also some built-in hooks, which are perfect for keeping your grilling utensils close to hand.
Smokey Mountain – Best Weber Smoker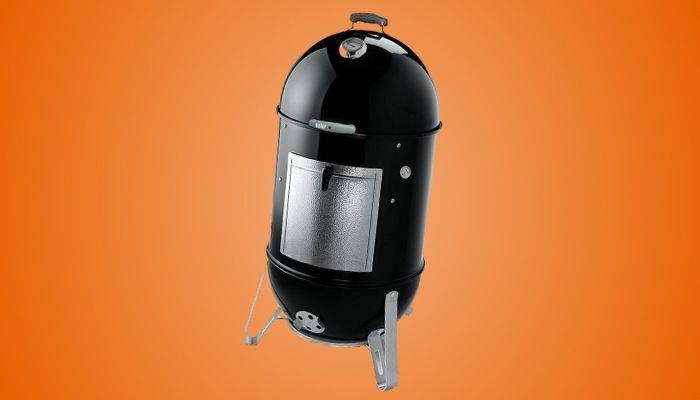 Our pick for the best Weber smoker is the highly popular Smokey Mountain. This model is super simple to use, so it's great for beginners and experienced smokers alike.
The Weber Smokey Mountain has a compact, capsule-shaped design but it's still large enough to feed the whole family and more. The 22-inch cooking area with dual nickel plated grates offers 726 square-inches of capacity to cook deliciously smoked meals for 6 to 9 people, and the generously sized water pan keeps the heat going all day long.
Charcoal and wood chips can be easily loaded via the front-access door without disturbing the cooking process. A built-in temperature gauge eliminates any guesswork, and two integrated dampers make it simple to adjust the heat levels as needed. There's even a silicone grommet so you can use your own temperature probe if desired.
This high-quality smoker is well-built and incredibly durable, so it should last you for many years with regular use. The body is crafted from porcelain-enameled steel, which is weather and rust-resistant and retains heat for consistent temperatures throughout the "low and slow" cooking time. The temperature inside can reach up to 190°F, – so you can rely on this model to cook all your favorites.
This smoker is pretty portable and can be used both in the backyard or away on camping trips. It's wide-set legs and low slung design keep it stable and the built-in heat shield protects the surface beneath it from getting hot. We also like that it has a heat-resistant lid handle, so you can open it up without needing to wear gloves.
While this model isn't best-suited to very large gatherings, it's difficult to fault it in any other way. The construction is top-quality, it's easy to use and also portable enough to take away with you.
Summit S-660 – Best Built-in Grill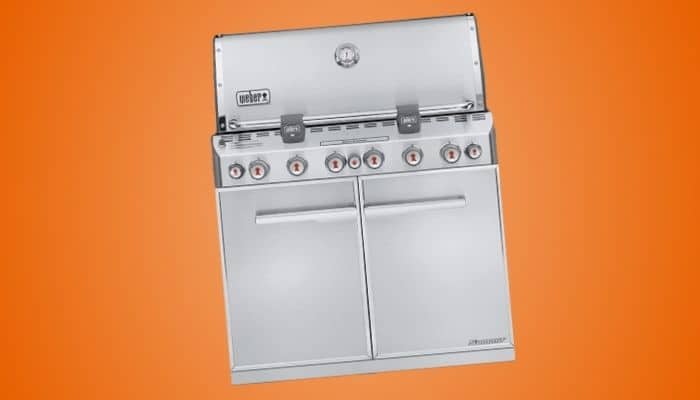 If you're looking for a built-in gas grill that will be the envy of your guests, we think you should look no further than the Summit S-660 – our pick for the best Weber built-in grill.
The main cooking area alone provides 624 square-inches of grill space, but when you add in the removable warming rack, you have an impressive 769 square-inches to play with – plenty to entertain large family gatherings all year around.
This model features no less than six stainless-steel main burners, each able to kick out 10,000 BTU for fast heat and perfectly cooked results. There's also an additional 10,600 BTU center burner for searing meats, a rear-mounted, infrared rotisserie and a 6,800 BTU smoker box on the right side – so it has everything you need to cook up a real feast.
Each of the main burners are independently controlled via the illuminated dials on the front panel, and the snap jet ignition ensures they light the first time, every time. We also like that this model has battery-powered lights in the lid handle, so you can illuminate your cooking area if the party carries on after dark.
As you would expect in a top-of-the-range Weber grill, this model also includes their famous stainless steel flavorizer bars, so the taste cannot drain away from your meats. The cooking grates are made from solid stainless steel for ultimate durability and heat retention. The rest of the grill body is also crafted from stainless steel, so it's hard-wearing and resistant to rust in any climate.
This model is easy to install, but keep in mind that you must have a natural gas connection to use it. It's also pretty pricey, but considering the wealth of features and build quality, we think this model is worth every cent.
Summit Charcoal – Best Kamado Style Grill & Smoker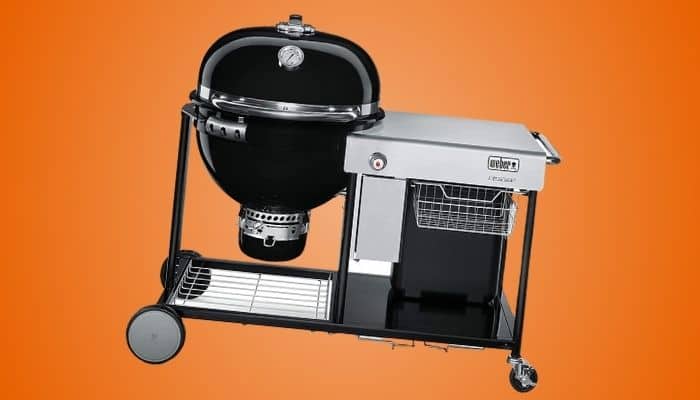 If you love Kamado style grills, we recommend the Summit Charcoal – our pick for the best kamado-style grill and smoker by Weber.
This charcoal grill and smoker combo is packed with features that make versatile cooking easy. The porcelain-enameled lid is double-walled for optimum heat retention and has a stainless-steel mesh gasket to ensure a great seal. The bottom charcoal grate can be set at multiple heights for temperature control and has plenty of capacity to hold enough charcoal and wood chips for all night smoking.
Once loaded, you can easily fire it up with the integrated gas-powered "snap-jet" ignition system that requires a 1-pound propane bottle, so you don't have to mess around with matches or long-nose lighters. The grill will be hot and ready to cook in less than 10 minutes, making it great for last-minute gatherings or spontaneous grill nights.
The Summit Charcoal has 22-inch stainless-steel cooking grates that provide a roomy 452 square-inches of grilling space. This capacity is more than enough to cook a meal for the whole family at once, so everyone can enjoy their food together. If you need to add more charcoal part-way through a cook, the grill grates have convenient hinges at each side, for easy access to the charcoal bed.
Between the top grate and the charcoal, there is a middle rack that holds the included stainless-steel heat deflector. This is great for cooking over indirect heat when smoking or grilling delicate foods. You could also use it to support a water pan for added moisture. We like that this deflector plate is also hinged on each side, so you don't have to remove it when adding coal or wood chips.
This model comes with a lid-mounted temperature gauge and two vents for simple heat controls. The lid also has a spring-assisted hinge so you don't have to place it on the ground while grilling. The attached preparation station has a handy stainless steel shelf, a bin for storing charcoal, and a pull out drawer for all your grilling accessories.
This model may be expensive, but it has everything you need to grill and smoke a variety of delicious meals all in one unit. The versatile design is great for beginners and seasoned grill masters, while the sturdy construction is built to last.
SmokeFire EX6 – Best Weber Pellet Smoker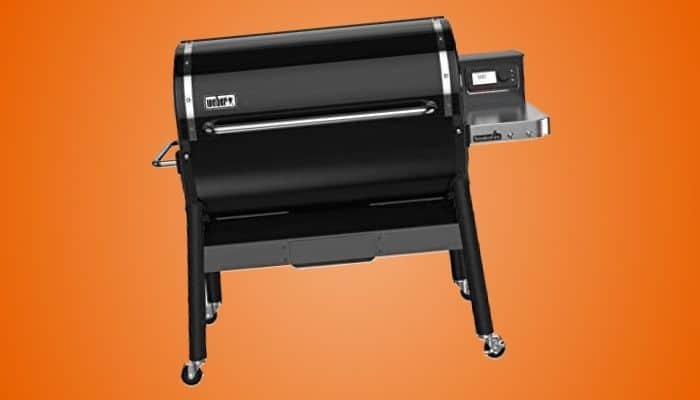 Prefer the convenience of pellet grills? Then we suggest taking a look at the SmokeFire EX6 – our choice for the best Weber Pellet smoker. This model offers a huge 1,008 square-inches of grilling space, making it the largest Weber grill on our list.
Capable of reaching high temperatures of between 200 – 600°F, this wood-fired pellet smoker can achieve a perfect, authentic sear that won't let you down. The large capacity hopper can hold up to 20 pounds of pellets for all-day smoke sessions, and the porcelain-enameled finish ensures fantastic heat retention and overall durability.
This model uses a traditional firebox design that automatically feeds the pellets into the auger – so you can focus on the cooking. It has a DC powered engine that's designed to prevent the pellets from jamming and disrupting your cook, while the easy-read LCD screen and control panel displays all the stats so you can grill with precision.
Like other winning models we have seen so far, the SmokeFire EX6 also has Weber's stainless steel flavorizer bars so you can create truly mouthwatering results. It also has an ash and grease collection tray, which makes it simple to clean up after your meal.
Aside from all that, we think one of the best features of this Weber pellet grill is its WiFi connectivity. As it's compatible with the Weber Connect app, you can control this model from your smartphone or tablet, so you don't need to leave your seat to cook delicious food.
You can set alerts to remind you to flip your burgers, create countdowns to when your food is ready and even control the temperature, all at the tap of a screen. You can also set the grill to give your meat a boost of extra smoke or shut it down remotely from across the yard.
Of course, this model can be used manually too if you prefer, but the option to control your grill from the comfort of your seat is an awesome feature that's sure to impress your guests.
Why Trust Us
All of our reviews are compiled with a combination of expert input, years of hands-on testing of grilling products, curating the reviews of real-life buyers in a "wisdom of the crowd" system, and of course our own expertise. All the products listed are the ones we would buy if we were looking to purchase a new weber grill.
Methodology Used to Pick the Best Weber Grill
When picking the best weber grill we looked at and then rated each grill on the following criteria. Price, intended use, fuel type, grilling surface area, and extra features
Buyer's Guide to Buying the Best Weber Grill
Still unsure which Weber grill is best for you? Our in-depth buying guide has the answers to all your questions.
Price
Price is often a key consideration when shopping for a new item, and Weber grills are unlikely to be an exception to this rule for most people.
However, it's important to note that price isn't everything. The most expensive Weber grill isn't necessarily the best one for you, nor should you immediately write off the cheapest model just because of the price.
Weber grills are high-quality products, and the right model for your needs will depend on your intended use and preferred grilling method. We recommend reading through our reviews and selecting a few models that you like and then filtering them based on your budget.
Intended Use
The right Weber grill for you is the one that suits your needs and lifestyle, so you should take some time to think about how you intend to use your grill before making a decision.
If you're planning to hit the trail or want a grill that you can take camping, then a portable model like the Weber Go-Anywhere is your best bet. On the other hand, if you're looking for something to host big gatherings in your yard, a built-in model like the Summit E-670 or the S-660 could be well worth a look.
If you're not allowed to use gas or charcoal grills on your apartment balcony – then an electric model like the Weber Q 1400 makes an ideal solution.
Your preferred grilling method is another key consideration here. Of course, if you intend to smoke racks of ribs and beef brisket, a compact portable model or a gas version isn't going to cut it.
For those who are starting out in the world of grilling and want something they can "grow into" a combination model like the SmokeFire EX6 or the Master-Touch Premium can be good options.
These are easy to use for standard burger-flipping, but also have the potential to be used as smokers if you're looking to up your skillset later.
Fuel
Weber grills come in a variety of styles that use different fuel types. To ensure you make the right choice, it's important to understand the benefits and drawbacks of each type of fuel before buying.
Gas
Gas is a smoke-free fuel that is clean and easy to control. It provides immediate heat and can be adjusted at the turn of a dial.
Gas-powered Weber grills can be good choices for beginners or those that want a grill that can get going immediately with no waiting around. The downside to cooking with gas grills is that they don't create the traditional smokey taste that's associated with charcoal or pellet cooking.
Charcoal
The best thing about charcoal cooking is the authentic chargrilled taste it gives to your food. Charcoal is also highly affordable and easy to source, but it's quite messy and requires some skill to cook with efficiently.
The main issue with charcoal is getting the temperature right and keeping it there. Charcoal can take some time to heat up, so you won't be able to start cooking right away. There's also the chance that the coals may go out part-way through cooking, or flare-up too high and ruin your dinner.
In addition, charcoal grills are often banned in some areas due to the fire risk they pose. Therefore, it's worth checking state restrictions before buying.
Electric
Electric grills are the best option for apartments and high rises where charcoal or gas grills are not allowed.
They require a power connection, but they are smoke-free and a much cleaner option than other models. Electric grills usually heat up pretty quickly and are easy to control for beginners.
However, like gas grills, electric grills won't impart the same smoky flavor that charcoal or pellet grills do.
Pellets
Pellet grills are simple to use for both grilling and smoking and can reach high temperatures quickly. Compressed wood pellets are available in various flavors, so you can infuse your meat with a mild flavor while cooking.
A good choice for beginners, these types of grills usually have digital controls, and some models can even be controlled remotely for maximum convenience.
On the downside, pellet grills are quite large, so they're much less portable than other fuel types. They can create quite a lot of smoke, too, so they cannot be classed as a clean-burning fuel.
Surface Area
When choosing the best Weber grill for your needs, the grilling surface area should be one of your top considerations. There's no use buying a grill that's too small to cook for all of your loved ones, or indeed, one that's so large that the extra space goes to waste.
A good rule of thumb is that, for large gatherings, you should opt for a Weber grill that has at least 350 square-inches of cooking space. Depending on what you're cooking, this should be enough space to serve around 10 people. For even bigger groups, you'll need to go larger.
On the other hand, grills that have between 140 and 230 square-inches of grilling area are best for average-sized families, couples and occasional get-togethers with a few friends.
Extra Features
Aside from these main points, many Weber grills come with a range of other useful features that are worth considering.
Cart – Wheeled carts are great for maneuvering your grill around the yard with ease, or even taking it away with you to the beach or campsite. They can also be useful for tabletop grills, as they elevate the grill to a more comfortable height so you can cook while standing.
Side Table – Side tables are a useful addition to expand your available space for prepping and serving food. They can also be used as somewhere to place your sauces, rubs, and other condiments within easy reach.
Side Burner – Side burners are great for cooking side dishes, for use as a warming area, or for searing meat once cooked.
Wheels – Wheels make it easy to move your grill around your yard as needed without straining yourself or damaging your patio or decking. For smaller grills, wheels are a great addition that increases overall portability.
Ignition – All the Weber gas and pellet grills we have reviewed have built-in ignition for easy start-up. Some charcoal models, like the Summit Charcoal also have integration ignition systems, so you can get the coals burning in minutes without the need for matches or lighters.
Temperature Gauge – Built-in temperature gauges are a useful tool that takes away the guesswork, so you can be sure your meal is thoroughly cooked before serving.
Top Weber Grills Video
Final Thoughts
Weber has been a leading grill manufacturer for decades – so by choosing one of their models, you can be sure you're getting a top-quality product.
Whether you need a powerful, built-in gas model like the Summit E-670, a combination grill/smoker like the Summit Charcoal, or a compact portable grill like the Go-Anywhere; Weber sells a range of excellent models with something to suit everyone.
So, no matter what type of grill you're looking for, we're confident you'll find your ideal match in our selection of the best Weber grills.